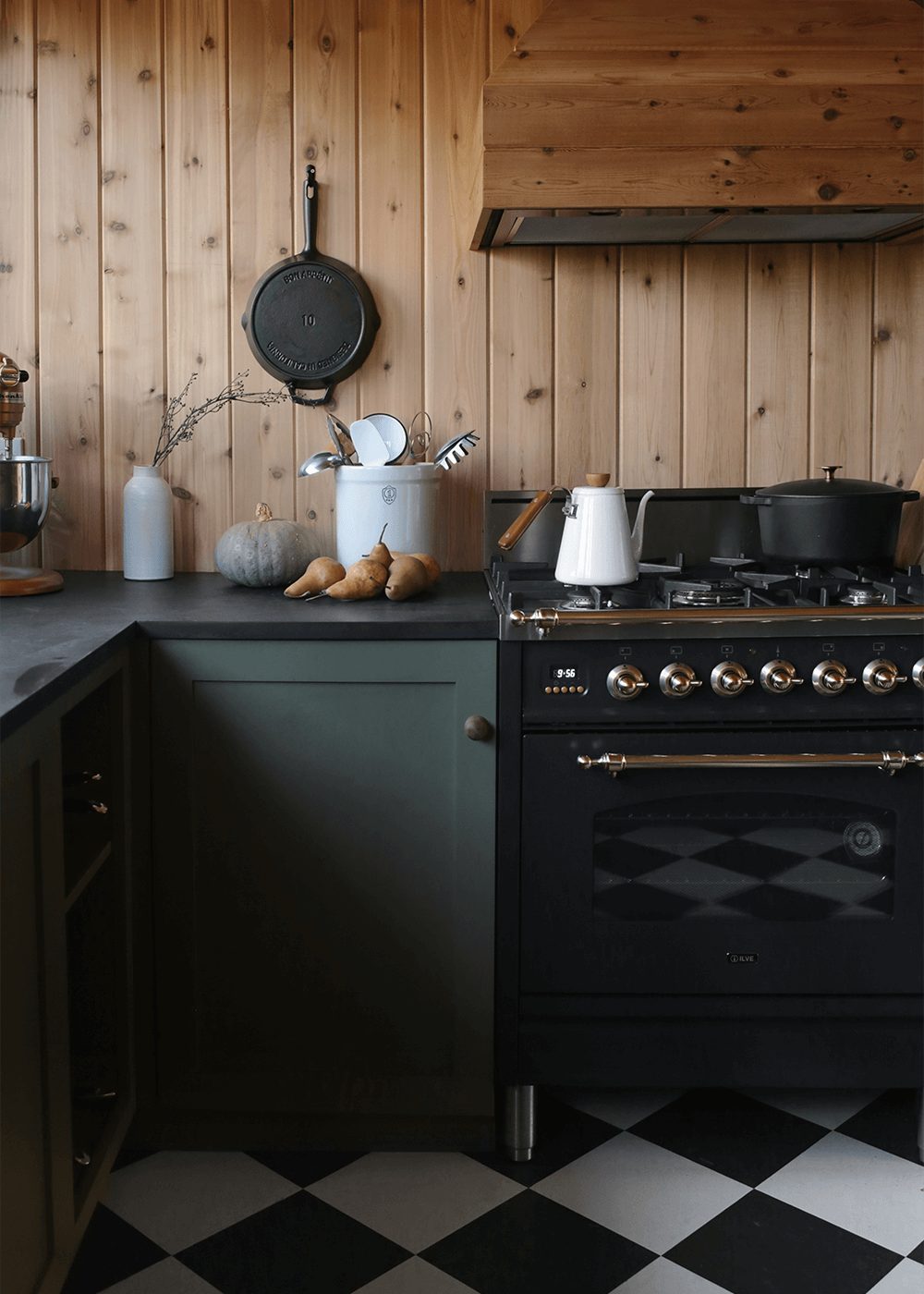 I don't know about you, but I always save the best for last—the cookie dough balls at the bottom of the soupy ice cream bowl, pizza after salad, lunch then a Justin's Dark Chocolate Almond Buttercup. But I'm going out of order in sharing rooms of The Minne Stuga, showing you the cabin kitchen way before I share the rest of the spaces. It's a cookie dough first kinda day because the kitchen might just be my favorite spot in the cabin. That is until I show you my next favorite spot and the one after that. I have so many favorite spots that take me to the deepest of cozy places, but the kitchen just might be at the tippy top.
Before
But first, let's go back to where we started. We really debated on whether or not to keep the kitchen as is, replacing the floors but keeping most everything else. It was cute and quaint and charming just the way it was. But it was the sleep number that really tipped the decision. Not the mattress.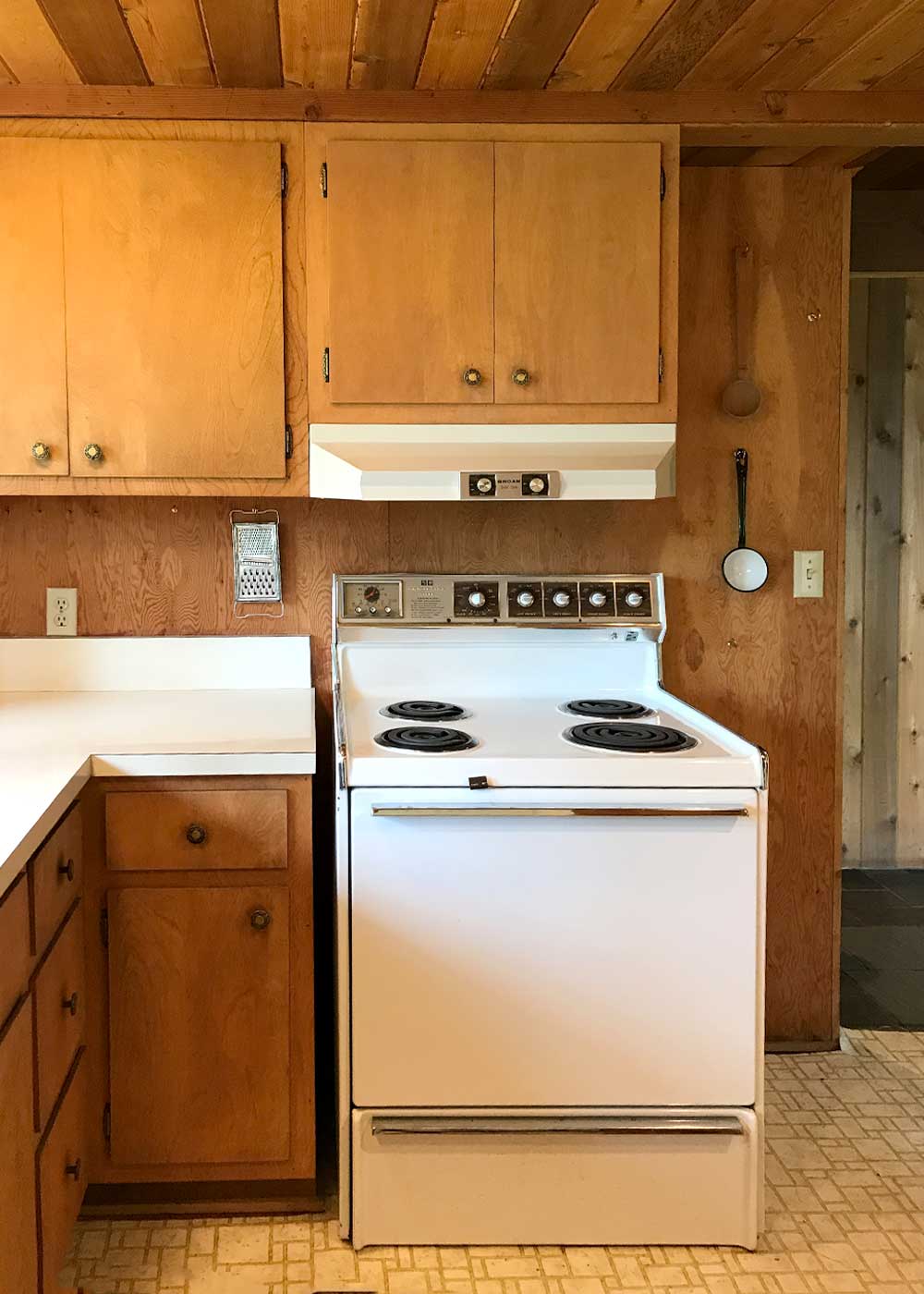 After the restoration, we'd be able to sleep 8 but only seat 6 in the dining room, barely. Those two numbers had to match for me. So long story short, we ended up bumping out the kitchen ever so slightly, allowing us to add counter seating so we could sleep and seat the same number of people.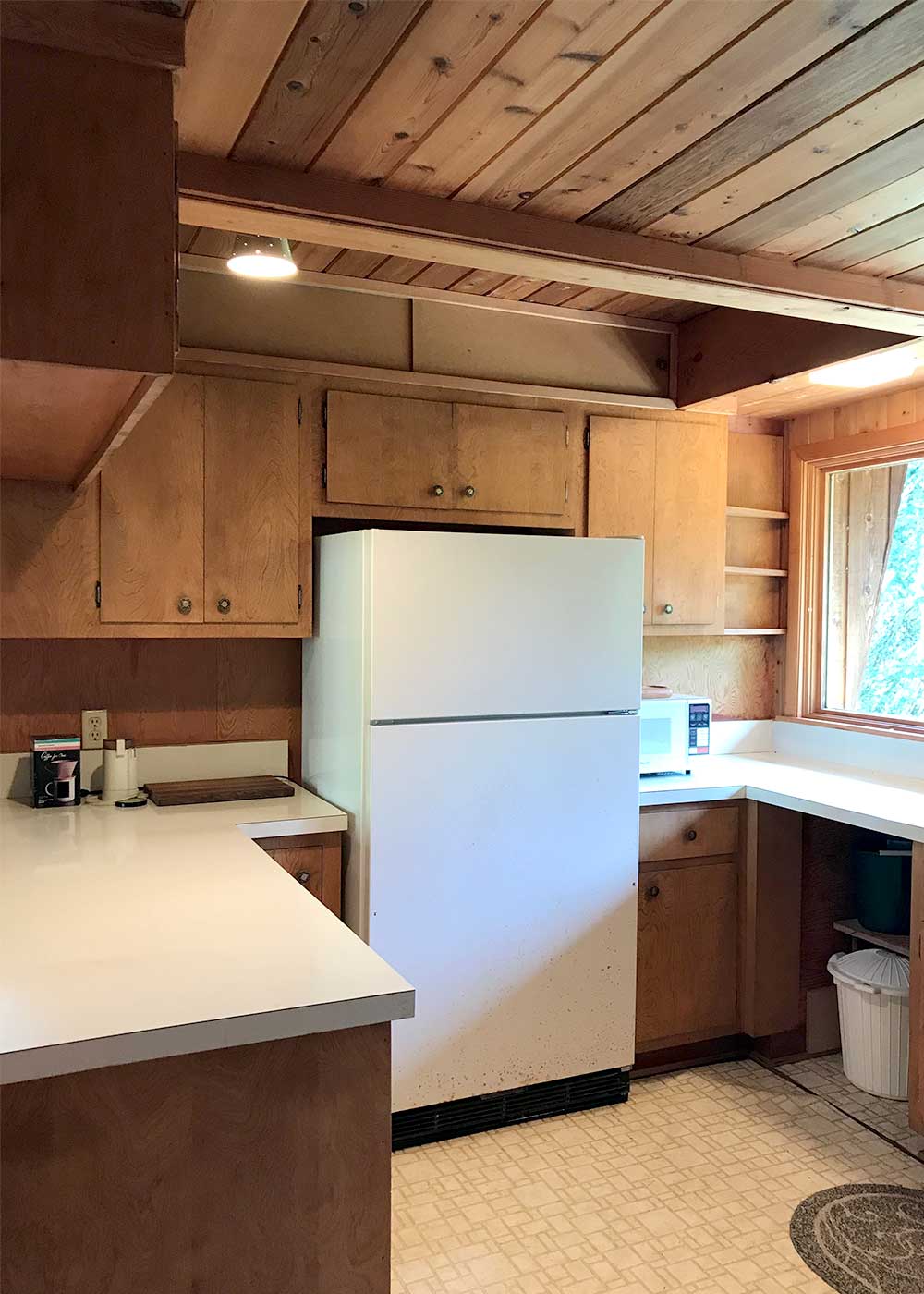 I also really wanted to add a pop of color in here. We made a hard and fast rule not to paint any of the cedar-clad walls, so I needed places to add big pops of color. Mostly pops of green. 50 shades of green to be exact.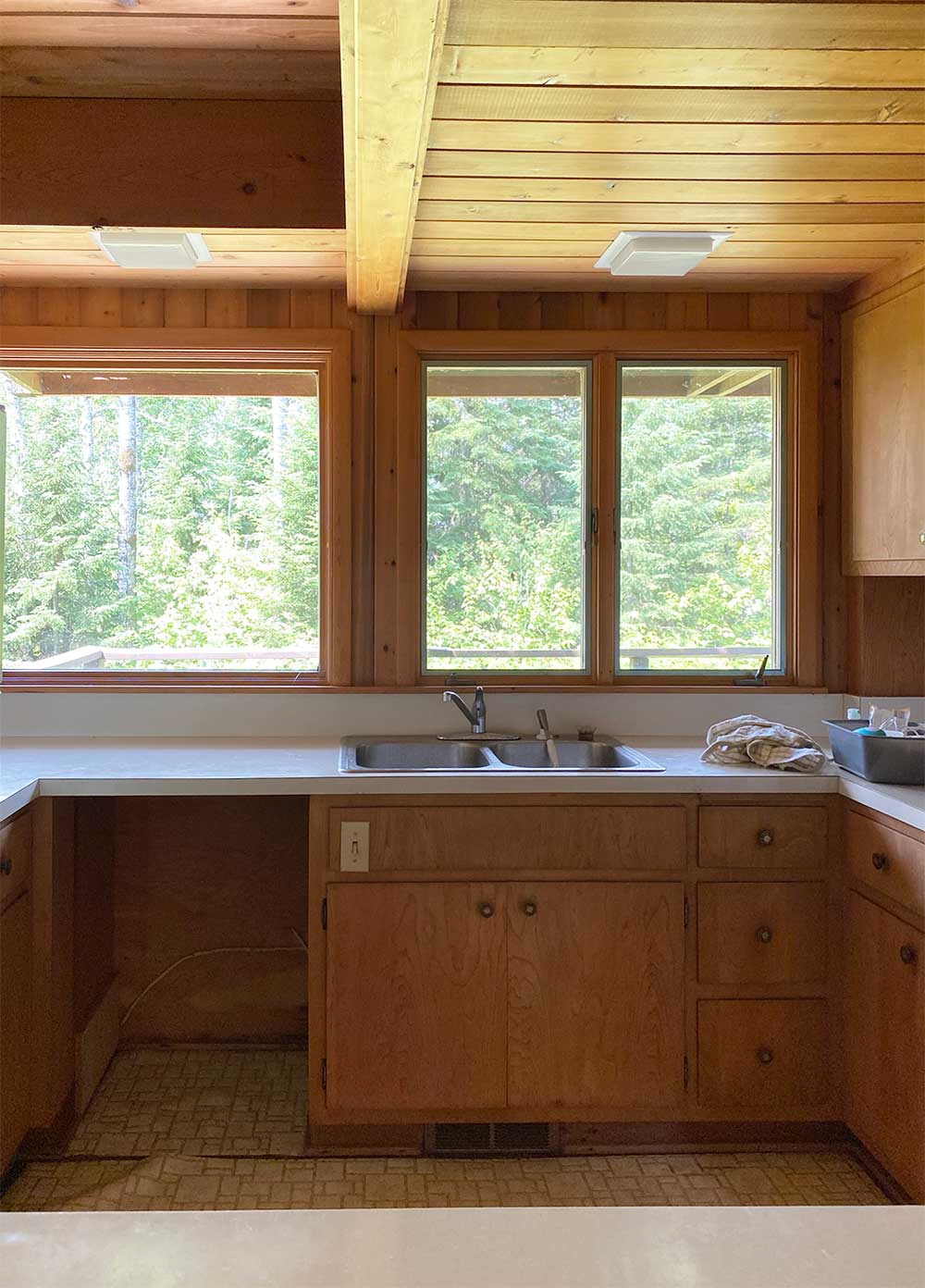 After repairing the bad plumbing overhead (I'll say no more about that stinky situation) and replacing the windows, the goal was to take this quaint and cozy kitchen down to the studs, bump it out about 4 feet, and install an updated quaint and cozy kitchen. One that felt like it had always been there. You know, without completely blowing the budget.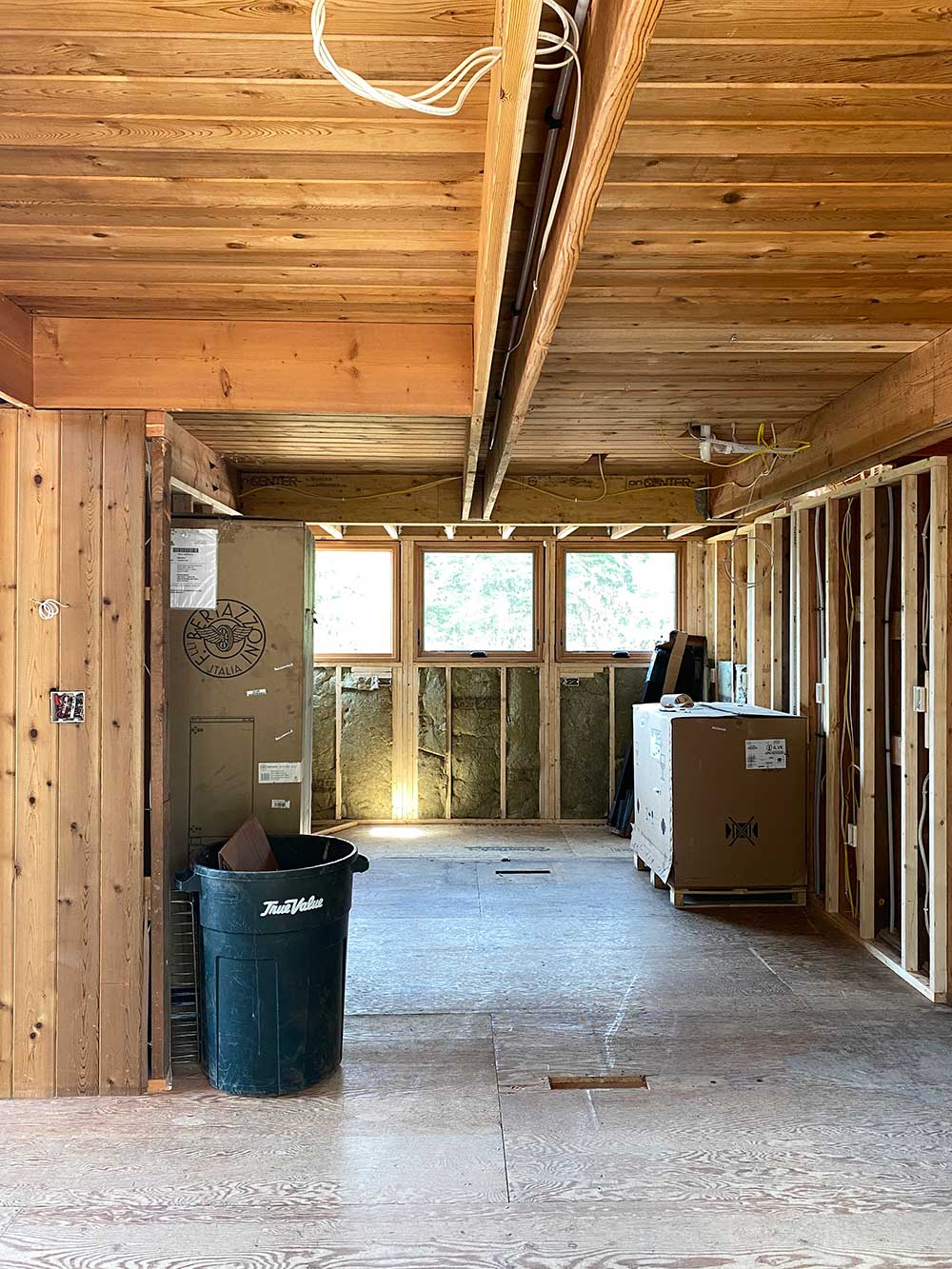 I think we did it. To see the wooded, quirky, cozy kitchen Pinterest board that inspired the design of this space, head this way.
After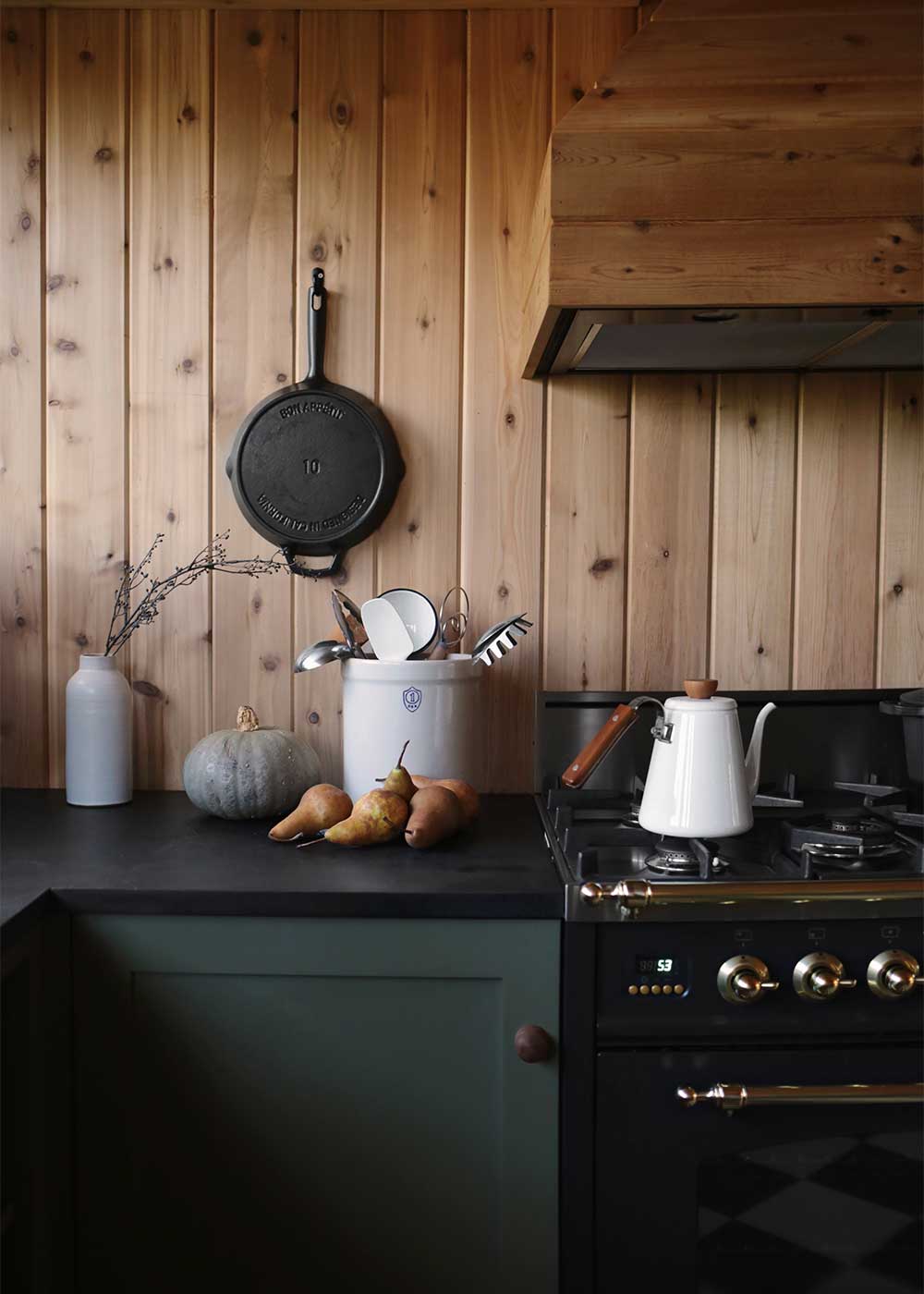 Here she is! With the walls wrapped in cedar like the rest of the cabin, the kitchen feels right at home. Along with the pop of green, I took the opportunity to also add a pop of pattern to the flooring, mixing cozy classics together.
Because we had to do so much restoration work on the exterior of the cabin, we had to keep costs down in the kitchen. But I still wanted that custom look. [Insert Kev rolling eyes here.]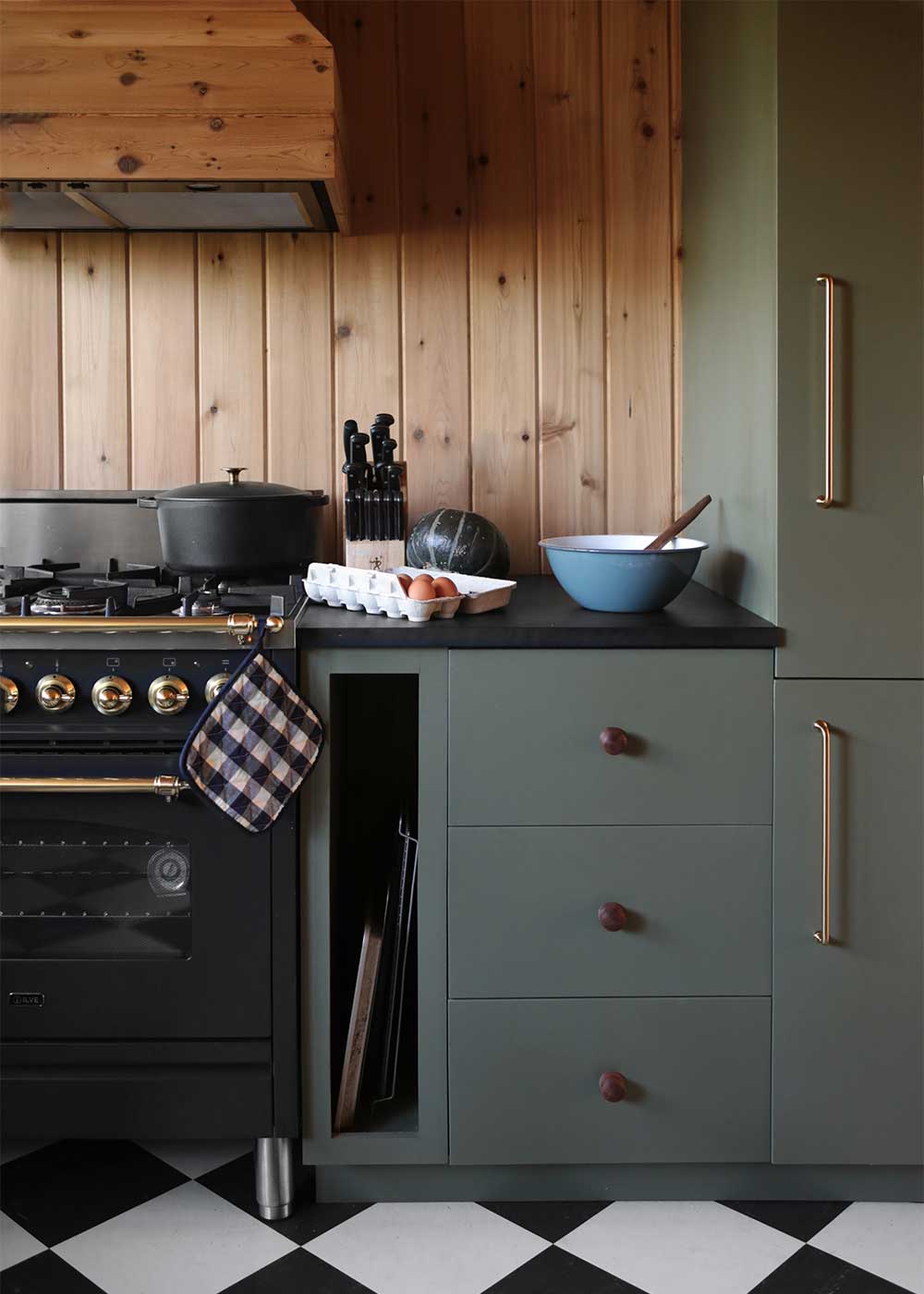 Cabinetry
So, how do you get that custom look without a custom price tag? IKEA kitchen cabinets + Semihandmade fronts. Throwing in a fancy range will really kick everything up a notch too.
Semihandmade fronts are super beautiful, incredibly durable, and have made it through heavy use for the last 4+ years at our house (see here). To create a more custom look, we paired their DIY Shaker fronts for the cabinet doors with their DIY Slab fronts for the cabinet drawers, inspired by this custom kitchen. (DIY just means you can have them painted any color you want.) It's nerve-wracking to mix and match styles but this pairing, shaker + slab, works particularly well together.
(Note: I'm grateful for the chance to partner with Semihandmade again. I received a discount on my order.)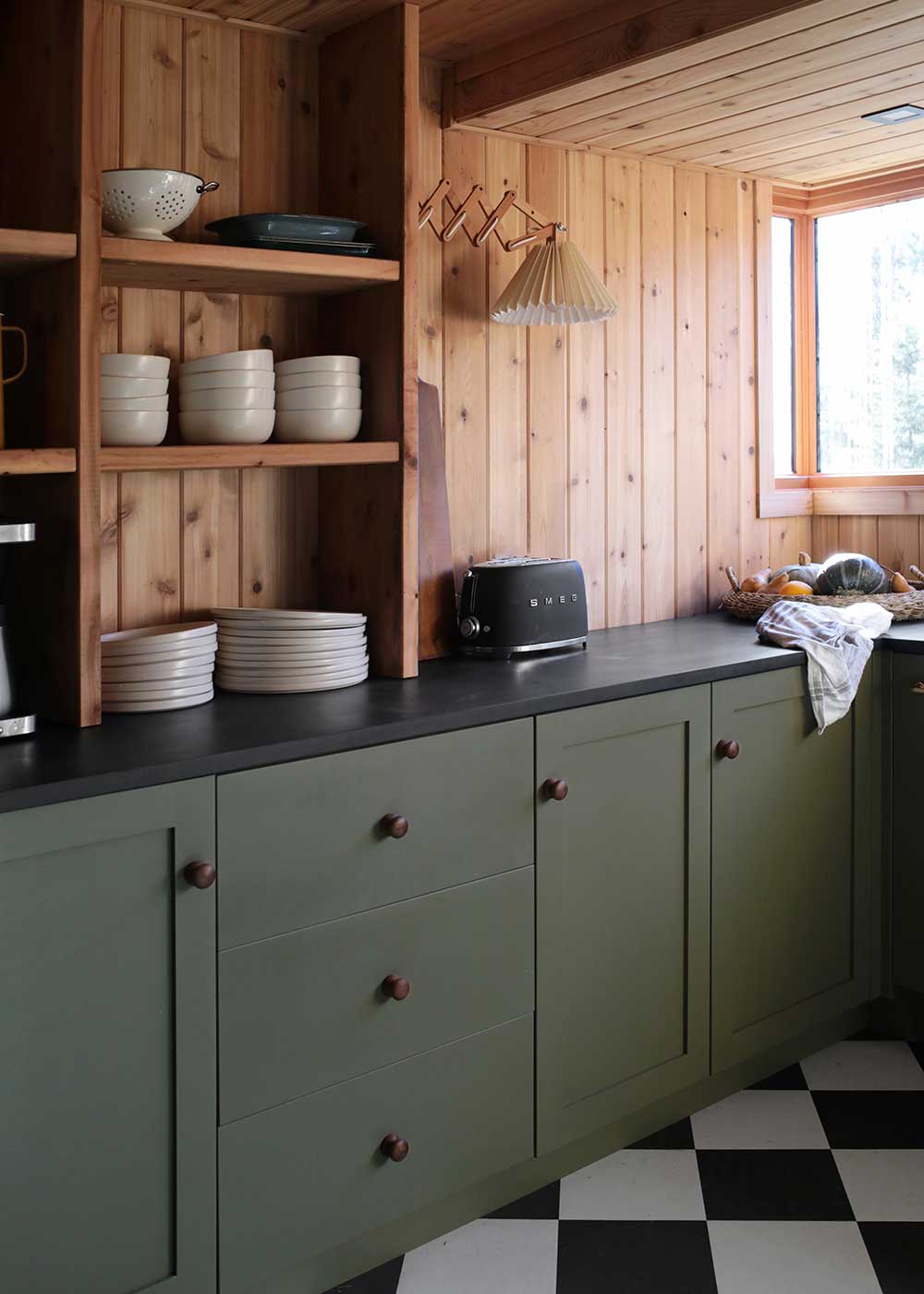 We also added in a couple of open-front cabinets to keep things charming and unrefined. Those boxes, however, had to be custom-made from paintable wood in order to match with everything else.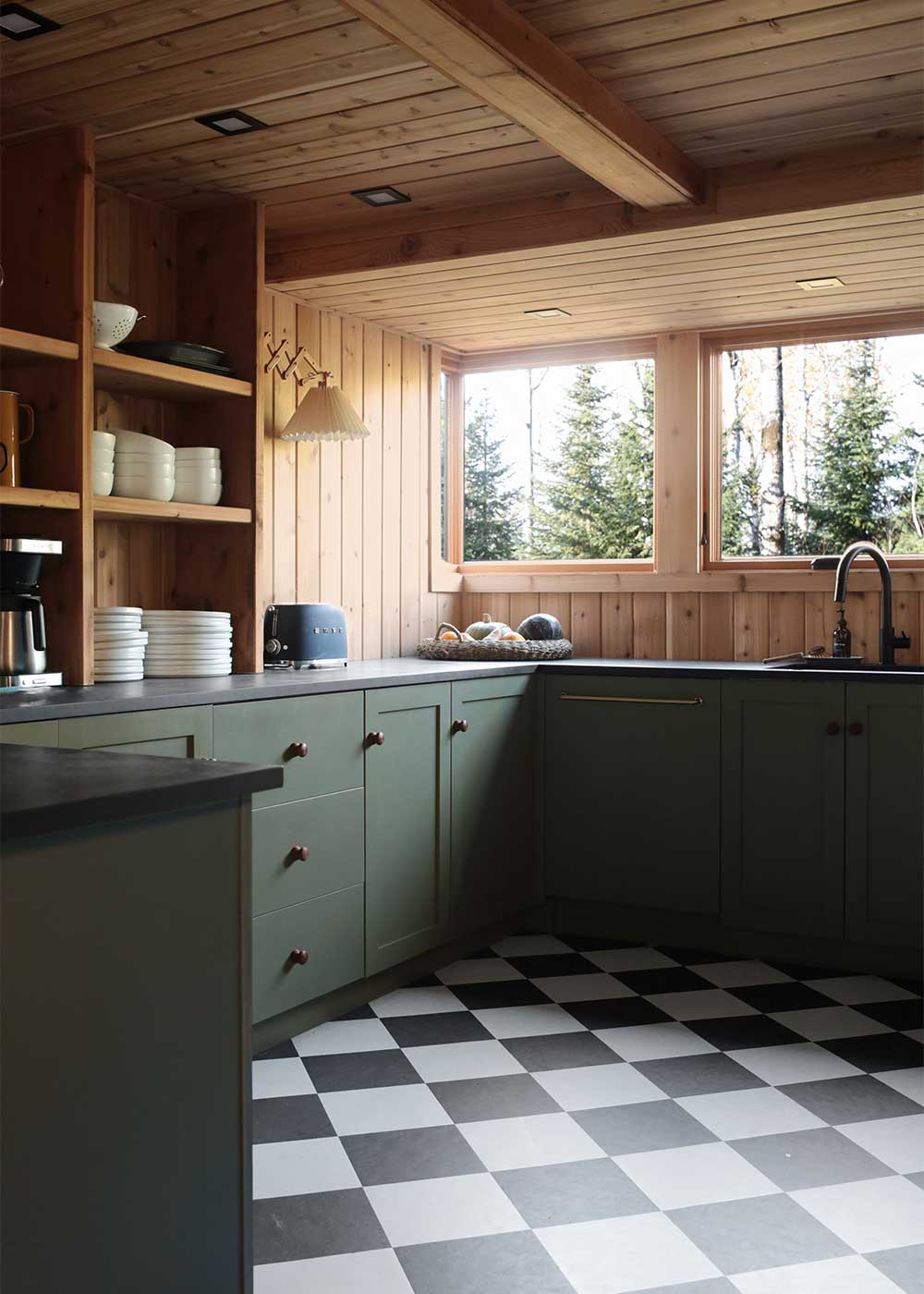 I know, I know. The paint color! Drumroll please … it's Trailing Vines by Benjamin Moore. You'll hold the swatch in your hand and swear this isn't the same color, but alas, it is. Which is a good lesson to look at your paint selection in a lot of different lights because the color will drastically change throughout the day.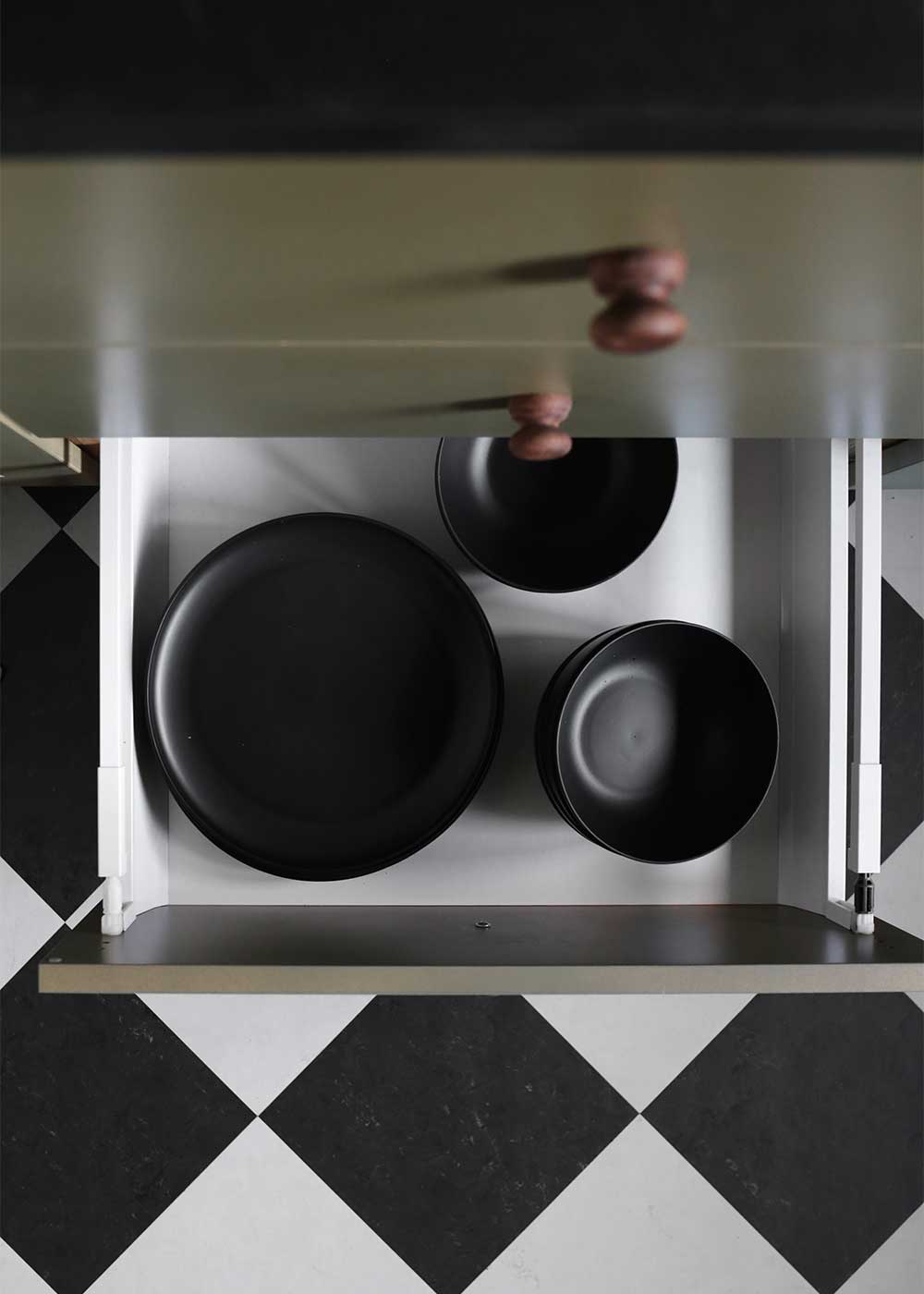 Here's a little peek inside so you can see the IKEA guts with the Semihandmade fronts. Seamless and beautiful.
Countertops
Would you believe me if I told you the countertops are made out of paper? That matte black beautiful surface is sustainably made from resin-infused paper. I wasn't familiar with it prior to working with Taiga Design. They use it in a lot of their projects, and I love how it ages, beautifully etching in stories and mishaps and long dinners. The cool thing about it—you can oil it for a richer, darker look or you can leave it as is. And if you want to buff out a mishap, you can. (However, I'm game for all the natural etching of life, on my face and on my counters too.) In-person, it looks a bit like soapstone without the hefty price tag.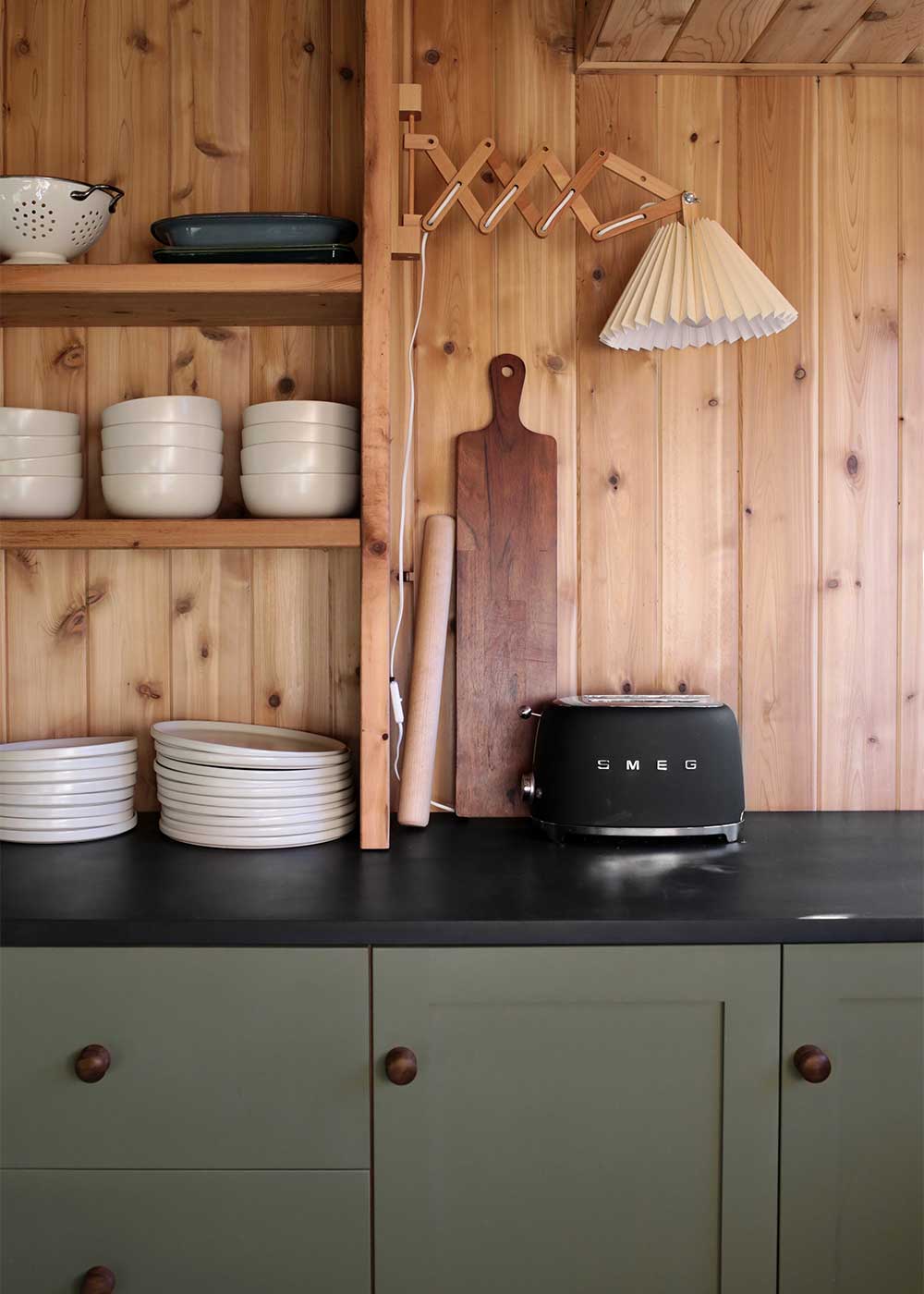 Open Shelving
Are they in or out? Well, in this space, they're permanently in. And they visually mimic a similar shelf treatment in the living room (coming soon), which is always a design element I lean on—repetition—to pull everything together. It's also an easy way to add extra charm, with the stacks of ceramic plates and coffee mugs and my favorite Falcon Enamelware bowls and pitchers on display.
Note: a common concern of open shelving is dust collection. It's a fair concern. With The Minne Stuga rented year-round and in high use, this isn't as big of a concern for us.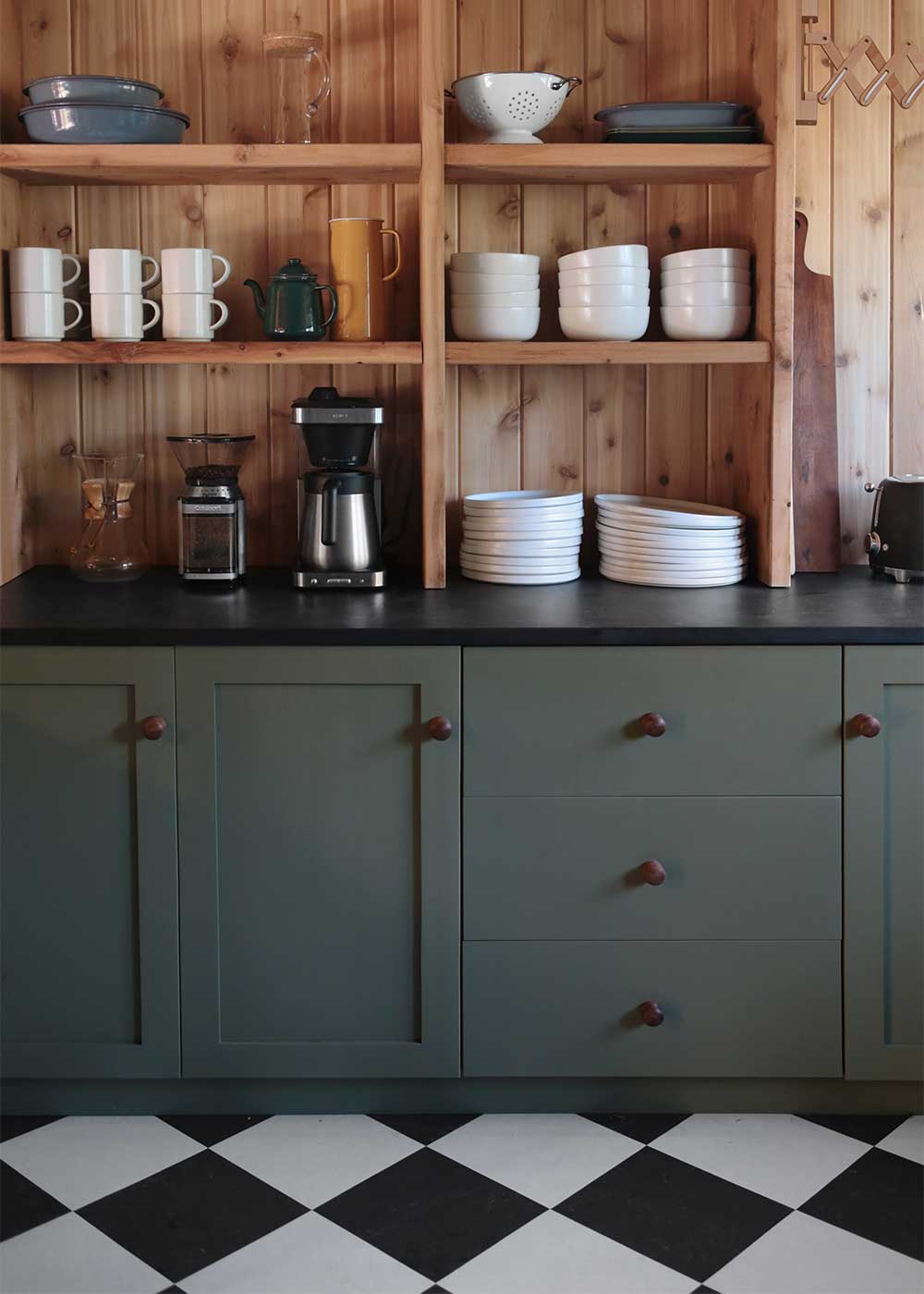 Did I mention this view looks out to the lake and a pile of evergreens? Heaven is a place.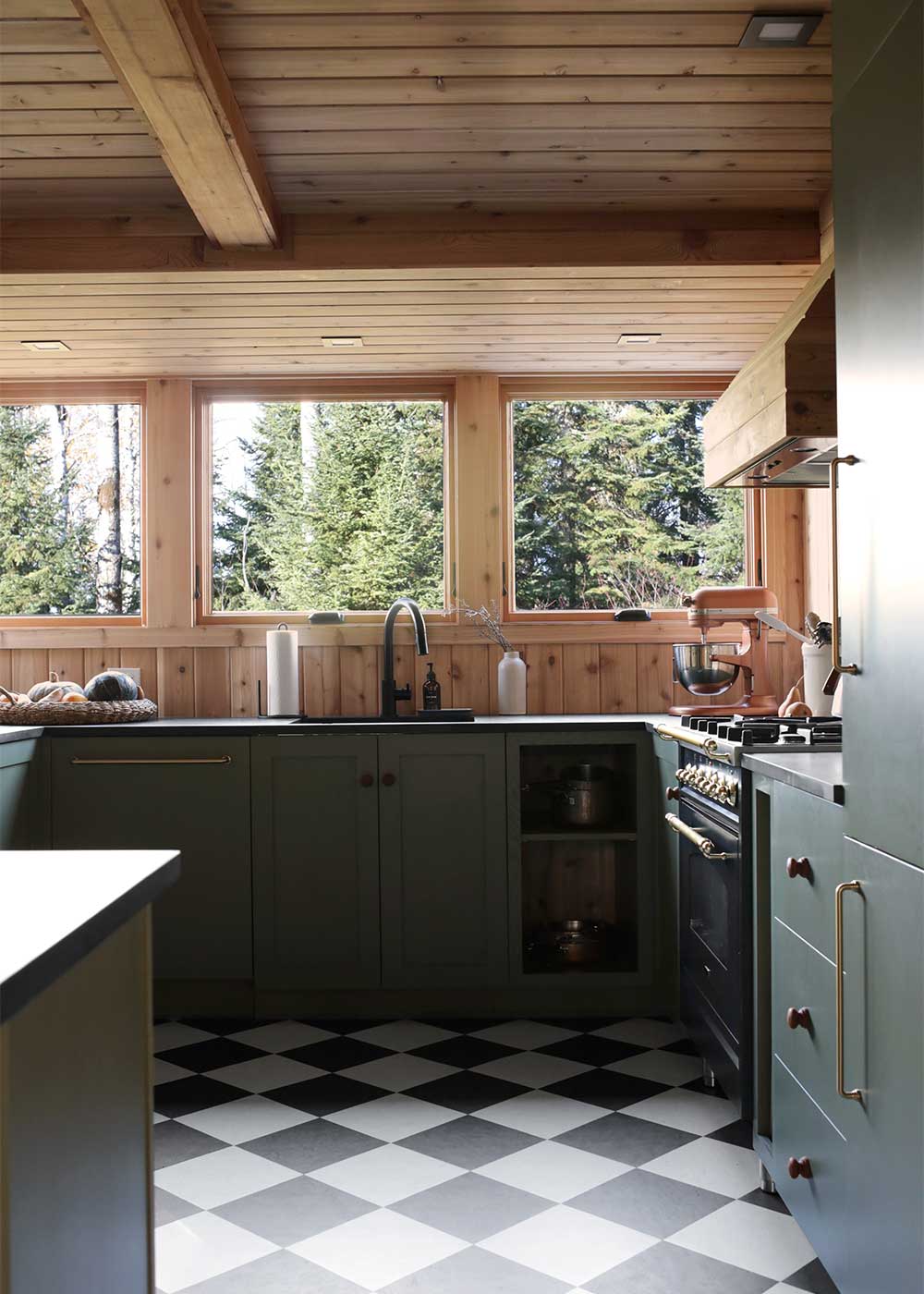 There's one part of the kitchen that I'm not showing you quite yet. Do you see the counter jutting out on your left in the picture above? That's the added counter seating. With stools on one side, the other side is a cabinet of open-front shelving for the piles of food you bring up to the cabin to cook. I'm working on adding a cafe curtain and another pop of color there. More to come! Update: I bought a sewing machine and learned to sew (kinda) and made a curtain to hide that aforementioned pile of food. It's just the touch of grandma's cabin this space needed.
Well, there you have it, maybe my most favorite room of all my favorite rooms in the cabin. The room that makes me question it all and want to move way up north under the big tall trees and the starry clear skies. Come stay and you'll soon see why.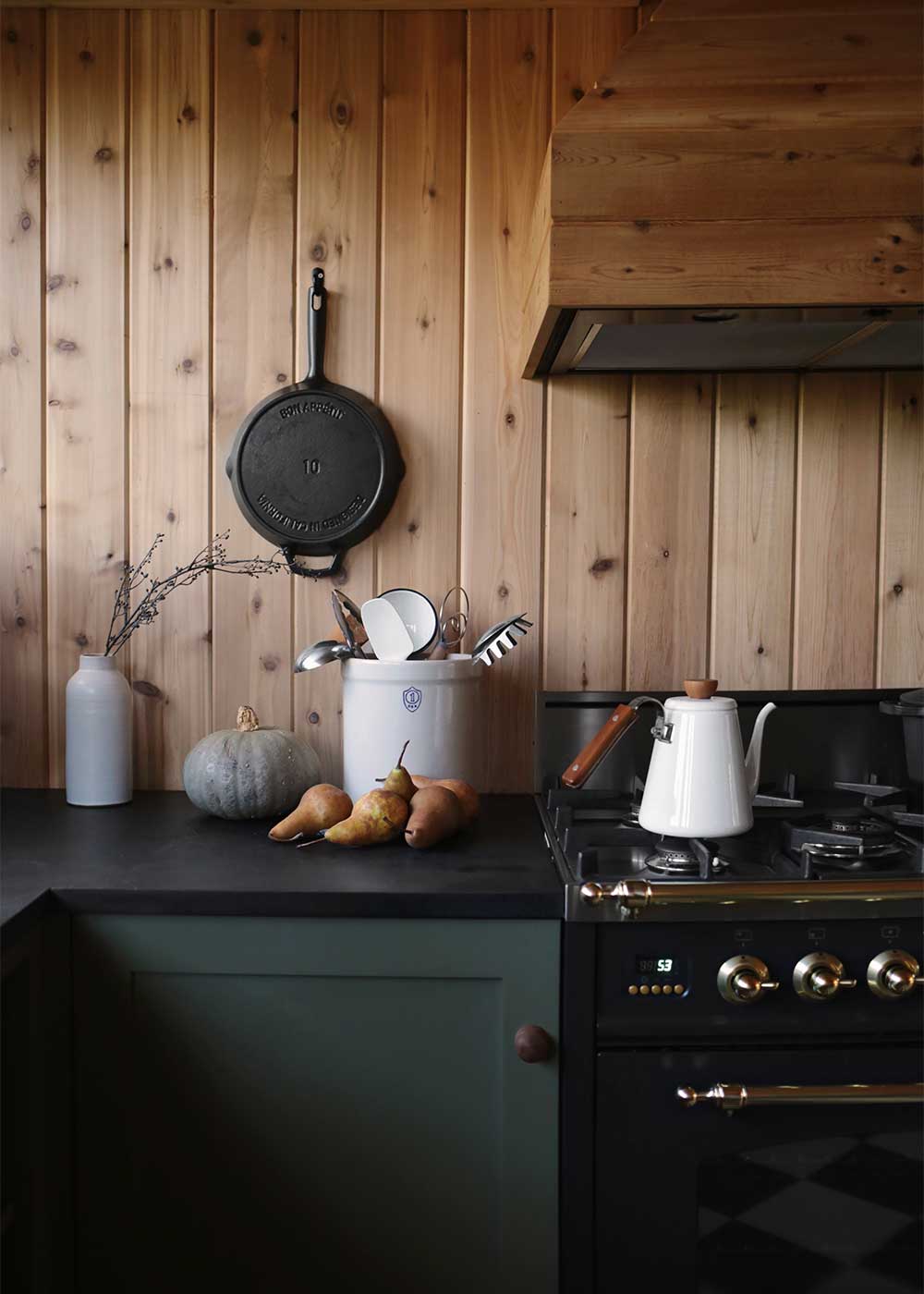 Sources: Semihandmade DIY Shaker* and DIY Slab Cabinet Fronts* in Trailing Vines by Benjamin Moore | IKEA Cabinets | Walnut Knobs rubbed in oil | Brass Appliance Pulls | Richlite Countertops in heritage slate | ILVE Nostalgie Series Range in matte graphite and brass | Venthood wrap by Taiga Design) | Marmoleum Floor Tiles in black and stardust | Enamel Pourover Gooseneck | Milo Cast Iron* | Crock (vintage) | Copper Pots | Falcon Enamel Bowls and Pitchers* | Slim Panel-Ready Fridge | Panel-Ready Dishwasher | Stoneware Plates, Bowls, and Mugs in ivory | OXO Brew* (see in action at our house here) | Smeg Toaster | Accordion Light | Marvin Windows* | Bottle Vase* | Copper Mixer (second-hand) | Sink Faucet in matte black | Black Undermount Sink | Matte Black Plates and Bowls | Cafe Curtain Rod in oil rubbed bronze | Homemade Curtain in Richloom Seaview Canvas fabric
Construction by Taiga Design + Build
Interior Design by Melissa Coleman (me)
Photography by Melissa Coleman
*Denotes items discounted or gifted
See the other cabin reveals: Living Room | Dining Room | Downstairs Bathroom | Downstairs Bedroom | Loft | Upstairs Bathroom | A-Frame Bedroom | Exterior | Outdoor Furniture
If you like the Cabin Kitchen Reveal, you might also like:
This blog is made possible by your support (thank you), select brand partnerships, advertisements, and affiliate links to items I love and use. READ MORE >