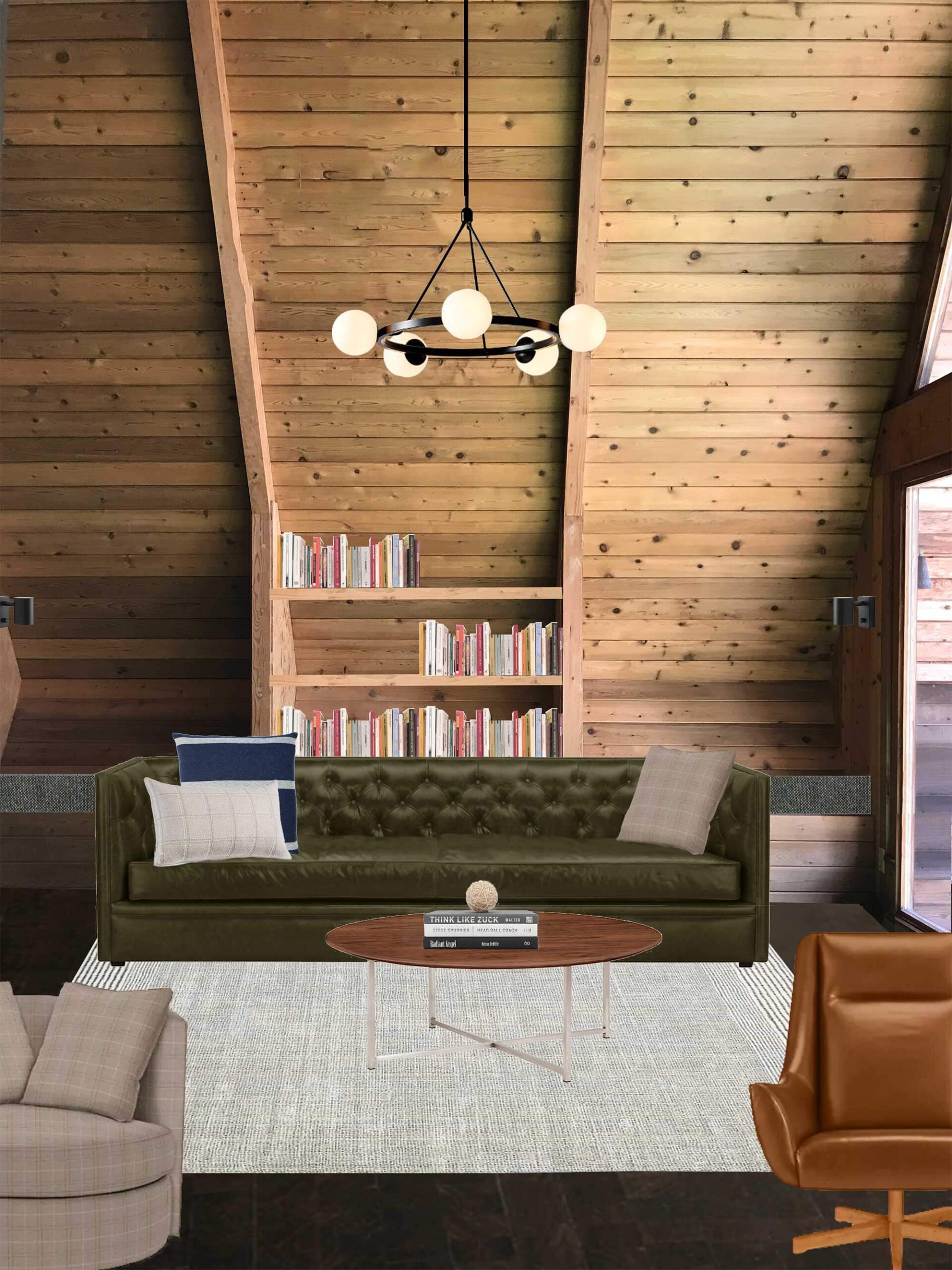 I haven't been posting much lately, but I've been working like crazy, at a pace that's not sustainable, into the night and on into the weekends. Designing a cabin and building a new tiny company (a cabin rental) sounds so simple and easy when you tuck it into a sentence like so. But it's taken every last resource to pull off something like this during a pandemic, with a baby, school at home for most of that time, plus a postpartum mushy brain. I keep saying, "We did it, we're doing it!" I even said it while talking to the bank last week. That was awkward. I'm not sure if I'm willing it to happen or looking for something to celebrate. Probably a little bit of both. So in the spirit of celebrating, I'd love to show you what I've been working on—the cabin interior mood boards. To read more about the what and the why of The Minne Stuga, head this way. (Note: I've often sounded like the antagonist in Thomas the Tank Engine, saying things like "I think I can't." It's not all roses over here.)
Before we get to my hobbled together photoshop renderings, let's talk overall aesthetic. In true style, I've pulled from a mix of styles to design the cabin, from mid-century modern to eclectic vintage to art deco. Oof, we have a little bit of everything. Style aside, I wanted this cabin to feel like the warmest hug, like an old library, like something special yet familiar. So I grabbed for rich tones and natural textures that would also honor and accentuate the great outdoors and the cedar walls. The walls that we aren't painting.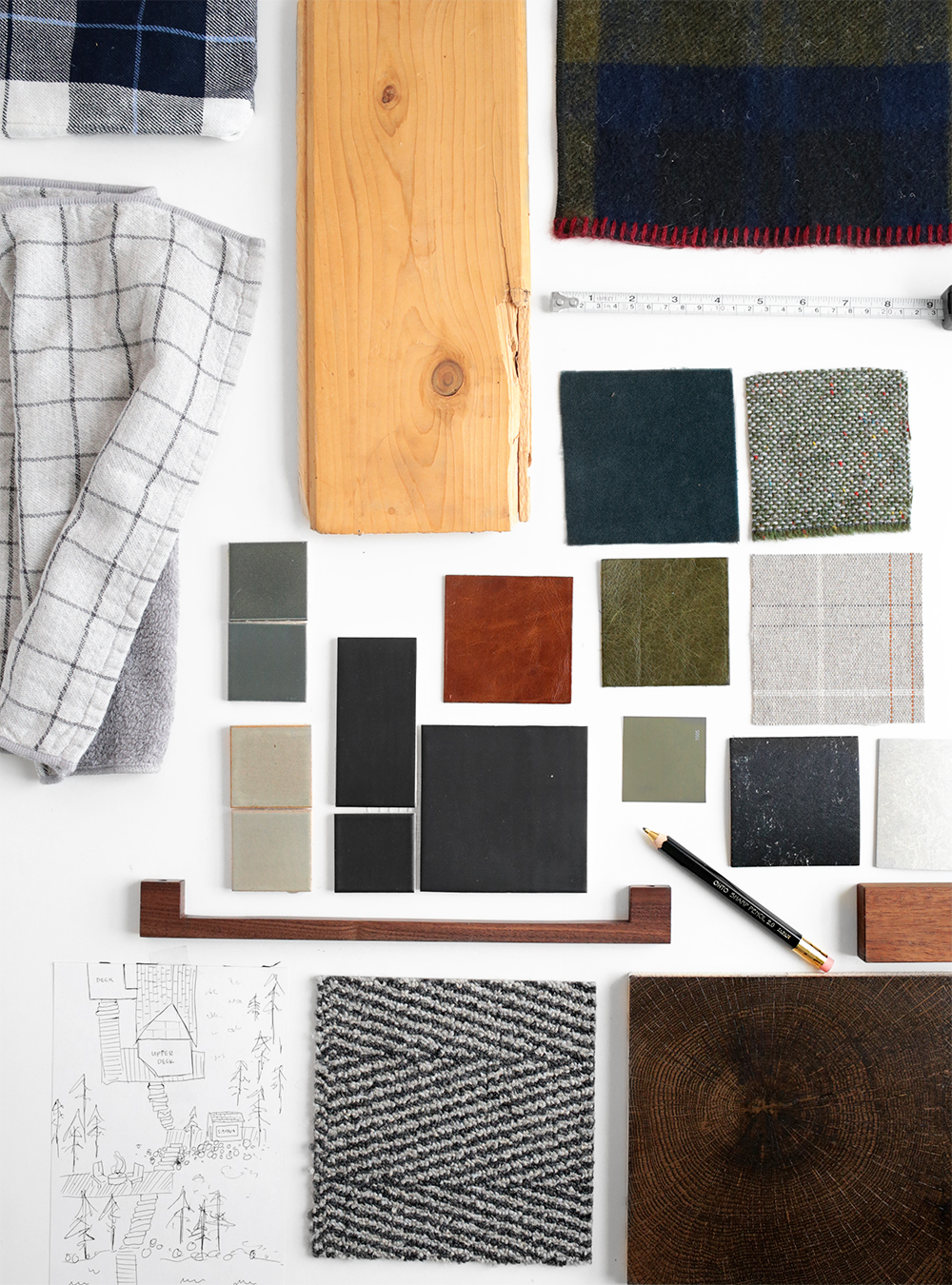 When I set out to make something—from a room to a recipe, I make a quick list of parameters to create within so I know how to create. The first rule for this project: Don't paint the perfect cedar. That proved to be harder to design around than I anticipated, but we did it! We're doing it. There I go again.
Living Room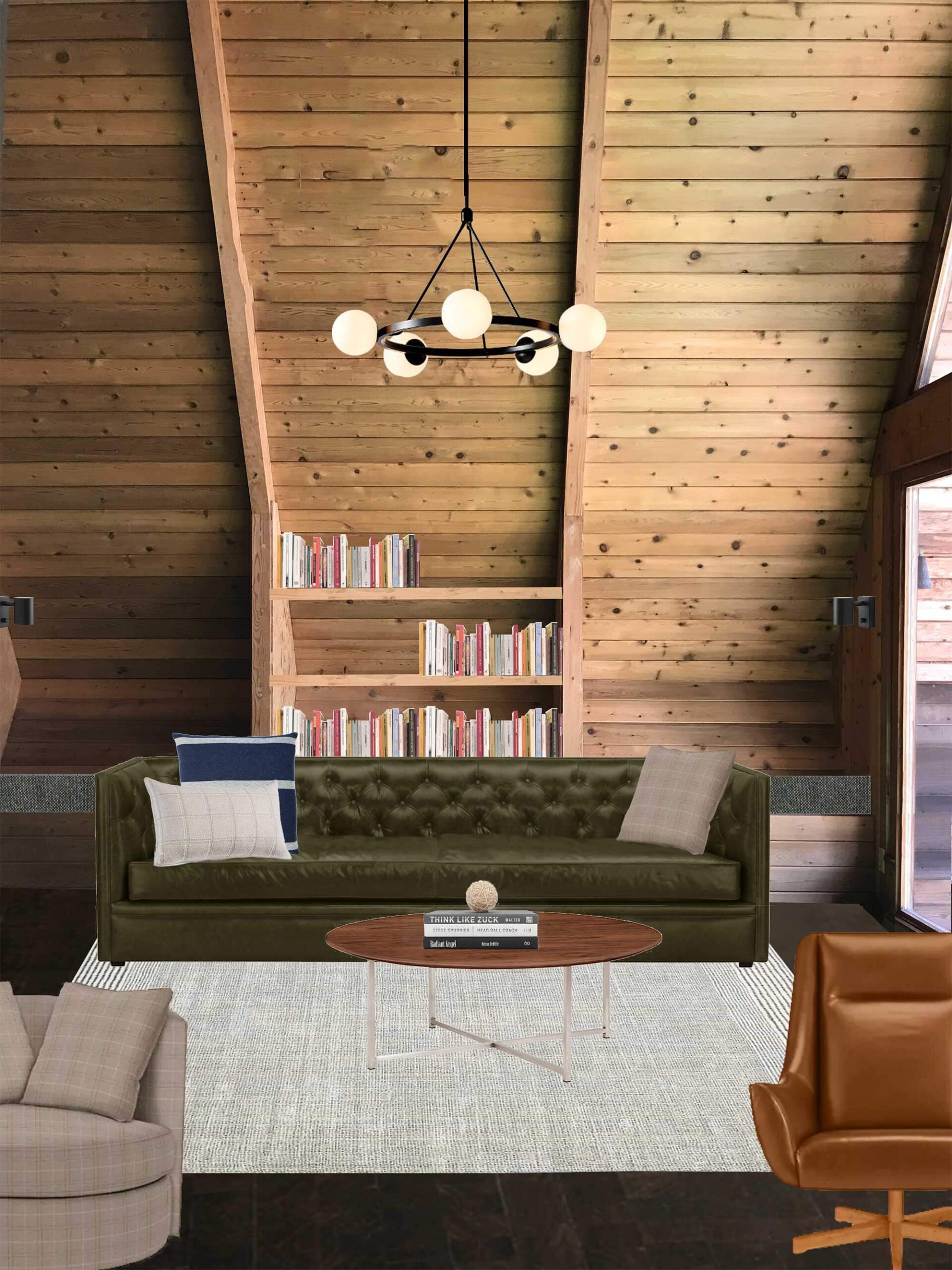 The Minne Stuga is one part A-frame, one part cabin/chalet. The living room sits in the lake facing A-frame, which you can't appreciate from these renderings focused on the interior finishes. You might remember the wall-to-wall bright green carpet that once flanked this room. (See here.) We've pulled it up to add end grain wood flooring from Kaswell. It looks like tile in shape with the classic warmth of wood. We're going dark with it to set the walls and the floors apart from each other.
This room is studded with nooks, six to be exact. Four will be converted to cozy reading nooks, a place to get lost in a book on a tweedy comfy cushion with a sconce to flip on when it gets dark. One will turn into shelving for a mini library. And the other will house wood for the original wood-burning fireplace.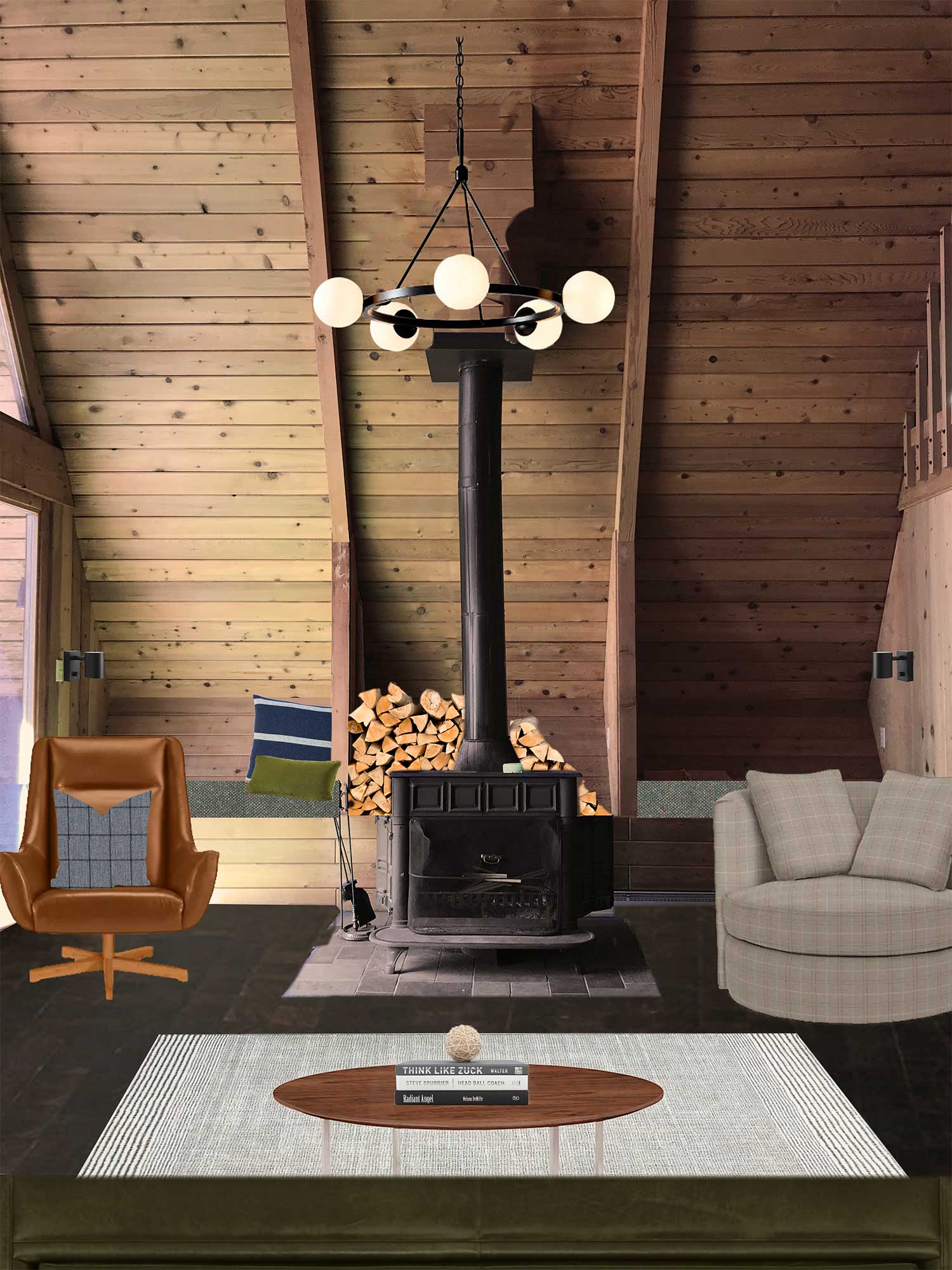 We're partnering with Room & Board, a Minnesota-based company, to furnish this room with super durable yet beautiful furniture. (We love them as seen in our backyard.) One of my favorite things about Room & Board is the ability to chose from a huge bank of fabrics for a custom look. For the cabin, we went with their contract-grade fabrics which tend to be a more durable grade of fabric for high-use spaces. Perfect for a rental. I'll share more about the exact furniture and fabrics when the room is completed. Stay tuned!
Dining Room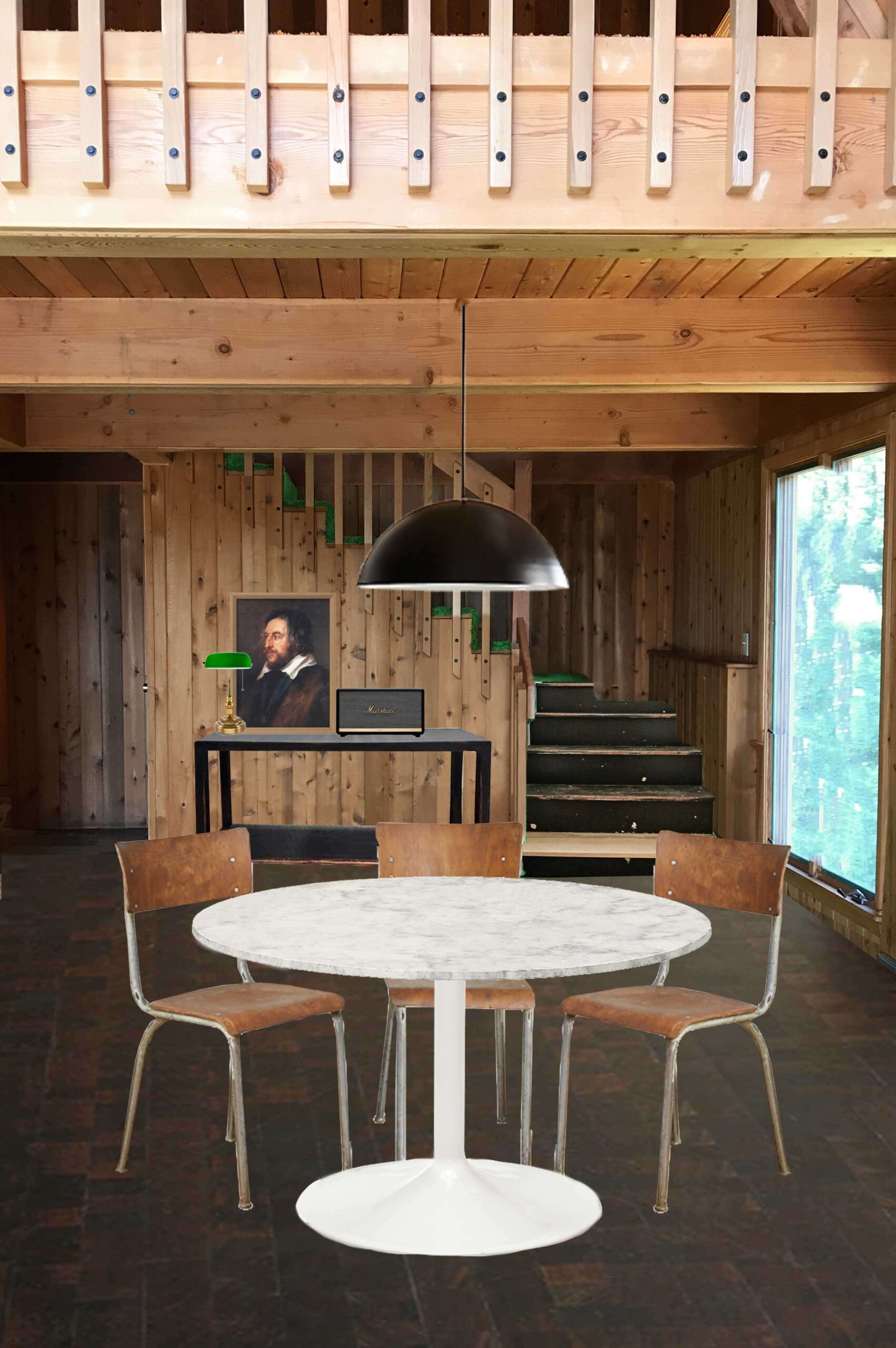 Traditional A-frames are typically one big open triangular room with multiple "rooms" within. As mentioned, this cabin is a mix of both, with the dining room sitting in the cabin section of the structure. The straight walls allow for a big window that looks out to the woods. What isn't big though is this room, so we went with a round tulip table for maximum seating and vintage chairs to keep things from feeling too new. We're also sneaking in some extra seating by adding a space for stools in the neighboring kitchen to the left.
Kitchen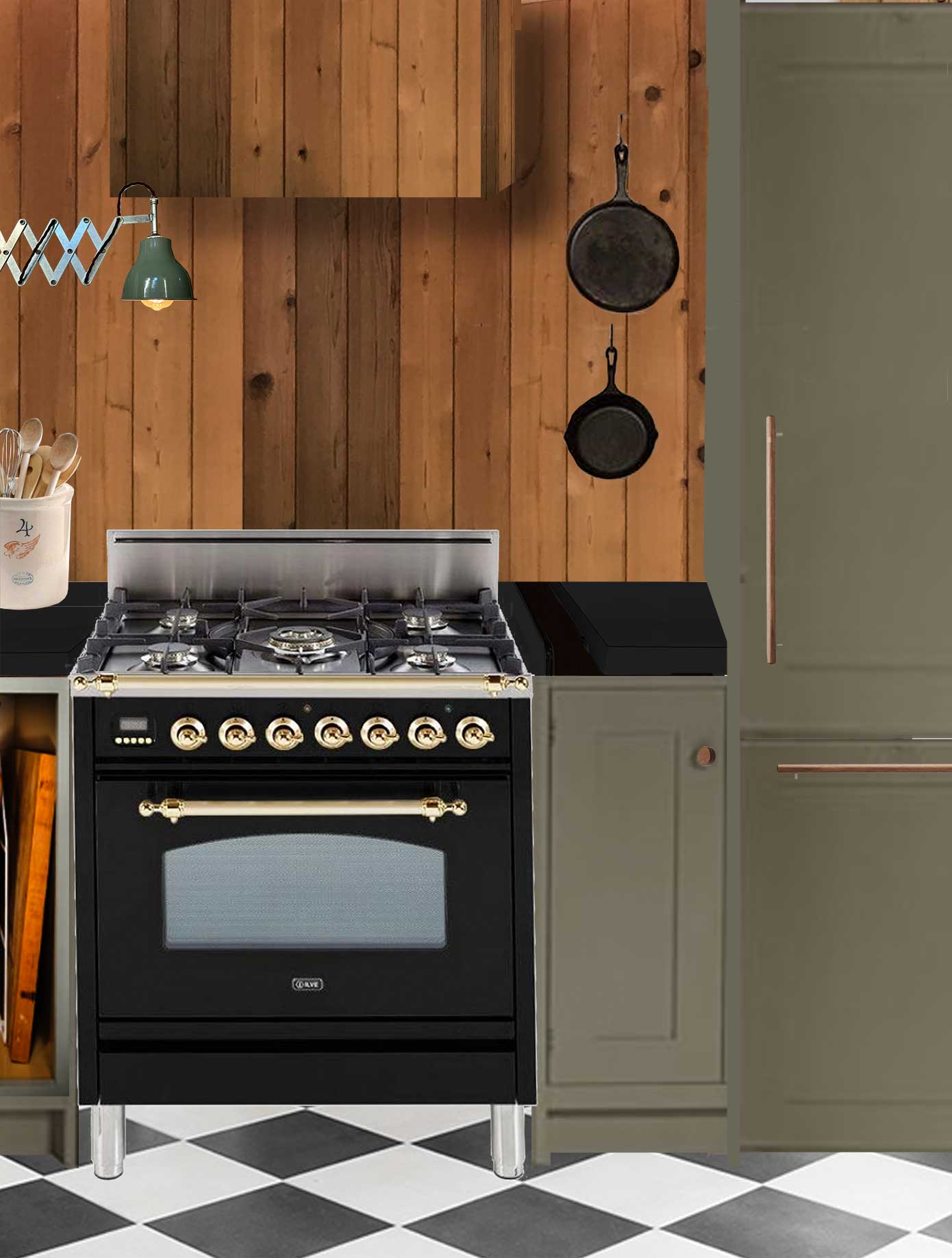 Ah, the kitchen. I wanted this room to feel extra special. To lure you (and me) in to try that long-winded recipe always sitting on the backburner at home. We're doing the most work to this room, taking it down to the studs and even bumping it out slightly for a view of the lake through the dense evergreens. With almost everything new, I wanted to somehow make this room feel like it's always been there.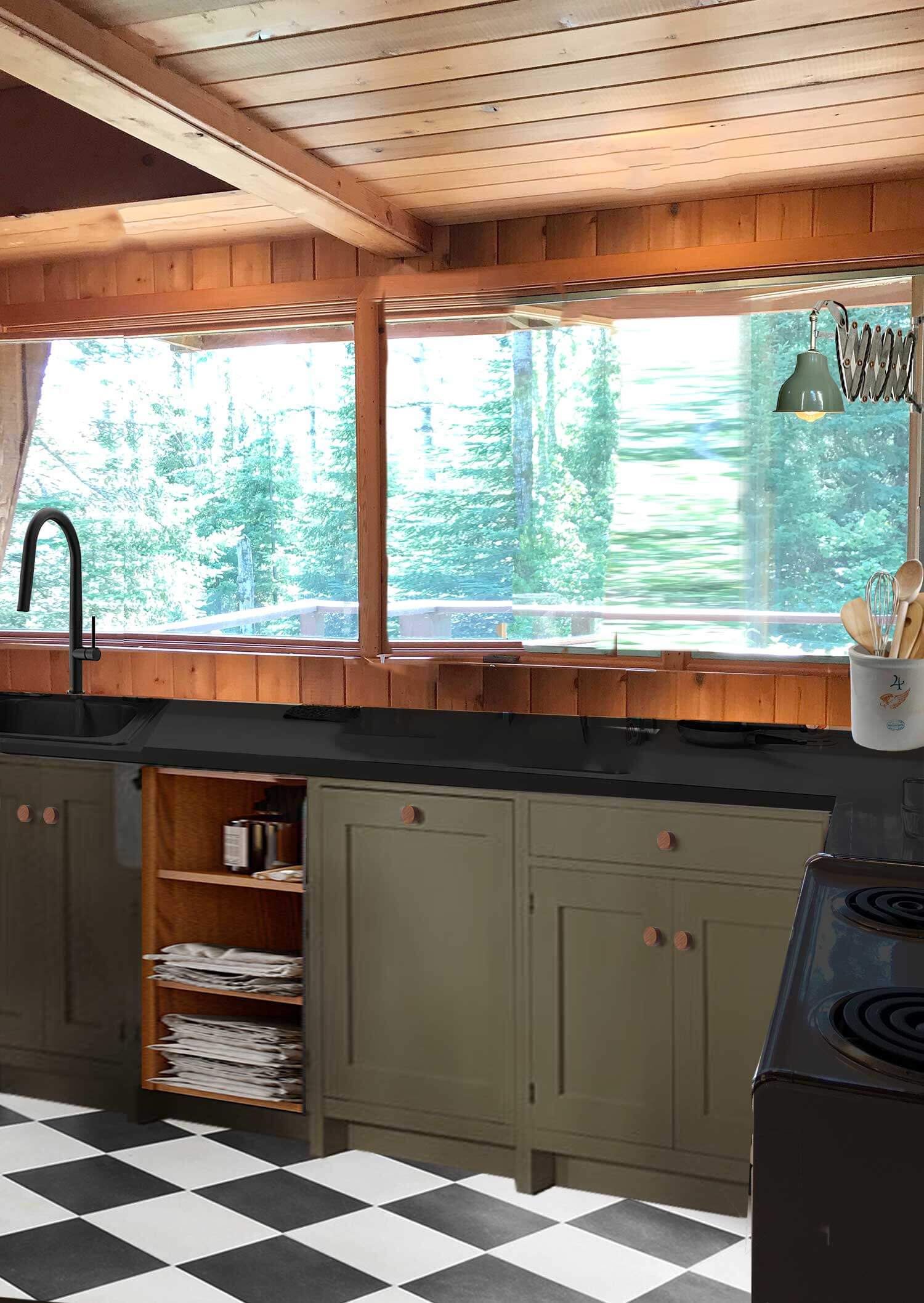 So we're adding the cedar paneling back in and only using lower cabinets. Some cabinets will have open shelving to keep things from looking too refined, storing things like baking sheets and pots and pans. Open upper shelving on the other side of the kitchen will be used to display pretty enamelware and bowls that make a cabin feel like a cabin.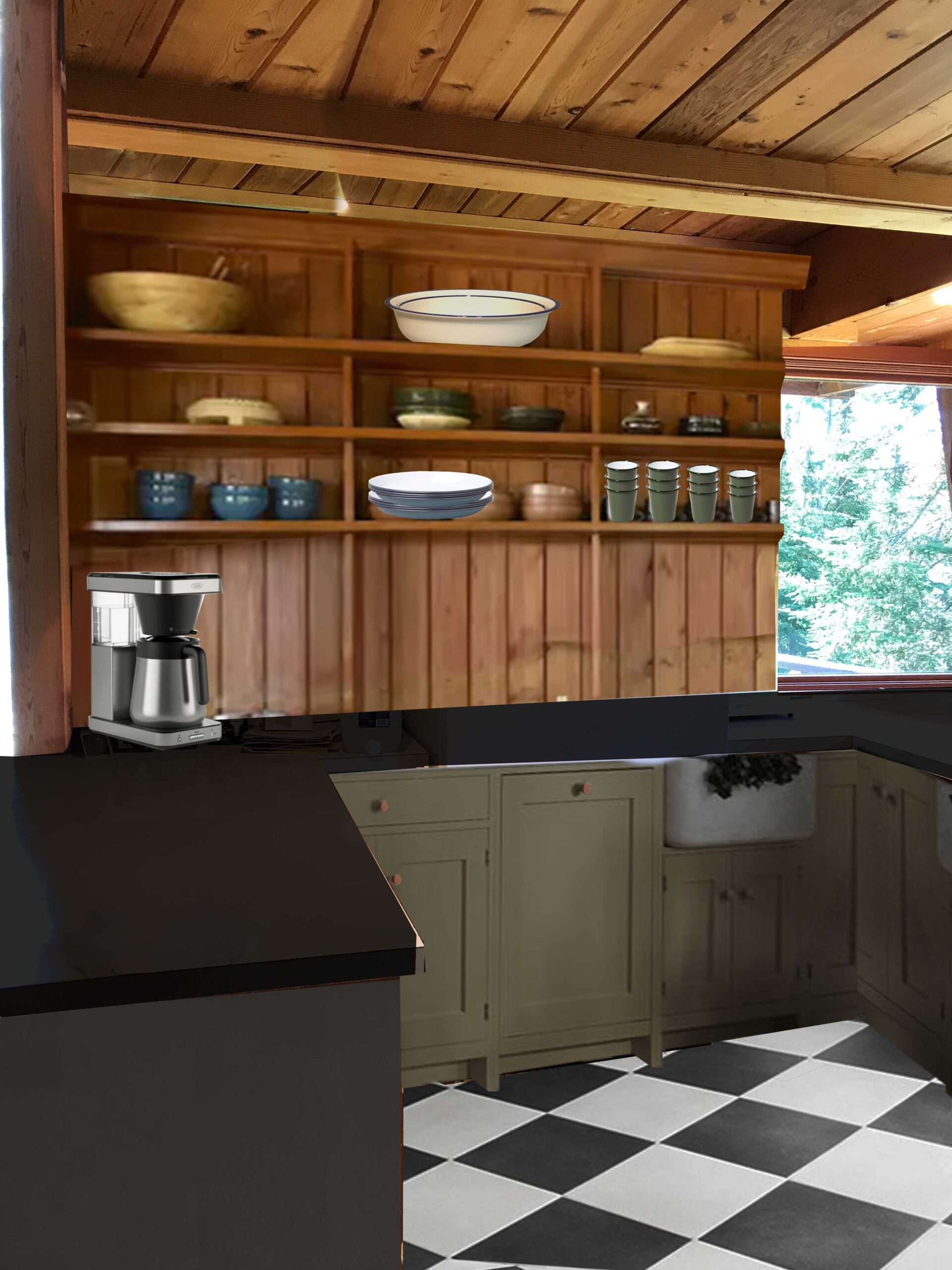 To stay on budget, we're using Ikea cabinets with painted Semihandmade fronts and walnut wood pulls to keep the wood tones bouncing around. We're also adding in some paneling to divide up the cabinets and create a notched-out toe kick for a custom-ish look. The floors will be an old-school checkerboard linoleum.
Downstairs Bedroom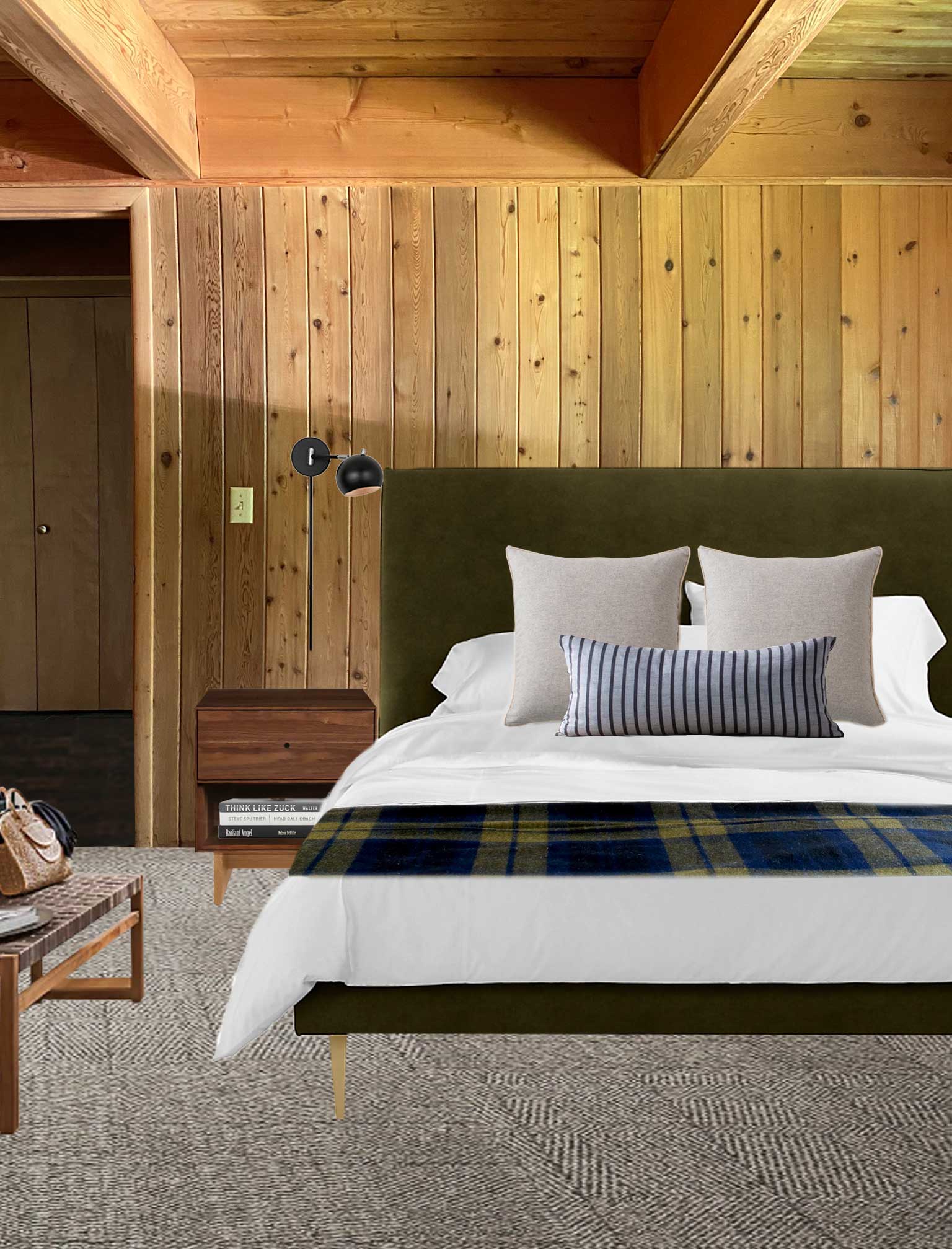 For the bedrooms, we wanted them to feel like a cross between a cabin and a hotel, with crisp bright white clean sheets paired with eclectic cozy vibes. To dampen and absorb noise while adding a pop of pattern, we added carpet to this bedroom and all throughout the upstairs. Can you have too much tweedy herringbone? I hope not. We're also partnering with Room & Board on this room. All bedding and mattresses are provided in partnership with Tuft & Needle, what we sleep on at home. And Minnesota-made Faribault wool blankets will wrap each bed in a cozy hug.
Downstairs Bathroom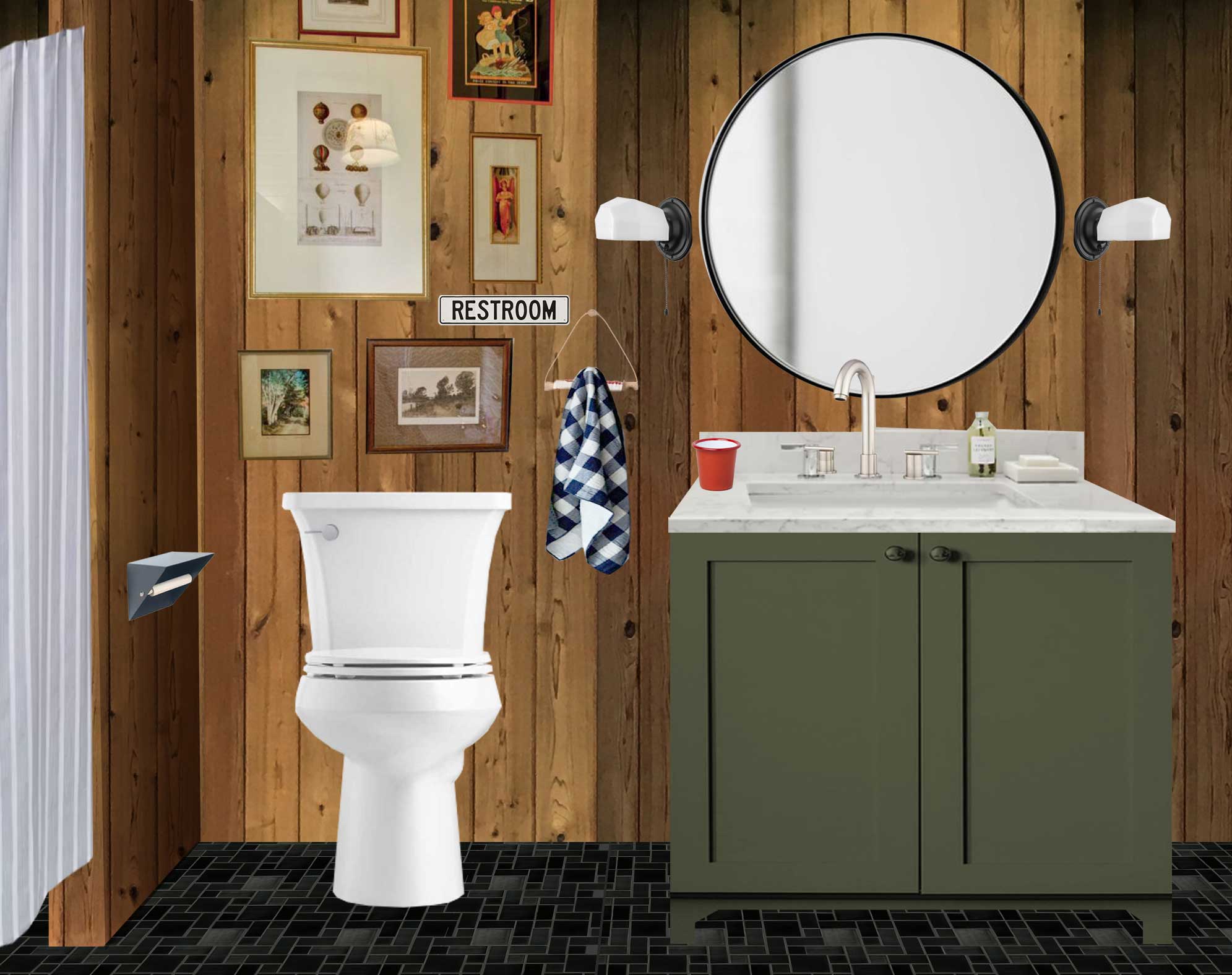 "Kev, what if we make this bathroom look like an upscale camping bathroom? With a stall-like shower." It wasn't his favorite idea but he let me do it. (And I think he loves it.) Can you spot the shower off to the left? I knew I was done designing when he said it was starting to look like a small-town bar. Yes, that. In this bathroom, we're working with Minnesota-made Mercury Mosaics tile. The original bathroom had craftsman-style tile, which is an arrangement of gridded square tiles varying in size. We're using the same style here with an updated application of all matte black. It's going to look sharp while nodding to the original design.
Loft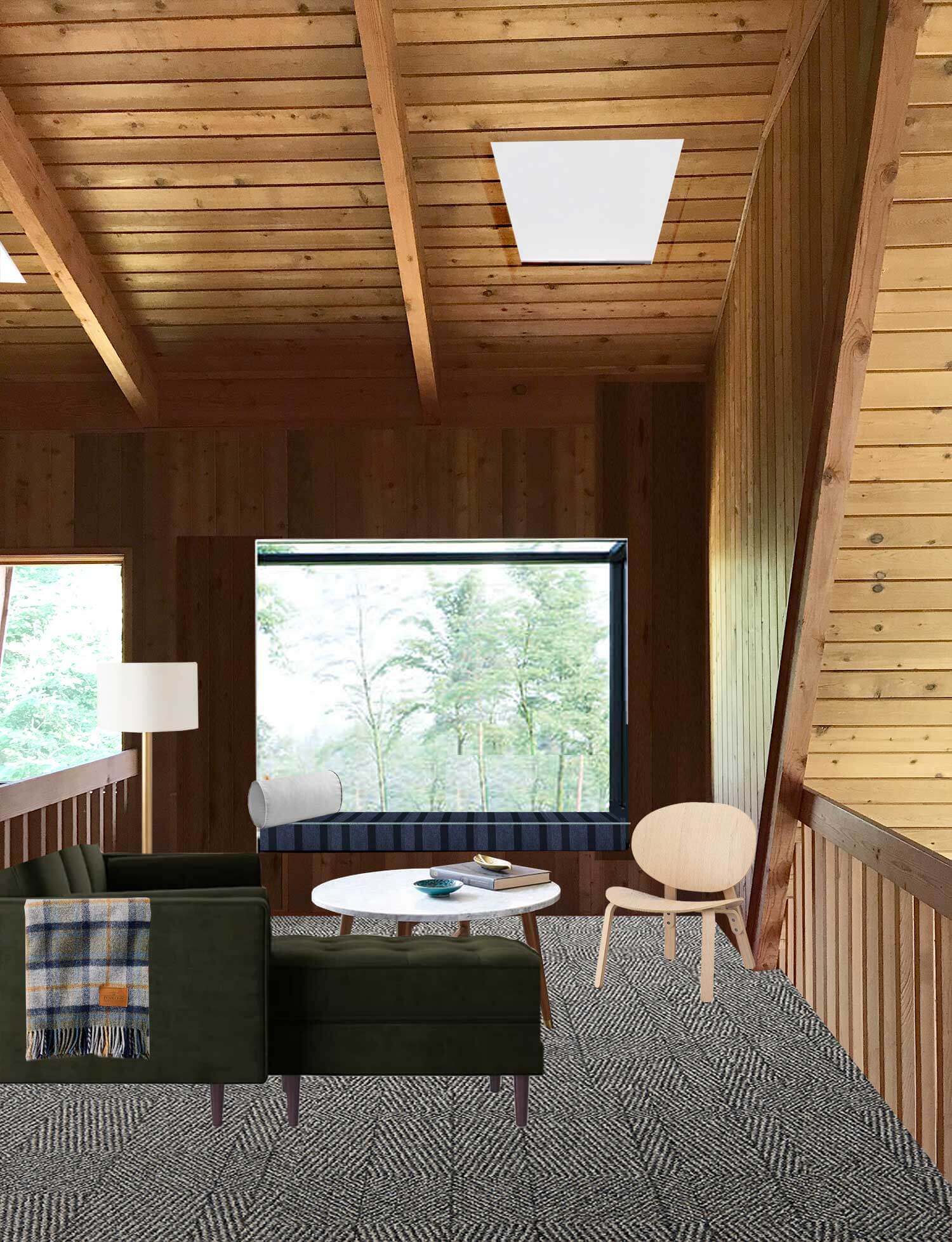 The loft sits upstairs at the top of the A-frame with a full view of the lake and a full view of the woods. It's so much brighter up there with the addition of the Marvin Skycove, a glass nook, the Marvin Awaken Skylights, and the Marvin A-frame windows, another Minnesota-made partnership. This rendering doesn't begin to do it justice. We imagine this room will be used to play games or chat or watch a movie on the projector. Speaking of, we're on the hunt for the best floor pillows. Do you have any recommendations?
Upstairs Bedroom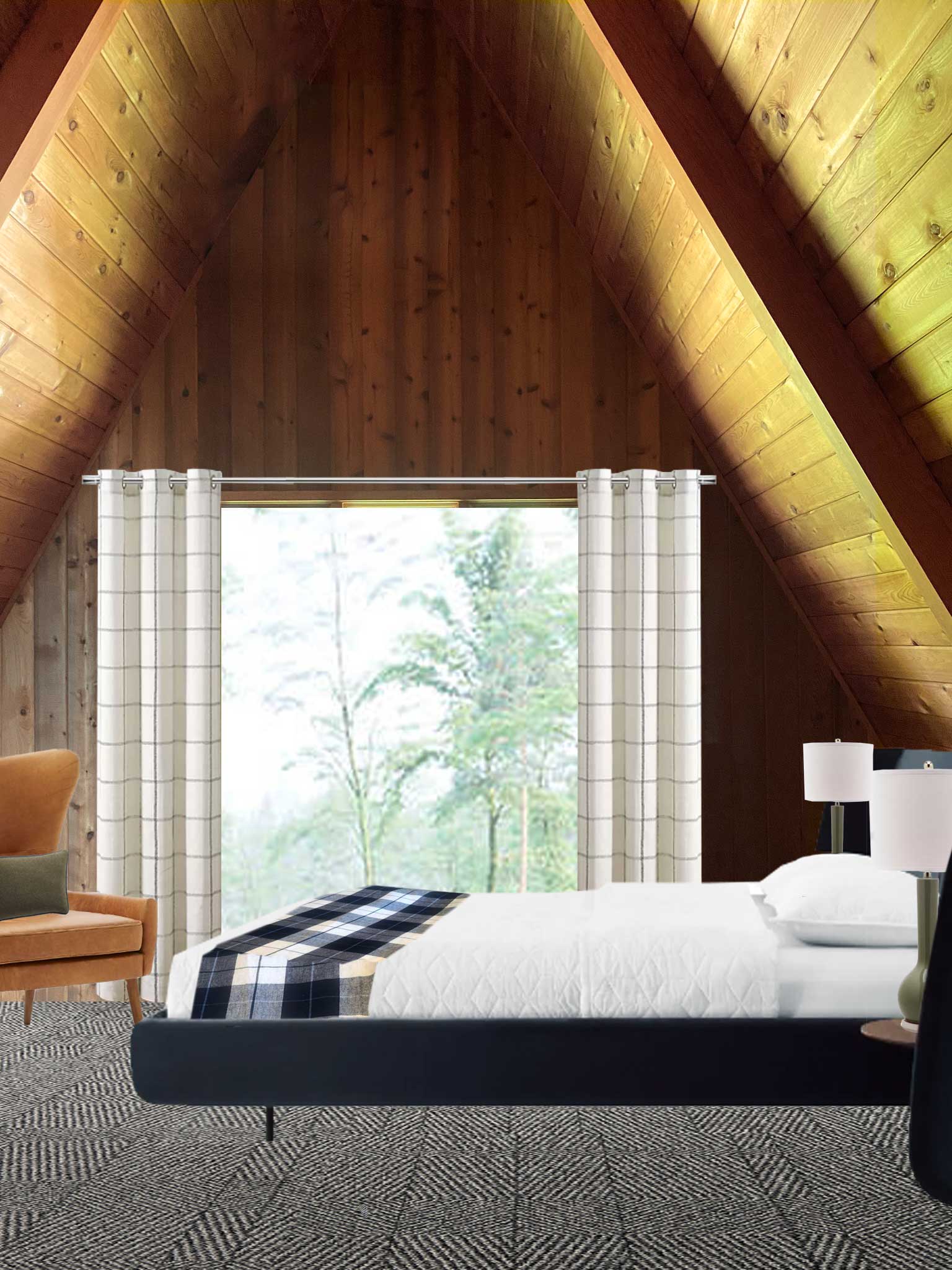 The upstairs bedroom sits at the peak of the A-frame, away from the lake. When we originally saw this room, we thought it would be cool to glass the entire triangle. However, due to code, you need an operable escape window in every bedroom. So instead, we went with a big operable square window. For prime tree viewing, we're placing the bed on the angled wall. I know, a little unconventional. We found a bed with a wide frame to help to create a faux wall and anchor the asymmetry.
Upstairs Bathroom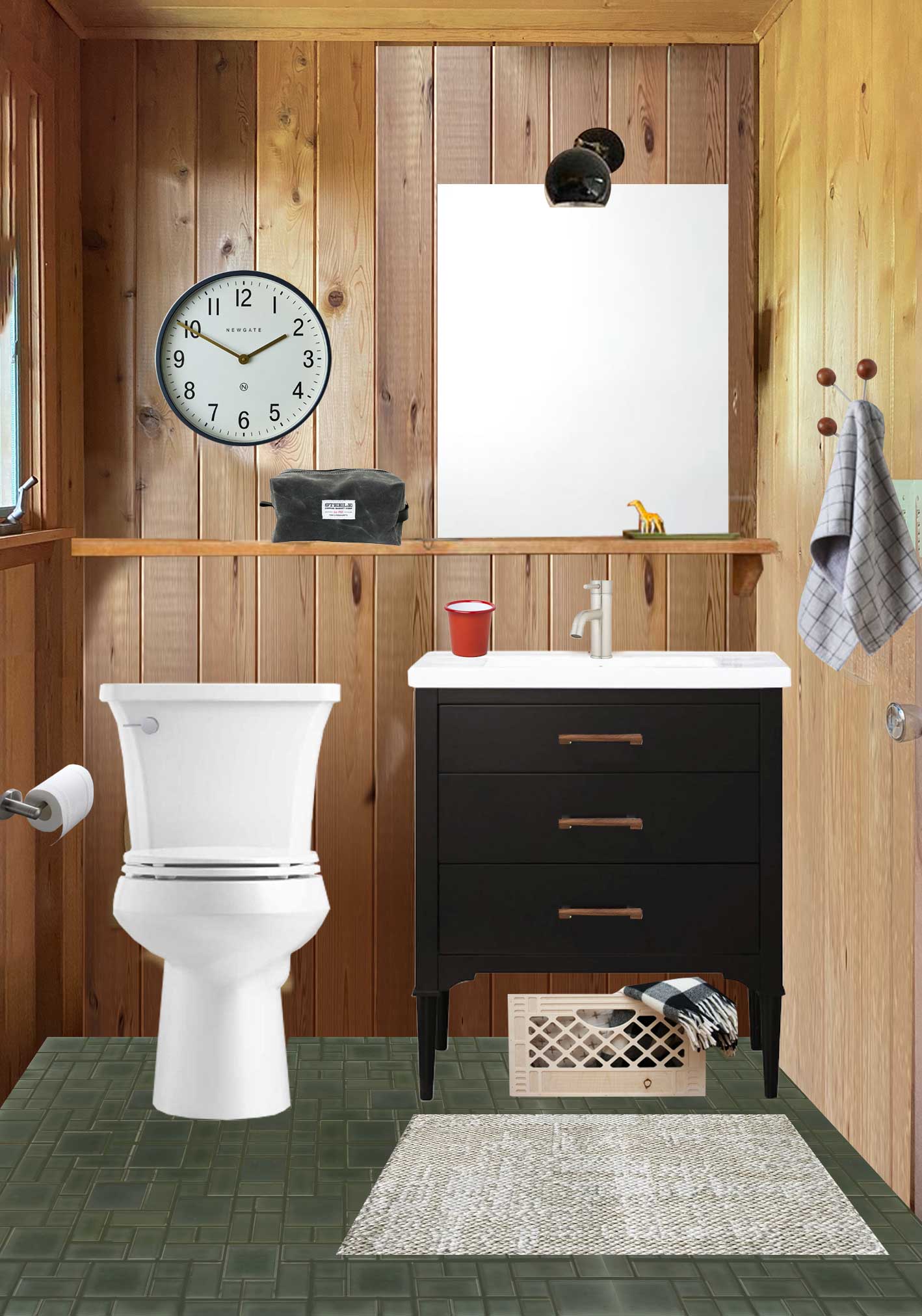 Like the downstairs bathroom, we're using Mercury Mosaics tile on the floors and in the shower. I'm playing with color a bit in here, using two different shades of green. By the time I'm done with the cabin, we'll have 50 shades of green without all the steam, unless you're standing in the bathroom. We're adding in a shelf for Dopp kits and toiletries too.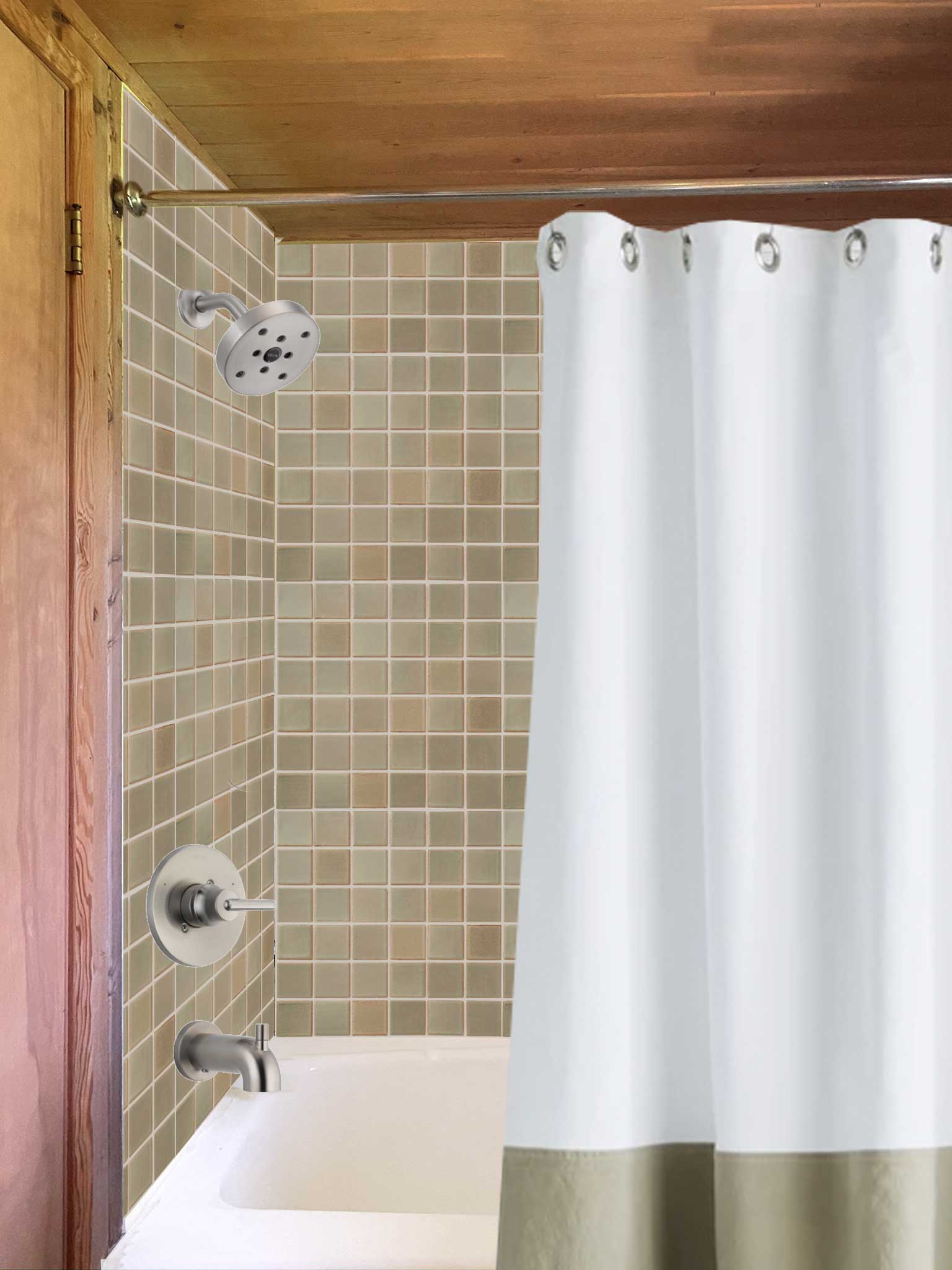 The basement (not pictured) is still a work in progress. We're adding in a last-minute bunkroom and Kev is on the hunt for a recreation table. Foosball anyone? Thanks for tuning in to this cedar-clad labor of love. We're so close to wrapping up construction, and we can't wait to share The Minne Stuga with you!
To read more about The Minne Stuga:
This blog is made possible by your support (thank you), select brand partnerships, advertisements, and affiliate links to items I love and use. READ MORE >