The backyard, at least this section of it, is done! We've officially moved ourselves back here until winter hits. We've also committed ourselves to learning how to cook dinners in a wood fired pizza oven. More on that coming soon. In the meantime, I'd like to introduce you to #thebackofthefauxhouse. It's so cozy back here. Before we get too far into this post, be sure to check out the plans for our Minnesota Modern Backyard from a couple posts back, including details about that matte black fence. It's come a mighty long way. See below for proof.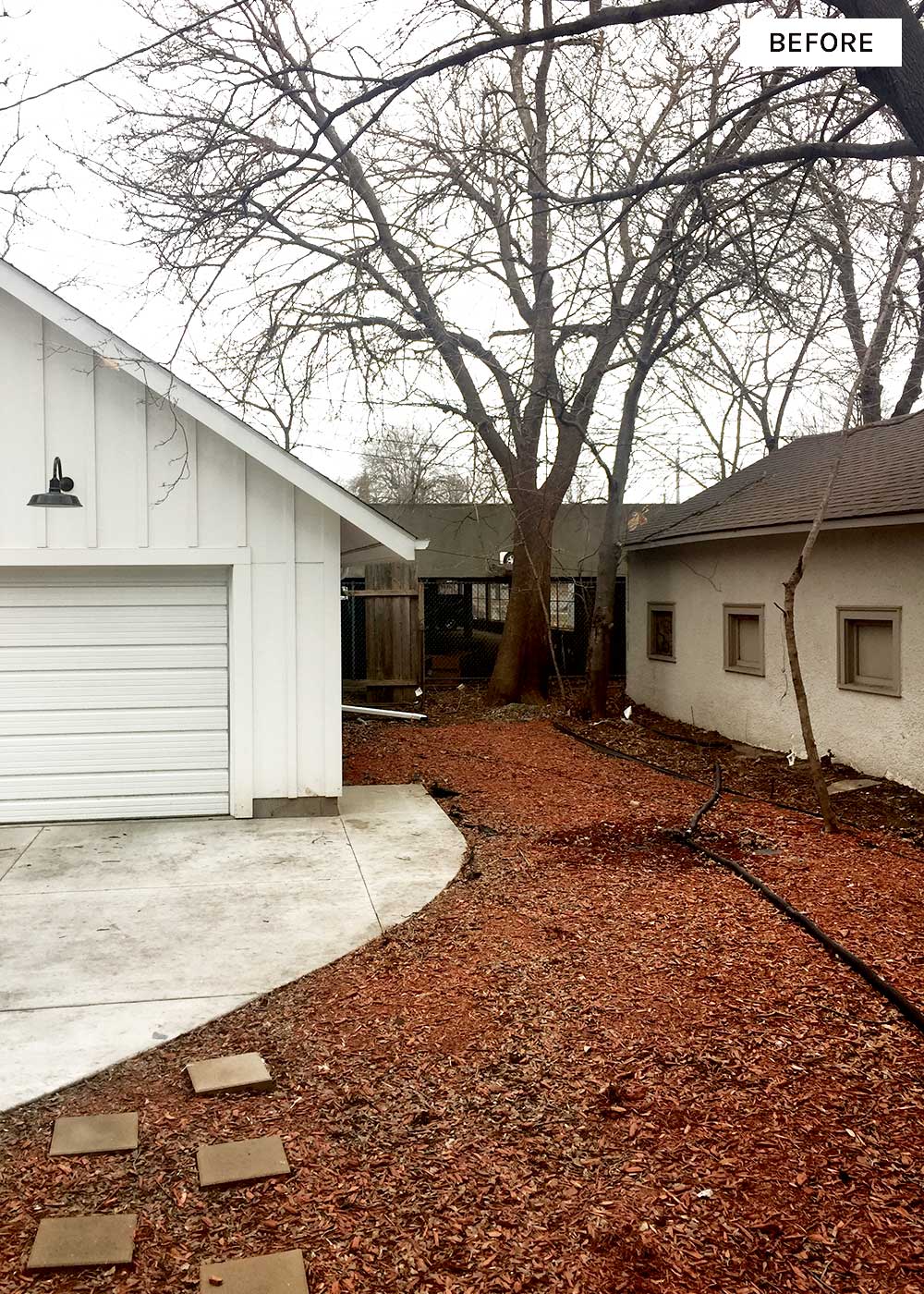 We learned a whole lot about backyard design along the way, which is a completely different animal compared to interior design. I realized this after talking to two handfuls worth of contractors who wouldn't do the design I handed over to them. "We just don't do that," they kept saying. I think I was designing for a California climate. So, we made the responsible decision to hire a landscape designer, Matt of Wilde North, who knows Minnesota terrain really well. We reworked the plan with Matt and called it Minnesota Modern. It's got that modern, minimal, woodsy, cabin vibe that I love.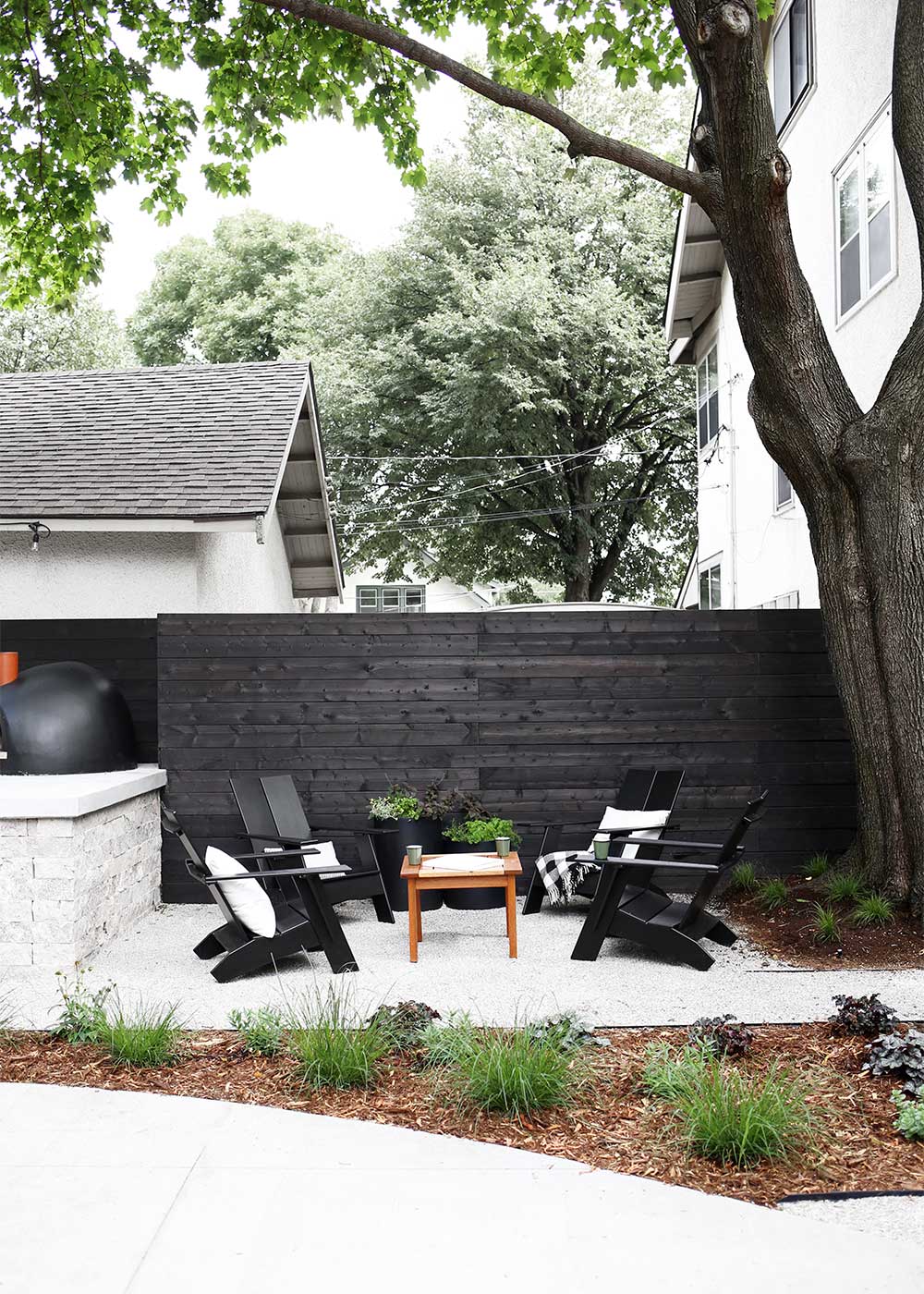 Here's what we also learned about designing for a backyard:
1. Finishing out your backyard is a whole lot like adding on an addition to your house in terms of extra living areas, cost, and time to finish. We vastly underestimated the latter two aspects.
2. The climate controls the design and not the other way around. Minnesota freezes for months in the winter, limiting the building materials. I'm not a huge fan of natural stone, but it can withstand the winters and the weight of a pizza oven, so stone it was. And when Minnesota finally thaws, it grows wild in the summer. So Wilde North created contained plant beds that would integrate well into the minimal layout.
3. Outdoor design is constantly evolving unlike indoor design. It evolves visually through the seasons, and especially throughout the years. I love the look of an aged backyard. Of wood that has naturally greyed. Of gardens that are so lush you can barely see the mulch beneath. That look takes time to establish. Because I'm impatient, I ended up staining the deck grey a semi-transparent Cape Cod Grey to give it a similar color to naturally aged wood. I'm excited to watch this space age with us over the years.
4. Outdoor spaces need durable, easy-to-maintain furniture. For that reason, we partnered with Room & Board to furnish the backyard. (Had we not partnered with them, it's the furniture we would have purchased.) Have you ever read the reviews on their outdoor furniture?! I was sold when someone mentioned that they were buying more of the same furniture they had originally purchased 9 years ago to add to their backyard. 9 years! We also bought a couple pieces of inexpensive outdoor furniture from Amazon. Whenever I'm designing a space, I like to mix high (expensive/quality) with low (inexpensive/lower quality). The high always elevates the low and really helps with the budget. (All sources linked at the bottom of the post.)
5. Outdoor accent decor is typically so bright, which makes things hard to source when you have a neutral palette.
6. Outdoor spaces need rooms too. When you give a space context and layer in design, it can completely transform into a functional and beautiful space. Kev wasn't convinced we should ever finish out the backyard. It didn't seem like a wise investment to him. I mean, look at the before. It's safe to say, he's a believer in the power of design.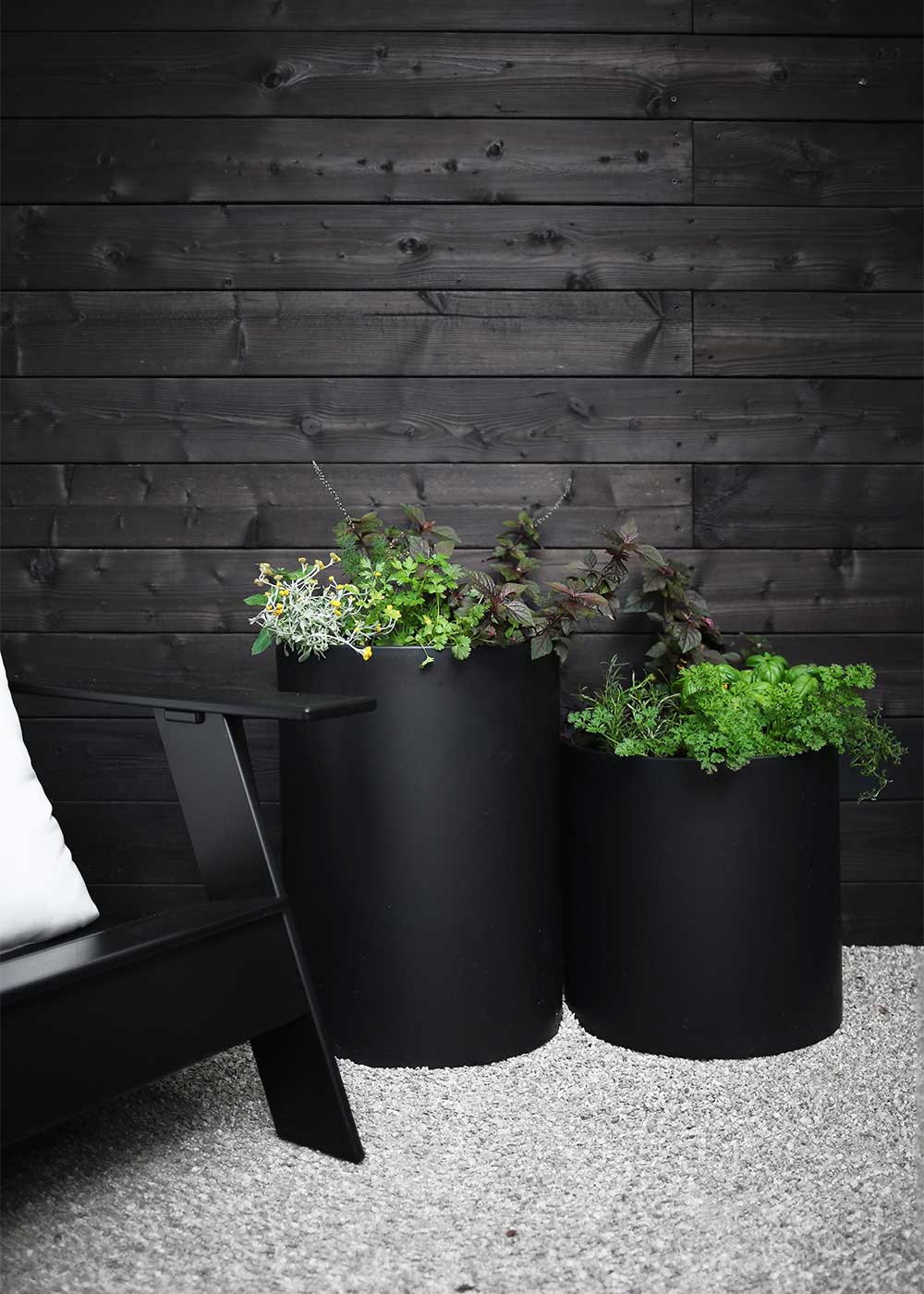 Grab a glass of wine, and walk with me through our tiny, urban backyard. Can you hear crackle of the rocky path made from decomposed granite (super tiny rock) beneath your feet? We're currently in the living room, which is outfitted with modern Adirondack chairs from Room & Board created in partnership with Loll Designs, made from recycled milk jugs. These chairs are manufactured just north of us in Duluth, MN, so I know they'll handle the weather well. There's a bottle opener under the arm of each chair, which is just the coolest. The arm rests are also wide and level enough for coffee mugs, wine glasses, and a small plate of food. Come fall, we'll swap out the small coffee table for a fire pit.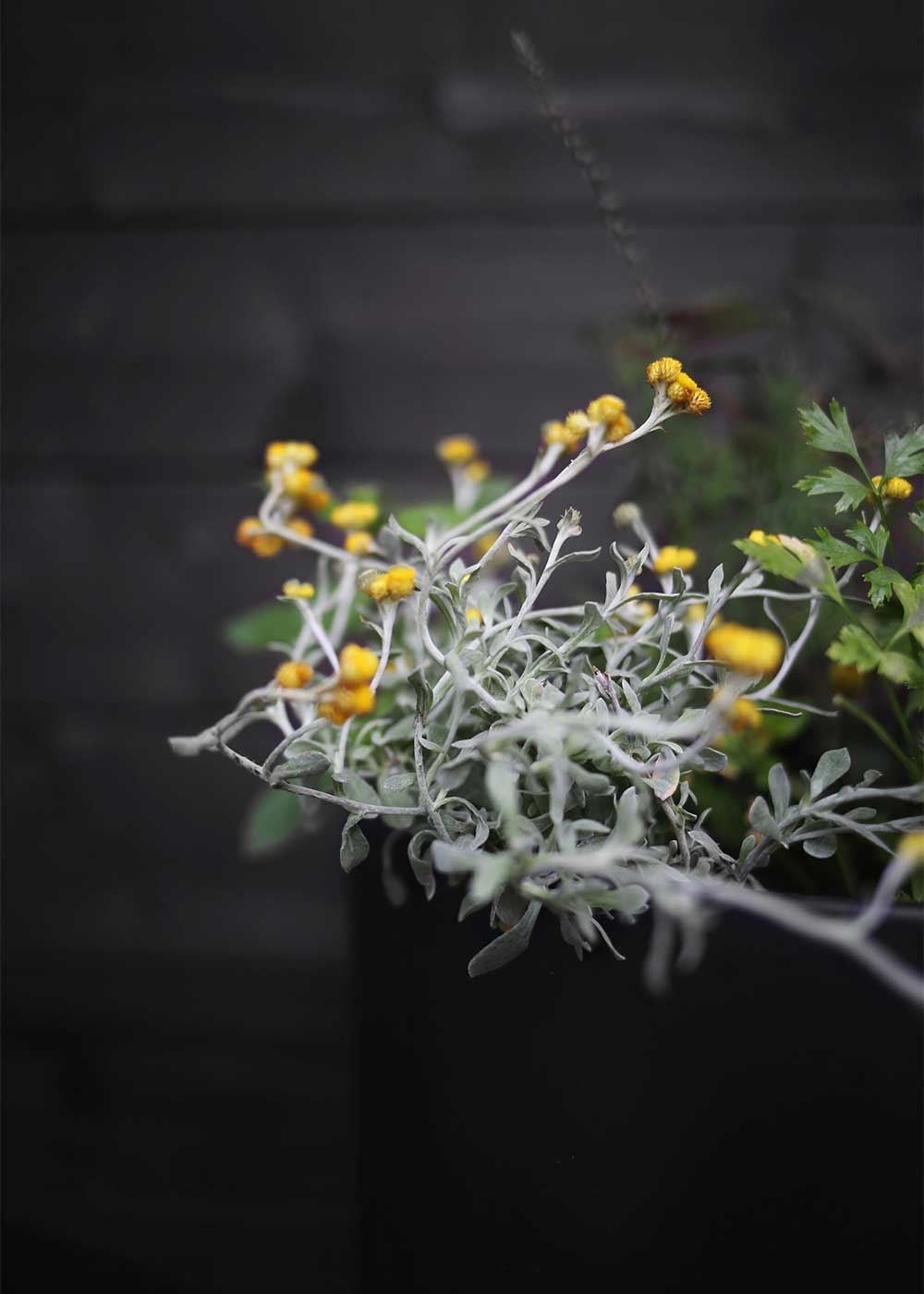 To break up all the black elements in this space, I turned the planters into an herb garden and mixed in a couple other plants for color variety.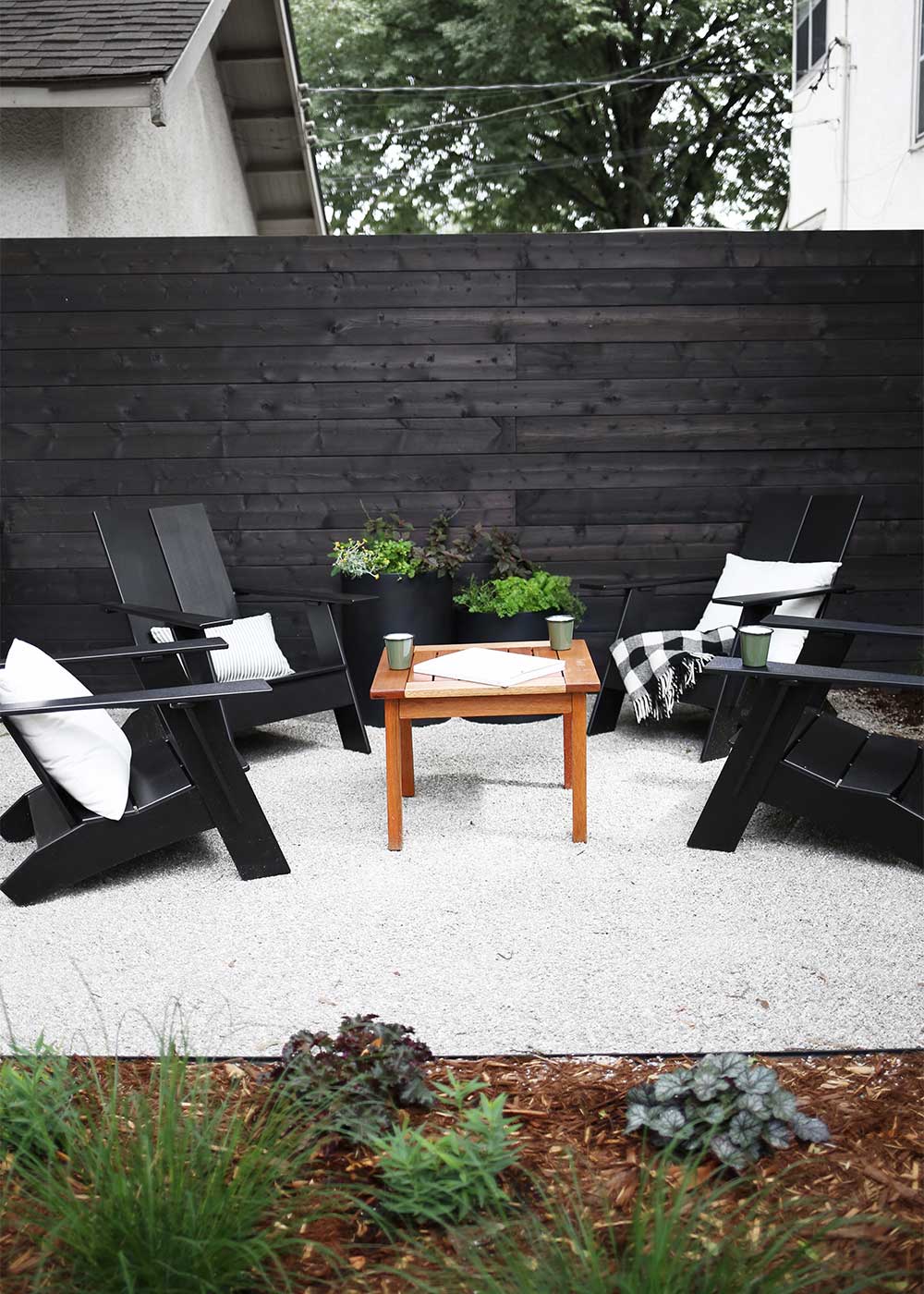 Next stop after the living room is the kitchen, which houses the outdoor pizza oven. I'll do a detailed post about cooking in the pizza oven soon. We're total novices at the moment. The base of the counter is made from natural stone sourced from a nearby quarry, and topped with a concrete counter. We left an opening to house a wood stack for the pizza oven. Unlike our living room, this wood stack actually gets used while also adding visual warmth. Wilde North Co. created a backsplash using leftover fence material to help further define the room.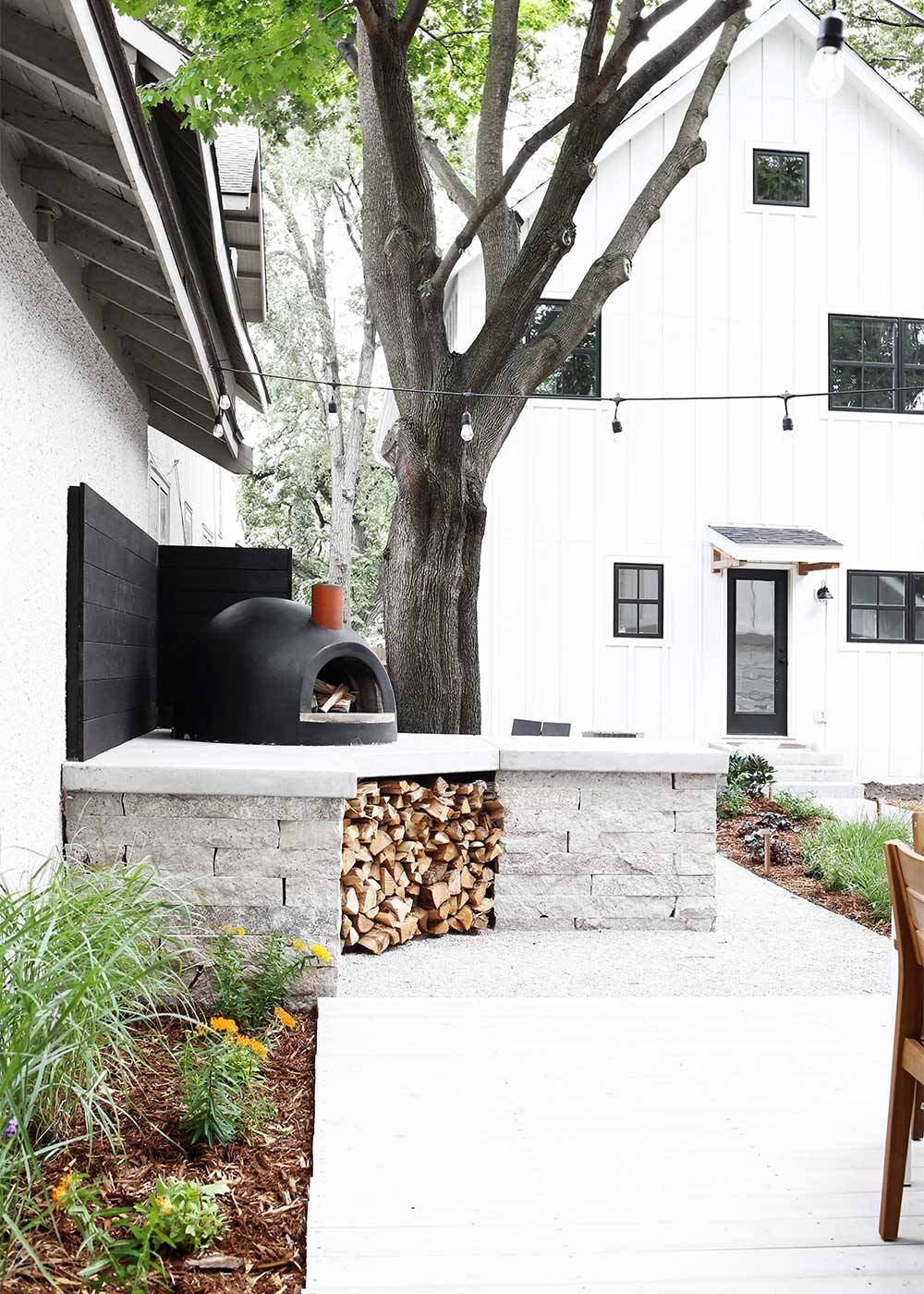 Moving on to the final room, my favorite room, is the dining room. It's nestled between three garages. (See this post for more details.) The ceiling is lined with leafy branches and twinkling lights, and the floor is layered with a floating wood deck stained in a semi-transparent cape cod grey from Behr. Despite being surrounded by garages, this space is so intimate and cozy. It took some major convincing on my part to get the dining room at the back of the yard. Kev (and everyone else) thought it should be right next to the house.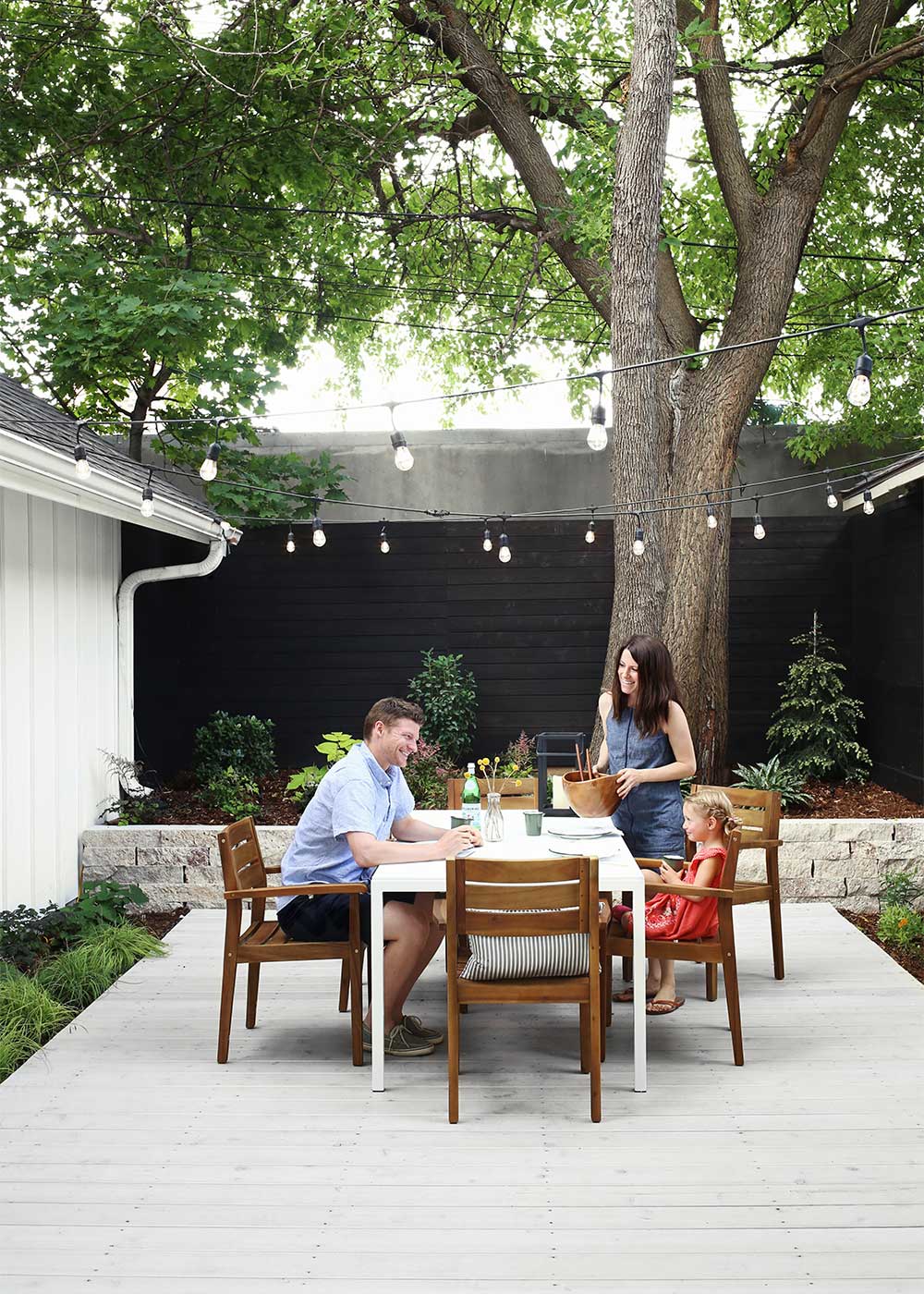 To say that we love eating back here is an understatement. The top of the dining room table is made from the same recycled material as the living room chairs, making it extra durable and easy to clean.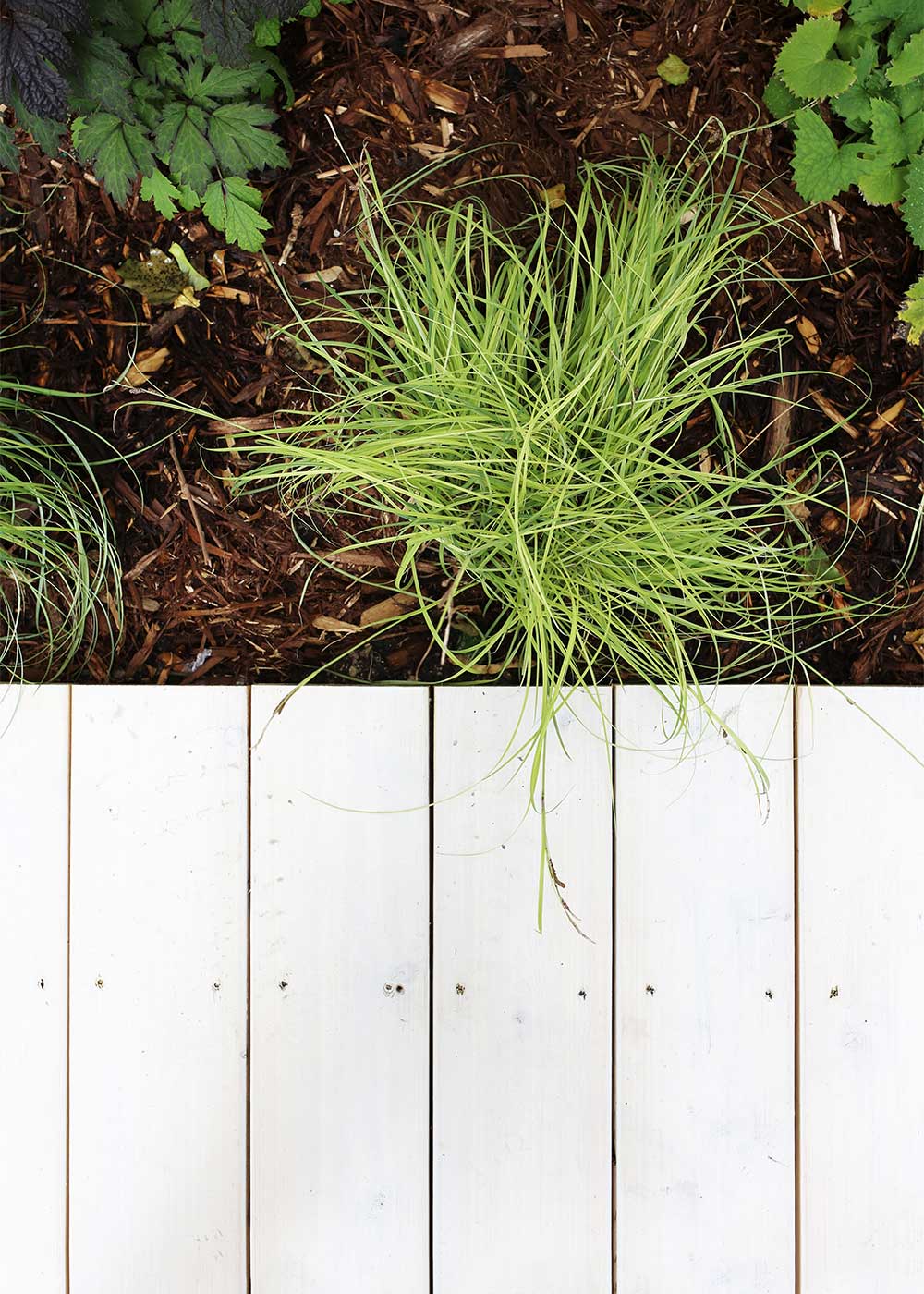 For the overall color palette, I wanted to keep everything pretty neutral, adding warmth through wood and color through the plants. We kept the flooring (deck and pathway) and stone walls a similar light grey tone so that visually they'd fall into the background (and look like snow). This helped to place the most visual attention on the individual gathering areas.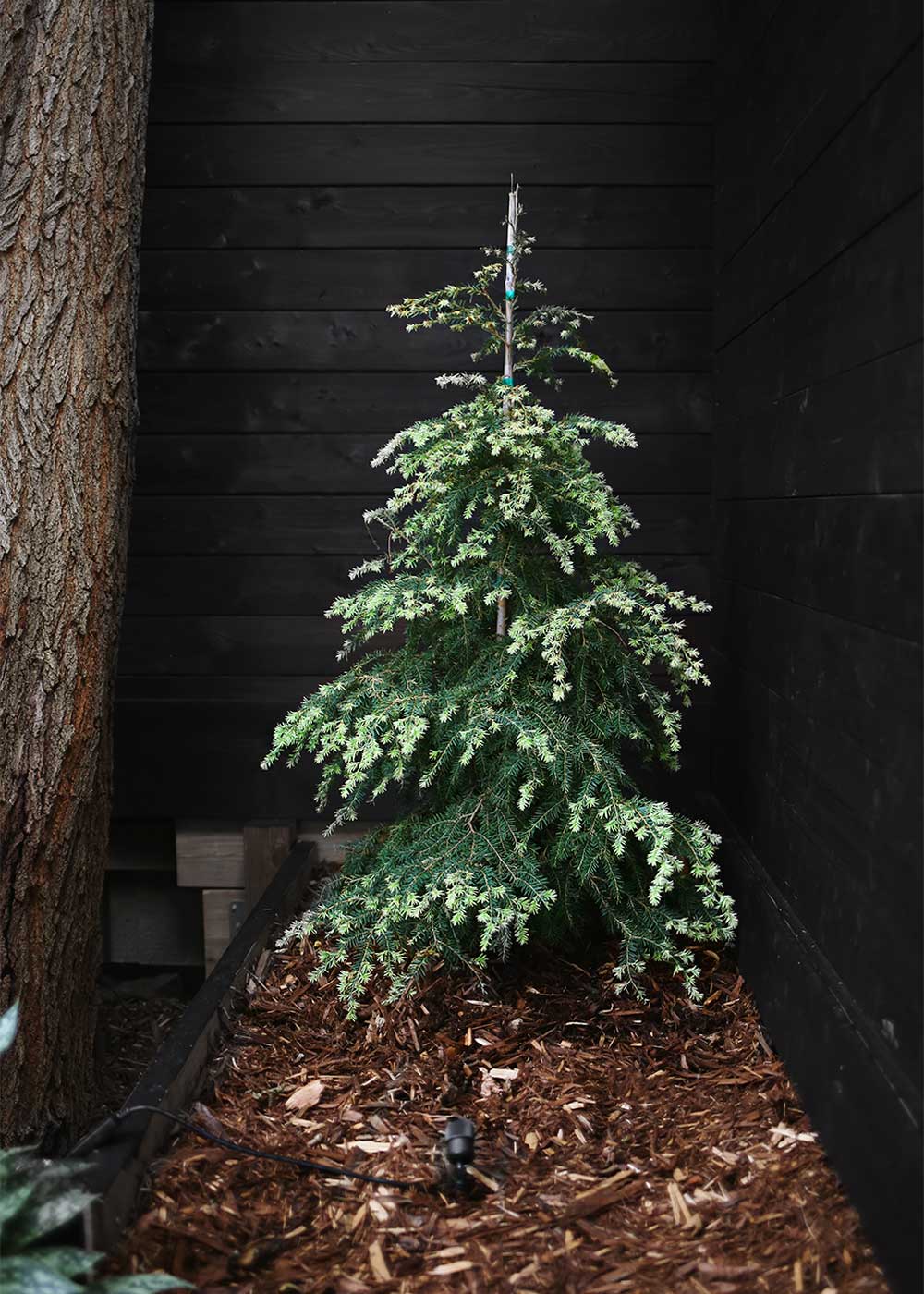 At the back of the dining room is raised a plant bed, which feels so Minnesotan with that Summer Snow Hemlock tree. (We've since had to replace the tree with the more durable Yew. That spot gets full sun in the winter, which caused winter burn to the delicate but oh so beautiful Hemlock.)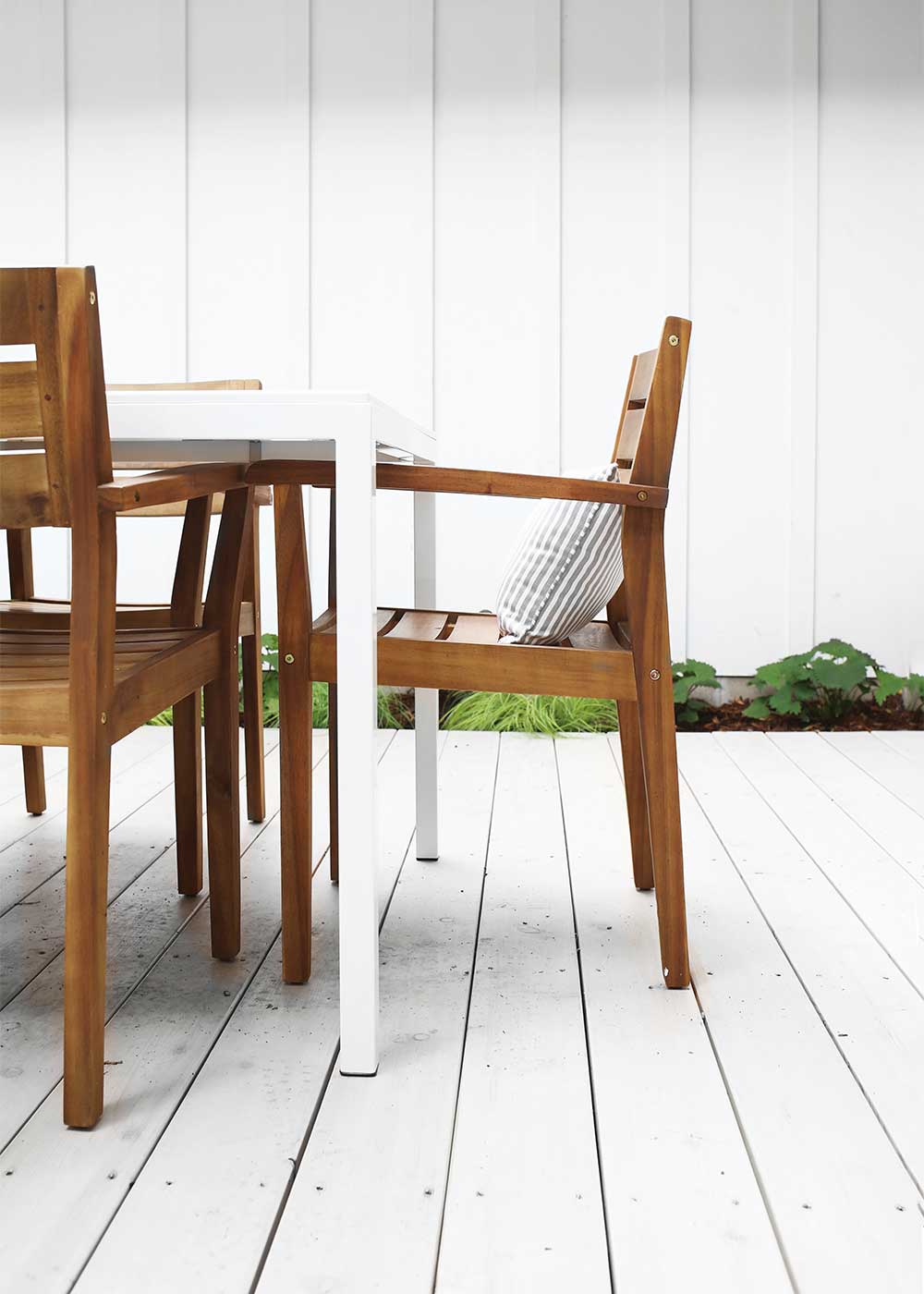 Now we need to figure out what to do with the tiny sliver of side yard that we promised to Hal. I've been reading posts from Chris Loves Julia and Studio McGee on well designed outdoor spaces for kids. That might turn into a project for next summer.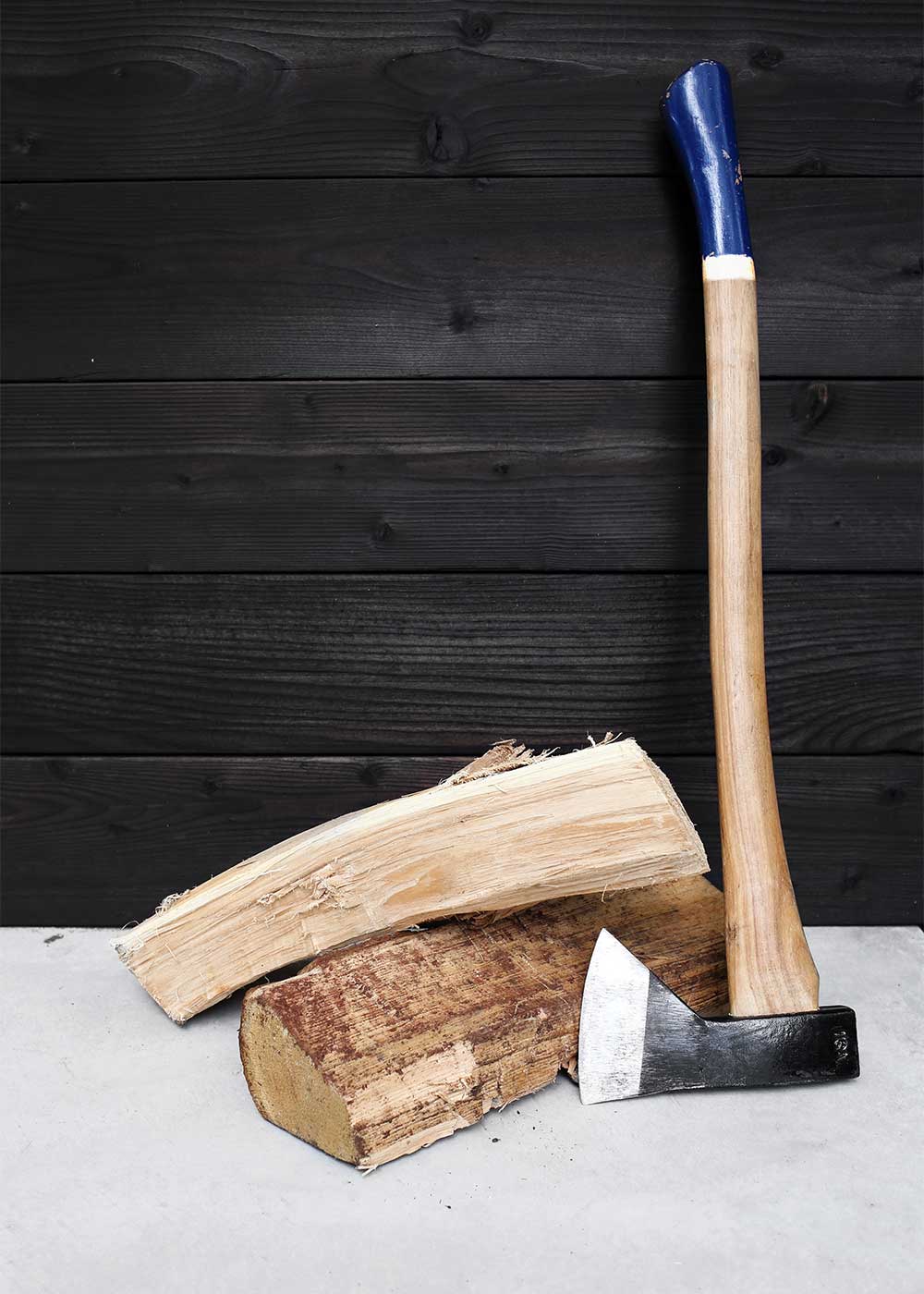 I owe a couple huge thank you's: to Wilde North for bringing this space to life, to Room & Board for helping furnish this space with smart, modern outdoor furniture, and to Forno Bravo for this beautiful hunk of a pizza oven. Off to work on my wood fired pizza game.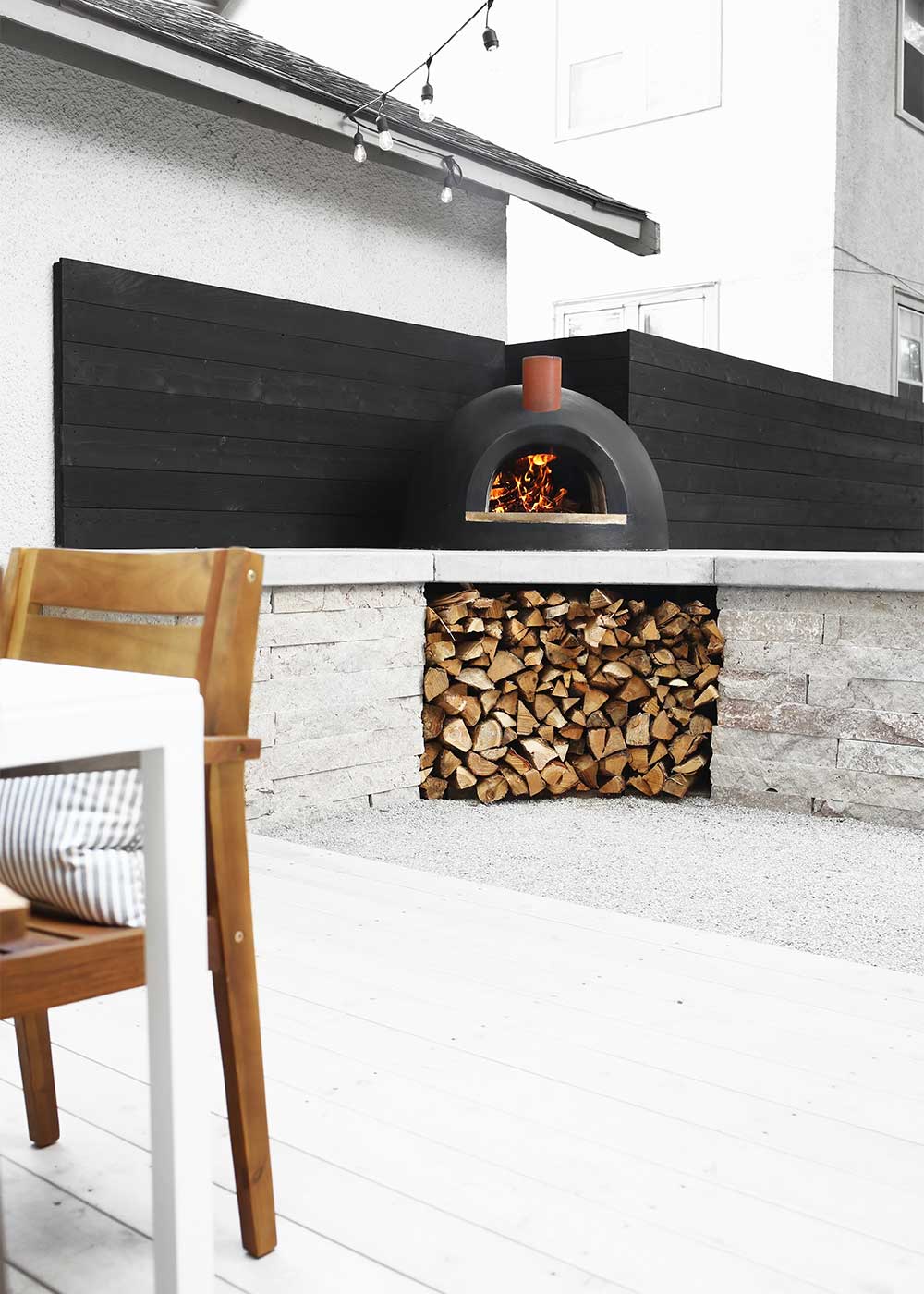 Sources

Sources
This blog is made possible by your support (thank you), select brand partnerships, advertisements, and affiliate links to items I love and use. READ MORE >