Book
The Minimalist Kitchen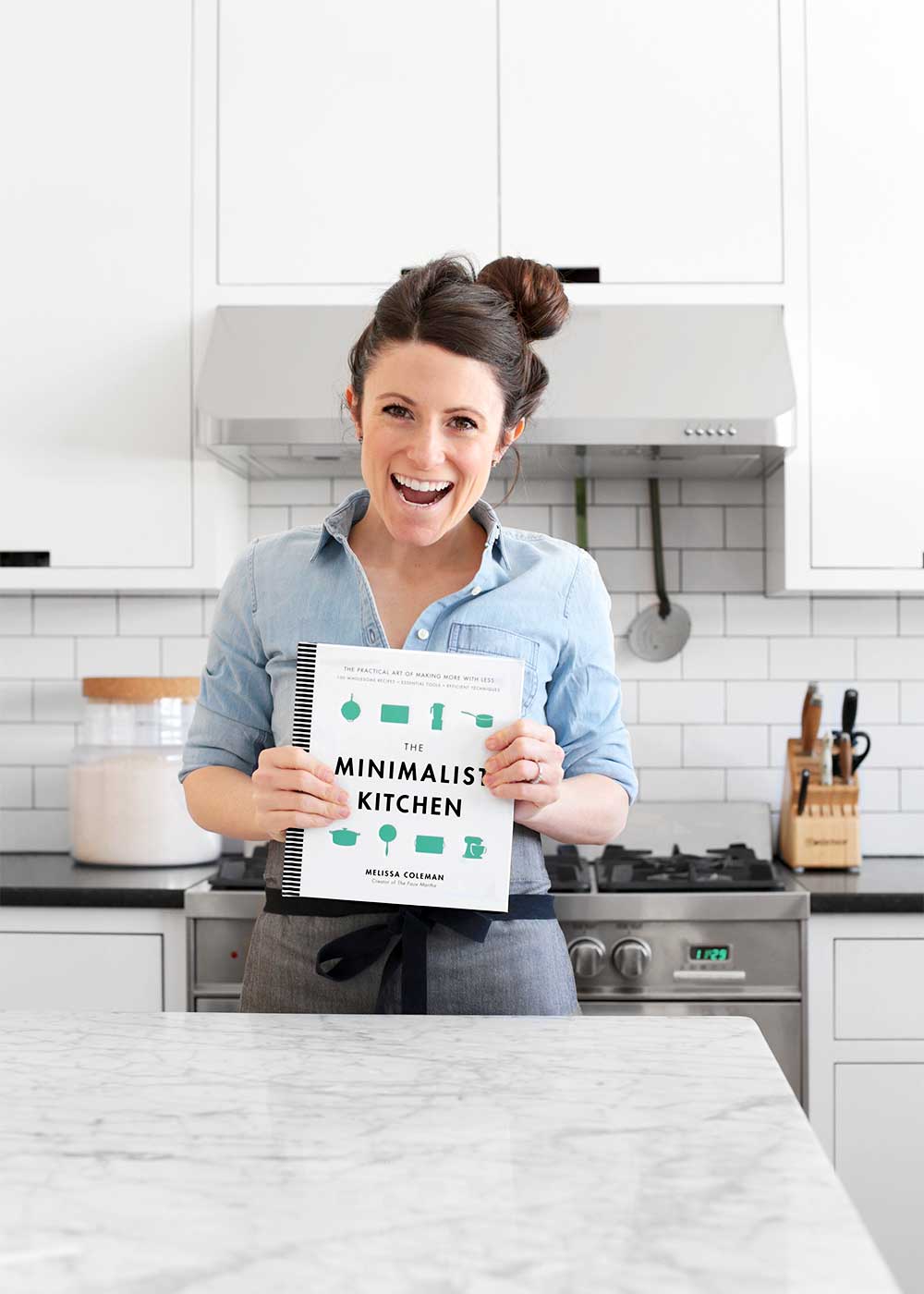 Book Availability Update
(7/1/20) After a long delay, due to a merger and consolidation of my publisher, in which time my book sold out, The Minimalist Kitchen is back on shelves again. I'm so excited to get this back in your homes!
Thank you for your patience and support,
—MELISSA
I wrote you a book!
The Minimalist Kitchen: The Practical Art of Making More with Less is a cookbook, but more importantly, it's a framework for creating a minimalist kitchen, a kitchen pared down to the essentials. This framework touches everything from your ingredients, tools, and pantry, to your cooking techniques, meal planning, and shopping habits. Once the framework is in place, you can make 100+ mix and match recipes. Creating a minimalist kitchen is counterintuitive. You pare down so you can create more.
It's true what they say—less is more. But this is also true—achieving simplicity is difficult. How do you know what to keep and what to get rid of? This comprehensive guide will hold your hand through the process and make dinnertime (and the kitchen) feel doable again.
Video production by Tucker Fox.
For best results, read this cookbook like a novel, from the beginning. Chapter 1: The Minimalist Kitchen sets the stage for how to make and use the recipes, Chapters 2–8. The recipes are mini allegories (delicious allegories) for using a pared down kitchen to its full potential. They are the practical application of the minimalist kitchen. If you'd like more guidance in paring down your kitchen, I created a 4-part course to break the process down. Start here. (This course is currently closed.)
You'll find the recipes to be vegetable-forward and simple without compromising flavor. They're intentionally designed to fit the rhythm of the week and labeled weekday, weekend, and make ahead accordingly. Weekday recipes are quick and efficient, while weekend recipes are slower and celebratory. Some recipes have make ahead components to increase efficiency and break up prep times. Note: You'll find ingredient lists ranging from 3 to 20 ingredients. But don't be scared by the longer list, as most of the ingredients are sitting in your well-stocked pantry.
A quote I live by: "Pare down to the essence, but don't remove the poetry." —Leonard Koren, Wabi-Sabi: For Artists, Designers, Poets & Philosophers
Where to Buy
Amazon
Indiebound
Barnes & Noble
You might also like The Magic Art of Tidying Up, The Organized Home, Be More with Less, Project 333, Simple Families Podcast, Abundant Life with Less, The Lazy Genius, Raising Simple, Simple Self Care Podcast, Wabi-Sabi: For Artists, Designers, Poets & Philosophers, Amusing Ourselves to Death

Around the Web
Press
The Wall Street Journal, Unclutter Your Cooking
Real Simple, Ketchup Makes a Seriously Delicious Salad Dressing (No, We're Not Joking)
Food52, How to Stock a Minimalist Pantry
The Organized Home, The Minimalist: The FauxMartha, on the Only 5 Pots and Pans You'll Ever Need
Family Circle, Declutter Your Kitchen With Hacks and Advice from Melissa Coleman
Cup of Joe, Slamdunk Carrot Cupcakes
Parade, The Minimalist Kitchen + BBQ Black Bean Taco Recipe
OXO blog, Pantry Oatmeal Dough Bites
Washington Post, Blender Dutch Baby
Washington Post, Chipotle Garlic Chopped Salad
Well + Good, Minimalist Kitchen Chipotle Garlic Salad
Artful Living, The Interview: The Faux Martha's Melissa Coleman
Minneapolis St Paul Magazine, 'The Minimalist Kitchen' Author Melissa Coleman on How to Make the Kitchen Fun
Potluck with Ali, How to Organize Your Kitchen (video)
California Olive Ranch, Citrus-Poppy Seed Cookie Recipe
Oprah.com, Ancho-ladas
Pure Wow, Chicken Tinga Tacos
Pure Wow, Chicken Pesto Focaccia Sandwich
San Diego Tribune, Time-Saving Cashew Chicken
TV
Home & Family, Bronzed Pavlova
Twin Cities Live, Pantry Oatmeal Dough Bites
The Jason Show, BBQ Black Bean Tacos
The Jason Show, How to Simplify Your Pantry
Podcasts/Radio
Why Do We Have Things, S2 01: Melissa Coleman, The Faux Martha & The Minimalist Kitchen
Simple Families, SFP 103: The Minimalist Kitchen
The Clever Cookstr, Episode #198
Naturally Randi Kay, Ep. 22: Melissa Coleman on Simplifying the Kitchen and Your Life
MPR All Things Considered, Appetites: Taking the Minimalist Approach when Cooking
Your Favorite Sandwich: Melissa Coleman
Blog Love
Pinch of Yum, The Best Chicken Tinga Tacos
Cookie and Kate, Thai-Spiced Rice Bowls
Sprouted Kitchen, Curry Cauliflower
FoodieCrush, Chilaquiles
Naturally Ella, Breakfast Tostada
The First Mess, Oatmeal Cookies Bites
Tending the Table, Oatmeal Cookie Bites
A Couple Cooks, Vegetarian Quinoa Bibimbap Bowls
Girl versus Dough, Not Your Mom's Breakfast Casserole
The Vanilla Bean Blog, Blueberry Orange Breakfast Rolls
Heartbeet Kitchen, Baked Falafel Salad + Transitioning to a Minimalist Kitchen
Zoë Bakes, Two Bowl Carrot Cupcakes
Sarah Waldman, Two Bowl Carrot Cupcakes
Brooklyn Supper, Melissa's Strawberry Yogurt Shortcake
Turntable Kitchen, Chipotle Tortilla Soup
A Sweet Spoonful, Chickpea Tikka Masala
With Food and Love, Lemony Green Beans
Flourishing Foodie, Biscuits with Bourbon Blueberry Quick Jam
A Farmgirl's Dabbles, Citrus-Poppyseed Cookies
A Cozy Kitchen, Citrus-Poppyseed Cookies
Plays Well With Butter, Weeknight Chicken Ancho-ladas
The Feed Feed, Breakfast Tostada
Julie Blanner, The Sunday Simmer
Inspired by Charm, Whatcha Reading? New Books for Spring

Reviews
"For years I've been in awe of Melissa's unique ability to maintain a fiercely organized, minimalist style without sacrificing warmth, welcomeness, and creativity. With The Minimalist Kitchen, we now have all of her secrets and I could not be more excited about this!"
—Molly Yeh, author of Molly on the Range
"Melissa helps you bring calm to the chaos of your kitchen. This book is a feel-good, can-do pep talk about how to keep your pantry in order, your utensils from getting out of control, and how to create delicious meals for weekdays and occasions without getting overwhelmed."
—Jeanine Donofrio, author of The Love & Lemons Cookbook
"This book is stunning and so clever. My kitchen is the opposite of minimal so it was so inspiring to read handy tips and easy changes to make life simpler in the kitchen! I went straight out and bought food storage containers to get my cupboards in order like a woman possessed!"
—Martha Collison, Great British Bake Off quarter-finalist and author of Twist
"I had the good fortune of sampling some of these recipes before the book was published, and most of our dinners were followed up with a text the next day: Hey Melissa, can you send me that recipe from the book? This book is a game-changer. It not only gives you practical recipes that you will actually make, but it also teaches you to approach cooking (and maybe life in general) with a fresh, modern perspective."
—Lindsay Ostrom, Pinch of Yum
"Melissa is the reason my pantry is now filled with tidy rows of lidded glass jars each with a pristine label. My spice drawer now brings me great joy every time I slip it open. In The Minimalist Kitchen, Melissa inspires tidiness and a pared-down kitchen with joy and creativity at the heart of it all. With less clutter we are freed up to enjoy the task of cooking and can then spend more time at the table eating with the ones we love."
—Ashley Rodriguez, Not Without Salt
"With a welcoming tone, The Minimalist Kitchen invites readers to choose quality over quantity and gently guides with efficiency. Melissa's book is gorgeous and thoughtful, with a strong focus on wholesome ingredients and simplicity that is often lacking in American kitchen culture. But, most importantly, her book contains recipes that actually make me excited about cooking dinner again."
—Sarah Kieffer, The Vanilla Bean Blog
"As a new mom I've struggled to find time to cook for my family. I truly miss the time I used to have to make wholesome meals for the people I love. The Minimalist Kitchen is a great resource for simplifying your approach to meal planning so you're able to find the rhythm of your new routine and provide homemade meals without sacrificing quality time with your family."
—Kate Arends, Wit & Delight
"An easy approach to organizing the kitchen and cooking….plenty will appeal to those who are on the hunt for swift, simple, palatable fare."
— Publishers Weekly
"If you are Martha Stewart, maybe you don't need this cookbook. If you are any cook other than Ms. Stewart, you should find worthy advice and helpful household and cooking tips in Minimalist Kitchen. Who hasn't pulled open the kitchen accessory drawer to search fruitlessly for an item that is hidden in plain sight? (I did this just last night. How did my blender beaters get tucked all the way in the back corner?) Melissa Coleman refers to the kitchen as being the biggest closet in the house, and I think she is right. All closets need regular purging. Coleman gives sage advice on what really is needed. If you are new to cooking and don't yet have all the things, then lucky you, you will be able to use Minimalist Kitchen for your future acquisitions and start a lifetime of good habits. Ms. Stewart, if you are reading this review, you still might need this cookbook for the nourishing comfort food recipes all made with easily understandable techniques. I think even you will appreciate Ms. Coleman's style."
—Recommended By Tracey T., Powells.com