Twin Cities Restaurant Guide
last updated March 2022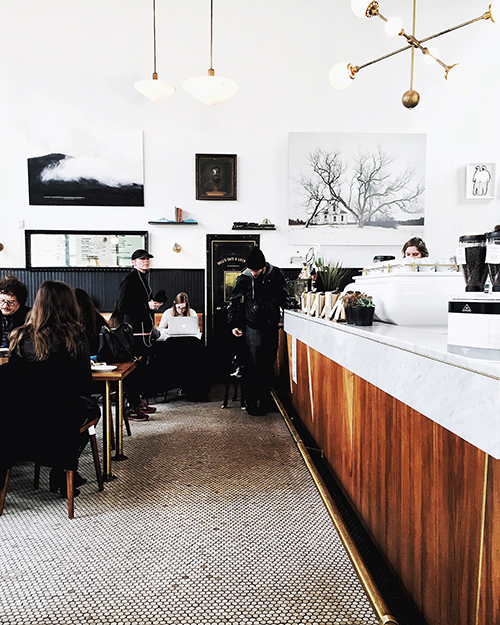 Below is an ongoing collection of our favorites in the Twin Cities. A little bit about our tastes: we're classic (maybe basic?), far from fancy eaters who care a whole lot about quality. We like to wear jeans and go to dinner without a reservation but aren't opposed to a nice dinner a couple of times a year. We find ourselves at bakeries and coffee shops most often. I'm not sure if that's to do with having a tiny human or loving coffee and pastries. Only 24 hours in Minneapolis? Here's where I'd go.
Minneapolis
Dinner
Venezuelan stuffed arepas, yucca fries, and house-made cocktails. So much flavor packed into everything. This is my favorite restaurant in the Twin Cities. Here's what I order: El Diablo (cocktail), Shredded Beef and Plantain arepa, yucca fries with the chimichurri and aioli sauce.
This is the temporary location of Gandhi Mahal, which was burned during the riots. We love their curries and order take out monthly. Here's what I order: Chicken Tikka Masala Bowl, Palak Paneer Bowl, and naan.
Pizza and empanadas, Argentinian-style. This is one of the tiniest spots in Minneapolis and always packed. Go with 2 people max and plan so sardine in. It's worth it. Here's what I order: De la Casa Salad, whatever pizza sounds good at the moment, and an empanada. Kev and I usually spilt this. It's more than plenty.
We are pizza lovers (can you tell) and usually make it at home (see here). But when we go out, we go to the best spots in Minne. Their outdoor patio is classy yet casual in the summer and great for kids. Here's what I order: The Bahn Mi pizza, but even the plain cheese is excellent with a glass of the $5 sparkling white wine.
More pizza! It's a toss-up (get it) between Lola, Young Joni, and Red Wagon for me. They all make killer pizzas. Here's what I order: Cauliflower appetizer, The Iowan, and Old Reliable.
Young Joni is owned by the same brilliant chef, Ann Kim, as Pizzeria Lola. Expect a wait or make a reservation. It's a city favorite; you'll soon see why. If you get the chance, sit at the bar near a wood-fired oven to watch the fire roar and the food cook. It's amazing. Here's what I order: The Cauliflower, Bibimbap Grain, and any of the pizzas.
House-made pasta. No wonder there's always a decent wait, that and they don't take reservations. Here's what I order: seasonal house salad, penne rosa al rosmarino, and tiramisu with house-made mascarpone.
Fine southern dining. Don't miss their St Paul locations. Here's what I order: 2 piece all-white chicken, mac + cheese or white cheddar grits, collard greens, and biscuits + sorghum butter.
(Currently closed.) Swanky, down-to-earth, delicious Italian food. You might want to claim a reservation first (though I always forget to get one). Here's what I order: cauliflower gnocchi. Their marinated white beans, given to everyone, are to die for! I hear you can order a vat of them to-go.
Fine Midwest fare made with French techniques. Reservations can be hard to come by, but I recommend skipping those and eating at the bar. You can order from both the restaurant and bar menu here. I prefer the bar menu as it's not quite as fancy. Whatever you do, don't skip the house-made cocktails. The menu is always changing.
Breakfast/Lunch/Dinner
Diner food done right. It's classy food with just enough grease to qualify as diner food. The restaurant is an original 1957 Fodero Diner shipped from Gibsonia, PA and restored to its original beauty. If you take a picture while there, it'll blur the decade lines. It's open all day and into the night. Go for every meal and cocktails too. Here's what I order: Any of their craft cocktails, pancakes for breakfast, or one of their grain bowls for dinner. Or if I'm going to splurge, the Chicken Sandwich with the side salad and Green Goddess dressing. Kev gets, well, everything.
A celebration of salads—this little spot is my new favorite place for lunch. The salads a hearty and could almost be split they're so large. They have a couple spots downtown in the skyway. Plan to stand in line. It's worth the wait or place your order the night or morning before and pick-up. Note: They are only open on the weekdays. Here's what I order: The Cowboy Salad.
Local, sustainable, really good food. This spot reminds me of Birchwood—quality ingredients with ethical sourcing practices. It's super vegetarian-friendly too. Here's what I order: a vegetarian falafel. On the list for next time—the wild rice veggie burger.
The Lynhall is as beautiful as it is delicious. Go for breakfast, lunch, and/or for coffee and a treat. Beyond serving thoughtful, fresh food, this place is a community builder in the Twin Cities. Don't miss their ongoing classes and events.
Coffee
This cafe, restaurant, and urban inn is one of our favorite spots. We've been to all three. If you've ever heard the hum of hospitality, you'll hear it here too. Here's what I order: Coffee and a croissant (maybe my favorite in town).
An artful, swanky coffee house. I take a number from their interior designer with every new location they open. Here's what I order: a latte with house-made almond syrup and a pastry.
Bakeries
Bogart's is perfect—down to the simple homemade donut menu, subway tiled wall, and red sign. We pick up donuts here most Saturday mornings. They're neither too sweet or too fried. Here's what I order: The raised glazed, but you have to try them all. And don't miss an order of holes!
This is what bagels should taste like. If their bagels weren't already the star, their homemade cream cheese spreads might steal the show. Here's what I order: plain bagel with a shmear of lemon blueberry cream cheese.
Rustica is home to the best pastries and cookies in the twin cities. Their bittersweet chocolate cookies made me move here (they ship these anywhere!). Here's what I order: a bittersweet cookie or a croissant.
My first google search after moving to the area: Best Biscuits in the Twin Cities. That landed me here. Here's what I order: a biscuit with house-made jam.
Though they serve dinner, lunch, and weekend brunch, it's the cupcakes we find ourselves going back for. The cake is perfectly sweet and moist with a tight crumb. I break my cupcake in half to top the frosting. Here's what I order: a vanilla or champagne cupcake.
Ice cream
The best ice cream shop to hit the area. It's gourmet but recognizable. The chef behind Milk Jam also Runs World Street Kitchen next door, which you should stop by first for dinner. Here's what I order: a scoop of Black (it's vegan and divine).
St. Paul
Bakeries
It's a hopping spot for breakfast or brunch but worth any wait. Here's what I order: a rosemary biscuit with house-made jam.
Dinner
Modern flare with old school Italian recipes. The pizza is excellent (the fry their dough) but it's the fresh pasta and house-made tiramisu that we'll be going back for. Get there early or plan to wait a bit. It's worth it. Note: They now have a Minneapolis location.
Classy Mexican food, killer cocktails, and delicious chips and salsa. My friend recommends that you order family style. I'd have to agree. Here's what I order: chips and salsa, elote style brussels, and the barbacoa tacos with a seasonal marg.
Lunch
Delicious street food served in a restaurant, I love this casual spot. My 4-year-old loves it too. Here's what I order: falafel, pita, hummus, cauliflower steaks.