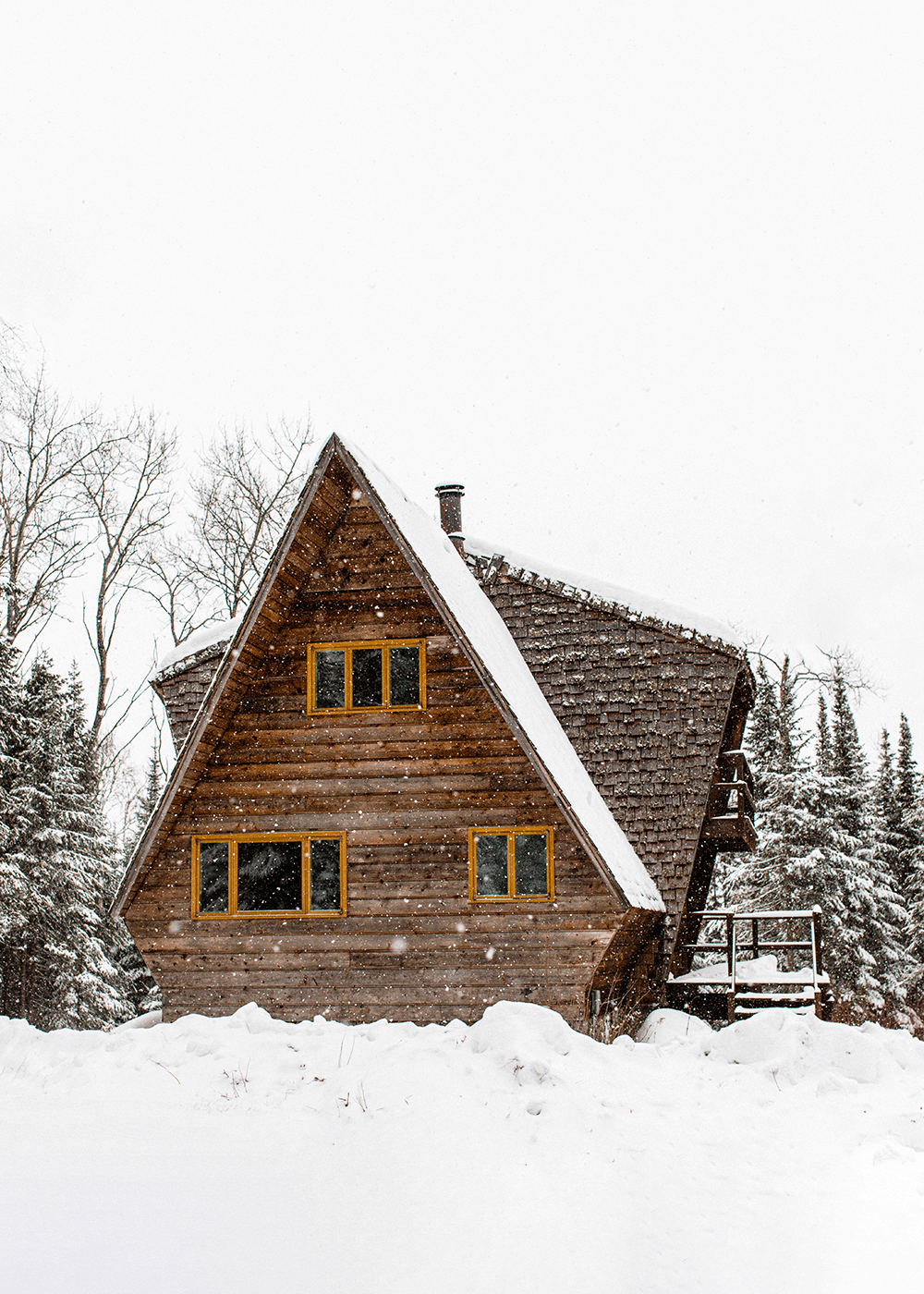 There are tick marks on the wall in our painted black bathroom made from chalked lines and scribbled dates, memorializing the passing of time and the changing of heights. We measured Hal on that wall, thinking it had been a while. It had. Three inches of growth, yet no mention of 2020 on the wall. Everything stopped last year, from the chalk lines to The Minne Stuga cabin, a special project that we announced almost exactly a year ago, a project we thought we were just about to begin. And then the pandemic hit. With job cutbacks at Kev's work and a maternity leave for me, unpaid because I work for myself, we weren't sure we were going to be able to pull off this little cedar-clad getaway, for you and for me.
I'll spare you the yo-yo of details between then and now, but construction has started! Someone knock on cedar—The Minne Stuga is actually happening. And a lot has happened. So let's play catch-up and start with the cabin exterior restoration plans.
But first, if you're asking yourself What in the world is The Minne Stuga?, check out this post for a detailed post on the why, the what, and all the fun before pictures.
Cabin Exterior Restoration Plans
What are we doing to the cabin? It's a question we've thought long and hard about—what do we do and what do we purposefully not do. Our goal is to preserve as much as possible, the essence and the aesthetic. This cabin is beautiful just the way she is. And yet, she's 50 years old and 50-year-old structures need fixing, like the cute mossy cedar roof that isn't as cute once you realize it's rotting. And once you start repairing one thing, it's hard to know where to start and stop without looking like starting and stopping. So long story short, we have plans to both preserve and update, to restore and change, to honor and put our spin on this place.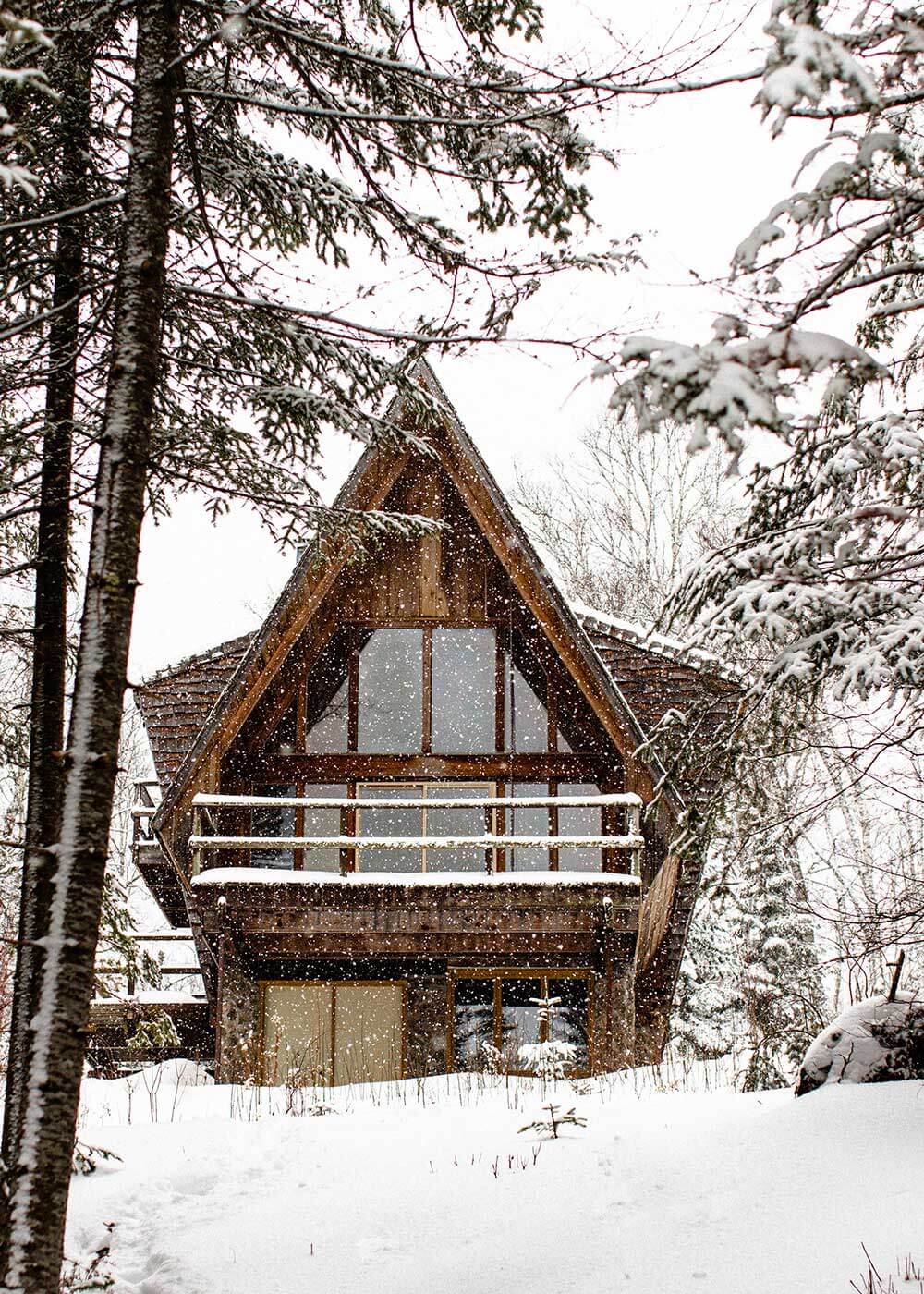 Here's the to-do list for the cabin exterior:
Replace the windows
Replace the roof
Replace the siding
Replace the very unsafe decking
Cabin Windows
The windows! Oh the windows. The cabin is a chalet-frame (a non-technical term). It's one part chalet and 2 parts a-frame with plenty of prime window space. The lake-facing windows currently have an aged fog to them making it hard to see out of. There are also some gaps between the windows and the framing, allowing the great outdoors in. Don't worry, we're still bringing the great outdoors in by way of new big screens (windows) to frame the pine and poplar trees. No plug or remote required.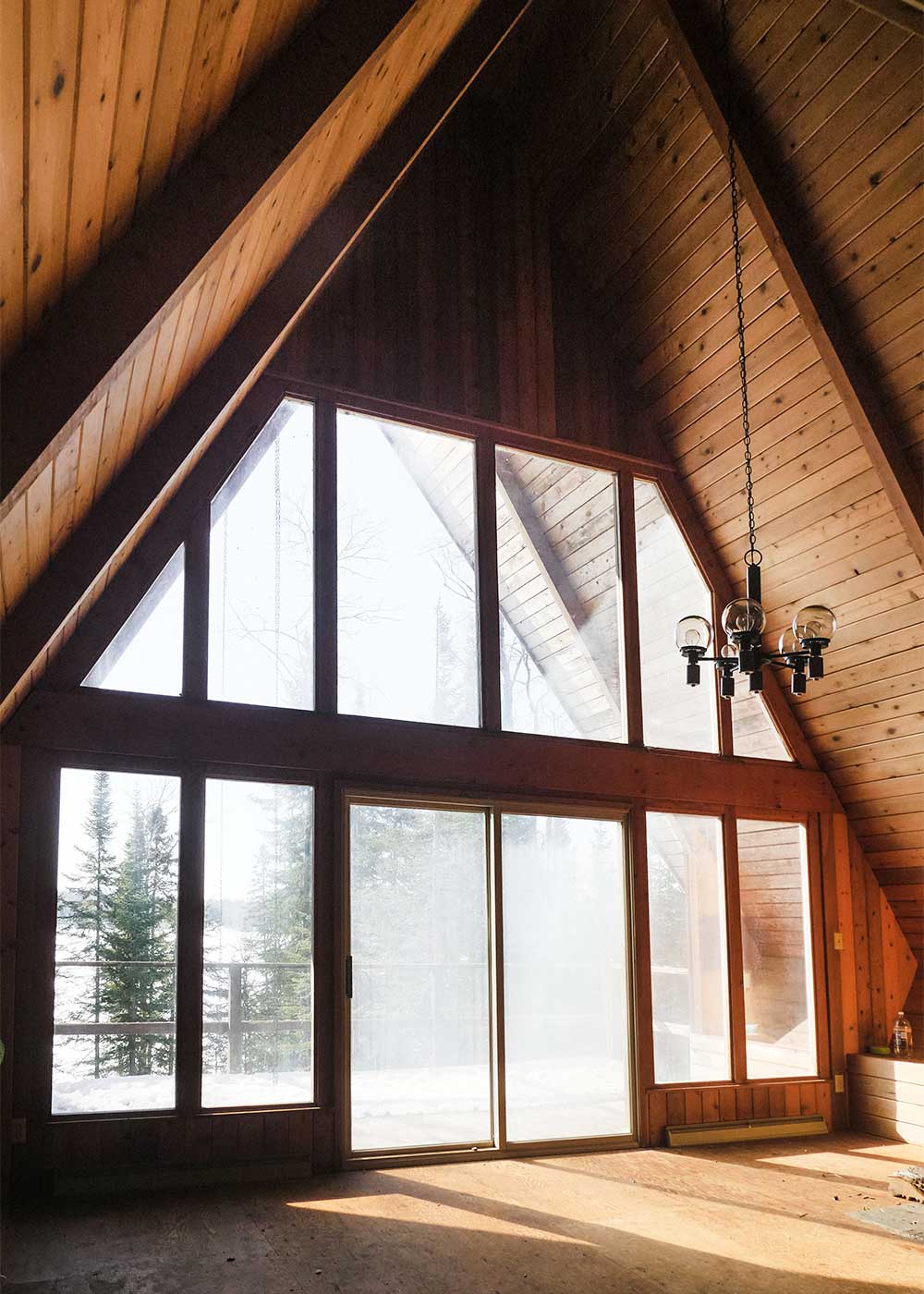 We have and love Marvin Windows at our house, which we chose for their extreme durability in cold temperatures and beautiful design, so we knocked on their door (and windows) to partner on the cabin. We're grateful they said yes. Best of all, they're made right here in our backyard. Ok, maybe the best best of all, they also recently launched two products that we are fortunate enough to feature in the cabin. The first is the Skycove, a window box that protrudes from the side of the wall of your home (or cabin) with a window seat that is completely surrounded by glass(!!!). Can you picture yourself reading up there on a snowy afternoon?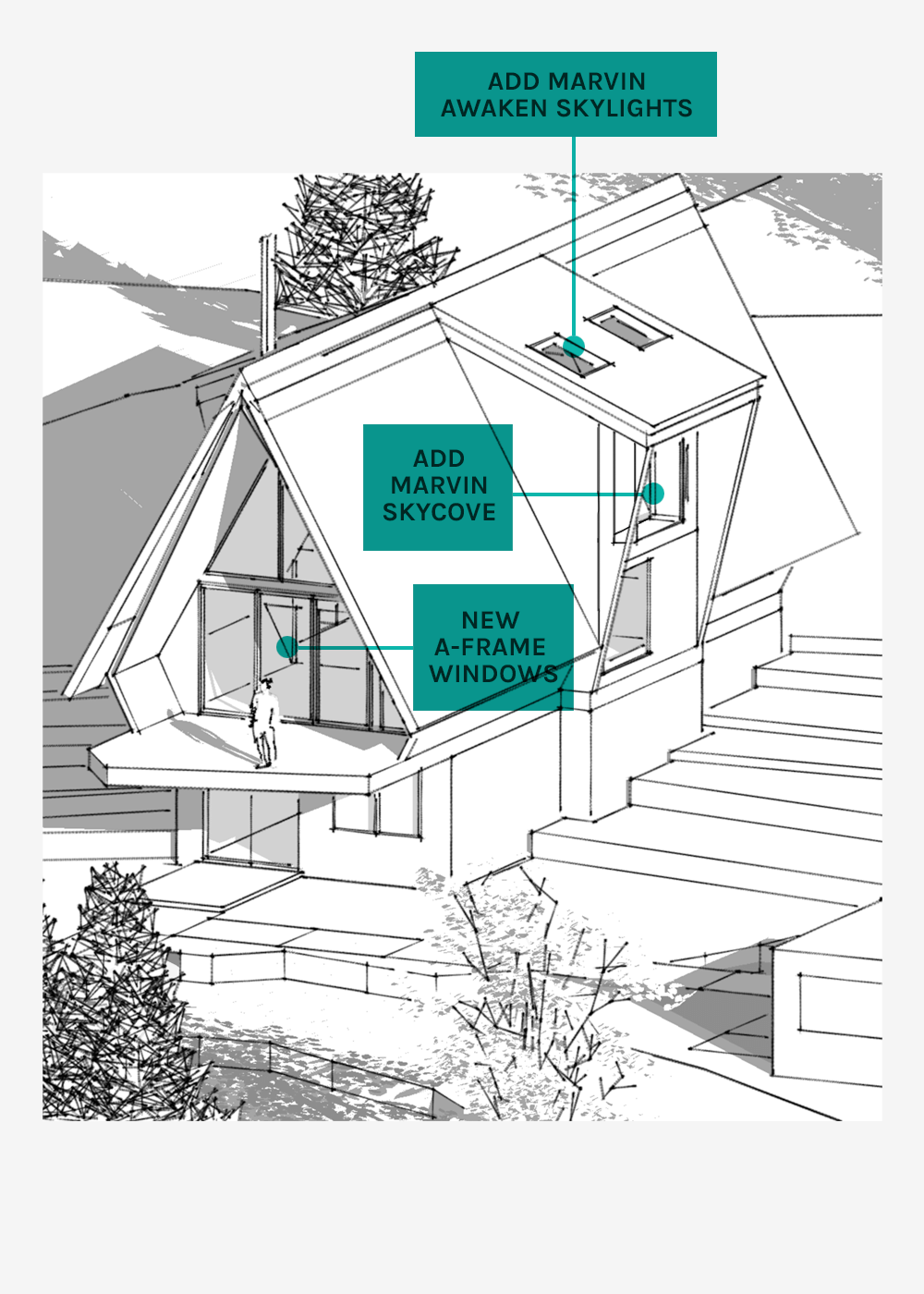 Rendering and window design by Taiga Design.
The second is their Awaken Skylight, which features an operable window to allow for temperature control and airflow into the cabin, retractable screen, and LED lighting that allows you to create the presence of daylight regardless of how dark it is outside, which is great for those dark mornings and early nights this far from the equator.
Look at that Skycove going in! Notice anything missing? We took out part of the roof overhang for a full view of the lake from this glassy nook.
Cabin Roof
The original cedar shake roof is mossy (see below) and quaint and looks as if it's been plucked from the shire with its long, leggy overhang. But, it's rotting and needs replacing. We toyed around with a new cedar roof, knowing it would last a lot of years. (The current one is 50 years old.) But cedar shake changes colors as it ages. Brand new, the fresh cut wood is a light caramel brown that silvers out as the years pass.
We wanted to control the color of the roof, since it takes up so much real estate on the structure and because our siding will silver out (more on that below). Two things silvering out at the same time felt like a visual gamble. And then I found Brava Cedar Shake Roof Tiles (pictured above), a composite cedar shake made from recycled, plastic materials. It's super durable, low maintenance (more like no-maintenance), and looks like true spilt cedar shake. We're grateful to be partnering with Brava Roof Tiles as well.
The shake comes in a lot of natural-looking colors. We're going with weathered (see above). I felt extra good about our decision after seeing Chris Loves Julia using it too, same color. It's stunning. The weathered colorway looks as though it's been, well, weathered while also maintaining its dark tone forever. The new beanie, as Kev calls it, should be going on in the next couple weeks.
Cabin Siding
When we bought the cabin, we were pretty sure we could keep the siding as is. We thought the same thing of the windows, which appeared to be in great shape, but upon closer inspection, both would need replacing immediately to the next couple of years in order to preserve the structure. So, we're getting it over with and doing it all at the same time, adding some much-needed insulation that the 70s didn't have to offer while we're at it.
The top half of the picture is our current siding and the bottom half is a picture of the new siding, Kebony Character, which is a modified wood that goes through a process that makes this traditionally soft wood, hard, sturdy, durable, and super beautiful. As you can see, it's visually similar to the current cabin siding. The new wood starts out a warm cocoa brown and patinas towards silver, much like my hair is doing. So if you stay in the cabin this year, she'll look young and brown. But, after the sun and elements give her a hug, she'll silver out without comprising the durability of the wood. You can learn more about their modification process, developed in Norway, here. Kebony came highly recommended to us by our contractor Anton Moody of Taiga Design.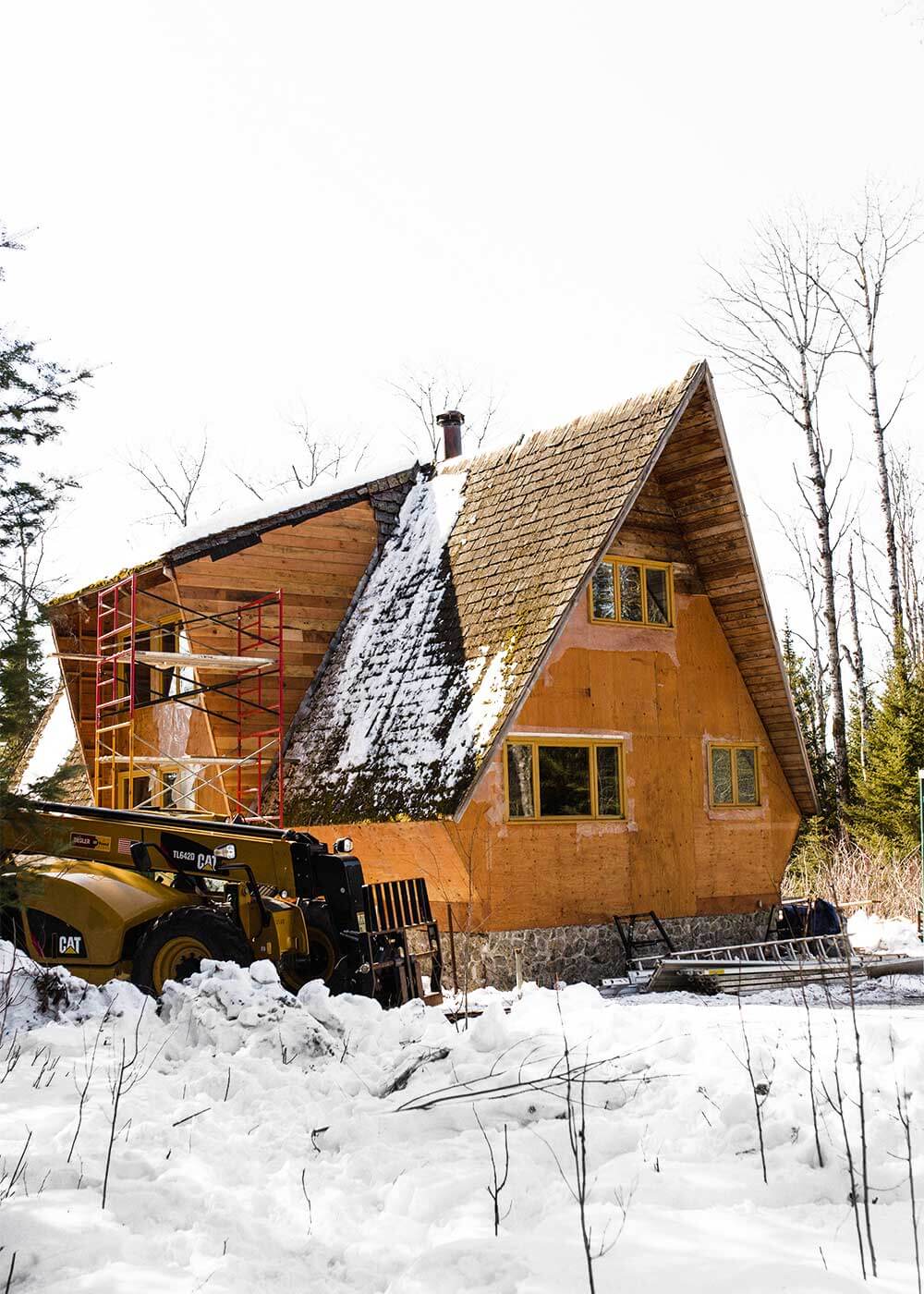 Looky there! The siding is off and ready for a new sweater. Are you tired of my Minnesota jokes yet?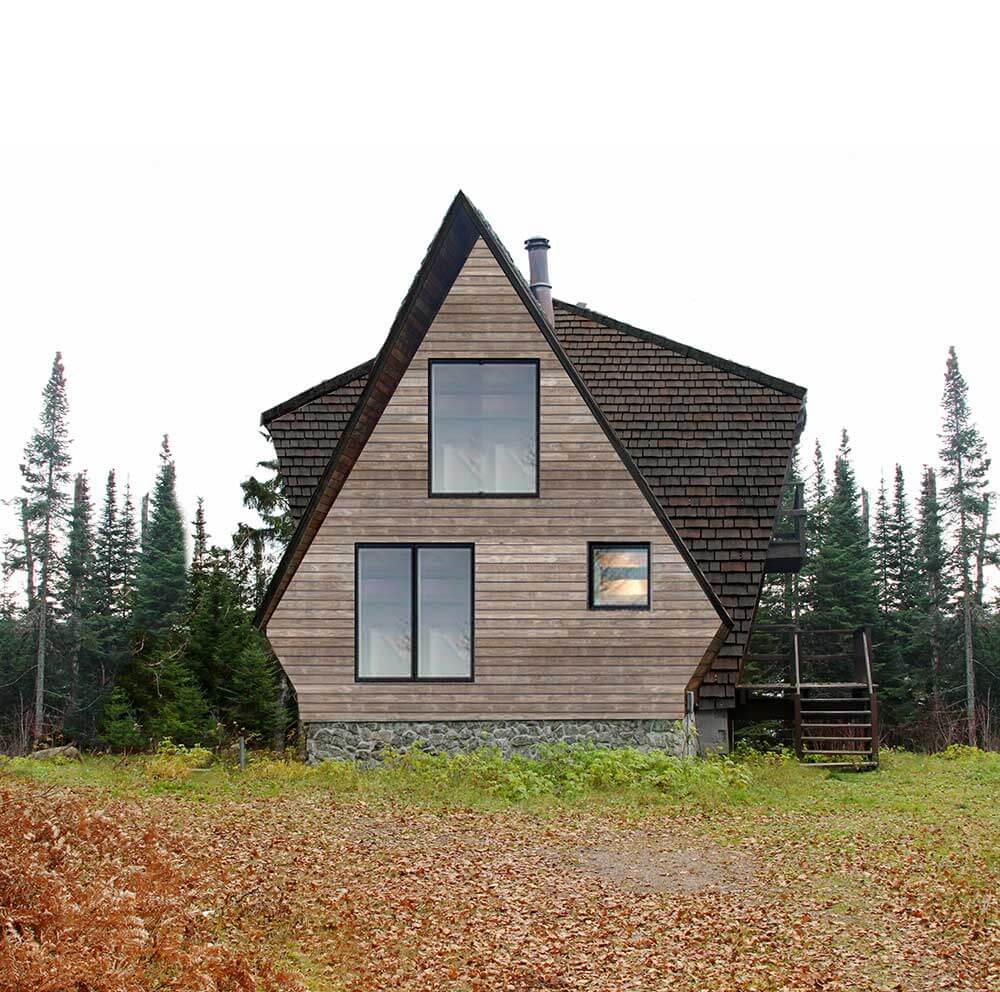 Here's a rough rendering of the siding, roof, and XL windows. We keep going back and forth between vertical or horizontal siding. What do you think?
Cabin Decking
The decking will also be done in Kebony Character. "Character" describes the knots in the wood, as opposed to their clear boards without knots. We'll be replacing the very rickety deck off the back, towards the lake, as well as extending the entryway deck in order to add an outdoor eating area. Additional decking will also pave a path towards the lake, making little landings as you travel down to the water.
I can't wait to share more of this slice of heaven, online and in person, with you soon!
Photography by Jonathan Head. We are grateful to be partnering with Marvin, Kebony, and Brava, all companies we reached out to, to restore The Minne Stuga to her original essence.
This blog is made possible by your support (thank you), select brand partnerships, advertisements, and affiliate links to items I love and use. READ MORE >