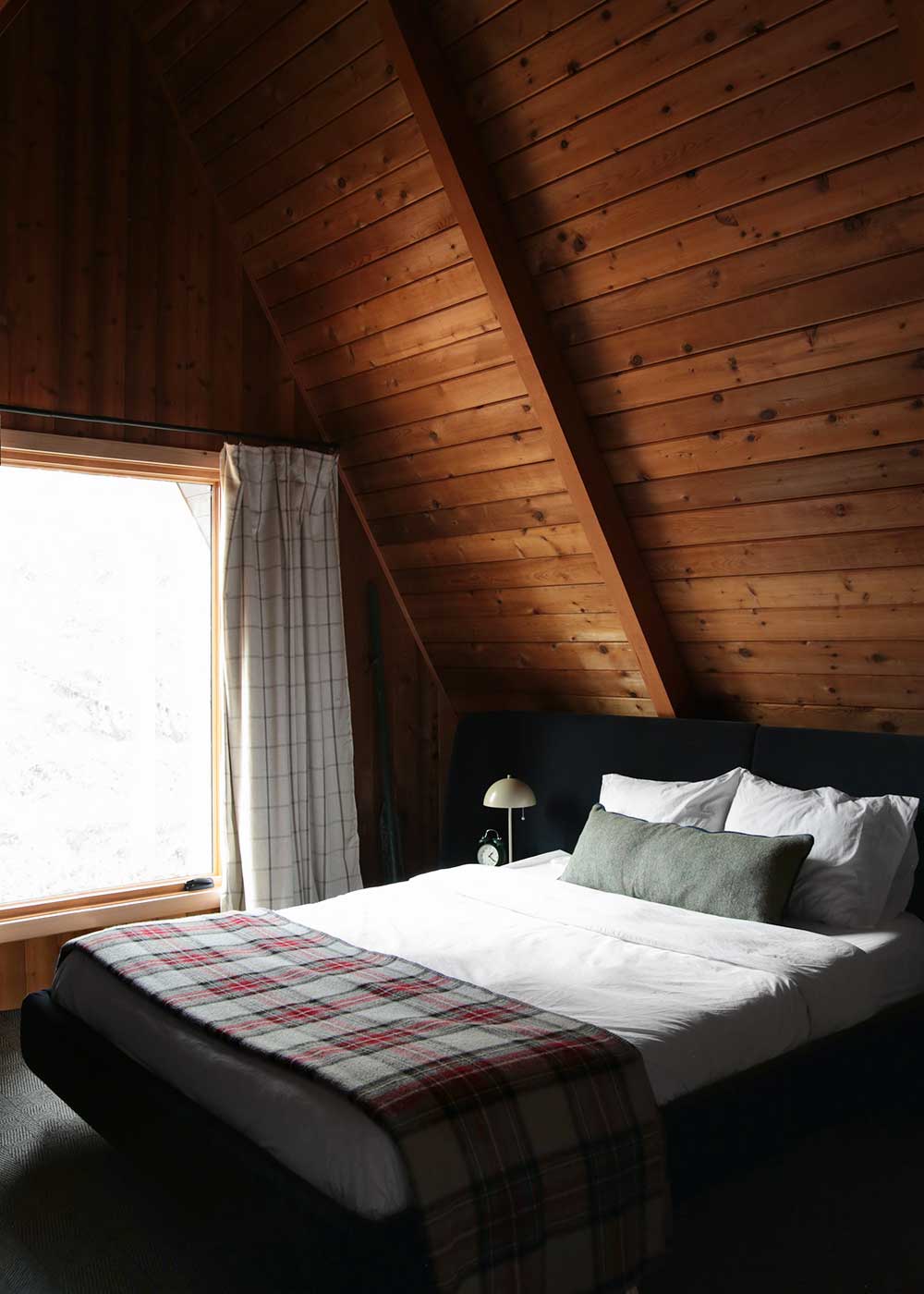 At the top of the stairs, at the back of the cabin, only if the lake is the front, is the A-frame bedroom with a pointy pitched ceiling and panoramic views of the trees. The curtains pull to a close for blackout sleeping conditions, and the chair in the corner, with the light and the table, await a good book and a warm body. I'd love to invite you into the A-Frame Cabin Bedroom at The Minne Stuga.
Before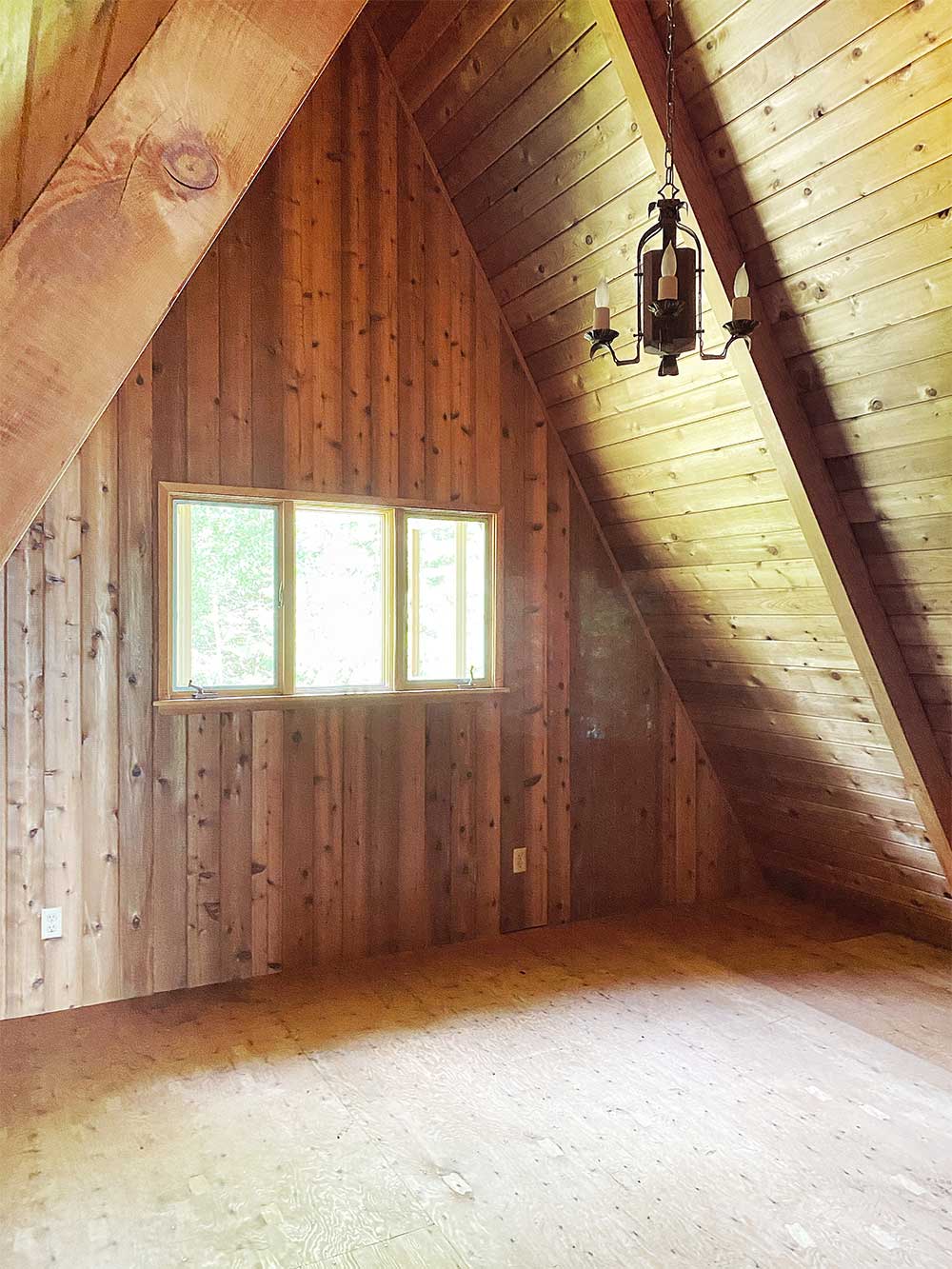 When we first walked into this room, it felt like an A-frame within an A-frame. It felt like magic. Luckily the neon orange carpet, that floored the rest of the upstairs, stopped at the sacred threshold of this room. After seeing this space, I dreamt of a big glass triangle window covering the A, like so. Turns out that idea was super expensive, and, turns out that you have to have an operable window due to fire code. So instead, we opted to keep this room simple, replacing the window for a larger operable Marvin window, adding carpet, and reorienting everything towards the trees.
After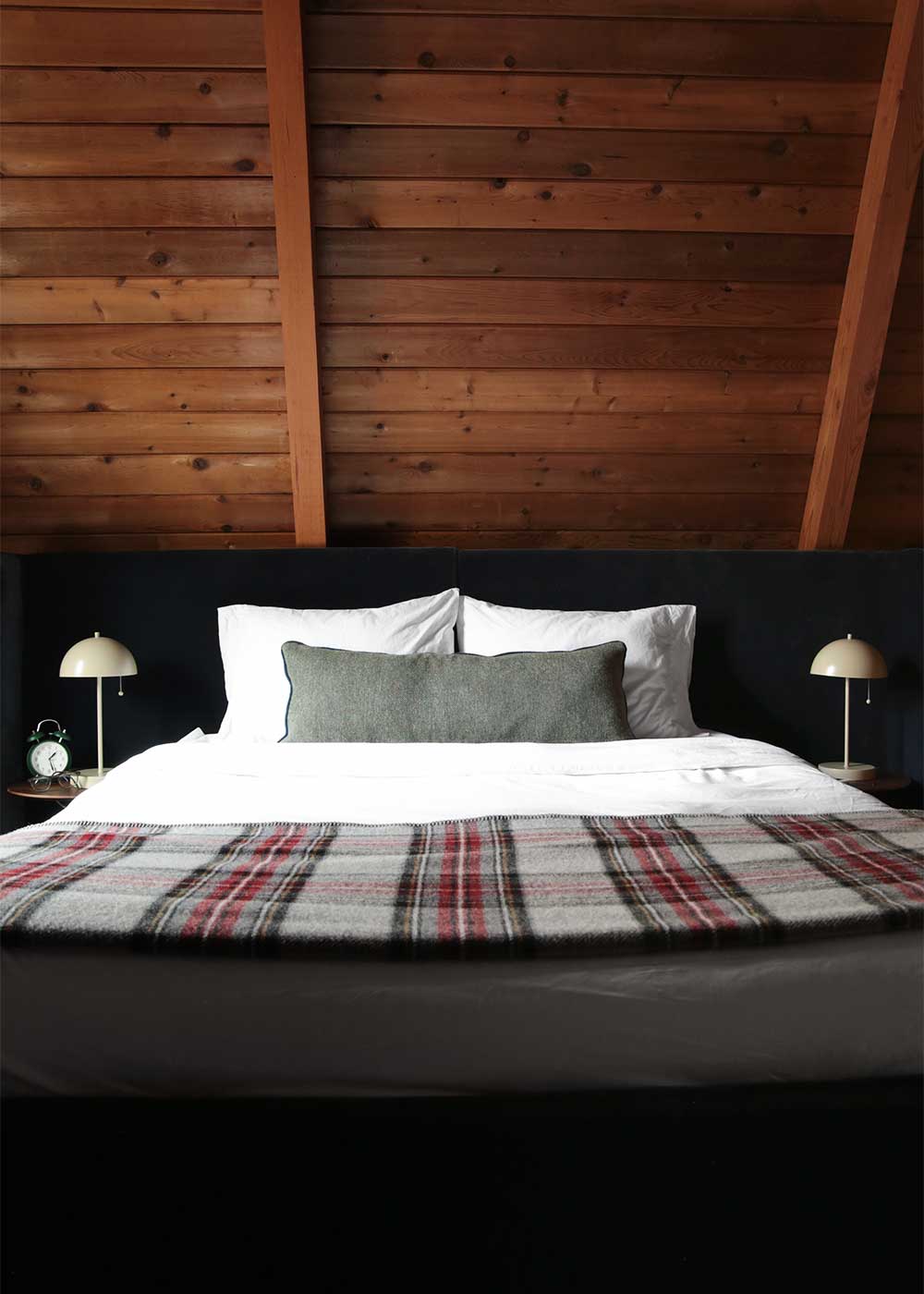 But in order to reorient towards the trees, we had to place the bed into the angle of the A, which felt a little awkward. Not only that. It would take a special bed to make everything work. So we searched high and found a low long bed that created somewhat of a false wall, anchoring the bed to the pitch of the room, to the vantage point of the trees.
Like so.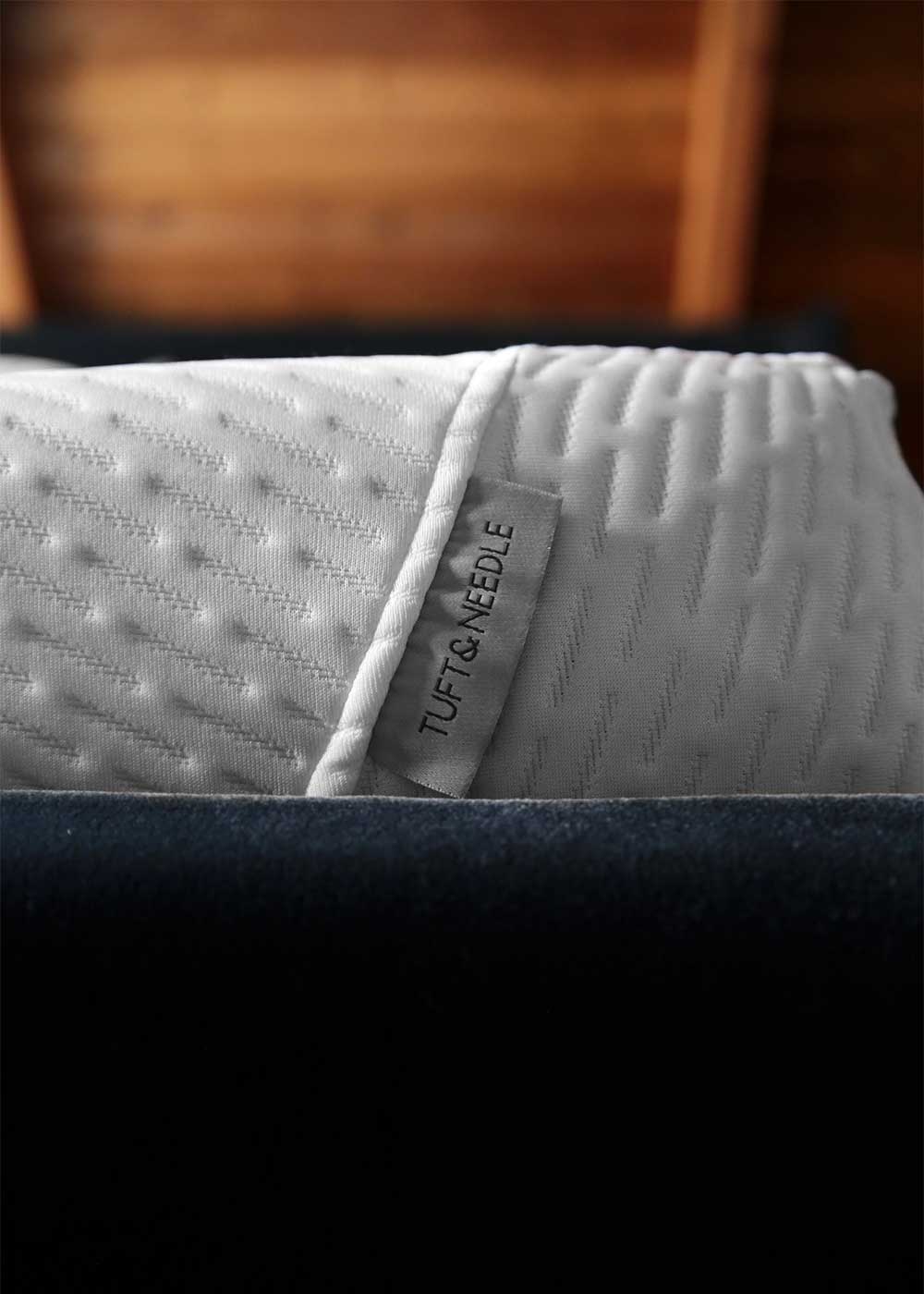 Before I go any further and speaking of beds, I should mention that we partnered with Tuft & Needle for the very best sleep at the cabin. We love their mattresses, truly love them. Because after 7 years of owning one, they never seem to sag. They are on every bed in our home, minus Linnie's crib. And as soon as she gets a big kid bed, we'll buy a Tuft & Needle bed. Their original mattress is our favorite. We also went with their extra sturdy percale sheets, which I'll tell you more about our sheeting situation in a second. And, for our allergic guests, like our very own Hal, went with their down alternative pillows and duvets. The pillows are supportive yet fluffy, not flat or rock solid. I love them.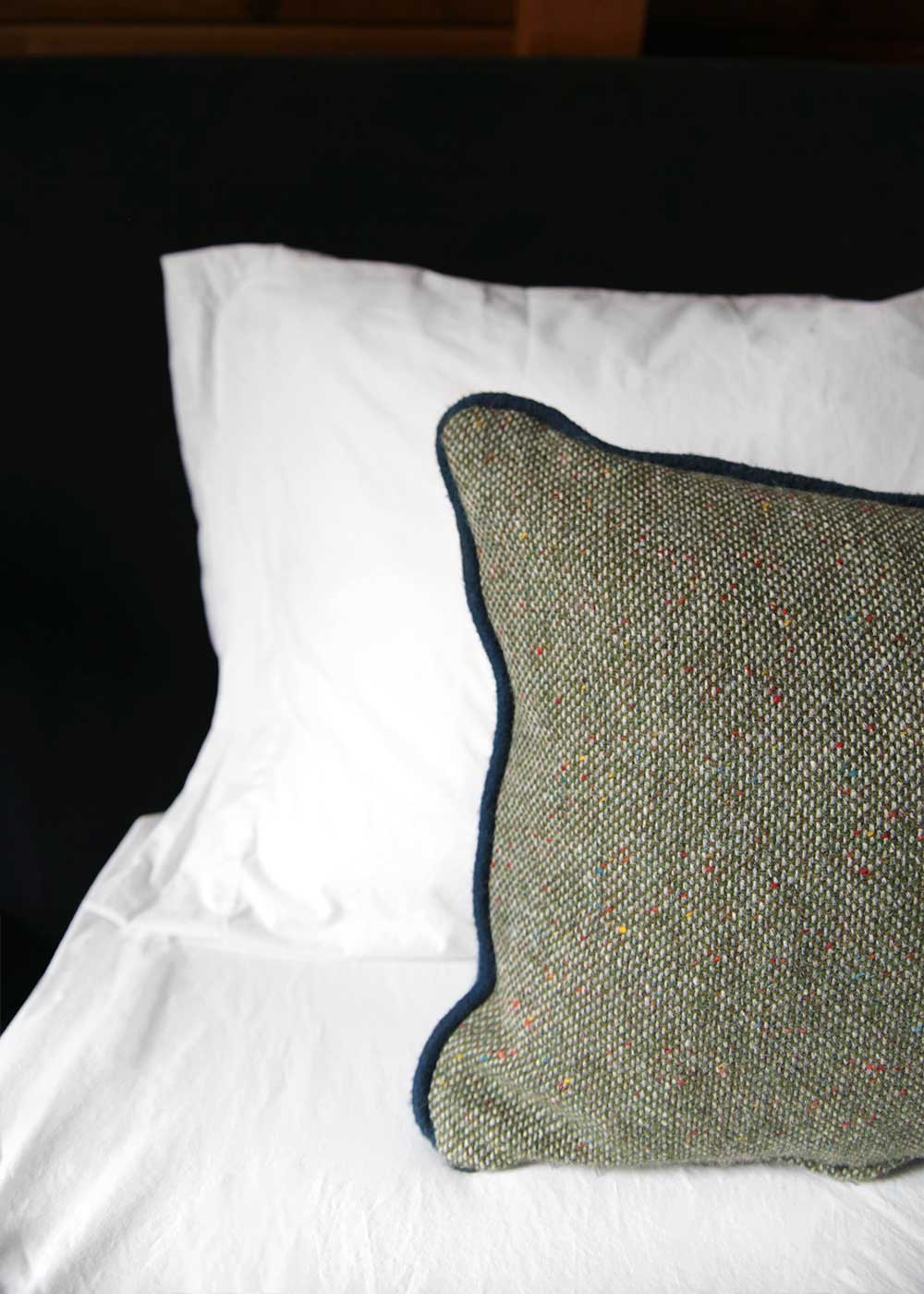 To balance that low bed, I had a long lumbar pillow made from green and navy wool remnants. (Remember that wool I tracked for these cushions? I had extras since I grossly overmeasured. Never hire me to measure unless you want extra fabric for lumbar pillows.) It was just the thing this room needed.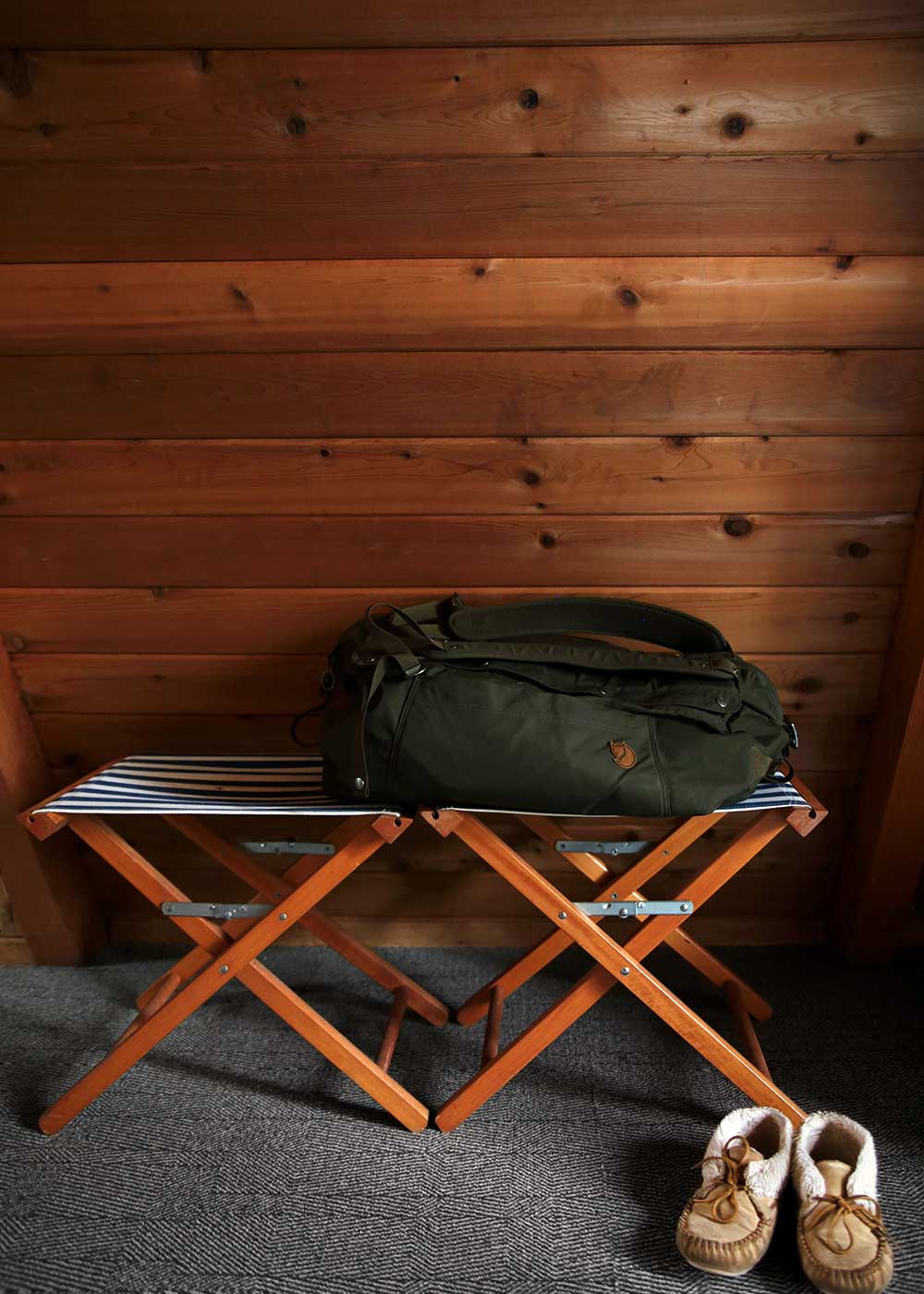 Kev found these gems of a luggage rack on Facebook Marketplace. Only they weren't intended to be such. He sent these director's chairs to me and I said. "YES!" Then I unscrewed the armrests and removed the slip-on backrest and turned them into such. If you're ever in the market for cool luggage racks, don't overlook the dusty director's chair.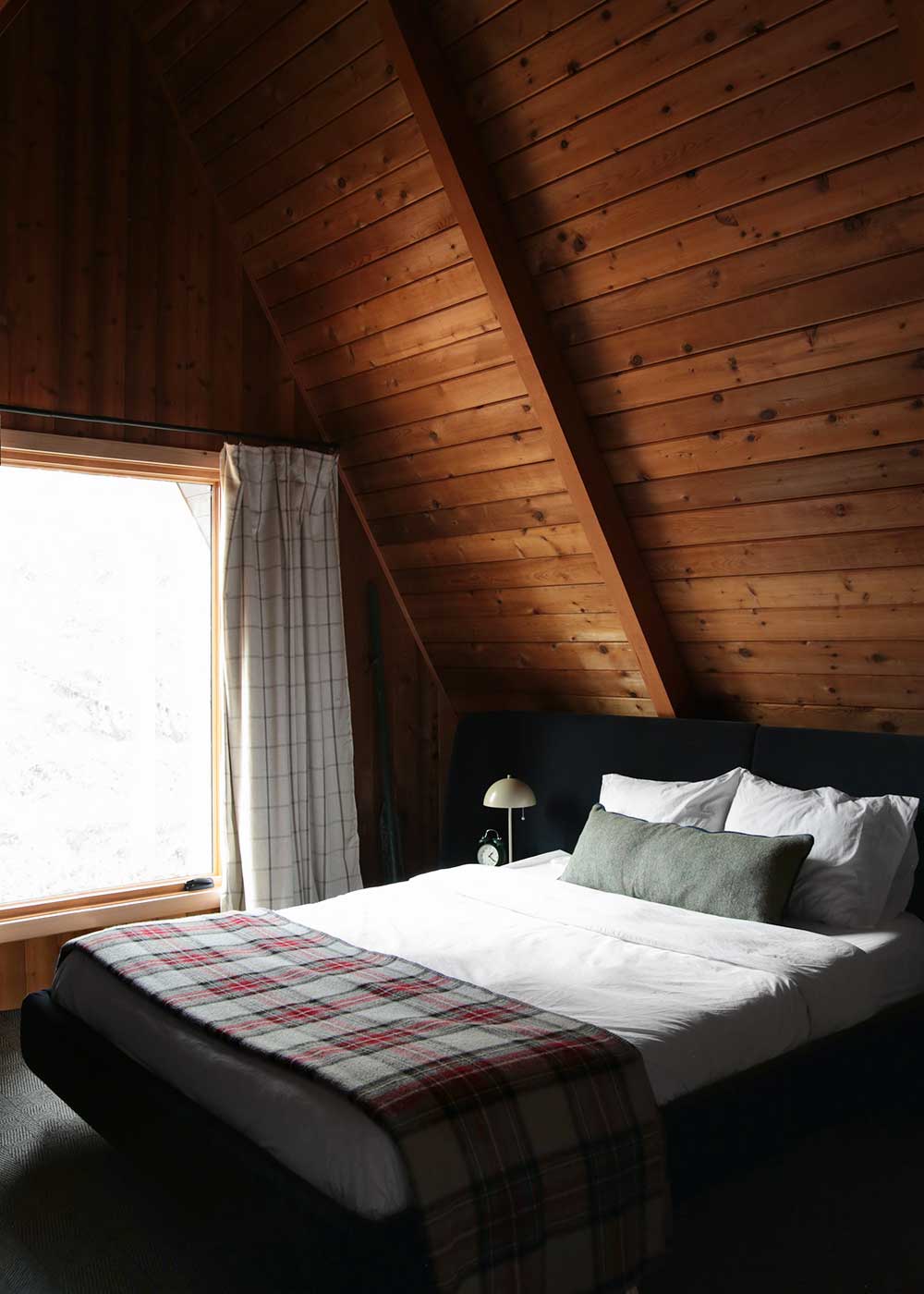 Triple Sheeting
Now onto the sheets. Have you heard of triple sheeting? We hadn't prior to owning a rental property. Stevie, who helped us get the cabin off the ground and rentable, recommended this method. It's simple, low maintenance, and clean.
Here's how it works. (Or watch here.) You use 3 flat sheets to make the bed plus a duvet. That means you use a flat sheet in place of a fitted sheet and tuck it into the bed. Next, place another flat sheet pulled up to the top of the mattress over the bed. Lay the duvet about 6 inches down from the top. Then lay the final sheet over the duvet, matching it up with the sheet beneath. Fold the excess sheets over the duvet to create a pocket. Then fold once more, about 12 inches down, to create a pleat. Now, tuck everything into the bed. And voila! This means that everything gets washed between every stay (minus the duvet). Note: We still use a fitted sheet, so technically we're in the business of double sheeting. Toe-may-toe, toe-mah-toe.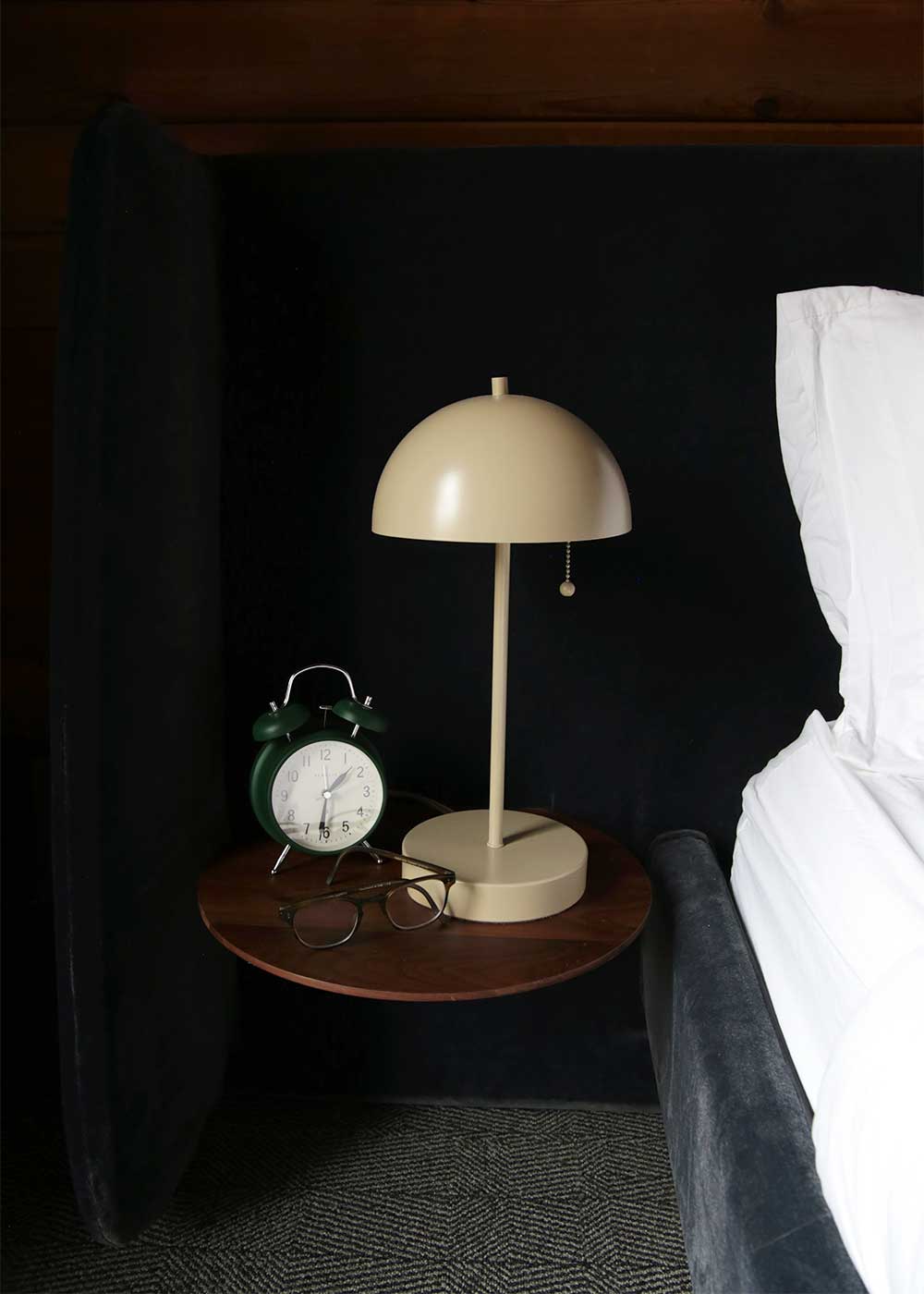 Maybe you don't have a rental and you're wondering why I'm even mentioning this method. I get it. We started using it at home too. Especially during the summer months, when we don't want as many layers on our bed. It's nice because everything gets washed, and you don't have to pull off and put back on the duvet cover that takes forever, that makes you curse. Or is that just me? It's also simple in that you just need a couple of sets of white sheets to pull this simple method off. If we still had a guest bedroom, I think it would work well in there too.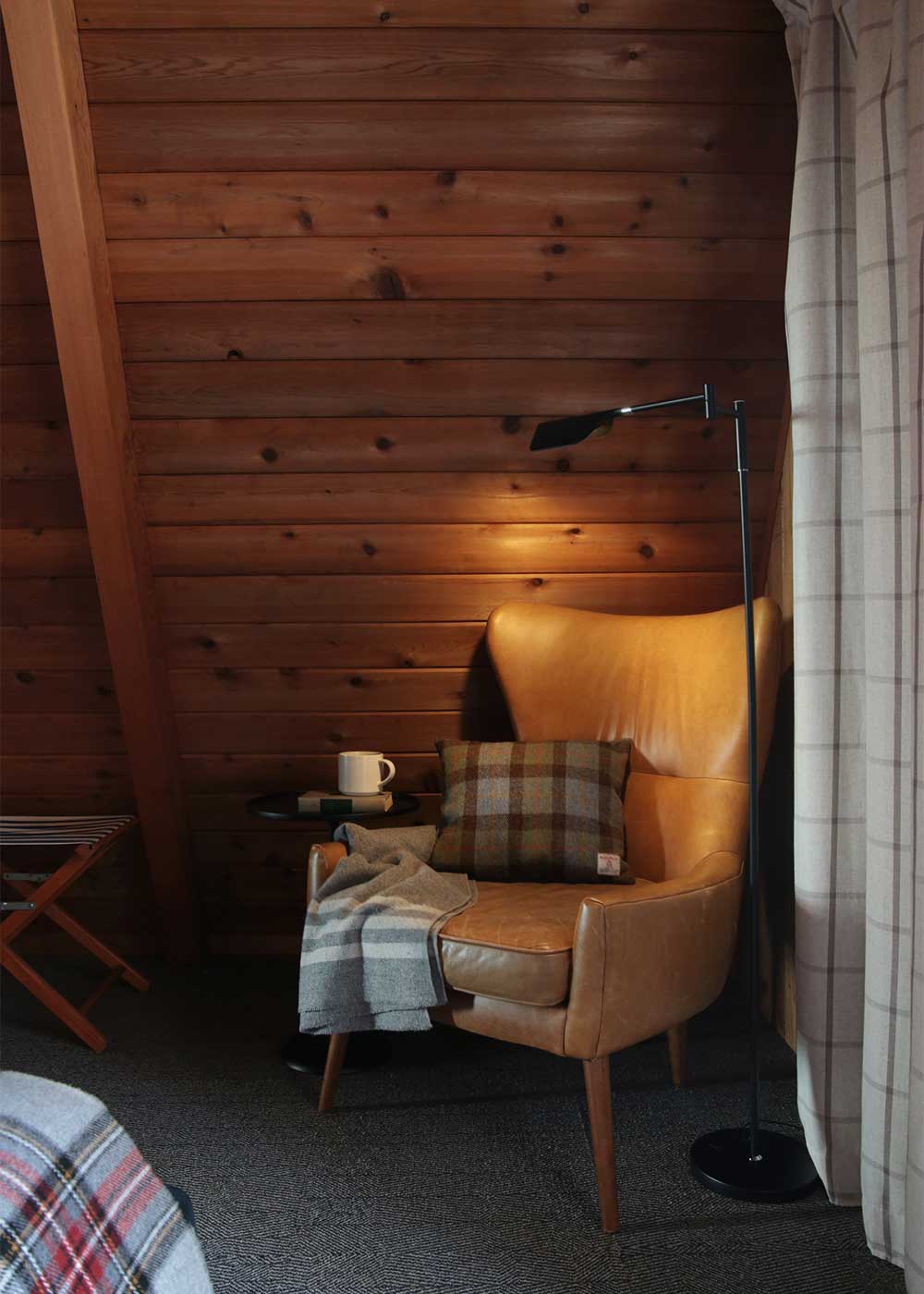 Pack your book. Pour the tea. We have a spot in the corner with a light and a table just waiting for your warm body. Come up to getaway.
Sources: Blu Dot Hunker Bed in Skidway Ink Queen | Tuft & Needle Queen Original Mattress* | Tuft & Needle Down Alternative Duvet* | Tuft & Needle Queen Percale Sheets in Cloud* | Tuft & Needle Down Alternative Pillows* | Lumbar Pillow in Sage Flecked Irish Tweed (Custom) | Pendelton Washable Eco-Wise Wool Blanket in Grey Stewart Queen (out of stock) | Harris Tweed Pillow Cover | Mushroom Lamps spray painted in Rustoleum satin fossil | Green Alarm Clock | Flor Tweed Carpet in Pearl | Erik Leather Wing Chair in Burnt Sienna (thrifted) | Faribault Striped Grey Wool Wrap (out of stock) | Black Metal Side Table | Brightech Leaf Pharmacy Floor Lamp | Striped Director's Chairs (thrifted) | Roth + Allen Plaid Curtains in Taupe plus blackout curtains | Black Curtain Rod | Black Curtain Clip Rings
*Denotes gifted or discounted items
Construction by Taiga Design + Build
Interior Design by Melissa Coleman
Photography by Melissa Coleman
See the other cabin reveals: Living Room | Kitchen | Dining Room | Downstairs Bathroom | Downstairs Bedroom | Loft | Upstairs Bathroom | Exterior | Outdoor Furniture
To sign up for our cabin email list, head this way >
This blog is made possible by your support (thank you), select brand partnerships, advertisements, and affiliate links to items I love and use. READ MORE >