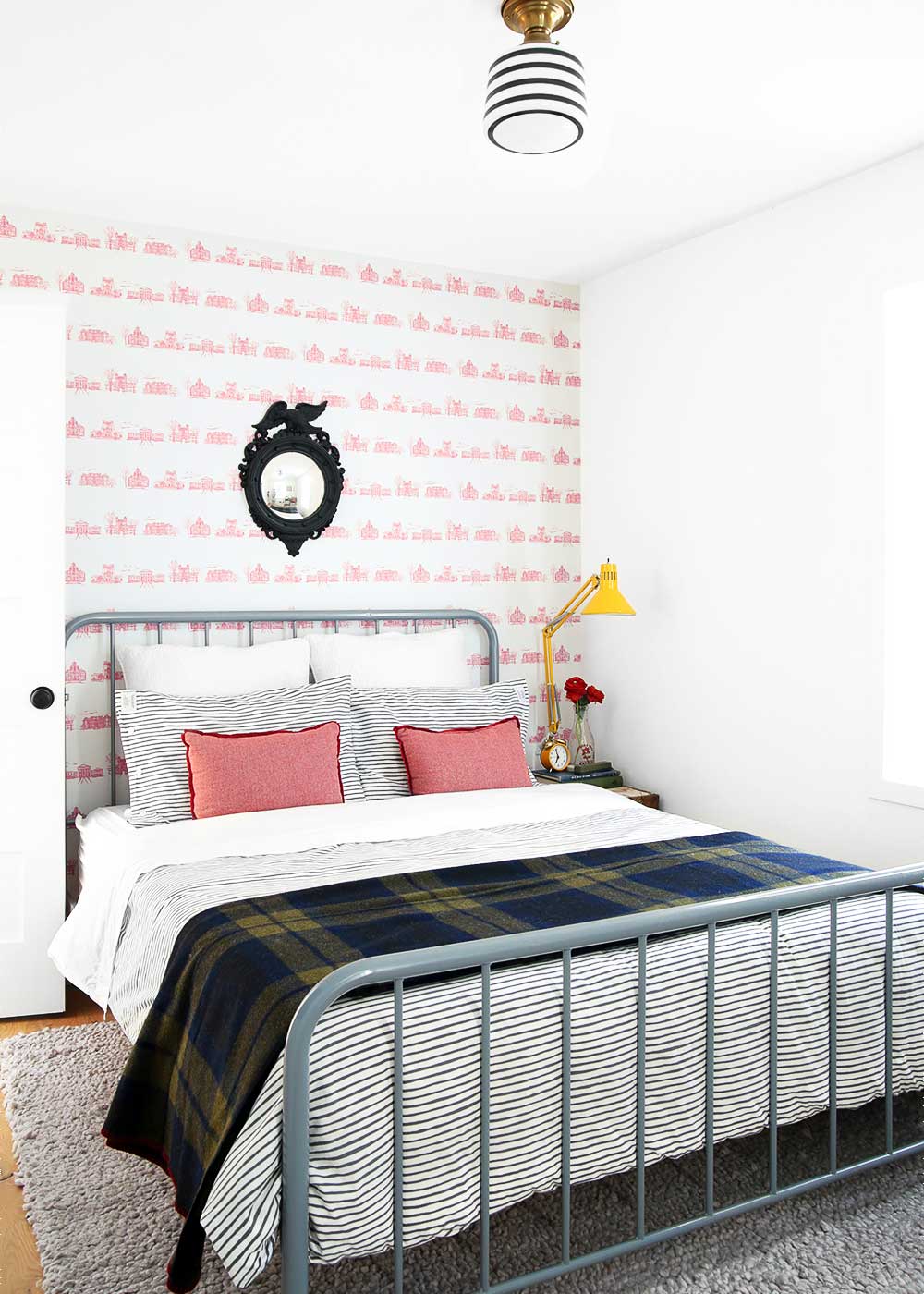 The Inn at The Fauxhouse is now open for guests has been taken over by Linnie's Nursery. Well, it's been sleeping guests for 3+ years, but I'm finally done tinkering with the room. And when you come to stay, I won't corner you as I tell you about all the unfinished parts. (Can you hear Kev cheering in the background?) Let's just call this the official grand opening of The Cozy, Collected Guest Room. Somebody cut the ribbon already.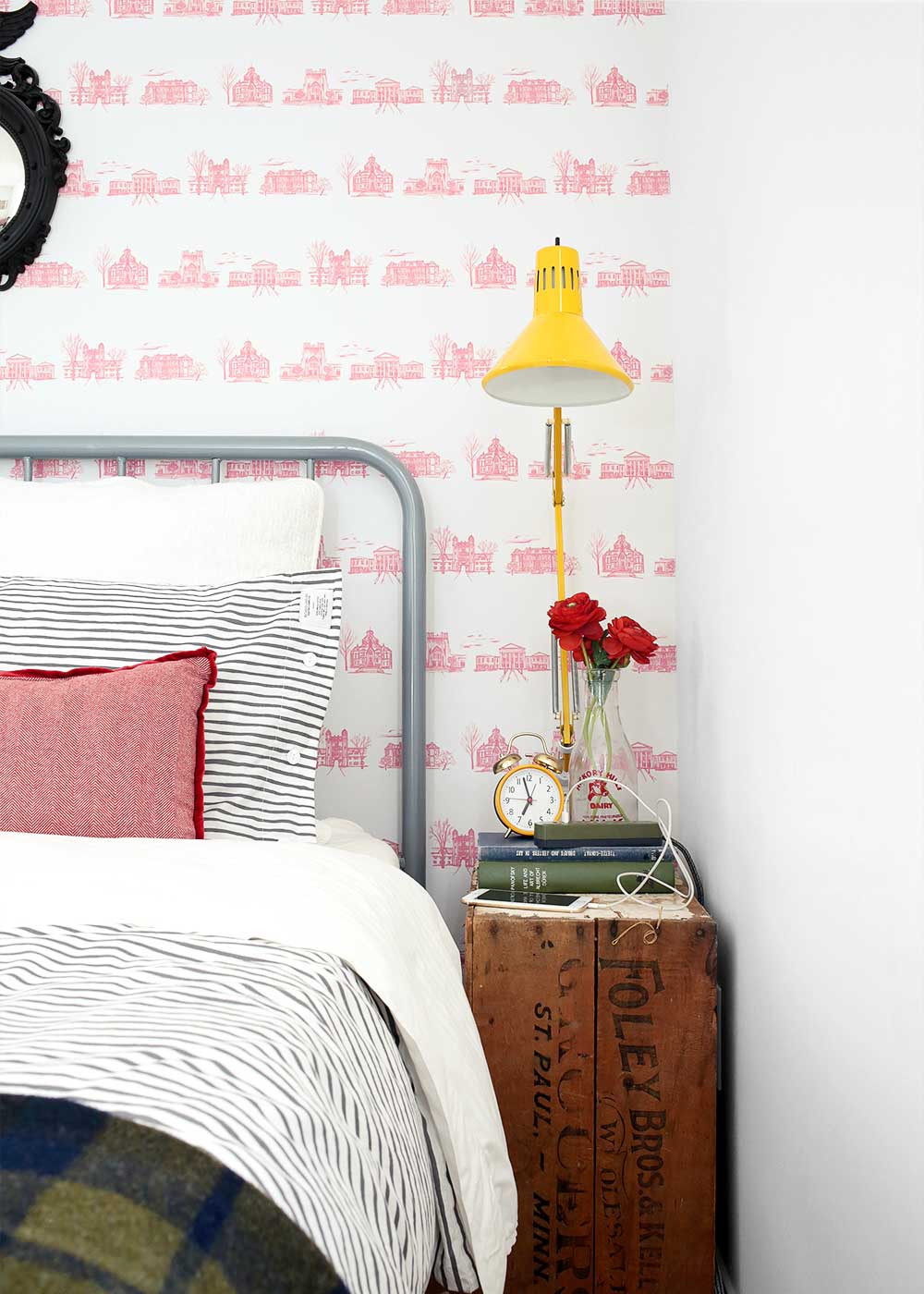 The aesthetic of this room was heavily inspired by the Palihouse Hotel. I fell in love with the way they used pops of color to add personality and wallpaper to frame their beds, the focal point of the room. I've been searching for the perfect paper for this room for well over a year. When I saw the new Chasing Paper x Graduate Hotels wallpaper collab, I knew I had found my Neo, my needle in the haystack, the one with a playful pop of red. Even better news, the wallpaper is removable, which means I didn't have to hire this job out. And when you only have one wall to paper, it only takes an afternoon. Praise be.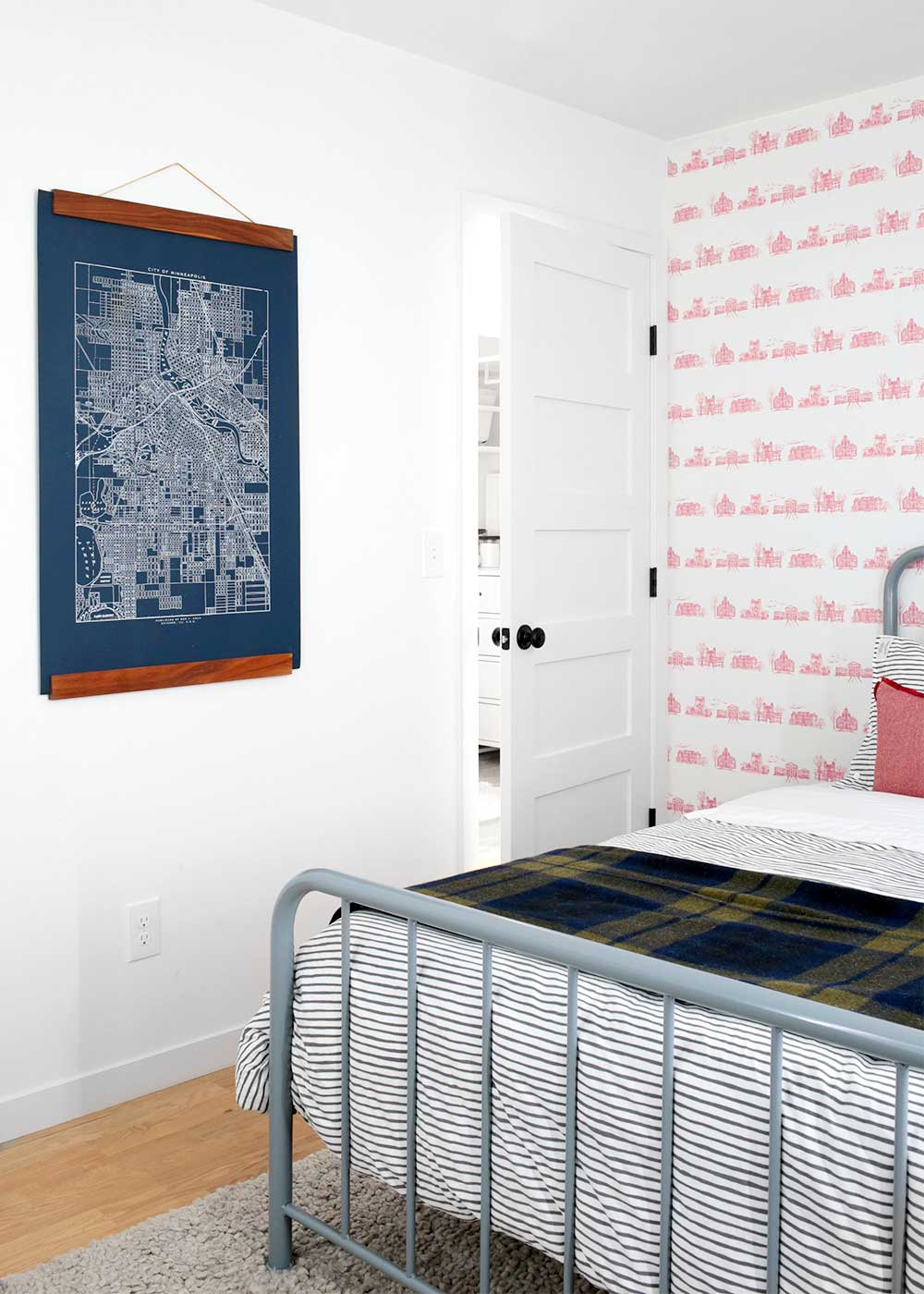 This room is a slow collection of both vintage and new items, heavy on the vintage. I can account for every item in the room. Like the time I swerved off the side of the road after seeing the schoolhouse desk sitting outside a shop. My sister, fresh from the airport, and her luggage were also in the car. Or the time I stood in a long line at a vintage sale and ran to claim those chairs I could barely hold with two hands. Or the time Susan let me peek in the back closet of her shop. That's where I saw Grandma and Grandpa now hanging on the wall. Oh, and then there's that enamel yellow light without a price tag that I couldn't get out of my head. Months after seeing it, I asked if they would sell it to me. They said yes, and I couldn't say no. And then there's the other time, right before we moved in, that we made the decision to invest in lighting and a duvet that felt too expensive, but also felt like a long-lasting investment. (See source list below.)
Just before we said I do, a mentor and friend of Kev's warned him that one day I'd start bringing home a bunch of junk. "Not Mel," he said. I'm mostly a minimalist, except when it comes to a really good vintage find. Sorry Kev. But the miracles of all miracles—this pile of slowly acquired "junk" has turned into a cozy, collected guest room. And with that, I'm done thrifting. Until I have a new room to design.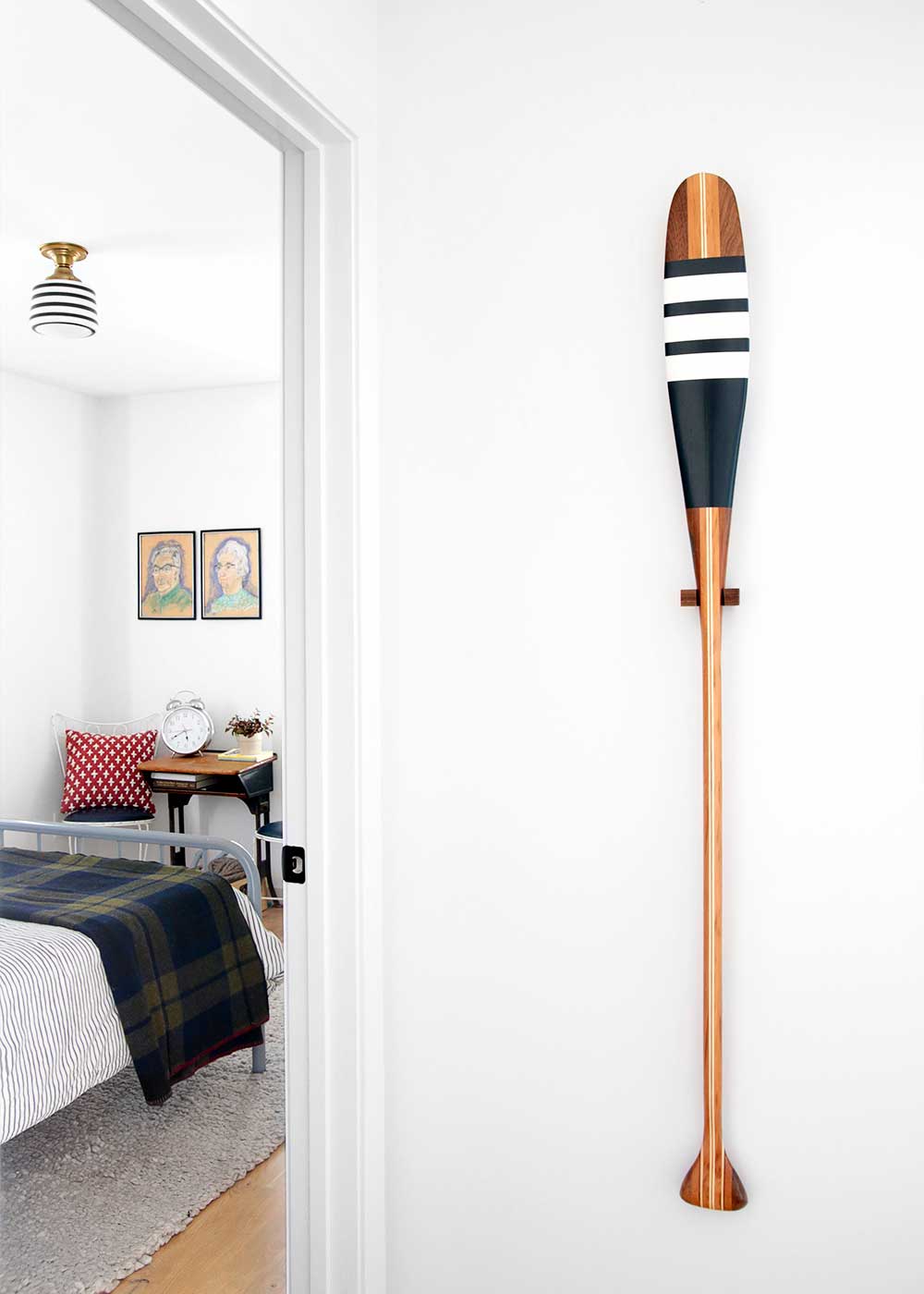 Welcome. I hope your stay is sweet.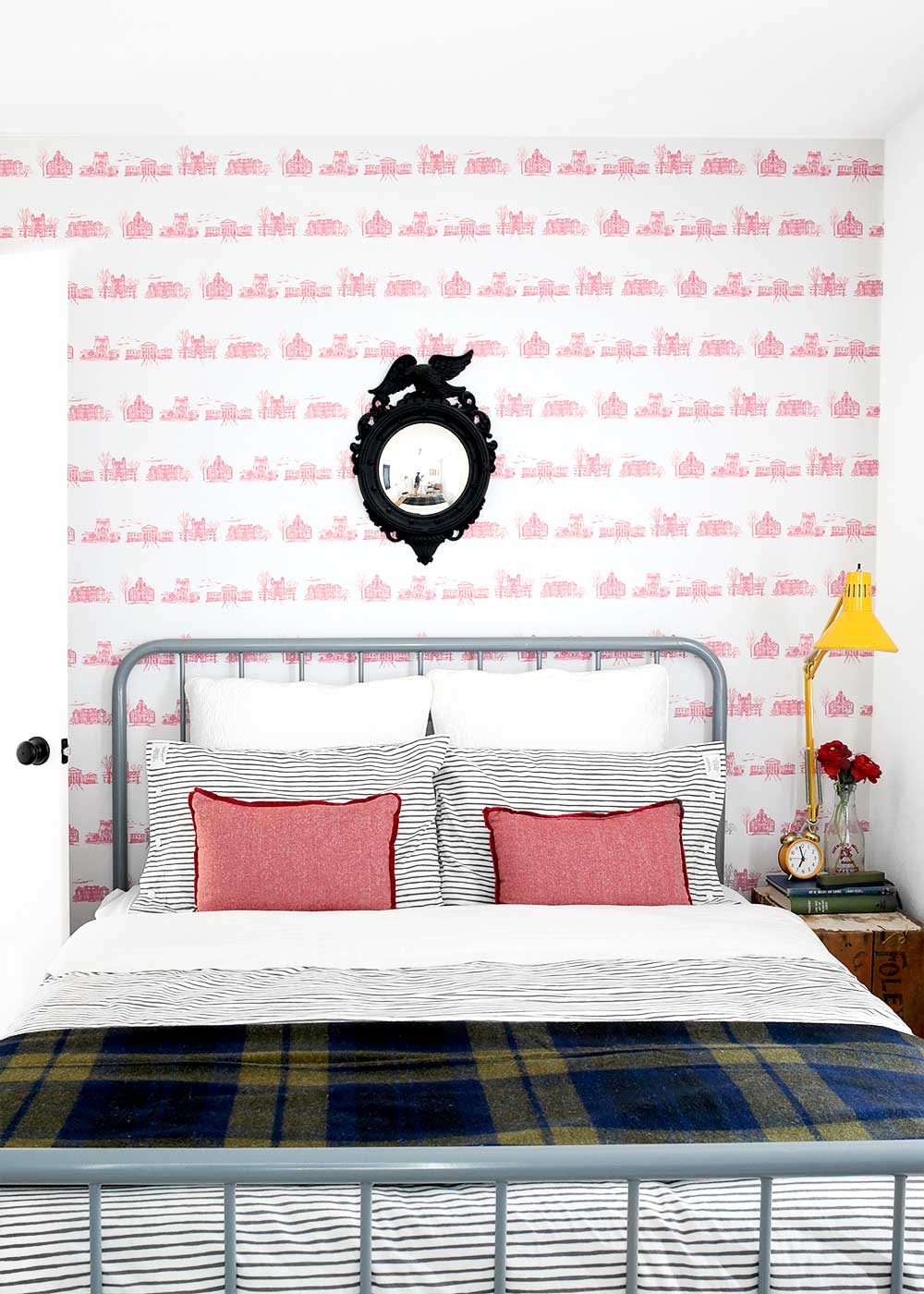 Sources
Around Campus Removeable Wallpaper from Chasing Paper* | Federal Eagle Mirror (sprayed in matte black) | Otis Light Fixture in Natural Brass with similar shade | Grey Metal Queen Bed | Striped Duvet | Red Herringbone Pillows | Plaid Wool Blanket | Side table/box (vintage) | Yellow Clock and Silver Clock (out of stock) | Yellow Light (vintage) | Green USB Power Strip | Paddle | Wooden Paddle Holder | Dollop Rug in Natural (purchased at outlet) | Chairs (vintage) | Red "X" Pillow (similar color) | Desk (vintage) | Wooden Milk Crate | Vornado Standing Fan | Grandparent Art (vintage) | Map Art and Frame (out of stock) | Tuft & Needle Mattress
*Chasing Paper donated this wallpaper.
This blog is made possible by your support (thank you), select brand partnerships, advertisements, and affiliate links to items I love and use. READ MORE >