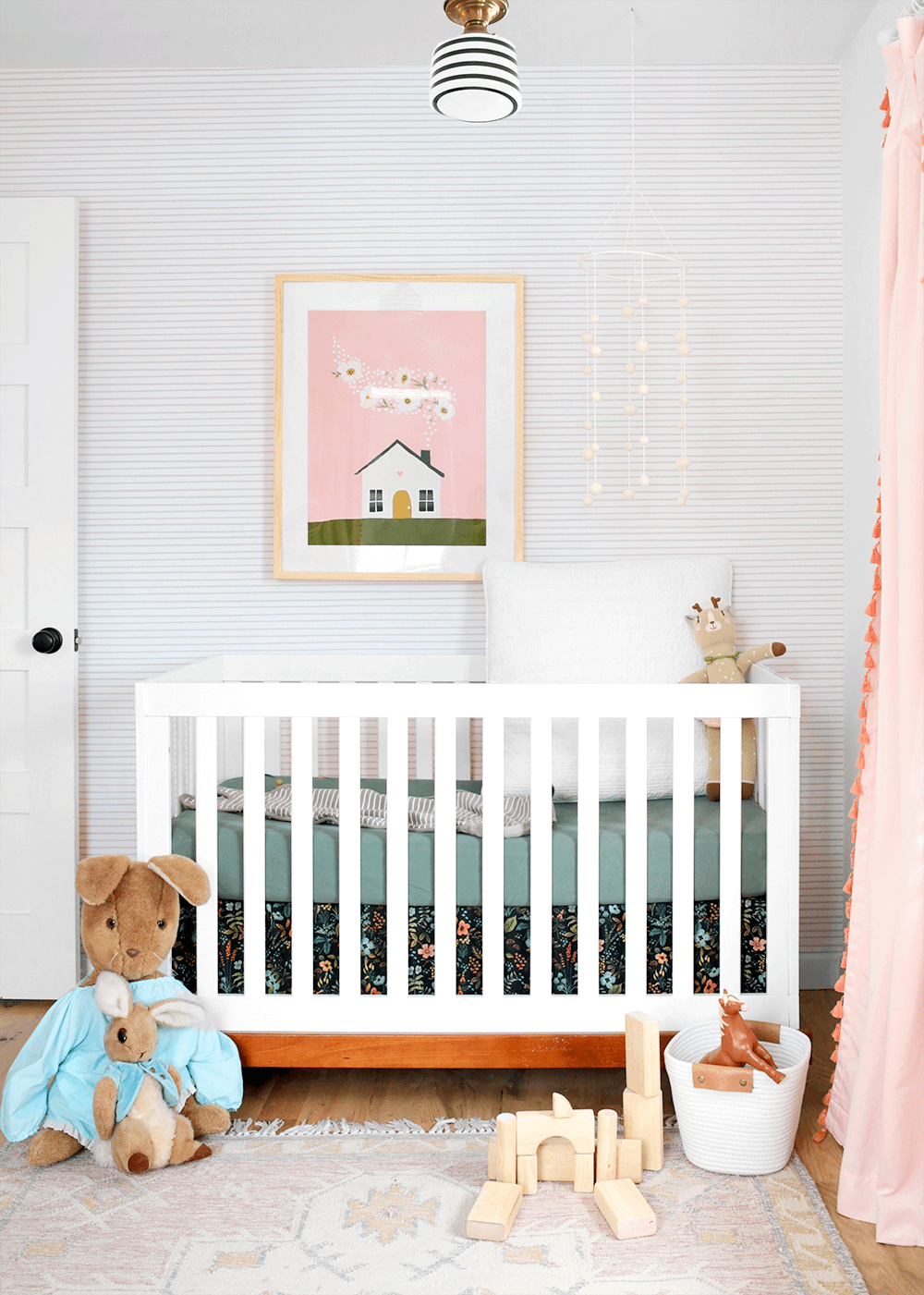 From guest room to Linden's nursery, the transformation is complete, minus a tinker here and a tinker there. (See the moodboard here.) It's strange to design a space for someone you don't know yet, but it's also one of my favorite things to do in the last weeks of pregnancy—to create a space she'll hopefully love to play in and sleep in. Please sleep, I prayed as I set the level on the shelf while Kev screwed it into the wall. Please be level, too. Made from shallow prayers, teamwork, hand-me-downs, so many stripes, and last-minute Target drive-up pick-ups (because COVID), I'd love to take you on a tour of Linnie's room.
All sources linked at the bottom of the post.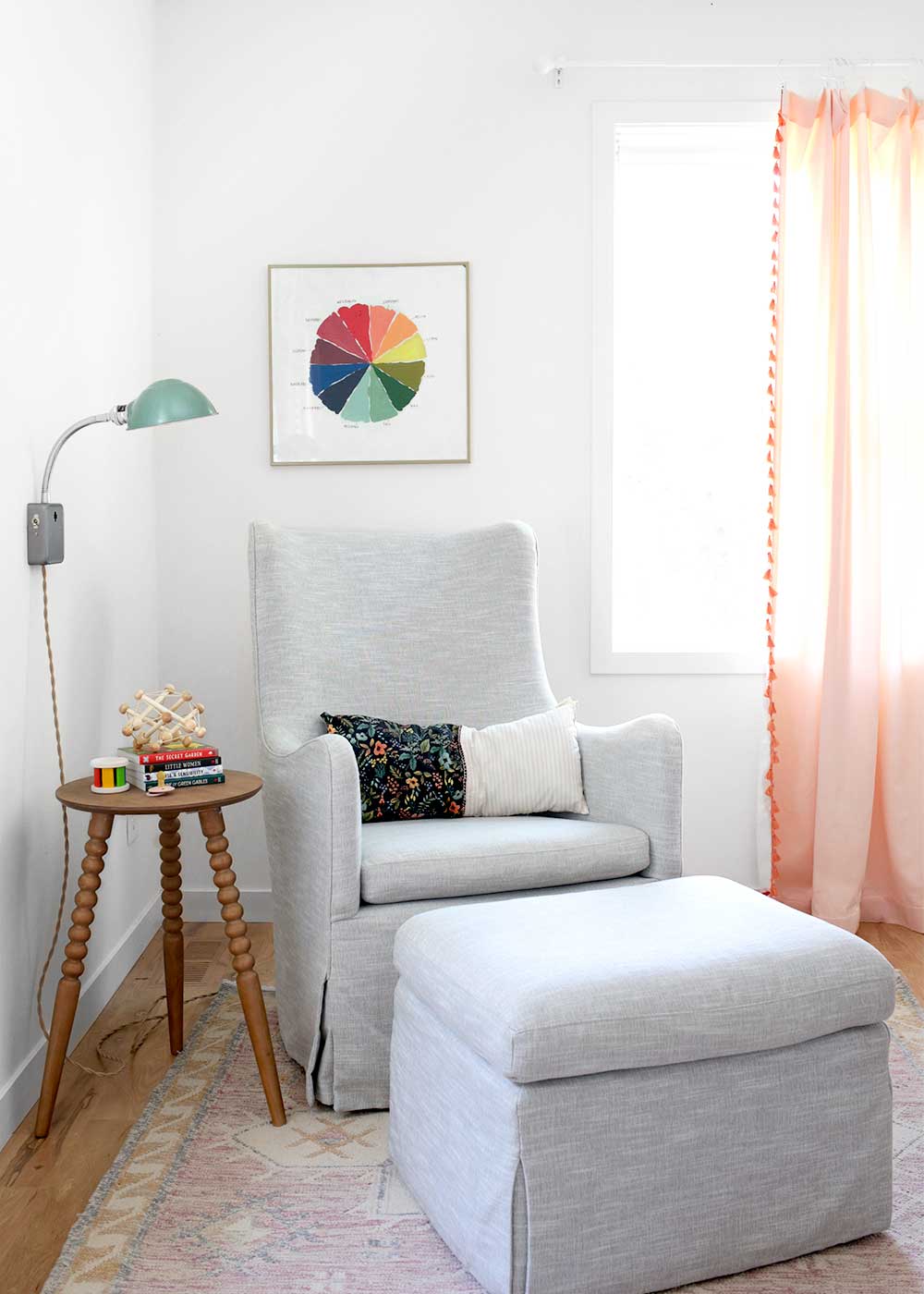 Last time we did the newborn dance, we rocked Hal in the same wooden rocking chair my dad was rocked in. Super creaky, so uncomfortable, but wrapped in family history, I loved it. Kev, the main baby rocker, didn't. We rocked a lot in that chair because Hal needed a whole lot of rocking to get to sleep…for 15 minutes. As soon as we found out Linnie was on the way, Kev went on the hunt for a nice rocking chair and found this beauty of a glider from Room & Board on Craiglist.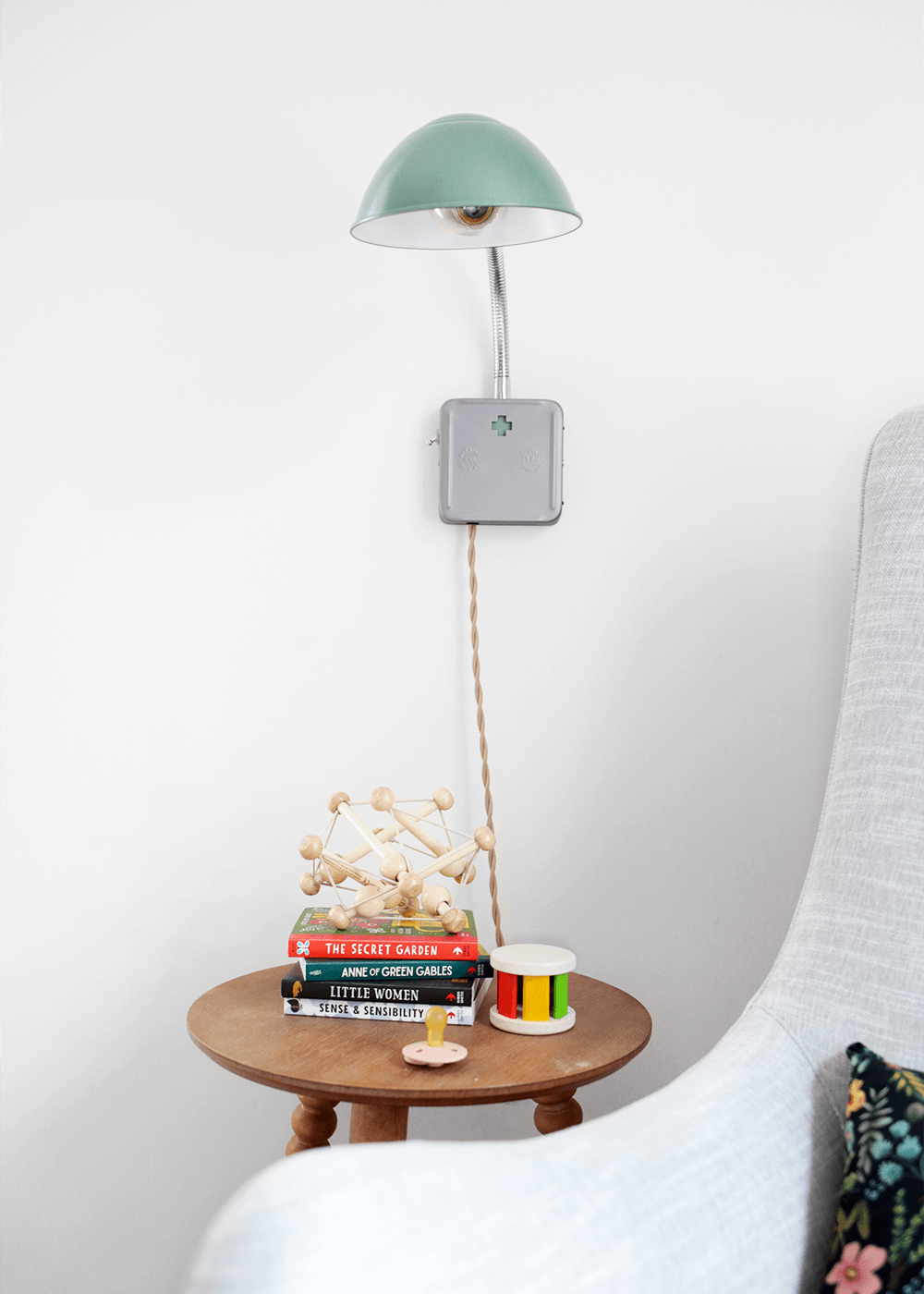 Guess who falls asleep without rocking? Maybe it's just Linnie's specialty or maybe it's thanks to the Taking Cara Babies newborn class. Either way, this will become our reading chair just as soon as her wobbly neck stiffens up a bit. This chair was also our nursing chair for the first 2 months (and it was really great for that), but we seemed to have traded problems this time around. Hal was a rockstar nurser and struggled to sleep. Linnie has struggled to nurse and is a rockstar sleeper. (I'm exclusively pumping for now. Call me crazy. No really.)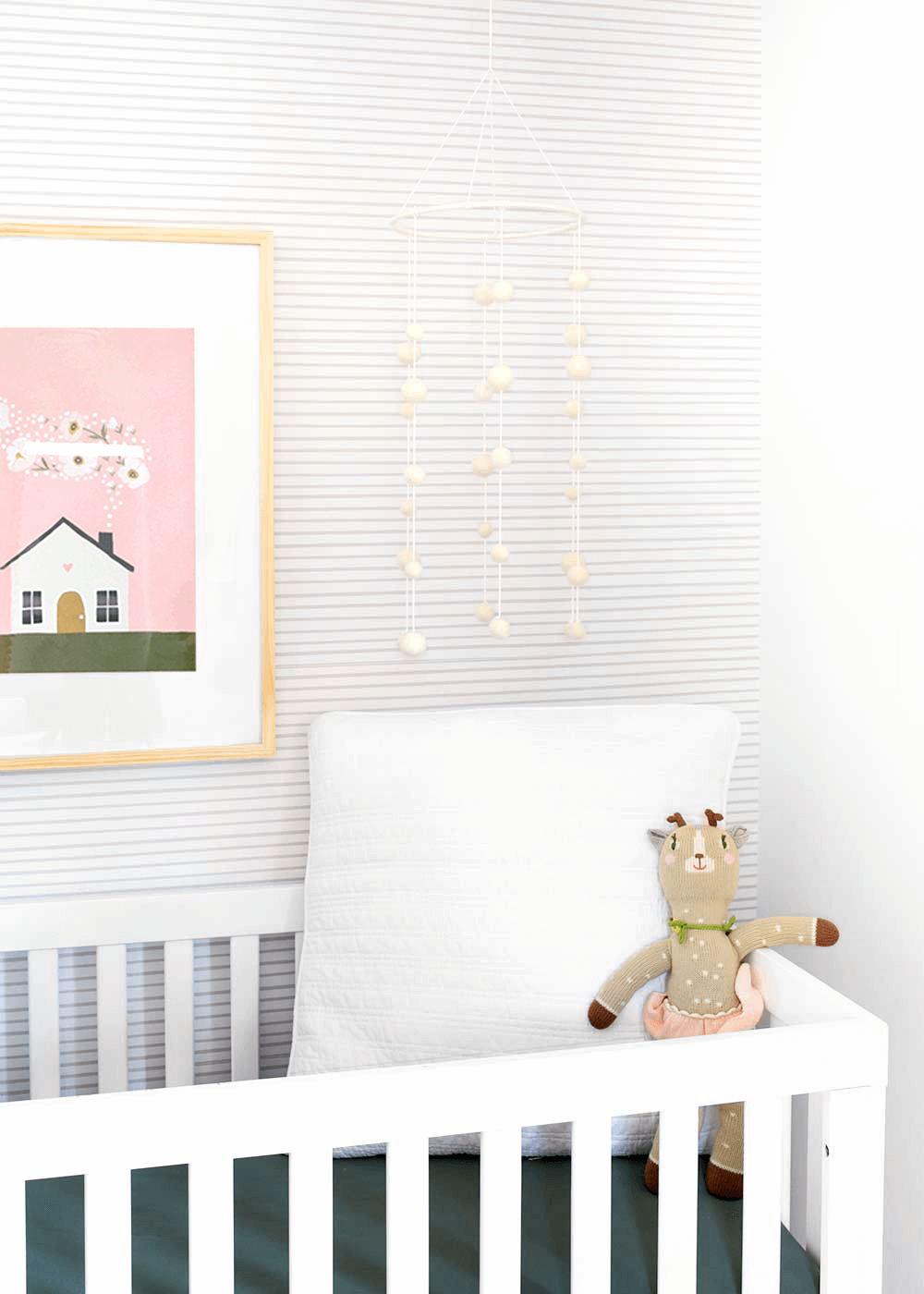 When Linnie's room was a guest room, we had a wall of wallpaper that I just couldn't get to work for a tiny human's room. (I tried because I hate to waste.) So we traded that removable red and white collegiate paper for removable pale blush stripes from the Chasing Paper x Pehr wallpaper collection. Kev took pity on me at 38 weeks pregnant and helped me hang it. Linnie loves to stare into the stripes as she falls asleep. Maybe this, too, was the answer to my sleep prayer. Hypnosis by cute striped wallpaper.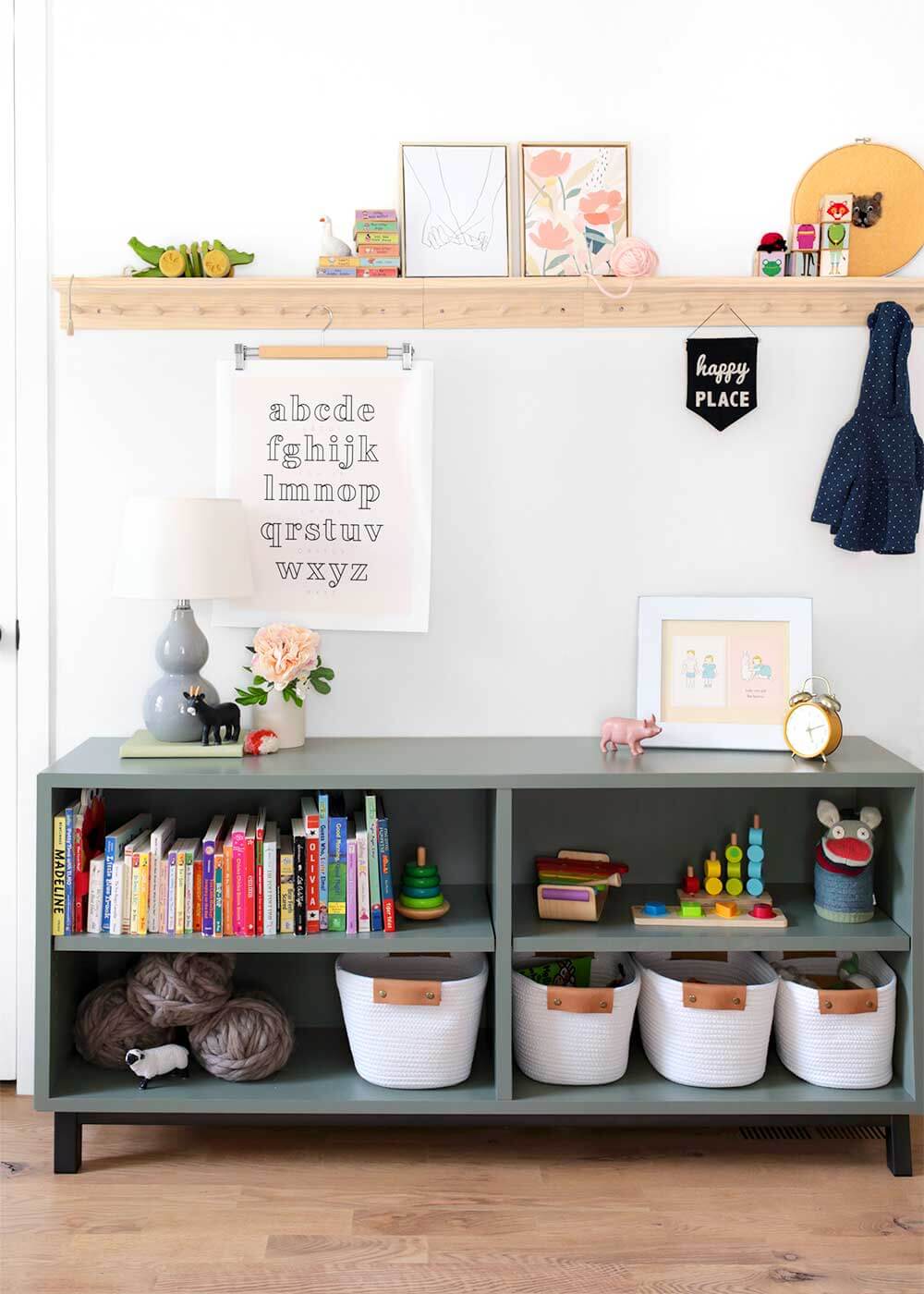 Long and skinny, this room was in need of a narrow bookcase that'll fit even when her crib turns into a big kid bed. I found the perfect bookcase in the perfect color with the perfect depth at a price point Kev didn't find so perfect. His Craiglist search came up empty, so we bought that perfect sage green bookshelf with the help of a gift card and money saved from a couple DIY projects (like this mobile). You know, every room needs some high to elevate the low. Let's just call this bookshelf that.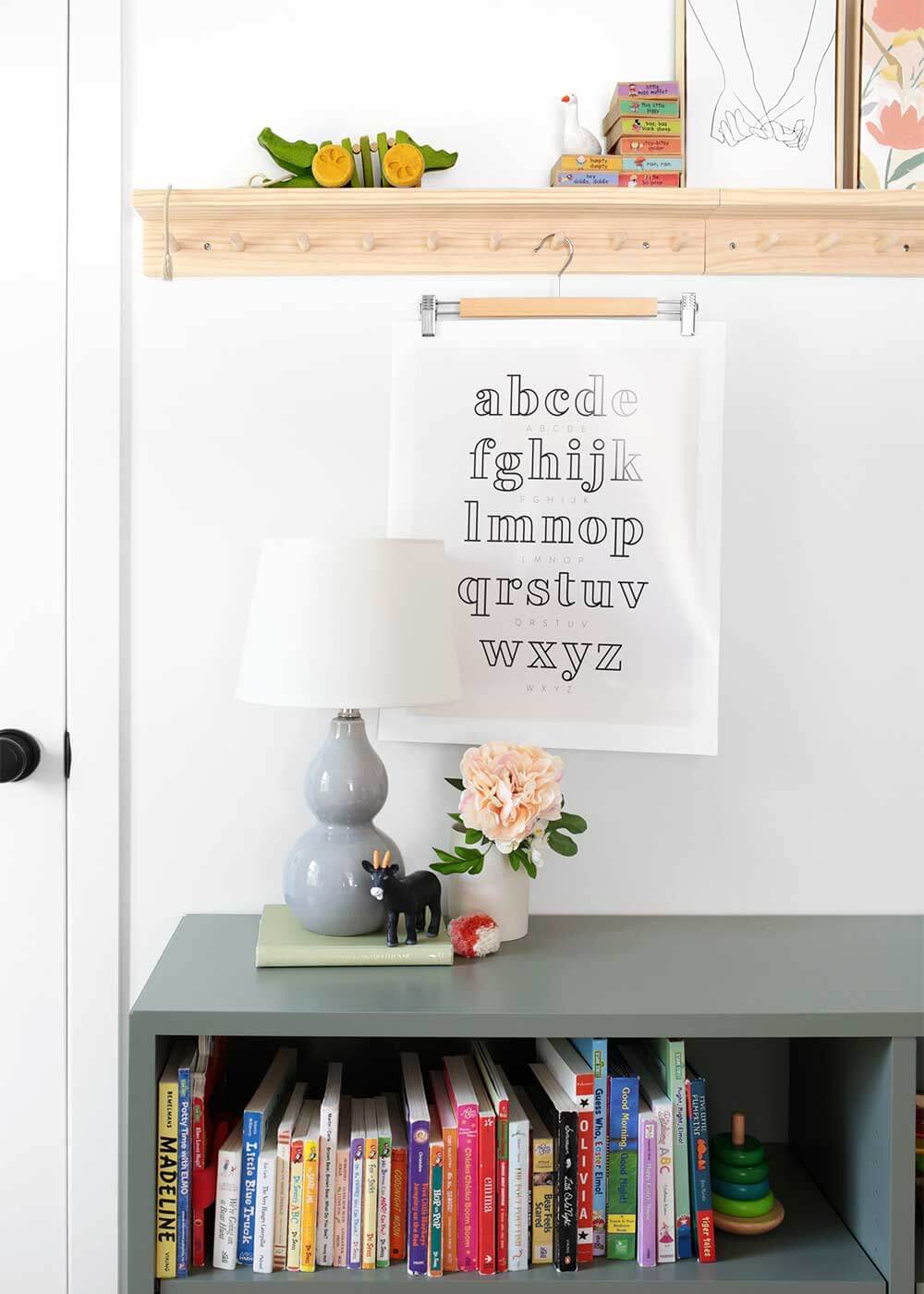 When building the house, we opted for smaller bedrooms with closets large enough to fit a dresser, you know, to hide the daily mess of clothes. We tucked Linnie's changing table/dresser in the closet too, topped it with a hand-me-down changing pad, and wrapped it in a pretty cover to match the wallpaper. Stripes upon stripes. Can you have too many? I hope not. With leftover crib skirt fabric and a little fabric glue, I covered the cardboard storage boxes for holding diaper supplies. A closet can be cute too. I still need to make another tiny mobile to hang over the changing table and distract Linnie during diaper changes. Have you tried this trick? It's a lifesaver.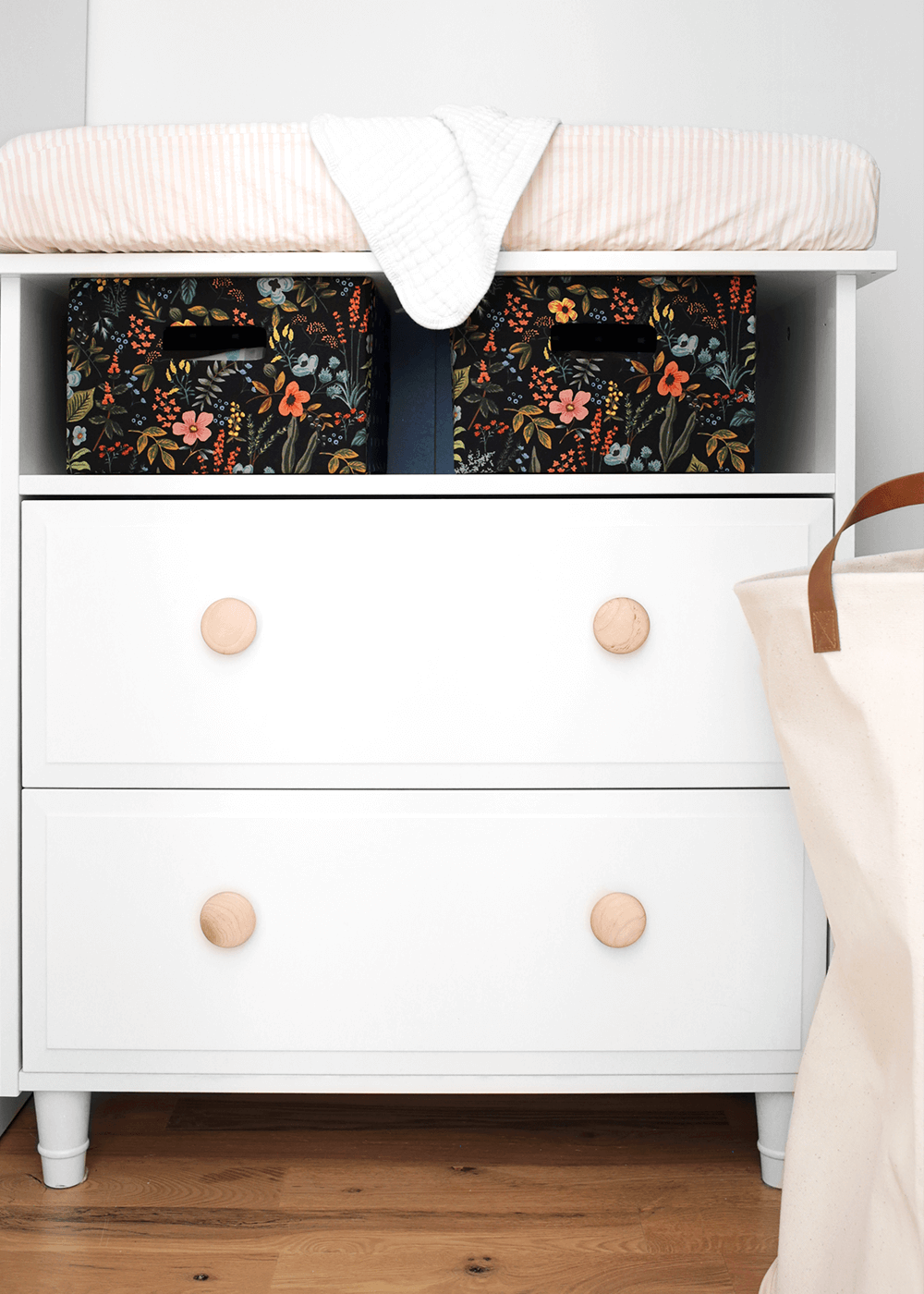 Welp, all 3 bedrooms now have permanent residents, leaving no room in the inn for the temporary kind. We always said we'd finish out the basement before adding to our family, to create a comfortable space for guests to sleep, and then we bought a cabin 4 days before finding out Linnie was on the way. So…it might be a decade before that can happen. But lotsa cozy cabin design is coming to the blog soon, just as soon as I share a couple more baby room DIYs.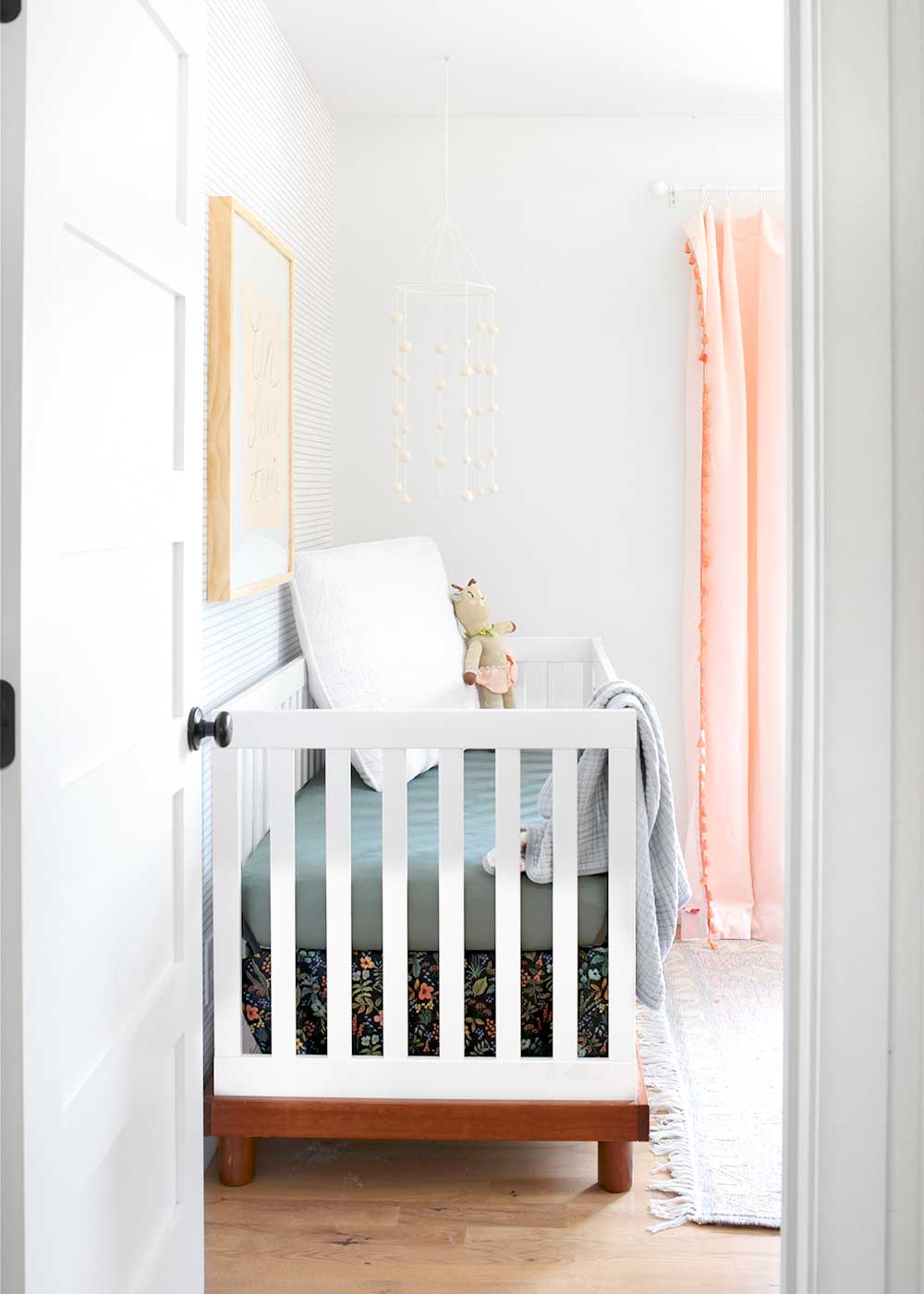 Sources
Crib (Hand-me-down from Hallie) | Blush Striped Wallpaper* | Basil Crib Sheets* | DIY Crib Skirt Tutorial | DIY Felt Mobile Tutorial | Home Artwork with Natural Wood Frame hung with Anti-fall Hook | Muslin Quilt | Knitted Deer | Flush Mount Light Fixture and Striped Shade (similar) | Pink Rug | Velvet Curtains | White Curtain Rod | White Curtain Clips | Walnut Table | Spruce Green Radar Wall Sconce* | Rocking Chair (purchased from Craiglist, discontinued) | DIY Lumbar Pillow | DIY Color Wheel Artwork with a frame from our basement (inspired by this piece) | Sage Bookshelf | White Rope Baskets | Grey Lamp | Wood Peg Shelf | ABC Artwork | Happy Place Banner | Floral Framed Artwork (similar) | Framed Pinky Promise Artwork | Striped Changing Pad Cover | Dresser (Discontinued Hemnes dresser from IKEA, a hand-me-down from Hallie) | Wooden Pulls | Canvas Hamper (similar) | DIY Fabric Covered Boxes
*Denotes gifted items
This blog is made possible by your support (thank you), select brand partnerships, advertisements, and affiliate links to items I love and use. READ MORE >