I hope you wore your snow boots and puffy vest. We're going to crunch around the outside of the cabin, between the tall trees and beneath the Milky Way, where the sky blackens to a darkness I barely know from living in the city. Where the trees wrap around the cabin like a gentle fortress and the water is a generous playground every season. I'd love to walk you around Cabin Exterior of The Minne Stuga, where we met love at first sight.
Before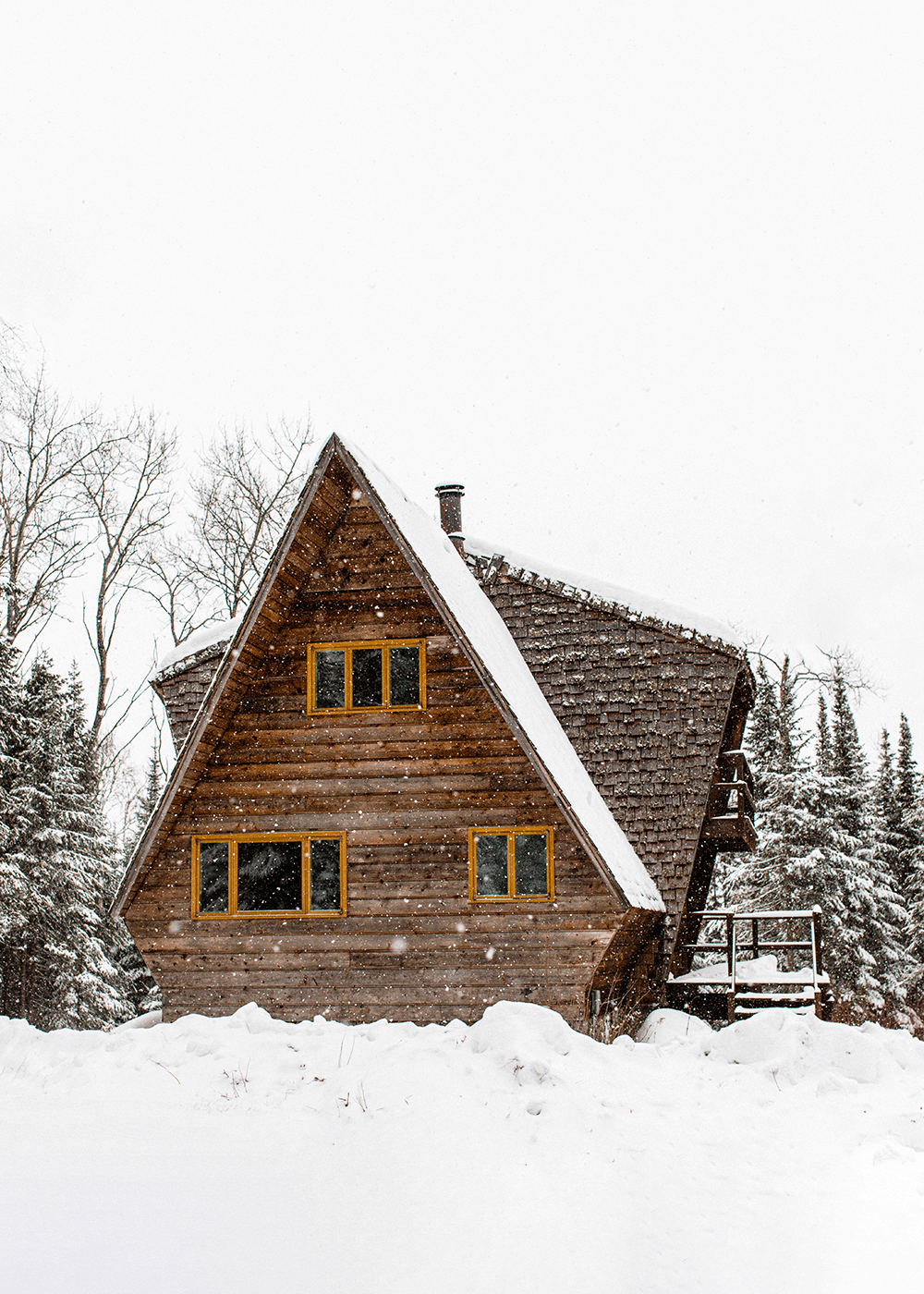 Let it be known, I loved the cabin as we found it. I loved the original warm grey siding and the storybook shingles. I loved the orange trim of the windows and the shire-like structure with mossy greens growing down the roof. But the 50-year-old, worn-out and weathered hat and coat of the cabin needed replacing to keep things warm and dry on the inside.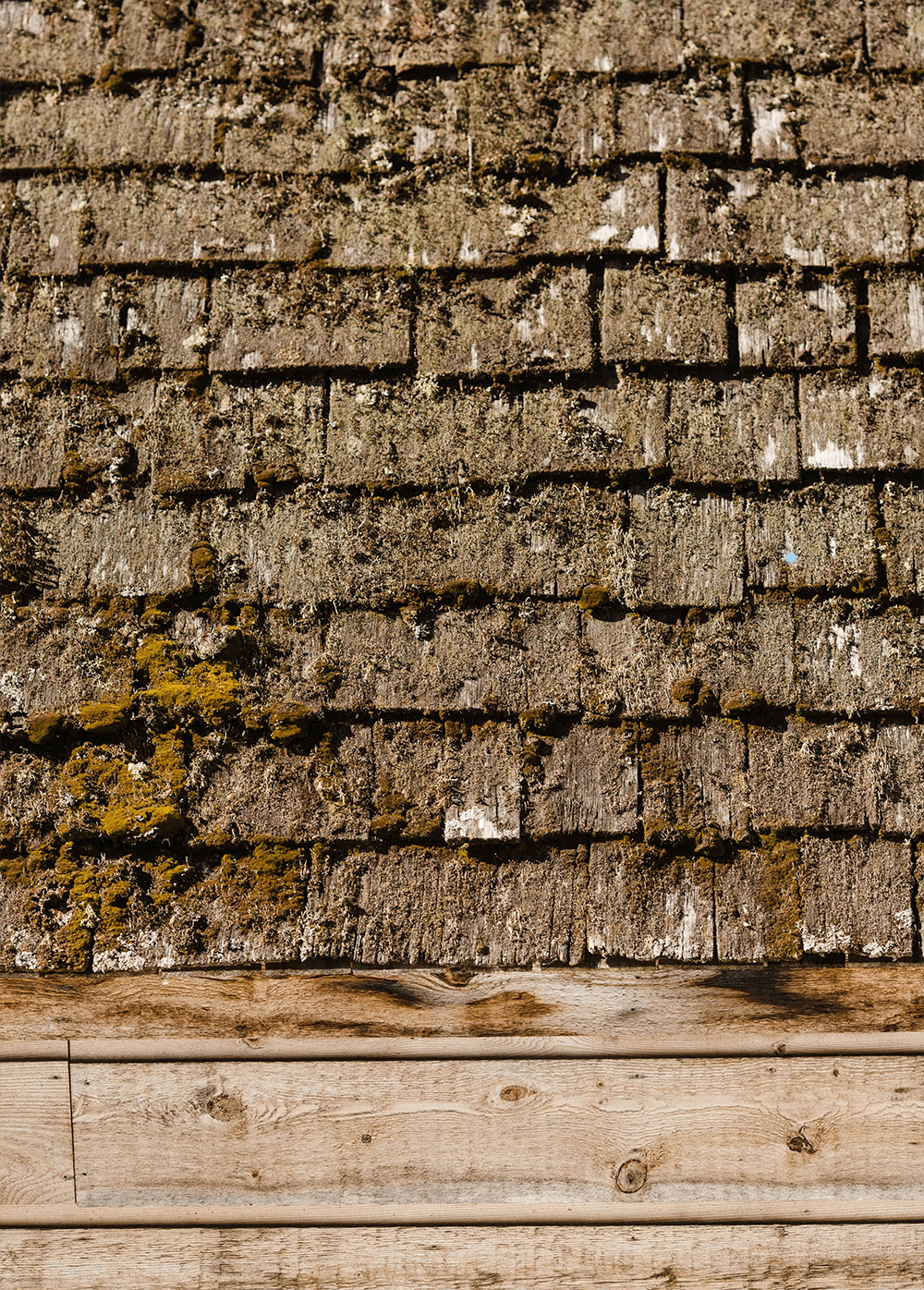 Speaking of warmth, the cabin was in desperate need of insulation if we wanted to be able to stay there all four seasons under a blanket of snow without pipes freezing or bones chilling.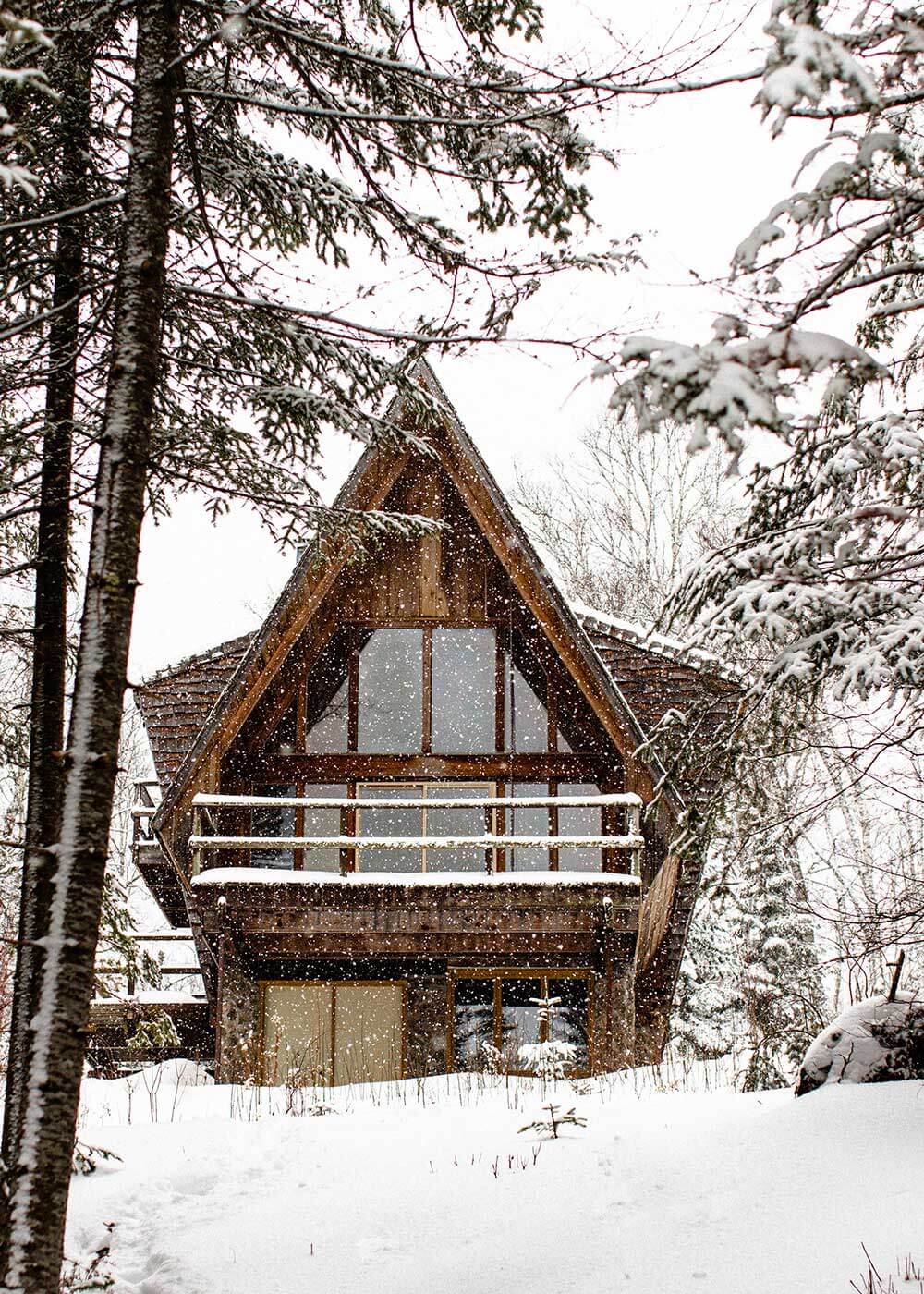 Did I mention the decks were rotting? It was beautiful and broken and in need of lots of love.
After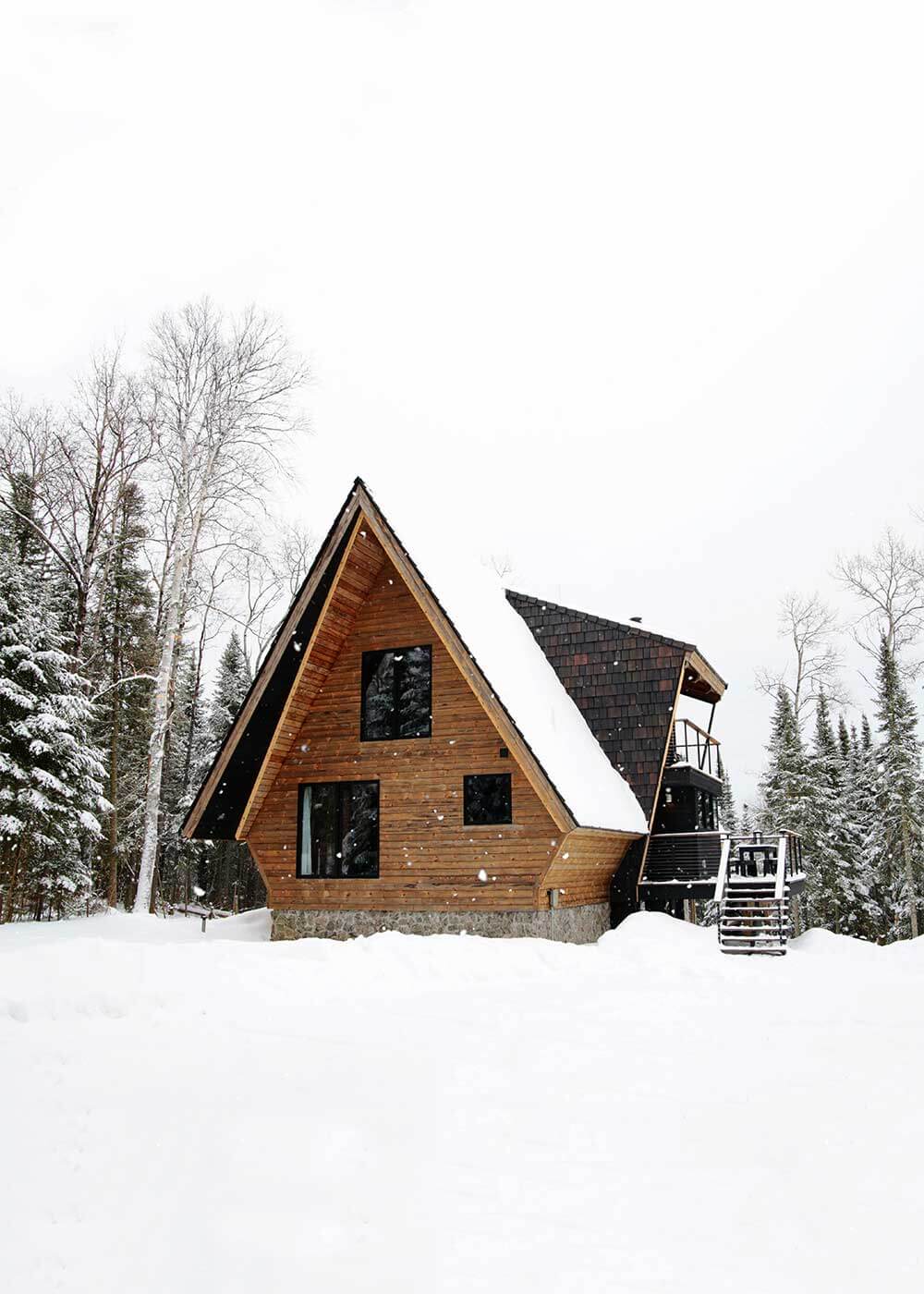 There she is. Restored with 1,000 nods to the original design. You'll notice the tiny bump-out off the lower right deck, clad in Shou sugi ban, giving the kitchen plenty of elbow room for plenty of cooks. And you'll notice the matte black composite cedar shake roof and the new creamy siding waiting to grey out and the glassy scaled-up windows. But, before I dive into the design details…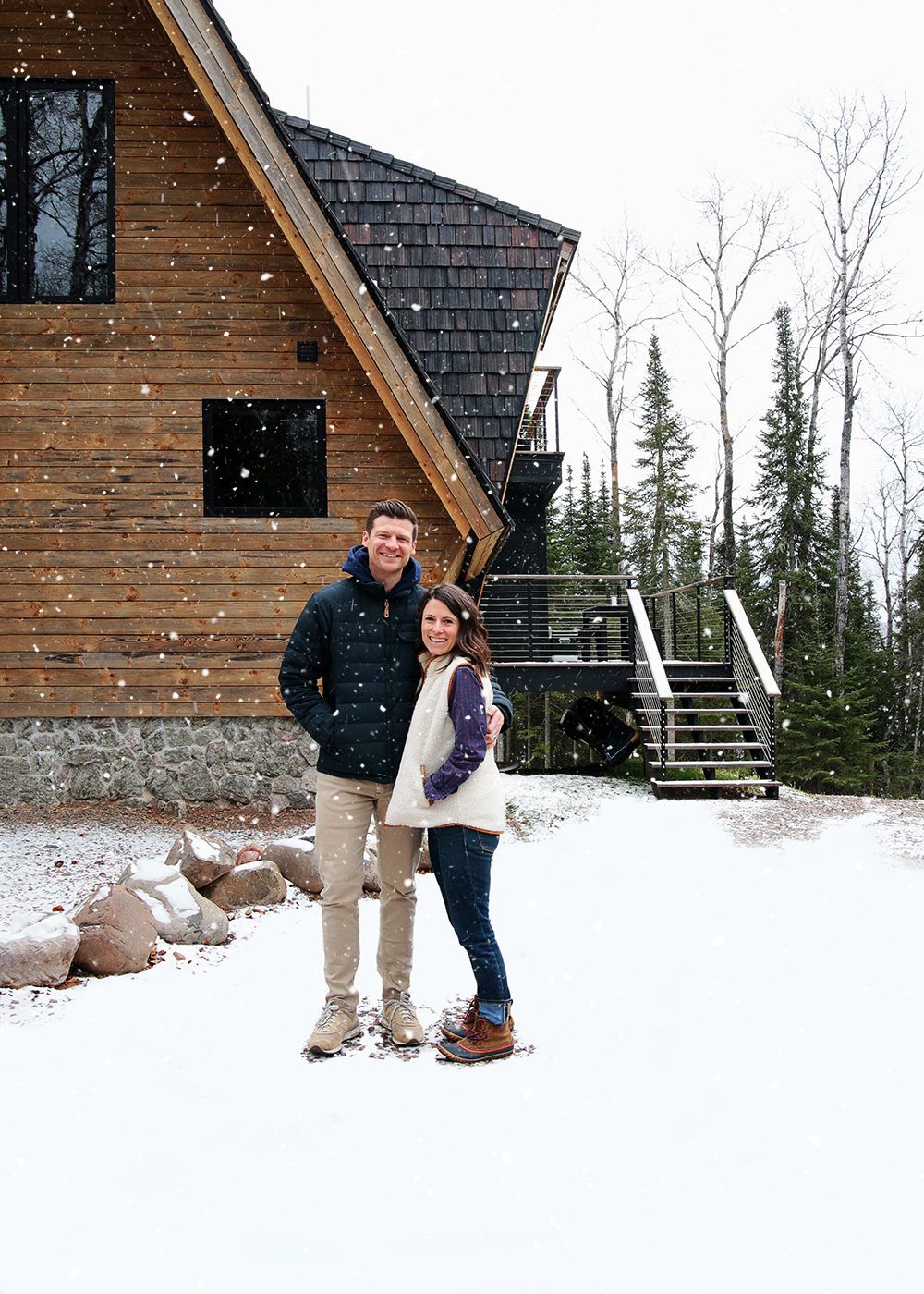 I'd like to give so much credit to this guy, who is taller and steadier than me, who can spin more plates and make better decisions in the face of stress. While I'm the one pressing publish on this idea, as if it were solely mine, if it weren't for Kev, we wouldn't be standing here. He is my gentle nudge and the strong paddler at the back of our canoe. He believes in me, sometimes more than I believe in myself, which is a great gift for a creative who often wanders and wonders. (He has a good design sense too.) Alright, alright. I'll leave the sap to the trees and get back to the exterior. But here's to Kev, my righthand man, the breather of yes into our ideas.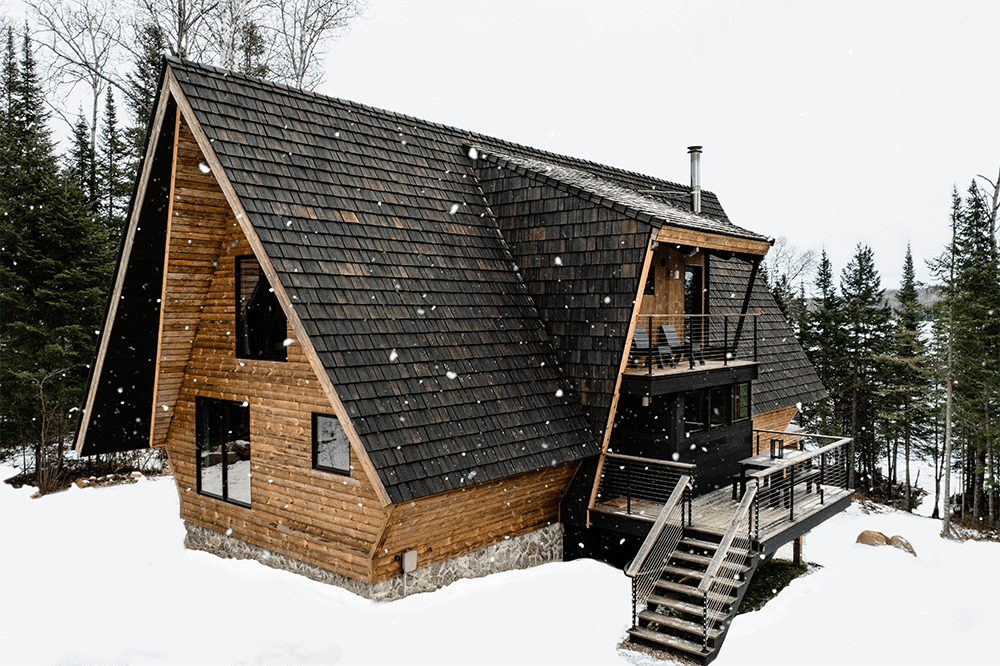 And also, here's to Anton of Taiga Design (plus the team). Ideas are only as good as those executing them. The team gingerly took this cabin apart and put it back together again with precision and beauty. We leaned heavily on their expertise, especially for the exterior cabin selections. "I want it to look like this and perform like that," I'd say. They knew exactly what to recommend.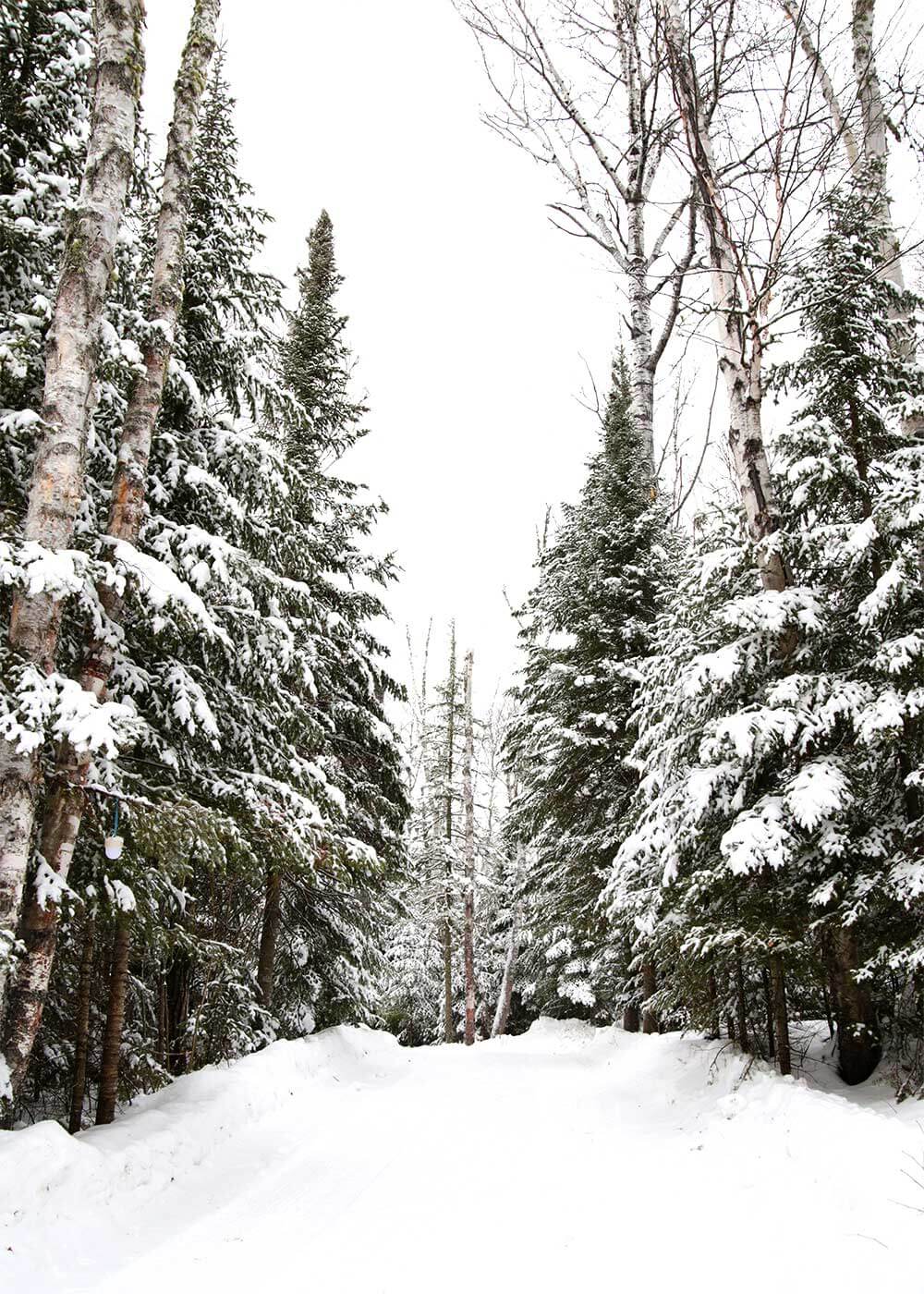 Ok, let's get out of the clouds and the trees and into the weeds of the details.
Roofing
It's hard to miss. Our roof is quite large. It covers more surface area than the siding and hangs down low enough to be visible from any vantage point. We really had to consider the aesthetic of the roof. And that we did. From the outset, we wanted something similar to the original cedar shake, something dark to contrast the siding, and something that would require little to no maintenance. Brava Roof Tiles kept coming up in all my searches. And, after getting samples from several companies, they were the clear winner. They also came highly recommended by our roof installers.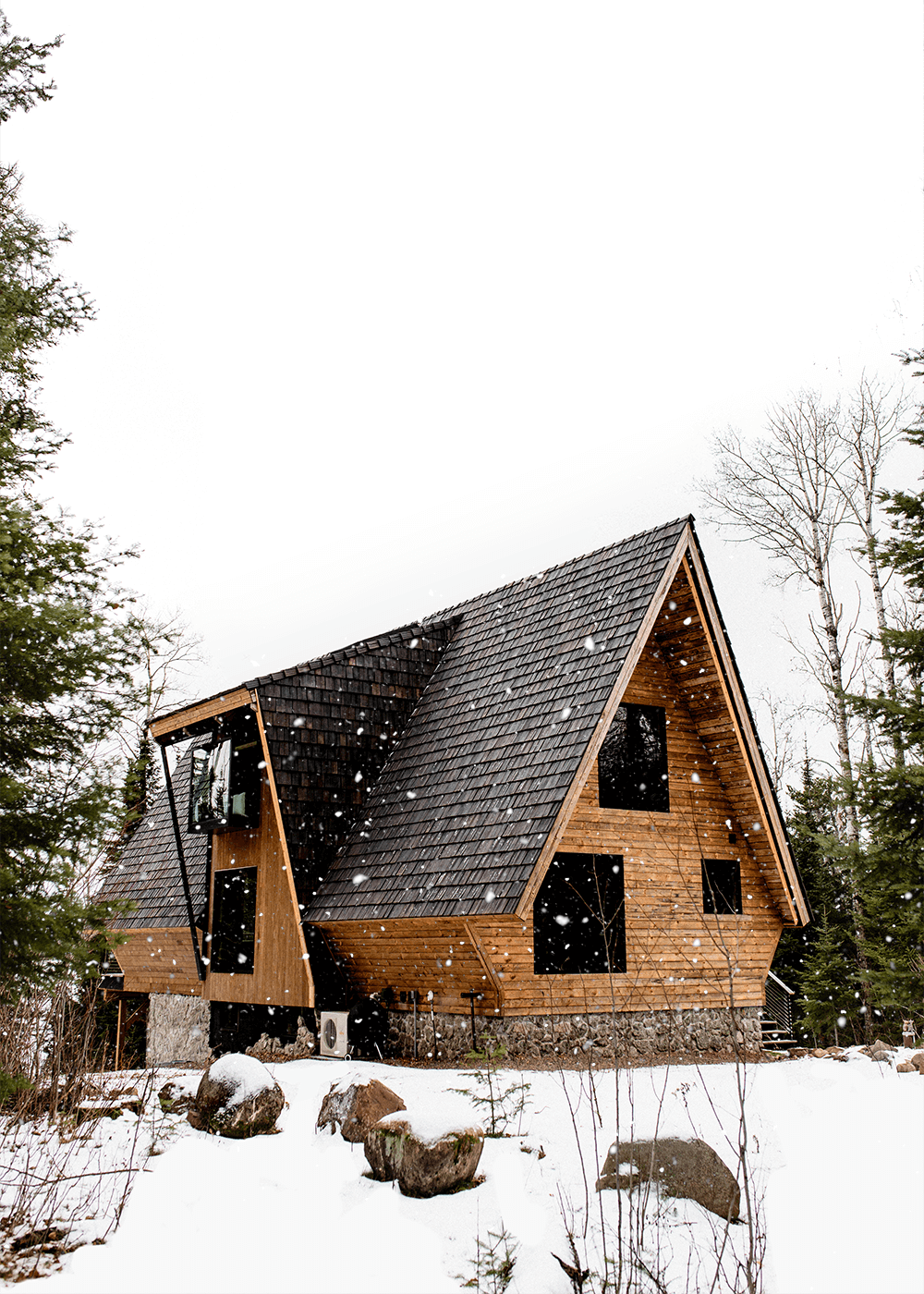 A little bit about Brava Roof Tiles. Made from recycled plastic, their composite shakes are eco-friendly. They are also extremely durable yet lightweight and can handle the extremes of Minnesota weather. But best of all, they are beautiful. Did I have to even mention that? They look so close to traditional cedar shake with their matte finish and split texture. Their colorways all have variations within them, also making them look natural. We went with their Weathered Cedar Shake. (Their Aged Shake was a close second.)
You might also notice, the roof got a lot thicker. Beneath the beautiful layer of composite shake sits another layer of insulation panels, which line the entire hat of the structure, keeping it warm in the winter and cool in the summer. (Believe it or not, we can get quite warm up here come July.)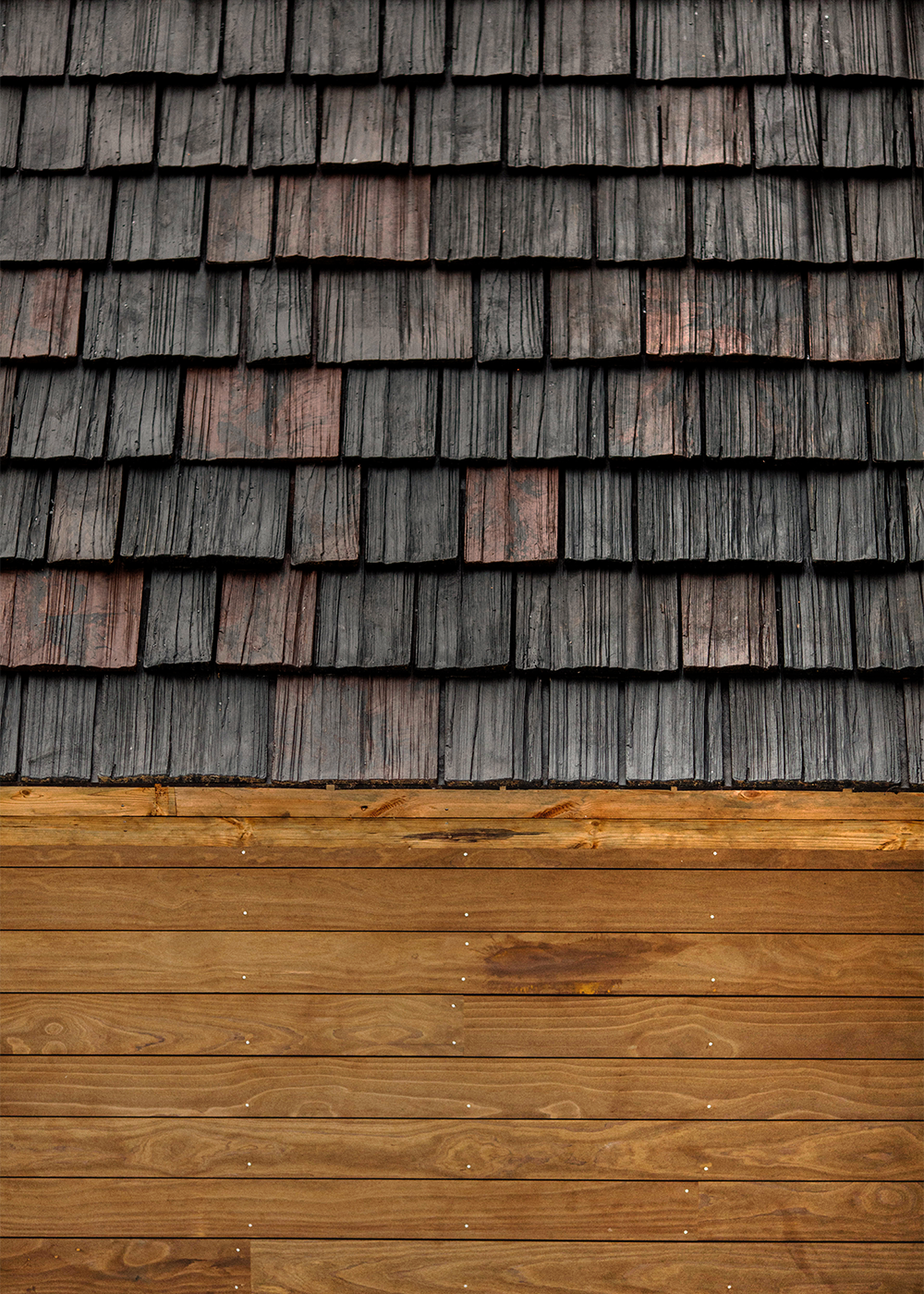 Siding
I said it. I loved the original silver siding so much that we replaced it with something visually similar and far more durable. We replaced it with Kebony Character Cladding as recommended by Taiga Design. Developed in Norway, Kebony is a modified wood, meaning it's been changed (modified) by a heat and chemical (bio-based) application to make it extremely durable—insect-, rot-, and warp-resistant. You can read more about their environmentally-friendly process here. It's also beautiful in that it will silver out much like the hairs on my head. That warm caramel wood will slowly give way to grey without compromising on integrity, without splitting or splintering. Our batch of siding came from right next door, from the red pines of Wisconsin.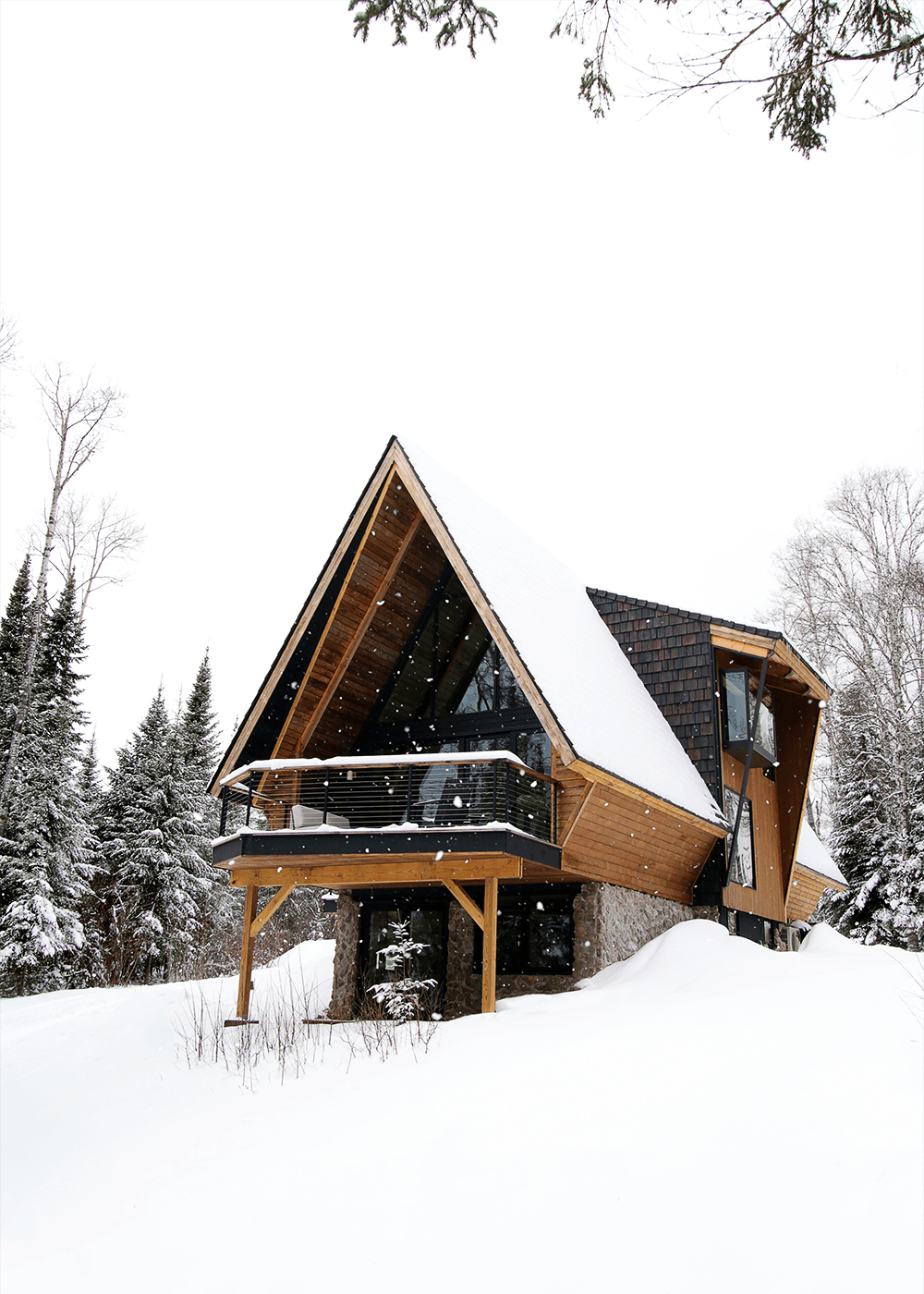 You'll notice we have two varieties of Kebony—character and clear. Their Character Cladding has knots, the kind you'd expect on a rustic cabin while their Clear Cladding is, well, clear of knots. Something you might expect on a modern application.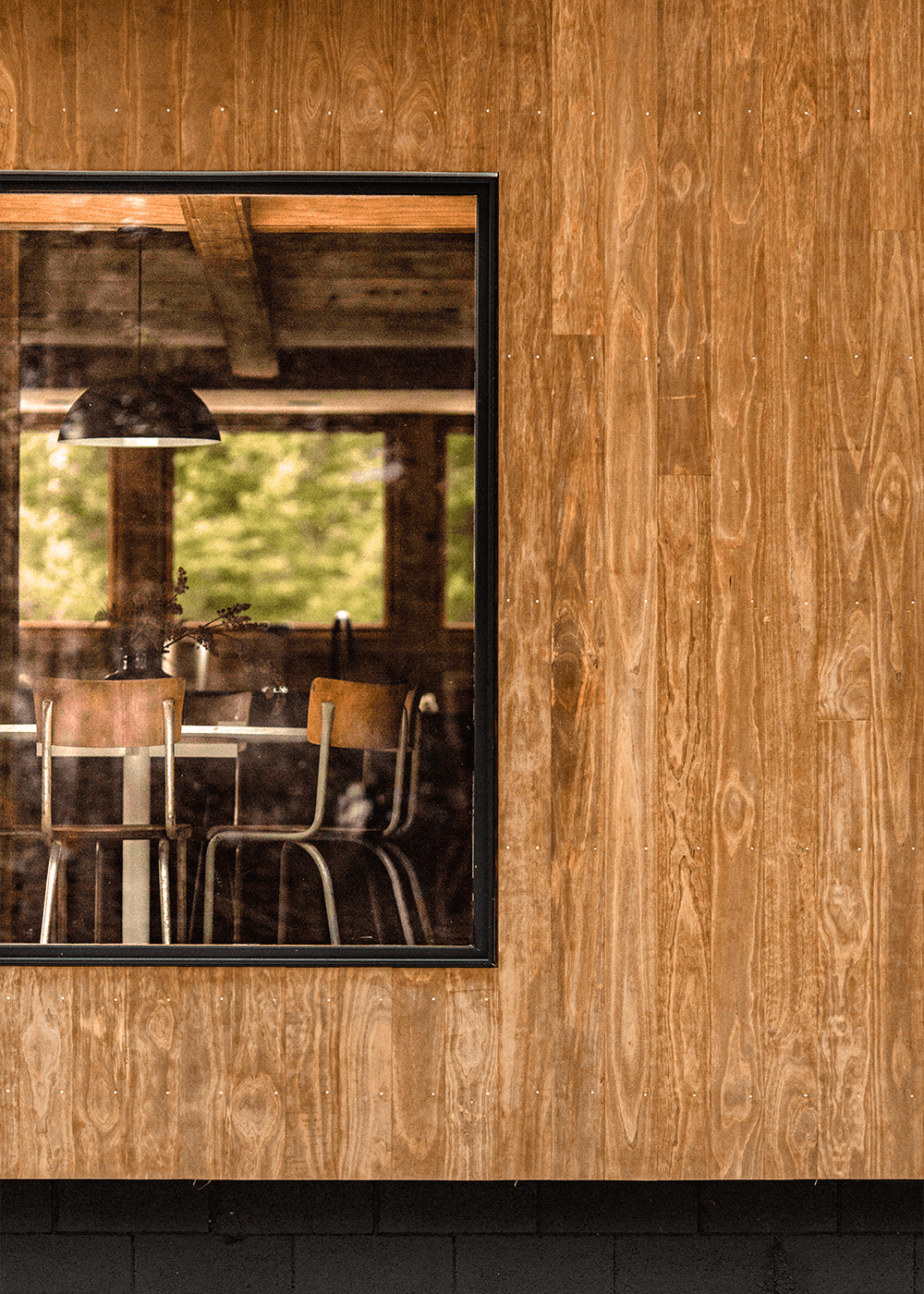 The new decks were done in Kebony as well, which are zero maintenance with a 50-75 year life. Linnie and Hal will be grey by the time these decks need replacing. PS: You can really see the silver starting to come through in these desk boards.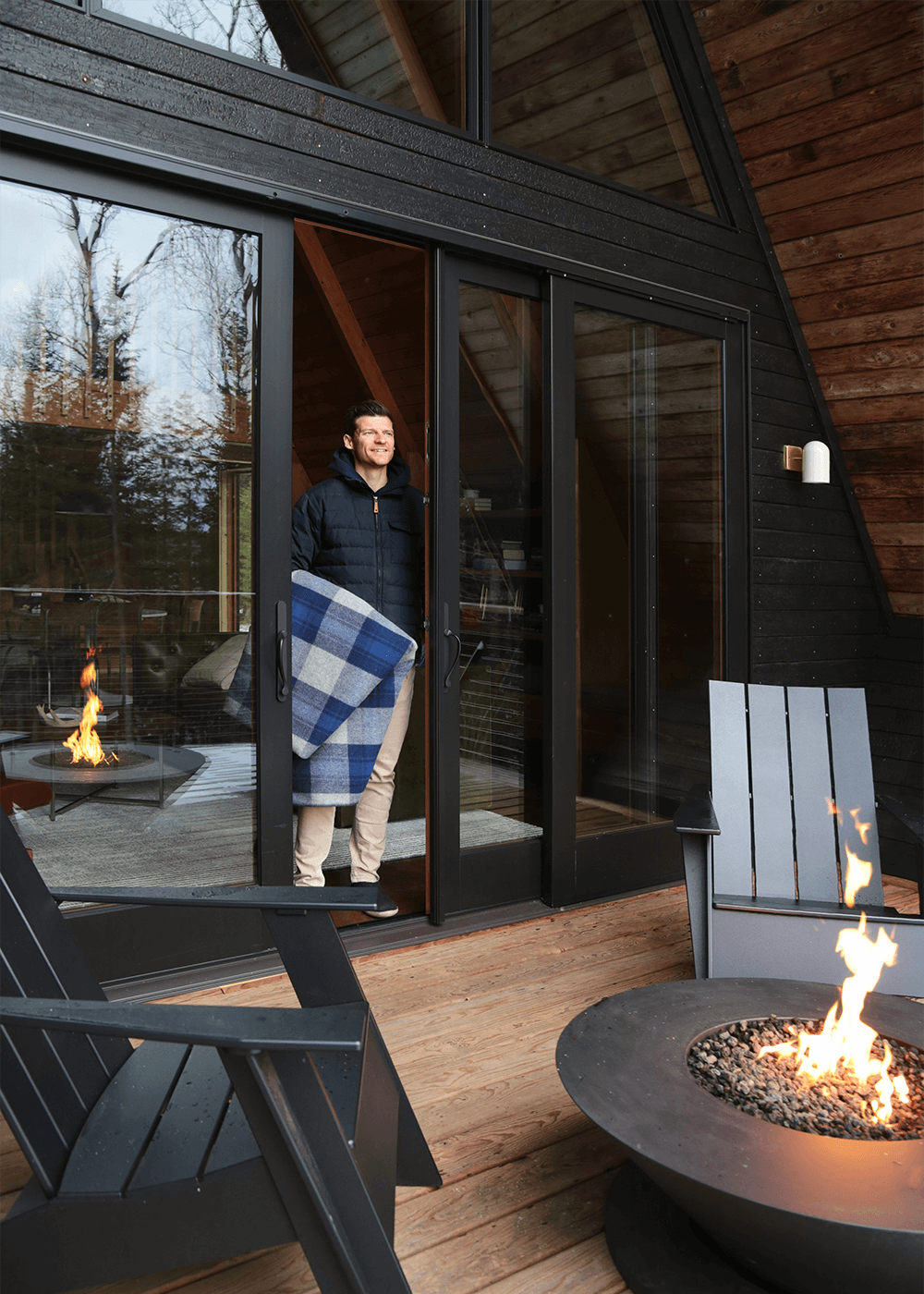 PPS: The team at Kebony actually came way up (from Texas) and captured the cabin in all her fall glory (see below). They are also producing an episode featuring The Minne Stuga on their Design vs. Build series. Stay tuned!
Around the Cabin
Back into the trees we go, where I like to stay.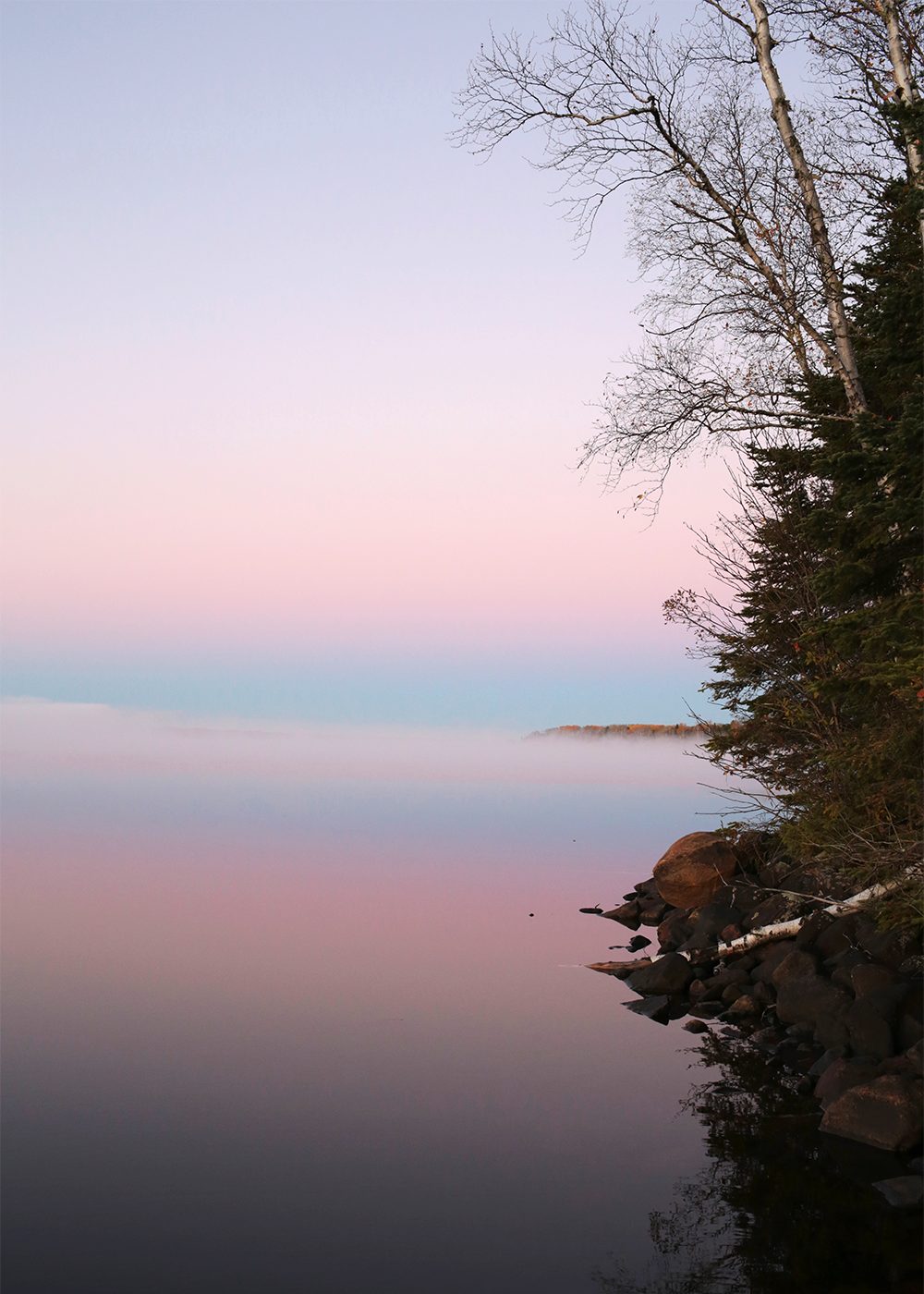 Sometimes, lately, I don't know what I believe. But this place, where the sky meets the water without making a splash, makes me believe. Where, by winter, you can walk water, and thaw a frozen heart. A true miracle.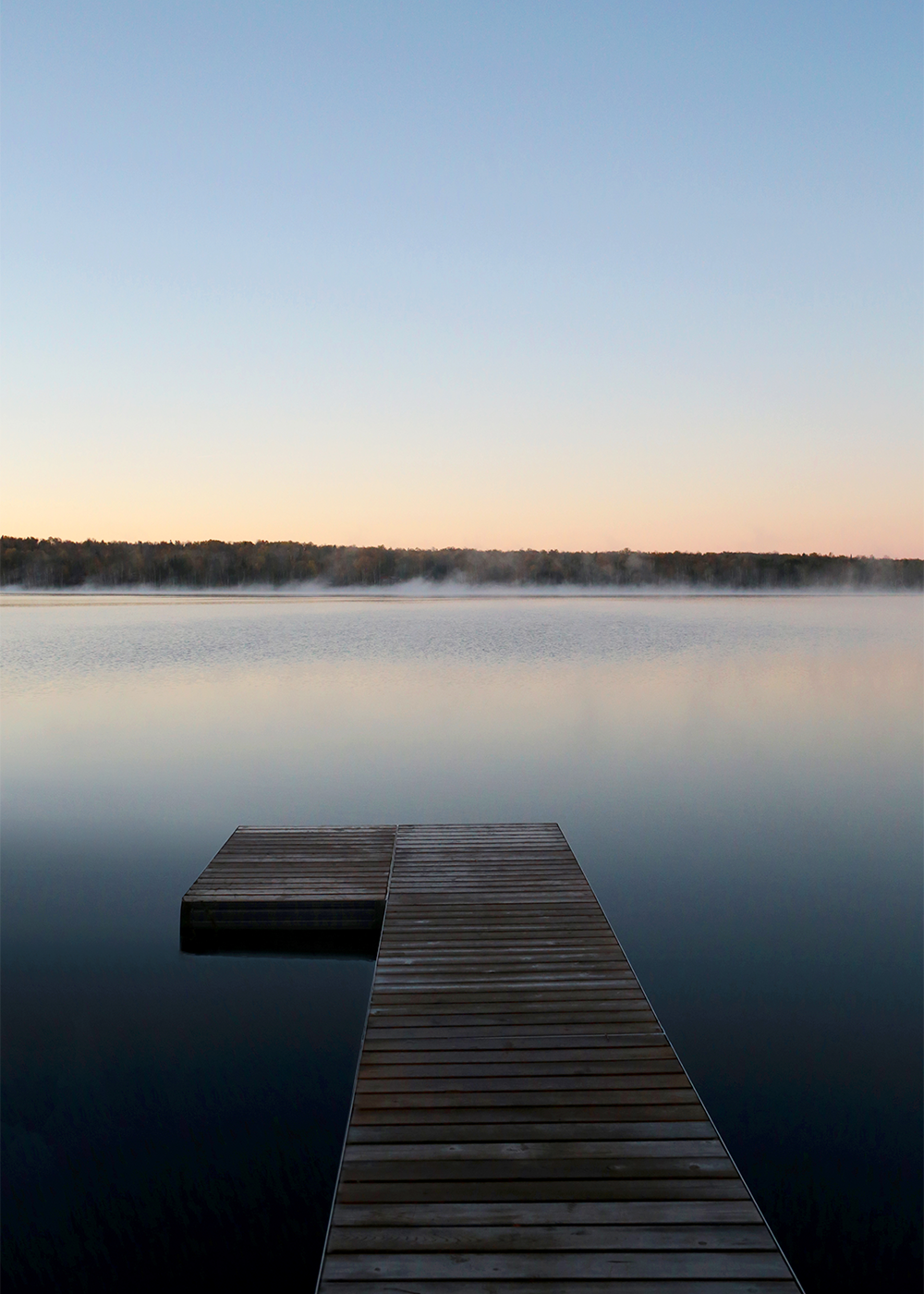 For me, this is one of those thin spaces "where the distance between heaven and earth collapses." (New York Times, 2012) It's a place where the trees have a bigger reach than any Instagram post, where the loons linger and the wolves howl, where the Milky Way isn't sold on a grocery store shelf but paints the blackest night sky.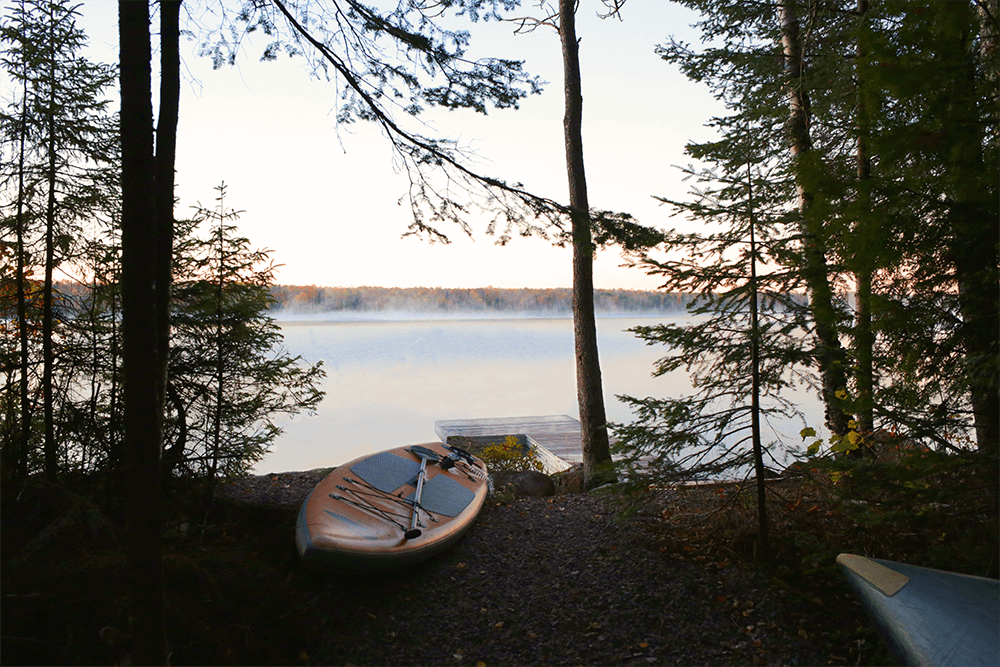 It's a place to get lost and then found, to be bored and get inspired. A place to disconnect to reconnect. And to all those things I say, amen.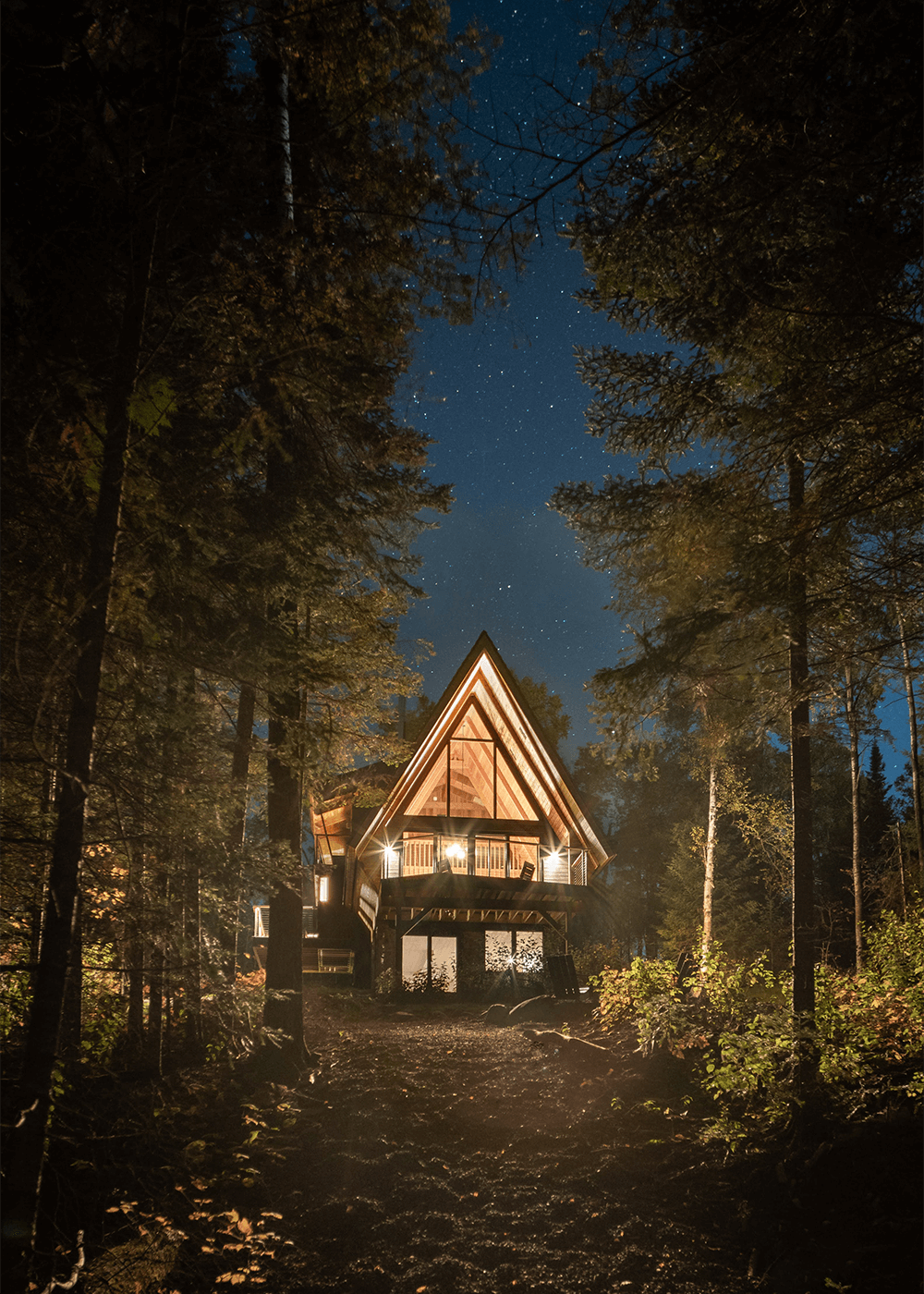 Sources: Brava Cedar Shake Roof Tiles in Weathered* | Kebony Siding in Character and Clear* | Marvin Windows and Doors* | Arborwood Shou Sugi Ban | Loll Outdoor Adirondak Furniture* | Schoolhouse Allegheny Scones in Shell White (purchased secondhand)
*Denotes gifted or discounted items
Construction by Taiga Design + Build
Interior Design by Melissa Coleman
Photography by Melissa Coleman and Jonathan Head and Kristian Alveo where noted
See the other cabin reveals: Kitchen | Living Room | Dining Room | Downstairs Bathroom | Downstairs Bedroom | Upstairs A-Frame Bedroom | Upstairs Bathroom | Outdoor Furniture
If you like the cabin exterior post, you might also like:
This blog is made possible by your support (thank you), select brand partnerships, advertisements, and affiliate links to items I love and use. READ MORE >