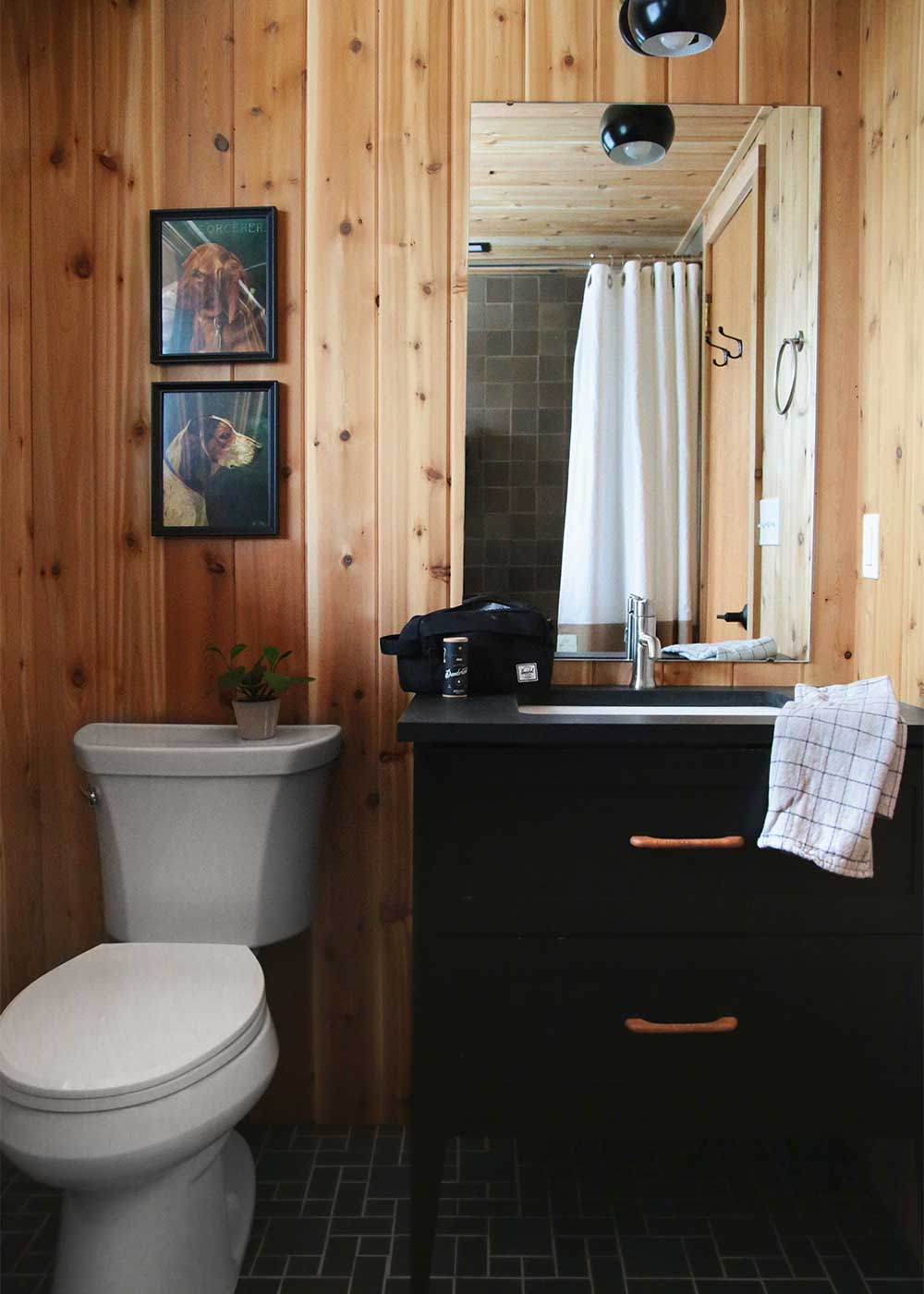 Did you catch the Downstairs Cabin Bathroom Reveal a couple days back? Take a peek in there first, and then let's head to the upstairs cabin bathroom just off the loft, adjacent to the A-frame bedroom, where we added a happy pop of color on the floor, contributing to the 50 shades of green throughout. Where we also hung artwork purchased from an ad on Facebook. I'm just as embarrassed for myself as you are. Have I mentioned selecting artwork is not my strong suit?
Before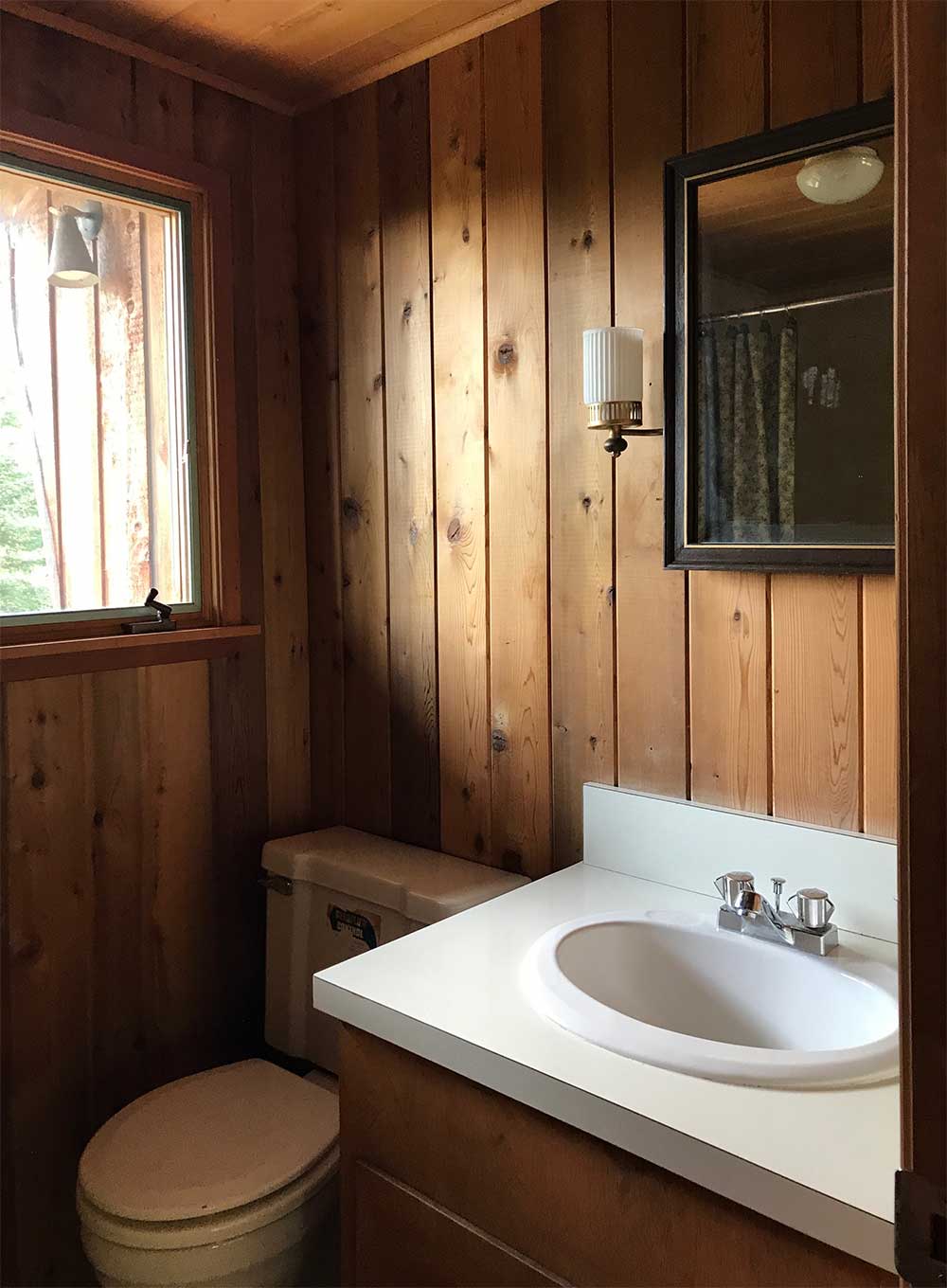 Prior to starting construction on The Minne Stuga, the upstairs bathroom was very similar to the downstairs bathroom, just smaller. They had the same wood vanities and white laminate countertops with the same quaint mirror/light fixture/medicine cabinet combo. The vanities, however, were extra low, which was perfect for me and the kids but not so much for Kev. And, when you have to pull everything out to fix something during construction, well then, you better give a mouse a cookie, because he's she's probably going to ask for some additional updates.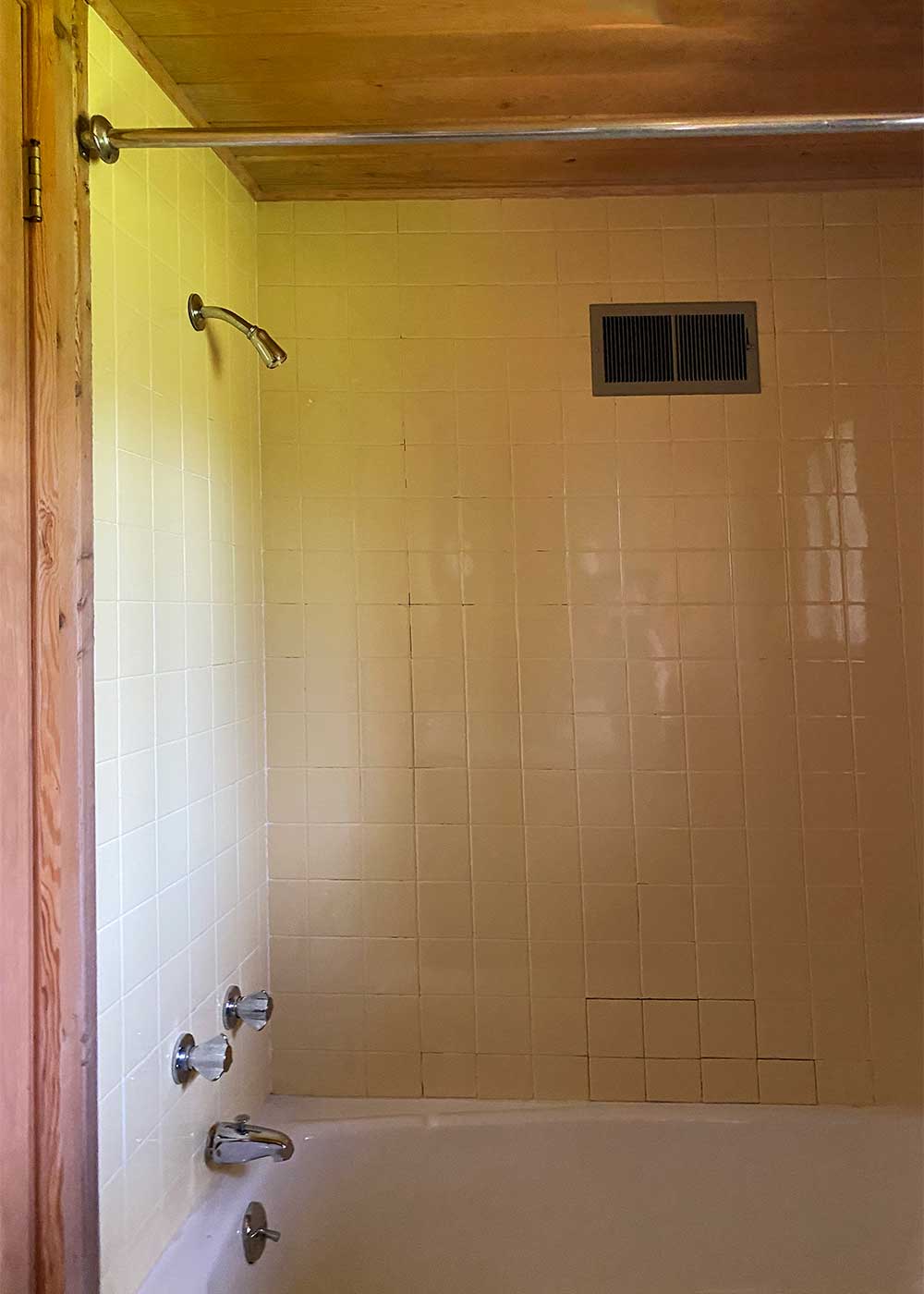 I know what you're thinking. The bathrooms, upstairs and downstairs, were cute as is. But, like my cute tiny toddler, they caused a lot of ruckus. And bathrooms don't seem to grow out of their problems, only into them and down into the kitchen below, which is what was happening. Good news. Our pipes are solid now!
After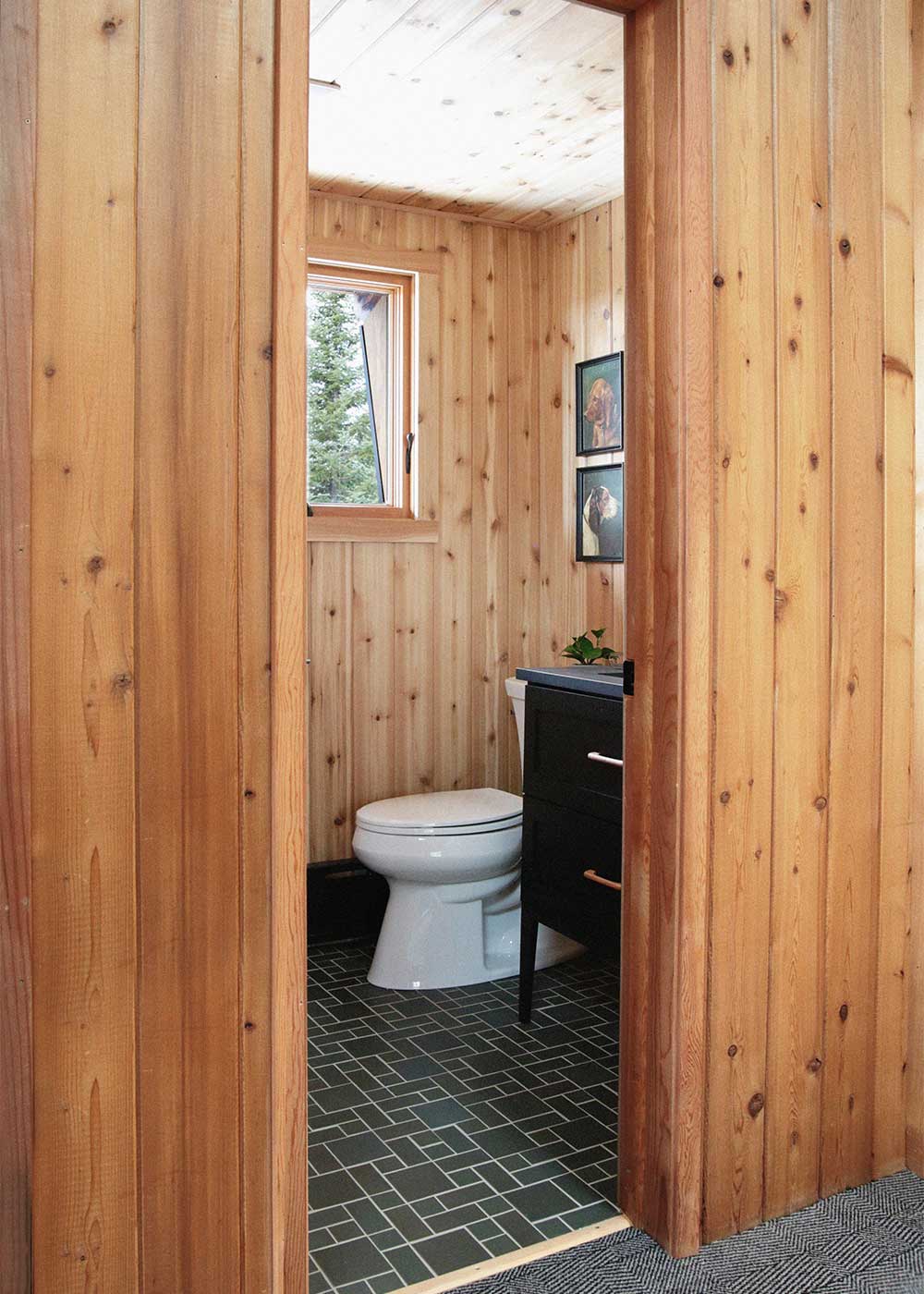 Ok, take a step back and to the left, and follow the green-bricked road. Voila! She's updated but not overly so to preserve her original essence. We went with the same Mercury Mosaics Large Craftsman Square Tile as we did downstairs to nod to the original cabin design selections. Instead of using their Satin Black, we opted for a pop of color with Midnight Sky, which is this deep, muted, but still vibrant green. And yes, that is the aforementioned Facebook artwork hanging on the wall. You can't have a cabin without a couple dogs, can you? Except ours are only allowed on the walls as Hal is allergic to all things fluffy and furry. (Sidenote: Has anyone done allergy shots with great results?)
Come in a little further. For the bathroom vanity, I wanted a blend of mid-century modern and northern cabin vibe. So we went with a tapered-leg black vanity, with shaker doors, and the most inexpensive wooden pulls you ever did find and called it mid-century northern. I like to mix high and low-priced items to elevate the low, but I didn't intend for these pulls to be so low. I just couldn't find wooden pulls, well, anywhere. So I bought a pack of these on Amazon for $13, and installed them on the vanity, rubbing a little walnut oil on them first. (While I was at it, I replaced the plastic pulls on Linnie's Facebook Marketplace Ikea Kitchen too. You might be sensing a pattern. We buy everything on "The Marketplace" as we so lovingly call it. We even bought a 10-year-old car. That's a story for another day.)
To mimic the original yellow square tile surrounding the shower, we used Mercury Mosaics Stacked Square Tile in Aged Moss, which is a muted, pale earthy green with ambered edges. The slight shifts in color and the way the water droplets hang after a shower are completely magical. (Sidenote: That color has since been discontinued but Stardust is a really close second.)
Slowly but surely we've been collecting our favorite suds and soaps for you to use while at the cabin and bottling them into The Hygge Collection. So that if the warmth of the cedar on the walls or the feel of the hand-cut tile beneath your feet or the canopy of evergreens overhead can't do it, hopefully, the suds of the shower can wash off any lingering overwhelm so that you can truly hygge in the stuga. Amen.
Sources: Mercury Mosaics Large Craftsman Squares Flooring in Midnight Sky* | Similar Vanity | Unfinished Wood Pulls rubbed in Walnut Oil | Richlite Countertops in Heritage Slate | Delta Faucet in Brilliance Stainless | Kohler Undermount Sink | Schoolhouse Issac Sconce Short Arm in Black (purchased secondhand) | Graph Cotten Japanese Hand Towel in Bamboo Charcoal | Dog Prints (purchased from an ad on Facebook)** | Mercury Mosaics Stacked Square Tile Backsplash in Stardust | Quiet Town Home Orient Shower Curtain in Desert
*Denotes items discounted or gifted
**Denotes a midlife crisis coming soon
Construction by Taiga Design + Build
Interior Design by Melissa Coleman (me)
Photography by Melissa Coleman
See the other cabin reveals: Living Room | Kitchen | Dining Room | Downstairs Bathroom | Downstairs Bedroom | Loft | A-Frame Bedroom | Exterior | Outdoor Furniture
This blog is made possible by your support (thank you), select brand partnerships, advertisements, and affiliate links to items I love and use. READ MORE >