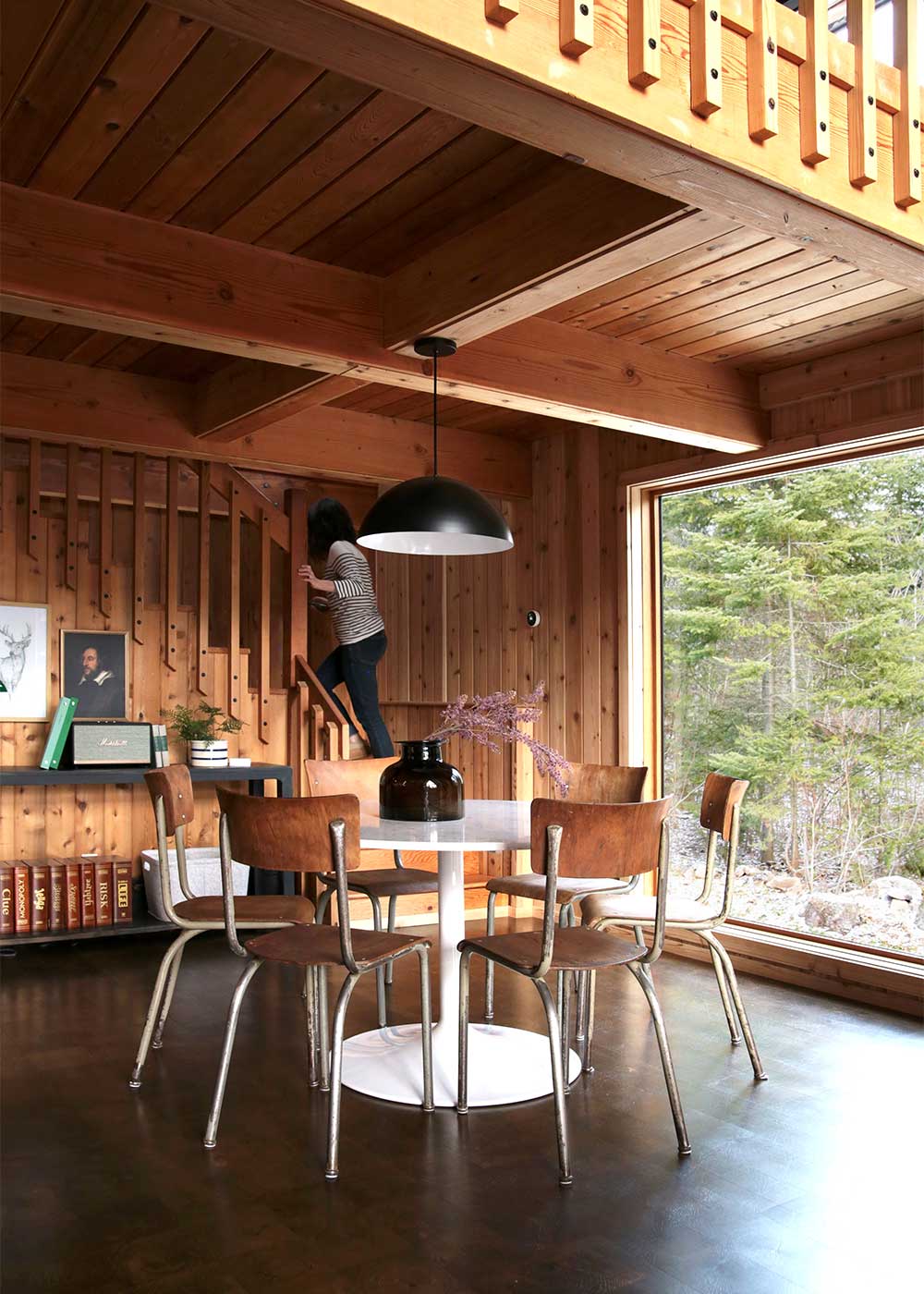 There's a square of a room sandwiched between the kitchen and the living room with a window the size of a wall and a staircase wrapped around the backside, once covered in neon green carpet, with just enough space to cozily seat 6 people around the table and 2 at the nearby countertop. I'd love to take you on a walk through The Minne Stuga Cabin Dining Room and tell you more about the flooring that we thought about and fraught about for months. It's finished.
Before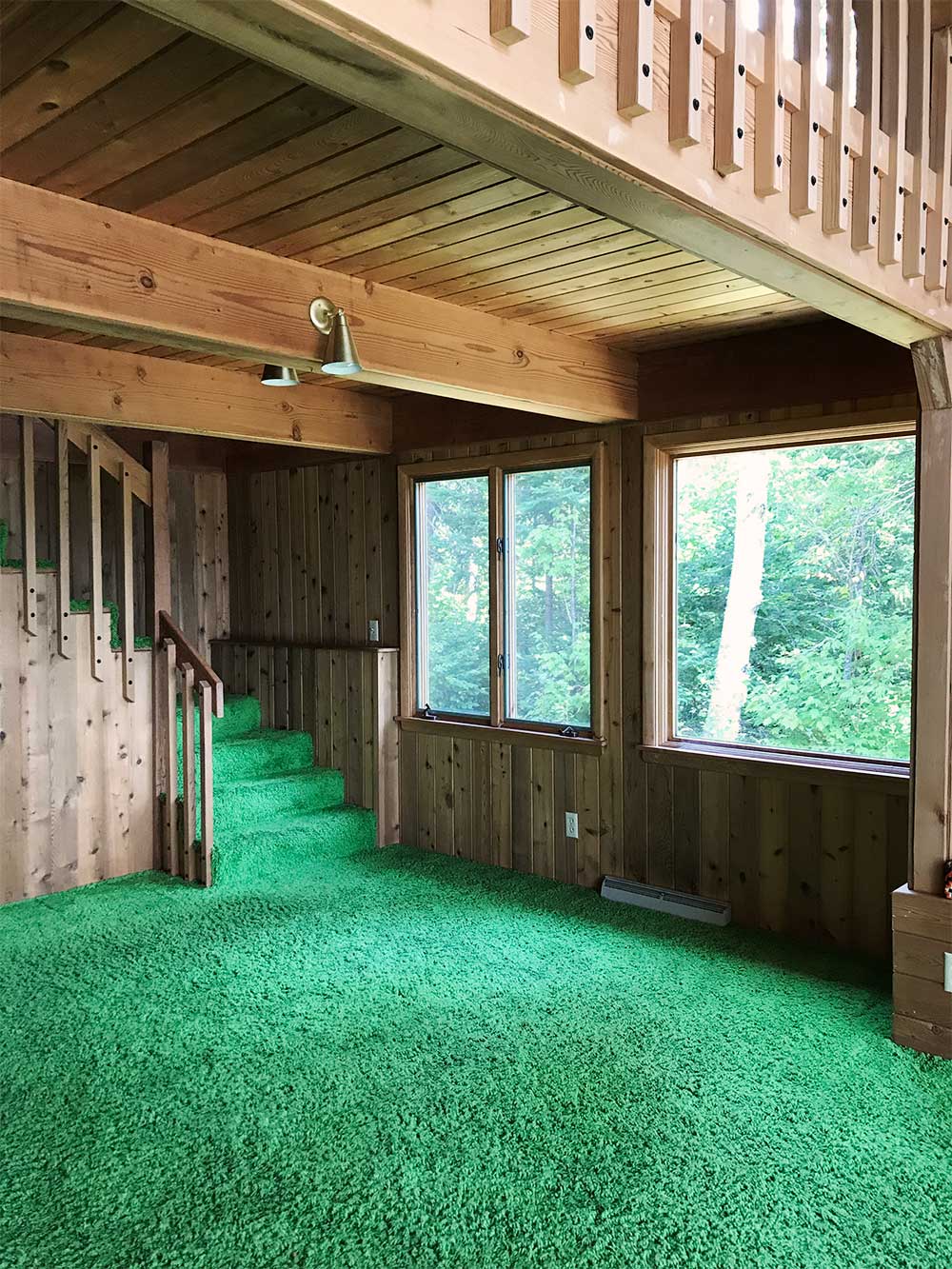 But first, here's where we started. I wasn't kidding about the neon carpet. It was so green, it changed the perceived color of the walls, so much so Kev worried about the overall tone of the cedar and if we'd be able to work with it.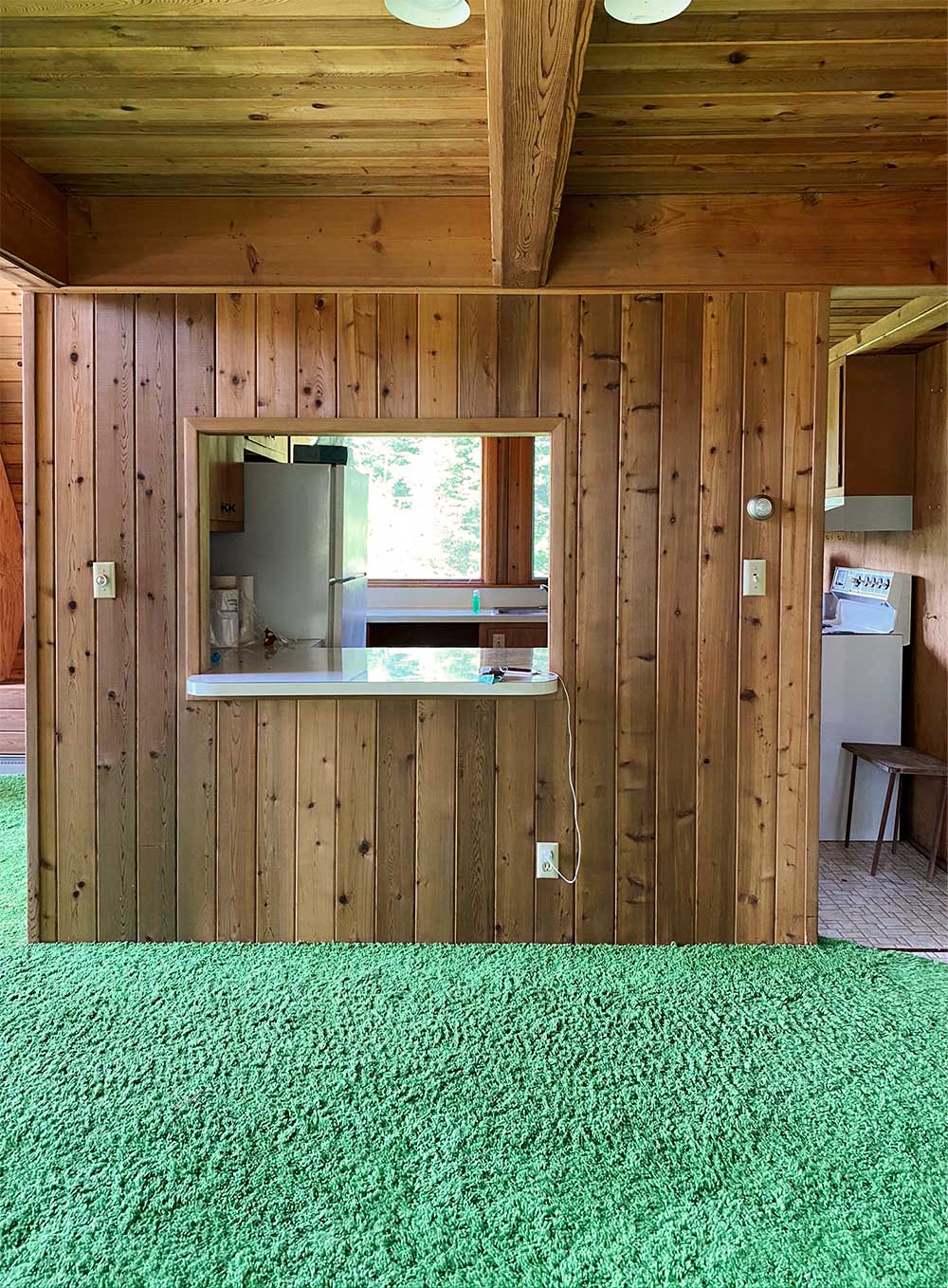 And here's the charming wall that once stood between the kitchen and the dining room with a small pass-through window, fit for a hotdish or pan of cinnamon rolls. The same wall that Kev and our builder wanted to take down, that I fought hard to keep up. We both won. See below.
After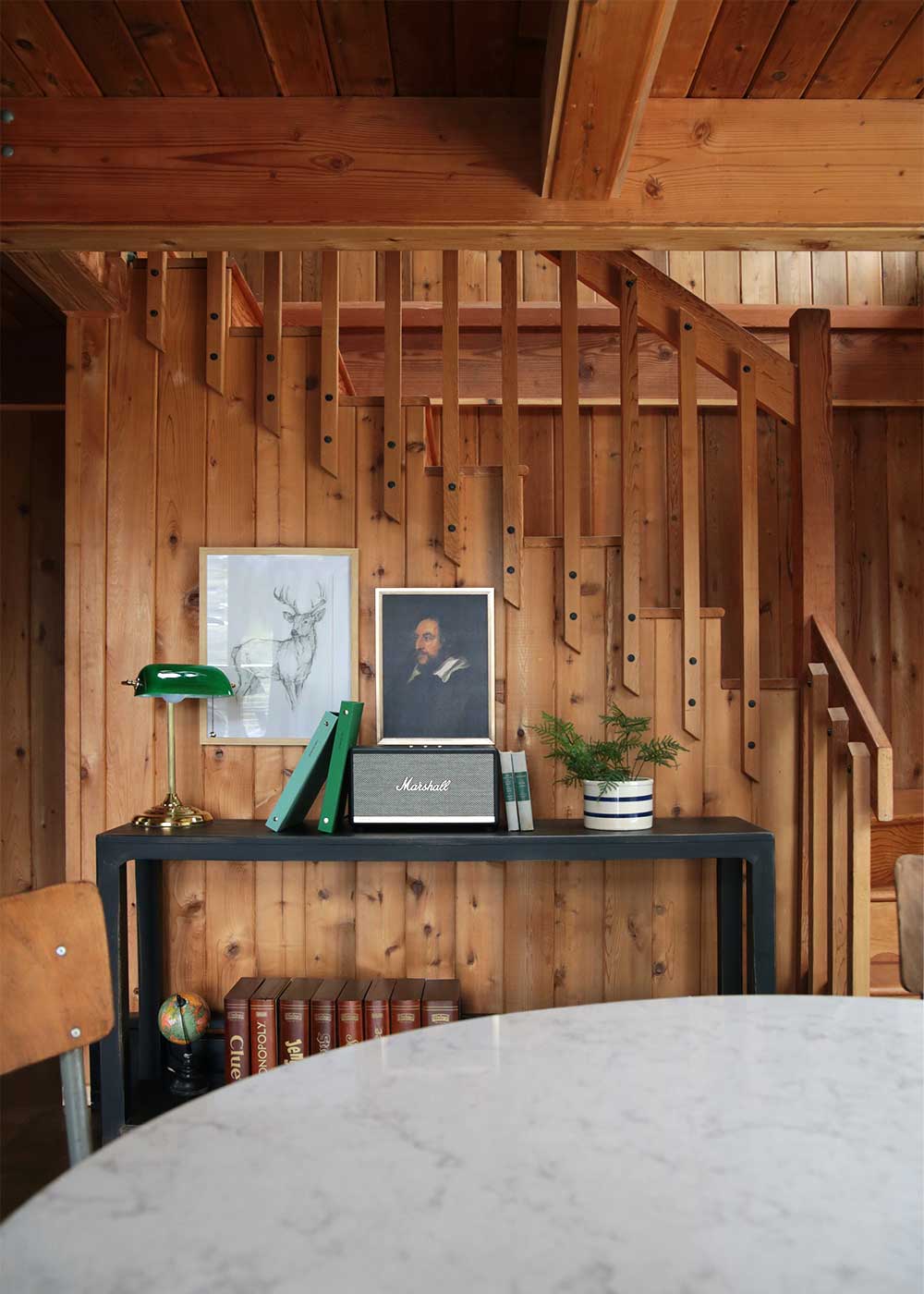 Here she is! You might remember that we ended up bumping out the kitchen ever so slightly. The dining room was on the small side, without a way to buy more space, which we needed. But, if we added counter seating in the new kitchen space, we'd be golden. We're now golden. Golden, literally, from the warm cedar walls and the old schoolhouse chairs and the script on the Marshall speaker and the lack of neon green carpet. But golden mostly because we can sleep as many people as we can seat in the dining room, with plenty of room to walk up the stairs or into the kitchen or through the living room. The dining room makes a bit of a roundabout as you move about the cabin.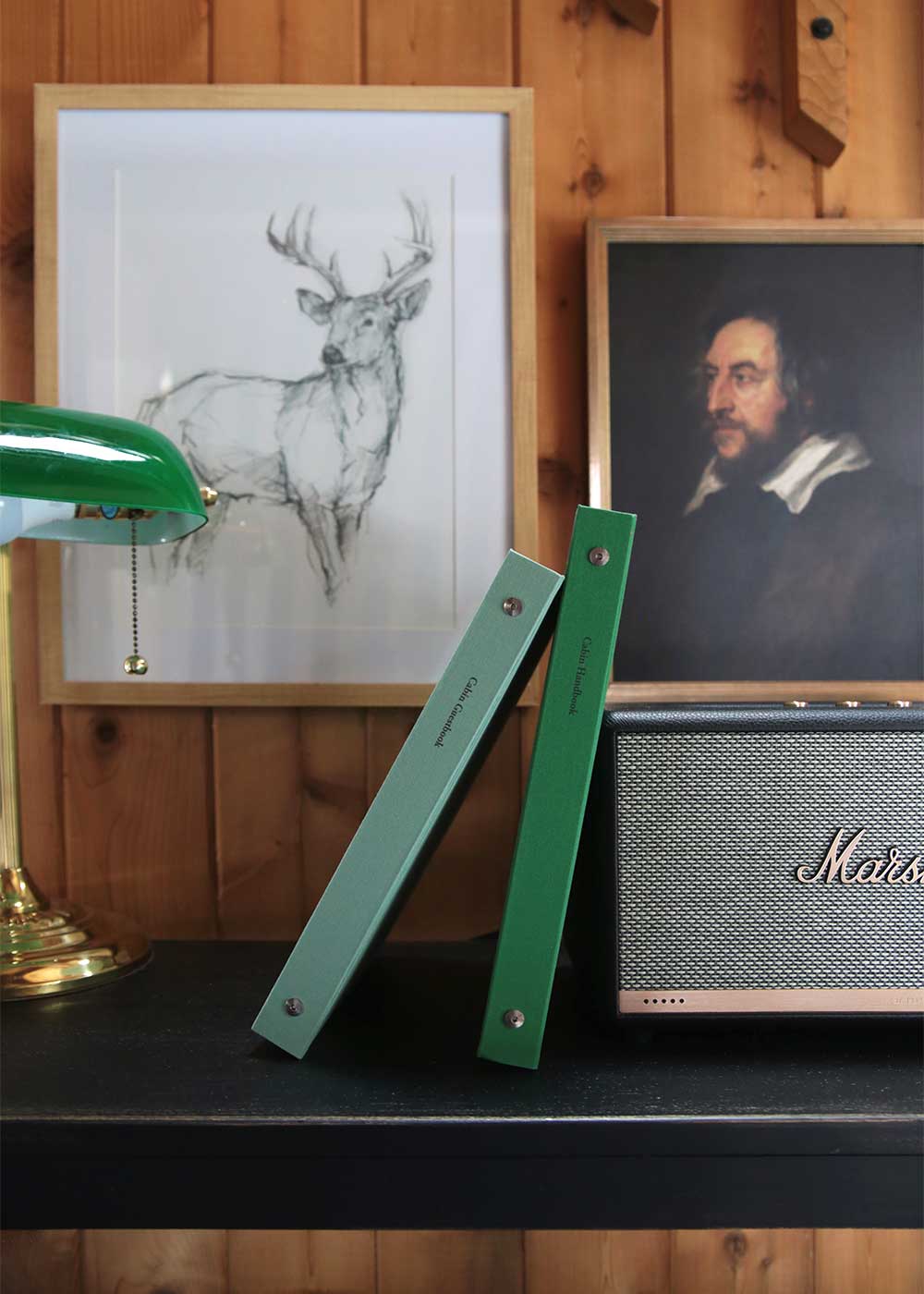 With all that said, a tulip table, the kind that nods to the 70s and stands beautifully in the 20s, was the only option for the cabin dining room. Well, not the only, but the best option if you want plenty of knee room. We went with the Aria Table from Room & Board and the marbled white quartz top for a touch of glam. For the chairs, and throughout the cabin, I had to play the balancing act of mixing old with new to keep things feeling just right. So, I found a set of vintage chairs that pulled in the wood tones, that added that scuffed up metal vibe, that were somehow affordable and sturdy too.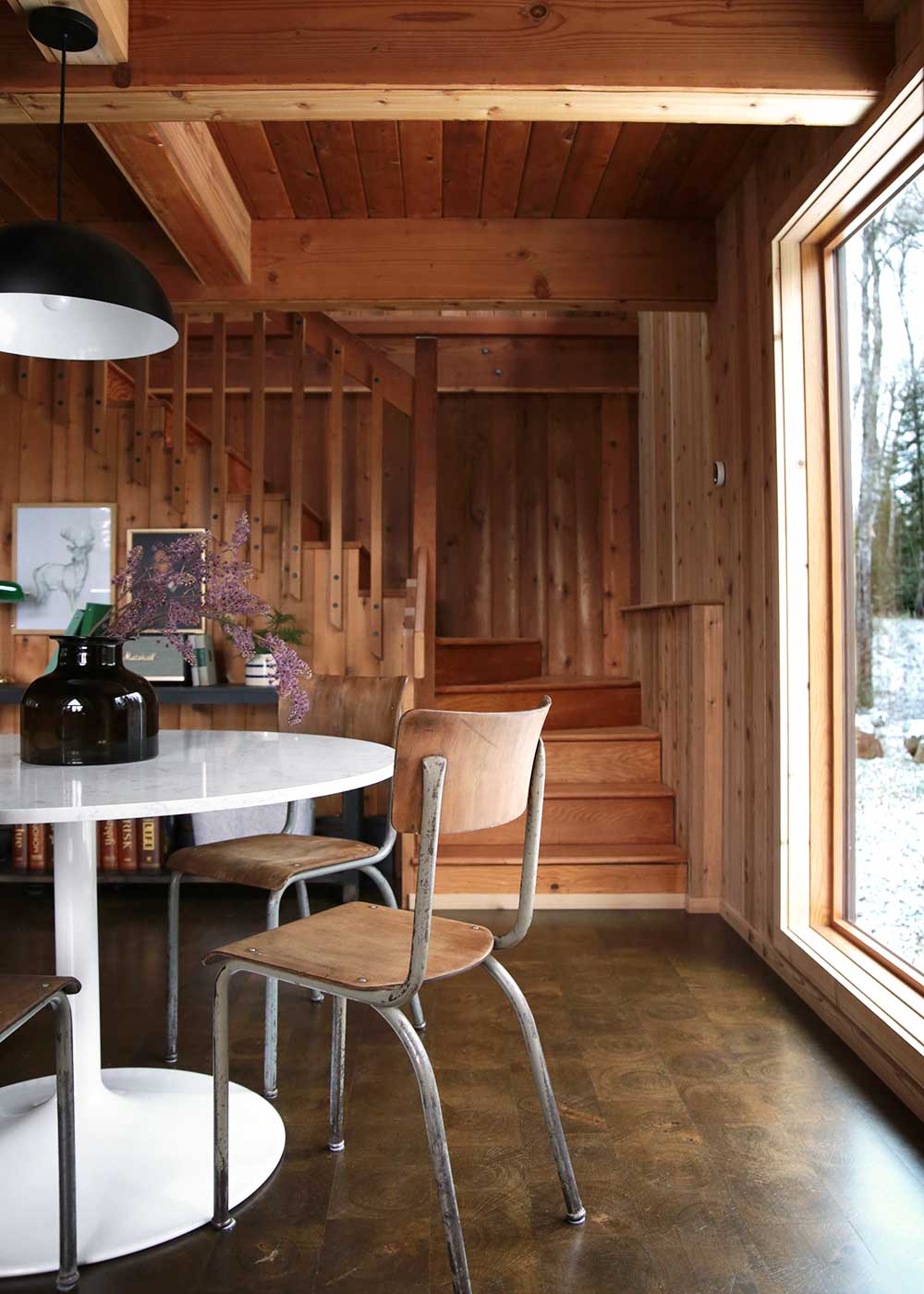 End Grain Flooring
If you looked closely in the living room, you might have seen these beautiful floors peeking out from beneath the rug. Were they wood or tile or something else altogether? After making a hard rule to keep the cedar walls cedar, we were stumped, for months, as to what to do for flooring. Traditional hardwood floors paired with the walls might yield a stripey visual. Stone or tile, even with in-floor heating, might feel visually cold come winter. Trust me when I say I tried every last flooring surface in my Photoshop rendering. And then, while perusing our local Room & Board, I saw wood floors unlike I'd ever seen before, with the ring of the wood showing instead of the long grain and cut in a square tile.
It took me another couple of weeks to find out that they're called End Grain Flooring and then track down where to buy them.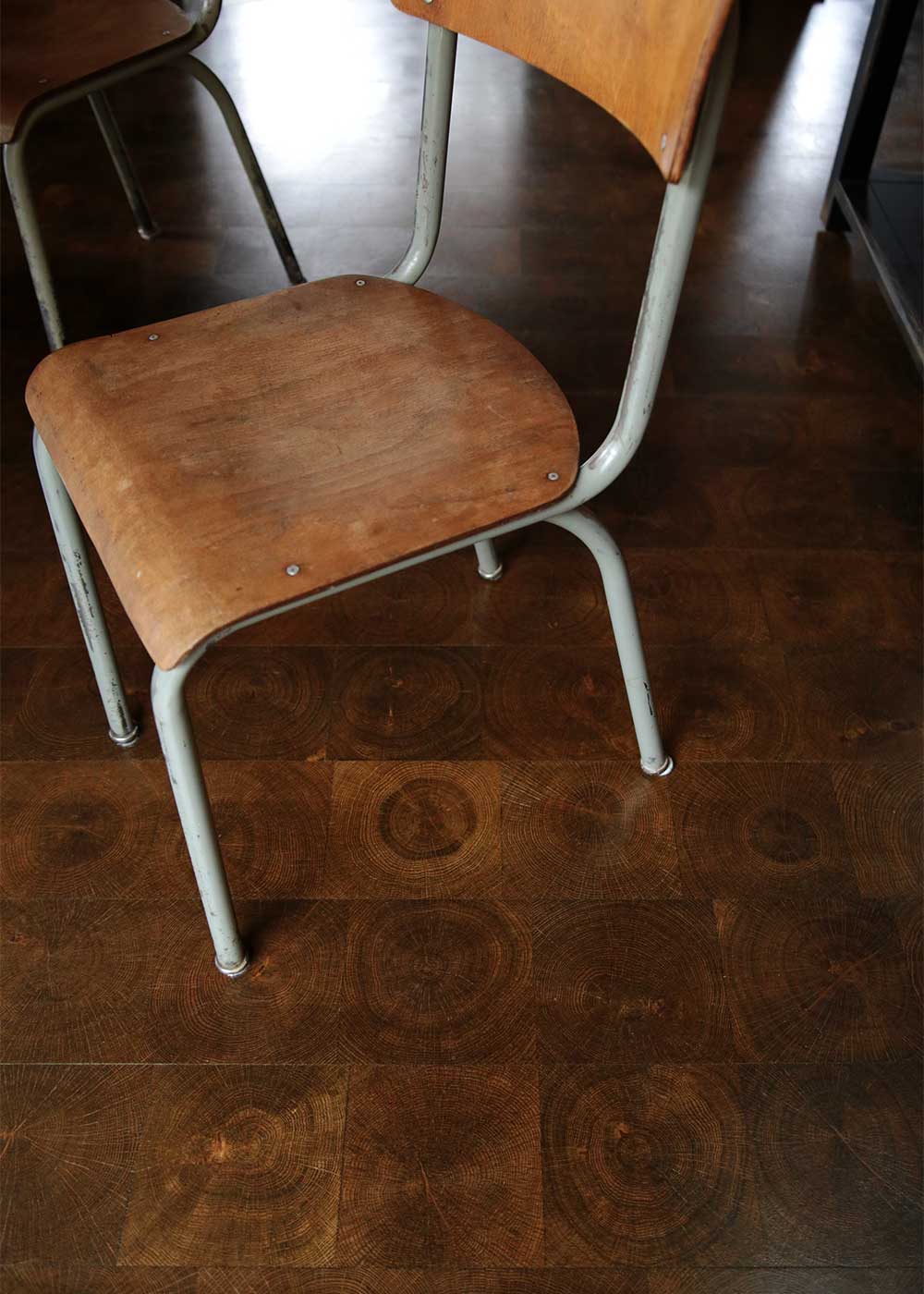 Kaswell Flooring Systems, a family-run company, sells this beloved End Grain Flooring. It comes in both engineered planks, solid strips of blocks, and individual loose blocks. We went with their unfinished engineered oak plank stained in Espresso, which is a long plank of end grain oak wood lamellas laminated to a baltic birch sub-straight, with tongue and groove connection assembly. This specific engineered product can be sanded and refinished up to 3 times.
We had them installed in an offset brick pattern to keep things from looking too geometric. I wish you could see them in person. I hope you can see them in person someday. They are stunning.
Random fact: End Grain Flooring was commonly used in US factories and European streets for its extreme durability, sound absorption, and ease of repair. Now you might see them in museums, libraries, corporate offices, and hospitality environments or even in a cabin near you. (Note: We reached out to Kaswell to partner on this project and they graciously said yes.) For more information on End Grain Flooring samples, visit www.kaswell.com.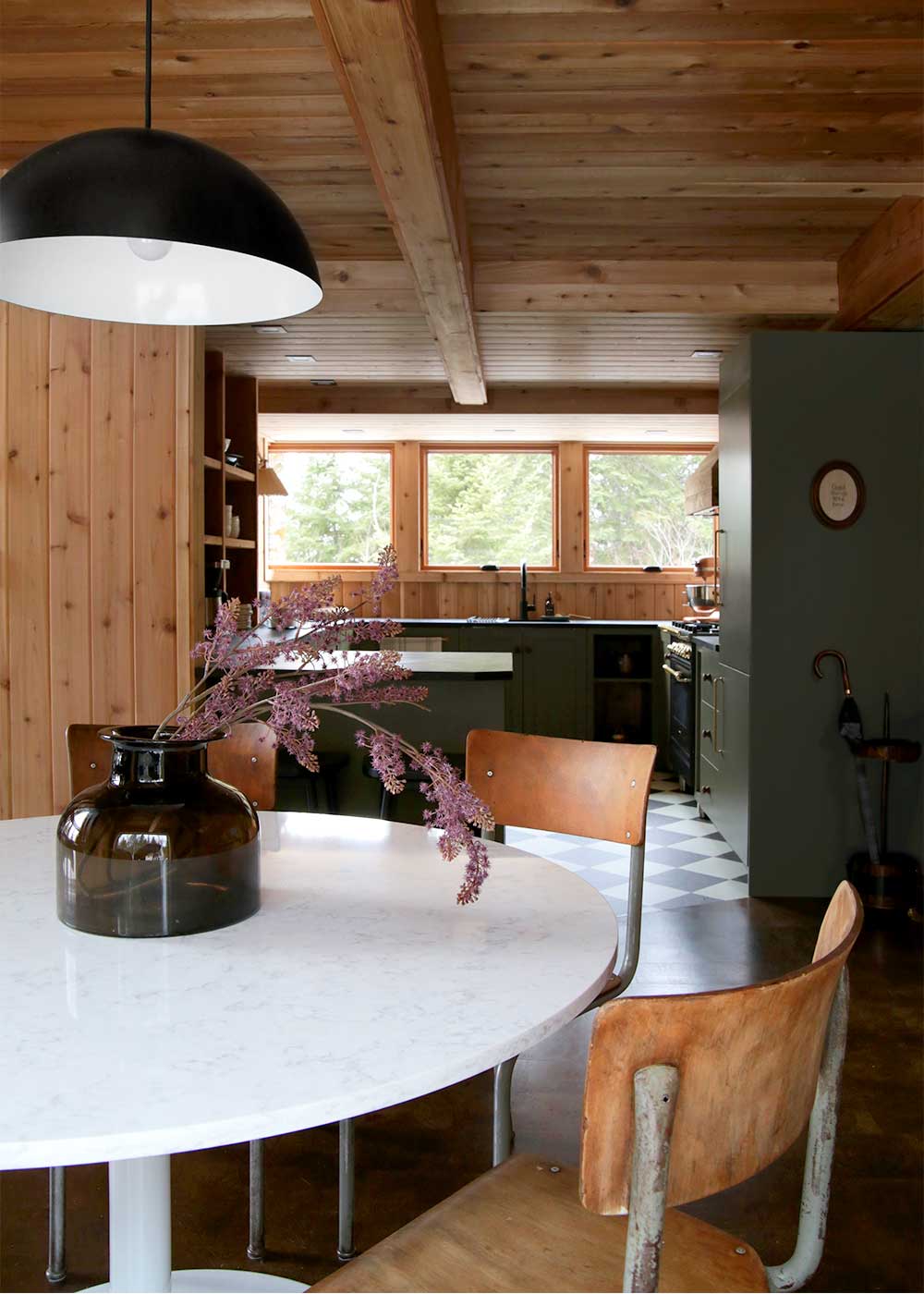 It's not super clear, but behind those faux stems, you can see the half preserved wall mentioned above and the added counter seating. I'll get a better picture one of these days soon, but it's just enough space to accommodate extra seating while creating a division between the kitchen and the dining room.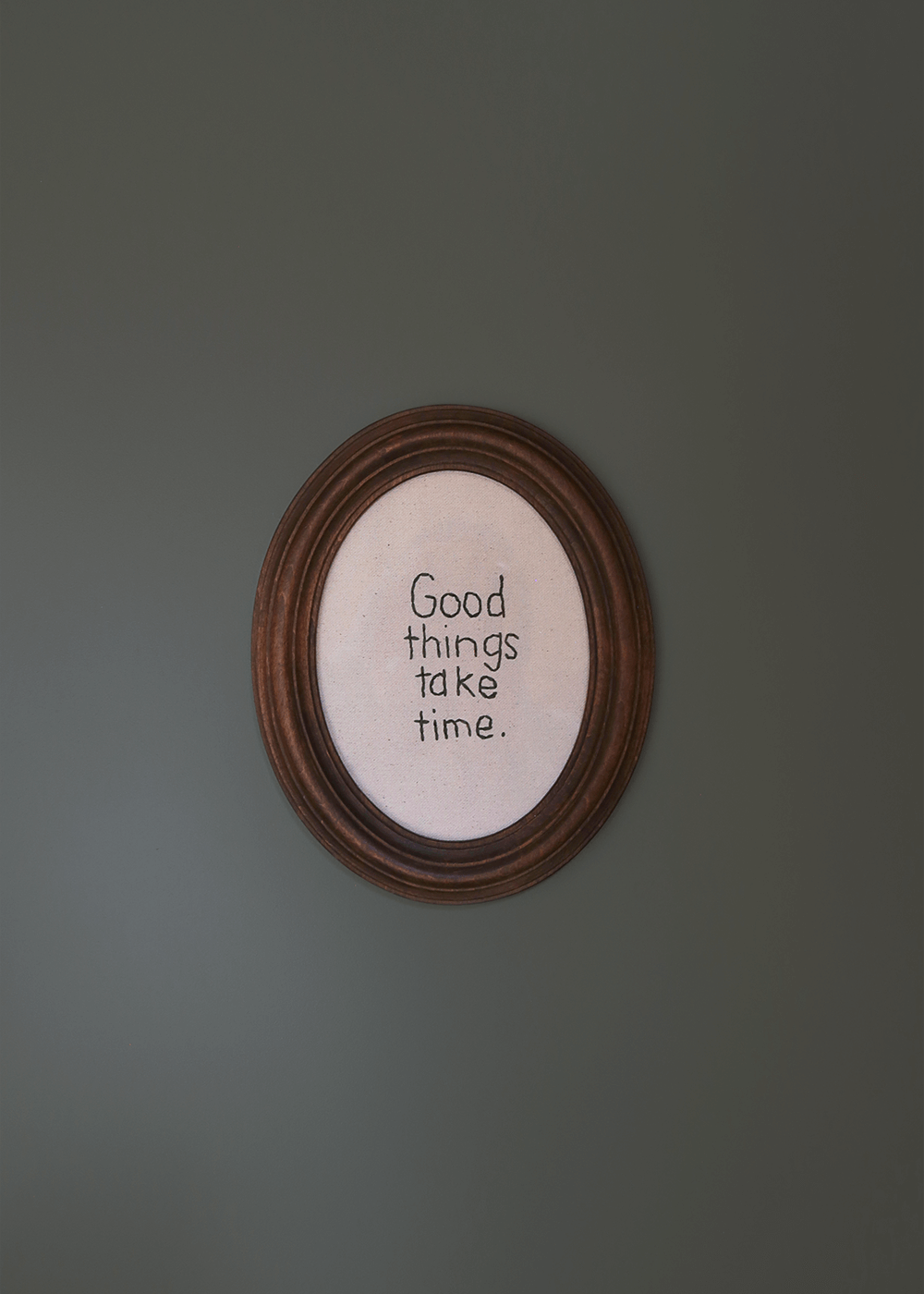 And, on the other side of the counter is a tiny frame I embroidered (can't you tell?), much like the one in my own kitchen (originally ordered from Etsy), that says—Good things take time. It's a reminder for myself, and anyone else who needs it, for dinnertime and relationships and cabin renovations, especially during a pandemic. Amen.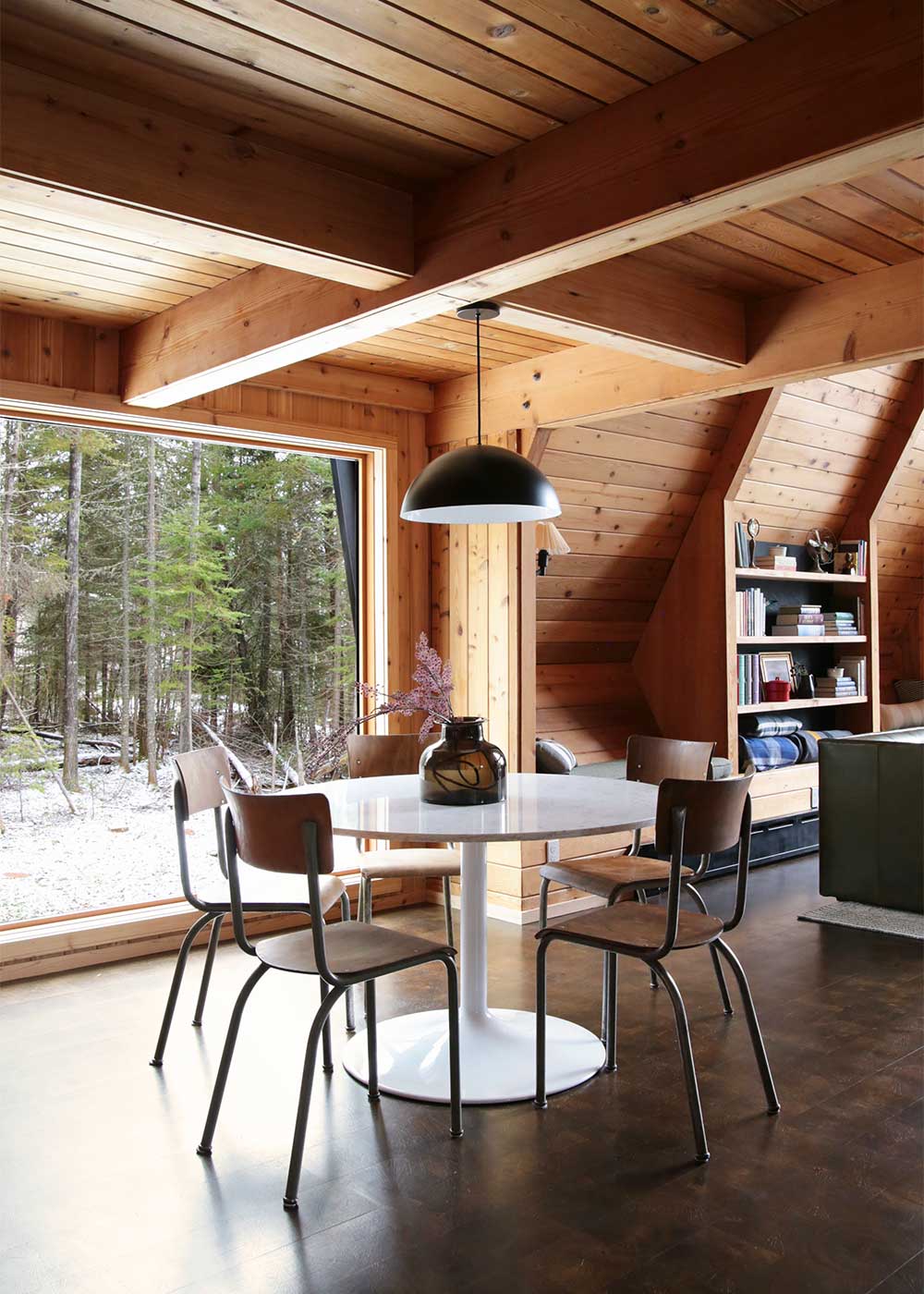 Sources: Kaswell Engineered End Grain Oak Plank* stained in Espresso | Marvin Ultimate Picture Window* | Room & Board 48″ Aria Table, Marbled White Quartz Top and White Base* | Vintage Schoolhouse Chairs | Room & Board Aurora Dome Pendant* | Smoked Glass Vase with Faux Stems | Black Sideboard Table, Thirfted, originally from West Elm | Marshall Bluetooth Speaker | Fabric Wrapped Binders | Bookcase Games (Thrifted) | Crock (Thrifted) | Greenery | Deer and Vintage Painting Artwork (Out of Stock from Target) | Good Things Take Time (Homemade)
This blog is made possible by your support (thank you), select brand partnerships, advertisements, and affiliate links to items I love and use. READ MORE >