As you wind through a sea, the parted green sea of tall evergreens, and pull up to the cabin, there's a big homemade sign peaking out of this room letting you know you've arrived. "Way up north," it says. Which is only really true if you're coming from down south. But the navy flag hangs and the bed velvets and the lights shine, dim or brightly, you choose, and the wool wraps you into the cozy Downstairs Cabin Bedroom at The Minne Stuga. I'd love to show you around.
Before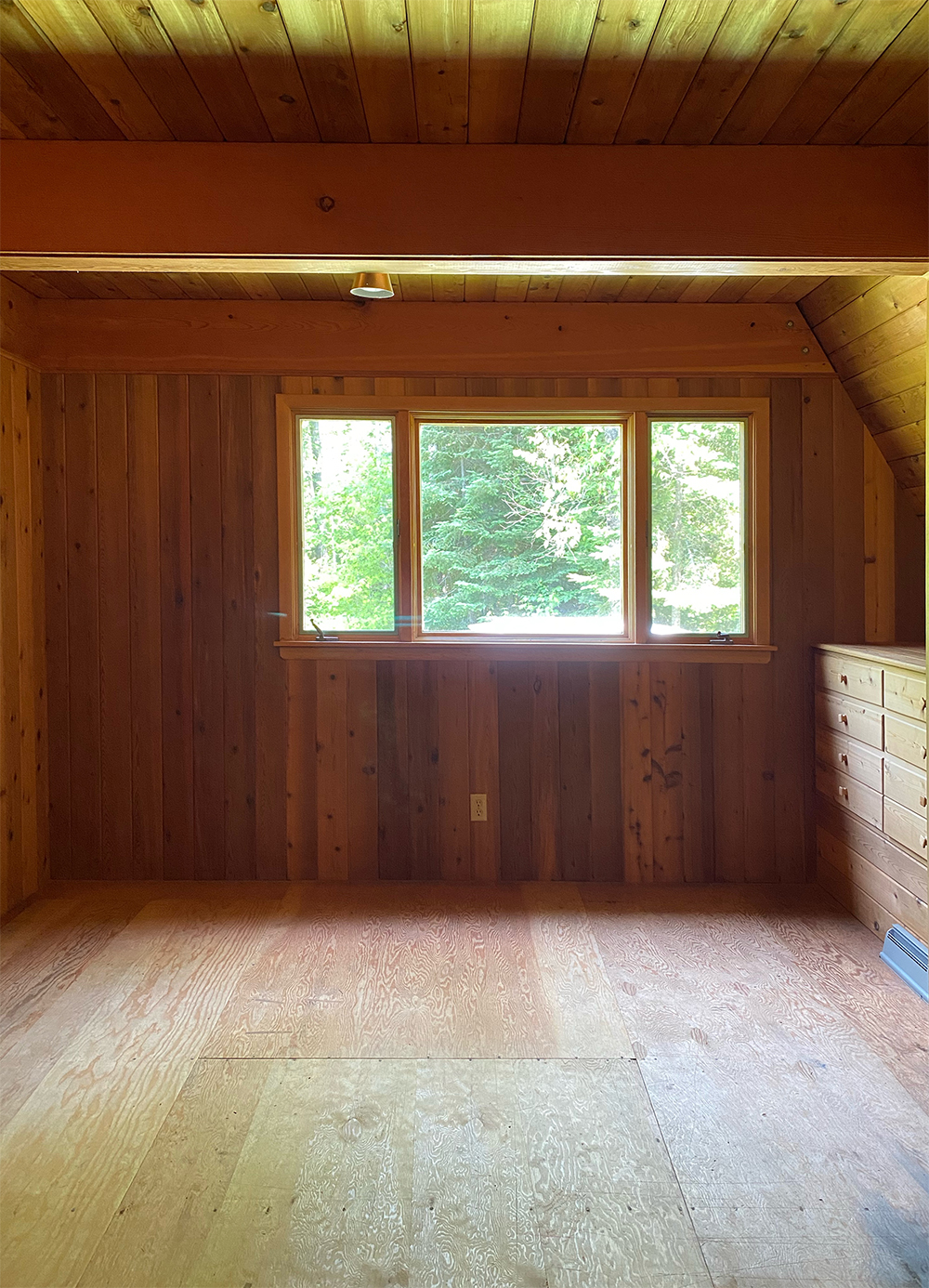 Much like the upstairs A-frame bedroom, this room was virtually untouched during construction, minus the new Marvin windows and the layer of cozy carpet underfoot. Like the nooks built into the angle of the 'A' in the living room, maximizing awkward space, the original designers of this kit added drawers and closets into the angled, right side of this room in the same way. In short, we inherited great design. We didn't have to do much.
After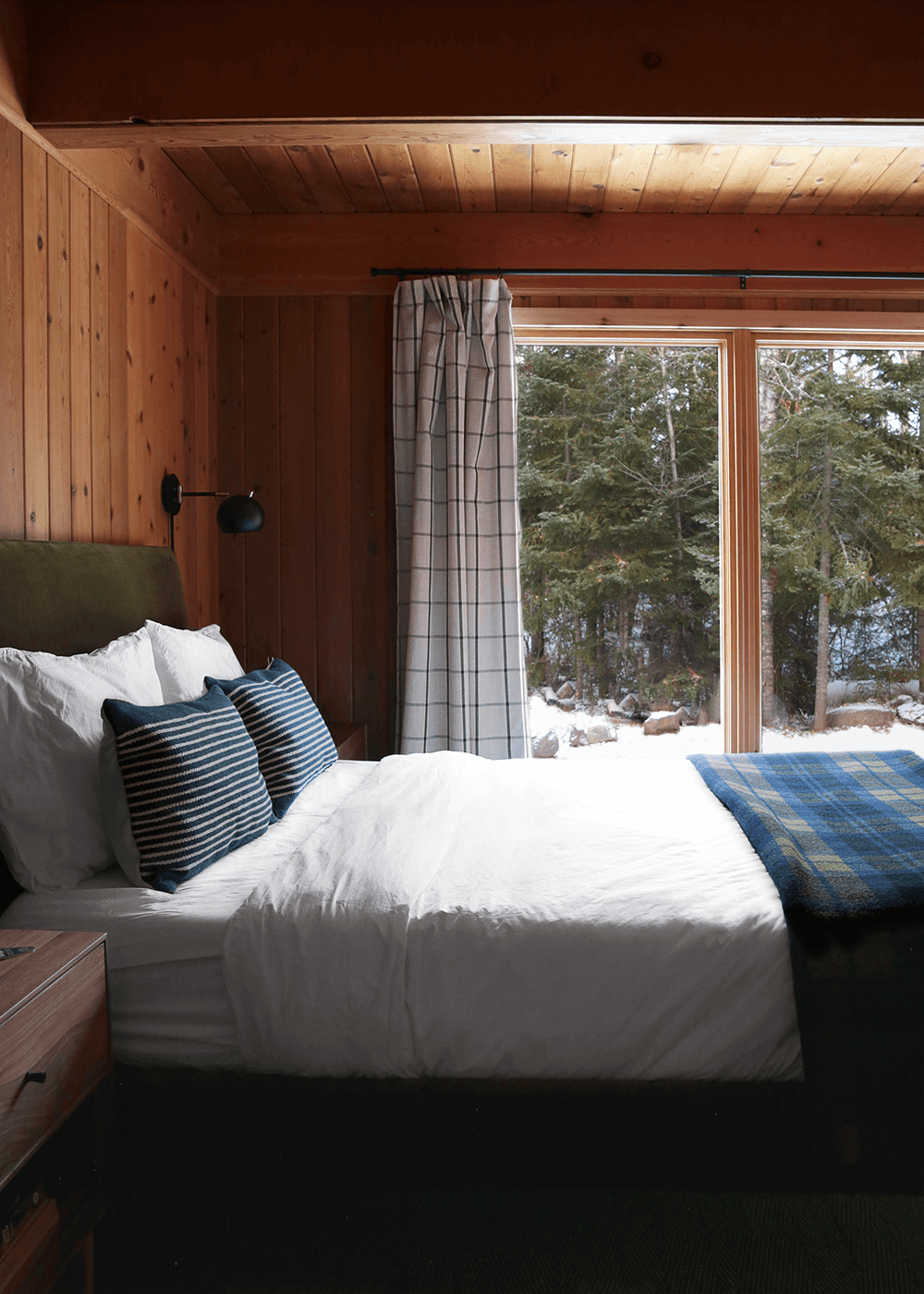 Ahhh, it's now a slightly better version of its previous self. A little more buttoned up and tucked in, mostly thanks to Room & Board. I'm grateful they said yes to outfitting this space with their Business Interiors line. When you hear business and interiors next to each other, you might see visions of your dad's office from take-your-daughter-to-work-day. (Remember those days and those chairs?) Their line is anything but. It's extremely durable, durable enough for a cabin rental, a business interior, without compromising on design. In fact, a lot of their furniture and fabrics span both their residential and commercial line. You just wouldn't know it unless you went looking for it.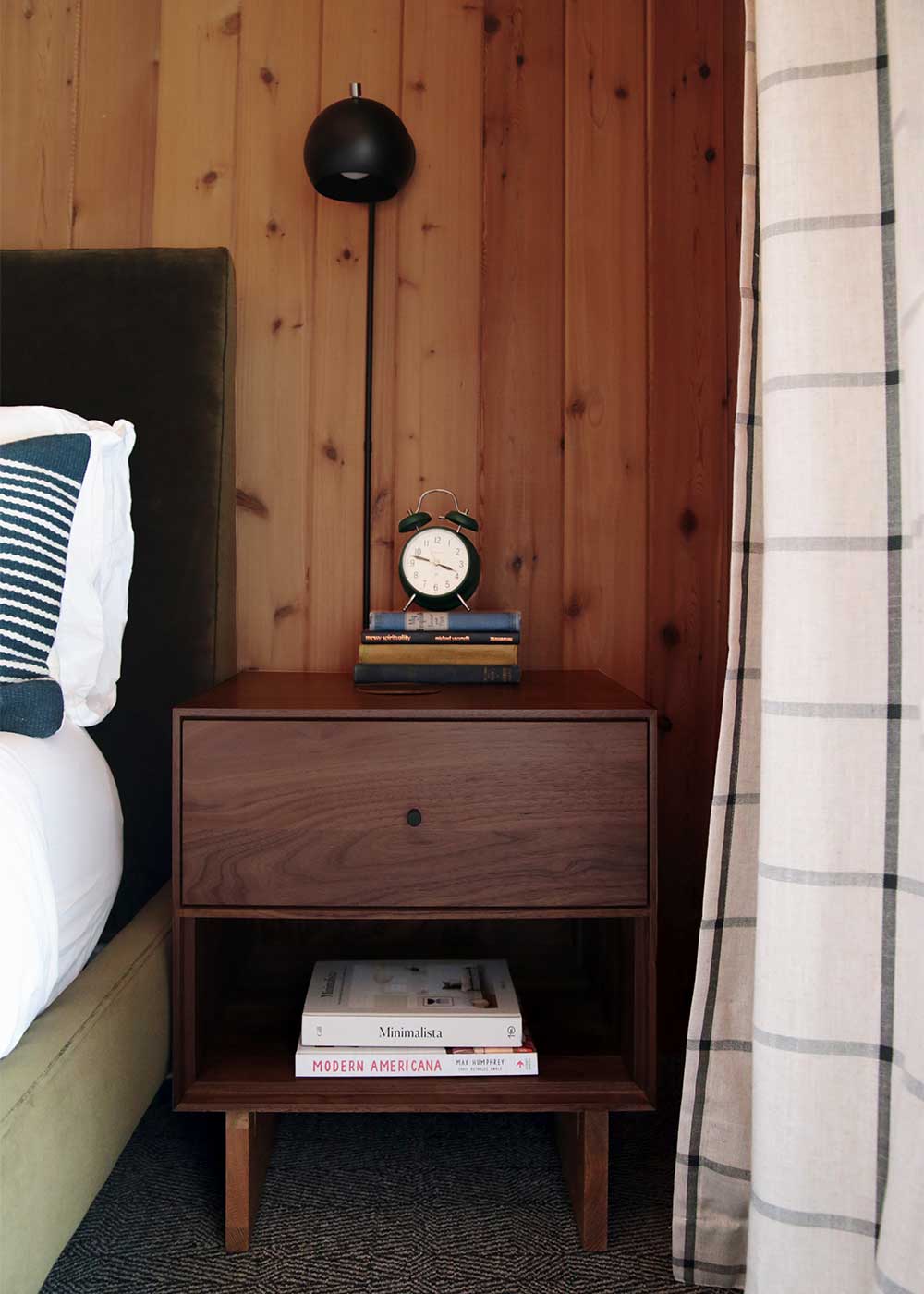 For the bedrooms, we wanted them to feel like a cross between a cabin and a hotel, with bright white clean linens paired with a warm cozy collected vibe. We wanted it to feel casual and special, sophisticated and plaid, refined and rugged. It has a little bit of everything for everyone.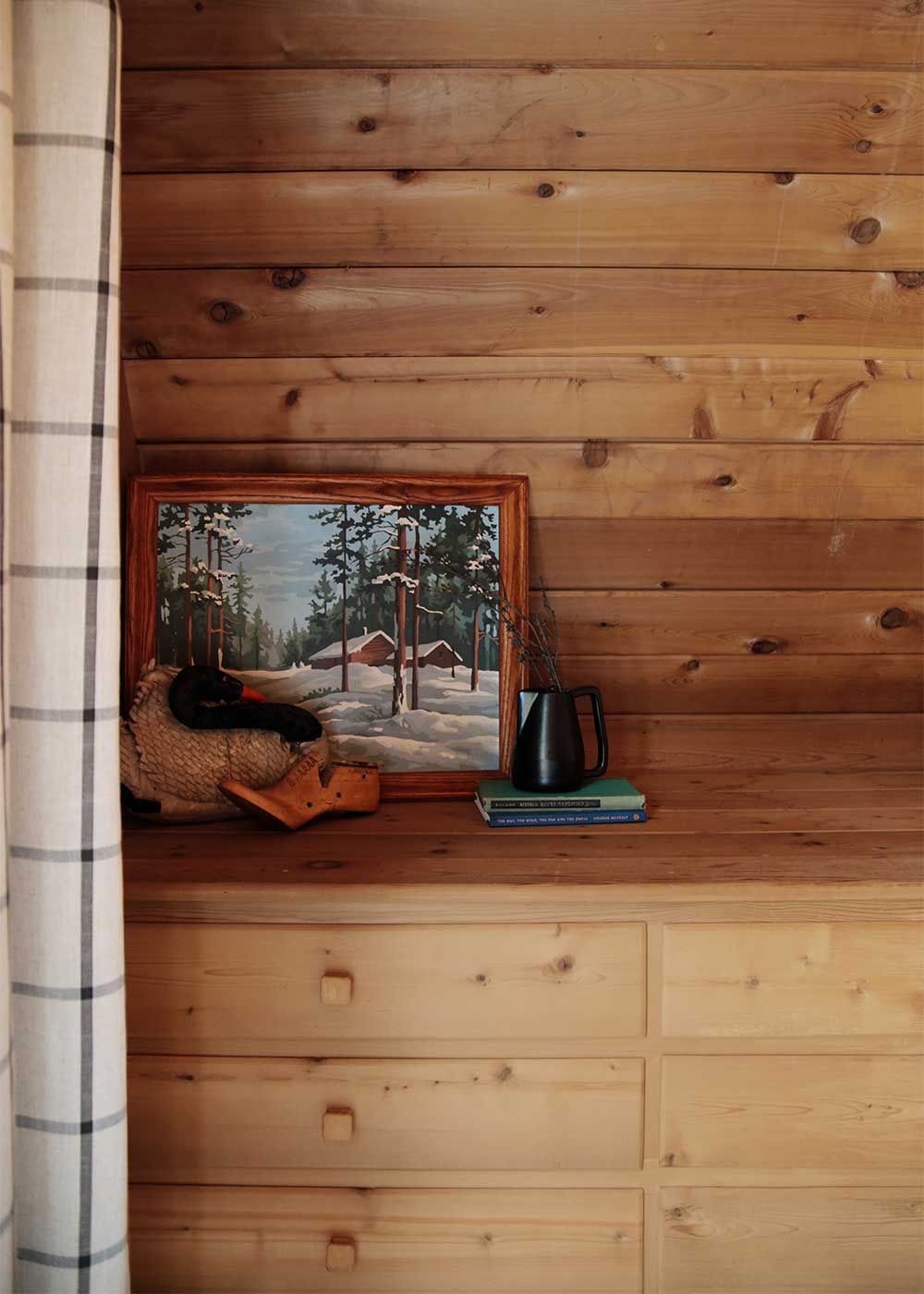 Like a vintage paint-by-number painting and a wooden shoe form and pretty pottery. It's got old books and new books and quality American-made furnishings. It's got built-ins and benches; blackout curtains and a tall lush headboard for deep sleep. It's got crispy sheets and cozy walnut wood bedside tables.
It has a hanging homemade flag with a waxed canvas finish, the one my sister helped me make. The same one that sent my hairdryer into flames. (Tiny flames.) I'll work on a simple, fire-free tutorial one of these days soon. In the meantime, you can just buy one from the professionals.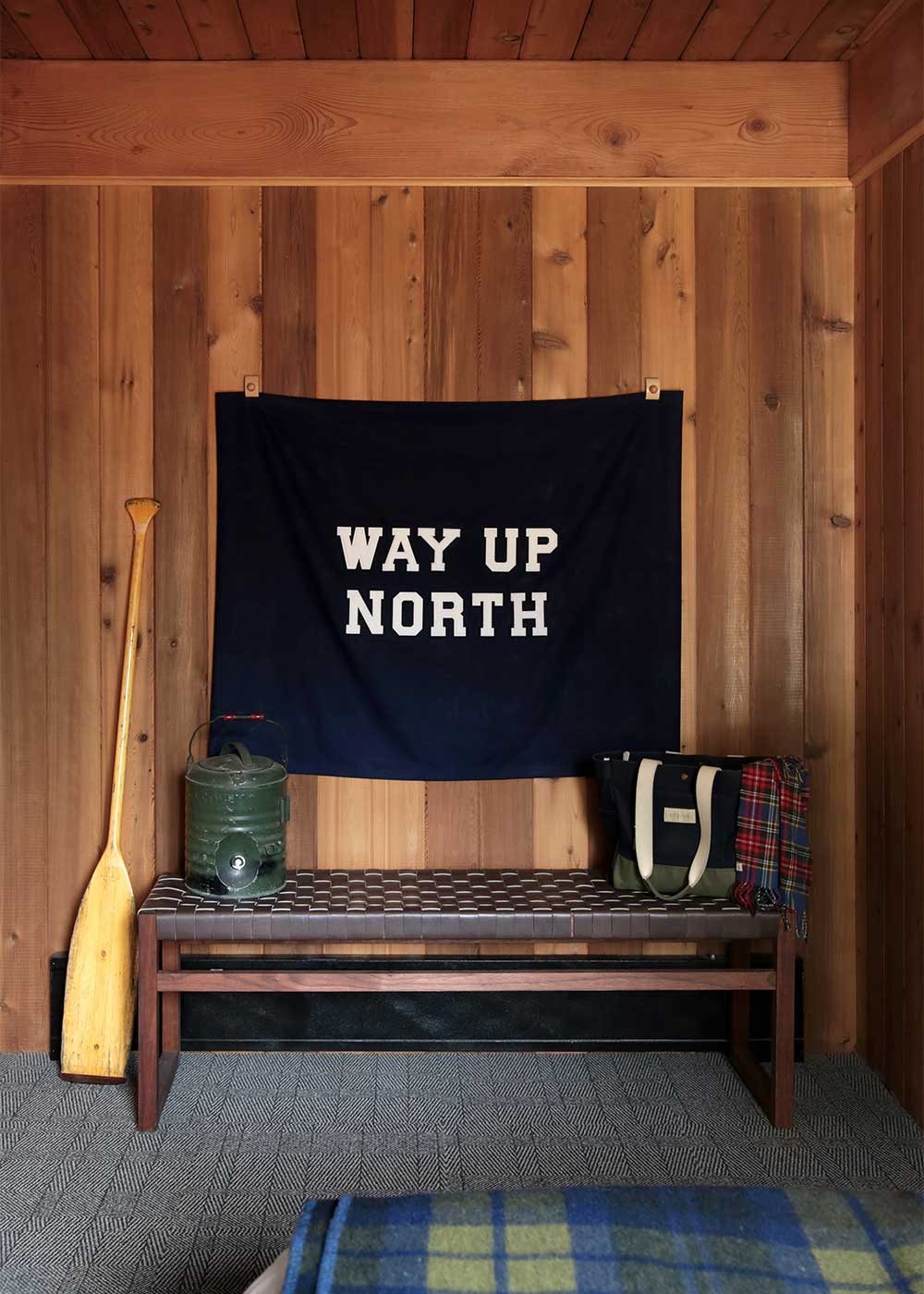 Well, friends, the sun is setting. We've made it through the interior tour of the cabin, minus the basement, which I'll get to that one of these days soon. Pack your snow boots next week. We're headed outside to crunch around the exterior, under the big tall trees and even bigger Milky Way.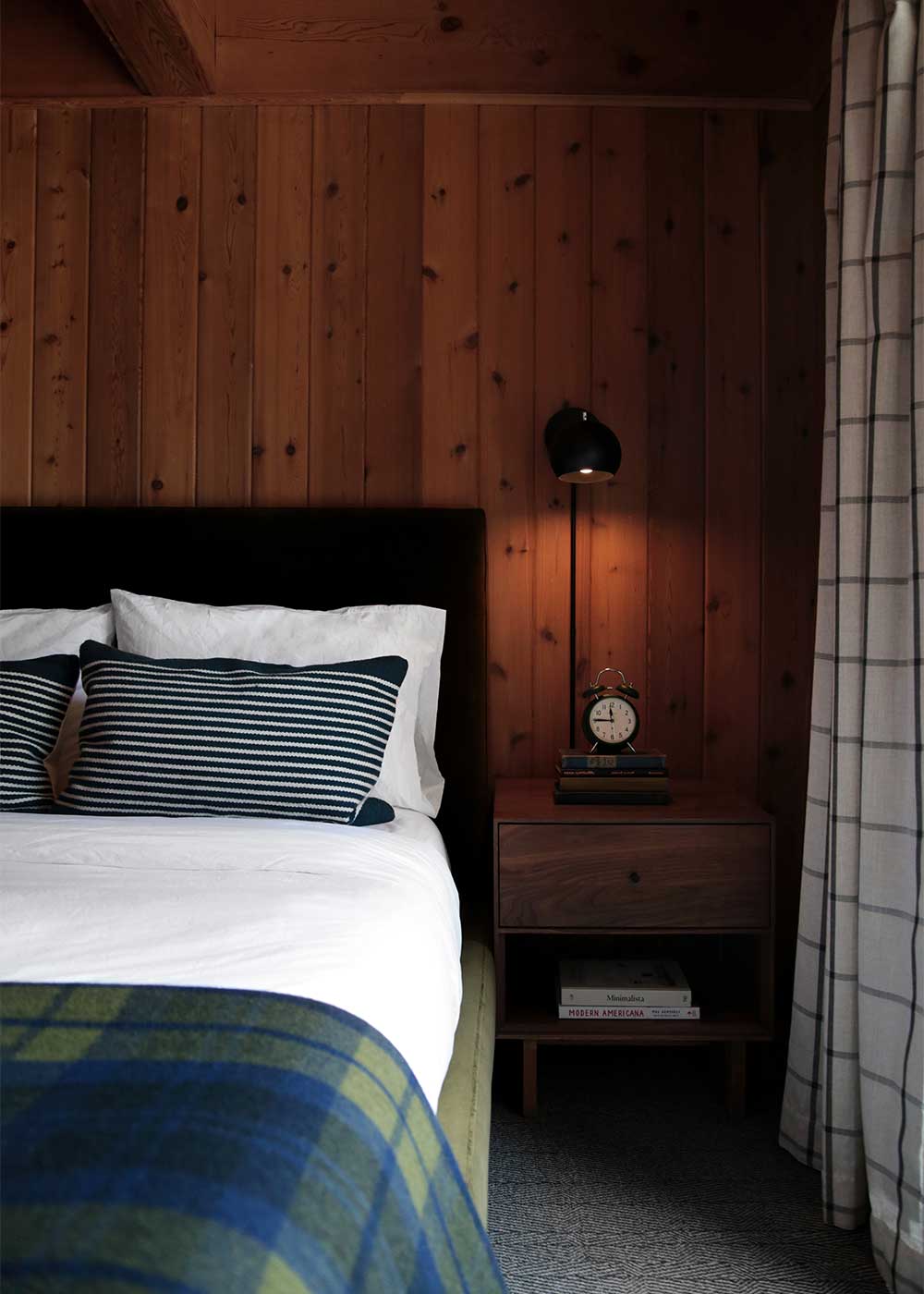 Sources: Room & Board Ella Queen Bed in Vance Olive and tapered gold brushed legs* | Tuft & Needle Queen Original Mattress* | Tuft & Needle Down Alternative Duvet* | Tuft & Needle Queen Percale Sheets in Cloud* | Tuft & Needle Down Alternative Pillows* | Rejuvenation Navy Striped Pillow Covers (second hand) | Faribault Wollen Mills Blanket in Shadow Plaid* | Room & Board Camber Wall Sconce in black | Room & Board Hudson Nightstand in walnut and white oak base and maple with charcoal stain hardware | Green Alarm Clock | Flor Tweed Carpet in Pearl | Room & Board Reed Woven Leather Bench (discontinued)* | Way Up North Flag (DIY) with Quilt Hangers | Vintage Canister (thrifted) | Wooden Canoe Paddle (thrifted) | Roth + Allen Plaid Curtains in black plaid plus blackout curtains | Black Curtain Rod | Black Curtain Clip Rings | Winter Painting (thrifted) | Stuffed Animal Goose (thrifted) | Shoe Form (thrifted) | Small Black Pitcher
*Denotes gifted or discounted items
Construction by Taiga Design + Build
Interior Design by Melissa Coleman
Photography by Melissa Coleman
See the other cabin reveals: Kitchen | Living Room | Dining Room | Downstairs Bathroom | Loft | Upstairs A-Frame Bedroom | Upstairs Bathroom | Exterior | Outdoor Furniture
This blog is made possible by your support (thank you), select brand partnerships, advertisements, and affiliate links to items I love and use. READ MORE >