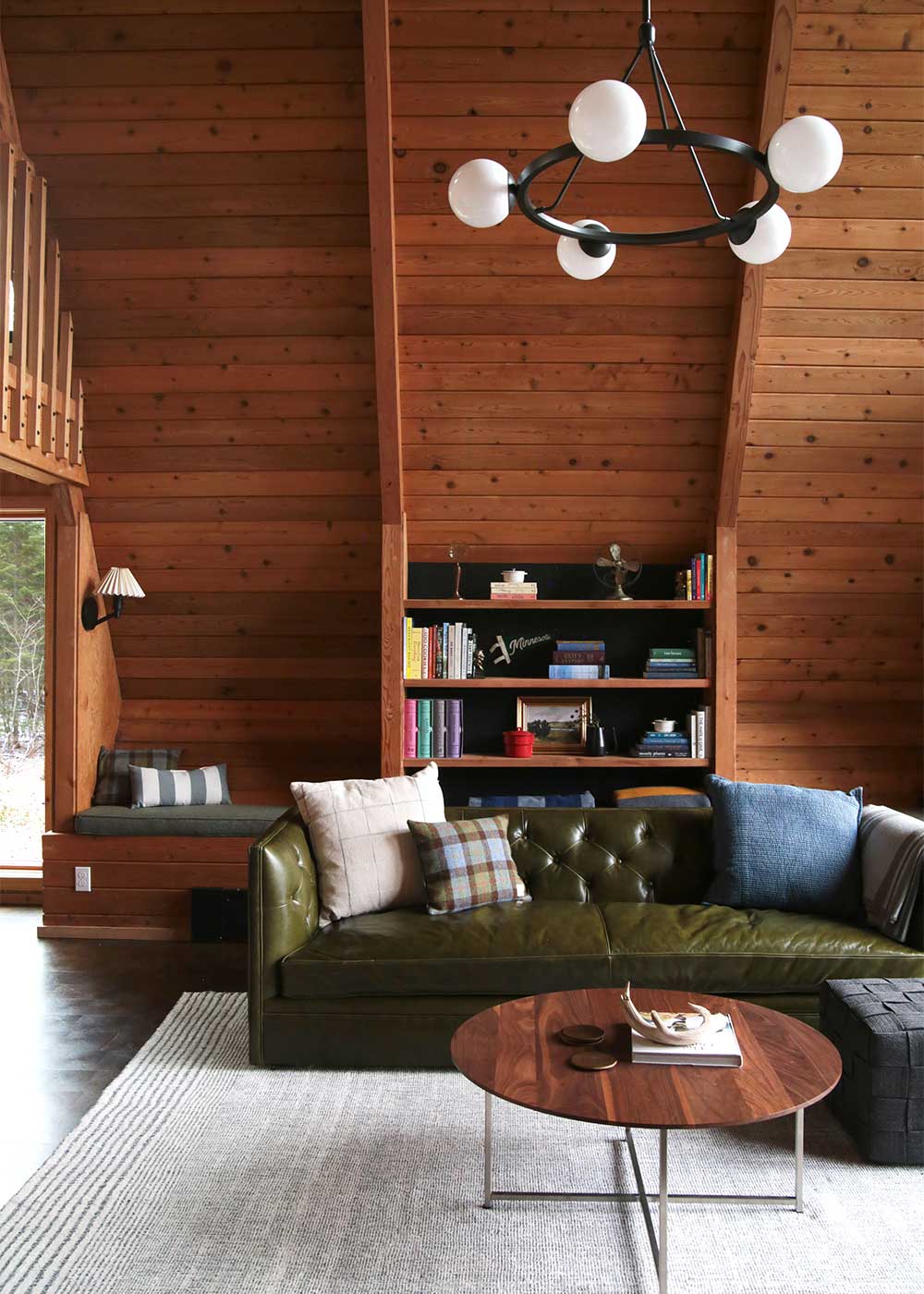 I'd love to walk you through my next favorite room of the cabin—the great room, the living room. Are you sensing a theme here? How can all the rooms be my favorite room? Kev says I'm easily excitable and sometimes speak in hyperbole. He's not wrong. But his childhood friend, Blake, who feels comfortable enough to be honest with us (a straight gift I tell you), said the same thing on his visit up. Every room ushers you to sink in and cozy up and unwind, with lake views and evergreen views out every window. It's impossible to pick a favorite. Either way, let's take a walk through the Cabin Living Room.
Before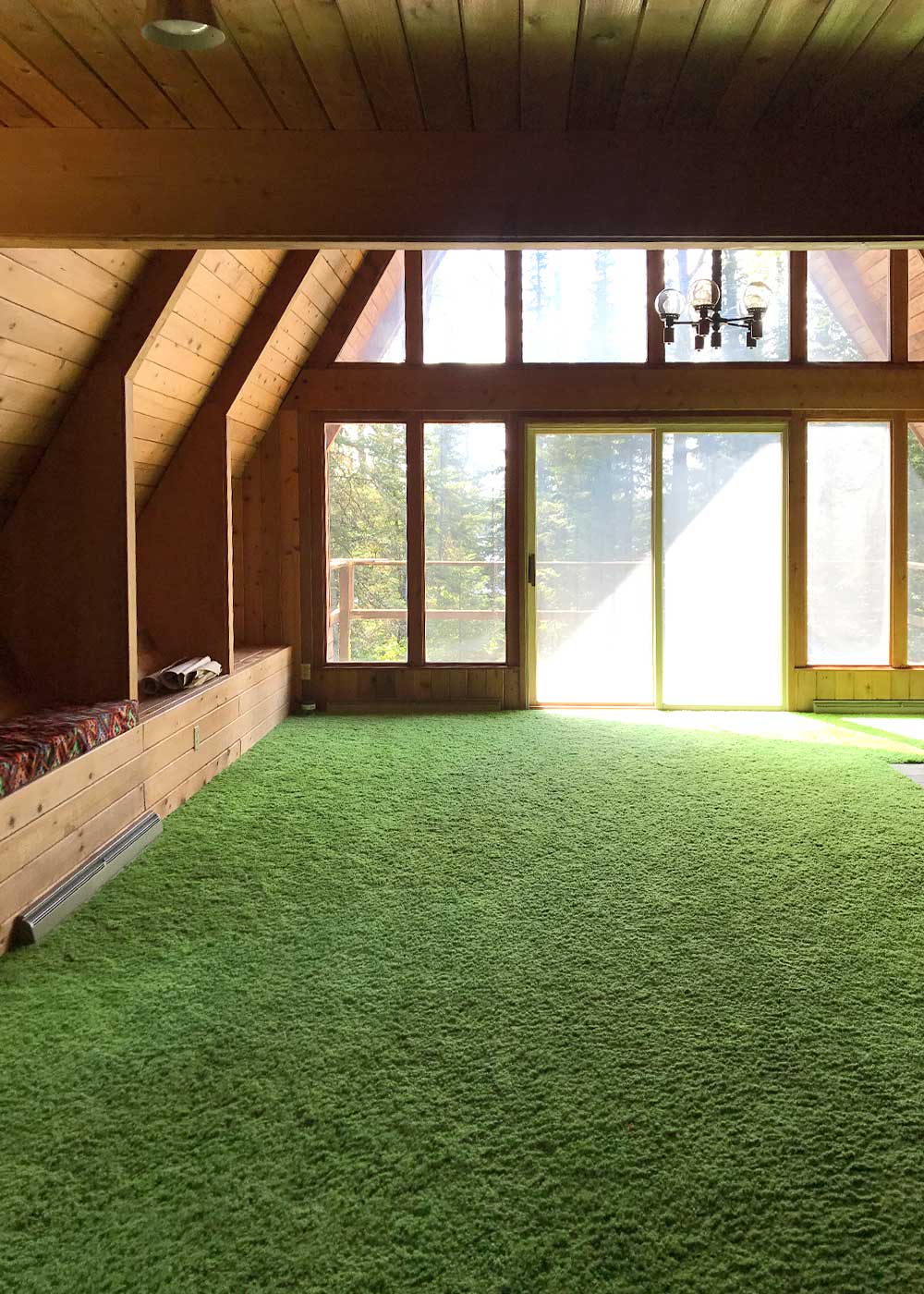 You know the drill. Befores before afters. Would you believe me if I told you this was the room that sold us with immediacy? Through the old frosted windows, we could see visions of cozy reading nooks and green couches instead of carpet, all doused in a Swanky-Scandi vibe (if there ever was such a thing).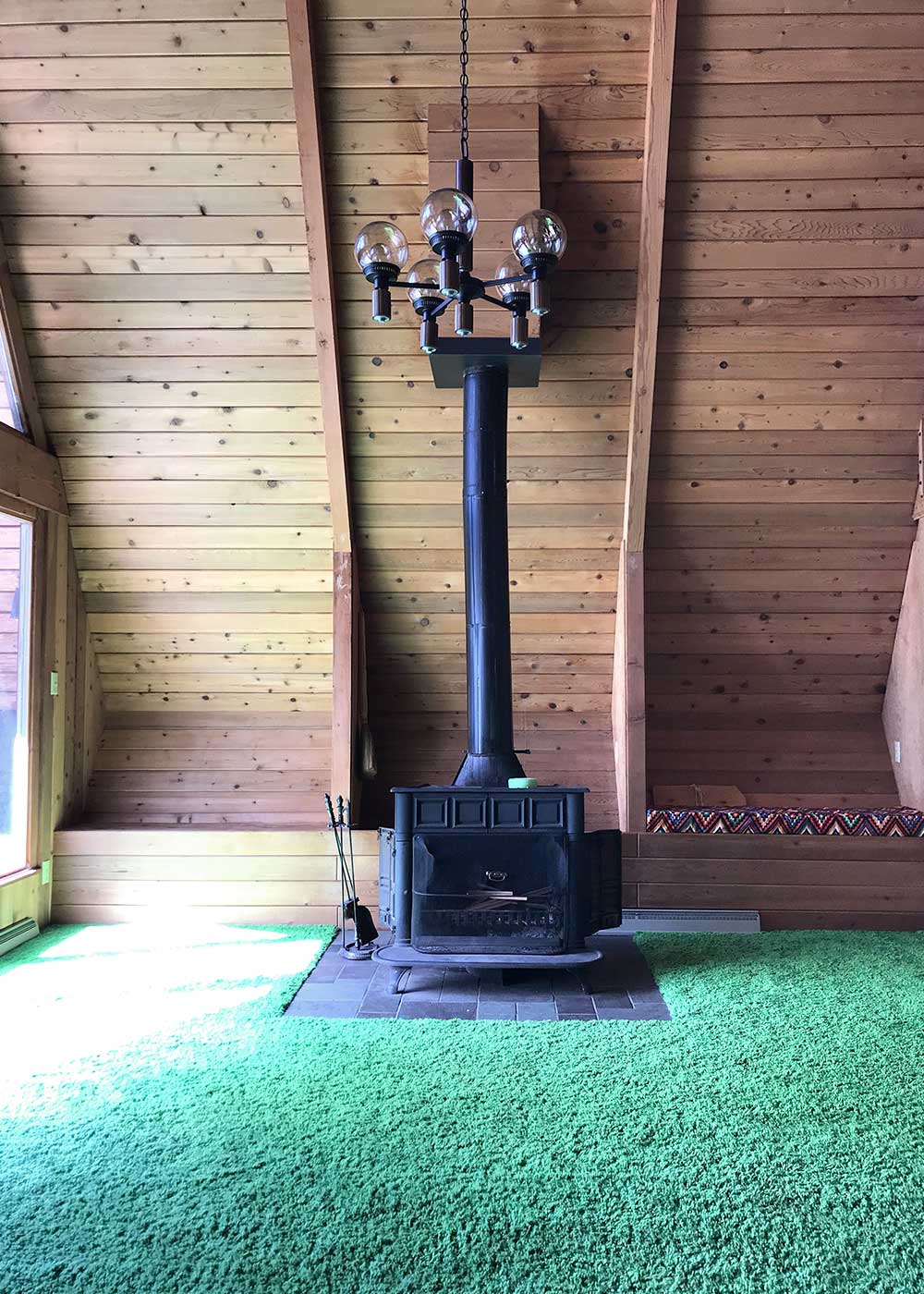 Maybe those visions weren't so clear at first sight, but it was love at first sight. We were in love. Especially with the original wood-burning fireplace.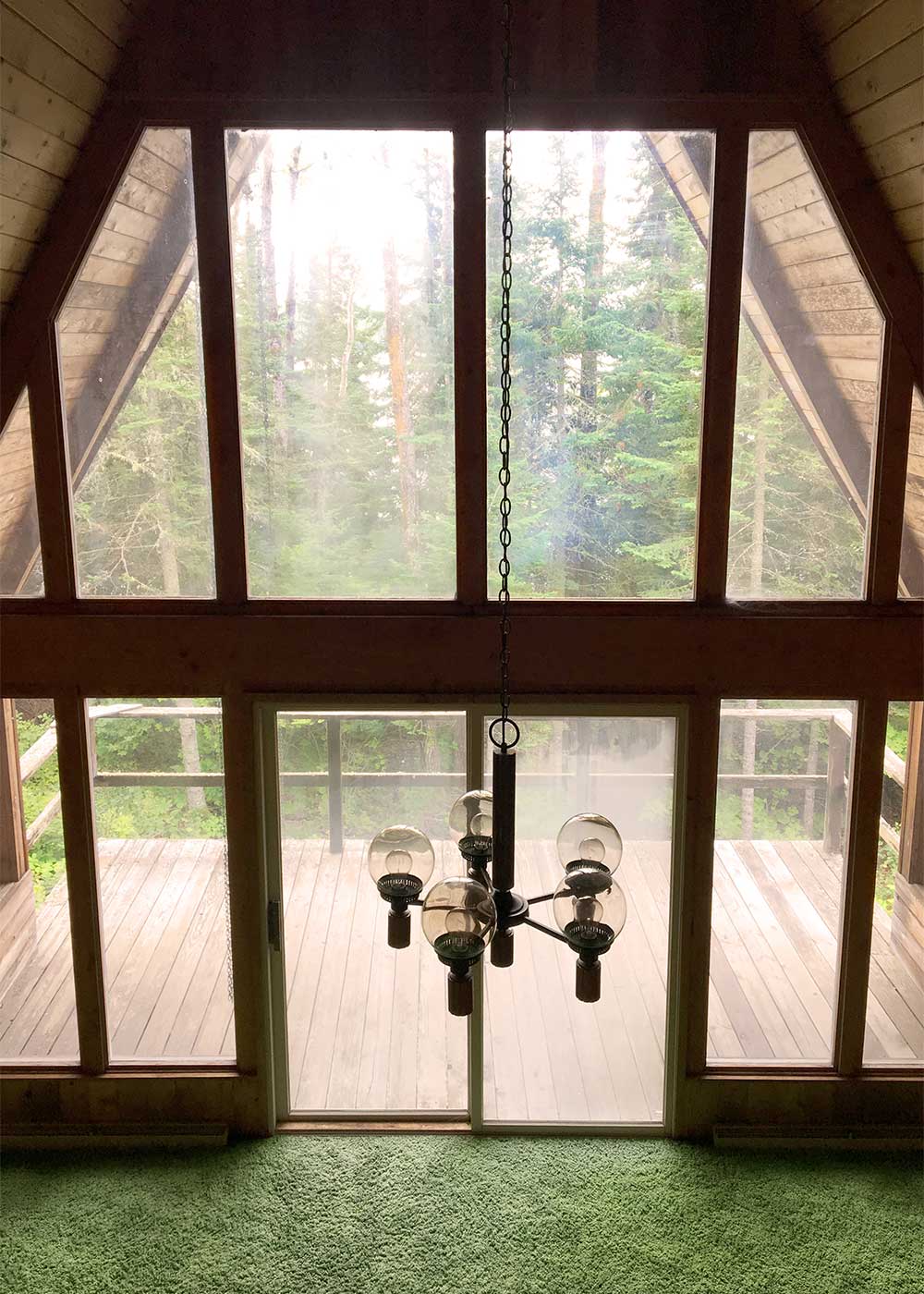 Like all good love stories, the hard parts followed soon after. I've talked about those enough already. But, you know the ending, too. Somehow, sometimes, the hard parts have a way of solidifying your love if they don't take it down in the process. We're still standing and in love. (Kev, me, and the cabin.) And with that, I'd love to show you the cabin living room, outfitted in a Swanky-Scandi library vibe.
After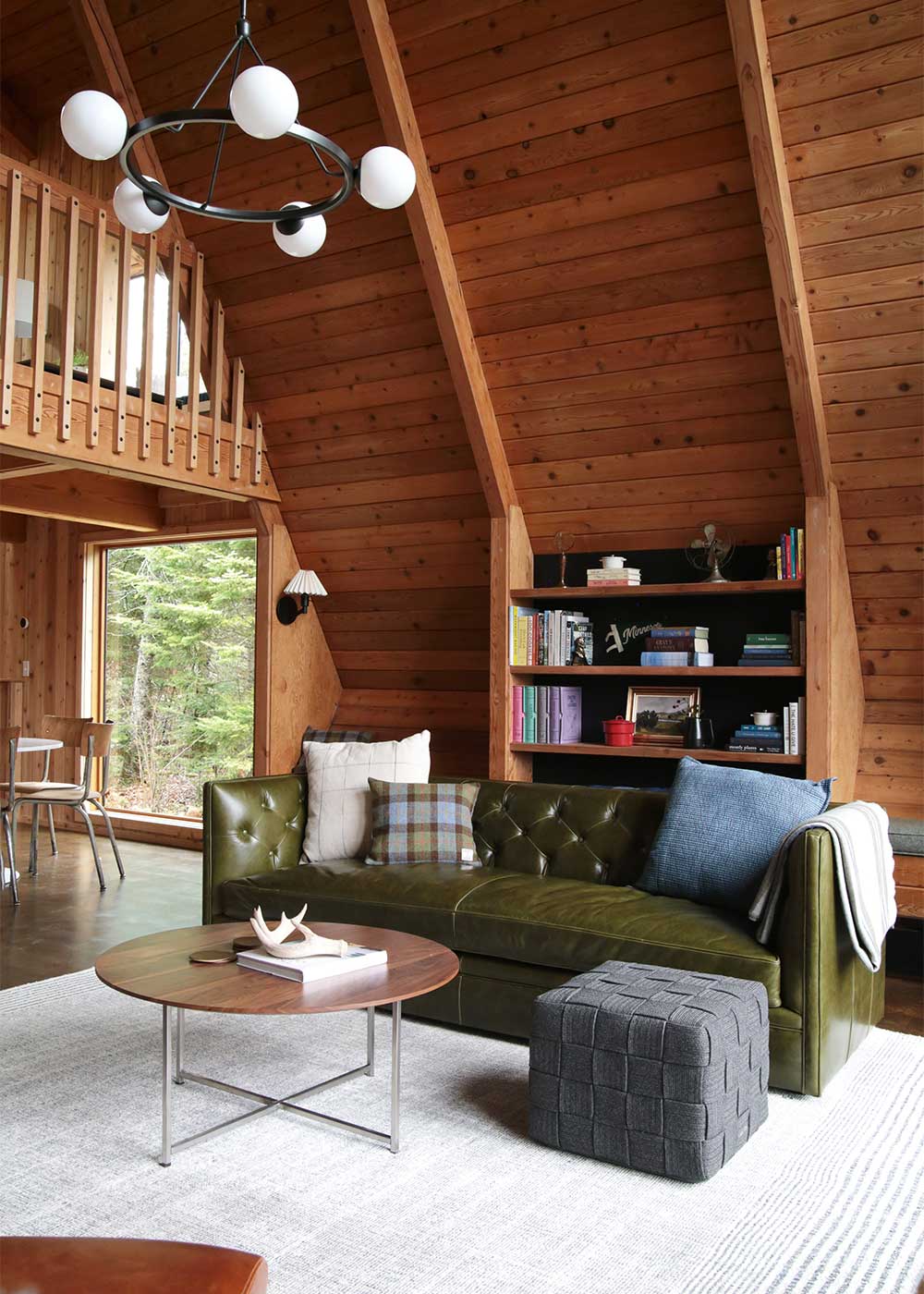 If there was a design thesis for The Minne Stuga, it would be this room and maybe that tufted leather Macalester couch from Room & Board. This was the room that nailed down the design selections for the cabin, from the color palette—muted, rich, earthy tones with a touch of black; to the textures—leathers, wools, and woods; to the golden rule—do not paint the cedar walls. We were so excited to get the chance to partner with our Minnesota neighbors again, Room & Board, to pull this room, plus a couple others, off. (PS: Remember our backyard partnership?)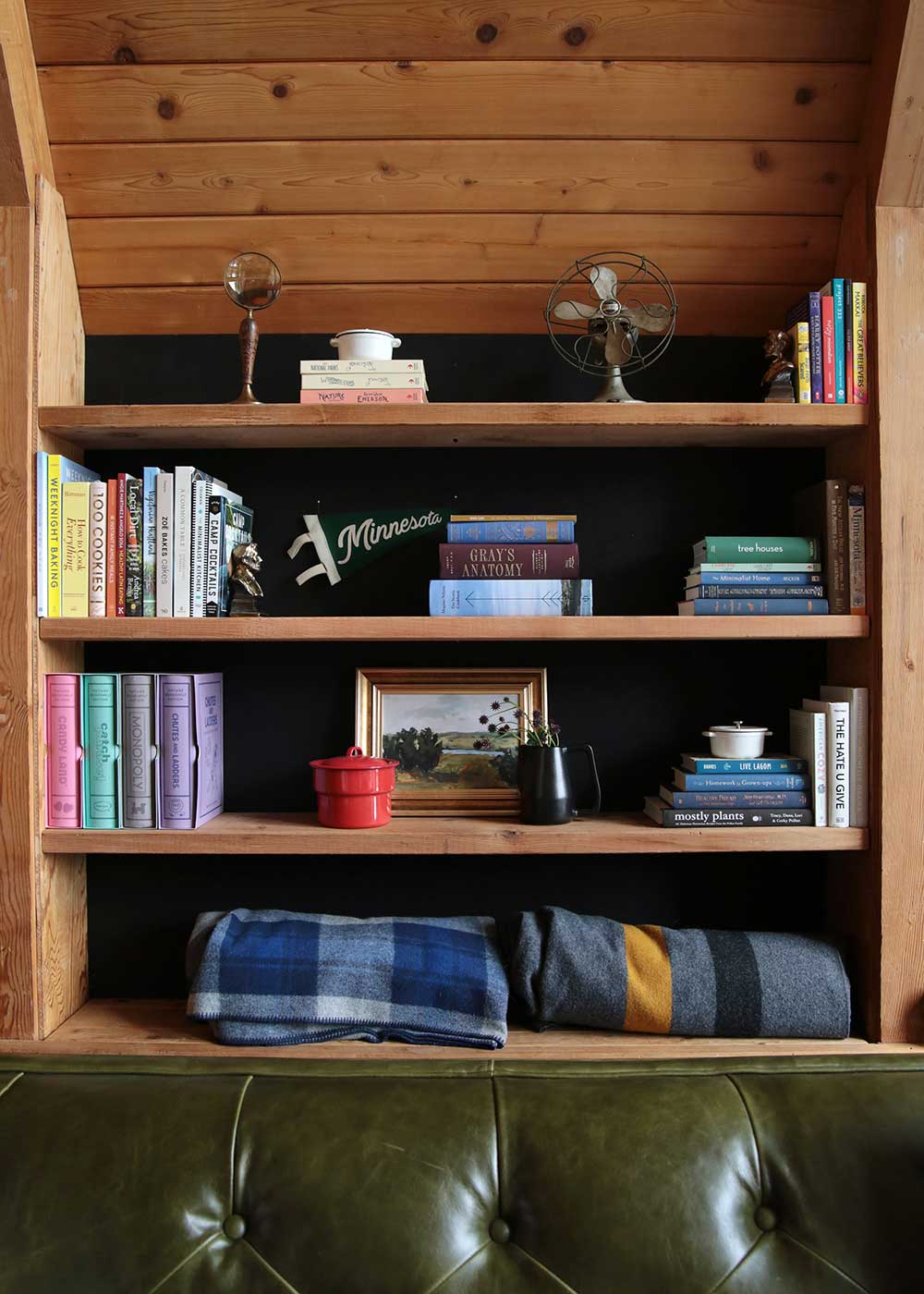 One of the things we loved most about the original A-frame design was the way they utilized the often unusable space in the bottom angle of the A by filling them with nooks and cubbies. Right from the start, I knew I wanted to use four of the six living room nooks for reading nooks. We'd turn another into a shelf, to both anchor the room and add 1000 visual reminders to put down our phones and pick up a book. We ended up adding a black backdrop to the shelf at the last minute to help the books pop.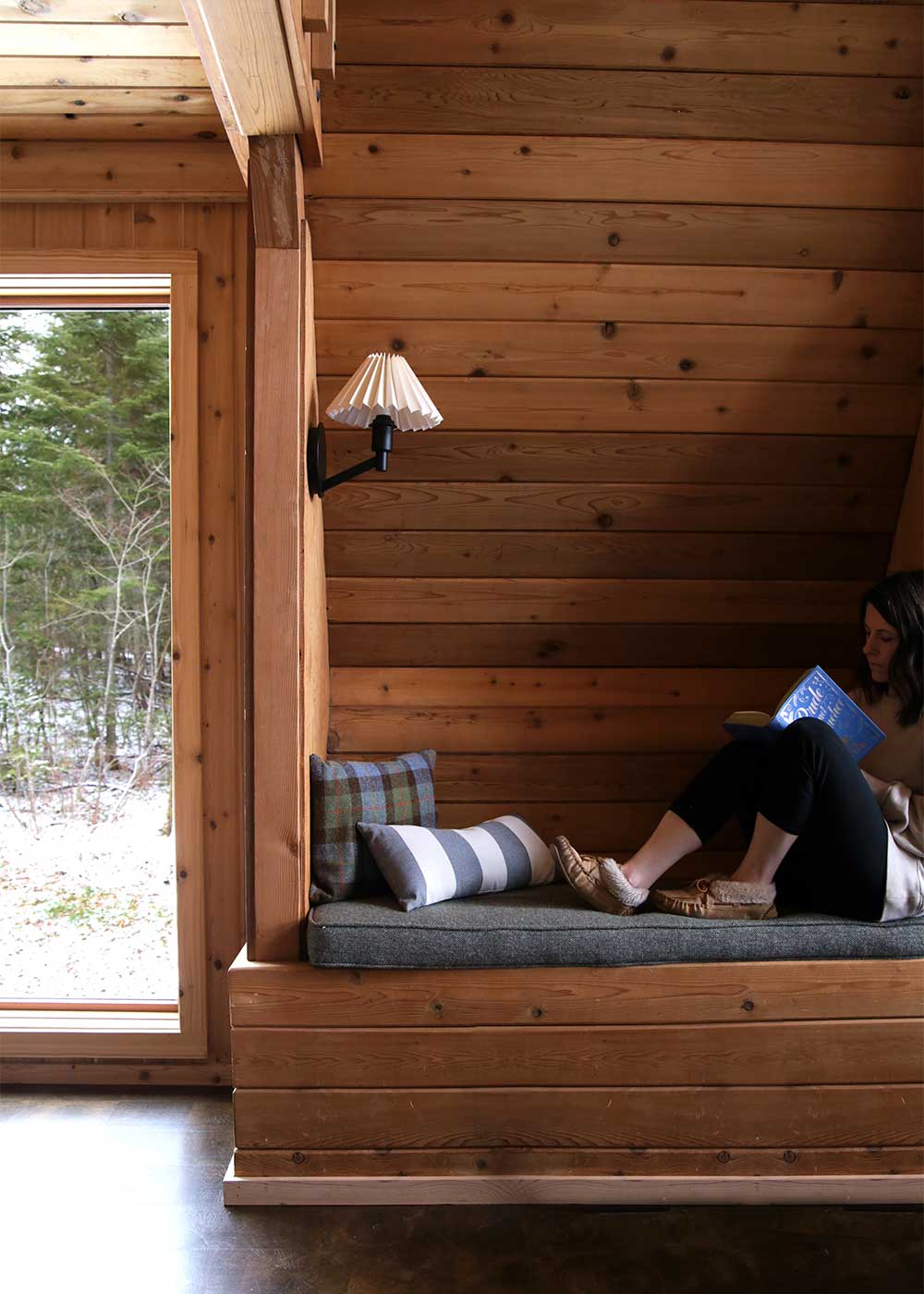 But in order to have reading nooks, you have to have cozy cushions. In true fashion, I had a specific fabric in mind—a tweedy confetti wool. You know, one with flecks of color in it like the jacket your dad wore when he was in high school? Like many of my visions, they don't necessarily exist, at least not at the store down the street. Forty-something hours later, I found the fabric. Online, in Ireland, and for a pretty penny, or whatever their currency is. [Insert Kev rolling eyes here.] After convincing Kev to let me invest in this beautiful Sage Flecked Irish Tweed, I had cushions made. Not once. No. But twice because I mismeasured. [Insert Kev rolling eyes again here.] The faux strikes again. But I sure do love the way they turned out.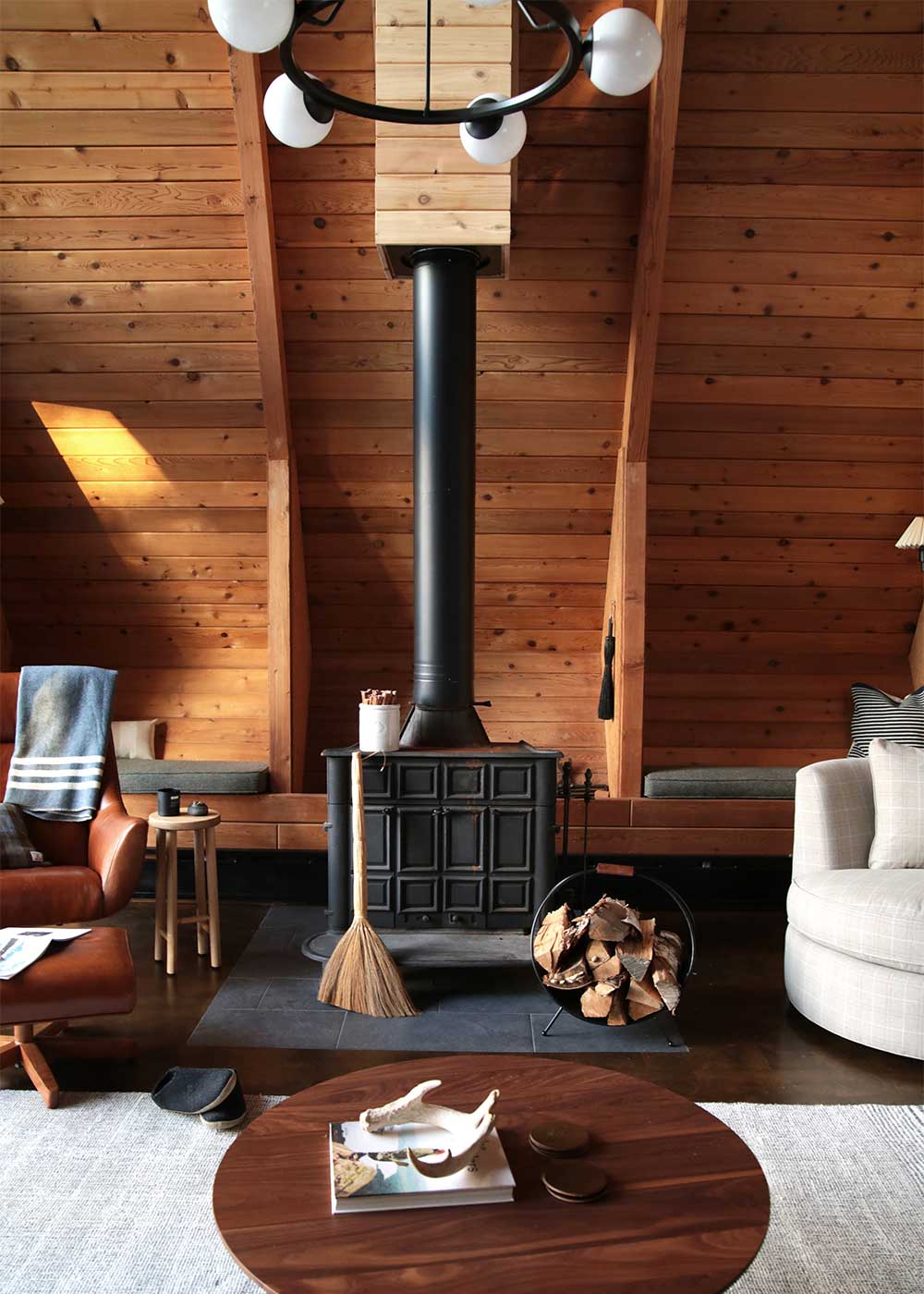 Now that I've outed my design prowess, or lack thereof, let's head to the other side of the cabin living room, the fireplace side, which is also still standing. Taiga Design restored this beauty of a hearth, and I couldn't be more grateful. To the right and left of the wood-burning stove are two Room & Board Swivel chairs, the Charles and the Eos, for flexible seating. Swivel that way for lake viewing, this way for quiet conversations, and to the middle for fireplace gazing. And, if you're Hallie, tuck your knees in tight and beg for a 360° twirl from dad.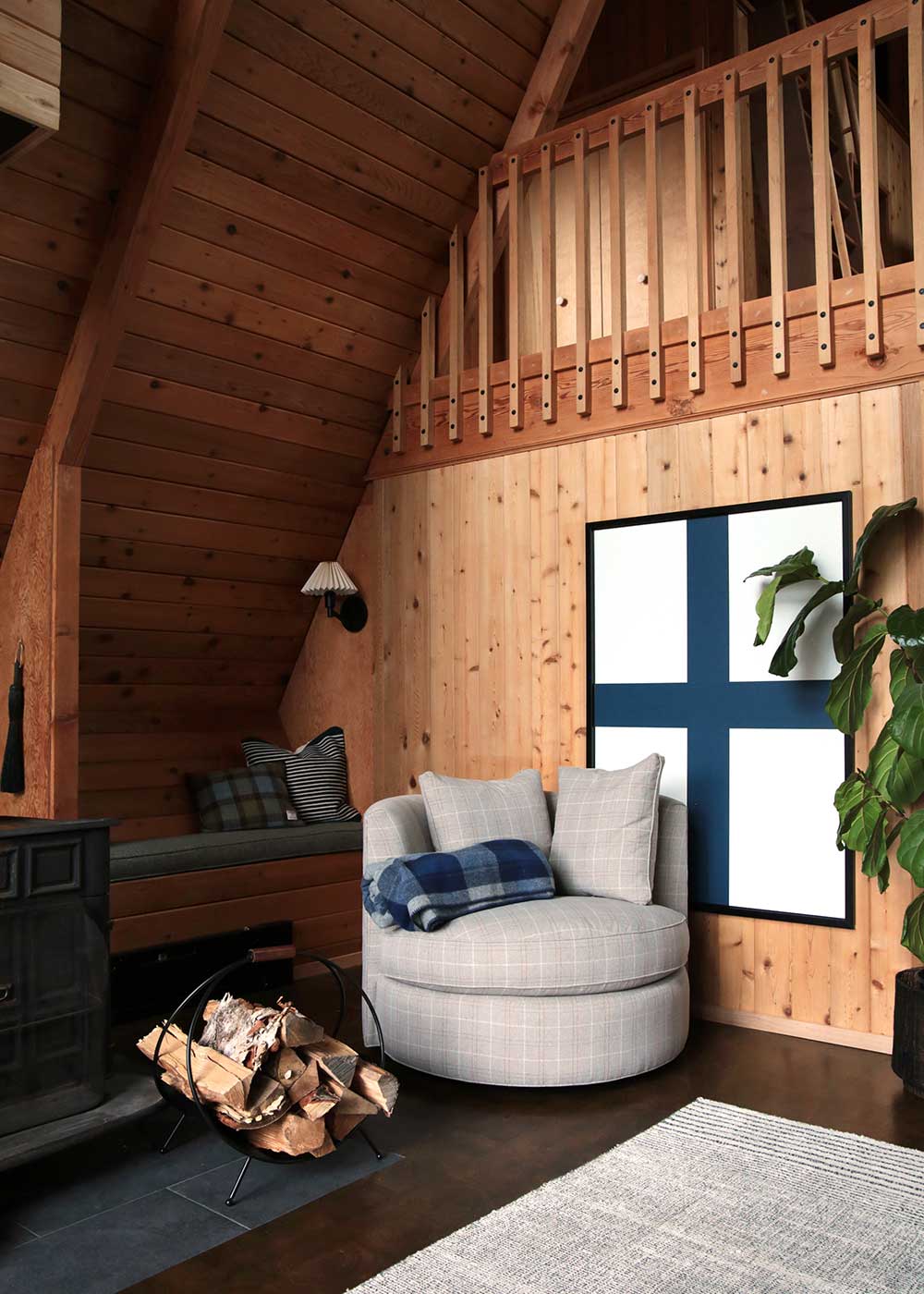 Did I mention that chair and a half is covered in their new line of plaid fabrics? Can you have too much plaid in one room? I sure hope not.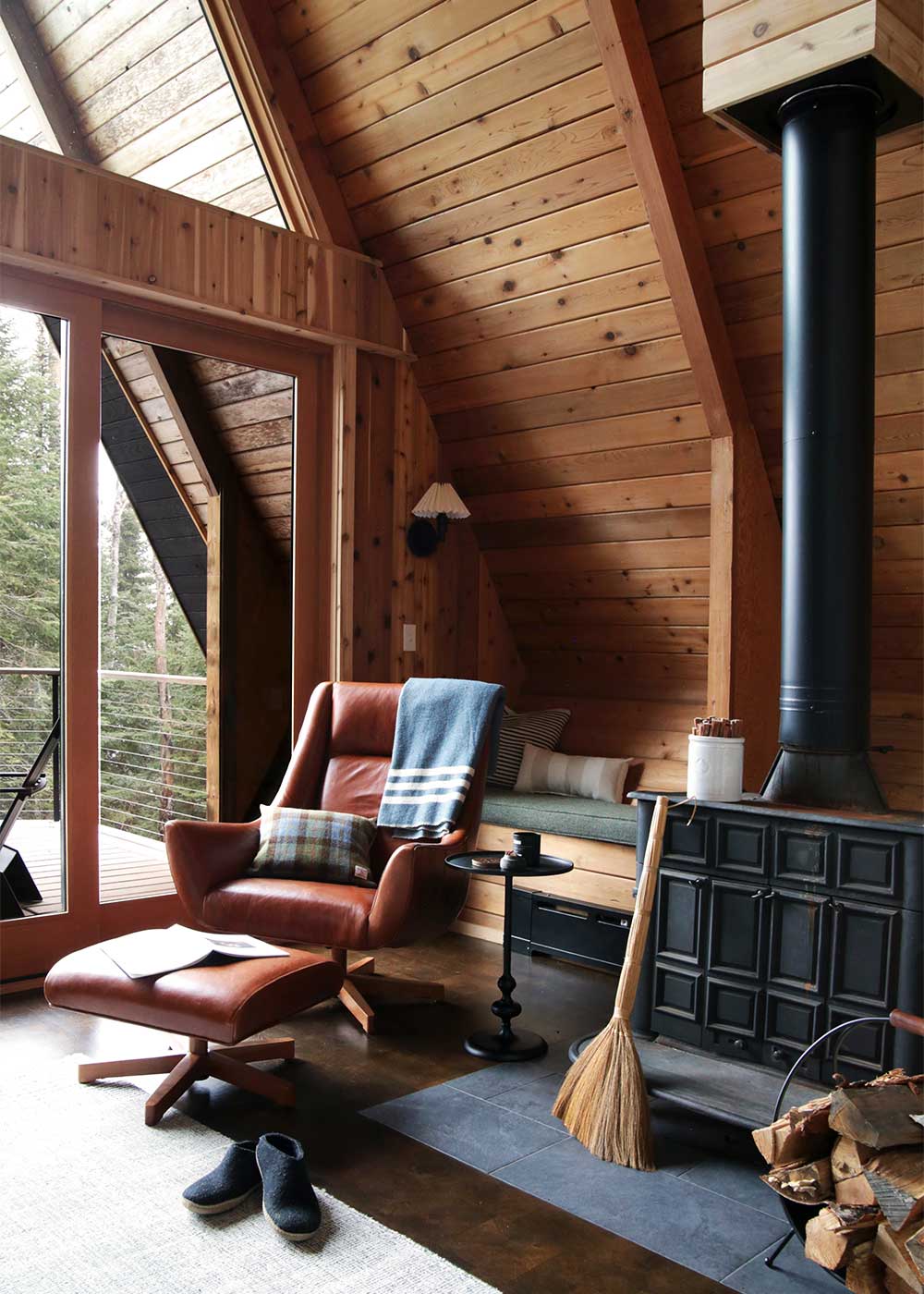 One of my favorite chairs might just be the Charles chair wrapped in Cognac leather, a leather that will age with time and each guest to impart a richer, shared story. Speaking of, through the hardest parts of birthing this idea into the north woods, I tried to steady my focus on setting a stage, a beautiful stage, that draws people together initially, yet fades comfortably into the backdrop of a long conversation, a fun game, a hard story, or the deepest relaxation pose. We were up at the cabin a couple weeks ago and got to read through the guestbook. Balm I tell you. The cushions and the couch and the chair and the windows to the big tall trees, they're working.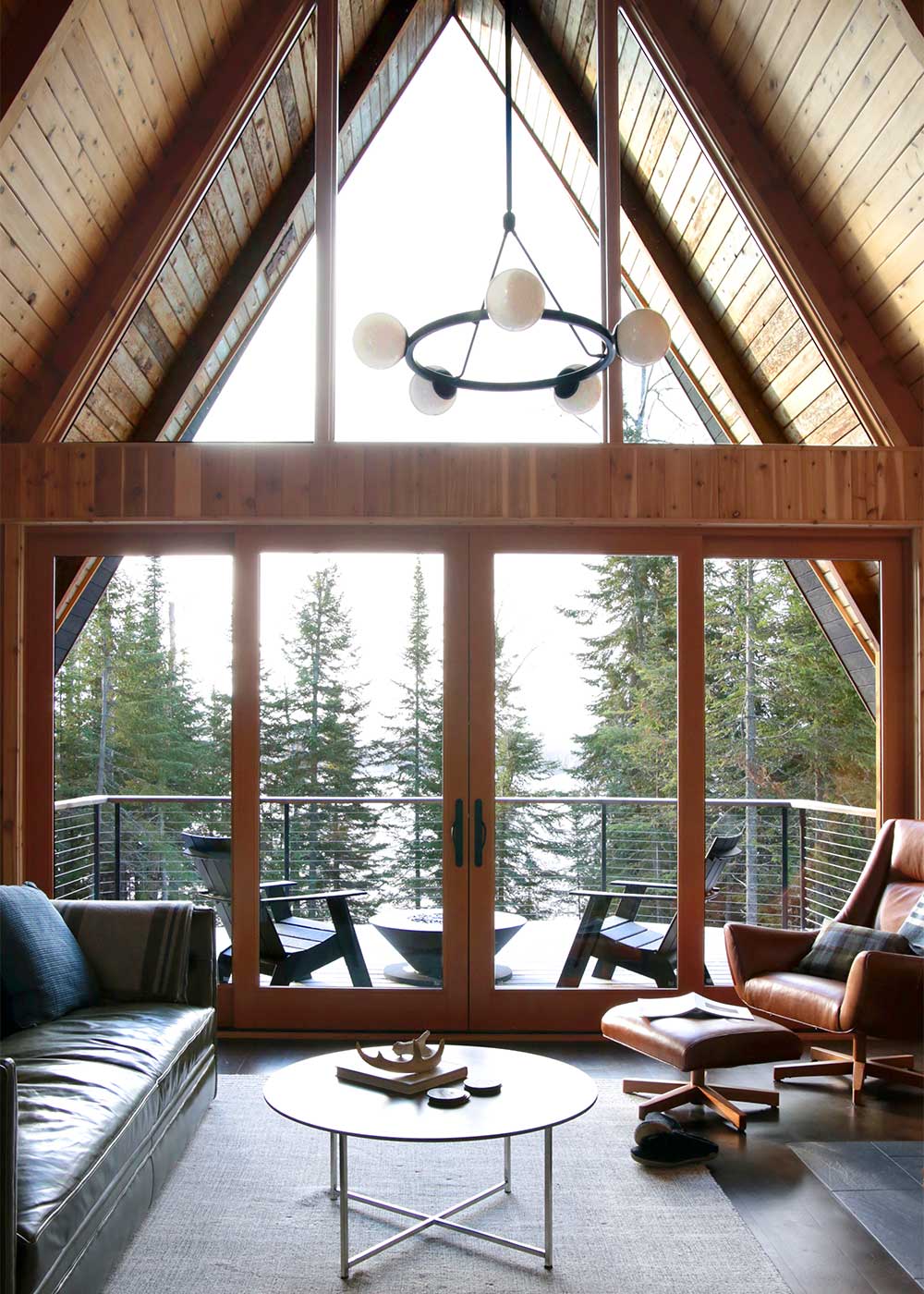 Hold on. Wait one second. Let me zoom out. Can you see it? I can see clearly now, the fog is gone. Look at those windows! They have 20/20 vision, extending all the way up to the point of the A, letting in the maximum amount of light. If you scroll up to the before, you'll notice the tip of the A was walled in. Taiga, who executed the restoration of the cabin, worked with Marvin to pull off this kind of magic. You can watch the process here. We also installed those big Ultimate Sliding French Doors that generously welcome the outside in.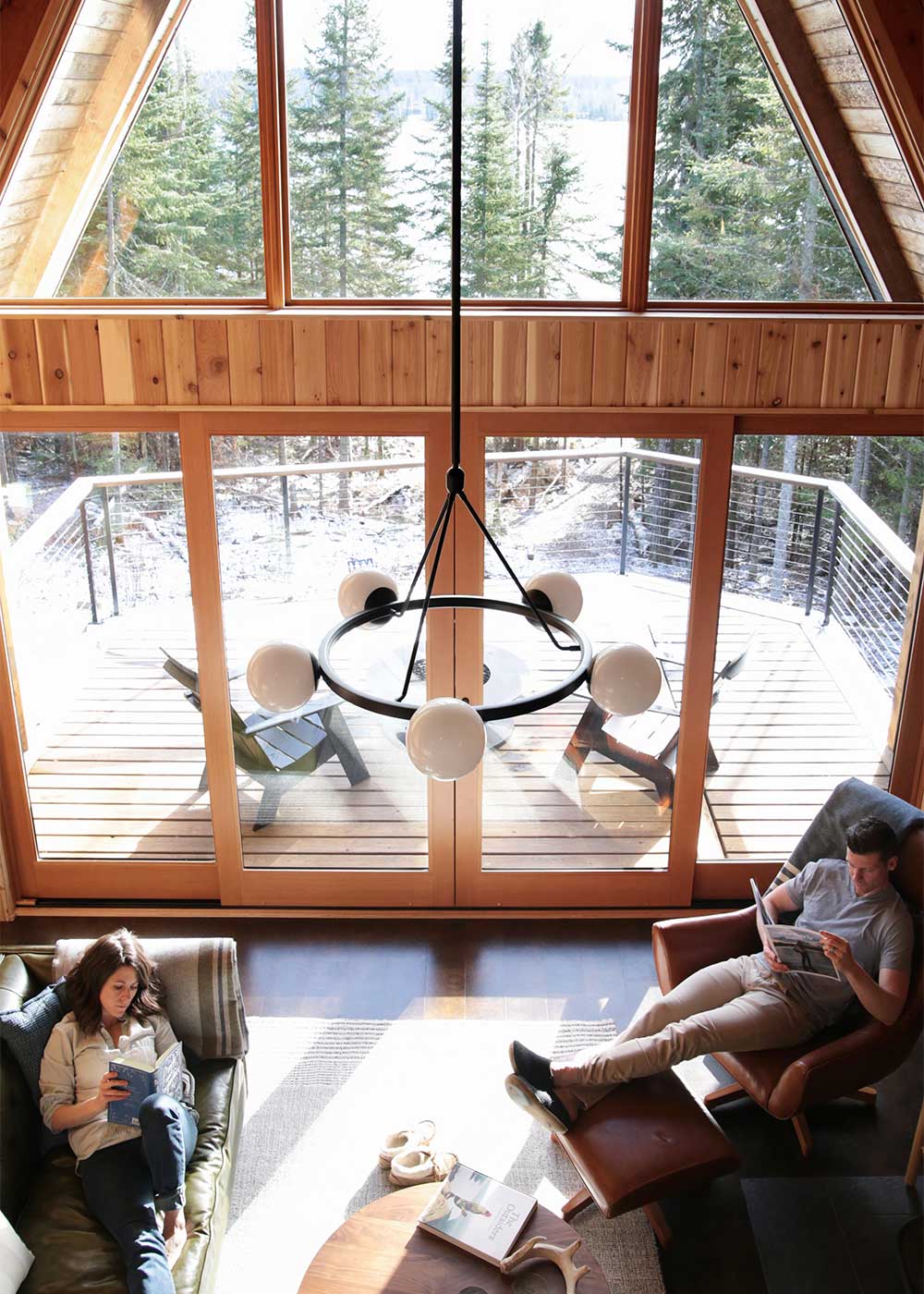 Like a true Minnesotan, never knowing when to say goodbye, I guess I'll end this post like I end most of my recipes, with a cheers. Here's to still standing (or resting) on the other side of this big idea under the big tall trees. (We made it.) Here's to celebrating partnerships with some of my favorite Minnesota companies to make this place more beautiful. And here's to getting to share it with you. Amen.
Sources: Room & Board Macalester 90" Sofa in Vento Olive* | Room & Board Charles Swivel Chair and Ottoman in Vento Cognac and Cherry* | Room & Board Eos 42" Swivel Chair in Kivett Putty* | Classic 36" Coffee Table in Walnut and Stainless* | Room & Board Flet Ottoman in Slate* | Hayes Chandelier in Dark Bronze 5-light | Luxe Stripes Rug in Slate/Alabaster | Kaswell Engineered End Grain Hardwood Floors in Oak | Faribault Woolen Mills Cabin Blanket* | Faribault Woolen Mills North Shore Blanket* | Faribault Academy Blanket | Nook Cushions (See Above) | Black Sconce | Clip On Sconce Shade in 15 cm Classic | Harris Tweed Plaid Pillow Cover | Navy Striped Pillow Cover (second hand) | Window Pane Pillow | Chambray Pillow | Shaker Accent Table | Black Metal Side Table | Crock | Fireplace Black Broom | DIY Cross Flag Artwork (me) | Firewood Holder | Vintage Bookshelf Games | Small Black Pitcher | Striped Cream Lumbar Outdoor Pillow (out of stock) | Marvin Ultimate Sliding French Doors* | Outside: Loll Adirondack Chairs in Black* | Kebony Decking* | Outdoor Fire Table
*Denotes gifted or discounted items
Construction by Taiga Design + Build
Interior Design by Melissa Coleman
Photography by Melissa Coleman
See the other cabin reveals: Kitchen | Dining Room | Downstairs Bathroom | Downstairs Bedroom | Loft | Upstairs Bathroom | A-Frame Bedroom | Exterior | Outdoor Furniture
To sign up for our cabin email list, head this way >
This blog is made possible by your support (thank you), select brand partnerships, advertisements, and affiliate links to items I love and use. READ MORE >