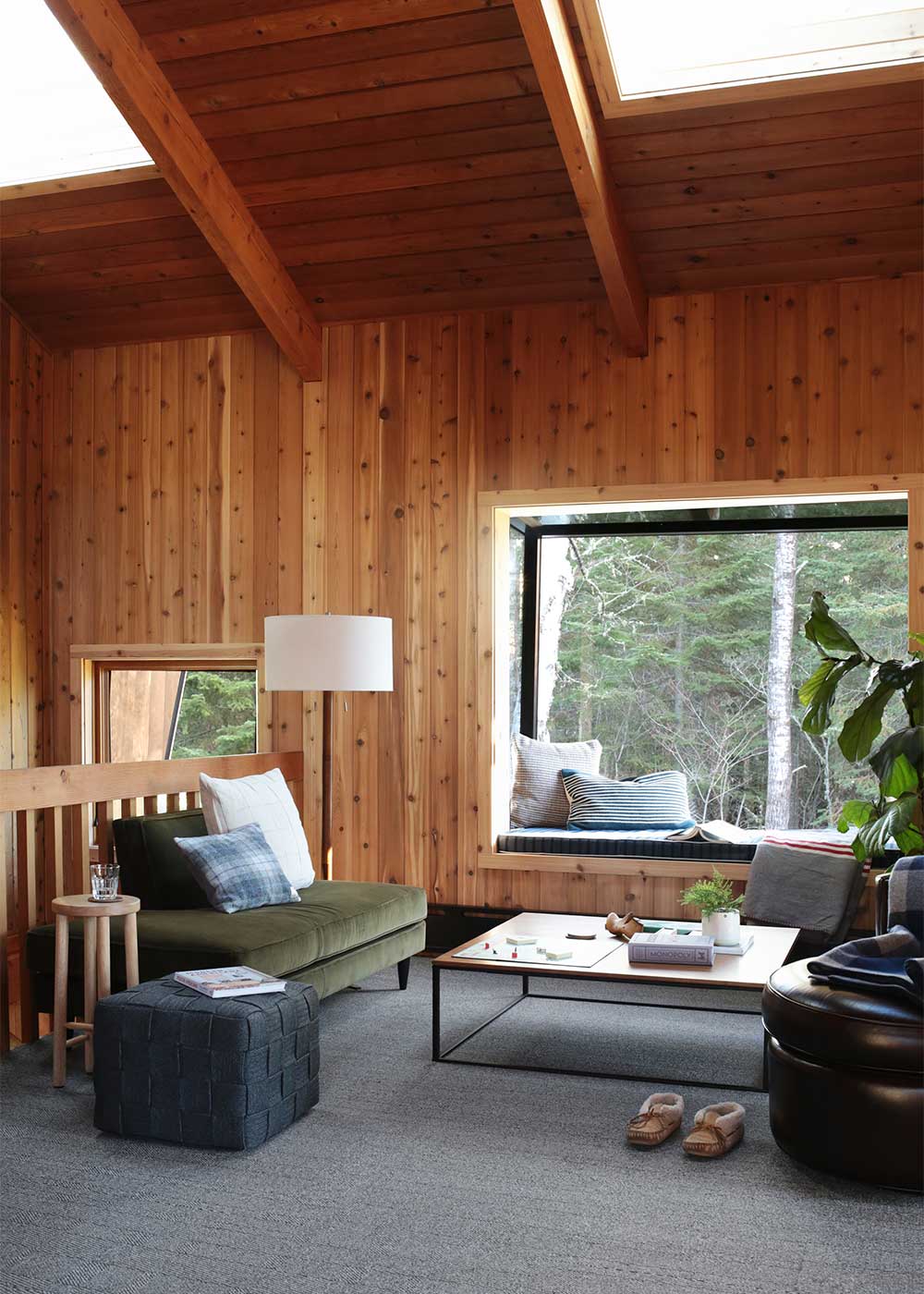 Life seems to come in waves, in seasons. And after a long season of construction (and other hard things), we've made it to the other side of this big idea called The Minne Stuga. When we, Kev and I, took on this idea, we weren't sure we'd be able to pull it off. I mean, we thought we would, we hoped we would, but it felt a little risky. And then we found out we were pregnant 4 days after putting in our offer on the cabin. And then COVID hit right as we were finally about to start construction, at the same time Linnie was born. (Construction didn't start for another year.) And then the sky kept falling, for everyone, not just us.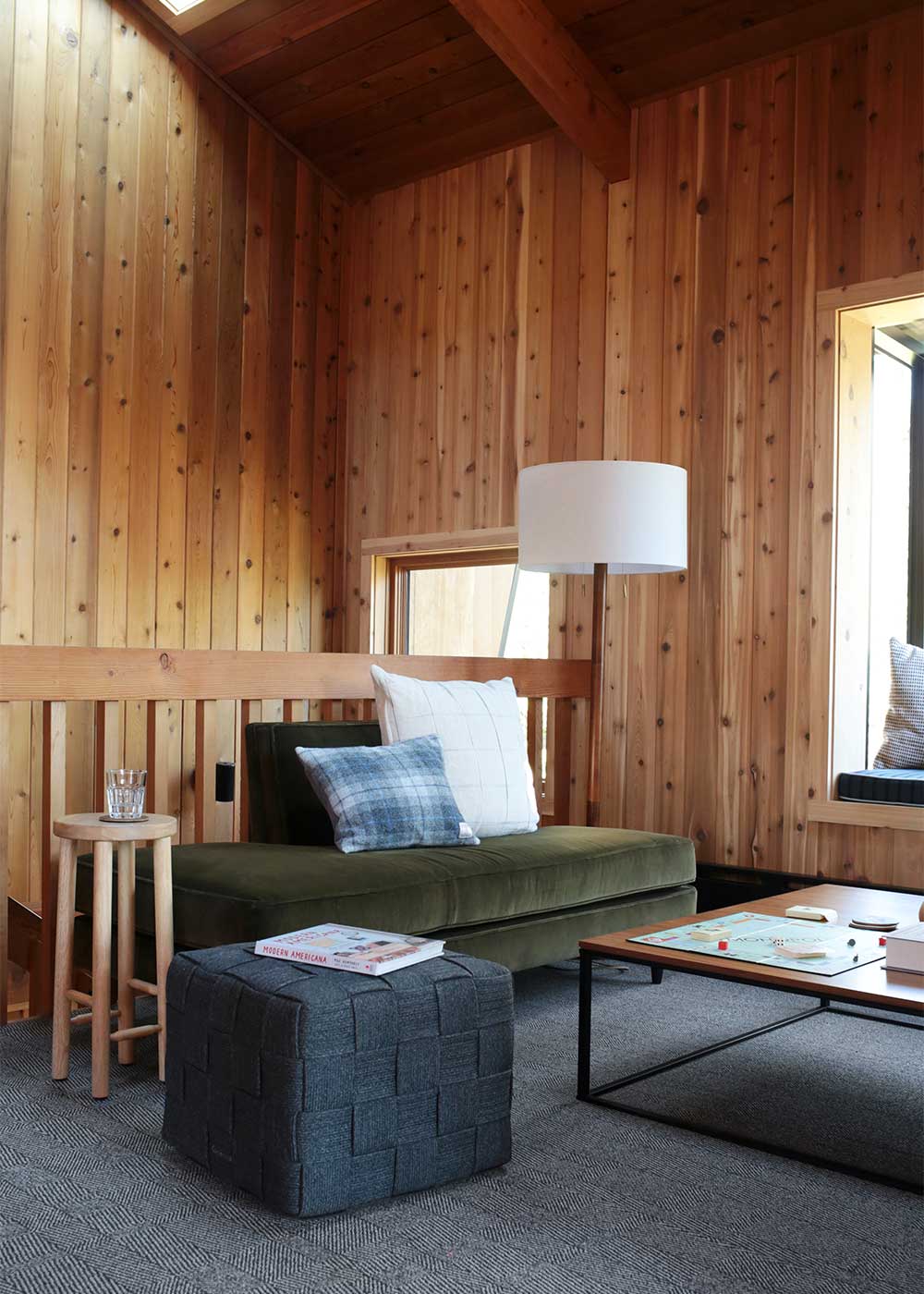 I'll spare you the rest and leave you with this—I am so happy with how the cabin restoration turned out. It's beautiful, unreal even. But getting here was one of the hardest things we've done. I say it all the time, as a reminder to myself, life is always both/and. Beautiful and hard, tragic and euphoric, awe-inspiring and exhausting. All at the same time. This, too, was that. Now on to the beautiful. I can't wait to show you the loft of The Minne Stuga.
Before and During
Since a whole lot of time has passed since we first started this project, let's take a quick walk down memory lane, and look at the BEFORE and DURING of the loft.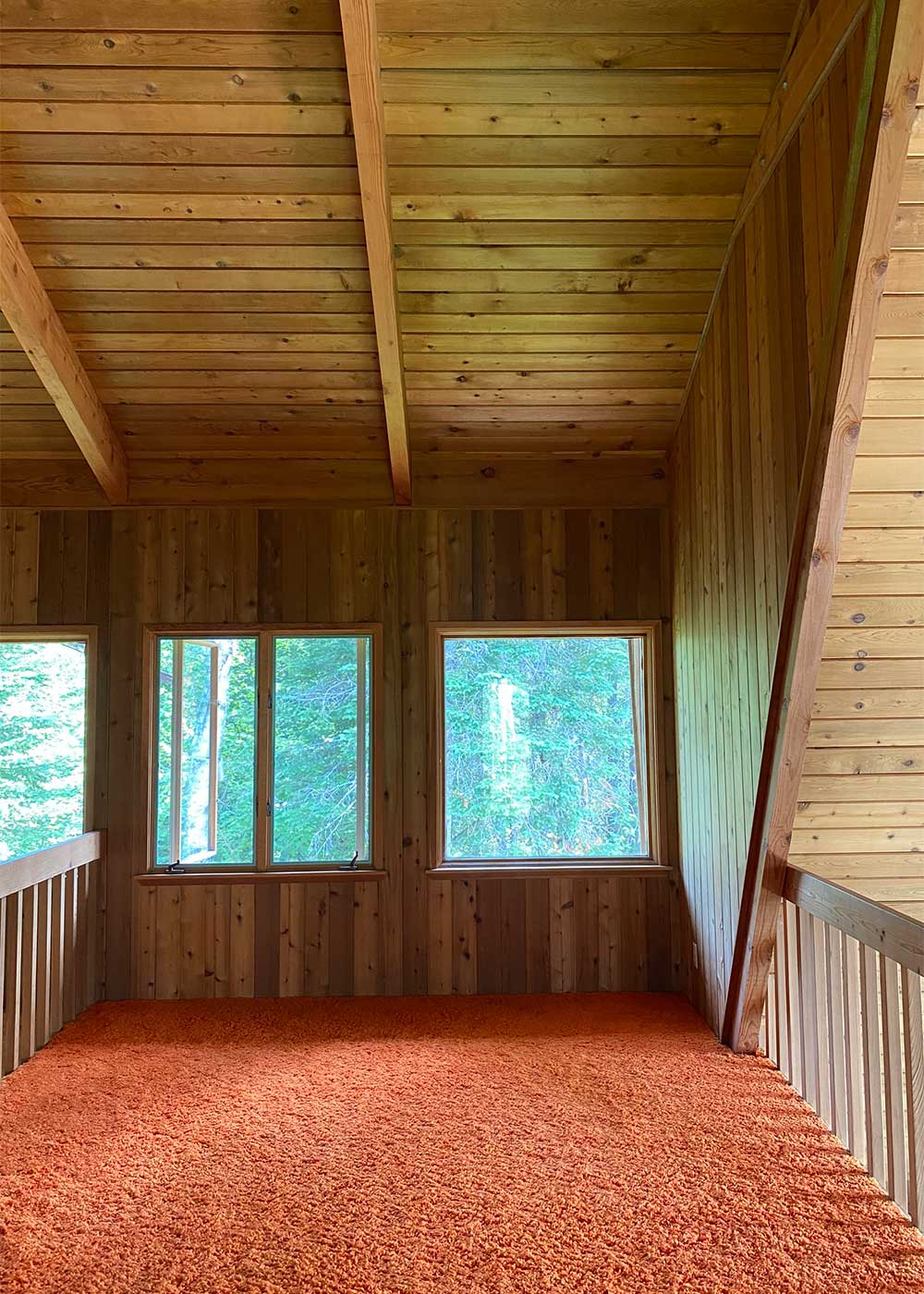 There she is, in all her original neon orange carpeted glory. The windows were nice and big (and very old). Yet this room was quite dark sitting at the top of the cedar-clad A-frame. It didn't help that the lake-facing A-frame windows were fogged and only extended ⅔ of the way up the A.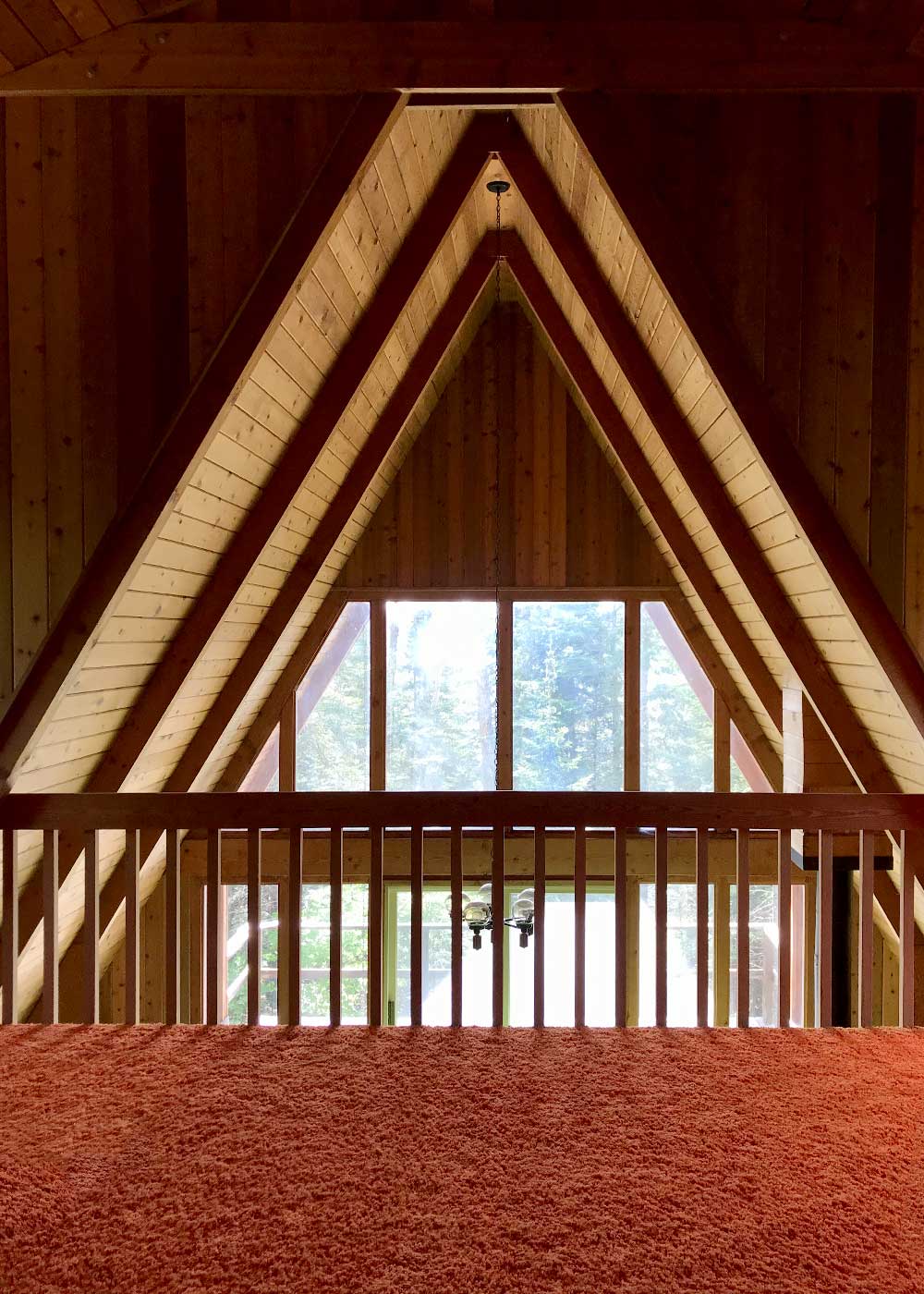 After realizing the windows would need replacing all throughout the cabin (gulp), we wanted to replace them with the same windows we purchased for our house. So we knocked on Marvin's door to see if they'd be interested in partnering with us on this big Minnesota-made idea. They said yes and had their own big idea in the works—a glass window box that you can sit in called Marvin Skycove.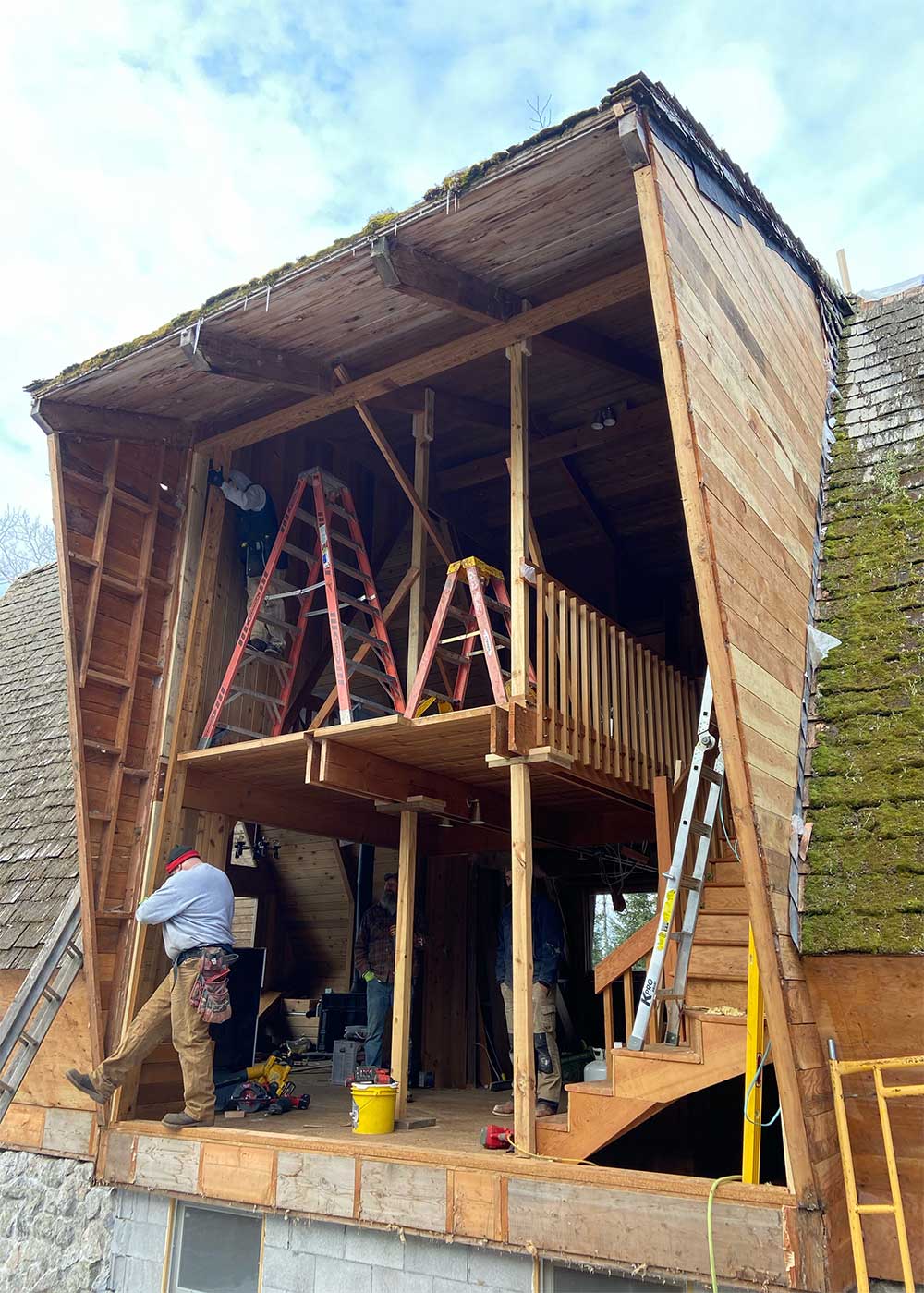 So we made room for one. But first, they had to rebuild this wall in order to support the Skycove and another huge picture window in the dining room below.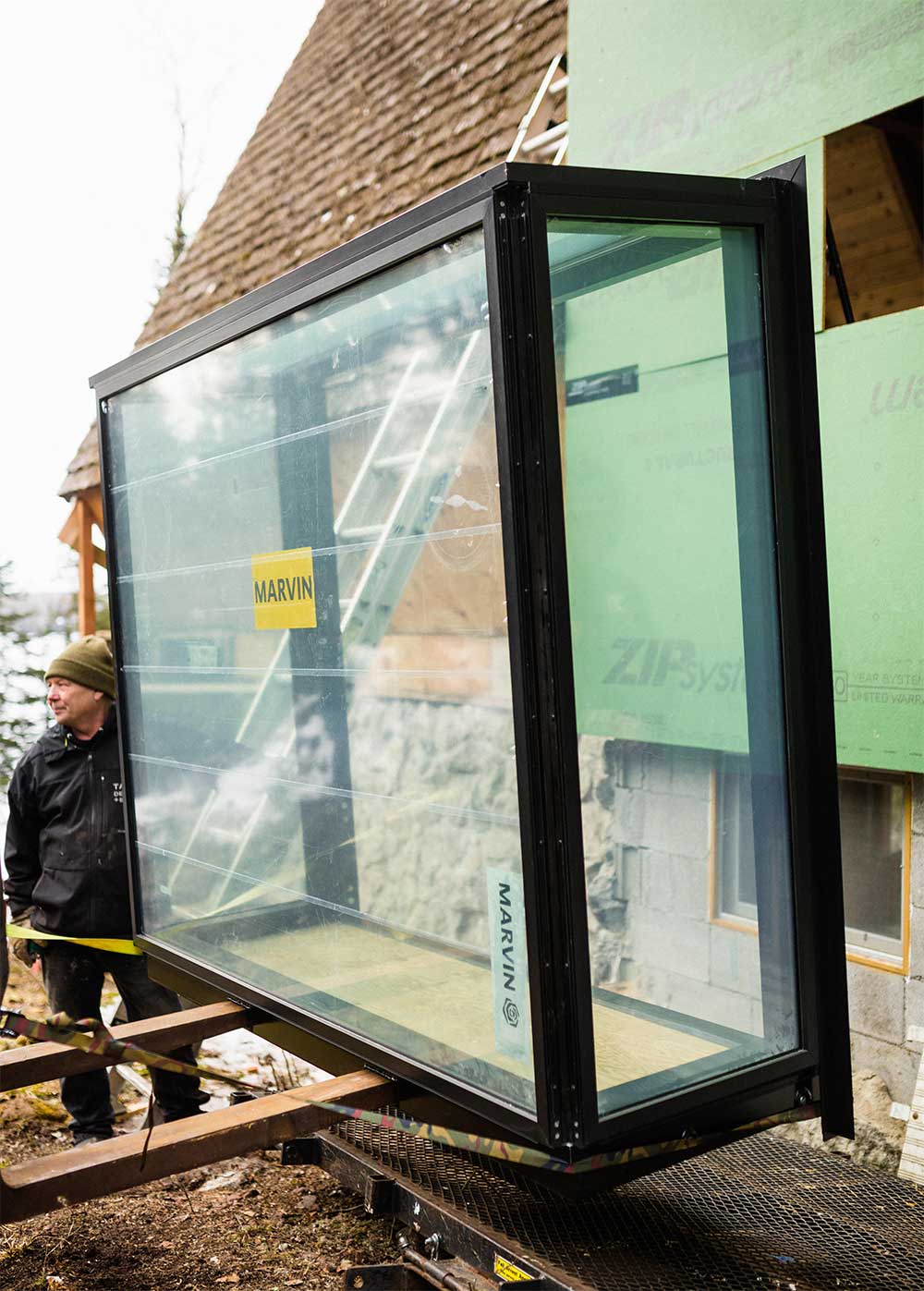 Lifted by a big fork, the Skycove went in, adding panoramic views into the loft.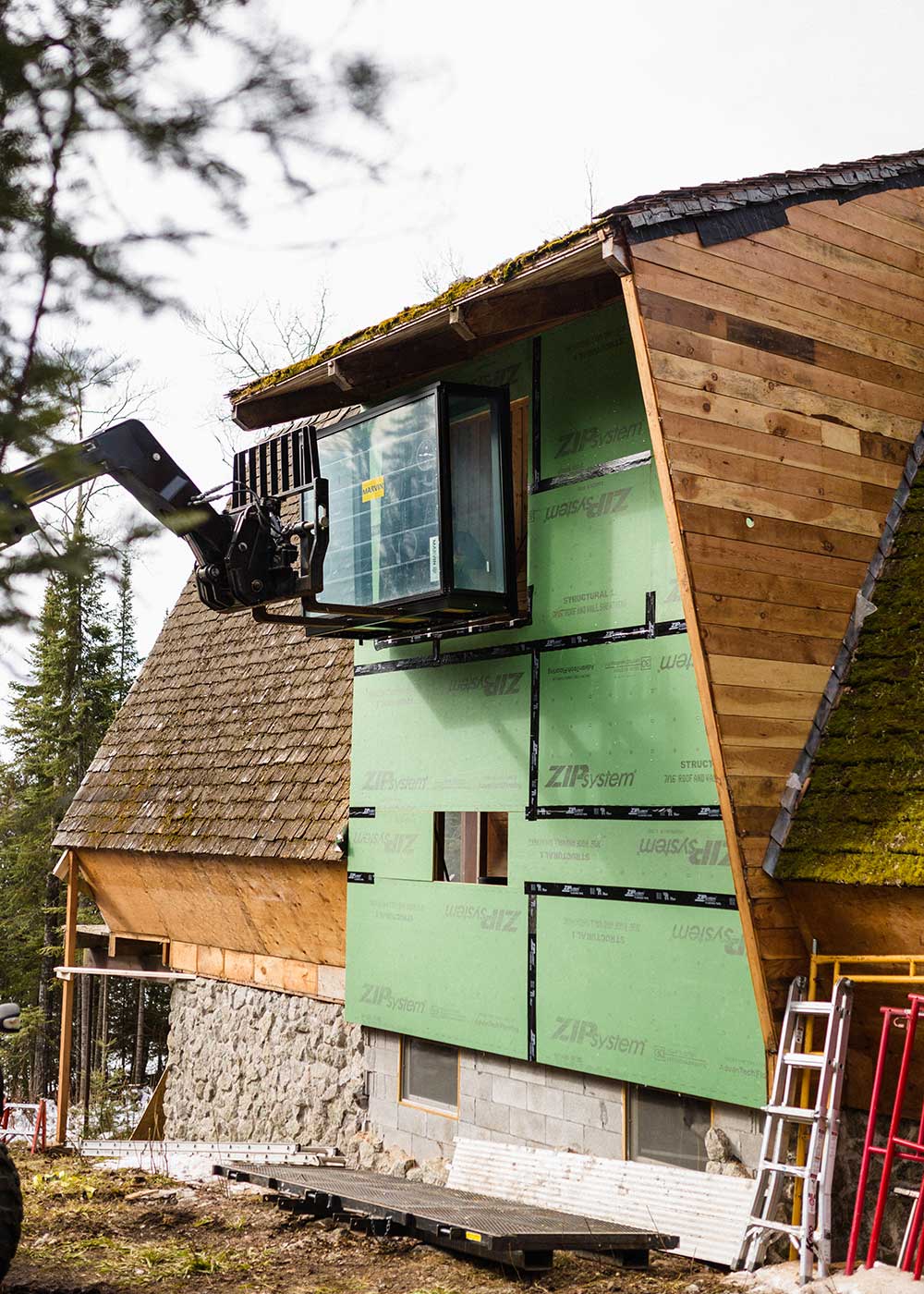 Meanwhile, Marvin was also working on the Awaken Skylights, skylights that can open and close for added airflow, with built-in screens to keep the bugs out, and shades to filter or blackout the sun, plus LED lights that mimic daylight or warm light. They're smart and beautiful and functional.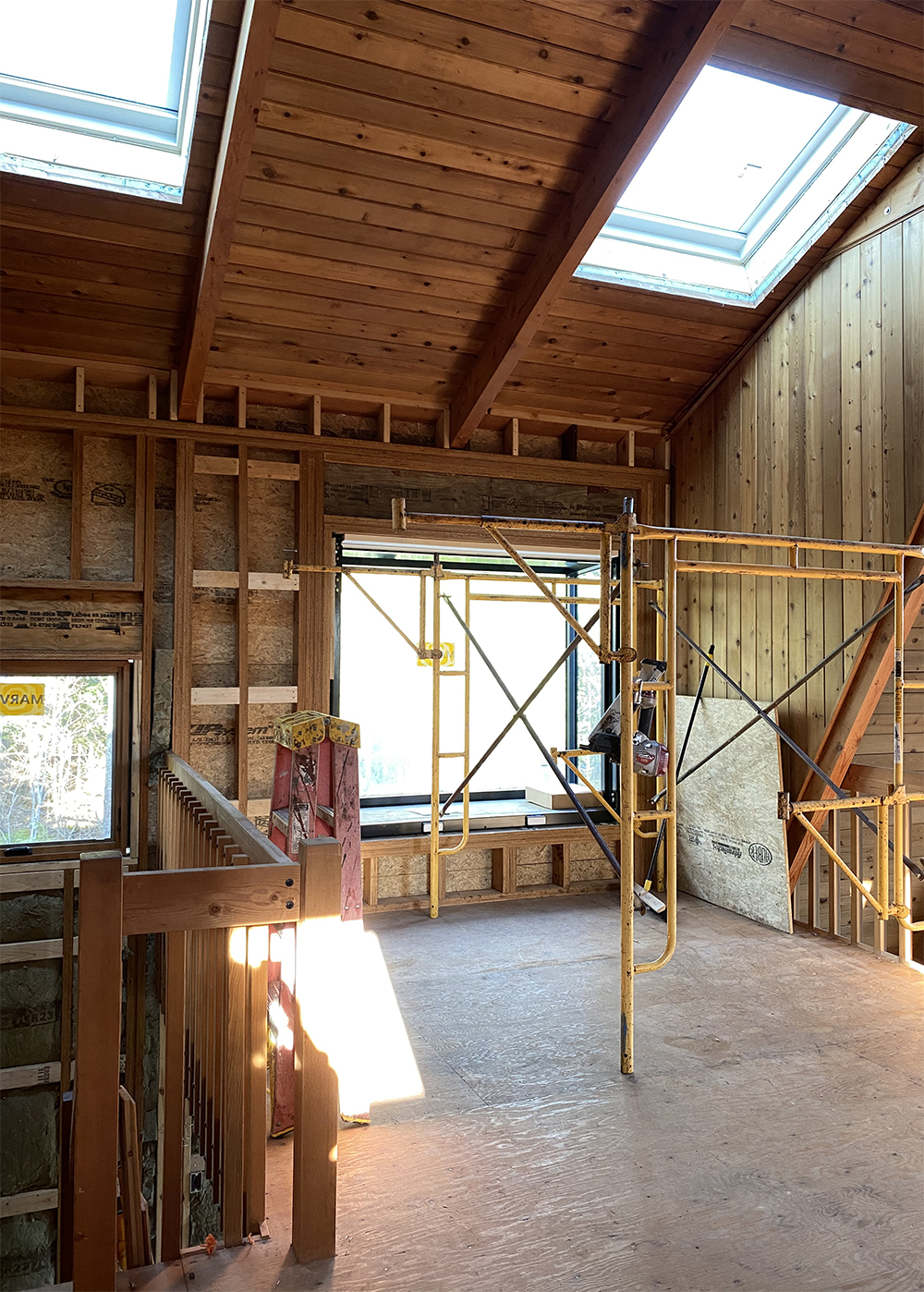 Here they are in the space! And below is the cabin from the rooftop, looking out to Devil Track Lake with the Awaken Skylights going in.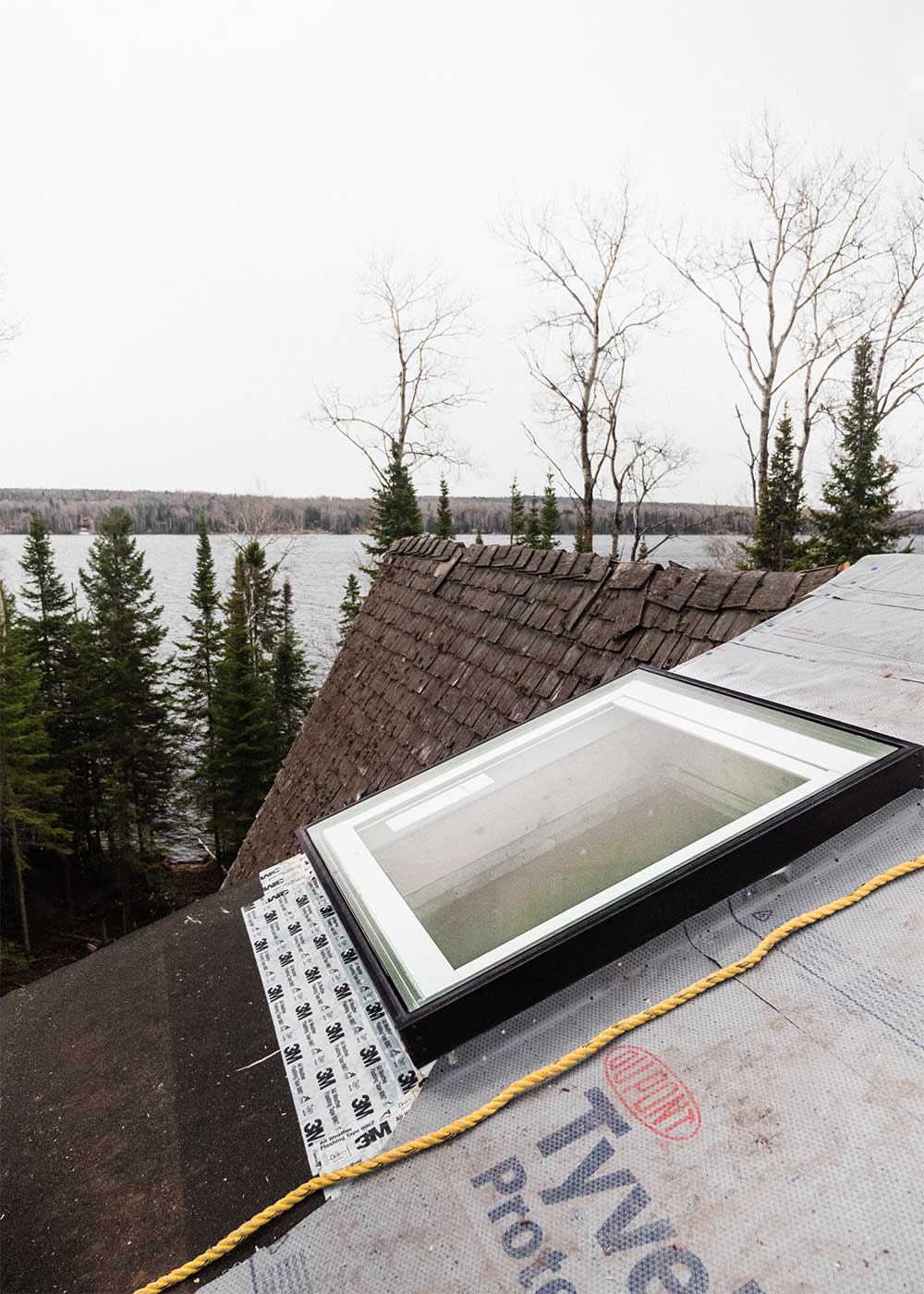 To say we're grateful to have these award-winning window features in the cabin is a huge understatement. They are something special. Unreal even.
After
Now that we're all caught up on the last 2 years …. drum roll, please. Here she is! The finished loft. Sitting at the top of the once dark A-frame, on the second floor of the cabin, is a light-filled, cedar-clad space, where the outside is always inside.
Let's go back to this big idea. It all started with the hope of creating a quiet offline space, a space we could share in real life. A space with a thousand built-in reminders to rest and disconnect. A space that would hopefully be beautiful on the inside but highlight the grandeur of the outside, luring you and me that way, away from follower counts and double taps and endless scrolling, towards something real, towards something you can touch.
For the cabin loft, in particular, we wanted this space to function as both a place to rest, a place to play a long game, and a place to get lost in a conversation or a book.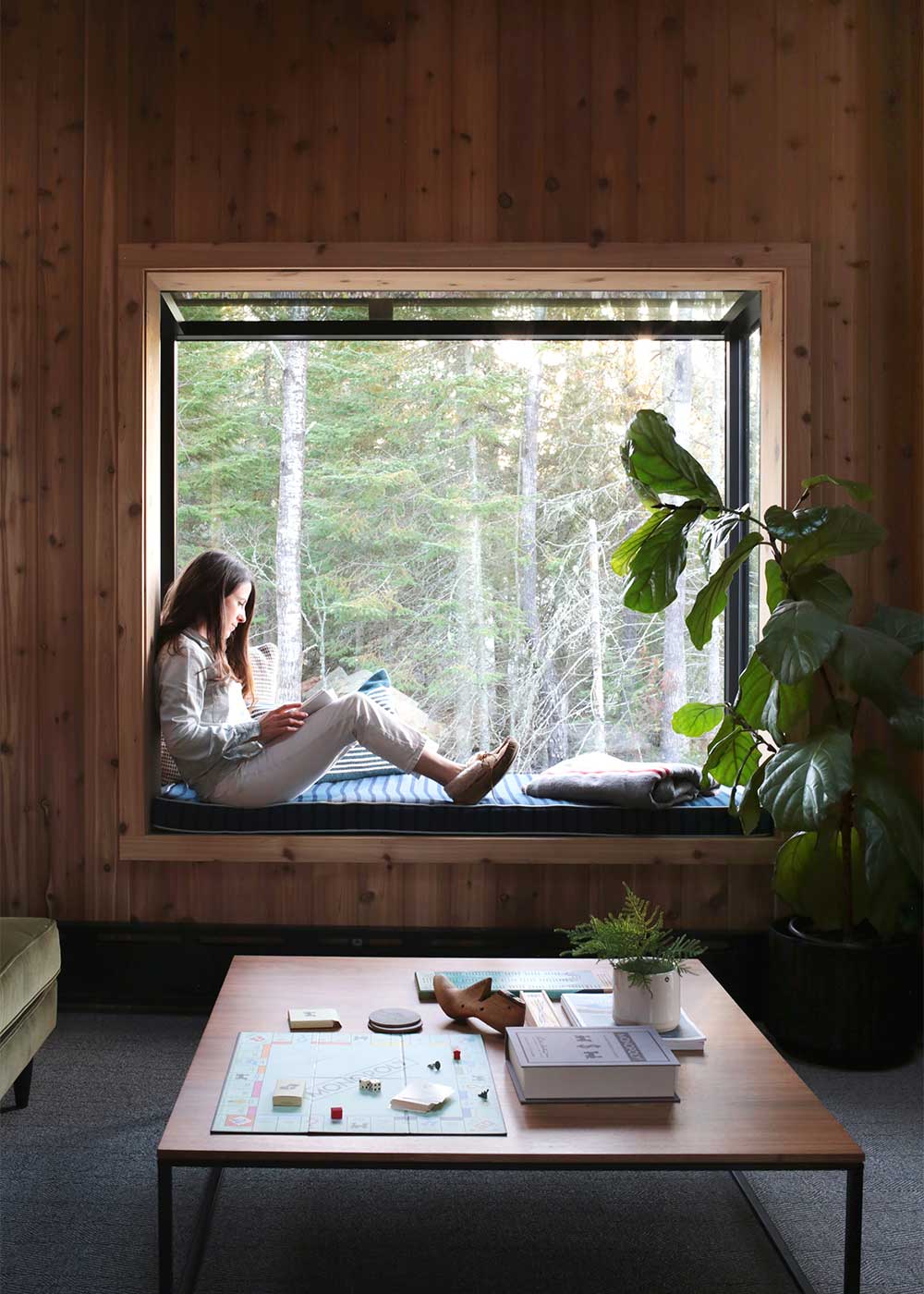 It does all that and more. Mostly though, being here does good things to my mind and my heart. I'm happy I get to share something like that with you.
Marvin Skycove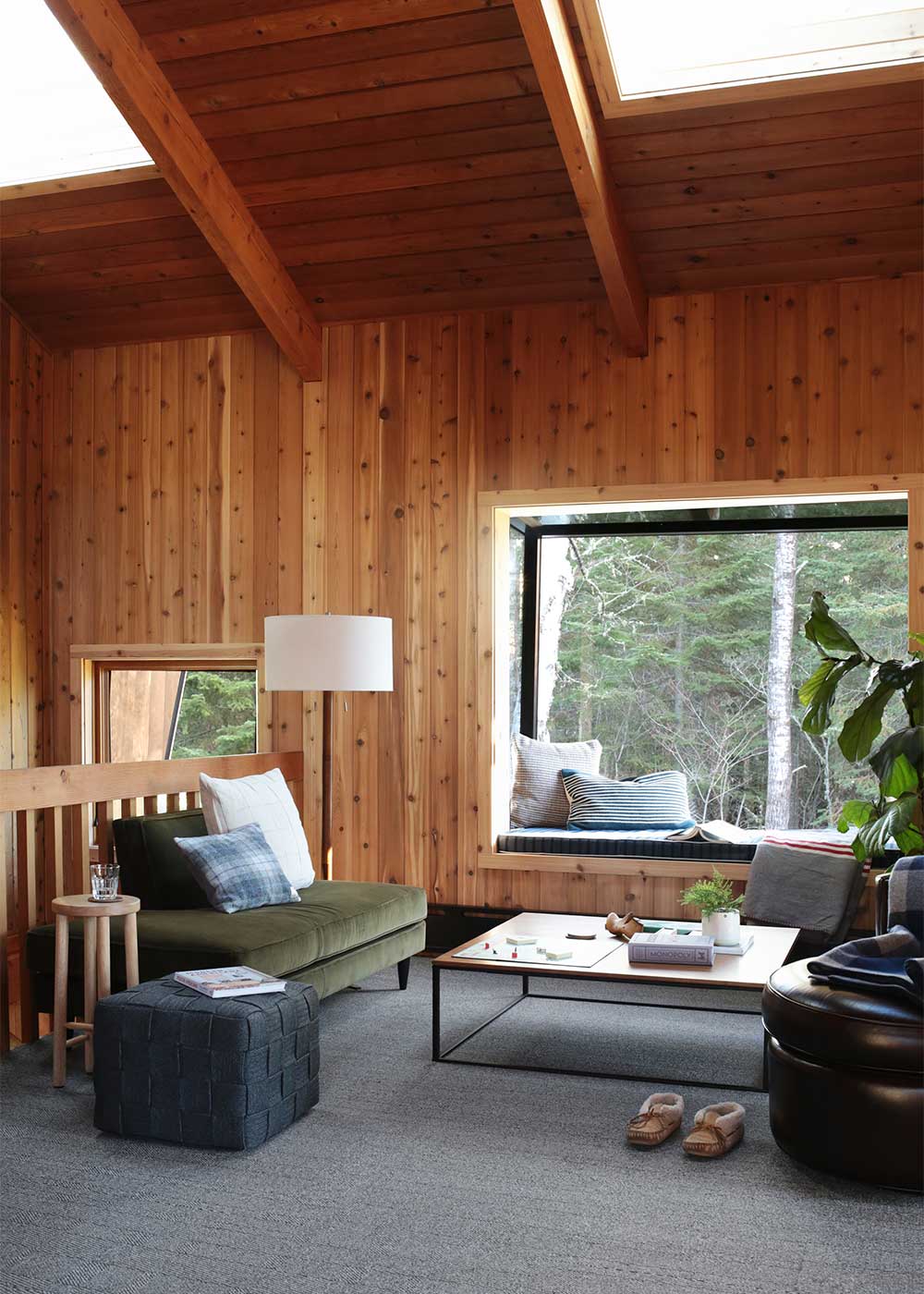 The Marvin Skycove is more than just a window. It's a piece of furniture. It comes equipped with a bench seat that can fit a cushion or not. I wanted to add an extra cozy pop of pattern and color to break up the heaviness of all the cedar, which I love, but it's a lot.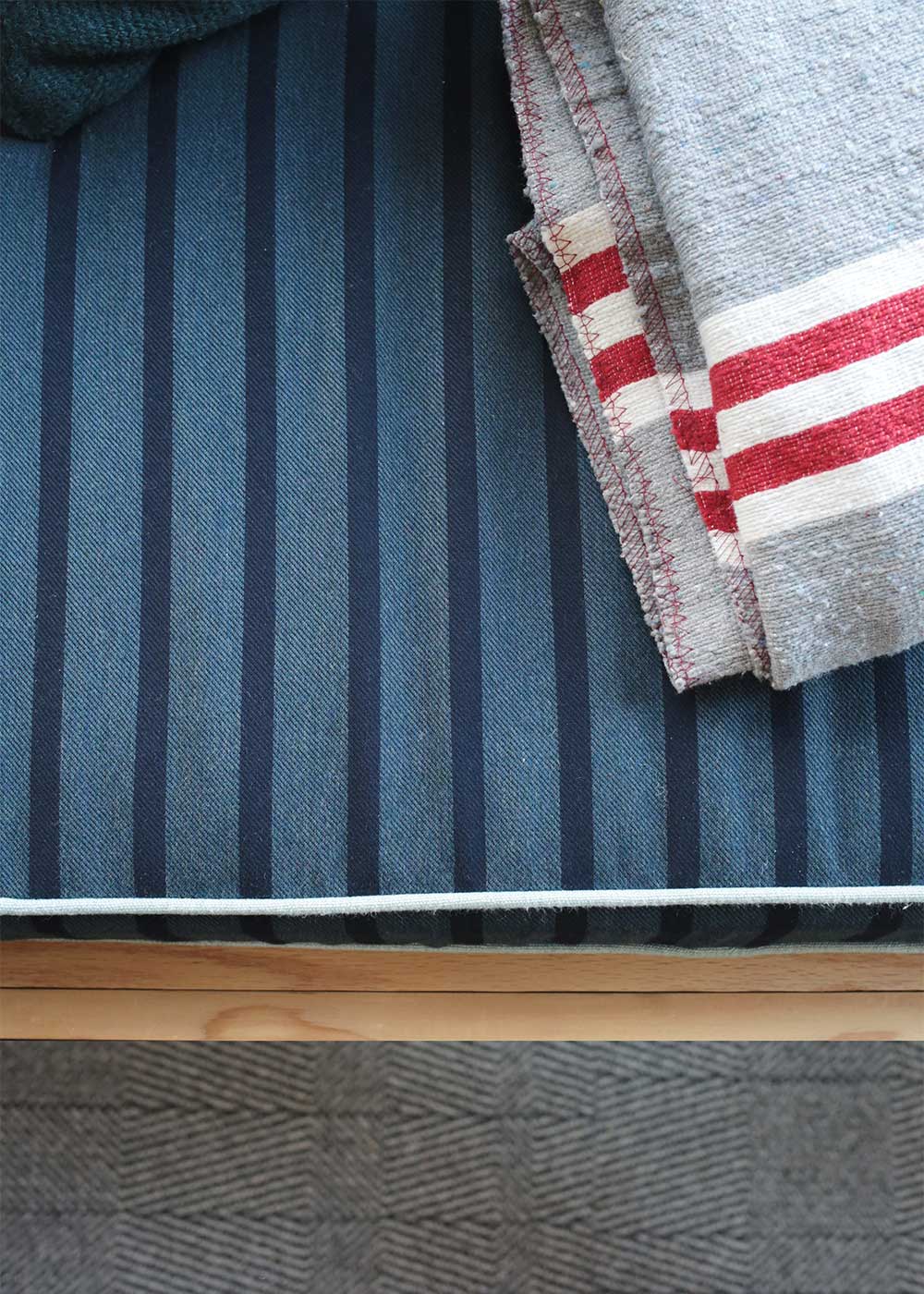 We ordered a couple of cushions for the cabin locally and online. This one came from Patio Lane, after seeing a recommendation from Yellow Brick Home. I went with a striped navy blue Sunbrella Strickland Denim (that's discontinued) with a muted teal welt.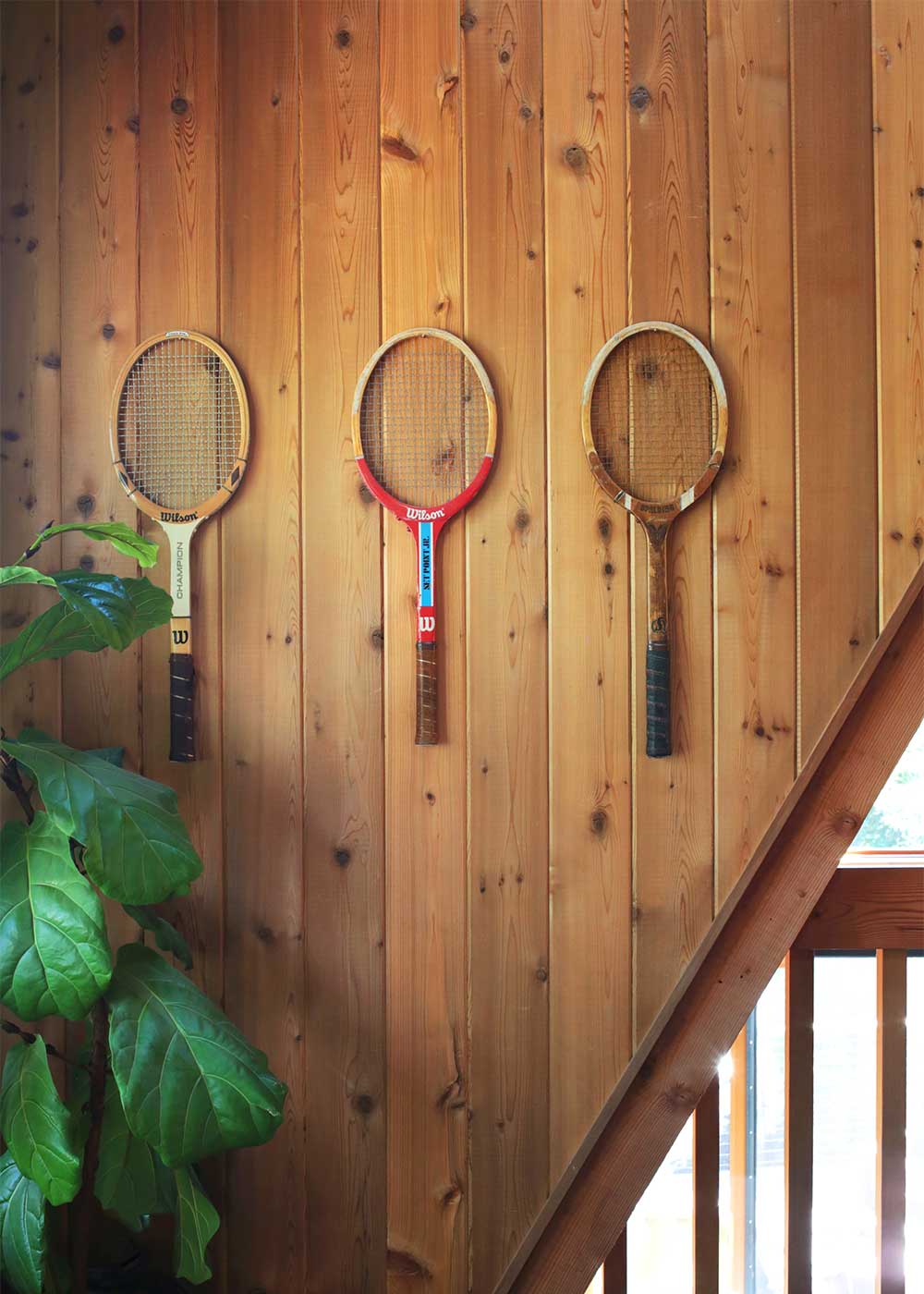 In true fashion, I added little pops of old mixed with new to create something rich and memorable.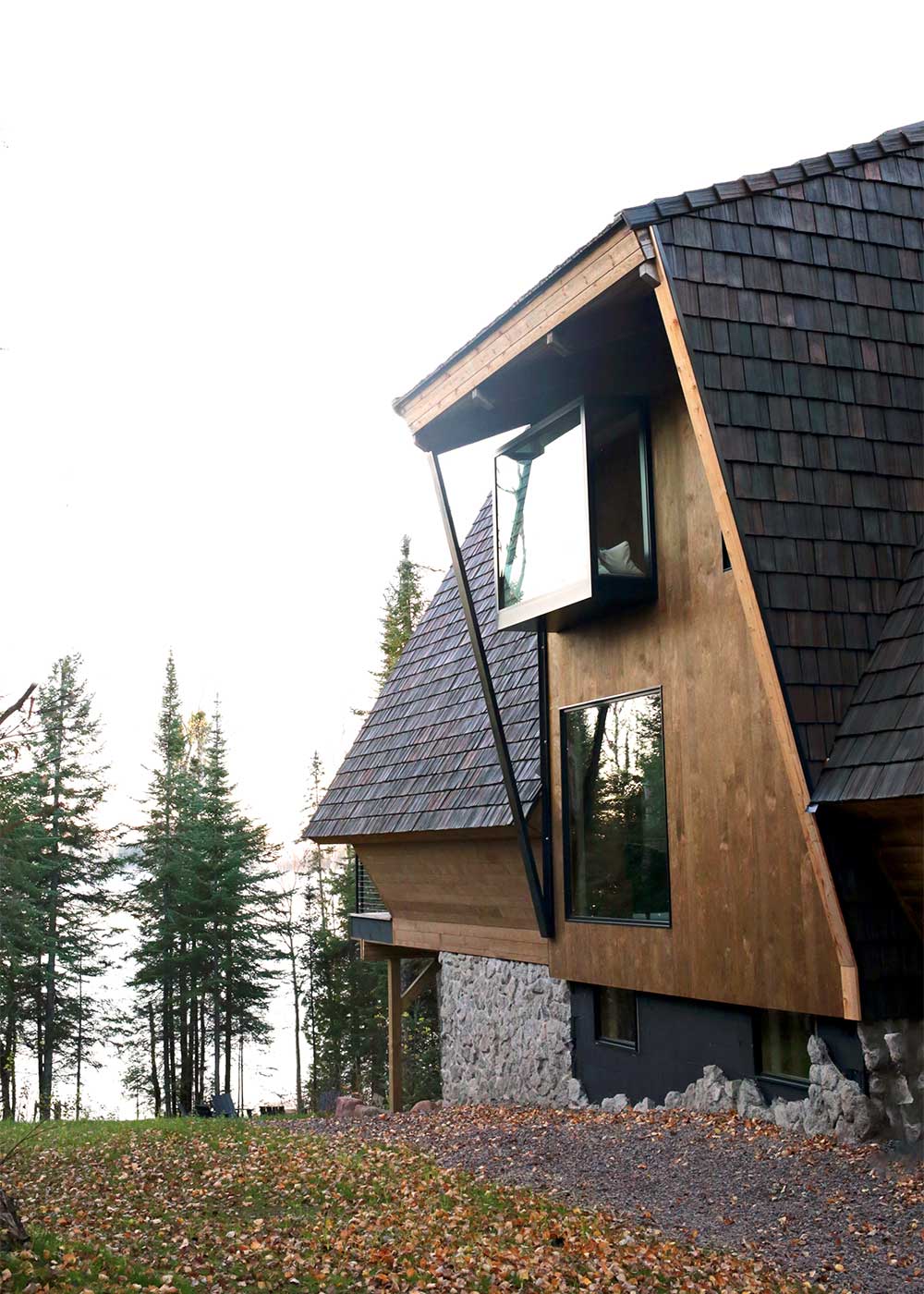 I almost forgot. Here's what the Skycove looks like from the outside. It's hard to tell, but there's a super thick fog coming off the lake while taking this picture. It's magic up here. Pure magic.
Marvin Awaken Skylights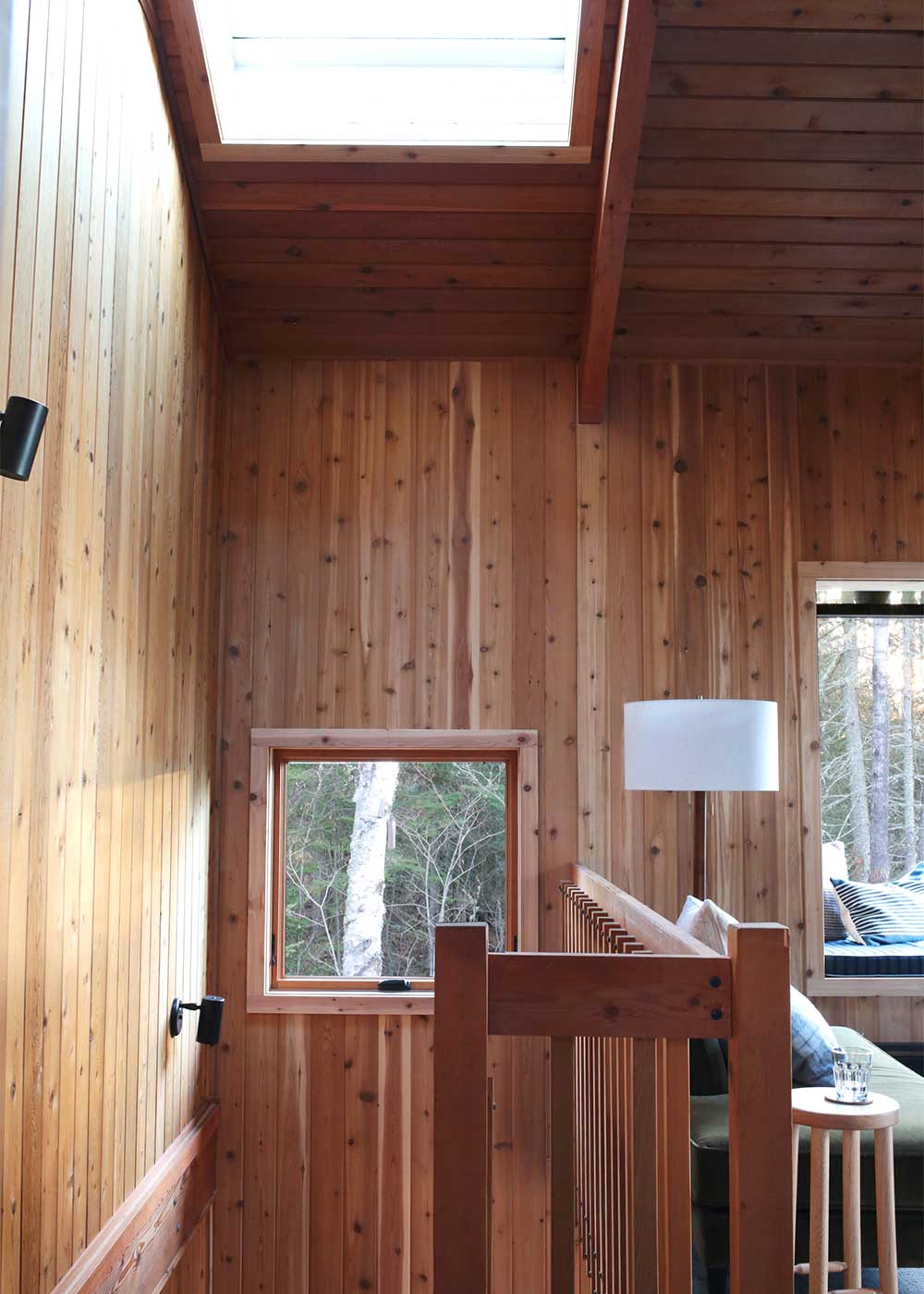 The Awaken Skylights add so much extra light, it's unreal. You feel like you're standing outside. (While working at the cabin and Facetiming Hal, she actually thought I was standing outside.) On a bright day, it's bright. But with the click of a button, you can draw the shades down. And on a warm day, you can open the skylights, which project from the roof on all four sides for efficient airflow. And on an overcast day, you can turn on the built-in lights to simulate a brighter day.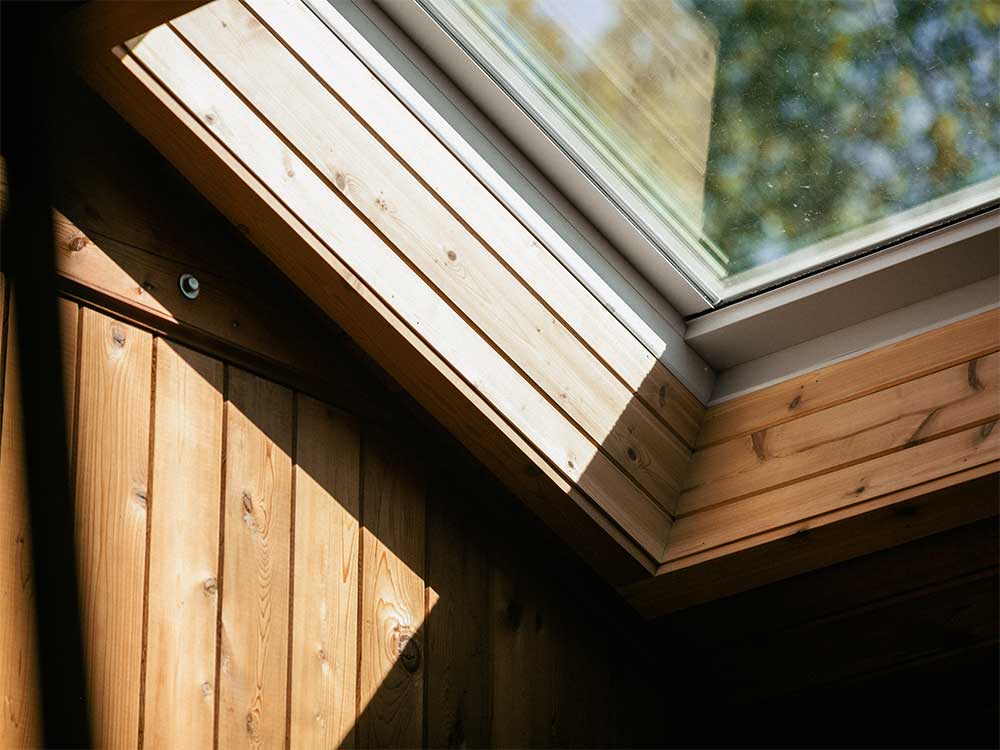 They sound high-tech, and they are. But they look as low-tech as the cabin. They're perfect.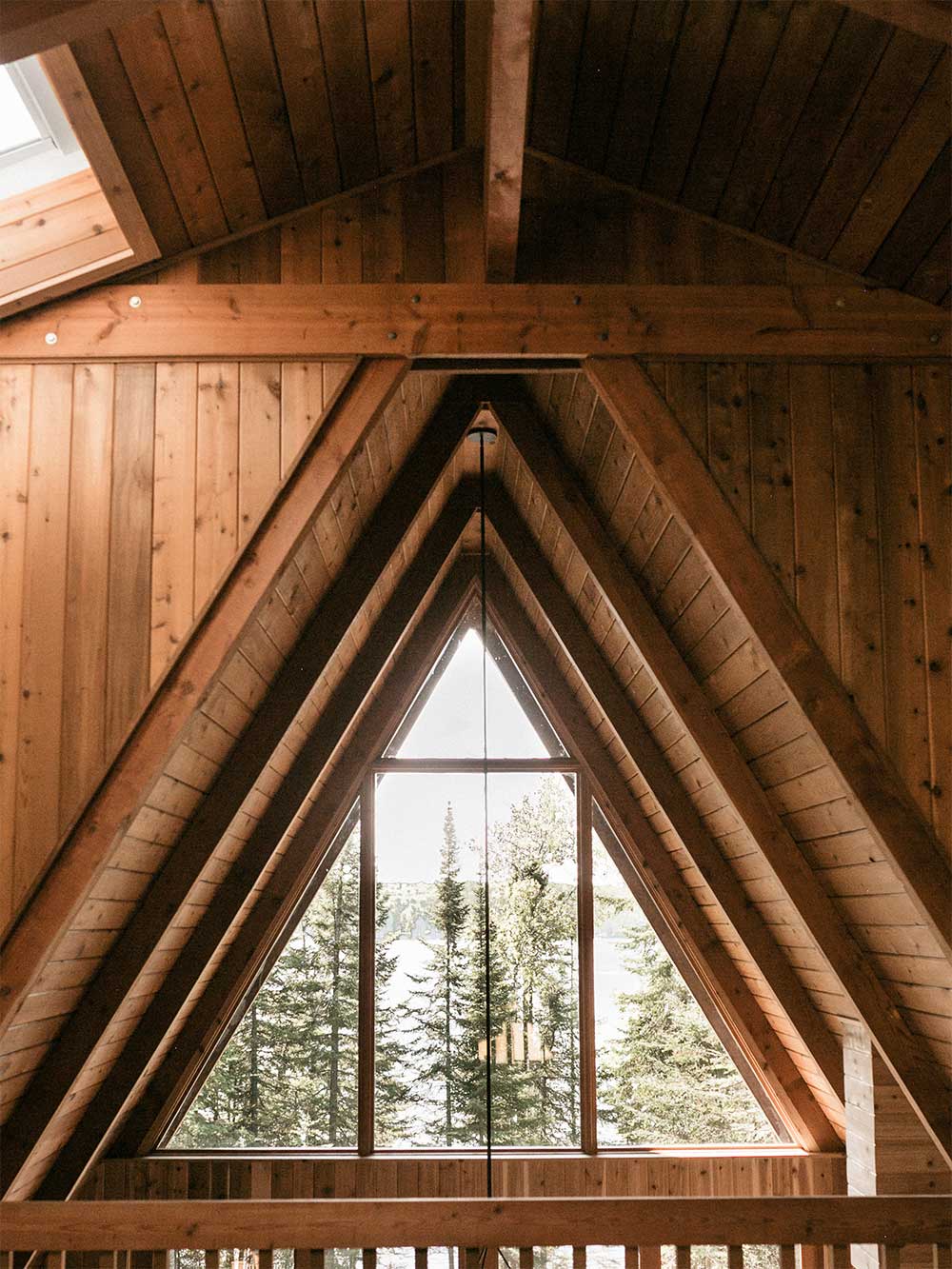 Thanks for sticking with me on this big idea that took a really long time to create. I have a sign at my house, and now one at the cabin, that says: Good things take time. Amen, amen, amen.
I'm looking forward to finally sharing more of the spaces with you over the next several months. PS: consider this is your official invite to come up and getaway. To do so, head this way.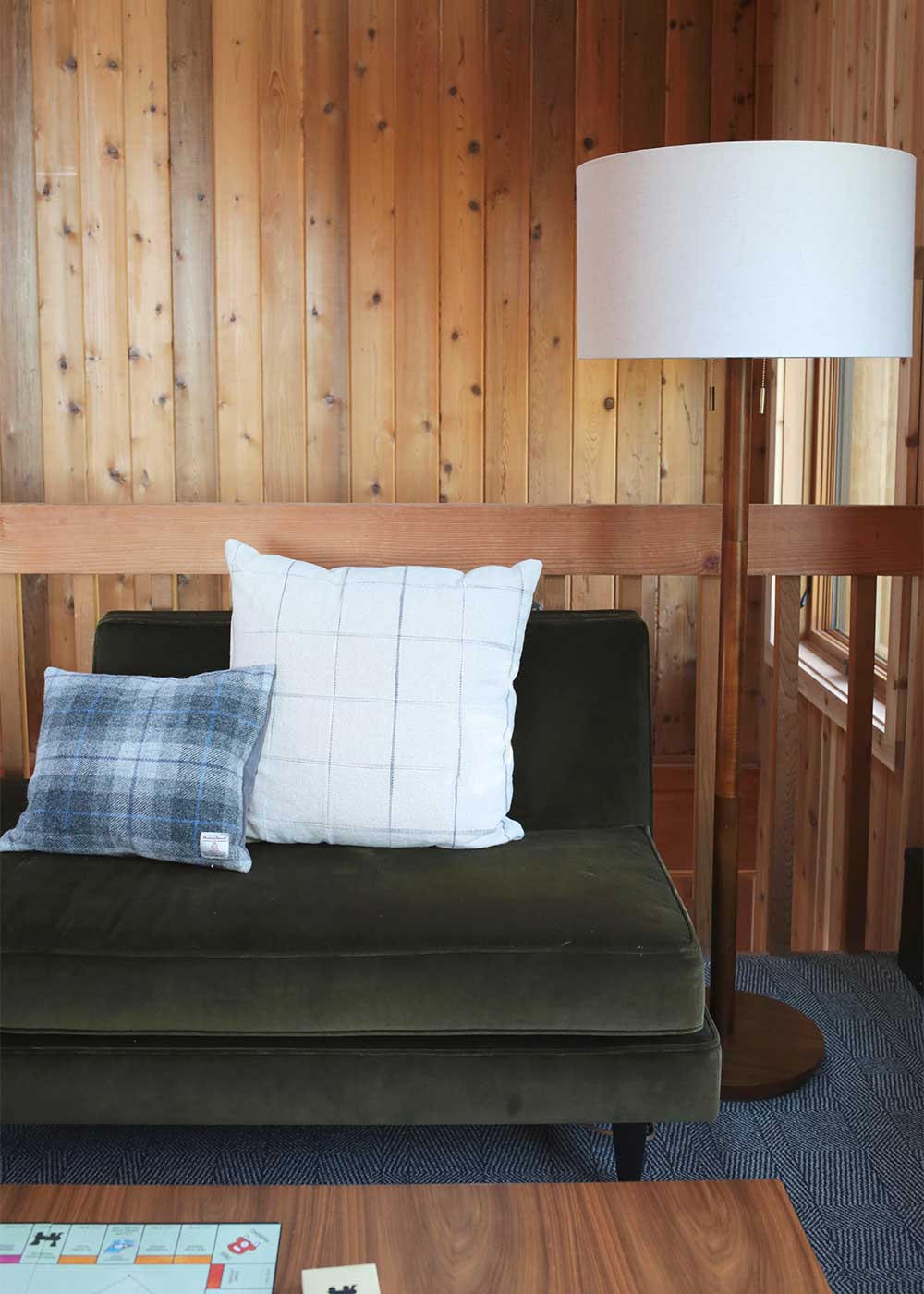 Sources: Marvin Skycove* | Marvin Awaken Skylights* | Naomi Vance Olive Velvet Couch* (Discontinued) | Minimalista Square Coffee Table by Bludot* (Outlet) | Harris Tweed Plaid Pillows | Windowpane Pillow* | Custom Bench Cushion | Otis Leather Swivel Chair in Vento Coffee by Room & Board* (Outlet) | Northshore Wool Blanket by Faribault Mills* | Tweed Carpet in Pearl | Wood Floor Lamp* | Shaker Accent Table* | Flet Outdoor Ottoman in Slate by Room & Board* | Monopoly Game*

*Minnesota companies
Construction by Taiga Design + Build
Interior Design by Melissa Coleman (me)
Photography by Melissa Coleman and Jonathan Head where noted
See the other cabin reveals: Kitchen | Living Room | Dining Room | Downstairs Bathroom | Downstairs Bedroom | Upstairs Bathroom | A-Frame Bedroom | Exterior | Outdoor Furniture
If you like the Cabin Loft Reveal, you might also like:
This blog is made possible by your support (thank you), select brand partnerships, advertisements, and affiliate links to items I love and use. READ MORE >