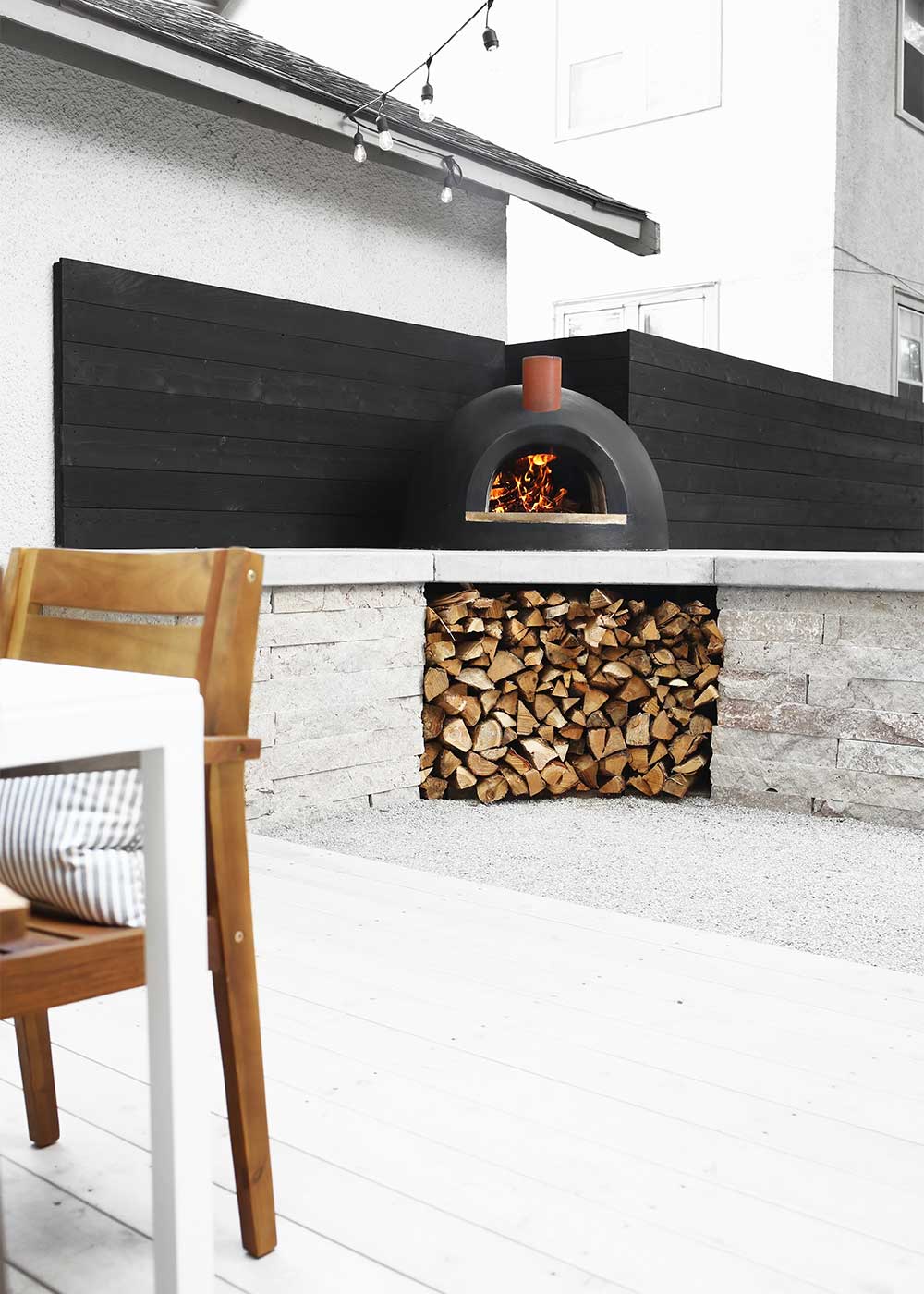 Before officially deciding to move to Minnesota, I saw a picture of people making pizza outside in the dead of a winter on Instagram and fell madly in love. The rest is history. We've given ourself over to both Minnesota and the art of pizza-making in an outdoor wood fired oven. And, oh, is it an art. I think we might spend a lifetime learning how to cook by fire. If and when you're ready to give yourself over to this ancient, beautiful way of cooking (that also yields the best pizza), I'm kicking off a 3-part mini series—Part 1: The Gear; Part 2: The Dough; Part 3: The Sauce.

We spent the first part of summer finishing out the backyard to house the pizza oven. Once we finally got that heavy hunk of an oven in place (600+ lb. and 8 strong people), we spent the rest of the summer learning how to start a proper fire, keep it going, and cook a really good pie. We also spent a lot of time honing our process. If there was an award ceremony, we might win most improved. Because we made a lot of bad pizzas before we got to the good ones. We also spent a lot of dinners standing by the oven slinging pizza while our friends ate hot pies alone at the table. We owe a lot of do-overs.
I'll break down our cooking process in the next post. In the meantime, here's our essential gear list for making pizza in a wood fired oven.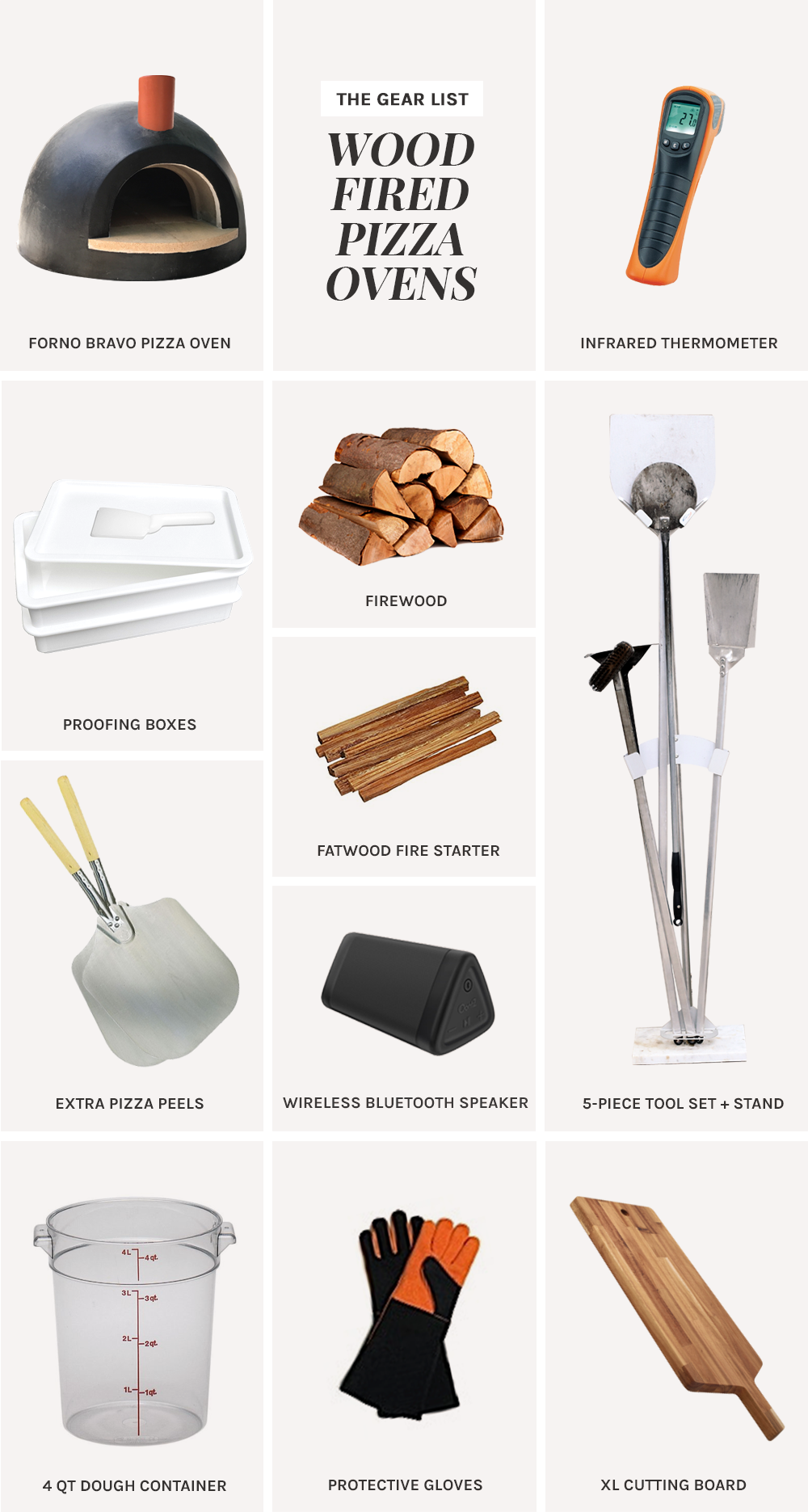 The Gear List
Forno Bravo Primavera70 Wood Fired Oven Kev is the researcher of the family. He looked into everything from portable, small ovens to extra large, tiled pizza ovens. He landed on Forno Bravo for their reliable insulation, which helps to maintain a consistently high heat while cooking. It also helps to keep the outside of the oven cool to the touch, even at 800°F inside, making it safe for our tiny backyard. As for me, I fell in love with the minimal shape of their Primavera oven line, and the ability to customize the color. (We went with black.)
Infrared Thermometer Temperature is really important when cooking pizza and will vary throughout the oven. You'll want to know the temperature of both the floor and the roof of the oven for best results. The infrared Thermometer shoots a red beam to gauge the temperature.
Proofing Boxes We rarely make pizza just for the 3 of us. It's become a social meal with a very full table. To accommodate the large quantities of rising dough, a proofing box is an efficient tool. You can fit about 6 balls of dough in each bin, which stack on top of each other, acting as lids.
Firewood Use dried hard woods, like birch, maple, etc. It's important to keep your wood dry, so that the fire doesn't spend energy burning off the excess moisture. (Our original tarp for the wood wasn't 100% waterproof, so we learned this the hard way. It takes about twice as long to get a hot fire going.) Wood is your fuel. So expect to spend a tiny fortune restocking it.
Fatwood Getting a log to catch on fire can take a bit of time. We use fatwood, an all natural piece of wood coated in resin which catches on fire immediately, like a candle, and burns until the wood catches.
Wireless Bluetooth Speaker Pizza-making without a soundtrack isn't quite as nice. Since technology is always changing and the temperatures dip so low in the winter, we went with an inexpensive, portable speaker as opposed to built-in speakers. This speaker is water-resistant too. One reviewer said it even worked after getting run over by a car. I was sold. Play the "Mambo Italiano Radio" on Pandora while slinging pizzas.
Extra Pizza Peels After stumbling through our first couple rounds of pizza making, we invested in a couple extra tools, like additional pizza peels. When cooking large quantities of pizza (6+) you'll want extra peels for assembly and transporting. Pizza cooks fast in the wood fired oven, so you also have to assemble just as fast for efficiency's sake.
5-piece Tool Set + Stand  I vastly underestimated the amount of tools needed to make pizza. This 5-piece tool set has gotten a full workout. (See char marks above.) Unless you have a place to hang the tools, I also recommend investing in a stand. This particular set includes a 12.6″ rectangular peel and an 8″ round peel for spinning. It also includes a copper brush, oven rake, and shovel for moving and removing coals.
4 qt Dough Container + Lid Pizza making is almost always a social event over here, so we need at least 6 balls of dough at a time, which is quite a bit of dough. I invested in a dough container after seeing Zoë use one. It fits nicely in the fridge during the 72-hour dough ferment. Zoë recommends either leaving the lid slightly cracked or drilling a tiny hole in it to prevent yeast explosions.
Protective Gloves With the oven as high as 900°F, you'll want a set of these gloves. It's not like sticking your hand in your indoor oven. It's twice as hot!
XL Cutting Board  This cutting board is perfect for serving as it can fit 2 pizzas at a time. We use it as the centerpiece on the dinner table.
*Disclosure: The oven was gifted to us by Forno Bravo. We did the research and reached out to them for a partnership. All opinions are my own. And I'm in love.
This blog is made possible by your support (thank you), select brand partnerships, advertisements, and affiliate links to items I love and use. READ MORE >