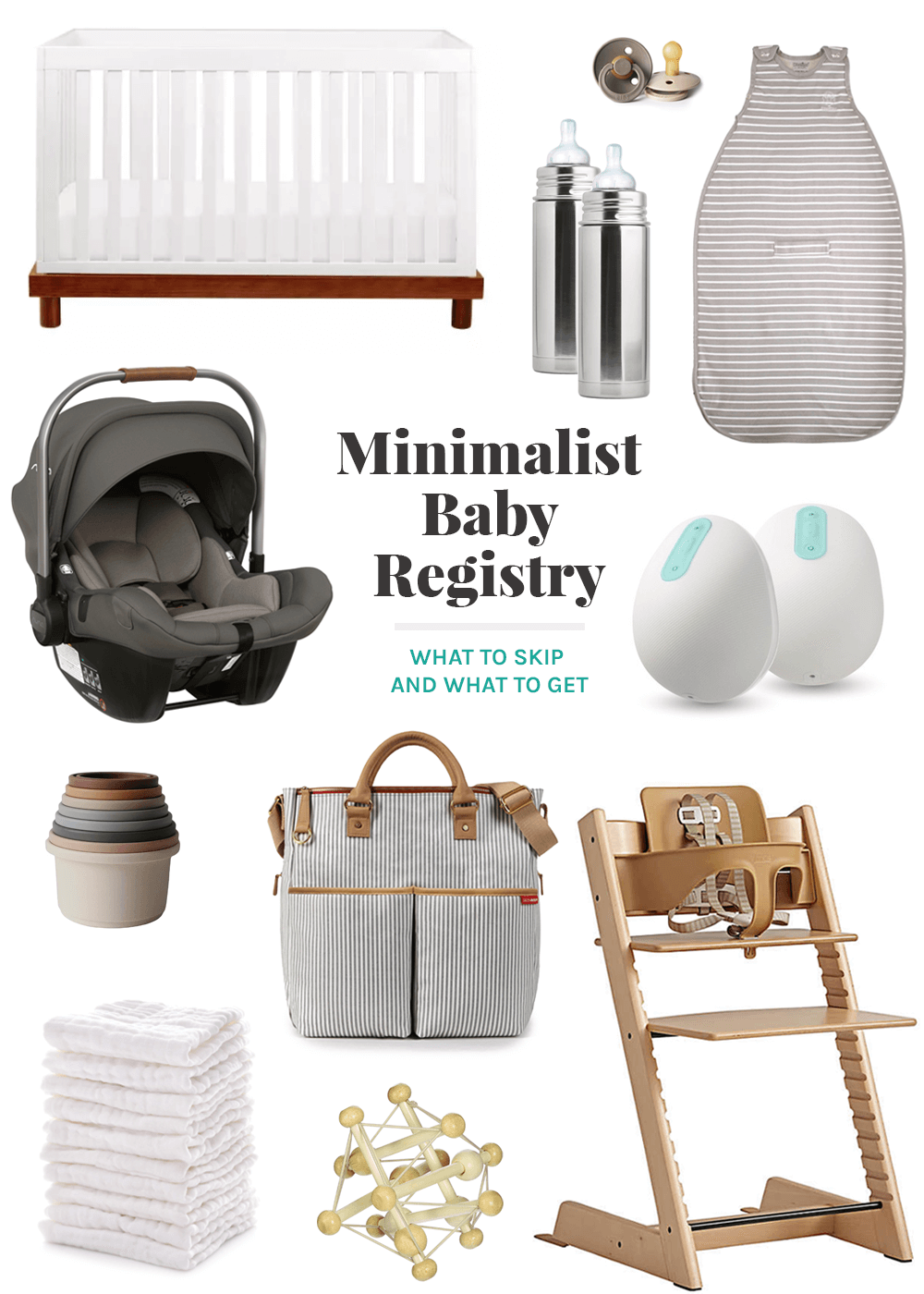 How do you know what to register for and what to skip on a minimalist baby registry? On our first go around the parenting sun, we registered as minimally as possible, skipping an infant car seat and huge jumper toys. But this time around, with two kids and more experience and fewer hands, we made different decisions. We also had a different experience, needing different things. Looking at the registry, I still gasp at all the items. These babies require stuff. Though, I know this time around that it's only for a short season. Below are my favorite baby items that serve multiple purposes, grow with the baby, and, dare I say, look beautiful.
What should you put on your minimalist baby registry?
Above all, every baby and family is so different. Find things that work for your lifestyle. In general, I recommend registering for the absolute necessities, filling in the rest after the baby comes once you have a better idea of what you'll need. Here's a couple of other ideas for pulling off a minimalist baby registry without simply buying less. Consider borrowing or sharing items with friends in a similar life stage. Also, consider buying secondhand. There are so many unused and barely used baby items out there. We bought a lot secondhand, which I'll note below. We sold and donated a lot, too, to keep things from piling up.
Speaking of buying secondhand baby items, Facebook Marketplace is our favorite spot to search. You can set up an alert for the exact item you're looking for, and it will notify you when it becomes available. To do so, search for a specific item. Then click the button below the search bar that says "Notify Me." From there, you can set a price maximum as well as a location radius. Some items go fast, like pumps and car seats, so you have to act fast.
A little bit about me
If you're a long-time reader, you can skip this section. But, if you're landing here for the first time, looking for a minimalist baby registry, I'd love to introduce myself in order to give context to our decisions. I'm a newly minted mother of two who leans heavily on minimalism to keep my physical space calm in an effort to help keep my mental space calm, which tends to be naturally chaotic. I work for myself from home, and, before pandemic life, I've always had part-time childcare.
Hallie, our first, is now 7. She was born in Connecticut to a tiny apartment. We were extra short on space and registered for as few things as possible. So few I held her way too much and didn't have enough safe places to set her. Though there's a good chance she would have cried had I set her down.
Linnie, our second and last baby, is almost a year old. She was born in Minnesota to a 1,800 square foot house, with all her sister's leftover baby items. (You might notice a big age gap. Here's why.) She's a typical laid-back second child, born during a pandemic, with everyone working and schooling from home and no childcare. We needed places to set her just to get food on the table. As for me, I'm a little more relaxed this time, knowing that this season of baby stuff scattered everywhere around the house is so short. I guess you could say I'm embracing the sacred mess of it all, though sometimes all the stuff gets to me. PS: If you're looking for a prenatal workout, I loved Studio Bloom.
Where's the best place to register for a minimalist baby registry?
I love BabyList, a universal baby registry, meaning you can add anything to your baby registry, from any store, from the comfort of your couch. Managing one registry was so much easier. I especially liked it as we were able to register to stores local to us. Speaking of registering, here's a couple of great registry sources that helped me immensely when registering for Hallie lots of years ago: A Cup of Joe, Oh Joy!, and Design for Mankind.
My Minimalist Baby Registry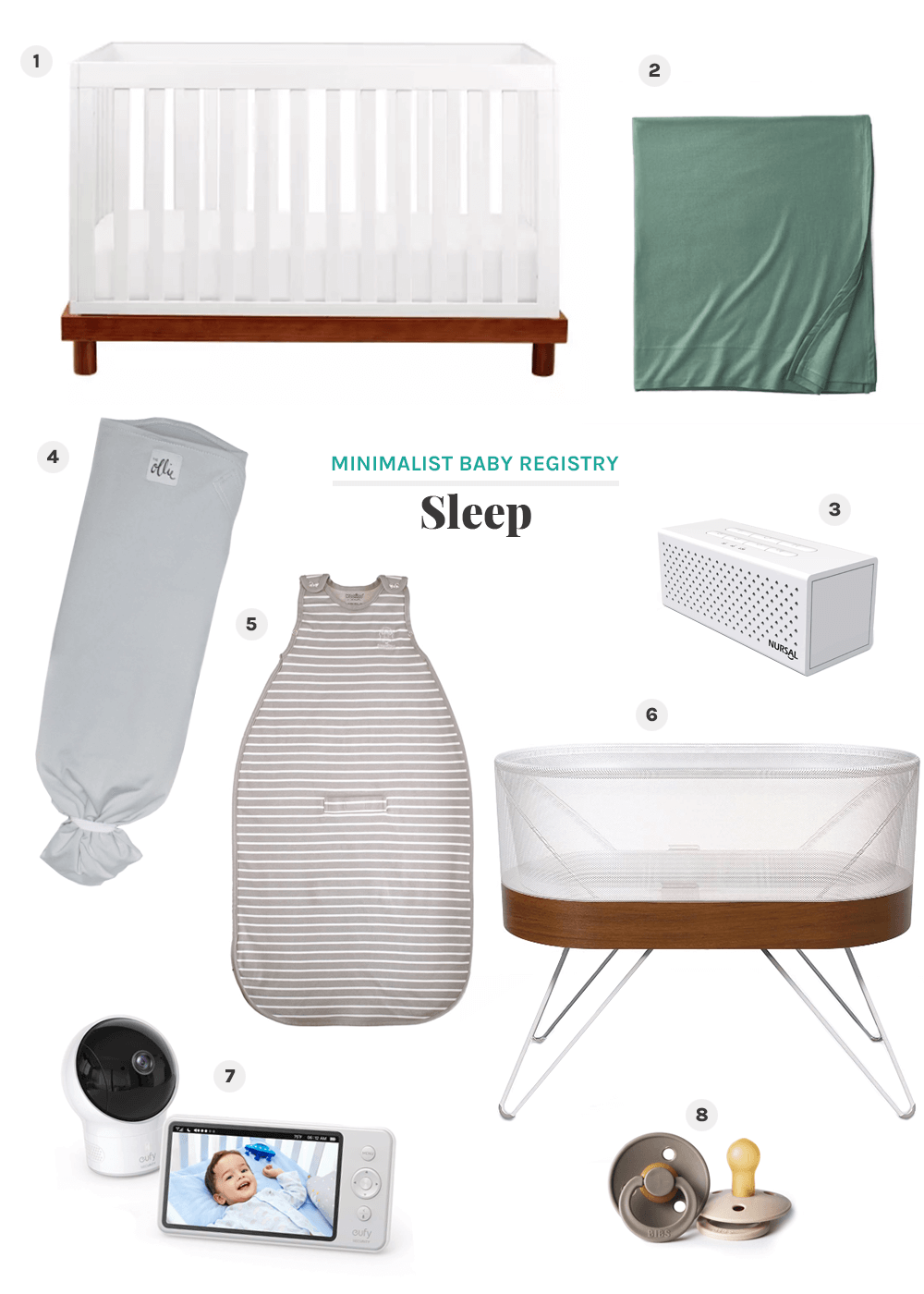 Sleep
1. Baby Mod Olivia Crib: This baby crib is modern, beautiful, and affordable. It also transitions to a toddler bed. We used this crib with Hallie, and it's still in great shape. As for mattresses, I recommend getting something with a waterproof barrier. These tiny humans are so leaky.
2. Solly Baby Crib Sheets: These sheets are buttery soft and mimic the same material as the Solly Baby carriers.
3. Sound Machine: This sound machine is both plug-in and portable and super affordable.
4. Ollie Swaddle: I had a love/hate relationship with this swaddle. Linnie was the master of getting her arms free while trying to swaddle her. Once I figured out to tuck her arm a bit behind her back, she stayed put, and her arm had enough room to wiggle forward without wiggling out. The best part, this swaddle grows with the baby, also allowing a gentle transition to hands-free sleeping. We used this from 0-6 months before moving on to the sleep sack. These are easy to come by secondhand and easy to resell.
5. Woolino Sleep Sack: Once we weaned Linnie out of the Snoo (see below), we splurged on the Woolino Sleep Sack and don't regret it! Wool helps to regulate temperature, so whether we're in the dead of winter or the heat of summer, it keeps her body at a comfortable temperature. It's also anti-bacterial, due to the nature of wool, so you don't have to wash it all the time. It also fits a tiny baby to a toddling toddler (2 months-2 years). Note: wool should be air-dried. For that reason, you may need two of these. But the good news, they run sales often. PS: If your house is extra cold in the winter overnight, like ours is, I recommend this extra quiet space heater.
6. Snoo: How much would you pay for sleep? We lost so much sleep the first time around with Hallie. More than a year to be exact. Sometimes I think Hallie would have out-Snooed the Snoo, but we'll never know. Linnie, on the other hand, slept. And we have to attribute some of that, if not all, to the Snoo, which is very costly. Thankfully, we were able to borrow it from a friend. Had we not be able to borrow it, we would have rented it. Knowing this was our last baby, it didn't make sense to buy.
If renting, I'd recommend renting for 3-6 months. We weaned Linnie from the Snoo between months 5 and 6, around the same time they recommend doing so. The weaning process, as recommended by Snoo, went so smoothly. Note: the Snoo comes with a specific sleep sack, necessary for operation. It was never quite tight enough or warm enough for our once tiny baby, so we always used a swaddle in addition to theirs. (See Ollie Swaddle above.)
7. Eufy Baby Monitor: Our neighbor recommended this baby monitor, and we love it, mostly because it doesn't hook up to wifi. It's plug and play, wherever you go. The only downside, when the camera is on night mode, which ours always is since we keep her room so dark overnight and during naps, it makes a small clicking noise when the camera turns off and on. There's also a dim light on the camera that we've covered with a sticker.
8. Bibs Pacifiers: Hallie never took a pacifier, but Linnie loves these. And she only loves the 0-6 month size.
WHAT WE SKIPPED: Owlet (we actually bought a brand new, secondhand one but between the technology of the Snoo and the Willow, it was too much for us), MamaRoo (we opted for the Baby Bjorn Bouncer below)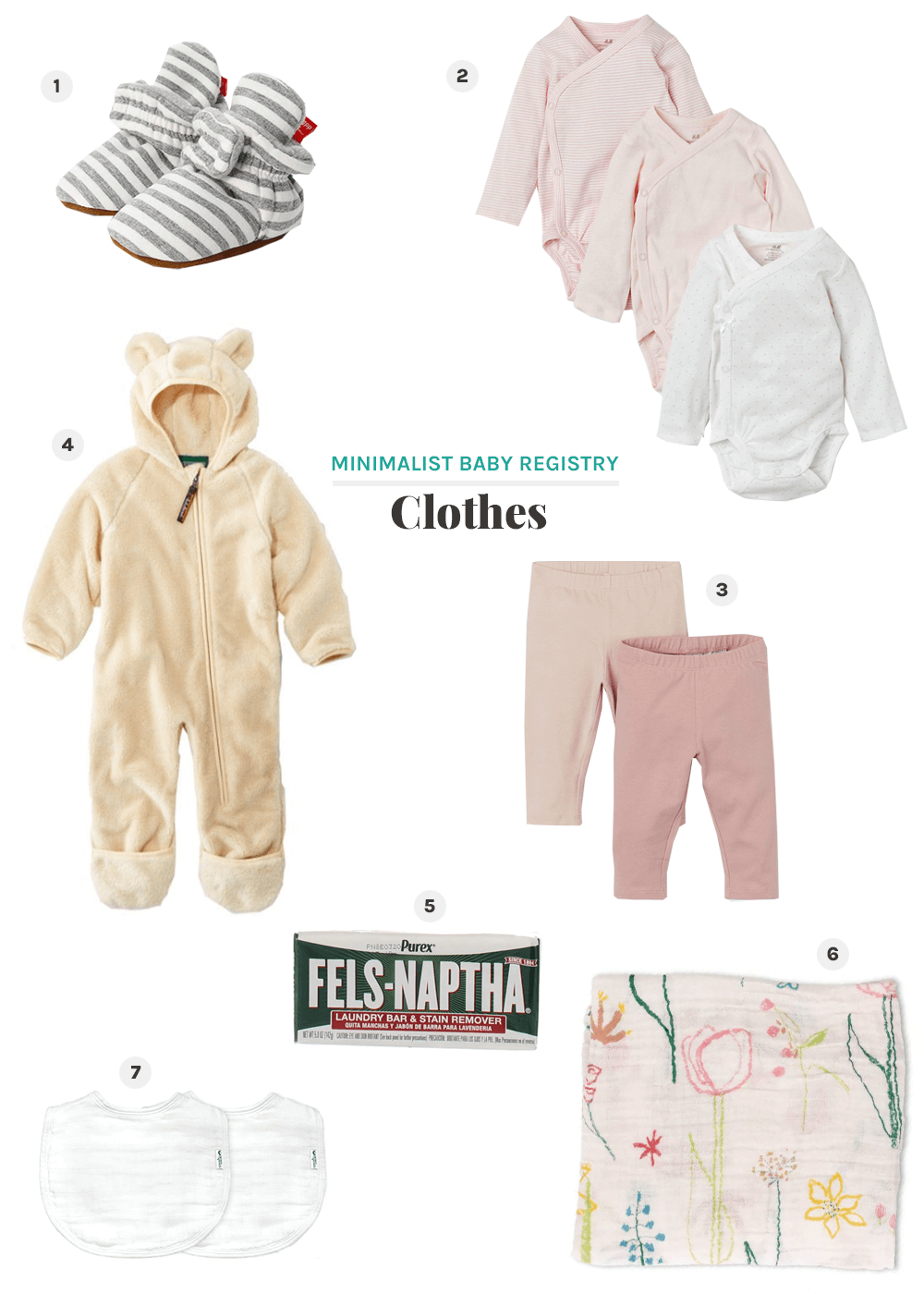 Clothes
1. Booties: We skipped socks and used these fleece booties instead. Linnie was still able to kick them off, but they took her much longer and were easy to find, unlock socks.
2. Organic Bodysuits: Side snap or Kimono-style onesies were our favorites for newborns. They are easy to get on and off and safe around new belly buttons. Linnie and Hal lived exclusively in these during the early days. Note: we didn't like nightgowns on our babies who both came out lanky. They slid up the baby and didn't feel safe. And, in order to get on, you have to go over their heads which led to too many tears.
3. Organic Leggings: We liked these simple leggings. While we used some footies, we found the most flexibility in paring the bodysuits and leggings for daytime and sleep time during the newborn stage. This combo also allows for different length babies. Linnie was busting out of her footies by length but not width.
4. Baby Bunting: This little suit is great for winter-time and fits safely in a car seat unlike most coats or puffy bunting. Look for suits that fold over at the feet and ankles. This will allow for more growth and longer use of a single size.
5. Fels-Naptha: This bar of soap is a lifesaver in getting baby stains out (and all stains). We've had the same bar for about 10 years.
6. Muslin Blankets: A blanket seemed to be part of Linnie's everyday outfit as a newborn. These blankets can also be used as a lightweight, breathable nursing cover. They're compact too and store easily in a diaper bag for on-the-go use.
7. Muslin Bibs: These muslin bibs were so great for our drooly baby. They wash easily, wear easily, and get softer with use. You may want to wait on buying these to see if your baby is drooly. Hal wasn't and Linnie was.
WHAT WE SKIPPED: Cute and complicated clothing, nightgowns, socks, shoes, hats (we never found a favorite and rarely used them)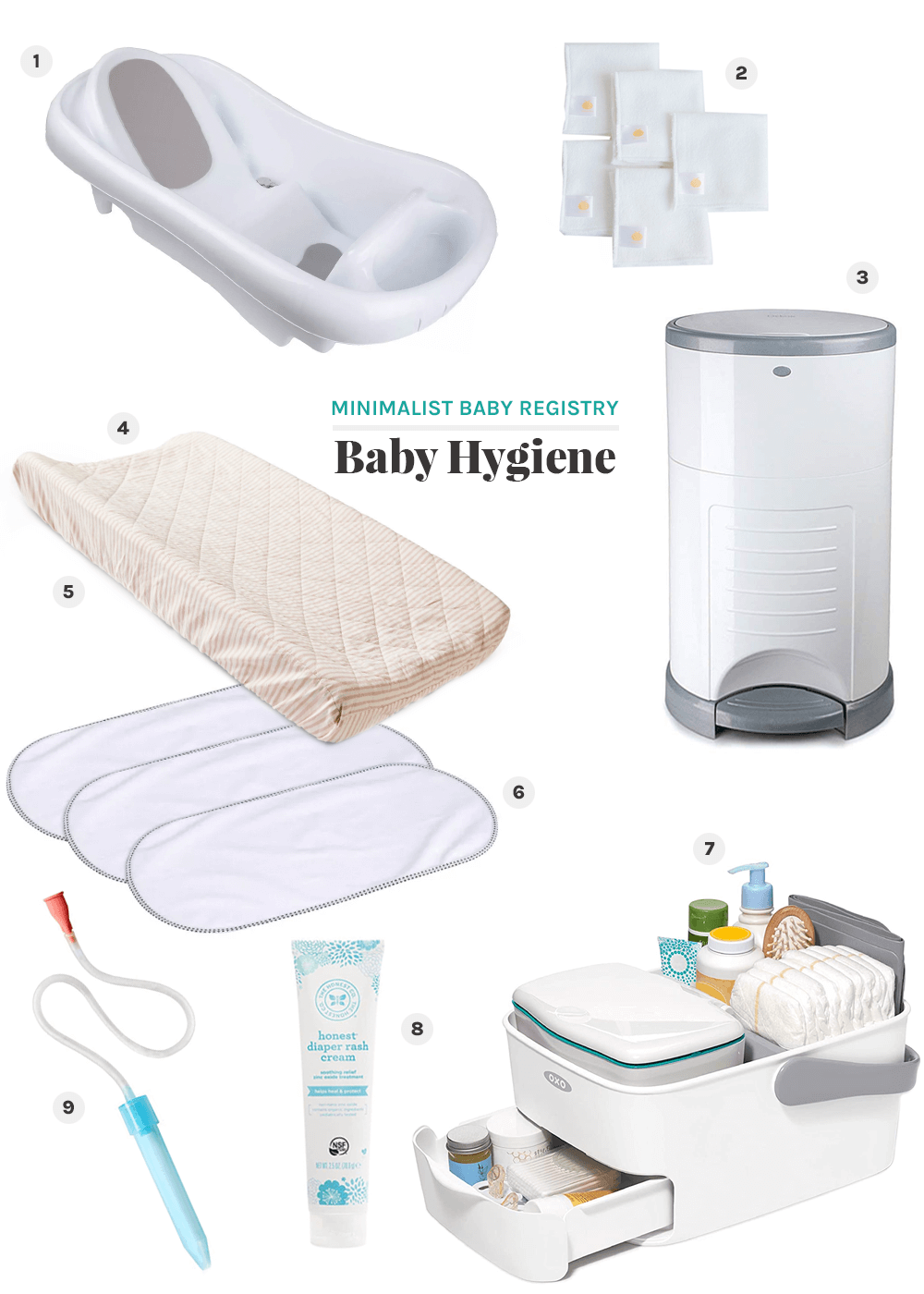 Baby Hygiene
1. Newborn to Toddler Tub: We tried a couple of baby tubs, from borrowing and owning a different one for Hal, and this tub wins as our favorite, mostly because it supports the baby at all stages—from floppy newborn to wobbly sitting-up infant to confidently sitting up baby. It comforts anxious parents too, like me. It's big and clunky and doesn't fold down or hang up, which is a drawback storage-wise, but the extra support was worth the extra storage space for us. If you're short on space, try this collapsable bath.
2. Organic Wash Cloths: We used these with Hal and Linnie. They're soft and just the right size and hold up well. Note: when washing a newborn, try laying a larger wet washcloth on top of their belly to help keep them warm and also help settle them. I wish I had known this trick with Hal.
3. Dekor Diaper Pail: We used this diaper pail with Hal, and it's still going strong with Linnie. It really helps to keep odors at bay. They also have an option for biodegradable bags if your city is able to compost diapers. If so, try Dyper diapers.
4. Waterproof Changing Pad: Make sure you're changing pad is waterproof, like this one, for easy clean-up. These babies are leaky.
5. Changing Pad Cover: We love this striped, quilted cover that added some cozy padding on top of the waterproof pad. See it in action in Linnie's room.
6. Changing Pad Liners: These are great for catching leaks and minimizing having to wash the changing pad cover all the time.
7. OXO Diaper Caddy + Wipes Dispenser: When we lived in a tiny apartment with Hal, we didn't need a diaper caddy. But living in a two-story house, we change diapers upstairs, in Linnie's room, and downstairs. For that reason, we keep a diaper caddy that can easily store away in a cabinet. But at this stage of life, it sits permanently under the living room coffee table.
8. Honest Diaper Cream: Made with clean ingredients, this diaper cream has been incredible. Linnie has had basically had no rashes, outside of one when she was a newborn.
9. Nose Frida: This little nose sucker is as awesome as the reviews say and more sanitary than the bulb. Once you try it (it's terrifying at first), you'll never look back.
WHAT WE SKIPPED: Rectal Thermometer (we use our head scan thermometer), Fingernail Clippers (I found it easier and safer to bite them or file them)


Eating
1. Pura Stainless Steel Bottles: These bottles have made it through 2 kids, and we love them! Hal was exclusively breastfed (she wouldn't take a bottle) and used these bottles as sippy cups with the sipper spout for years. Linnie was almost exclusively bottle-fed (despite our best efforts) and is about to transition to the sipper spout. We also use these bottles to store snacks on-the-go using the sealing disk.
2. Muslin Burp Cloths: With Hal, we used the cloth diaper burp cloths, but those irritated Linnie's face, so we went muslin. These were so gentle and got softer with each wash.
3. Willow Breast Pump: I had no idea how much I'd use this on-the-go, hands-free breast pump. At 2-months-old, I ended up exclusively pumping until weaning myself by 6 months. I couldn't have pulled it off without this pump, which also comes equipped with an app to monitor your output and troubleshoot when needed. (It can be finicky.) We bought this secondhand and bought all new containers to keep things sanitary, see below. These are easy to resell and buy secondhand. Note: the Willow is bulky, making it awkward to wear in public or hold your baby (especially if you're short like me). It also requires extra stretchy clothing.
4. Willow Reusable Milk Containers: My favorite part about the Willow Pump was their reusable milk containers, as their milk bags are super expensive and unnecessary when the milk is headed straight into a bottle. Note: These reusable containers have to be replaced every so often. Pumping exclusively, I replaced them every 2-3 months. If you end up pumping exclusively, you might also want to invest in a bottle dryer/sterilizer to get the pumps dry before the next pumping. I used this bottle dryer.
5. Nipple Crack: A lifesaver for mom and safe for baby, I loved this cream over all others I tried. It's also pump-friendly.
6. OXO Drying Rack: I really didn't want a drying rack sitting out on our counter. But after having to exclusively bottle-feed Linnie, we needed a drying rack. We purchased this space-saving drying rack brand new, secondhand.
7. OXO Bottle Brush: You're going to want two brushes to clean baby bottles, one for the bottle and one for the nipple. This brush has both.
8. Baby Björn Baby Bibs: We used these bibs with Hal and now Linnie. They catch all the dropped food and fit snuggly and comfortably around the baby's neck. And best of all, they wash easily.
9. OXO Spoons: We used these spoons with both babies. They are soft, coated in silicone, but firm enough to smash food. Speaking of food, I have a bunch of homemade baby food recipes this way.
10. Stokke Highchair and Seat + Tray: This might be my favorite minimalist baby registry purchase of all. This highchair is beautiful, grows with the babe, and sticks around for a lifetime. Hal loves hers so much, we had to get another one for Linnie. Thankfully, we found one secondhand in good condition. This highchair is great in that it allows the baby to sit at the table with you and eat at eye-level, not above you or stuck in a corner. I put felt pads on the bottom of ours. And every evening while I make dinner, during Linnie's dinnertime, I scoot her near me. For that reason, the tray accessory that we borrowed from a friend has been a lifesaver.
WHAT WE SKIPPED: Nursing Pillow, Reusable Nursing Pads (I never had any luck with these, especially in the early overflow milk days, and had to go the disposable route), Nursing Cover (a lightweight muslin blanket will do)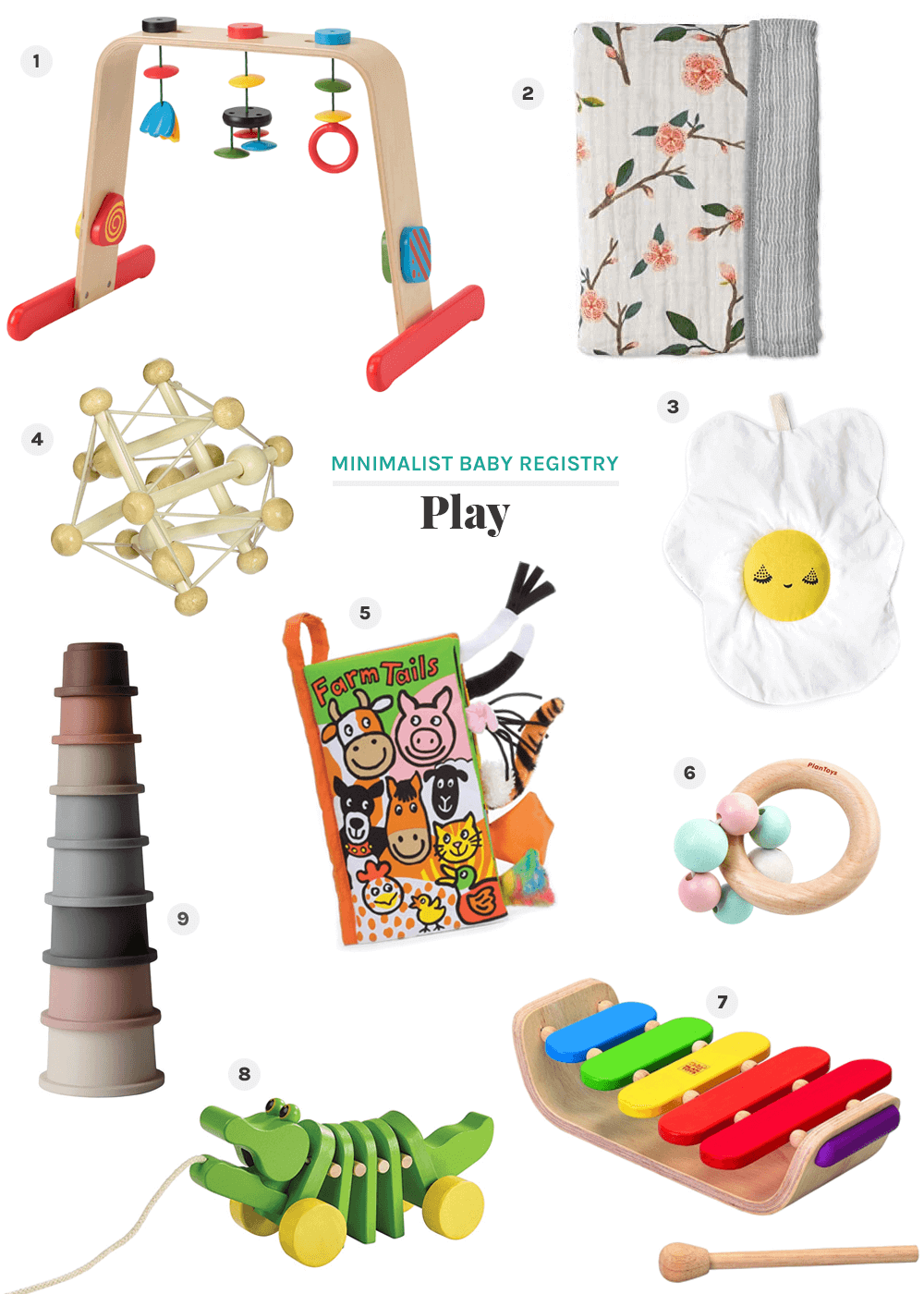 Play
1. Ikea Baby Gym: It's pretty and won't break the bank like so many of the baby gyms do. We used this with Hallie and Linnie. After Linnie was done playing under it, she liked to play with it standing.
2. Red Rover Blanket: This muslin quilt is thick but not overly heavy. It's perfect for play or on-the-go walks. If you're in need of lighter-weight blankets, we love these muslin blankets.
3. Crinkle Egg: This was given as a gift to Linnie, and it ended up being a favorite toy for months. She loves anything that crinkles.
4. Manhattan Toy Skwish Natural Rattle: This rattle is affordable and beautiful and flexible, so when she smashes into it, it collapses.
5. Crinkly Baby Book: This book was a favorite with both babies. Pully tales, crinkly pages, we love it.
6. Rattle and Teether: Neither of my kids really love teethers and preferred to gnaw on things around the house or wooden toys, like so.
7. Wooden Xylophone: We've had this toy since Hallie's baby days, and it's one of our favorites. It's fun to watch them barely make contact at 6 months and make music years later. This toys will stick around for years.
8. Alligator Pull Toy: This is another one of those toys that grow with the baby, though you have to monitor the use of the long string. Hallie has pulled this all around the neighborhood. Now it's Linnie's turn.
9. Mushie Stacking Cups: Perfect for teething, stacking, and bathtime. I love the color palettes these stacking cups come in.
WHAT WE SKIPPED: Battery-powered toys, playmats/play pads (a nice muslin blanket works just as well and washes more easily)


On-the-Go
1. Skip Hop Diaper Bag: This diaper bag has been through two babies. I love, love the classic look of it and the wipeable oilcloth exterior. I didn't love the changing pad that it came with, however, and recommend the one below.
2. Changing Pad: This collapsable changing pad wipes clean and folds up compactly to fit in a diaper bag or toss in the bottom of the stroller for a walk. It comes with a to-go container for wipes, too, which you'll need.
3. Nuna Pipa Lite Infant Car Seat: I still don't understand how people hold a baby and a heavy car seat. I can't. Maybe it's because I'm short or maybe it's because I have no upper body strength, but I went in search of the lightest car seat and found this one. Weighing in at 5.7lbs, it's been amazing. No car seat cover is needed as this one houses a magnetic shade zipped away in the canopy. To find out which stroller systems fit the Nuna Pipa, head this way. We bought the Nuna Mixx Stroller (secondhand), plus The Ring Adapter (secondhand). While the car seat clicked in and out easily thanks to The Ring Adapter, the ride on our bumpy city sidewalks was, well, bumpy. For that reason, I'm not sure that I'd recommend the Mixx if you're just buying one stroller. The City Mini is far and away a smoother ride. Note: We purchased this car seat secondhand. It resells easily.
4. City Mini Jogger Stroller: We used this stroller for both girls. It has such a smooth ride, whether walking or running, and it folds up easily and carries easily, too. It's in mint condition after almost 8 years and lots of use.
5. Baby Car Mirror: This mirror is great in that you have the ability to angle it to actually see the baby while driving. We had to rig our old one to barely see Hal, which probably wasn't safe. I'd splurge on the adjustable mirror for peace of mind driving.
6. AeroMoov Travel Crib: This travel crib is the one. You can set it up and fold it away in seconds, literal seconds. Have you ever folded up one of those round photography light reflectors? It works kind of like that. It's super intuitive, simple, and lightweight. There's even a zip-in option to sleep a newborn higher up because it's impossible to lay them deep into a travel crib when they are new a floppy (and when you are also floppy and, well, you know.) It's light enough to carry and flat enough to pack away, in a closet or car.


Hands-Free
1. Baby Björn Bouncer: We tried multiple bouncers and rockers (borrowed and leftover from Hal) and this no-tech one was our absolute favorite. And Linnie's too. We used it from the early days to well after she could sit up unassisted, supporting her all the way. Others made her look like a crumpled-up baby doll as a newborn, basically not safe. It folds flat for easy storage or on-the-go transporting. It's also lightweight for carrying up and down the stairs. They also sell play adapters that you can clip on and off. We purchased ours secondhand.
2. Boba 4G Carrier: If you want only one carrier, I recommend this one (or something similar like this one that my friend swears by). It holds babies from infancy to toddlerdom (7-45 lbs.), no infant insert necessary. This carrier also fits all body types. Kev and I vary greatly in size, and it quickly and easily adjusts to either of us. Speaking of, it clips on and off easily and quickly, which is a must when the baby is fussy.
3. Solly Baby Wrap: This is a lightweight, soft wrap for babies from 8-25 lbs. We used this a lot in the early days. I love that it's soft and light. However, it takes time to wrap the wrap, and when you have a fussy baby, it feels forever long. But once you're situated, you can stay that way comfortably.
4. Skip Hop Activity Center This is something we skipped with Hal, but could have really used. Skip Hop is great at creating things that grow with the baby and this activity center is that, converting from a jumper to a play table. It's huge and clunky, but it's been a lifesaver for some hands-free, safe playtime while I cook or shower or do anything. It also holds her attention day after day.
WHAT WE SKIPPED: Momaroo, baby walkers, jumpers, Bumbo, baby swing (see Baby Björn Bouncer)

If you like this Minimalist Baby Registry post, you might also like:
This minimalist baby registry post was originally published August 29, 2014 and has been updated will all of our favorites from baby number 2.
This blog is made possible by your support (thank you), select brand partnerships, advertisements, and affiliate links to items I love and use. READ MORE >