When I started registering for Hallie well over a year ago, I was beyond overwhelmed. The big box baby stores nearly swallowed me whole upon entrance. There were far too many options on the shelf, and every store told me I needed 10,000 products that all served a different purpose. Gulp. After seeing moms around town, toting what seemed like a large suitcase + a baby, I believed them. Maybe I wasn't cut out for this after all. So I went in search (for many, many hours) to find products that served multiple purposes, grew with the baby when possible, were affordable (with a couple splurges here and there), and, dare I say, beautiful. Scrolling down, I still gasp that I call this a minimalist baby registry. No matter the case, they require stuff. I've included what we bought (and thought) and what we skipped. Above all, every baby and family is so, so different. Find things that work for your lifestyle. Here's what worked for us.
1. Baby Mod Olivia Crib + mattress: It's modern, beautiful, and affordable. It also transitions to a toddler bed. Walmart wins this time. See Hallie's completed room.
2. Mud Hut Sheets (discontinued): Two sets worked fine for us. If you like to be more prepared, buy a couple super cheap sets for those late night bed changes. 
3. Cloud B Travel Sound Machine: We resisted using this the first couple nights for fear of it becoming a crutch. Ha! We use many crutches now. It worked like a charm in helping her "sleep" in the early days. It's small and portable, so we brought it everywhere.
4. Mud Hut Blanket (discontinued): Any soft blanket will do. This one happened to match our sheets.
5. Angel Care Monitor: To save money, we skipped the video monitor. In hindsight, we wish we would have bought it. This monitor works great, but there have been times, once Hal became mobile and during sleep training, that a video monitor would have been so, so helpful.
6. Bright Starts Swing : Hal didn't use the swing until 6 weeks, but once she did, she took most naps in it until 6 months. This swing is affordable, small, not super ugly, and collapsable. 
7. Aiden & Anais Easy Swaddle: We used this swaddle once Hal was a little bigger and fit into it well. We swaddled her for many, many, many months. She could break out if she needed to, which helped us to sleep easier at night.
8. Aiden & Anais Classic Swaddle: A little pricey, but they have gotten their use, and they get softer with each wash. We used these in the earliest of days, switched to the easy swaddle, then switched back to these until she started sleeping on her tummy. I also use this as a nursing cover by tying two corners together. They are light, extremely breathable, and travel well. 
9. White Noise App: Keep this one in your back pocket just in case. We use it when Hal is sleeping in a new place (vacation) and needs a little extra help.
We skipped: video monitor (but wish we would have gone with it).

1. Boon Bath: A little on the pricey side, but this bath was great for Hal when she was teeny tiny and sitting up. It collapses and hangs for easy storage. Now that she's so mobile, we use a plastic laundry basket to keep her contained. She can't be trusted.
2. Satsuma Organic Wash Cloths: Soft as a baby's bottom and made with organic cotton. One pack is all you need. 
3. Puj Hug Towel: How do you keep from getting wet while bathing the baby and picking her up? This towel. It hooks on around mom or dad's neck and easily release to wrap up the babe when done. Genius.
4. 3 Sprouts Hamper: Hamper by day and easily transportable bag by night.
5. Aveeno: Lotion, shampoo, soap, we buy it all. Aveeno is reliable and affordable.
6. Summer Changing Pad + Cover: Please don't pay more than $20 for a changing pad. We also bought a cheap white cover and painted the sides, an easy DIY I've yet to post. Also, it sounds silly, but you must get liners for your changing pad cover. They keep you from having to wash the cover all the time. 
7. Dekor Diaper Pail: It keeps the stench at bay, but gosh the refillable bags are expensive. Please tell me someone has a cheaper idea. Please?!
8. Stacking Cups: Perfect for land or water. These little stacking cups have holes in the bottom making for a fun waterfall come bath time.
We skipped: Infant sink tub.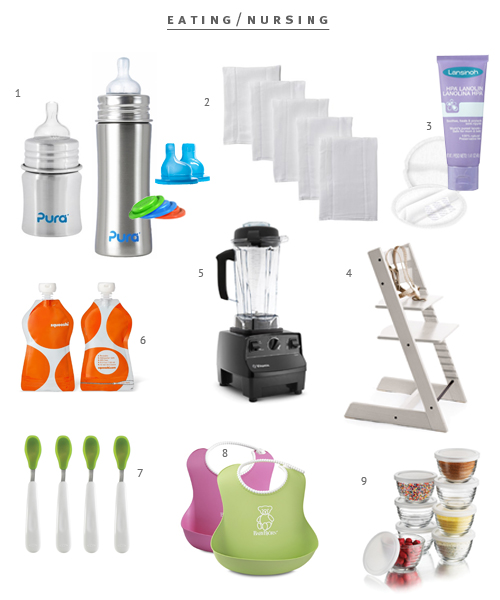 1. Pura Stainless Steel Bottles: Plastic isn't my favorite and glass breaks, so we went stainless steel. Thank the Lord we went with these bottles because Hal never took one. They convert into sippy cups and food containers, which we now use all the time. We could not love these more.
2. Gerber Burp Cloths: Skip the fancy burp cloths. They will get barfed on.
3. Lanolin + Pads: This cream saved my life the first couple weeks. Don't believe people when they say it doesn't hurt to breast feed. It does at first, even with a perfect latch. It's kinda like when you learn to play the guitar at first. Lanolin saves lives. 
4. Stokke Highchair + Seat: My favorite purchase of all. It's beautiful, grows with the babe, and sticks around for a life time. Even better, it allows her to sit at the table with us and eat at eye level. This is a post for another day, but as soon as she started eating, we've shared mealtimes together.
5. Vitamix: You may think I've gone crazy with this one. If you're in need of a good blender and you're going to buy a baby food blender, save your pennies and buy this guy. It'll also last you a lifetime and deliver great results. 
6. Squooshi Reusable Smoothie Packs: These are great for quick meals and make ahead meals. Smoothies taste awful by day two, so I make a small batch and freeze for the week. If you're on the go, they sell disposable versions of these. I use a flexible funnel to fill these, nothing fancy. 
7. OXO Spoons: Soft and durable.
8. Baby Bjorn Bib: Besides the times Hal wipes her hands on her sleeves, these keep her oh so clean and catch her food for later. 
9. Libbey 6 oz. Bowls: I wanted bowls that we'd still use after she grew out of mashes and purees. These fit the bill. If you're on-the-go or if you like to make things ahead of time and freeze, you may want to invest in leak-proof baby containers.
We skipped: Breast pump (We were given one through our insurance but it was lame. We should have invested in a good one.), nursing pillow, nursing cover (I used swaddle blankets as noted above.)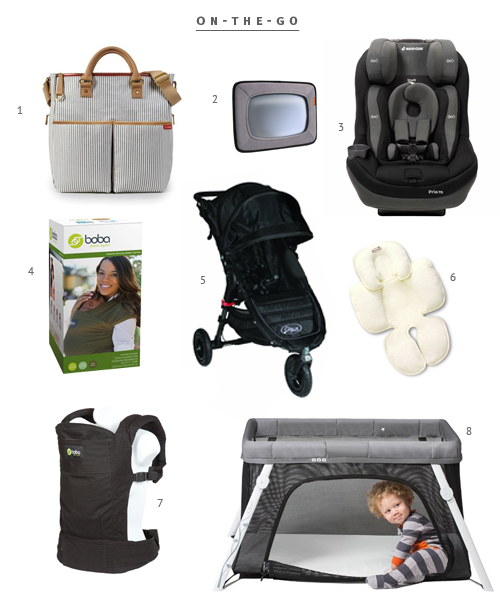 1. Skip Hop Diaper Bag + Changing Station: Take another look at that bag. You'd never guess it's a highly functional diaper bag. It's far too pretty. It's become my purse too. I don't care for the changing pad that comes with it, so we bought a changing station (also made by Skip Hop). It's small and perfect for on-the-go changing. The pad absorbs nothing and wipes down clean. 
2. Brica Mirror: We had to jimmy rig this when Hal was teeny tiny so that we could see her, otherwise it's worked great.
3. Maxi Cosi Convertible Car Seat: After much thought, we forewent the infant carseat. This carseat is great because it has a built in infant insert that can be removed when the time comes. She was super snuggly in it. I never had to lug around a 15 lb. carrier. I'm short and my upper body strength is lacking. I honestly don't think I would have been able to carry the thing. We used wraps and carriers (below) when we were out and about.
4. Boba Wrap: For many weeks, this is the only place Hal would sleep during the day. But around 4  months, she started trying to break out of it. She's an ornery lady at times. Overall, I liked the wrap (after watching videos of how to use it properly). I didn't care for the length though. Again, I'm really short and it's really long.
5. City Mini Jogger Stroller: We test drove this in a big box store. It's a splurge and drives like a Lexus, not that I would know. We ended up going with it since it does everything we want. We didn't want to spend the same amount or more on 3 strollers in the long run. 
6. Summer Infant Insert: Since we didn't have an infant carseat, we used this to keep her nice and snuggly in the jogger stroller (which has the option to recline flat). It's two sided, one for warmer and one for cooler days.
7. Boba 3G Carrier: After reading lots of reviews, we went with this guy. It's super durable, and it doesn't require an infant insert like most do. Kevin and I vary greatly in size, and it quickly and easily adjusts to either of us. Hal will actually ride around in this every so often. Depends on her mood. The girl just wants to be free.
8. Lotus Travel Crib: While it's not the most cushy, it's small, light, and easy to transport (you can wear it as a back pack). The mesh goes all the way around which is great safety-wise. It unzips for easy enters and exits. 
We skipped: Infant car seat, car seat adapter for stroller, all other infant carseat accessories, infant insert for baby carrier.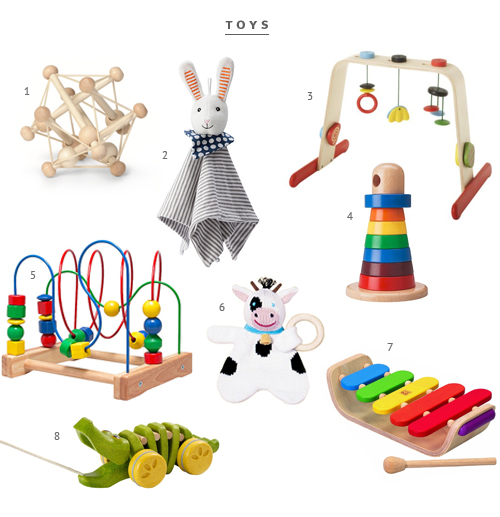 1. Manhattan Toy Skwish Natural Rattle: Affordable and beautiful. At almost a year, she still plays with it.
2. Ikea Animal Blanket: Ikea has modern and (very) affordable toys. You can't go wrong there.
3. Ikea Baby Gym: It's pretty and wont break the bank like so many of the baby gyms do. She only used this a couple months at most. 
4. Ikea Stacking Rings: I'm on repeat over here. Just go to Ikea for pretty, cheap, wooden toys.
5. Ikea Bead Roller Coaster: Ditto to above.
6. Zubels Organic Rattle + Teether: We have the cat version of this toy, which is no longer available. She loved this guy when she was itty bitty.
7. Plan Toys Xylophone: They say this toy is for 1 year+ but Hal loved this even at 6 months. She's now a xylophone wizard at 11 months.
8. Plan Toys Alligator: As soon as she could sit up, she loved this toy. It clicks as you pull. I think she'll love it even more when she can walk.
We skipped: jumper gyms and walkers.

Registering is overwhelming, especially for the first time. Please ask any and all questions. Besides very generous showers, we bought all of these items. There's no hidden advertisements here minus affiliate links here and there. Now, how to actually register? You're juggling a lot, so keep the process simple with BabyList. BabyList is a a universal baby registry. Put anything on your baby registry from any store from the comfort of your couch. It's that easy. Other really great registry sources that helped me immensely (thanks to an email from Kasey of Turntable Kitchen): A Cup of Joe, Oh Joy!, and Design for Minikind.

(Visited 12,798 times, 1 visits today)
This blog is made possible by your support (thank you), select brand partnerships, advertisements, and affiliate links to items I love and use. READ MORE >