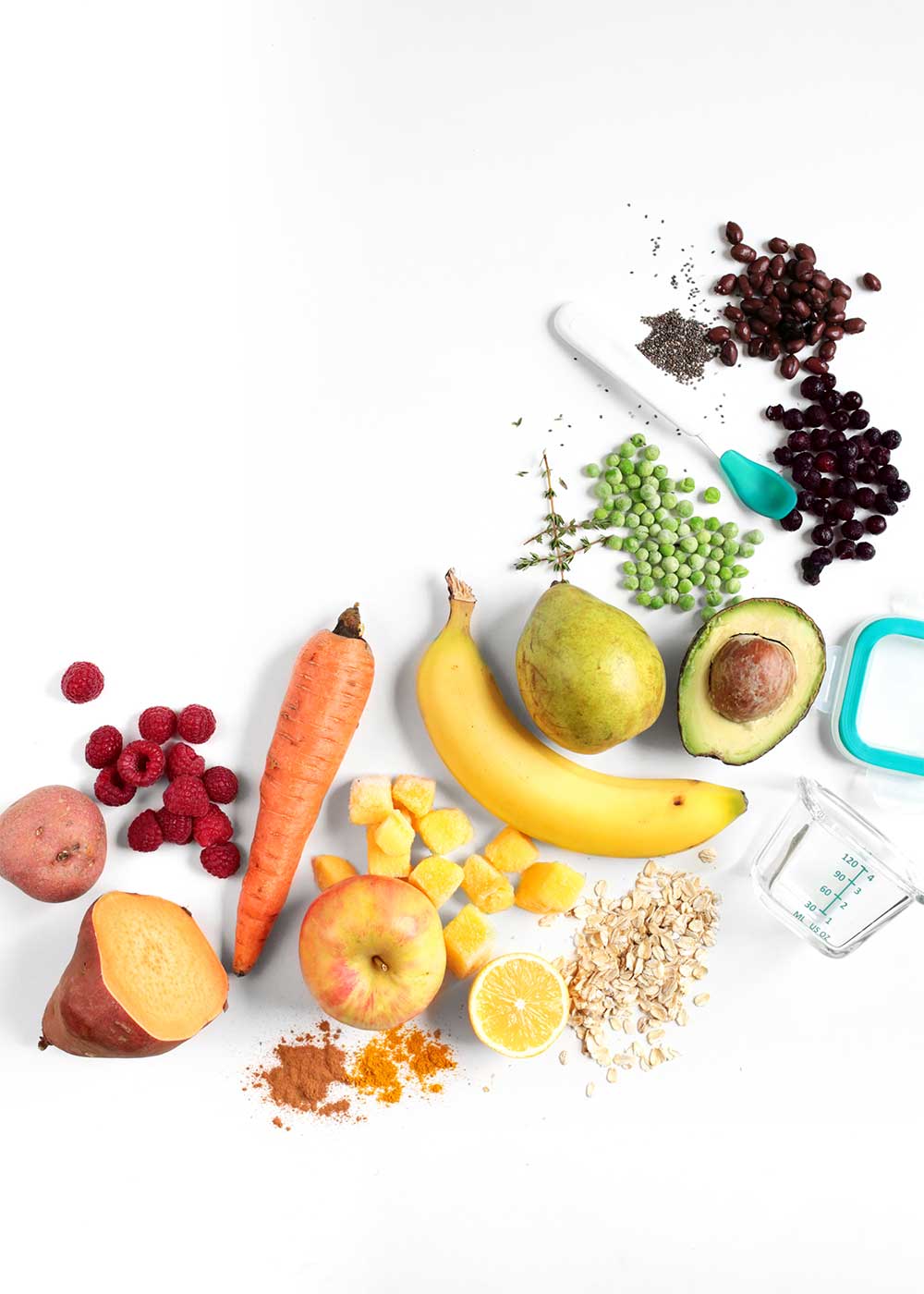 Up until now, I've had a 7-year-old completely empty category for homemade baby food recipes on the blog. If that isn't indicative of my well-intentioned self, I don't know what is. I had always planned on posting the homemade baby food recipes that I made for Hal, and I wish I had. Because, with no memory and a mom brain, I basically had to start from scratch with Linnie. (Just know, if I tell you I'll do something, I probably will. It just might be a year or two later.) In that spirit, I decided to do one huge Homemade Baby Food Recipe post for fear that another won't happen. So here it is, equipped with all the colors of the rainbow, using minimal tools, and simple methods.

Linnie's Feeding Story
This babe has never really loved milk (or nursing), but she loves her food. Linnie had trouble keeping large amounts of milk down but still seemed hungry. So we started her on purées at month 5, giving her a spoonful a day until she got the hang of chewing and swallowing. From months 5-7, we fed her homemade purées. And, when she started showing signs of wanting to feed herself by month 7, we switched over to finger foods. (Side note: we did everything different with Hal, going the baby-led weaning route. I watched her carefully to make sure she didn't choke on a bite. And she frustratingly tried to feed herself to no avail for weeks. But this time around, I was overly busy with work and at-home school and no daycare, plus a hungry baby. We had to do purées with Linnie. And I'm so happy we did. It made mealtimes easier. When she was ready to feed herself, we let her feed herself. It all seemed to click, unlike breastfeeding.)
I say purées made our life easier. They did, after I finally figured out how to make them without a green watery mess. Have no fear, I have you covered.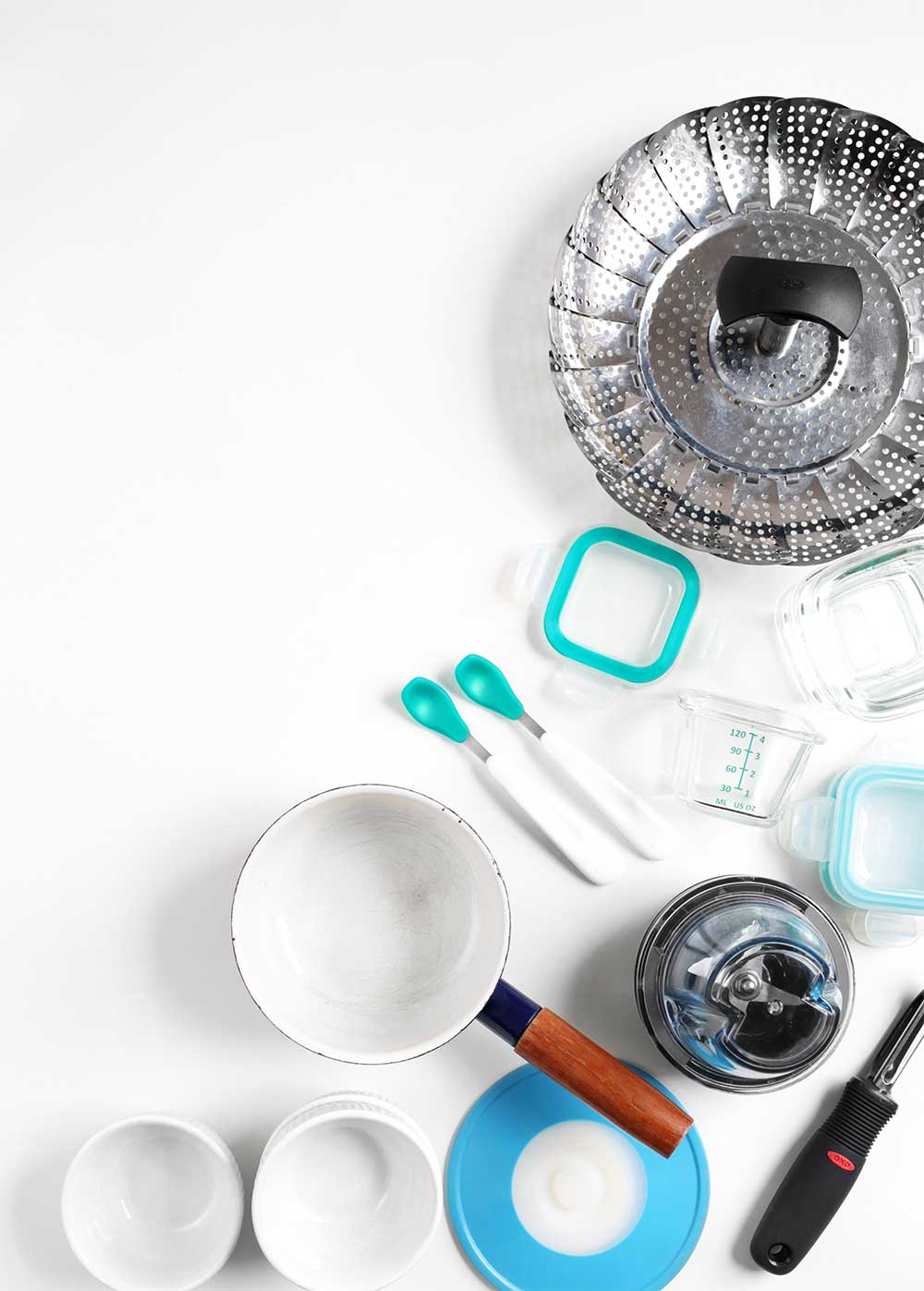 Homemade Baby Food Tools
Homemade baby food purées require several special tools. However, most are probably sitting in your cabinets. And to the new tools we added to pull this off, they'll serve a purpose afterward in the kitchen. If not, I'll sell them on Facebook Marketplace, where we've purchased and sold a good chunk of baby items.
OXO Stainless Steel Steamer
I love this one in that it fits in both small and large pots. It also has a handle that allows you to remove the food without burning your hand. I do a lot of steaming to make baby food, for both the purée stage and the finger food stage.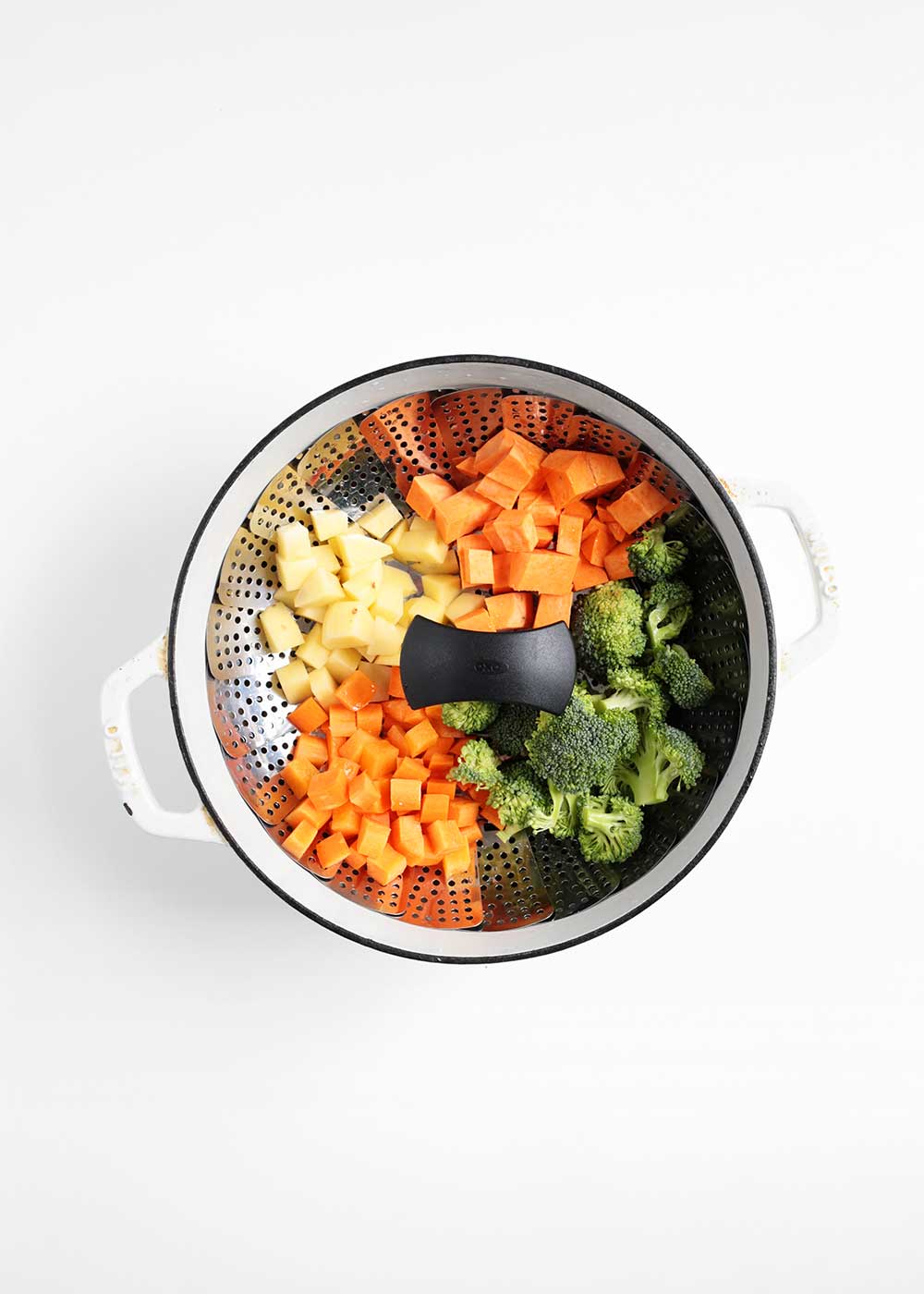 OXO Silicone Baby Spoons
We used these same spoons with Hal. They are durable yet gentle. Best of all, this spoon is sturdy enough to smash things like black beans or bananas or avocado.
OXO Glass Baby Block Jars
These jars are freezer-safe and come with a stackable tray for easy fridge or freezer storage. Once I'm done making baby food, I plan on using these leak-proof jars to store sauces and dressings. These jars are the same system I use to store leftover food.
Vitamix + Blender Bowl
We use a Vitamix on a regular basis. To make smaller amounts of baby food, I bought the blender bowl, which is also a great size for blending up sauces. Unless you're blending large quantities of baby food at a time, you'll need a smaller basin.
OXO Peeler
I imagine you have a peeler in your kitchen gadget drawer. OXO's is super sturdy. We've had the same one since we got married.
Small Pot
We don't have a microwave and use this pot to reheat food all the time. It's also great for heating up smaller amounts of food, like frozen peas or mangos or blueberries.
OXO Reusable Silicone Lids
These lids can be used to store leftovers. However, I most often use them when making the baby oatmeal below to steam and cook the oats. (See here for other uses.)
Small Bowls
We have a small set of bowls, perfect for a scoop of ice cream. I use these same bowls for Linnie. We never bought special bowls for Hal, and I don't know that we will for Linnie. She mostly eats off her highchair tray or the table. If you're looking for baby-friendly bowls, my friend loves these Stick & Stay suction cup bowls from OXO.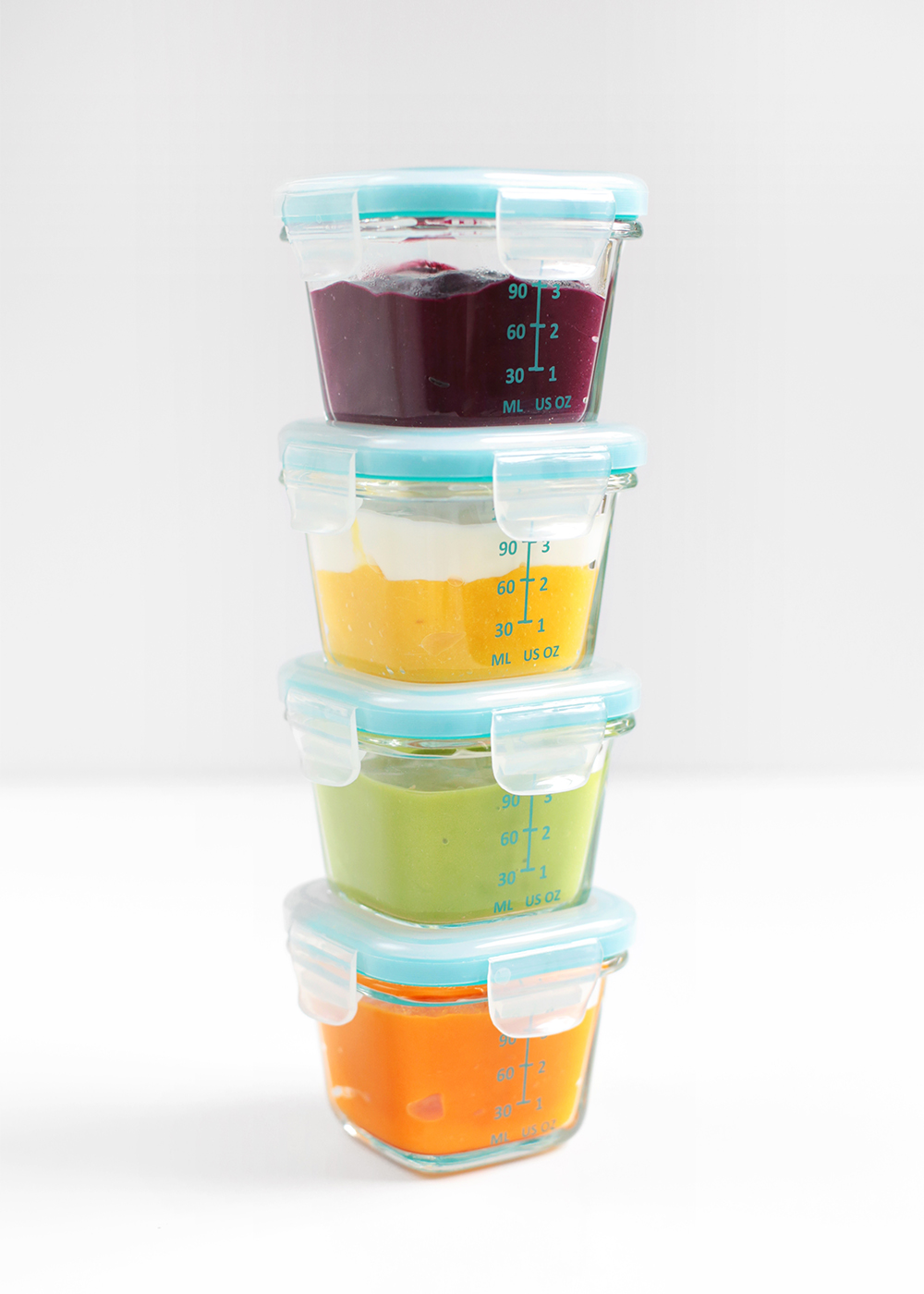 Homemade Baby Food Recipes
In an effort to keep life with a baby as simple as possible (is that an oxymoron?), these recipes are made with minimal ingredients and simple methods. They're flexible, too, so that you can make easy substitutions with whatever you have on hand. And best of all, they're delicious! Mel tested and Linnie approved. Most of the recipes are written in simple ratios so that you can scale them up as needed. I always made a small batch when trying new things out with Linnie before scaling up, then storing some in the fridge for the week and some in the freezer for later. In general, when using frozen produce, I don't recommend refreezing after cooking. So for those recipes, make enough for the week.
Note: Since most babies eat purées for such a short time, I didn't bother including meat in any of my recipes, knowing she'd get it soon enough. Outside keeping salt low, skipping sugar or honey, and looking for allergic reactions, you can play around with these recipes, adding meat if you'd like!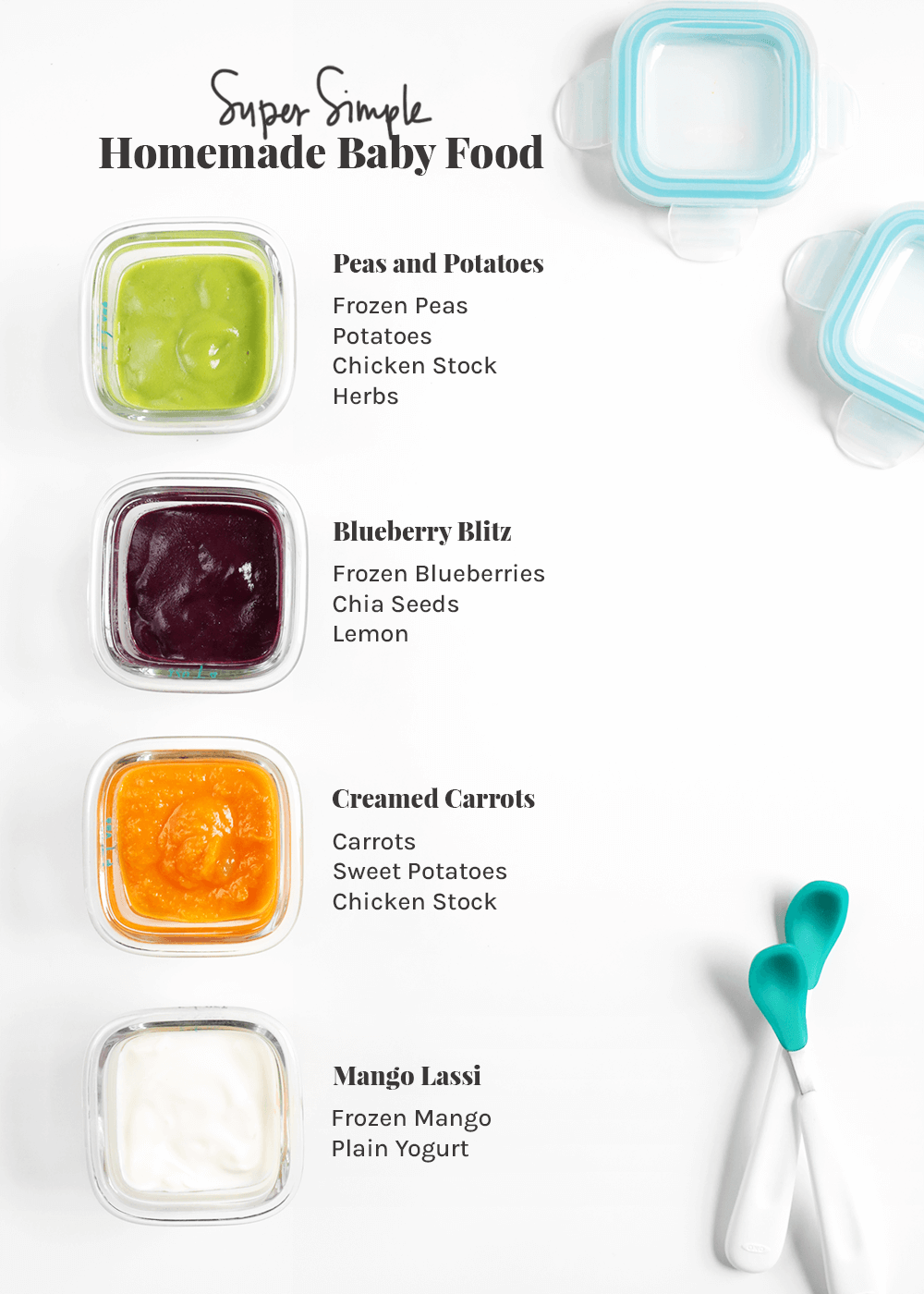 Peas and Potatoes
Cook frozen peas in a bit of water until softened. Steam potatoes until softened. If desired, add a sprig of herbs into the pea pot for flavor. Blend together 3 parts drained peas to 1 part potato plus a splash of stock until smooth and creamy.
Alternates: Substitute peas for broccoli, cauliflower, or green beans.
Blueberry Blitz
Cook about 1 cup of frozen blueberries until bubbly. Stir in about 2 teaspoons of chia seeds and 2 teaspoons of lemon juice. Cook for another minute or so. Remove from heat and allow to cool and thicken for about 5 minutes. Purée until smooth. If using fresh fruit, this recipe is freezer-safe.
Alternates: Substitute blueberries for strawberries or raspberries or a mix.
Creamed Carrots
Steam equal parts carrots and sweet potatoes cut into similar sized chunks until softened. Purée until smooth, adding in a splash of stock to bring together. This recipe is freezer-safe.
Alternates: Substitute sweet potatoes for butternut squash or parsnips for carrots.
Mango Lassi
Cook frozen mangos in a bit of water until softened. Blend until smooth. Serve one part whole milk plain yogurt to 3 parts mango.
Applesauce (not pictured)
Cut apples into small chunks. In a small pot, add a short layer of water to keep the apples from sticking, plus a couple dashes of cinnamon. Cover and cook until apples are softened, adding more water as needed. Blend until smooth. This recipe is freezer-safe.
Alternates: Substitute pears for apples or do a mix of both.
Avocado Smash (not pictured)
In a small bowl, smash cooked (or canned) black beans, ripe avocado hunks, and steamed sweet potatoes until smooth. Best served same day.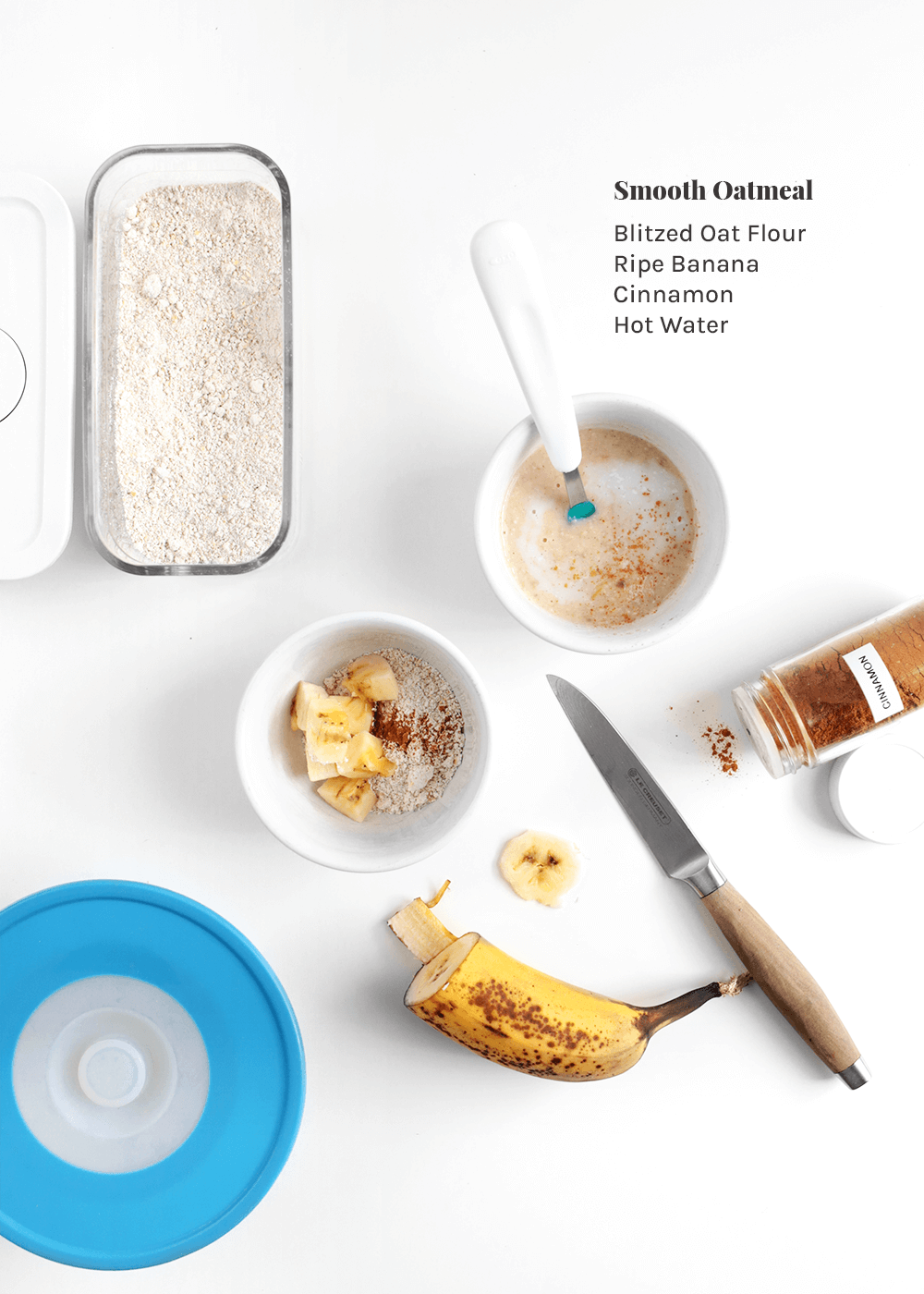 Smooth Oatmeal
Blend 2 cups or so of old fashioned oats in a Vitamix until a flour-like consistency for at-the-ready oatmeal (like so). Store in an airtight container. (I like the OXO Pop Containers.) To make oatmeal, add about 2 tablespoons of oat flour to a small bowl, plus a dash of cinnamon and a 1-inch hunk of ripe banana. Cover oats with boiling hot water, stir to briefly mix, and cover to steam for about 2 minutes. Using the back of a spoon, mash banana until creamy and no lumps remain. Thin to your liking with water or other baby-safe liquid.
Alternates: Add a splash of creamy coconut milk. Swap cinnamon for turmeric. Swap bananas for a fruit purée (like the Blueberry Blitz). Add a dollop of plain whole milk yogurt or a tiny scoop of almond butter.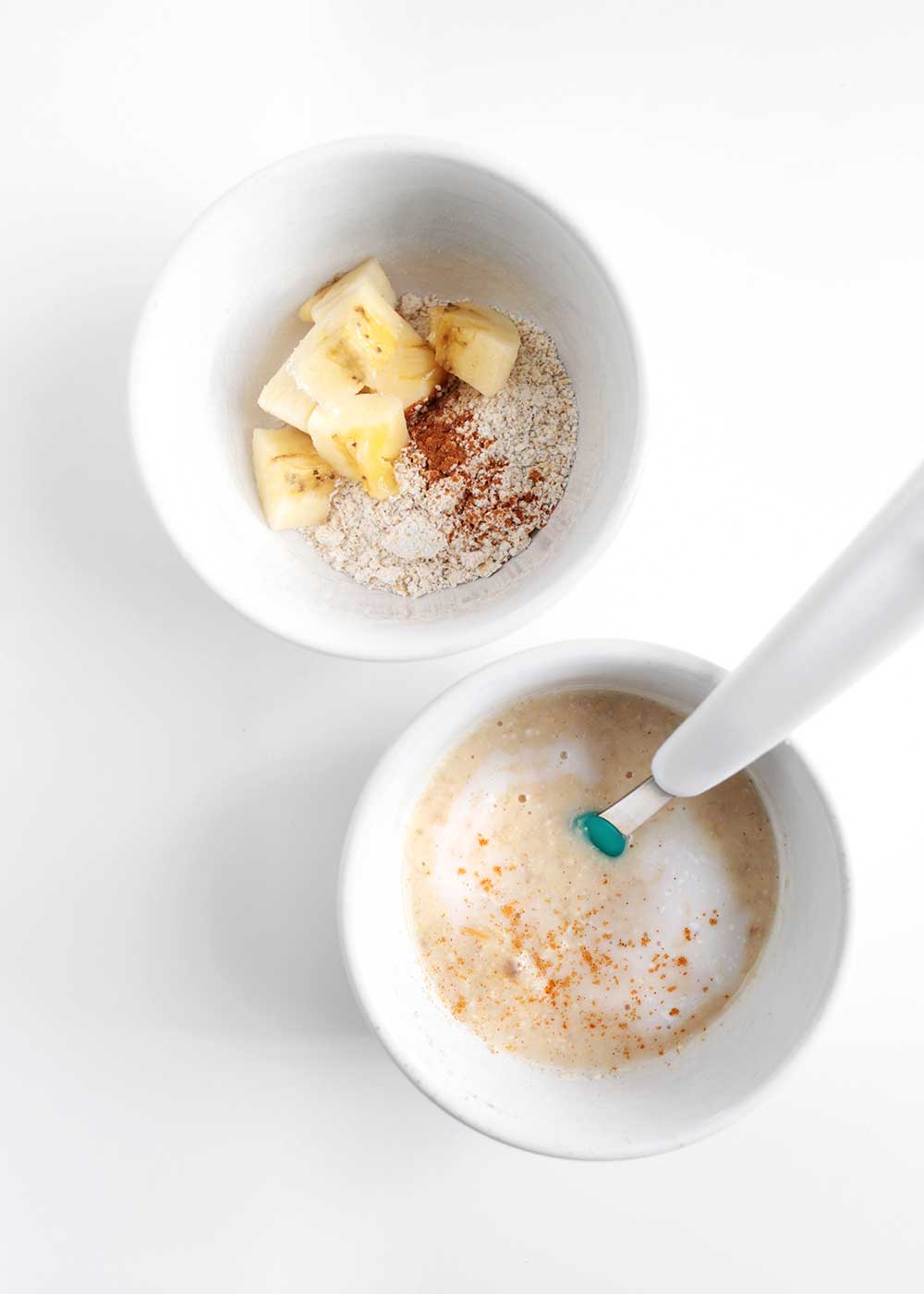 Tips for making homemade baby food purées:
To thicken watery vegetable purées, add a starch like steamed potatoes or cooked legumes. I like a 3:1 ratio of vegetables to starch.

To thin savory purées, add a bit of chicken stock. This will also add a hit of flavor and protein.

To watery fruits, cook with chia seeds to thicken. This will also adds a bit of protein.

Things like banana and avocado don't save well. Use them within the same day.

Use frozen vegetables and fruits when you can. I don't love most frozen produce as it tends to be mushy when warmed. But for baby food, frozen produce is perfect! Frozen food, too, is typically harvested at the peak of ripeness and frozen within hours to preserve its nutrients.

Making baby food can feel like such a mystery. How do you know what foods to blend together? I like to think of it as stair-stepping them eating the foods we eat on a regular basis. So, if you're looking for more recipe ideas, look at what you're cooking and alter by omitting the salt and sugars, reducing the spice, and blending together.
This blog is made possible by your support (thank you), select brand partnerships, advertisements, and affiliate links to items I love and use. READ MORE >