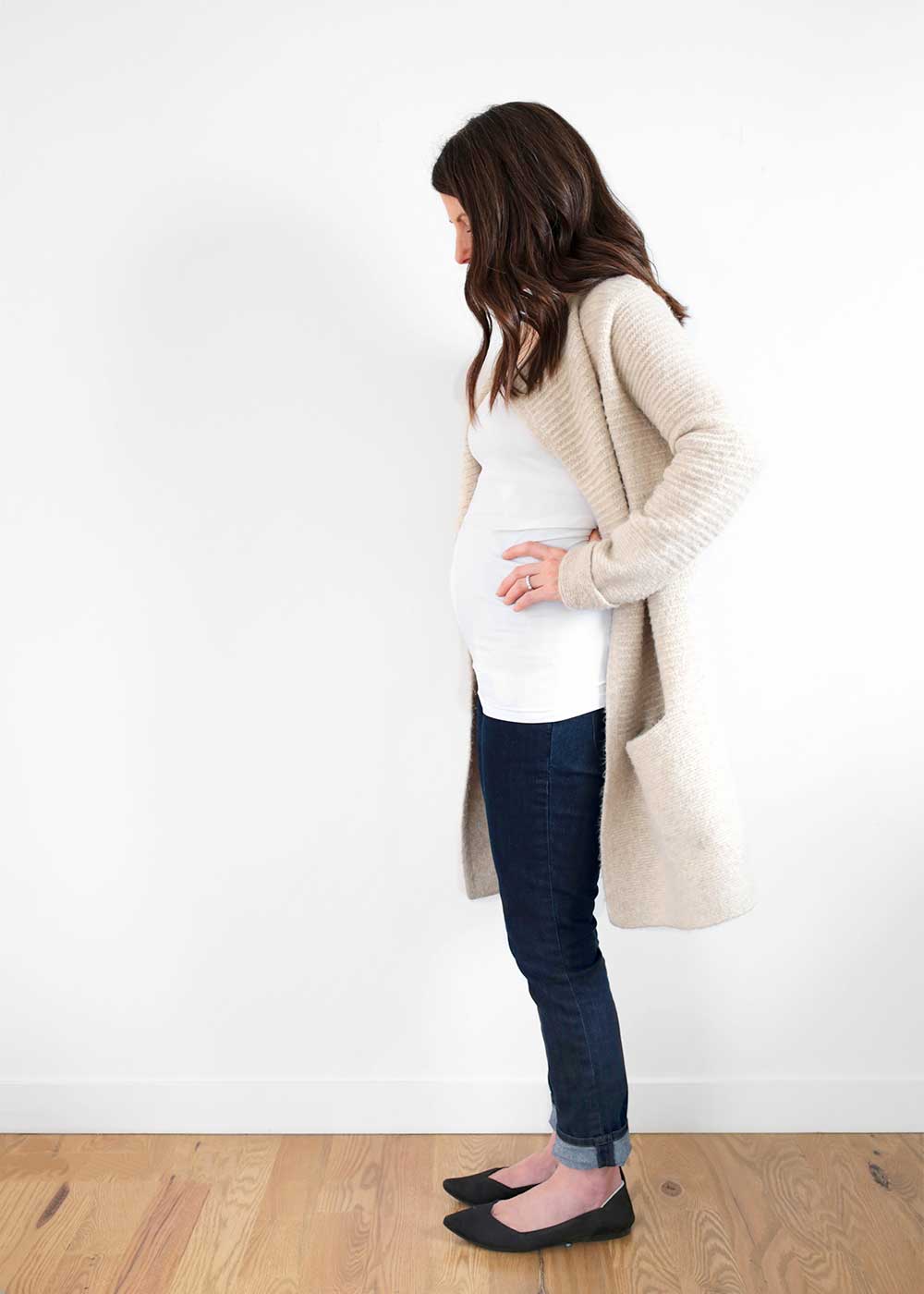 I'm short. And now I'm short and pregnant. Finding comfortable clothes when I'm not pregnant is difficult. It's especially difficult in the winter when I have to also consider pant length or find a tailor to lop off the bottom half. (I really should learn how to hem.) Now I'm short and pregnant during the entirety of winter. I was pregnant with Hallie during the summer months, when you can skip pants for flowy, stretchy dresses and stretchy workout shorts with Kev's big shirts. I only bought a couple of items that pregnancy. When this bump popped (and it popped fast this time around), I had nothing to wear. I proceeded to buy and return a lot of items in an effort to create a Minimal Winter Maternity Wardrobe. 
Thankfully, I'm only buying maternity clothes for one season. Winter. And thankfully, finding clothes that fit is a very minor maternity problem, even if it feels like a big one some days. And thankfully, after buying and returning what feels like the entire maternity line available to the world, I hopefully have a couple tips to pass on to you. For non-maternity minimalist wardrobe tips, head this way.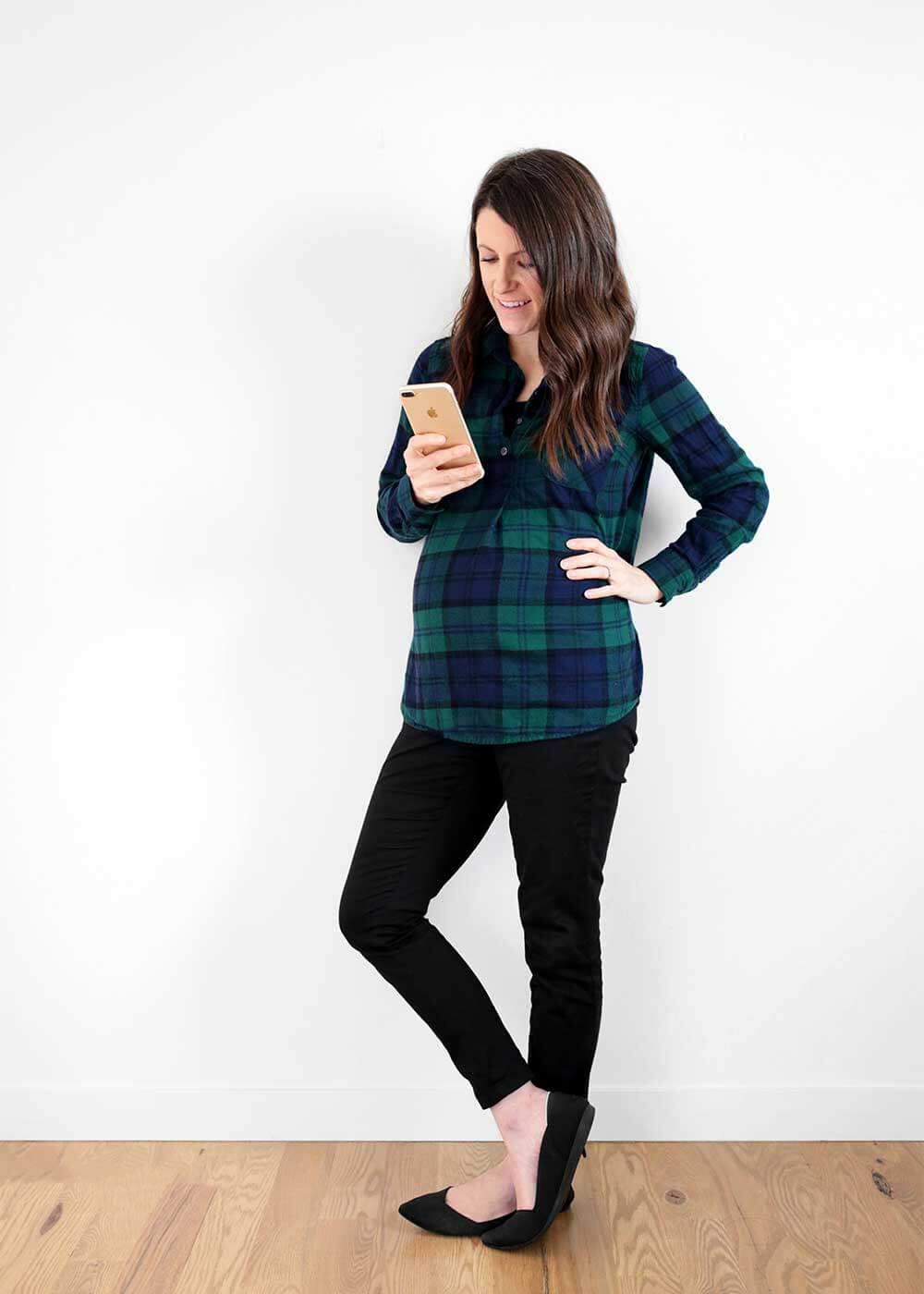 How to Create a Minimal Winter Maternity Wardrobe
List the occasions you need clothes for: everyday, work, working out, special occasions, lounging, etc. This will help to determine the types of clothes you need as well as the amount per category. You're basically building an entirely new wardrobe.
Consider how often you do laundry: once a week, twice a week, every other week? This will also help to determine the number of clothes you need.
Consider your style. Do you want to look like you always do? Or do you want to branch out for 9 months? I did a little bit of both, making sure I had my staple pieces that I always wear.
Buy with the end in mind. Will this fit week 33? Do you plan on having more kids? The answers to these questions will help you decide what to buy as well as the quality of what to buy. Whatever I bought at the beginning, I wanted it to fit in the end, so things looked a little baggy at first. I also bought knowing that this is my last pregnancy.
What type of panel do you prefer? Full panel, demi, or side-panel/inset? Who makes your favorite panel? After trying all panel styles and several panels from different places, I prefer a full panel since I'm so short and carry so low, a panel without an elastic bands sewn into the top. The other two styles hit my bump at uncomfortable spots. Loft makes my favorite full panel that stays put without feeling too constricting. (They also sell petite maternity.) With that said, I've limited my pant search to the Loft.
Scour your closet for items that can still be worn, like open-front sweaters, cardigans, vests, and tunics. It's so nice to be able to wear items you already own. They make me feel a little like my old self.
Most maternity clothes are sold online only. Look for stores with a free return shipping policy. With some stores, you have to pay return shipping fees, which can quickly add up to a new pair of jeans. Also, look for stores that you can return to a nearby store. Limit your purchases to these places for ease.
Buy multiple sizes when ordering. I made this mistake so many times, which led to unnecessary orders, returns, and trips to the post office. At some stores, I'm a size smaller in pants and at others, I'm two sizes larger.
It's hard to watch your body change shape (at least it is for me). Try scarves or straight, open-front sweaters to cut the curvy lines and accentuate your sweet bump. It's a trick I use to feel a little more comfortable in my growing skin. These items are also great for adding variety to your minimal wardrobe.

My Minimal Winter Maternity Wardrobe Template
Color palette: black, white, chambray, and grey + a pop of plaid
EVERYDAY
1-2 pairs of blue jeans (full panel, dark rinse, skinny)
1 other pair of jeans (I like these white jeans OK. Loft is out of my size. Size up.)
2 fitted long-sleeved tees, same color
2-3 button-downs or popovers
1-2 white camisoles, 1 black (love these long camis for maternity or not)
2 non-maternity cozy open-front sweaters
1 non-maternity vest
1-2 scarves (PS—men's plaid patterns are almost always better than women's)
1 maternity jacket (sized down) or this jacket extender or this one (see note below)
For the most part, my everyday maternity wardrobe heavily resembles my non-maternity winter wardrobe. Though, I didn't buy duplicates like I typically do since I'll only be wearing these clothes for 9 months. For that same reason, I thought I'd add a little more pattern to this wardrobe. A note on maternity jackets. If you live in a super cold climate, like I do, I'd recommend going with adding a jacket extender to your super warm winter jacket. I thought I could skimp here, but a couple of really cold days waiting for Hal at the bus stop convinced me otherwise. The maternity jackets I tried (plus Kev's jacket) let too much cold air as they flair open at the bottom to the width of your bump. I went with this jacket extender. It fits my long winter coat perfectly and the shipping was super fast. Come next winter, I can wear baby and my jacket.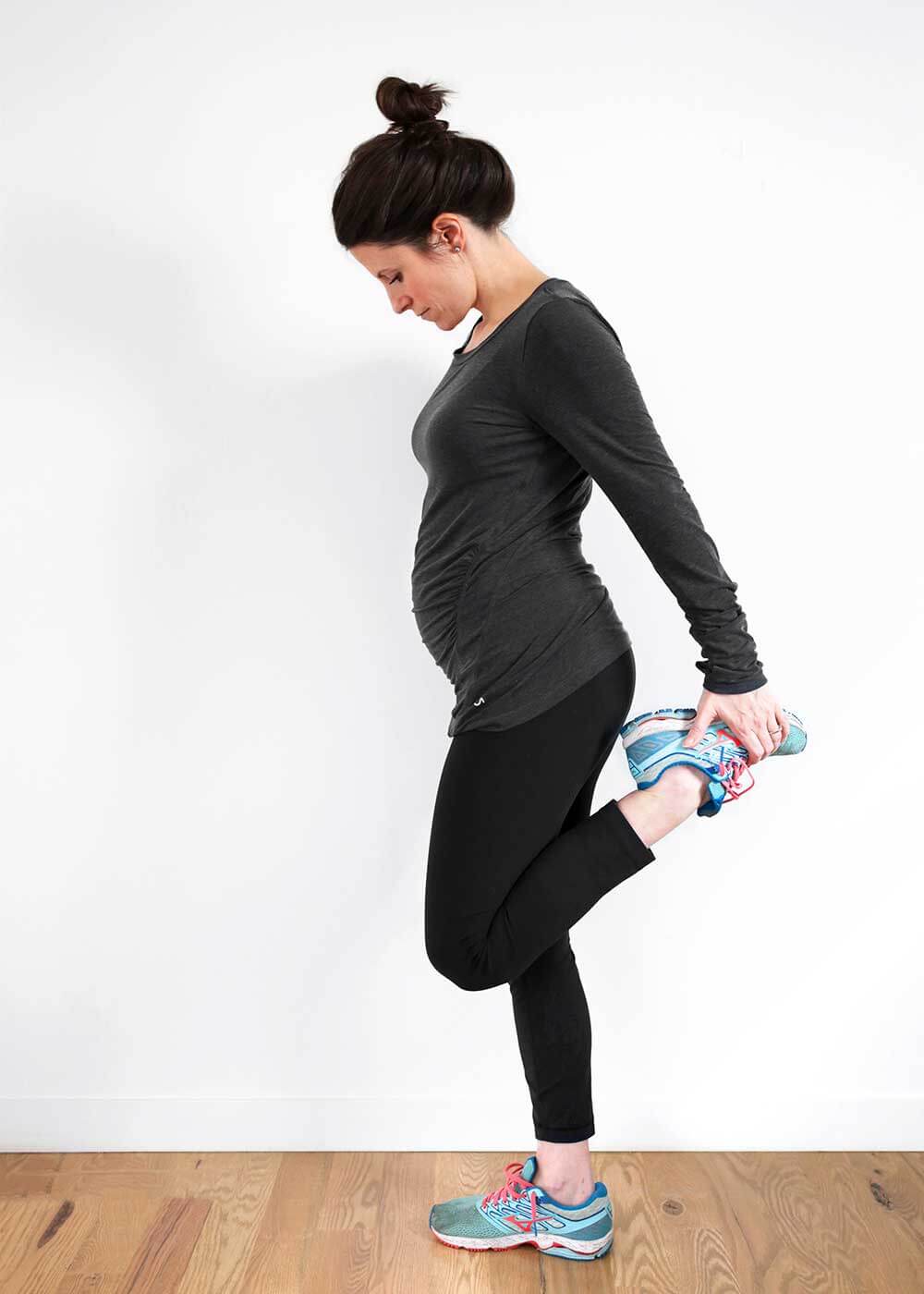 Workout
2 maternity workout shirts, same color
1-2 pairs of yoga pants, same color
These non-maternity Lululemon Align yoga pants fit better than any maternity yoga pants I bought. And I bought and returned them all, even the highest-rated ones. This particular pant came highly recommended by my friend who works for Lululemon, who wore them through her entire pregnancy, as well as the at-home prenatal workout program I'm following called Studio Bloom. Note: I sized up. The Align pant comes in two series. I prefer the original Align pant as they come in a variety of lengths. I bought 23″ crop (pictured above). The Align II pant has an additional seam up the sides of the legs.
Special Occasion
1 pair of black pants
I wear these pants with a shirt from above, plus a necklace, and that's as fancy as I'm going to get right now.
Lounge
1 sweatshirt
1 pair of ultra-comfortable pants
By night time, I feel huge and uncomfortable, even in my favorite pants. I change into a huge sweatshirt and some super non-constricting leggings I bought while pregnant with Hal. Having these items has really improved my evening mood. (I get grumpy when my clothes feel tight.)
This blog is made possible by your support (thank you), select brand partnerships, advertisements, and affiliate links to items I love and use. READ MORE >