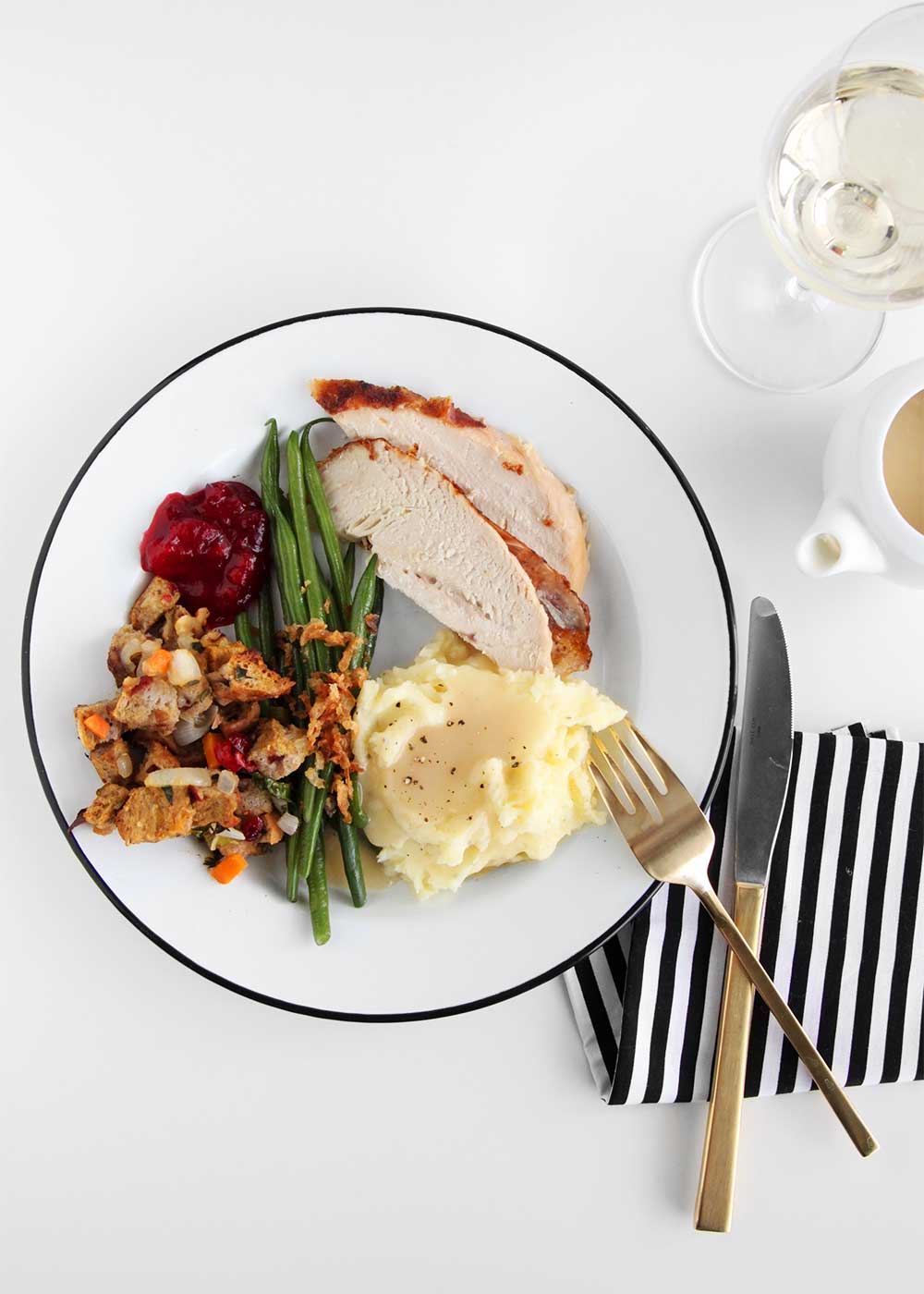 My love language is cooking, cooking an entire Thanksgiving dinner from scratch. Well, outside the fried onions for the top of the green bean casserole, which I still buy. I don't care to speed up the process up or cut corners. I want this meal to be made with so much love you can taste it. Thanksgiving is my Christmas and my Super Bowl. However, cooking a whole Thanksgiving from scratch can feel overwhelming. Over the years, I've broken down the meal into several days of prep to make it mentally and physically manageable. I have a pennant on my wall that says—good things take time. When it comes to Thanksgiving, good things take time and a bit of planning. So I made you (and myself) a Thanksgiving Cooking Schedule.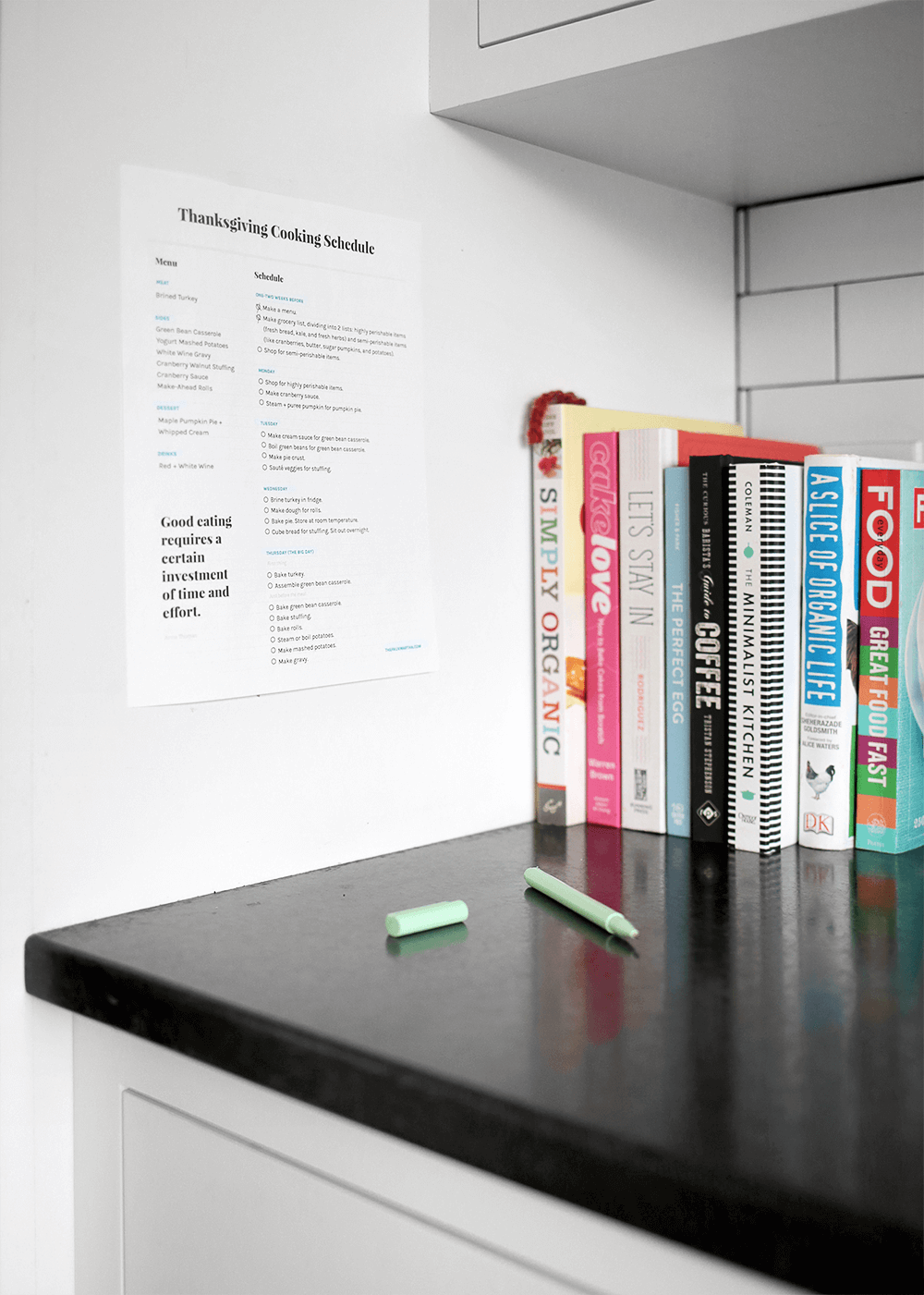 Being able to confidently break apart components of a recipe to prep in advance will make you an efficient cook on more days than just Thanksgiving. This schedule will teach you how to do that for the big day and for the everyday. It's my secret weapon to getting dinner on the table during the week. (You can cook to that same rhythm using my book.) Below is the menu I'll be making this year. Use this schedule as a guide to create your Thanksgiving Cooking Schedule. More often than not, sautés, chopping, and some sauces can be prepped in advance.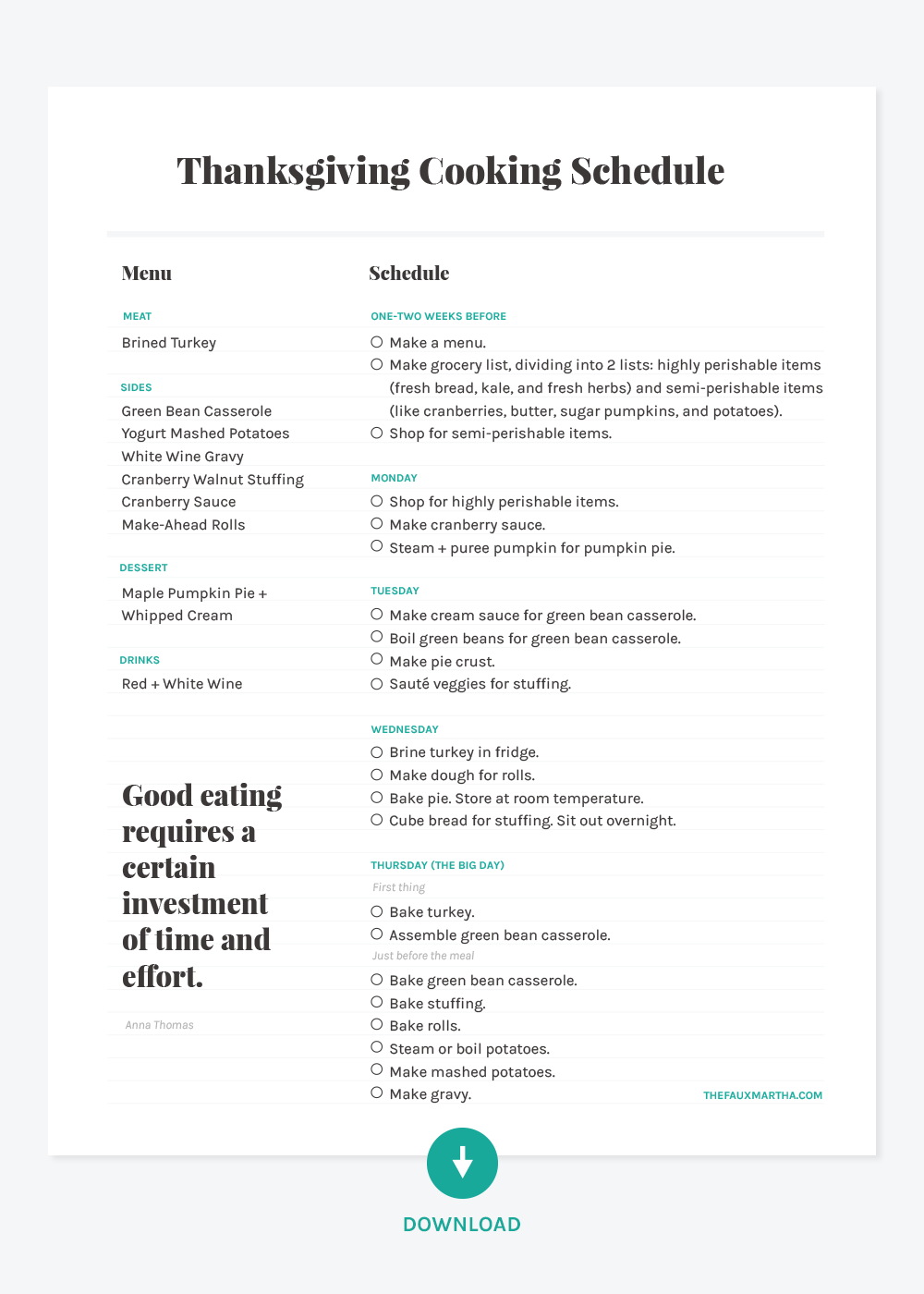 Thanksgiving Menu
Meat
Sides
Green Bean Casserole
Yogurt Mashed Potatoes
White Wine Gravy
Cranberry Walnut Stuffing
Cranberry Sauce
Make-Ahead Rolls from The Minimalist Kitchen
Dessert
Maple Pumpkin Pie + Whipped Cream

Thanksgiving Cooking Schedule
ONE-TWO WEEKS BEFORE
Make a menu.
Make grocery list, dividing into 2 lists: highly perishable items (fresh bread, kale, and fresh herbs) and semi-perishable items (like cranberries, butter, sugar pumpkins, and potatoes).
Shop for semi-perishable items.
MONDAY
Shop for highly perishable items.
Make cranberry sauce.
Steam + puree pumpkin for pumpkin pie.
TUESDAY
Make cream sauce for green bean casserole.
Boil green beans for green bean casserole.
Make pie crust.
Sauté veggies for stuffing.

WEDNESDAY
Brine turkey.
Make rolls.
Bake pie.
Cube bread for stuffing.
THURSDAY (THE BIG DAY)
First thing:
Bake turkey.
Assemble green bean casserole.
Just before the meal:
Bake green bean casserole.
Bake stuffing.
Bake rolls.
Steam or boil potatoes.
Make mashed potatoes.
Make gravy.
This blog is made possible by your support (thank you), select brand partnerships, advertisements, and affiliate links to items I love and use. READ MORE >