I had planned on doing an easter post today. But my idea flopped. Many tireless hours went into, and it flopped. Yes, I do want some cheese with this wine. I wasn't going to tell you what I was making incase I decided to give it another try. But, I'm not. I'm no good at these things. And by "things" I mean cake balls. I've tried a couple times, and they're just not my forte. I have these conflicting thoughts of "Don't give up!" and "Just stick with what you're good at." Well, I've decided to stick with what I'm good at, leaving the cake balls to Bakerella. Don't get me wrong, I'm up for a good challenge. And, I don't mind if I fail from time to time. But I've learned I'm much better at baking than I am at decorating (case in point—cake ball fail). I'm much better at perfecting the classics (scones, cakes, cookies, macarons) than coming up with something new. I'm much better at sticking to my purist ways, than bending the rules and using the not so pure stuff. My take-away from all of this is—stick with what you're good at, and get really good at it.
Shawoof (wiping sweat off brow). That was cathartic.
Now on to the good stuff. Red Velvet Cake! Remember the Sailboat Cupcakes from the last post? I told you I'd be back with the recipe. As promised, here it is. But first, I have to do another plug for my favorite baker—Warren Brown from Cake Love. His recipes make the best cakes ever (no lie). He is a purist as well. He believes in baking cakes from scratch. None of that artificial stuff. However, he does make a Red Velvet Cake because of it'overwhelming request at his bakery. It's the only thing he uses food coloring in. You can leave the food coloring out and call it Brown Velvet. Or you can use the India Tree products (this is what I use), which are made from vegetables pigments.
Red Velvet Cake
recipe from Warren Brown, United Cakes of America
makes 24 cupcakes
DRY INGREDIENTS
2 1/4 c. Cake Flour (I used unbleached AP Flour)
2 tbsp. Cocoa Powder
1 tsp. Salt
1 tsp. Baking soda
WET INGREDIENTS
1 c. Buttermilk
1 tsp. Vanilla Extract
1 tsp. Apple Cider Vinegar
CREAMING INGREDIENTS
2 sticks of Unsalted Butter (room temp)
1 1/2 c. Superfine Sugar (You can pop regular sugar in a food processor to achieve this)
2 large eggs
1 oz. Red Food Dye (Opt out and make it Brown Velvet)
1. Preheat oven to 335° and place the rack in the middle position. Line 2 cupcake pans. (Read the last post for a cupcake liner tip.)
2. Measure the dry ingredients and wet ingredients into 2 separate bowls. Whisk each to combine.
3. Measure the the butter and sugar into the bowl of a standing mixer fitted with the paddle attachment. Cream together on low speed for about 5 minutes.
4. Add eggs one at a time into the well creamed butter. Beat in the dye.
5. Alternately add the dry and wet ingredients about a quarter at a time. (This should only take a minute.) Scrape sides. Beat on medium-high speed for 1 minute.
6.  Pour the batter into the liners and bake the cupcakes for 20 to 24 minutes, or until a wooden skewer comes out clean.
7. Cool the cupcakes for 5 minutes before inverting them on to a flat surface. Allow them to come to room temperature before frosting.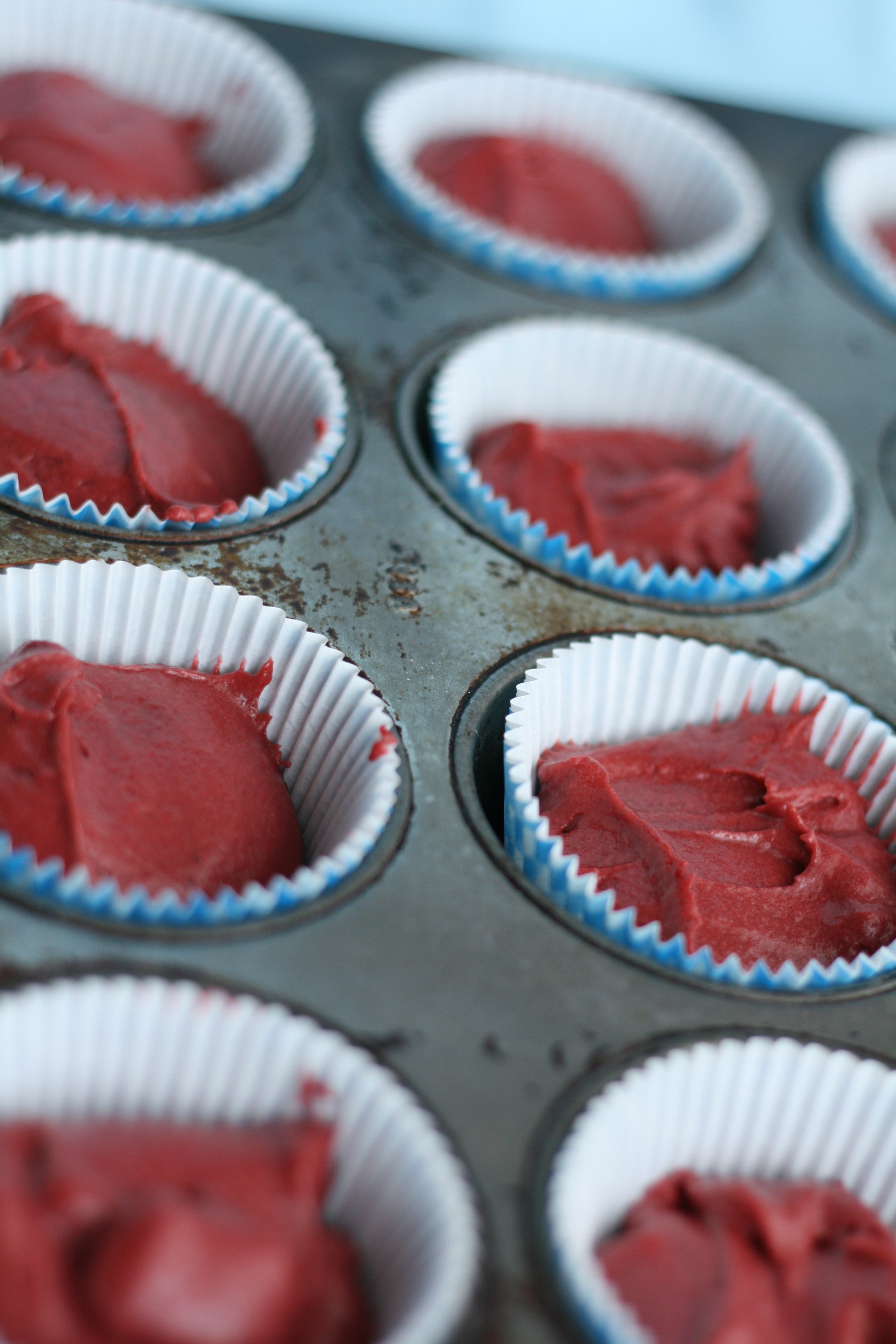 Cream Cheese Frosting
recipe by yours truly 
2 sticks of Unsalted Butter (room temp)
16 oz. Cream Cheese (room temp)
1 tsp. Vanilla Extract
Dash of Sea Salt
3-4 c. Powdered Sugar
1. Cream together butter and cream cheese.
2. Add vanilla extract and salt. Mix.
3. Add powdered sugar one cup at a time. Mix well between each addition. After 3 cups, taste to see if additional powdered sugar is necessary.
4. Ice your cupcakes. Looking for tips? Check out the last post.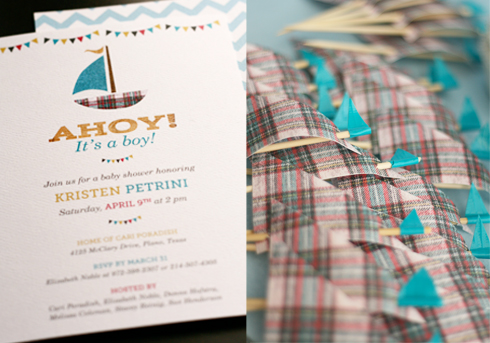 If you missed it, click here for the sailboat decorations. For matching invitations, click here.
P.S.—These lovely little sailboats made their debut on the very talented Shauna Younge's blog! Thanks Shauna!
This blog is made possible by your support (thank you), select brand partnerships, advertisements, and affiliate links to items I love and use. READ MORE >