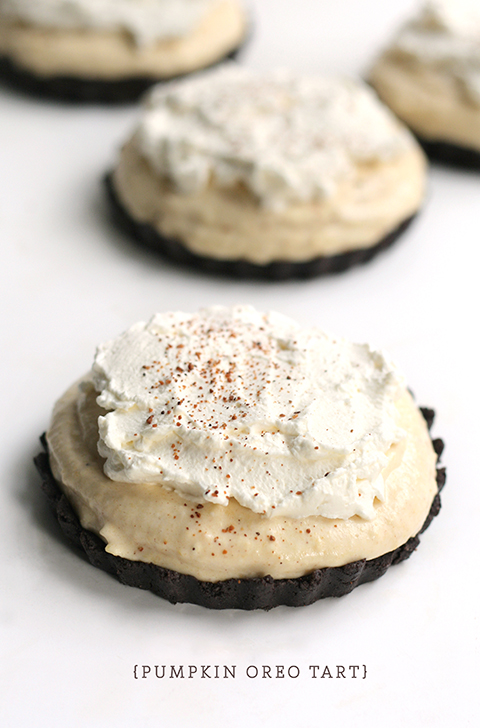 Last fall I froze a ton of fresh pumpkin, which is now sitting alongside the fresh cranberries I froze from the winter before. I have this tendency to think that I'm going to want seasonal produce year around. So I stock up like the overly zealous squirrels down the street. At the beginning of the month, I had 4 servings of pumpkin to use before I'd allow myself to buy more pumpkins. So I made pumpkin bread as soon as the summer temperatures dropped. And then [insert dramatic pause] I came across a recipe for pumpkin oreo tarts from Lauren's Latest.
Would you believe me if I told you I don't care for pumpkin pie? I try it every year. I even make it from time to time. But I don't like it. I know this sounds like fingers on the chalkboard to most. I apologize. I've been scouring the world wide web for years looking for an acceptable replacement. And finally—Pumpkin Oreo Tarts! I'm no longer a misfit. I eat pumpkin desserts too, she said in a nasally unassuming voice. Let's be honest, we all just want to fit in.
So, if you're looking to finally fit in, or if you're already in the cool crowd, try Lauren's Pumpkin Oreo Tarts. They've got just enough pumpkin, just enough cream, and just enough oreo to satisfy any palette.
Side Note: I followed the recipe to a tee except for a couple negligible details. I used fresh pumpkin instead of canned, Trader Joe's version of Oreo's instead of the original version, and a dash of nutmeg to top instead of walnuts. 
This blog is made possible by your support (thank you), select brand partnerships, advertisements, and affiliate links to items I love and use. READ MORE >