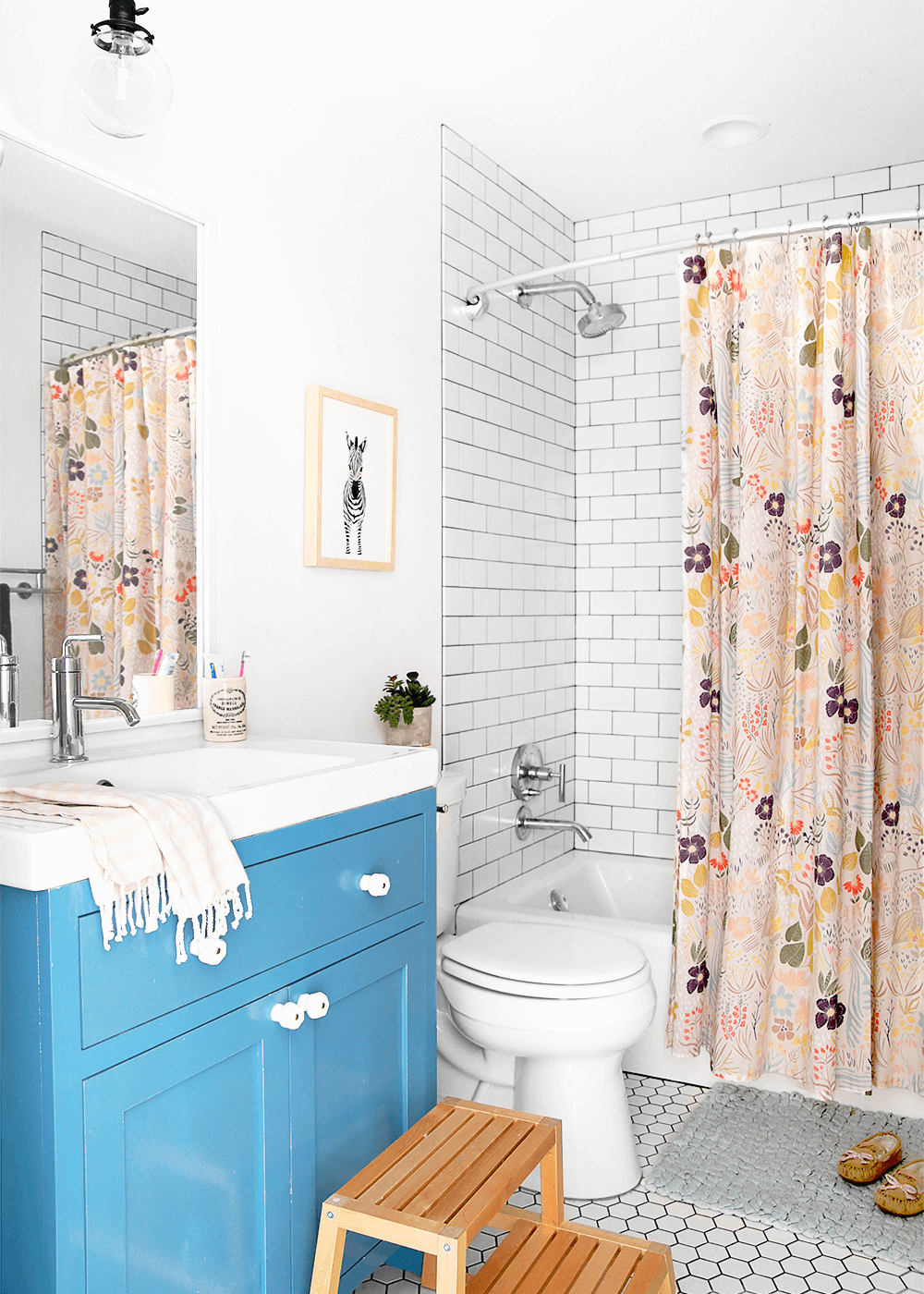 Before we moved in, the only spot of color in the house, outside the vintage green pendant in the kitchen, was Hallie's blue vanity. Brittany, who worked with us to design our home, picked out the color. My brain was so decision fatigued by this point in the building process, after seeing a swatch on a screen, not in real life, I said "Love. Let's do it." And we did it. 
See room sources at the end of the post.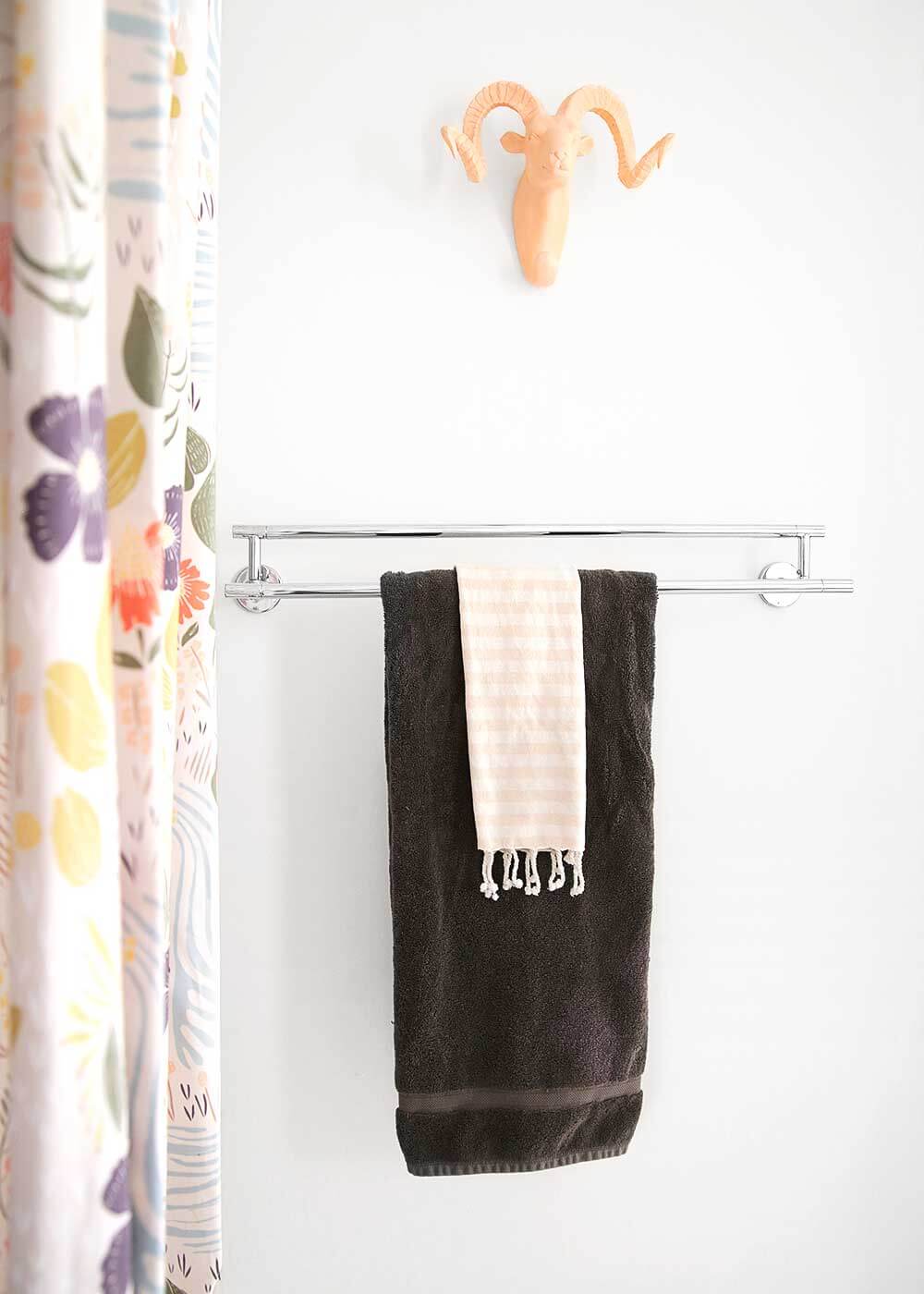 With this color as our guide, we decorated the room around a muted bright blue. I'm so glad we chose the color of Hal's vanity before she could really talk or it would have gone down Flora vs. Merryweather style in Sleeping Beauty. Blue dress. Pink dress. Blue. Pink! Knowing Hal's color leanings though, we brought in plenty of pink to the room by way of a shower curtain and a couple hits of spray paint. As you can see, she brings extra pink where ever she goes.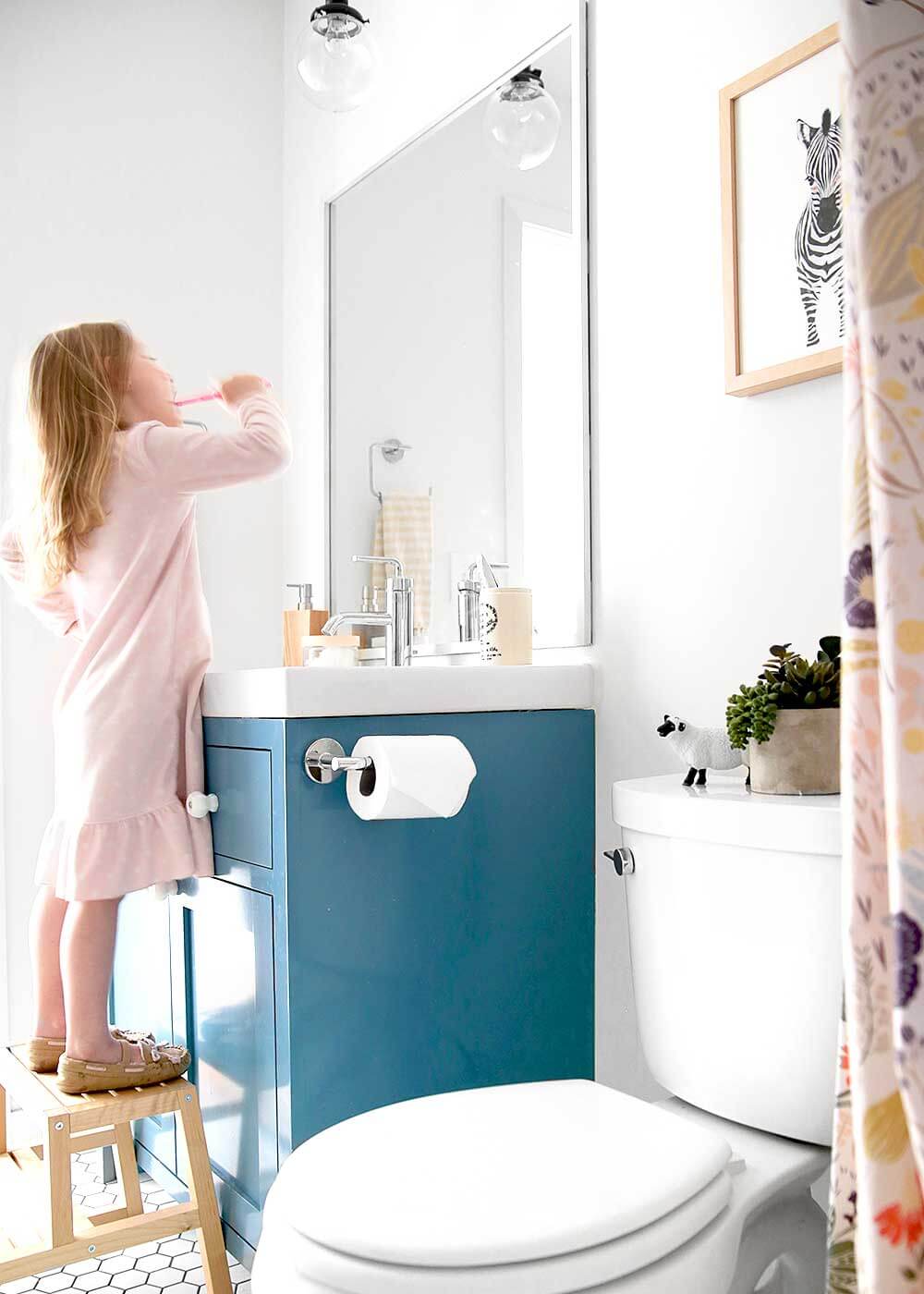 You might remember this post about making a DIY mirror frame for the Powder Bath. I happened to stop by the house when they were gluing mirrors to the wall, mirrors without frames! That's when I realized we forgot to talk about the bathroom mirrors during the design process. I'll figure that out later, I thought. And I did. I made a DIY frame for Hal's bathroom, too, out of square trim from Home Depot. Our neighbor helped us cut 45° angles using his saw. And, with a little wood glue, a couple cookbooks to hold the corners together, and a hit of white paint, we had a frame, a frame hung by 3M removable strips. It's still happily hanging, happily hodge podged together.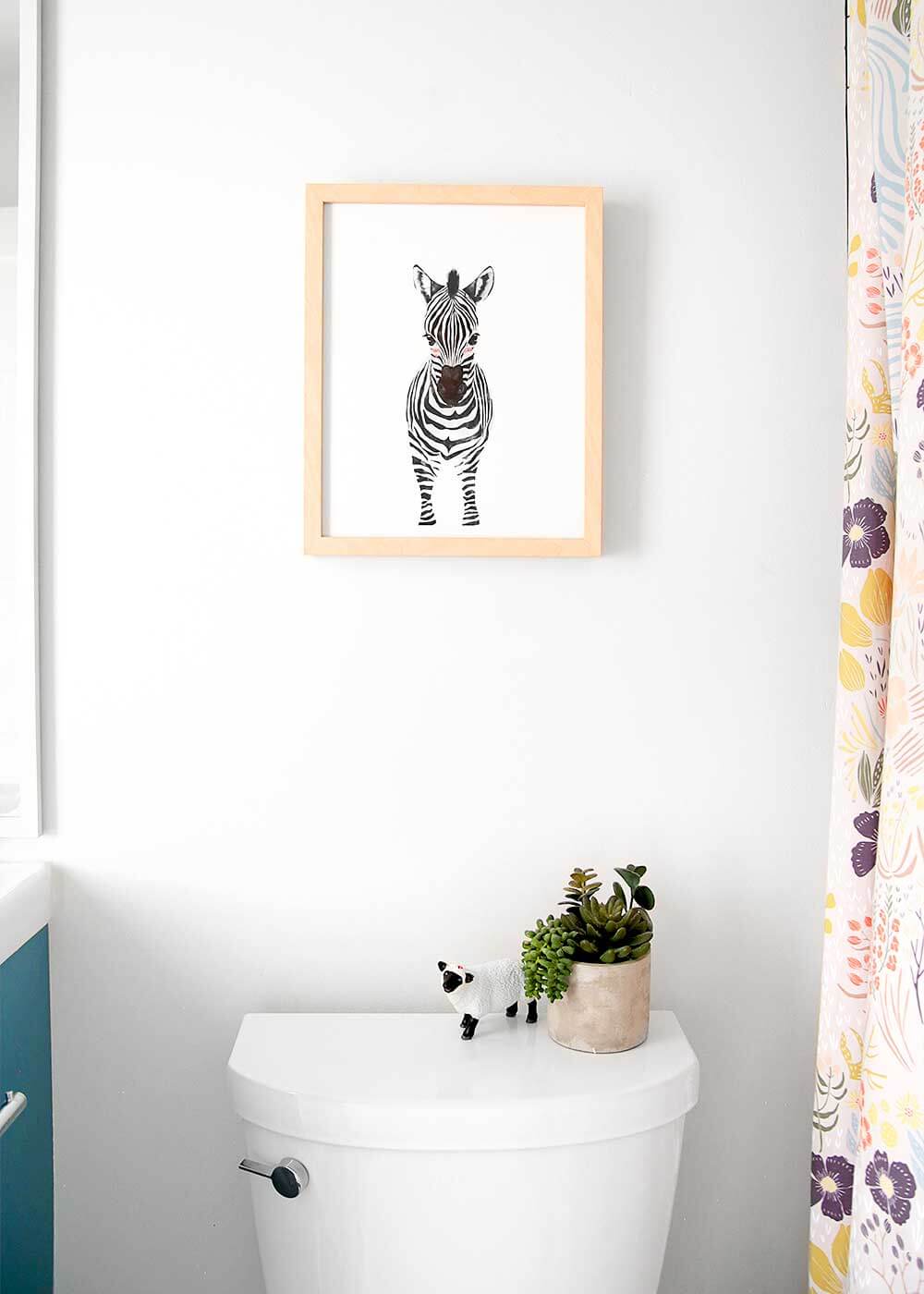 When designing in a minimal, simplistic style, everything counts—from the framed mirror to the hung artwork. Toeing the line of sparse, well, can often look sparse. And that mirror looked so sparse, even unfinished, without a thin trim. To bring visual continuity to the house, we repeated the same elements, like the classic subway tiles in Hal's bathroom also used in the kitchen and in our master bath (though we played with the scale of the tiles in there). Don't be afraid to repeat elements. Likewise, don't be afraid to add warmth to the sparse. Minimalism and cozy can coexist.
Now, if all those bath toys would naturally coral and clean-up themselves up in this cute container/shelf. The Black Hole is a more trusty theory than this blue whale. I definitely sat in a bath full of toys with a tripod to get this shot. Stay tuned to Hal's room reveal next week, full of punchier colors, even more animals (repetition), a cozy reading nook, and a bed with storage.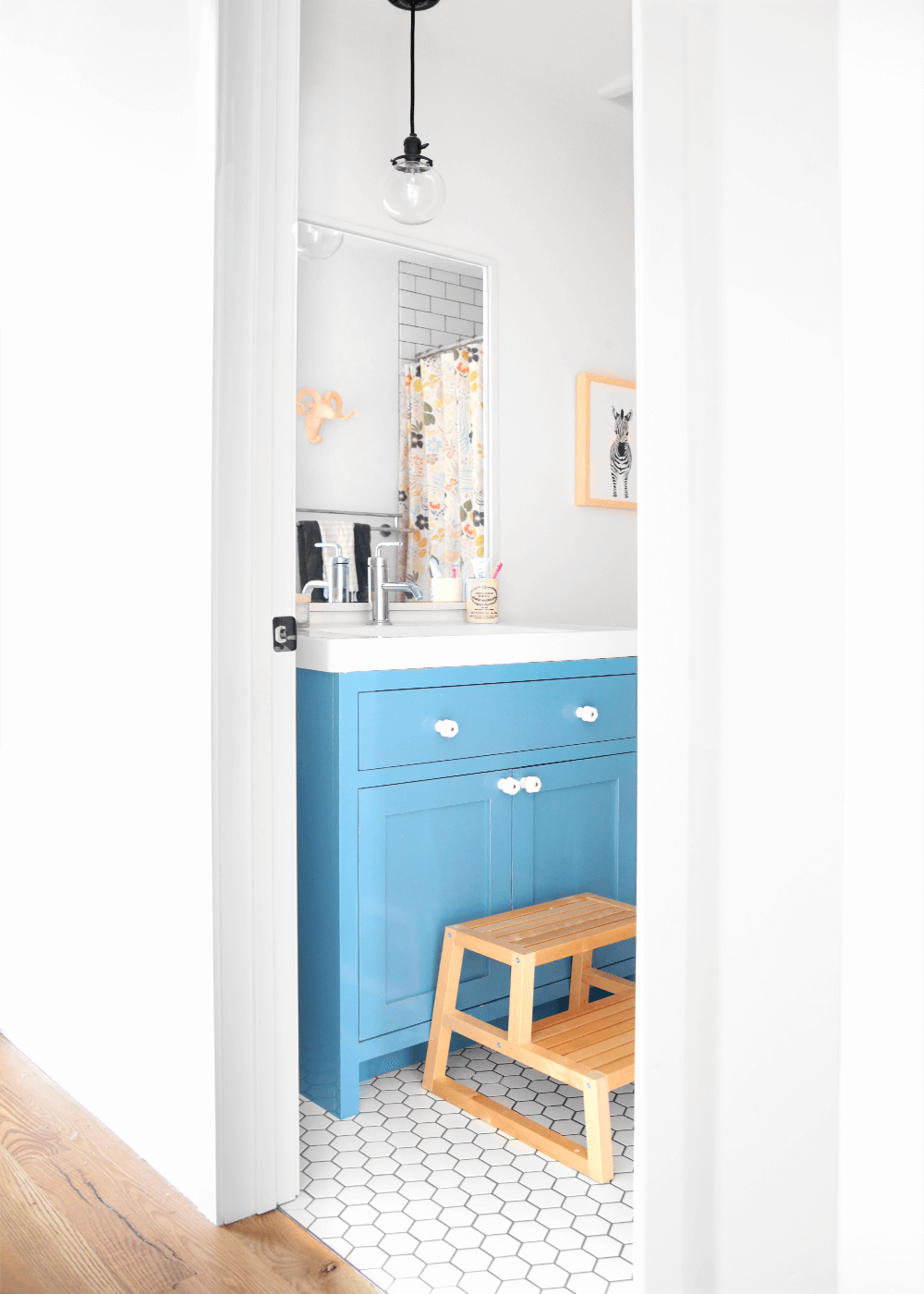 Sources
Vanity in Sherwin Williams 6228 Refuge (Custom Built) | Vanity Sink Top | Purist Sink Faucet in Polished Chrome* | Hex Milk Glass Pulls | Toilet Paper Bar | Mirror | Frame (DIY) | Vintage Jam Jar (from my grandma) | Baltimore Cord Pendant in Oil Rubbed Bronze with 6″ Clear Ball Shade* | 2″ Hex Tiles* | Stool (out of stock) | Shower Curtain (out of stock) | Striped Hand Towels (from the kitchen towel section at HomeGoods) | Spray Painted Ram Head (HomeGoods) | Baby Zebra Art in Natural Raw Wood Frame * | Purist Shower Faucet in Polished Chrome* | Bath-friendly Farm Animals |  Whale Bath Storage
*denotes products that were provided
This blog is made possible by your support (thank you), select brand partnerships, advertisements, and affiliate links to items I love and use. READ MORE >