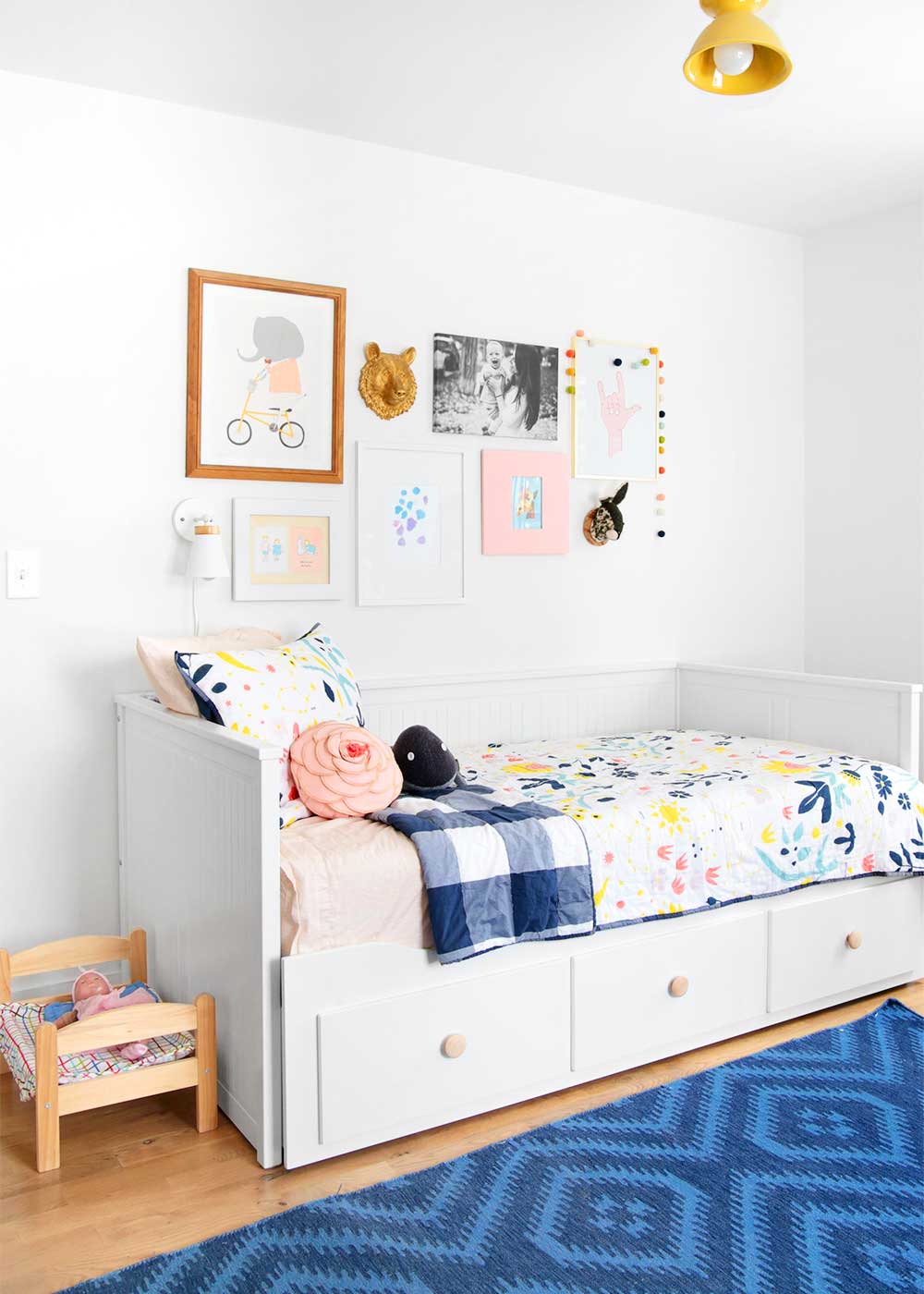 When we started designing our home, I was pretty sure every room would be as colorful as Hal's turned out to be. Either my color palette was refining itself, or I just couldn't pull off more than 3 colors at a time. It's probably the latter. Because in my junior year as a graphic design major, I was reamed in front of the entire class over my color palette choice on a magazine redesign project. I am not so great at pulling off a lot of colors at one time like Jenny Komenda, one of my favorite designers. So we renegotiated a rug, a large piece of framed art, and a couple bright pillows from downstairs to Hal's room, and they felt right at home and like a cousin to her bathroom.  
See all room sources at the bottom of the post.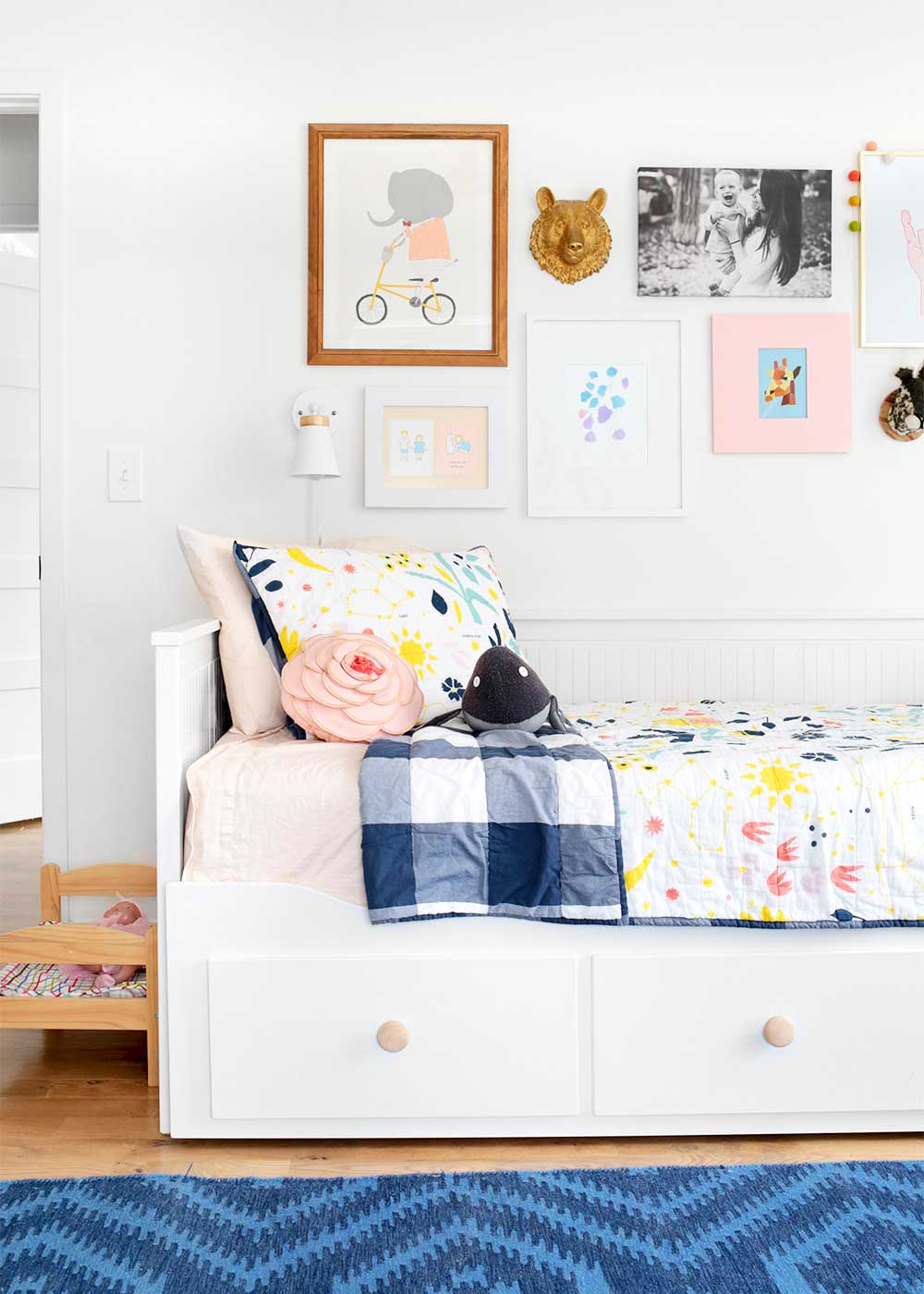 After seeing this bed at our friend's house, I bookmarked it for Hal's room. And then I saw this pin, with the same bed, while gathering ideas. I was sold. The drawers are a major plus for toy storage. And the whole drawer unit pulls out to fit another twin bed, which, in theory, sounds like a great idea for future sleepovers and having family in town. In actuality, we recently tried to turn her bed into a king to sleep a couple. With her tall regular mattress and a short blow-up mattress, it didn't turn out so well. That idea is a work in progress. For everyday sleeping, and probably for sleepovers, it's wonderful.
Inspired by the same room, we swapped the standard knobs out for oversized wooden knobs to tie in the natural wood elements used throughout her room—from her tent to a frame to a sconce to her baby bed. This is also a prominent element we used throughout the house, helping to bring some sort of visual continuity from room to room. Maybe the buffalo check bedspread accomplished that as well. Can you have too much buffalo in a house? I hope not.
Though we've outgrown all being able to squeeze into her tent at night to read a bedtime story, she still loves to play in it (and completely tear it apart to my demise). PS—if you want to add a cozy floor to your tent, add a couple memory foam dog beds to the base and cover it with a blanket. We bought our dog beds a couple years ago from HomeGoods.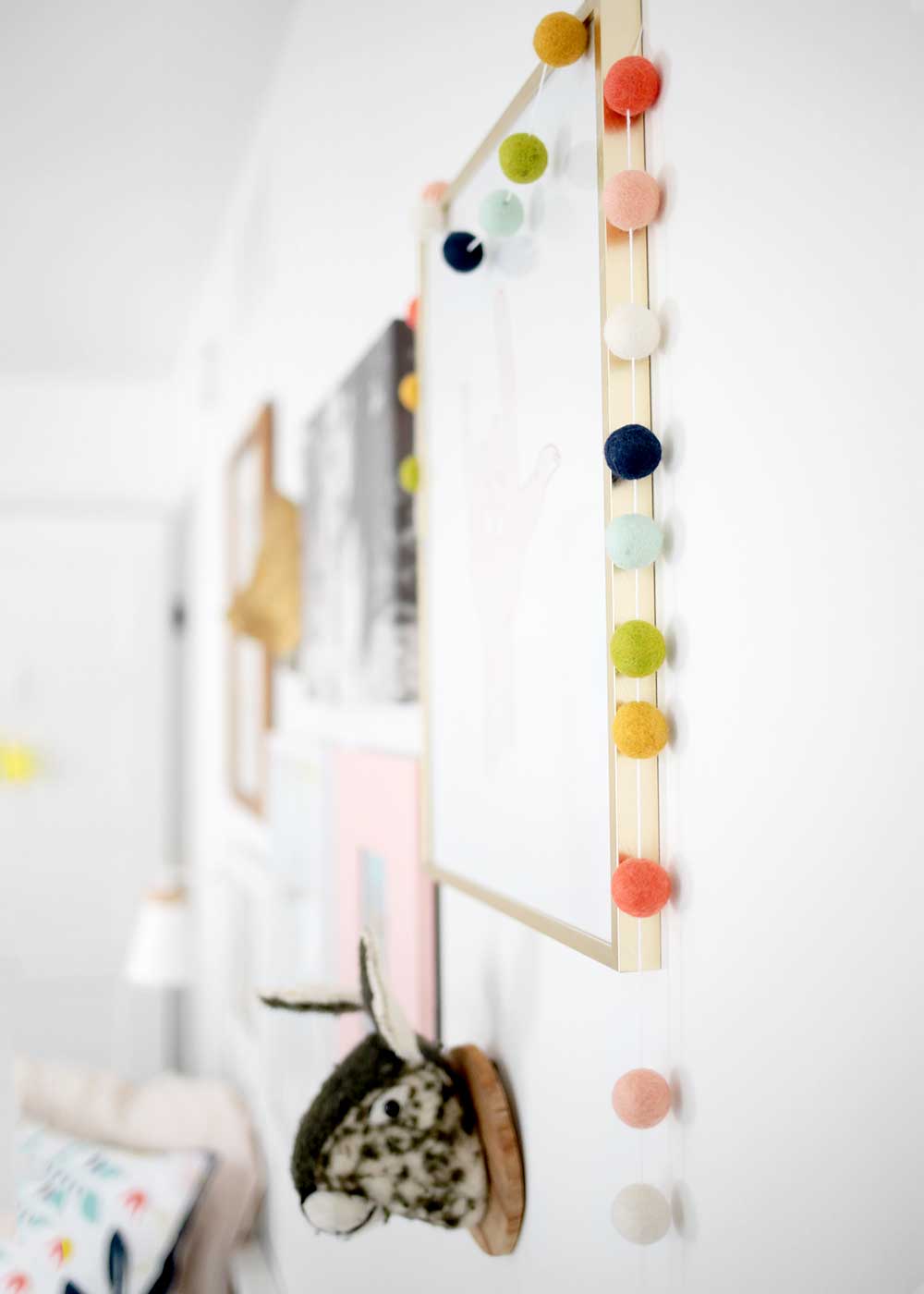 Designing with Color
Ok, so how did I pull together a lot of colors at once? Repetition. Like the wood, I repeated the same handful of colors throughout the room—coral, blush pink, teal, navy, natural wood, brassy gold, mustard yellow, and tiny pops of green—to keep your eye bouncing. My design professor always said, "Design it so well, they don't consider the designer." When your eye stops or pauses in a room, you begin to consider the designer, question what's in front of you, and pick it apart. I had that pause with a peachy frame on Hal's gallery wall. The muted orangey-pink was throwing all the pinks off balance. But once I made that change, taking the pink from peach to blush, eyeballs were back to bouncing around the room. That's how I know I'm done designing a space, when there is no pause.
How to Create a Gallery Wall
I love gallery walls, but they can be hard to pull off, so I limited myself to one in our house and followed a tip from Young House Love from way, way back in the day. First, I built the gallery wall on the floor. Then, once it felt right, I traced everything on paper like YHL recommends, also marking where to place the nail hole. Then I taped the paper cutouts to the wall in the same layout, hammered in the nails, removed the paper, and hung the art. Voila. A naraly painless gallery wall!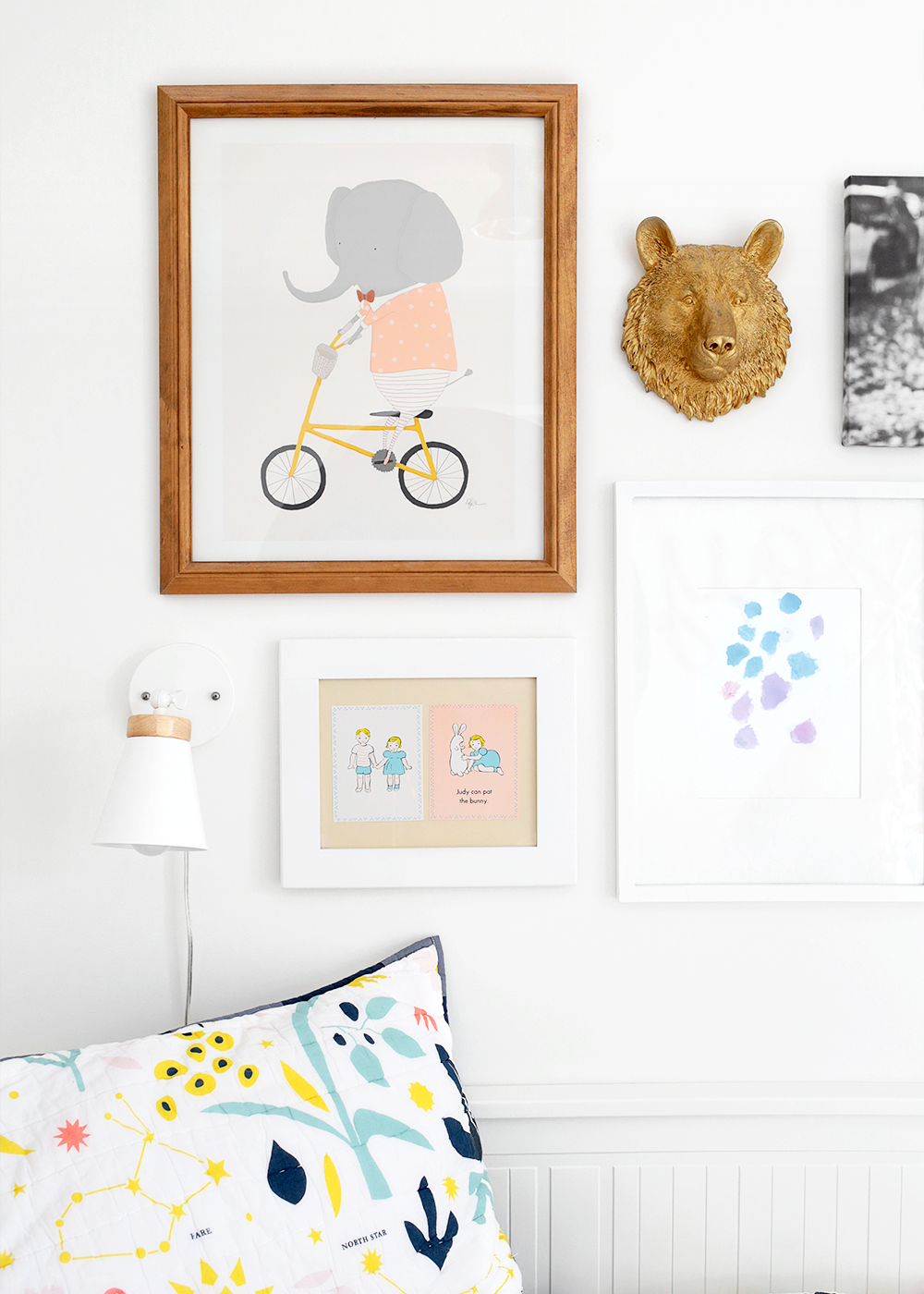 For the wall, we used all the original artwork from her baby room, added some 2-year-old artwork, hung a couple animal heads, salvaged two pages from her torn up Pat the Bunny book, printed a photo Sarah Kieffer took of us, turned a fast-food sticker treat into artwork (the giraffe), and I designed an I LOVE YOU print for her. That sign is our thing. Maybe it's your thing too. If so, it will be available soon in my digital print shop.
Now that I've finally finished her room, she's asking for a desk. A desk! Well, here's Hallie's room, for now. And hopefully for lots of years later.
Room Sources
Bed
Bed Frame | Tuft & Needle Twin Mattress* | Bedspread | Wooden Pulls | Plugin Sconce | Bike Artwork | I Love You Print (coming soon to my print shop) | Brass Frame | Custom Felt Wool Balls | Bear Head | Felted Donkey Head | Wooden Doll Bed | Ralph Lauren Indigo Indoor/Outdoor Rug | Yellow Flush Mount Light
BookShelf
Abstract Art in Matte Brass* | Lamp (DIY) | Jenny Lind Bookshelf (thrifted) | Rattan Baskets (similar) | OK to Wake Clock | Painted Rocking Chair (thrifted) | Stacking Blocks
Dollhouse
Wooden Hook | Dollhouse | Green Bug (a gift from my 16th birthday instead of a real car)
Tent
Canvas Tent | Knitted Play (DIY from Knitting without Needles | Pillows (Random Collection) | Streamers (DIY)
*denotes products that were provided
This blog is made possible by your support (thank you), select brand partnerships, advertisements, and affiliate links to items I love and use. READ MORE >