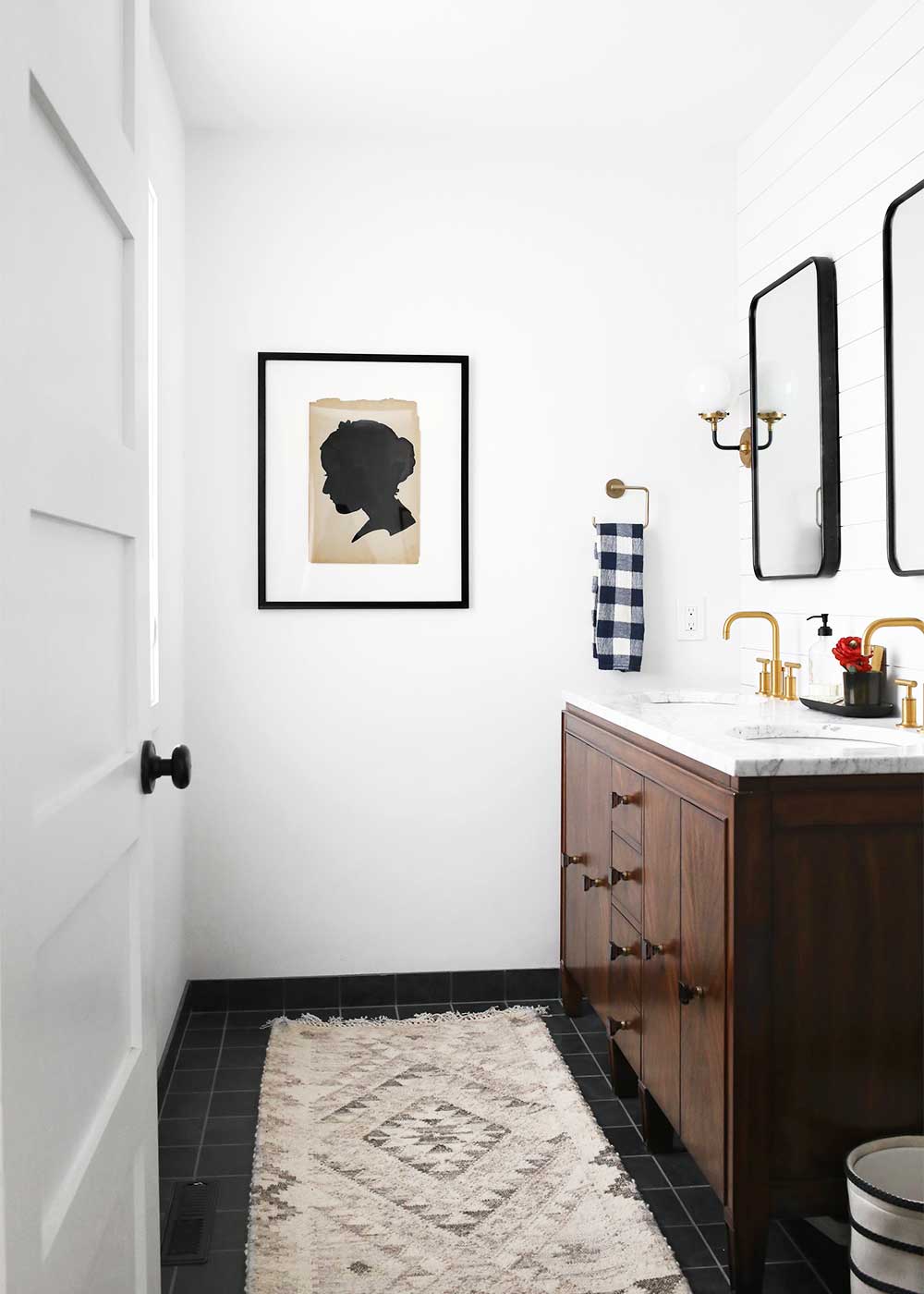 There's a running discussion over here—to hire out deep cleaning or continue doing it ourselves. I'm team hire. Kev is team DIY. I posted about our debate last year here on Instagram, and boy did you have your opinions. "Hire it out! It's worth every penny." "Outsource. It's been wonderful for our marriage." "No one will clean your house like you do." "I would never hire cleaning out." "Wait, you can hire out deep cleaning?!" I just assumed you could hire out deep cleaning, more like hoped you could hire out deep cleaning. Maybe you can't? Come to find out, you can, and you can't. Here are my findings.
Why Hire Out Only for Deep Cleaning?
We don't want to give up cleaning our home altogether. For us, there's something about taking care of what you own, despite the drudgery. (More on that later in the week.) I also work from home and regular cleanings would disrupt my work hours. But Melissa, you have a flexible schedule. Yes, but even a flexible work schedule needs some firm boundaries. I thought, too, if we only hire out for deep cleanings, then we'll only have harsh cleaning products in our home a couple times a year. Then I drove by a building, painted in bright colors and infographics, that read "GREEN CLEANING." The writing was on the wall. Maybe I could find a green cleaning company who does also does deep cleanings.
And I did. Several. If you're in Minneapolis, scroll down for a list of local green cleaners and their offerings. If you're outside of Minneapolis, here are a couple of things to consider when hiring a green cleaner.
5 Things to Consider When Hiring a Green Cleaner
Ingredients
Green or eco-friendly is a broad term. So how do you know how green a green cleaner is? Some companies list their products, as well as the tools they use, on their website. If not, ask them. Others use certified non-toxic, green cleaning supplies. From here, you can determine the level of eco-friendly cleaning products you want in your home. I'm looking for simple but effective ingredients like essential oils, vinegar, hydrogen peroxide, baking soda, and Bon Ami in my search. Note: Some cleaners are open to using products supplied by you, and some are not. I'm looking at hiring a green cleaner as hiring an expert. I want someone I can trust, someone who knows more about this than I do, and someone I can learn from. To helpdecode cleaning ingredients, check out this site.
Recommendations
Ask a friend or even a trusted local business for recommendations. We found a cleaner who also cleans for our local co-op, a grocery store I trust to carry sustainable products that are also environmental-friendly. Be sure to also read reviews on individual websites, and then dig a little deeper on their social media, Google page, and Angie's List to get a well-rounded idea of what their customers are saying. Notice other things like—do they send the same team out every time, are they on time, how do they handle a mistake, are their employees paid a livable wage?
Offerings
Rates vary from company to company but so do their offerings. When comparing rates, look into what's included in a cleaning before choosing the best price. Many companies list their offerings on their website. Some will even give you a custom estimate tailored to your specific needs. Maybe you don't want your oven cleaned or the interior of your drawers wiped down. Or maybe you do.
Flexible Frequency
Some companies will only take on recurring clients, requiring a monthly service minimum. Others will take on one-time to quarterly clients. Note: infrequent cleanings usually take longer to complete and cost more money. If you're looking for more infrequent cleanings, it might make sense to quote out monthly vs. quarterly to check the price difference, which is exactly what we did.
Minneapolis Green Cleaning Companies
Below is basic information about Minneapolis green cleaning companies. The estimates were based on the following information: 1800 sqft home, 3 bedrooms, 2.5 bathrooms. I asked for two quotes—for quarterly deep cleanings and for routine monthly cleanings. If/when we decide on a company, we will proceed with a custom, more accurate quote. Note: many companies quote out in hours then divide total hours by the number of people they send. For example, a 4-hour cleaning estimate with two people would be completed in 2 hours or with 4 people would be completed in 1 hour.
Supplies: Vinegar, Baking Soda, Bon Ami, Dr. Bronner's Sal Suds, Coconut Oil, Hydrogen Peroxide, Oreck Commercial HEPA Upright Vacuum, 

Hoover Portapower Handheld Vacuum, microfiber mops, Norwex cleaning cloths, and reusable cloth diapers.

Estimate: $235.00 + tax for a monthly cleaning (5 hours). $470.00 + tax for a deep cleaning (10 hours). Standard hourly rate of $47/person/hour.
Frequency: Weekly, bi-weekly or monthly service, move-in/out cleaning, party or event cleaning, office/business cleaning.
Miscellaneous: They specializes in personalized, custom, eco-friendly deep cleaning. They also tend a community garden, sharing produce among employees, provide resources for employees and customers to adopt their own green living habits, and work with Second Harvest Heartland to collect food for neighbors in need.
Supplies: Green Seal Certified Peroxide Cleaner & Deodorizer (water, hydrogen peroxide, alcohol ethoxylate, Orange fragrance), Tub, Tile & Bowl Cleaner (water, urea monohydrochloride, plant-based alcohol ethoxylate, sodium lactate), Glass & Window Cleaner (water, proprietary plant-based surfactant, complexing agent: effectively cleans without the addition of ammonia or alcohol), Multi-Surface Cleaner (water, plant-based alcohol ethoxylate to dissolve soil and grease, sodium gluconate to soften water for more effective cleaning, sodium carbonate).
Estimate: $140.00 to $175.00 + tax for an initial cleaning (2 people, 2-2.5 hours). $210.00 to $$225.00 + tax  for a deep cleaning (2 people, 3-3.25 hours). Standard hourly rate of $35/person/hour.
Frequency: Weekly, bi-weekly or monthly service, deep cleaning, move-in/out cleaning, post construction cleaning, fill-in cleaning, and housekeeping.
Miscellaneous: A franchise with locations in Minneapolis, MN, Portland, OR and Raleigh, NC. They offer a 64-Point cleaning check-list creating clear expectations. Interior window washing is an add-on.
Supplies: They use Green Seal™ bio-renewable products to conserve resources and protect the environment.
Estimate: $175 + tax for a regular cleaning. $250-$275 + tax for a deep cleaning.
Frequency: Weekly, bi-weekly or monthly service, move-in/out cleaning, one-time deep cleaning, office/business cleaning.
Miscellaneous: They try to always send the same team for consistent service. They also offer window and carpet cleaning.
Supplies: They use non-toxic products, avoiding harsh chemicals like bleach, ammonia and petroleum-based irritants, as well as products that have been tested on laboratory animals. Their cleaning products are made with a range of biodegradable agents effective at cleaning dirt, scum, and mildew, that don't carry health or environmental safety risks.
Estimate: Average home costs between $1

24

–$1

66.

Frequency: Minimum frequency of every 4 weeks. No one-time cleanings.
Miscellaneous: They offer health insurance, paid sick time, a living wage, and supply the products and tools to employees. They also have a bulk cleaning refill station for their employees to cut down on waste. Not so important, but worth mentioning, their branding is super cute.
Supplies: They make their own all-purpose cleaner using certified organic, therapeutic grade essential oils (lemon, clove, cinnamon bark, eucalyptus, rosemary, and lime), coconut based surfactant (non-toxic biodegradable soap), and water. Their wood floor cleaner is made from High Alps French Lavender and a dash of soap. For tubs and sinks, they use Bon Ami. For a vacuum, they use Panasonic commercial upright vacuums equipped with potent filters and the highest quality hypo-allergenic bags. They also use store-bought glass cleaner and wood polish purchased at the Wedge Co-op.
Estimate: Average home costs $118.75 per cleaning (2.5 hours).
Frequency: Ongoing residential and commercial cleaning. No one-time cleanings.
Miscellaneous: They clean for our local co-op.
Now, to pitch all this information to Kev. Will we hire out deep cleaning or not? Say a prayer. Cross a finger. I'm leaning towards doing 2-4 deep cleanings a year. Do you hire out for cleaning? Any other things I should know before diving in?
This blog is made possible by your support (thank you), select brand partnerships, advertisements, and affiliate links to items I love and use. READ MORE >