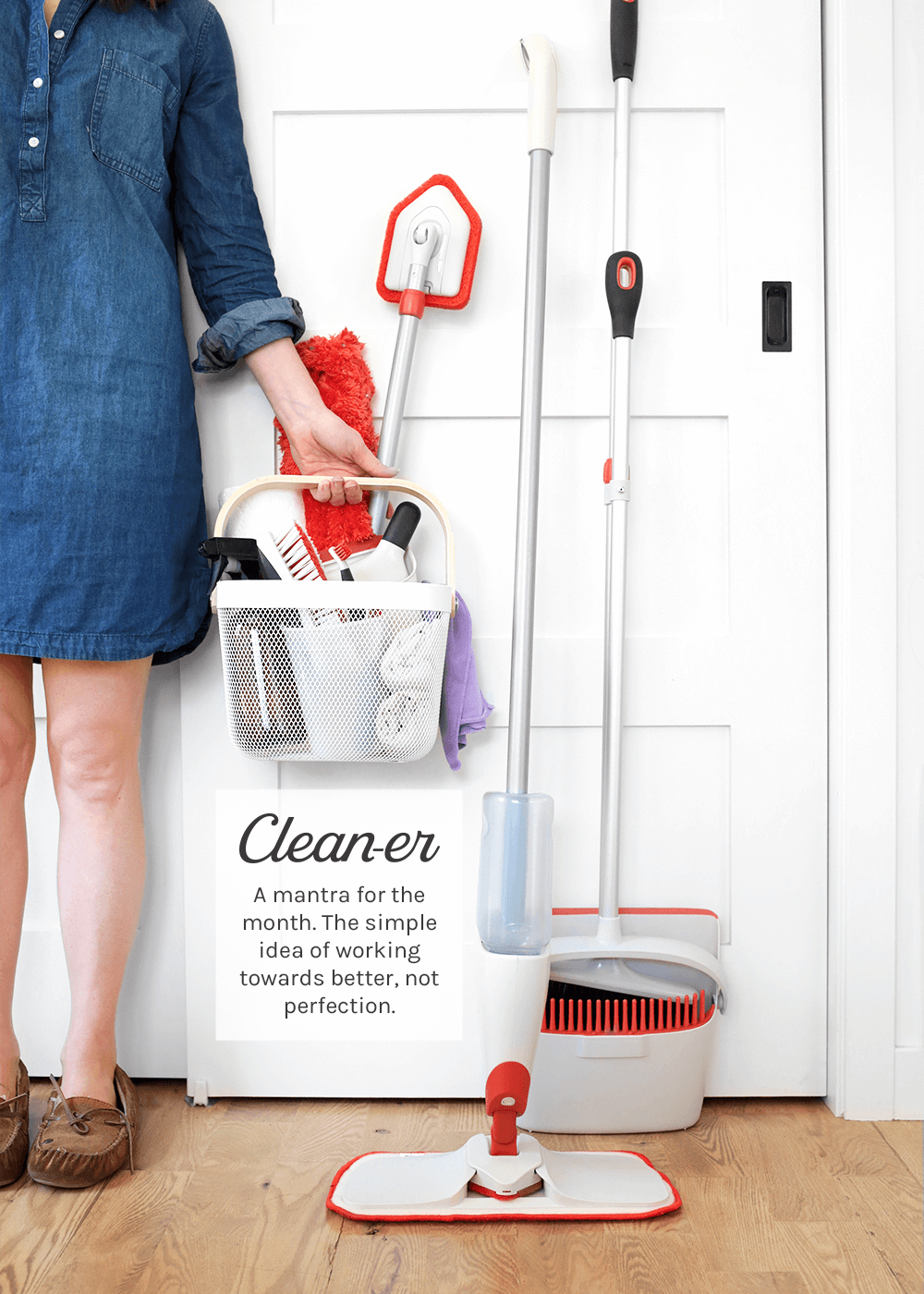 Well, the verdict is…still out for us. To hire deep cleaners a couple times a year or do it ourselves? That is still the question. At a minimum, we will be maintenance cleaning over here, which means we need to keep our cleaning supplies around. But what supplies do you actually need? Are they reusable and durable? User-friendly and efficient? Affordable and effective? Compact and easy to store? Below is a list of the cleaning supplies I've landed on to make this mundane task of cleaning more doable + a giveaway from OXO.

DISCLOSURE
This post was created in partnership with OXO, a brand that I've had in my home since day one of adulthood. Their products are smart, affordable, storable, and so very durable.
Before we dive in, I'd like to introduce you to my mantra for the month (and beyond). It's called Clean-er. The idea came from my friend, who started out the year with the goal to make the everyday a little better, not the best or perfect, just better. As we try to shift towards using more natural and reusable products around here, I'm trying to adopt her idea of working towards better, not perfection, making tiny changes as things run out or need replacing. I have a tendency to want to fix everything at once. Homeostasis. 98.6°F. All the time. I crave it. With this mantra, I'm freeing myself up to slowly pursue better—from skincare to lunches to cleaning products, all things you can expect to see this month on the blog.
Now you may be thinking, Melissa, why are you showing me your dirt? Maybe my highlight reel and edited images have led you to believe that I don't have dirt. Maybe you have a hard time picturing me sweeping, especially in a dress. Who cleans in a dress? Maybe I'm hoping that you'll share your trusted cleaning tips that I don't know about yet. Will you share yours if I share mine?
Either way, I want to hold a place for the mundane, ordinary parts of life as much as I honor the beautiful parts. Eve Arnold, a photographer, said this, "It's the hardest thing in the world to take the mundane and try to show how special it is." Maybe my dirt is special. Maybe yours is too. There must be a lesson in all of this.
We keep landing here—there is something meaningful about taking care of what you own. Exactly what, I don't know. But it's why we mow our lawn, sweep our floors, water our plants, clean our windows, and rake our leaves. Maybe it's a reminder that the mundane is worth pursuing, worth a spot on the calendar. We also have a tiny family of 3. Maybe these things just fit into our schedule right now.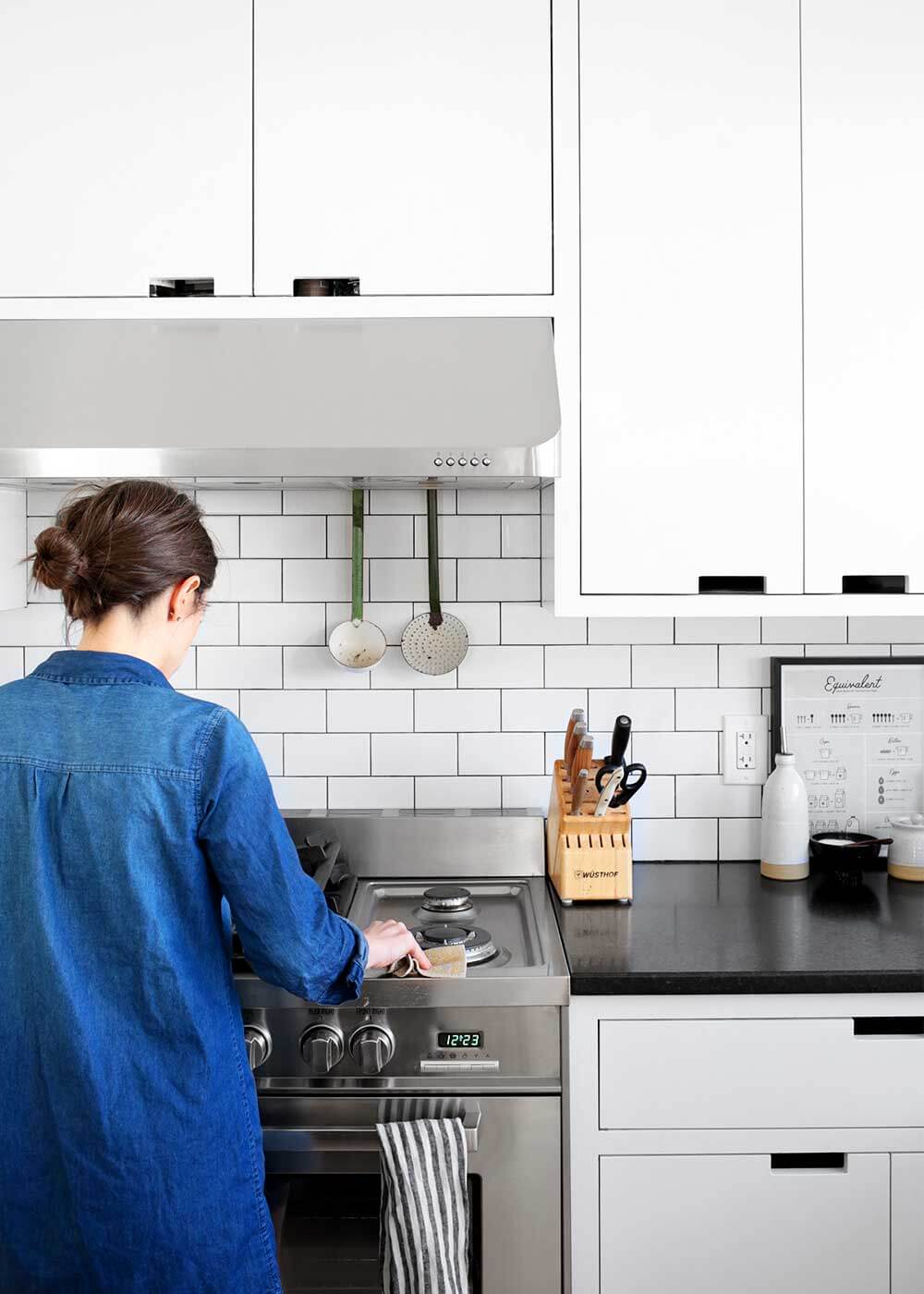 Here's to the everyday, the mundane, and the dirt and to the reusable tools that clean it up too. My reusable cleaning supply list is separated into the every day, weekly items and the special occasion, deep cleaning items. If you hire out cleaning on a regular basis, you may not need to keep things from the special occasion category.
Everyday Reusable Cleaning Supplies
Supplies used every day to a weekly frequency for maintenance cleaning.
I am a huge fan of this broom and dustpan set. The length of the broom adjusts to Hal's height, Kev's height, and to my lazy, extra long length to keep from having to bend down and move chairs to get those hard to reach places under the dinner table (see above). Designed to fit together, the dust pan is always nearby so those rouge piles around the house actually get swept up. And when dust bunnies collect on your broom, use that built-in comb to clean. It also stores compactly in our tiny mudroom closet and stays upright. Win, win, win.
Think paper towel meets sponge. I've never been a fan of sponges or even rags, but I fell in love with this reusable cloth after being gifted one. We have greatly reduced our paper towel usage since using these super absorbent cloths to wipe down the counters daily. Rinse to clean. For a deeper clean, place in the dishwasher, like a dirty bowl, before running a load. I also use this to wipe down my stainless steel stovetop after dinnertime. For deep cleaning the stovetop, I use a paper towel, Norwex Cleaning Paste*, and lots of elbow grease, wiping down with this dishcloth afterward.
*You can also use Bon Ami or a slightly harsher cleaner, Bar Keepers Friend.
I'm moving towards making my own vinegar based cleaning solutions. Vinegar is delicious on a salad and works wonders as a cleaning agent—on your counters and your face (more on the latter soon). Do you have a favorite all-purpose cleaner concoction?
I've been on the hunt for good a reusable duster in place of my disposable duster. With high reviews in agreement, this microfiber duster holds the dust without spreading it around and gets tossed in the washing machine between uses.
Finally, a brush that's designed to handle that unattended space right under the lip of the toilet basin that causes all the problems. You know the space. This brush also comes with a holder that opens when you pull the brush out, stays open, and closes when you put it back in. Everything is contained.
Occasional Reusable Cleaning Supplies
Supplies used more occasionally for deep cleaning. If you hire this out, you may not need these items.
I've tried several mops throughout adulthood. I love this one for several reasons—the microfiber pad is reusable and washable and can be used on multiple types of floors. You can also add your own cleaning solution of choice (or water) to the dispenser, which is great for cleaning different floor types. And it has a slide out scrubber to remove the glued on avocado from your 5-year-old without getting on your hands and knees.
For those super hard to reach places—up high and beneath appliances. Unsnap microfiber and wash between uses.
This cloth is magic. Just add a little water, and you'll have the cleanest, streak-free windows you've ever seen. We have glass exterior doors and glass interior doors on the office. No cleaning solution or trick in the book would work until a friend brought one of these magic purple rags over.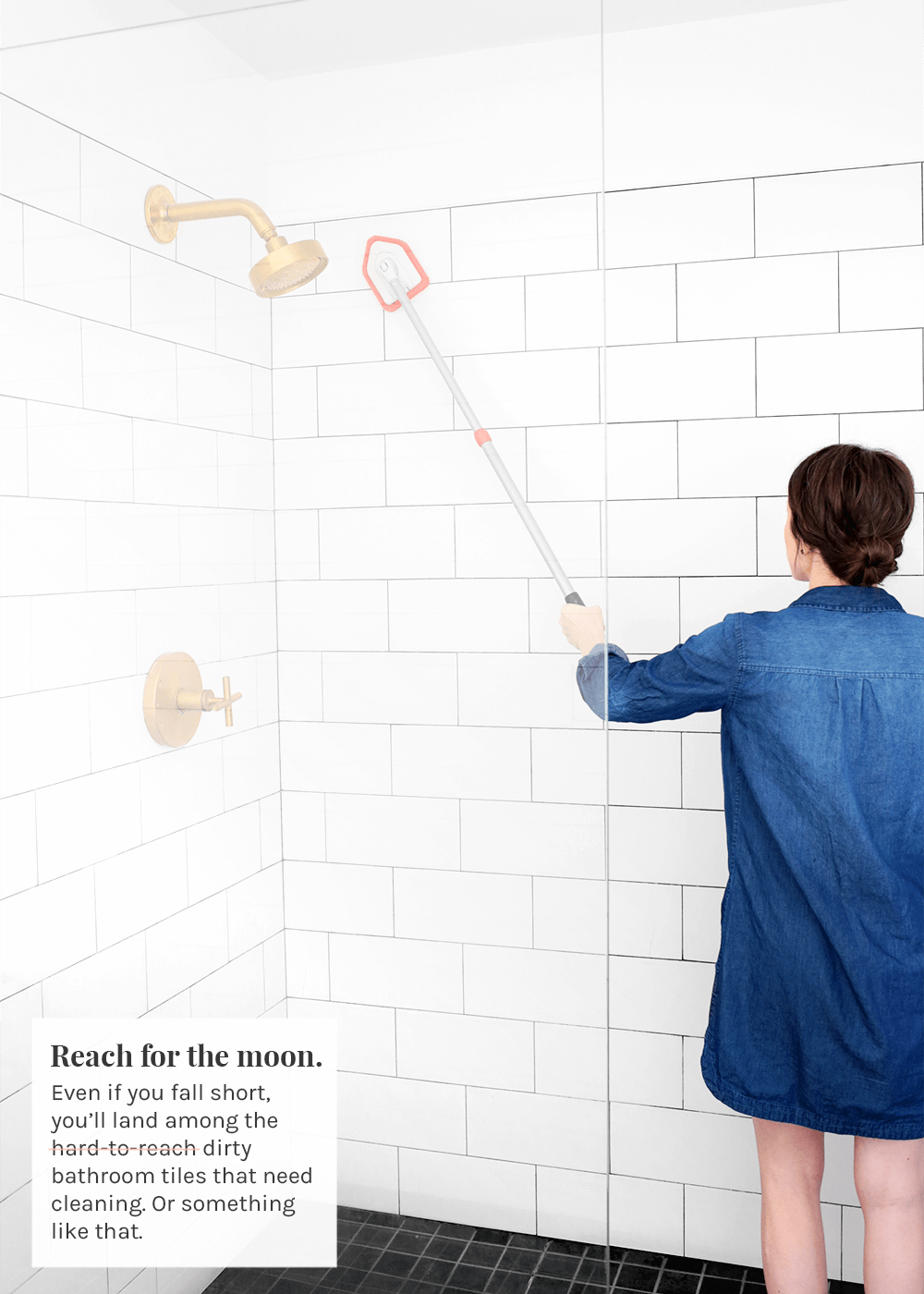 Squirt a little Dr. Bronner's* (what I also use as body wash) onto the scrubber and clean while taking a shower. The wand extends to reach those hard-to-reach spots—high and low. Fill a cup with water to rinse tiles.
*Or try Dr. Bronner's Sal Suds, an all-in-one concentrated cleaner.
A comfortable-to-hold brush for covering large areas at once or for getting out tough tile grime and calcium build-up. This guy blasts our shower clean.
For getting the stubborn grit and grime around tiny spaces like sink drains or calcium build-up around a faucet. You could use a leftover toothbrush, but these bristles are stronger and come to a nice point to really get in there.
Cup
Keep a cup in your cleaning basket to fill with water to rinse a surface. I store my cleaning brushes here when not in use.
This super tiny guy fits in my cleaning basket and is perfect for tiny places, like behind my desk and the tiny space between the bathroom vanity and the wall.
Help
A couple things I've yet to figure out:
What do you use to clean your stainless steel appliances? Our oven cleans up nicely yet our fridge and dishwasher keep fingerprints better than a memory book. I use this sponge that works pretty well but the fingerprints persist.
Do you have a favorite dish towel that dries really well and washes well too?
Another trick we all must know about? Share!
Giveaway
To enter to win a set of OXO cleaning and organization tools including the Upright Sweep Set, Spray Mop, Microfiber Hand Duster, Toilet Brush and more, sign up to receive the OXO newsletter below. GIVEAWAY CLOSED.
OFFICIAL RULES: Sweepstakes valid from 9am CST on May 2, 2019  to 9am CST on May 9, 2019. Must be a resident of the United States to enter. Void where prohibited. By entering this giveaway, you are opting in to receive email marketing communications from OXO. View their Privacy Policy.
You might also like:
This blog is made possible by your support (thank you), select brand partnerships, advertisements, and affiliate links to items I love and use. READ MORE >