This post is for anyone that swore they'd never pick up a camera. Because I swore. And for anyone that breaks out in a hot sweat when they have to pick up a camera. Because I sweat and I still sweat. If I can do it… you know how it goes.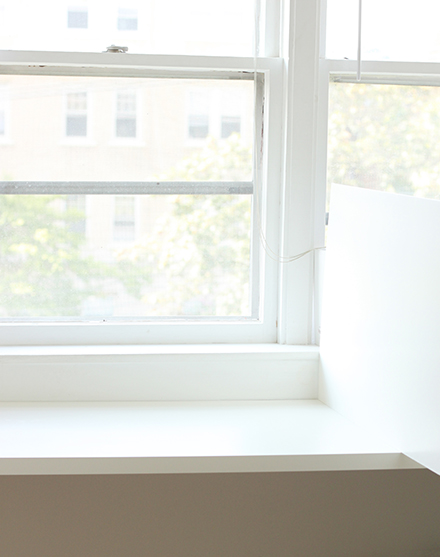 Let's get this started. Hi, my name is Melissa, and I'm a fauxtographer. [Hiiii Melissa.] And I don't use the word fauxtographer loosely. I'm not trained. But somehow I have acquired a blog, a camera, and lots of food begging to be in the spotlight. I've learned a couple things along the way. Just a couple. The most important—light is either your friend or your enemy, you don't need a fancy set-up to get started, and photography always has a way of keeping you humble. Always.
FAQs
What camera/lens do you shoot with?
I shoot with a Canon Rebel T1i body and a Canon 50 mm f/1.8 lens. The lens is a cheap $100, which is basically free in the camera world. It's a perfect starter lens. The low f-stop creates that short blurry depth of field I love. Prior to April 16, 2012 , I shot with a Canon Rebel XTi on the blog. The only difference I can tell is that it has video capabilities. My sister tells me the images are clearer. Maybe I'm improving. I'll never know.
What kind of lighting do you use?
I'm all-natural when it comes to lighting. This is a low budget operation and my tiny apartment couldn't house another thing.
How do you get your pictures so white?
I use big white boards and now have a big white desk. It's a mullet—design on the right, photography on the left. As for camera settings—I usually set my ISO to 200 or 400 and my aperture between 1.8-3.2 to let lots of light in. And I almost always shoot in aperture priority so that I can adjust the depth of field. For extra light, I sometimes use an additional white board to bounce light back onto the surface.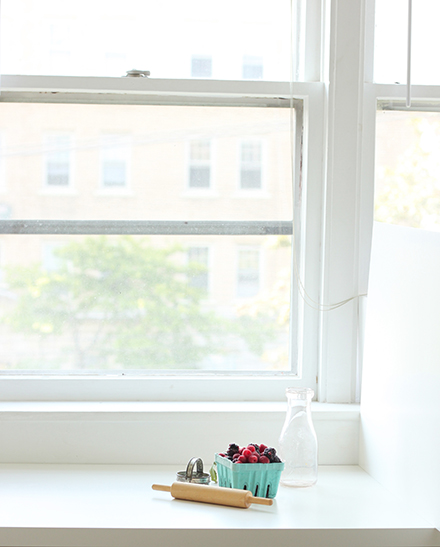 What time of day do you shoot?
My answer will not apply to everyone. Light varies from house to house and apartment to apartment. The light in my apartment in Chicago was horrible. Our best light was just before dusk. It was always a race against the clock. We fought a lot, which resulted in me sweating a lot. It's a miracle I stuck with photography. Now, we have great light. I can shoot mornings, afternoons, and just before dusk. Overcast days are my favorite. They cast a soft light. Even on sunny days, I wait for a soft light. Harsh light yields harsh shadows. Soft light yields soft shadows. I prefer soft.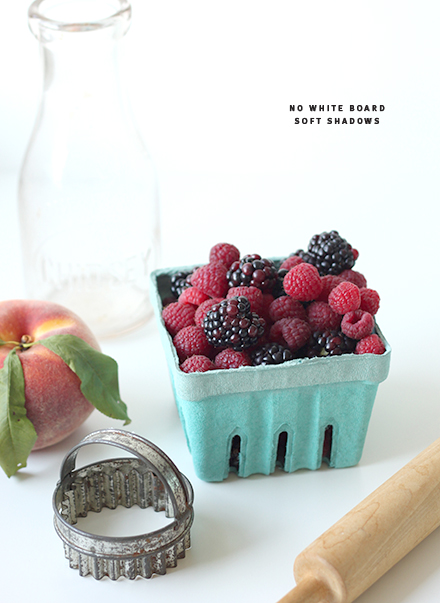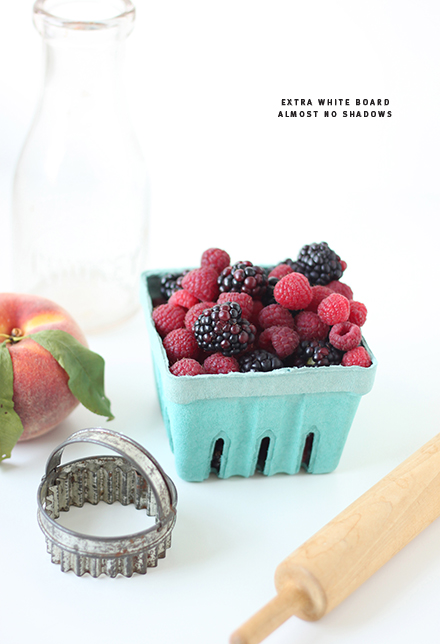 How long does it take to photograph a post?
Typically it takes me about 30 minutes to photograph a post. But I may take up to 150 photos. I don't shoot with a tripod, so I fight the hand-shake-blur thing. I've also learned images on my small screen look a lot different on the big screen, so I take plenty to be safe. As soon as I'm done shooting, my husband moves in to commence feasting. 

What do you use to edit your photos?
I'm a graphic designer and was trained in Photoshop (and the Adobe Suite), so I still edit all my photos in Photoshop. Maybe one day I'll switch to Lightroom. I typically edit my photos by adjusting levels. Sometimes I'll use selective color and photo filter to adjust the white if it's off. Depending on the light, the white can appear blue, orange, grey, and sometimes pink. Before taking pictures, I test the white balance on the camera. I ebb and flow between the daylight, cloudy, and shade setting.
Do you have any tips for taking photos in the evening?
I turn into a pumpkin once the sun goes down. So far, I'm only comfortable shooting in natural light. And shooting food for that matter. It doesn't move. People do.

Parting words.
My approach to photography is only one of many ways. If you're just starting out, I encourage you to find a handful of photographers and follow them. Two of my favorites—Not Without Salt and Sprouted Kitchen. Look at their composition, the way they use light, the way they tell a story. And then work on developing your own style. It'll come out in the props you use, the backdrops you set, and the angles you capture. Be bold. Practice more than you'd ever want to. And have confidence. I almost quit the all white thing multiple times after seeing what other people were doing. But despite my flightiness, I stuck with it. And now the all white thing is a big part of my brand for lack of a better word. White. Clean, Simple. It's me.  
For more technical photography tutorials, I recommend digging through White on Rice's Photography Tips and Tutorials section.
This blog is made possible by your support (thank you), select brand partnerships, advertisements, and affiliate links to items I love and use. READ MORE >