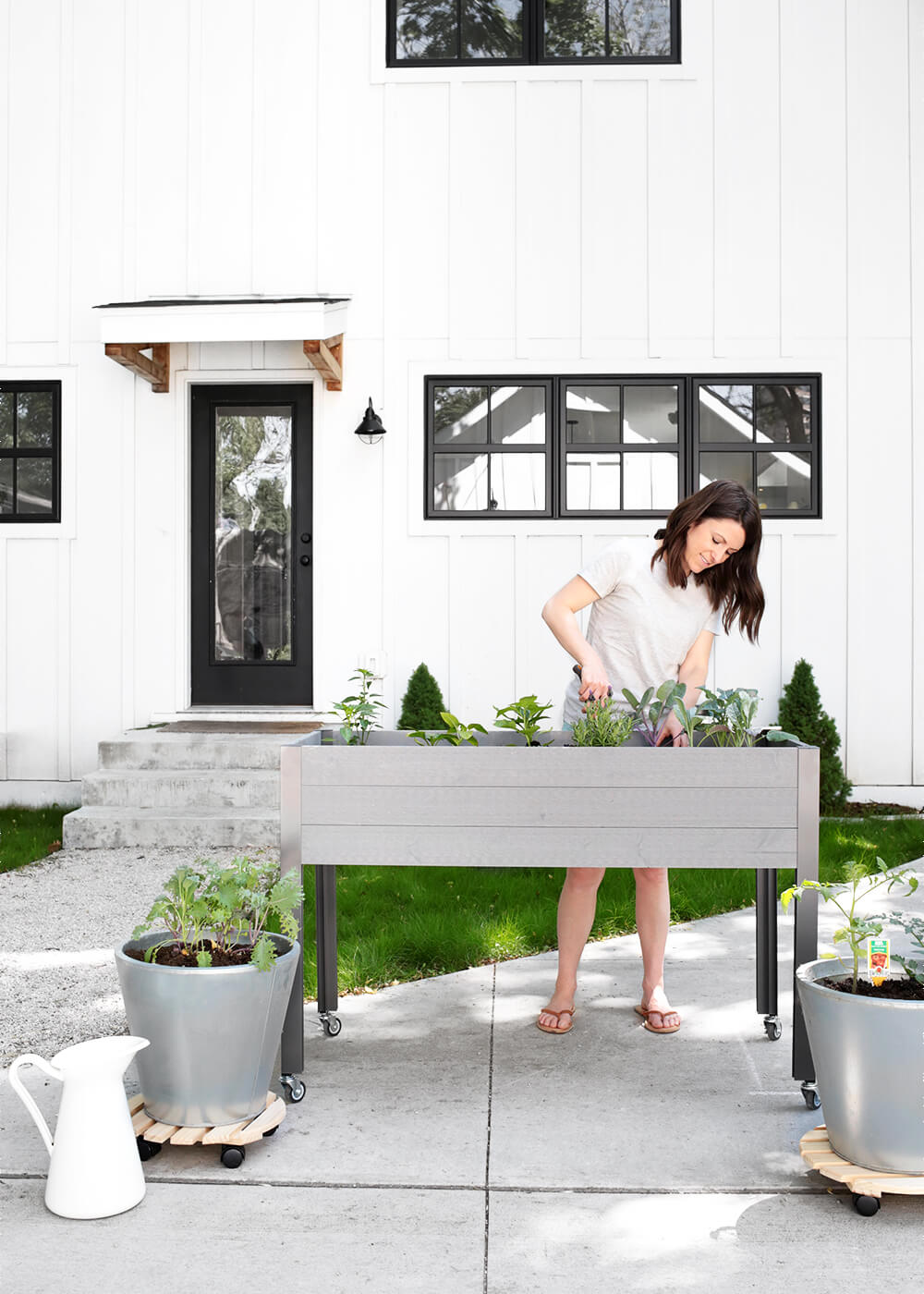 The first year we moved into our urban lot, I started a vegetable garden knowing next to nothing. "Don't worry Kev, I've got this." I planted in May, where the sun stuck to that sunny sliver running along the driveway, when the snowglobe promised to stop shaking, when the plant store was flooded with humans again. By June, the sun slid high into the sky and stayed there for the rest of the season, throwing complete shade at my small vegetable garden. Despite all odds, produce produced, and Hal learned that food comes from the dirt that summer. The next year, though, I packed up my expensive idea, splintered cedar, and trellis, leaving it on the curb for another optimist, hopefully an optimist with some sun in her garden.

This post is created in partnership with
Burpee Plants
, who helps to pull out the intimidating parts of gardening and insert ease, information, and delicious vegetables and herbs.
Instead of leaping across the river again the next year, I started small by jumping to the closest stone. I started an herb garden. It grew, and it made dinner delicious. As my small herb garden grew, so did my confidence. We added plants to the backyard and the front. Slowly, slowly, I learned how to take care of plants, with the help of many wise neighbors. Let's take the word "learned" to the present. I'm learning. Like moving to Minnesota, like cooking wood-fired pizza, I've given myself over to gardening. For better or worse. Till death do us part. To a lifetime of learning.
What is it they say? The more you know, the more you realize how little you know. This is true of gardening. But this is also true, there are a handful of simple things you need to know to start growing a small space vegetable garden—sun, water, and good soil.
How to Start a Small Space Vegetable Garden
START SMALL
Literally. A whole lot of learning happens on the job, in the garden, so start small—with a tiny herb garden or a single tomato plant. Plants are the very best teachers. Add more teachers once you have the mental space to learn their lessons. Note: always keep mint in a separate pot. It dominates and overtakes the other herbs. Also, be sure to use your herbs by trimming off the tops with shears to promote growth and make dinner delicious. Pinch off any flowering, as well, as the plant will use all its energy to produce flowers instead of the leafy herb.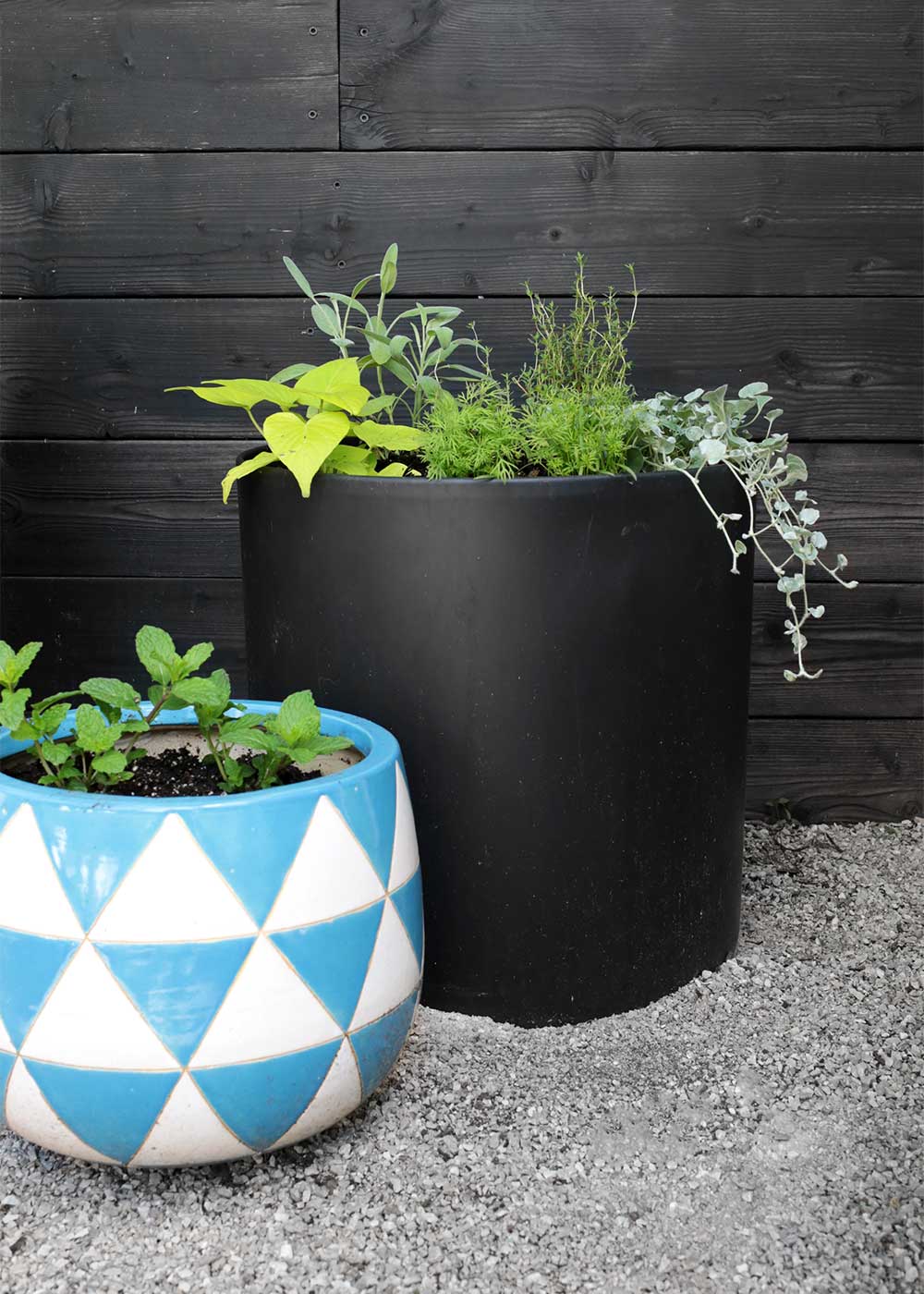 FIND THE LIGHT
Vegetable gardens need full sun (6+ hours) to grow. Pay attention to the pattern of the sun where you live, and plant where the light is. If you live in an urban area, like us, consider planting in containers or elevated beds on wheels. Turns out, the only full sun areas at our house are on the driveway, where the cars and the bicycles roll, and now where the garden rolls, too. Note: when growing in containers, stick to plants that grow tall (like peppers or tomatoes) and not wide (like cucumbers or squash) or deep (like carrots). Add wood stakes or a trellis for stability as plants grow.
LET THEM DRINK
Sitting out in the sun all day will make anyone thirsty, plants included. Outside the rain, water daily to keep those plants well hydrated. They'll let you know they're dehydrated with a wilt or change in leaf color. The leaves absorb the sunlight, so we want to keep those arms happy and hydrated.
LOOK FOR ORGANIC PLANTS
What does organic mean anyway? It means the plants (and dirt) have been grown without synthetic fertilizer or pesticides. While there's some short-term benefit to both of these things, there are long-term, damaging effects that are worth looking into in regards to your health, the health of the land and nearby waters, as well as the health of bees, who help to pollinate (fertilize) plants, especially squash.
LURE THE BEES
I have an irrational fear of bees, but we need bees to pollinate. So plant pollinator-friendly plants either nearby or in your bed. I added lavender which can be both harvested and used to feed the bees.
FIND THE BURPEE LOGO
Burpee offers a wide variety of organic plants. But my other favorite part—their plant markers come equipped with the necessary information to help a junior gardener (like me) produce produce. For more guidance, check out Burpee Plants. Keep the markers in your beds until the information seeps in. To your head, that is.
PERENNIALS
Most vegetables and herbs are annuals, meaning they need to be planted yearly. However, depending on where you live, some will pop back up year after year. Know your planting zone (I'm zone 4 in Minneapolis), and plant perennials in your flower beds, if you have them, rather than your containers for a nice surprise every spring, plus some cost savings. We have a long bed lined with chives. Soon enough, they'll be topped with pretty purple blossoms.
Here's to producing produce, delicious dinners, chasing the light, wherever it may be, and learning from those leafy green teachers.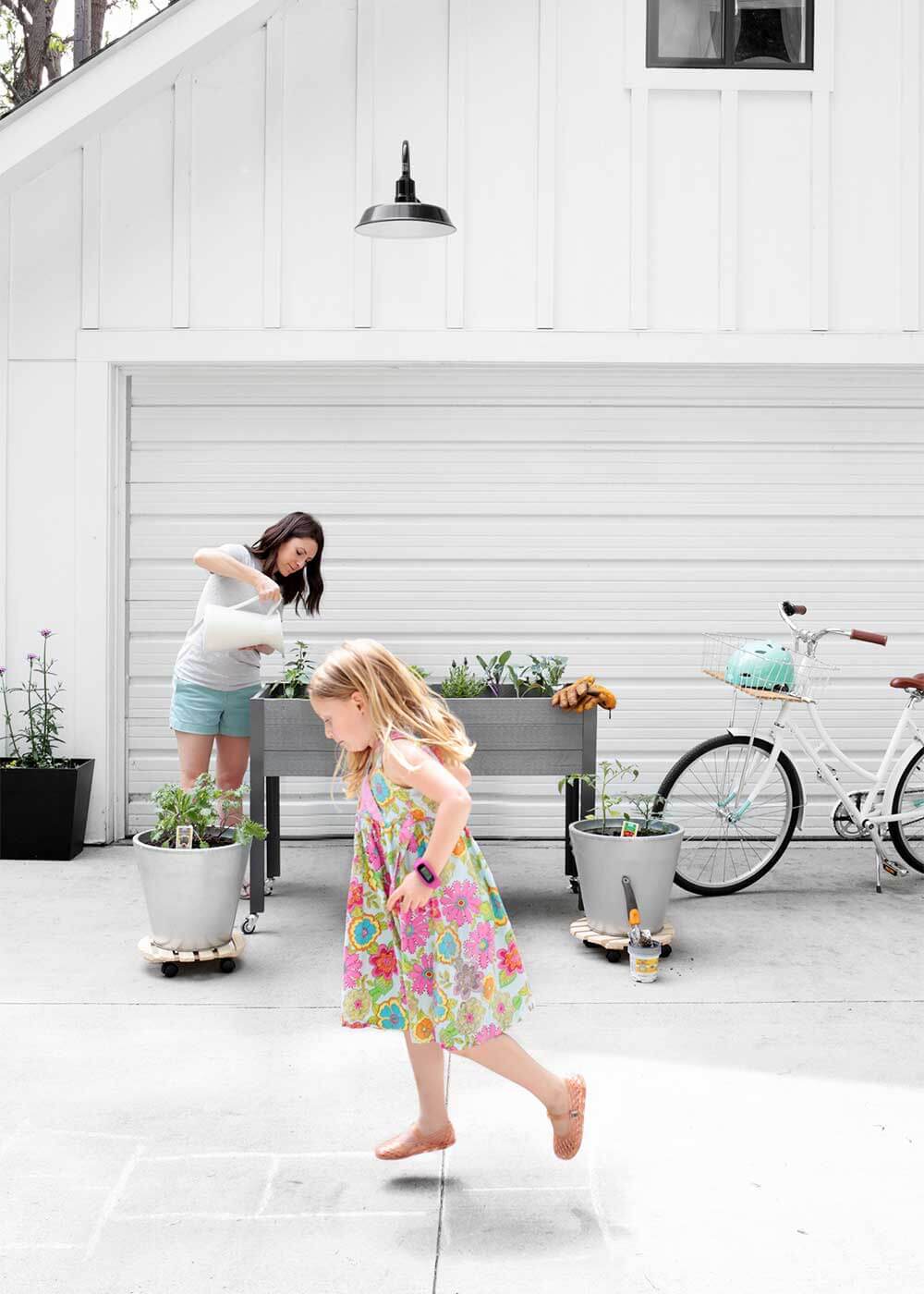 Planter Sources and Information
Other Sources
This blog is made possible by your support (thank you), select brand partnerships, advertisements, and affiliate links to items I love and use. READ MORE >