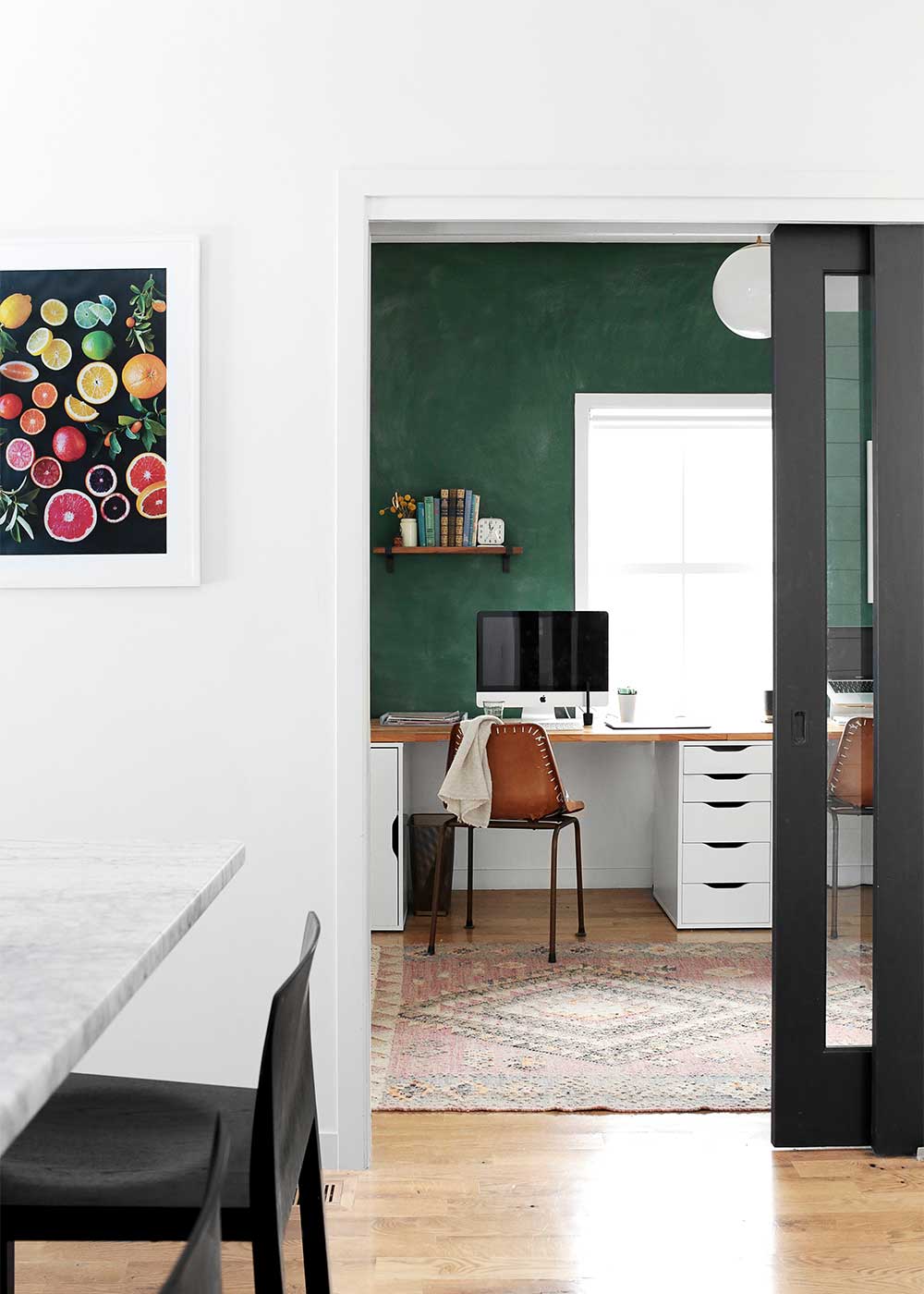 Prior to moving in to #thefauxhouse, I've always worked in the dining or living room on a cheap, rickety Ikea desk. We moved that rickety desk into the new office and told ourselves we'd put off designing the room for at least a year. I lasted two whole weeks. When I should have been unpacking boxes, I was busy at work in the moodboard file. I wish I had saved all the iterations. There were hundreds. The inspiration for the room solidified when I found the Leather Schoolhouse Chairs from Rejuvenation. Schoolhouse. Schoolhouse! The office needed to be a modern schoolhouse. Warm, vibrant colors with modern, clean lines. Though Hallie always knew that.

Inspiration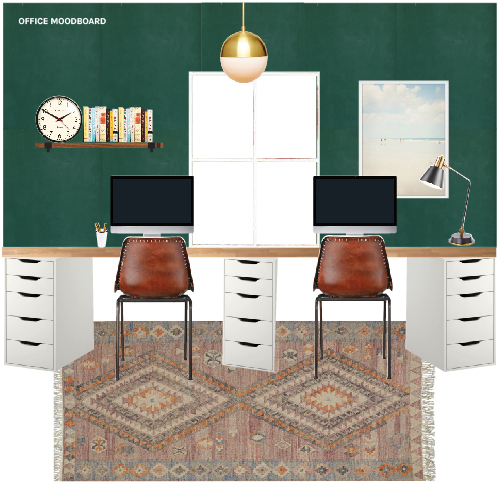 Here's the 100th moodboard—the one we both finally agreed on. It was a holiday weekend. Kev had the day off, so we went to Ikea to buy a sturdy desk. We barely made it home with both of the very substantial butcher block desktops. As with all Ikea purchases, I assembled the furniture immediately. I'd like to be an Ikea furniture assembler in another life. It brings me so much joy. (Sadly, this is not sarcasm.) The desk configuration just so happened to fit the width of the room perfectly. Most people think it's a built-in. Though nothing is actually affixed—to the wall or eachother. The desktop and bases are super substantial for Ikea! I don't worry about them shifting. Rejuvenation was having a huge sale that same weekend. I secured the chairs—the inspiration for the room. Next stop, the paint store.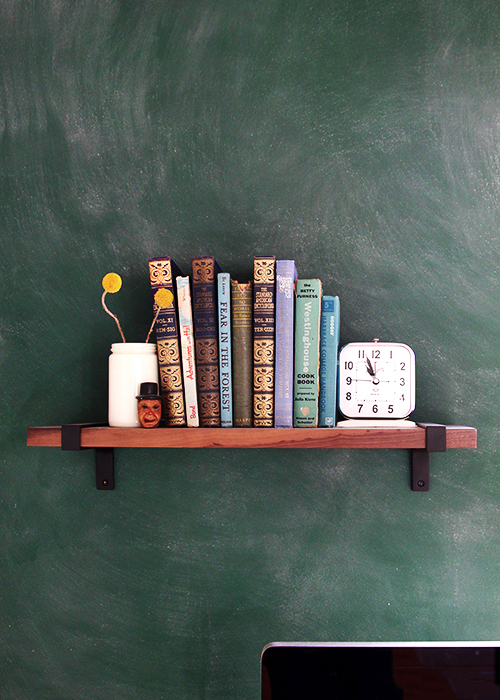 It's important you know this—I've painted so many unsuccessful green walls in my short adult life. It's nothing short of a miracle that Kev agreed to let me paint yet another wall green. I wanted the color to look like an old green schoolhouse chalkboard, so I decided to start with green chalkboard paint. Second miracle—it turned out right the first time! I lightly seasoned the wall with chalk afterwards to lighten it a bit, then wiped the wall with broad strokes using a ribbed kitchen cloth. It left behind the most beautiful texture. I both love and hate telling people I only spent $20 on the wall. (Note: it's important to start with a smooth wall for this technique.)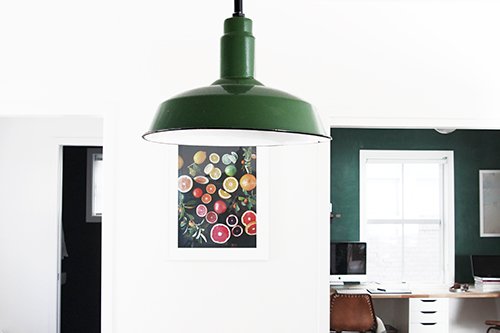 We teamed up with Rejuvenation to finish out the room (from the lighting to the shelf to the rug), and Kim from Yellow Brick Home sent over the dreamiest of beach prints. I'm certain it lets off a little Vitamin D most days. I mostly love the way it disrupts the sea of dark green.
I love the function of a space just about as much as I love the form. We needed this room to act as an office 65% of the time and a playroom 35%. It's downstairs, right off the kitchen, with plenty of floor space. The cabinets are filled with clear plastic containers to both house the toys and make them visible when needed. This makes cleanup far easier. Though the redundancy of cleaning after a toddler is still mind numbing. (I'm not sure a better design could solve that.) I also wanted a shelf strictly for looks. The office is enclosed by two large glass doors, so the room is always visible. I shopped vintage books around Minneapolis, keeping to a particular color palette, and used a new but vintage clock as a bookend. I like to give each room to have a personal touch without plastering it with all the pictures I forgot to take of us. So I added a vintage jar gifted to me by my grandma and a whittled face that sat on the desk of my late aunt.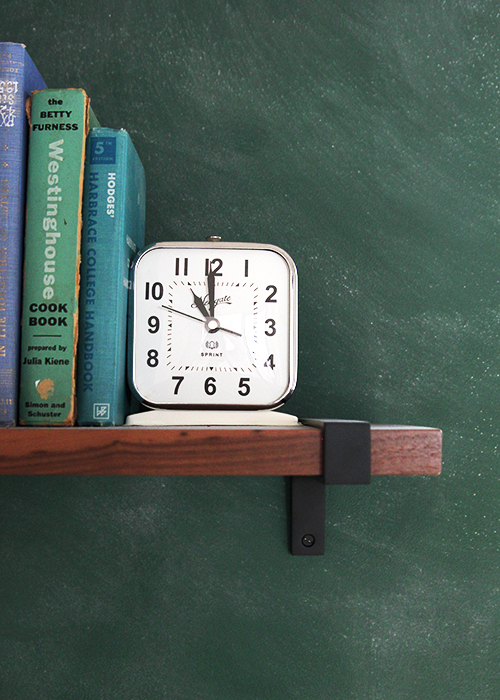 The room is calm enough to be creative and spicy enough to feel complete. I'm not sure which room I love more—the kitchen or the office. Lucky for Hal, she doesn't have to decide.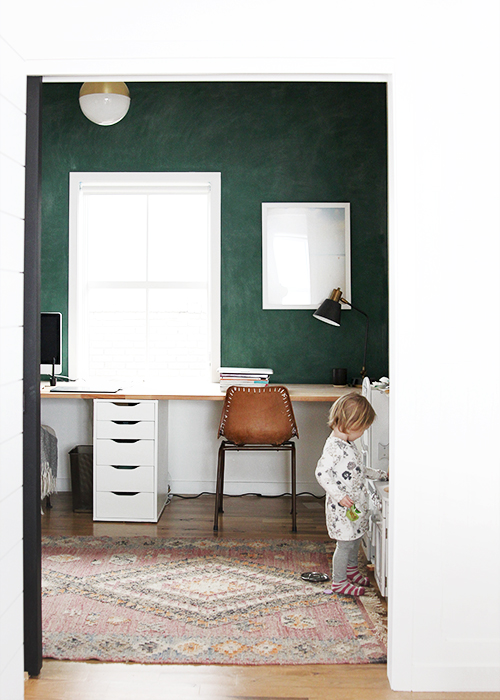 This blog is made possible by your support (thank you), select brand partnerships, advertisements, and affiliate links to items I love and use. READ MORE >