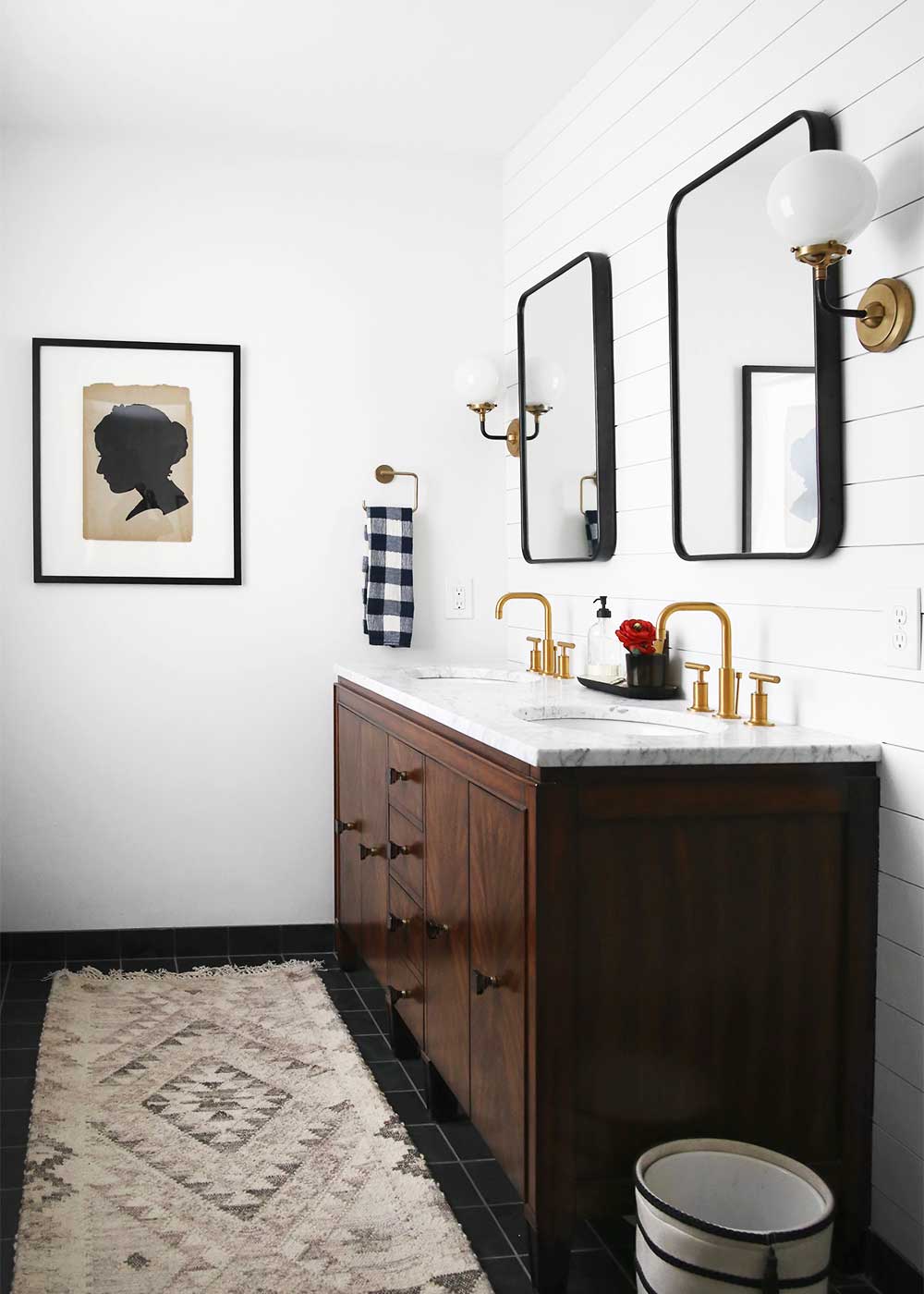 This bathroom reveal is so bittersweet. It means means that I have one less room to design in our house. Kev told me once I finish our house, I have to use someone else's money if I want to keep designing spaces. Ha! On the other hand, now that the house feels more like a home and less like a project, we've been filling it with our favorite people. That's a really good thing. Now on to the Minimal Masculine Master Bathroom reveal.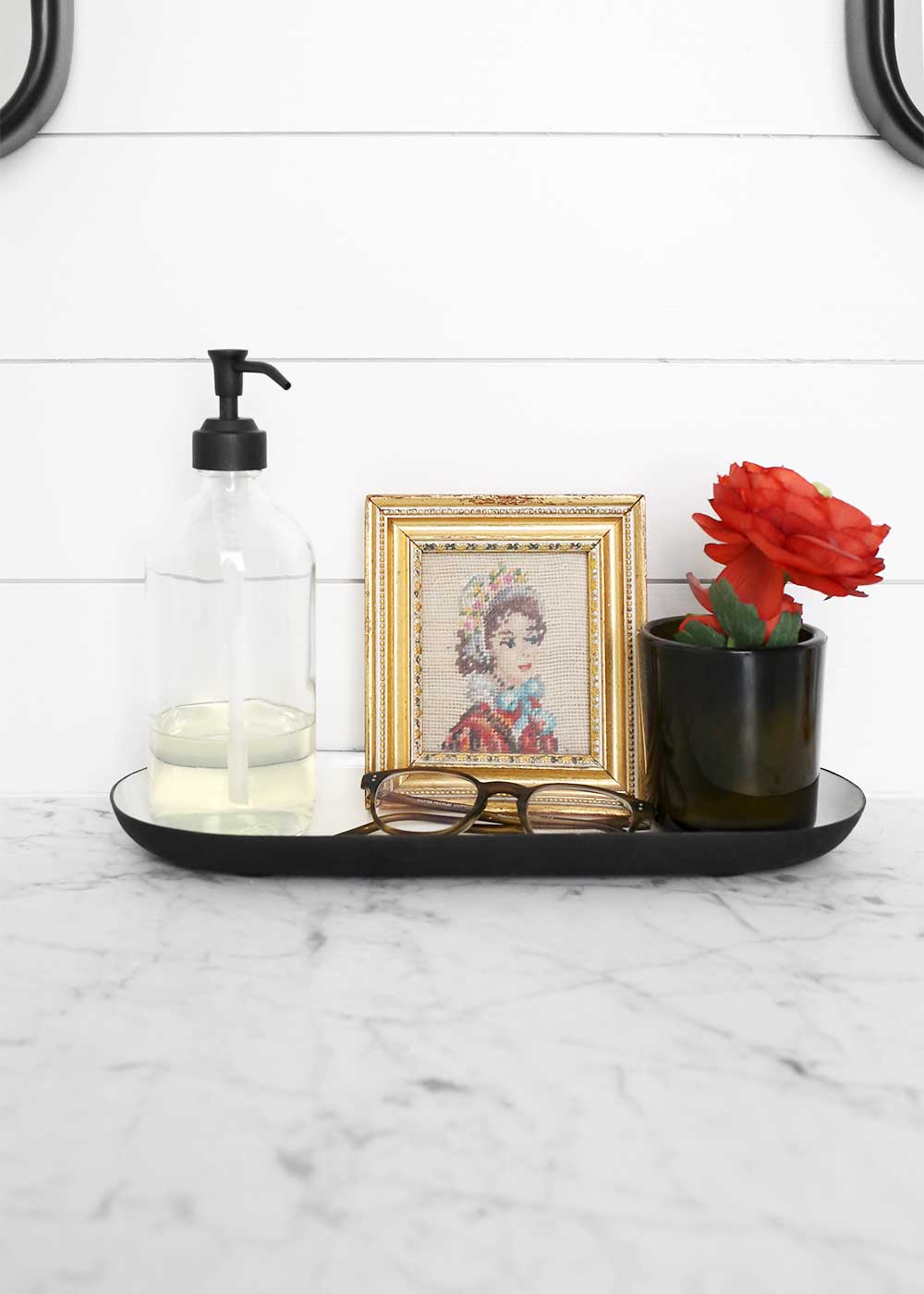 The house had great bones thanks to our builder and designer, Brownsmith Restoration. But our budget didn't allow us to really design out each of the rooms. So we've slowly finished them out as we could (and as inspiration struck). Our builder came up with a genius layout to the master bathroom, which is often one open room without much privacy. He divided the square-sized room with a wall. At the front of the wall is the vanity where we get ready. On the other side of the room is the shower and the toilet. The toilet is sits in a tiny nook at the back of the bathroom, just behind the shower. It's as private as it can be without adding the cost of door and closing off the space. We love it.
It's also worth noting, we decided to forgo a tub in the bathroom as neither of us are bath people. Hal's bathroom has a shower/bath combo, so should the desire arise, we aren't completely tub-less.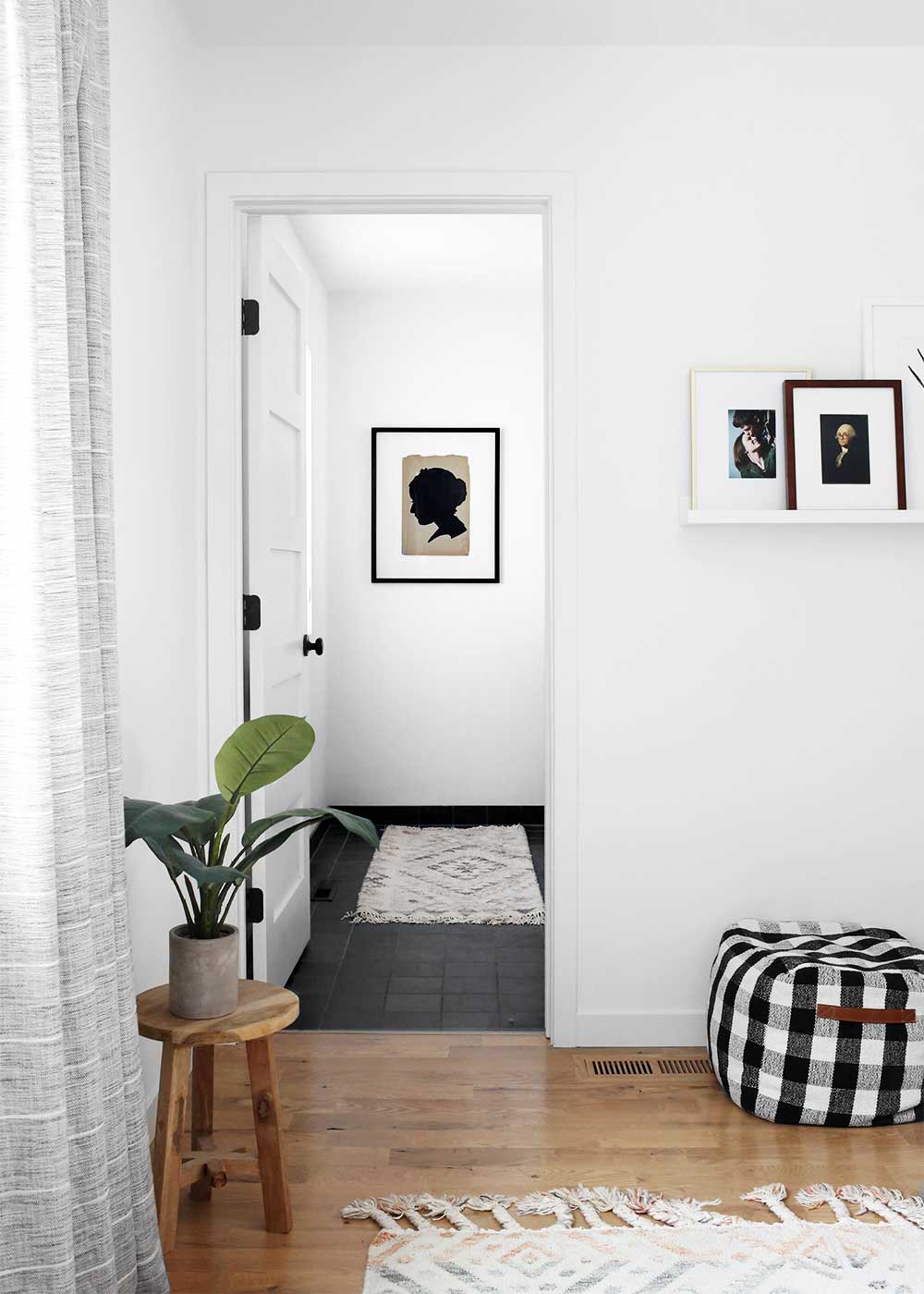 For the last 2.5 years we've been in the house, this room has looked so unfinished. Probably because it was. After finishing the design of the master bedroom, inspiration struck for this connecting bathroom. Though it's funny, because all the inspiration for this bathroom was pulled from around the house. I'm a believer in repeating elements throughout a house in order to keep it cohesive, so we did. I pulled a lot of elements from the master bedroom—the walnut tones, kilim rugs, brassy accents, and overall masculine vibe. I stole the shiplap from the dining room and the matte black and buffalo check accents from around the house. We repeated the use of subway tiles but went extra large in here.
Like the bedroom, I wanted this space to feel special, like a boutique hotel. Not the formal type, the collected, eclectic type. The mix of metals (matte brass and black), vintage art, and toothsome towels and rug helped to pull that look together.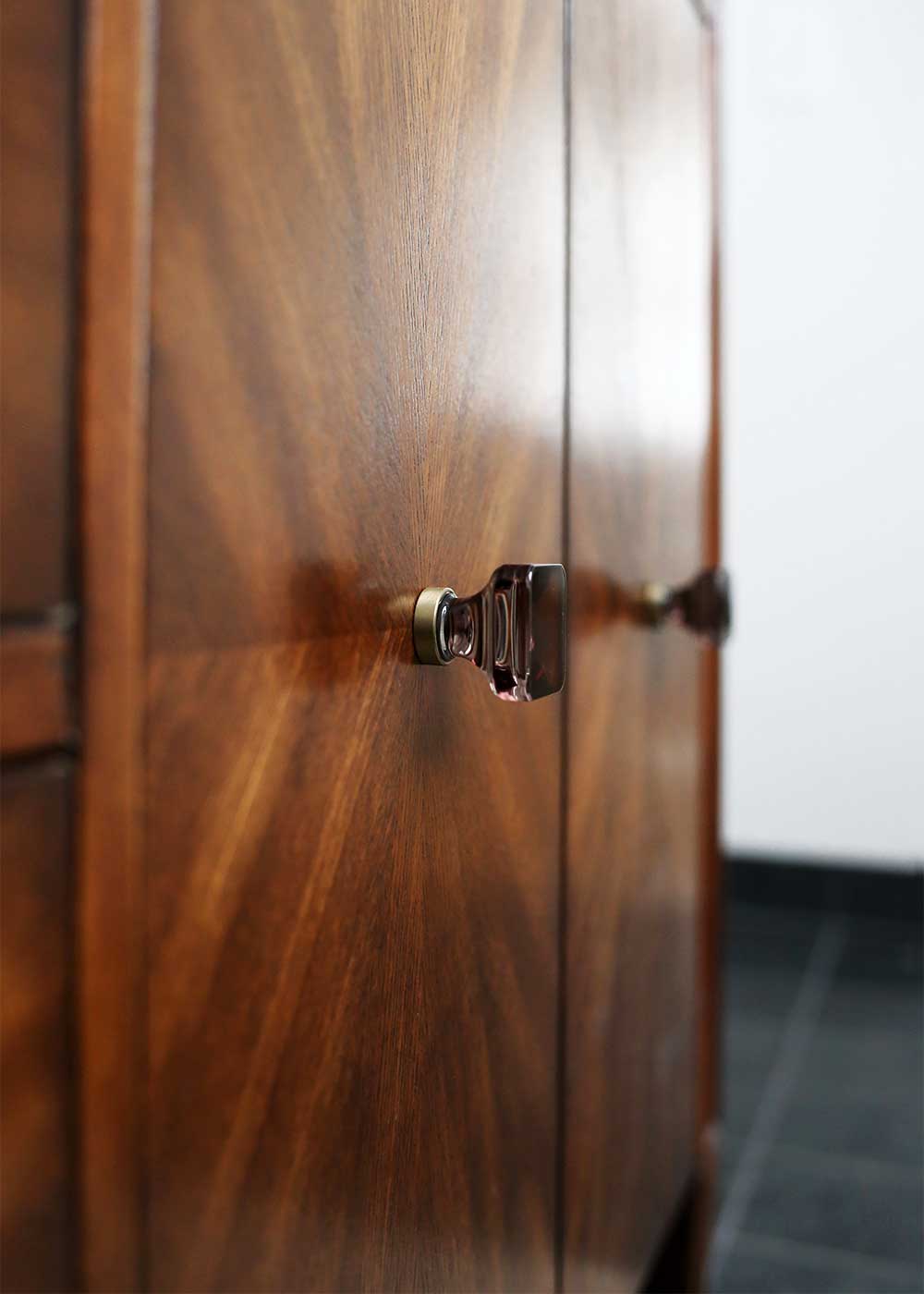 The Vanity
When you're designing a new house, a minimal house at that, you really have to infuse it with character to keep it from looking like a generic white box. So for large pieces like the kitchen island and the bathroom vanities, I wanted to choose something closer to a piece of furniture—old and built with character. But unless you have quite a bit of time on your hands to find a vintage piece that will fit the space perfectly, you have to go to plan B. I found our plan B on Wayfair and fell in love! I changed out the pulls and our builder added the counter. (See a full list of sources below.)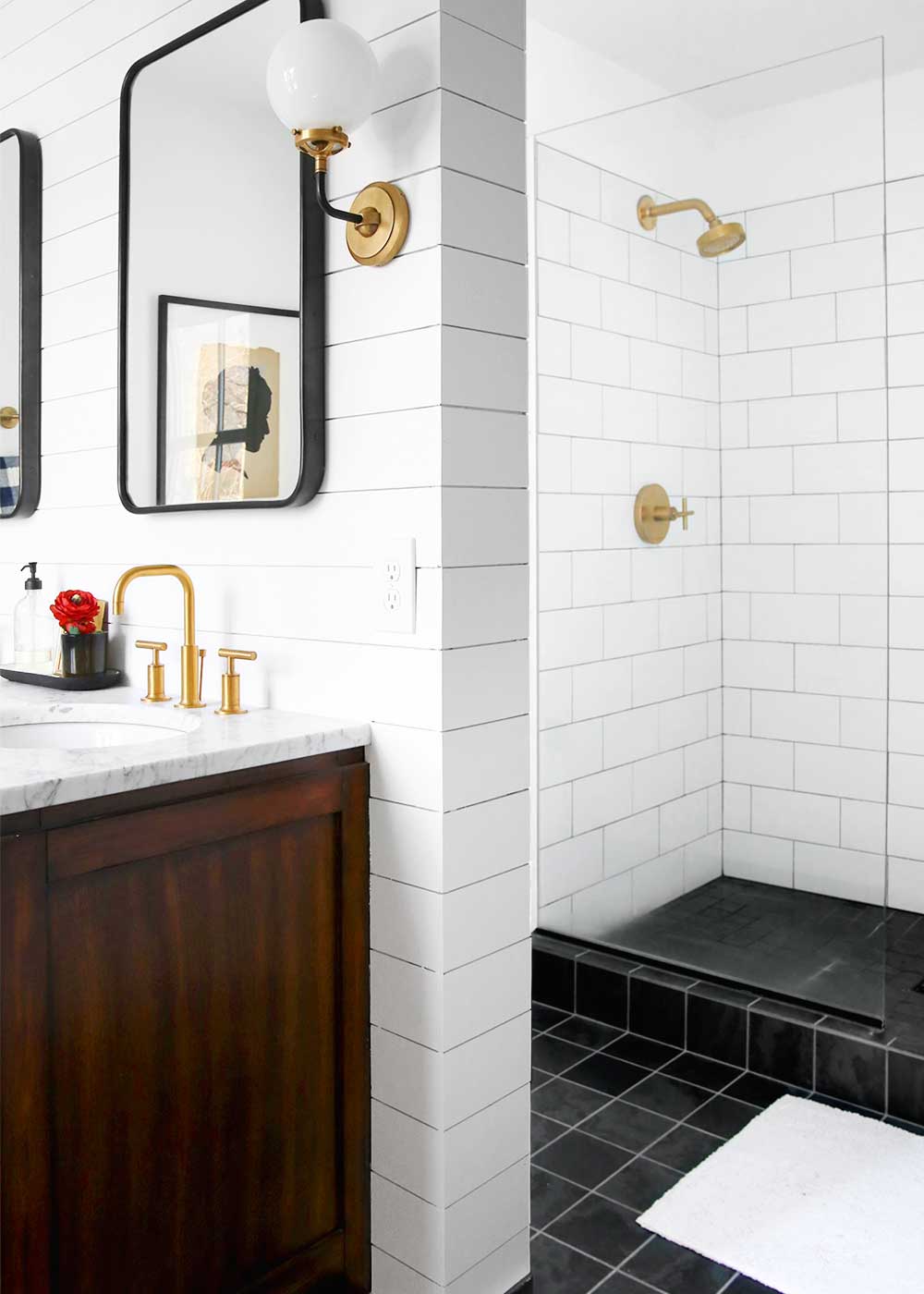 To backsplash or not? Well, it depends on the look you're going for. We actually removed our backsplash while finishing out the space. It didn't read like a piece of furniture, my original intention. Practically speaking, our backsplash wasn't protecting the wall. I don't think it ever received a spot of water. To remove, see this tutorial from Young House Love.
Artwork
I've said it before, and I'll say it again. Rugs and wall hangings are the hardest design choices. I like to find vintage, one-of-a-kind artwork while thrifting, which just takes a bit of time to find the right piece. For high-quality, framed pieces, I often look at Rejuvenation's Antiques & Vintage section, which is where I found the art for the vanity area (see full list of sources below).
I took to making some of my own art for the back half of the bathroom—a simple Bathroom Counter Remnants drawing. If you'd like one for your bathroom, I'm selling a digital download here. It prints off nicely even on a home printer!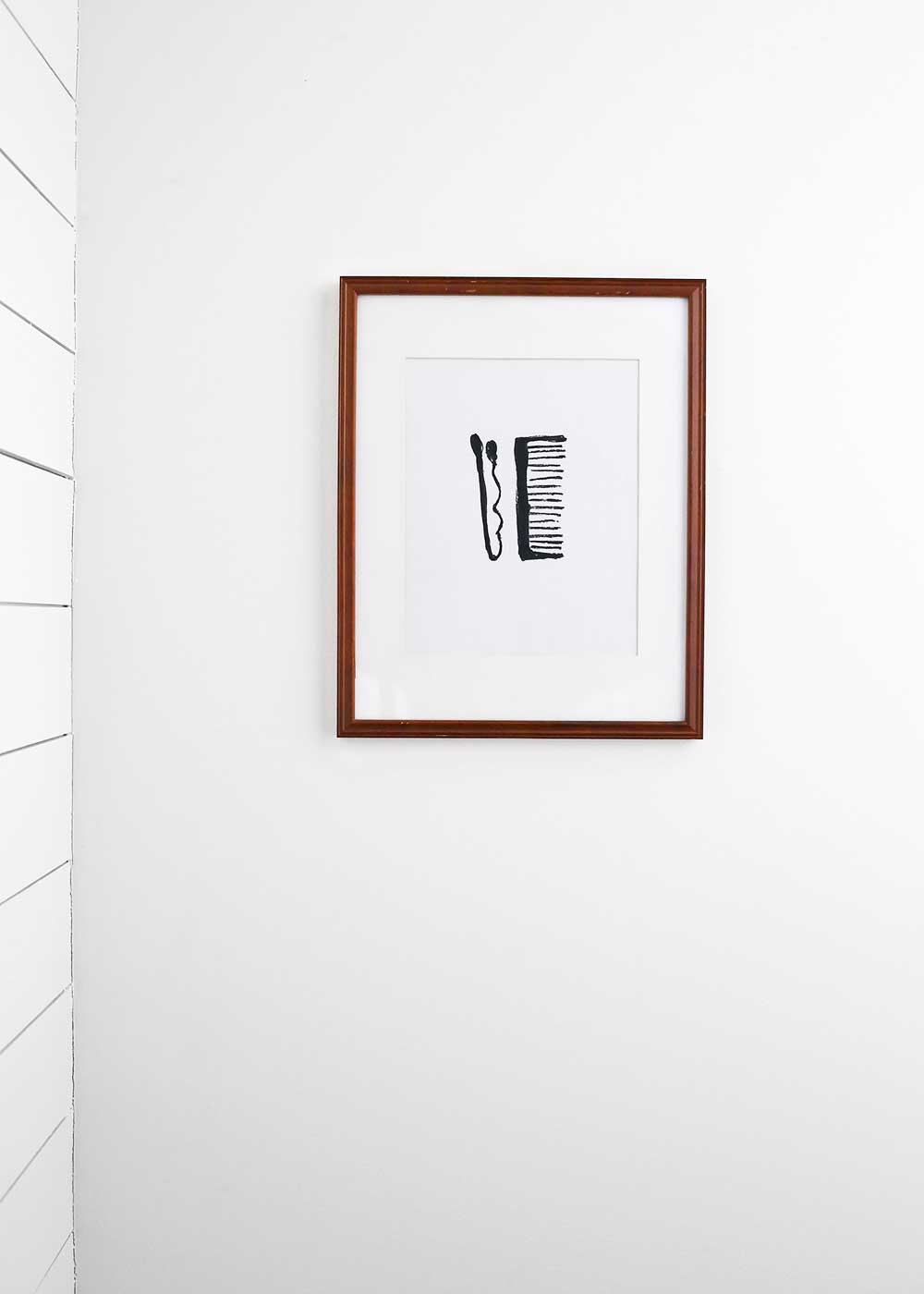 Shiplap in the Bathroom
This room needed an extra dose of character. We landed on shiplap over a paint color. We're not nearly as handy as we think we are, so we hired this job out. We originally tried to use bender board after seeing Jenny use it here, but had a hard time finding it locally. Our contractor ended up using 4″ lattice boards. They primed and painted them (front and back) first to protect the boards from moisture. To install, they used liquid nails and a nail gun, and then did a final coat of paint.
PS—If you look really close on the seam, you'll notice some cracking. Living in Minnesota with extreme temperatures on either end, our house majorly expands and contracts throughout the year. Cracks in the winter are gone by summer, and, if not, I pull out the caulking gun.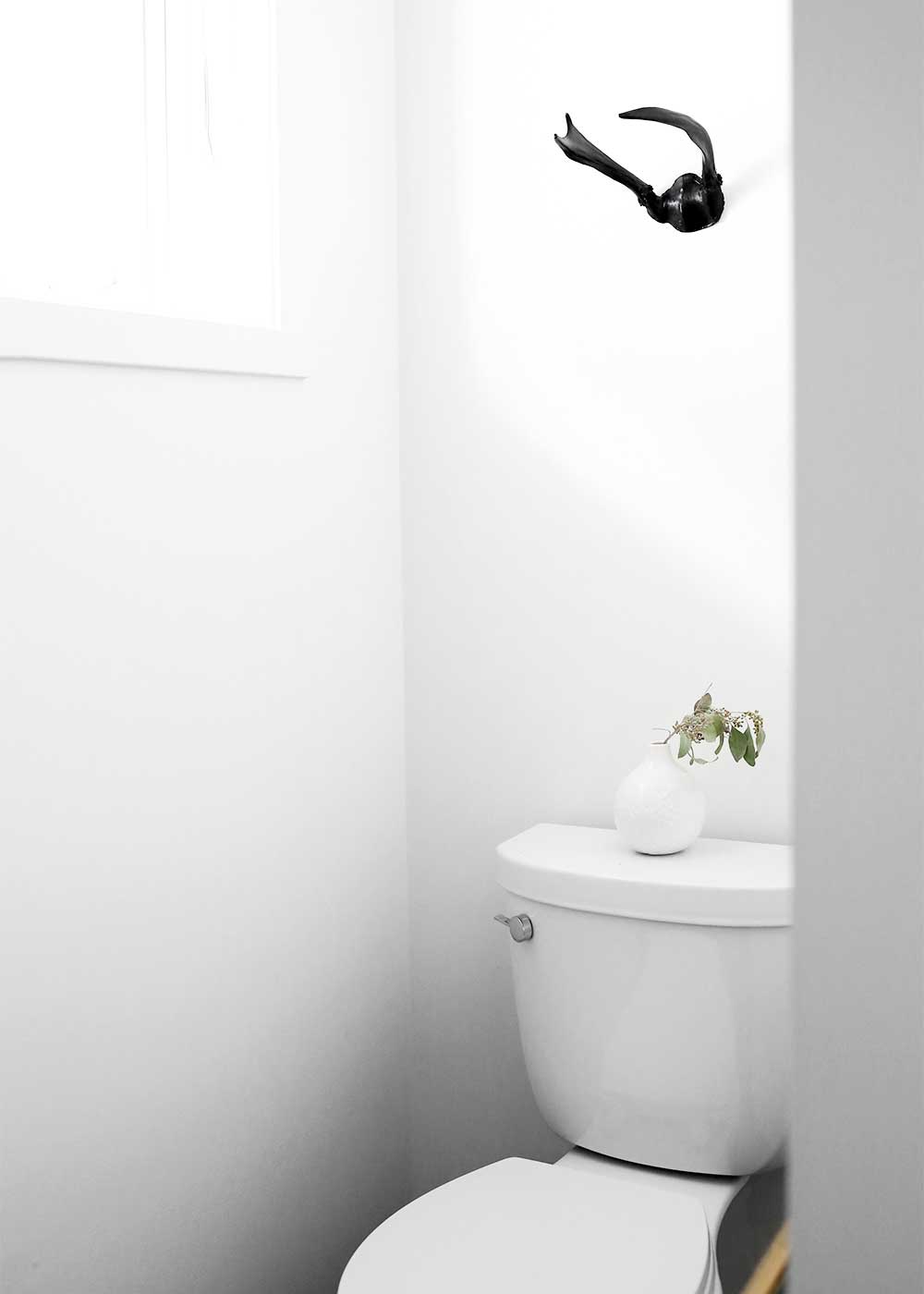 There's that tiny, semi-private bathroom nook.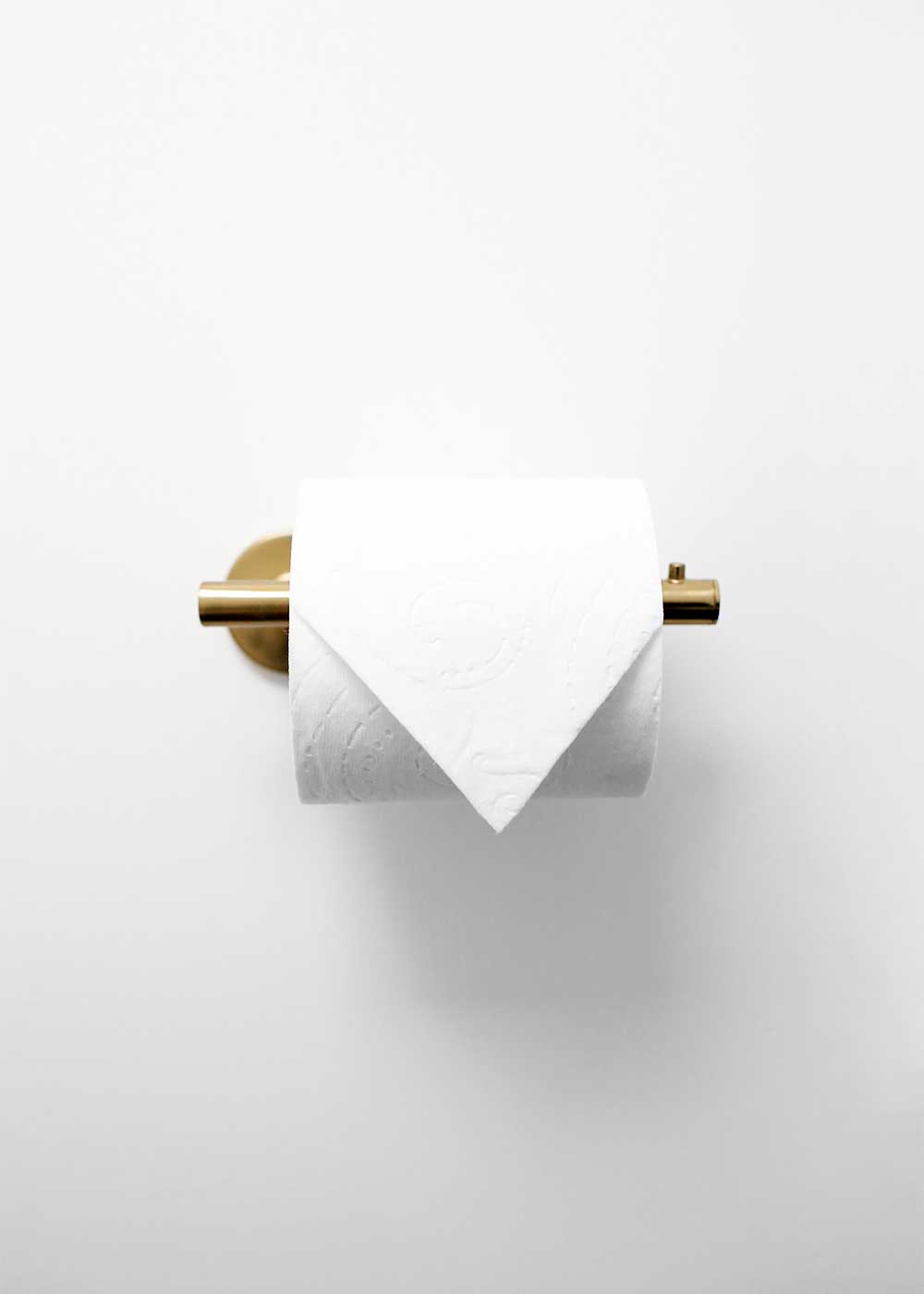 Towels
I feel a little strange dedicating a whole paragraph to towels, but these waffle bath towels are a game changer. They're extremely lightweight, which was a bit concerning to me at first. But they are super absorbent and dry quickly. And because of that, they don't smell musty, ever! I can't say that of any other towel I've owned.
The Shower
We went with an open shower concept. I love the look visually, but it can be a tad chilly in the winter. Would a door solve that problem? Maybe. I'm pretty sure a door was way outside of our price range while building, and now I'm sorta set on the minimal look. I'll update you if we ever change our mind on this topic.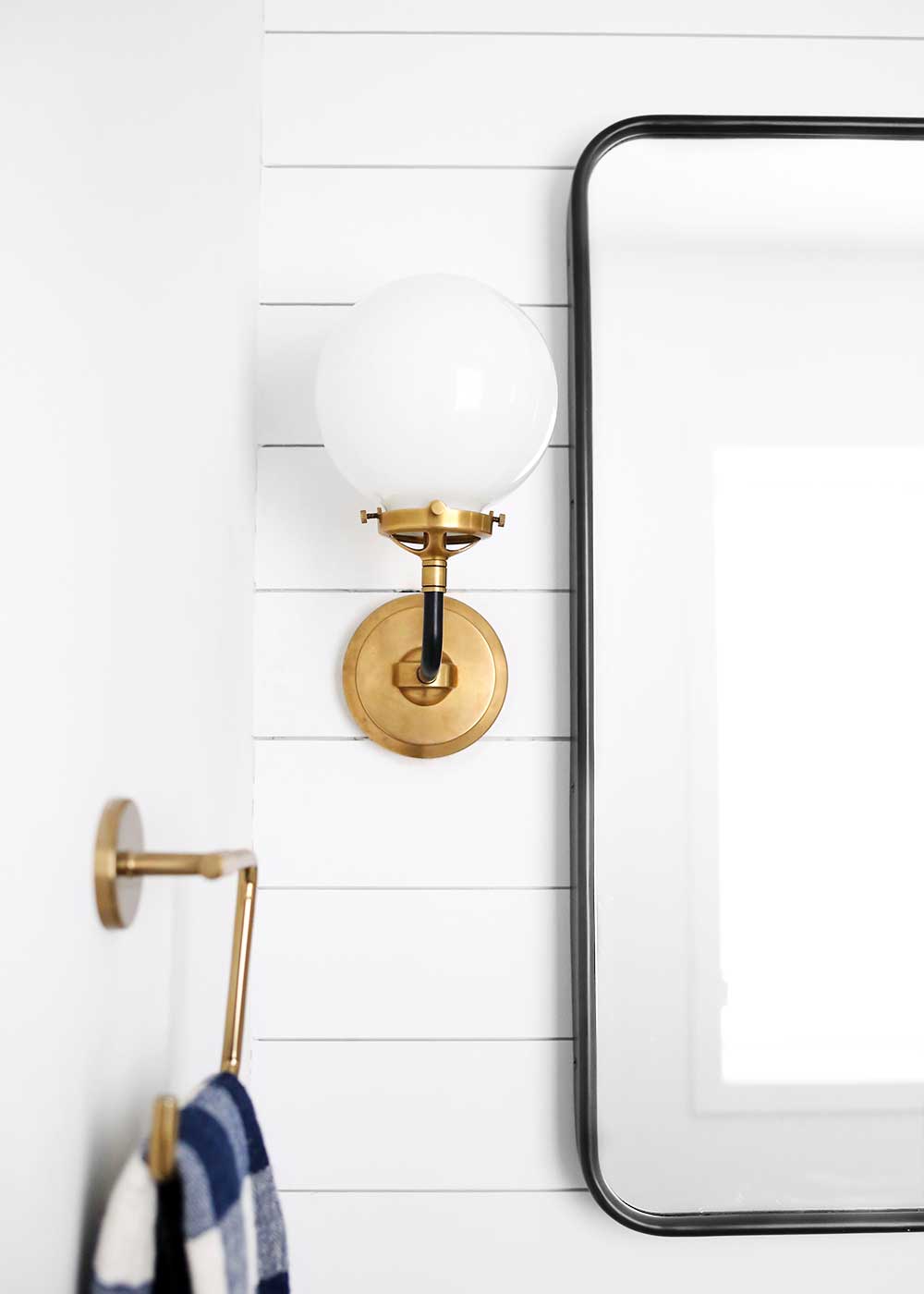 I walk in this room now, and it no longer looks like a project. That's a really good thing. On to tackling the laundry room. Talk about an unfinished room…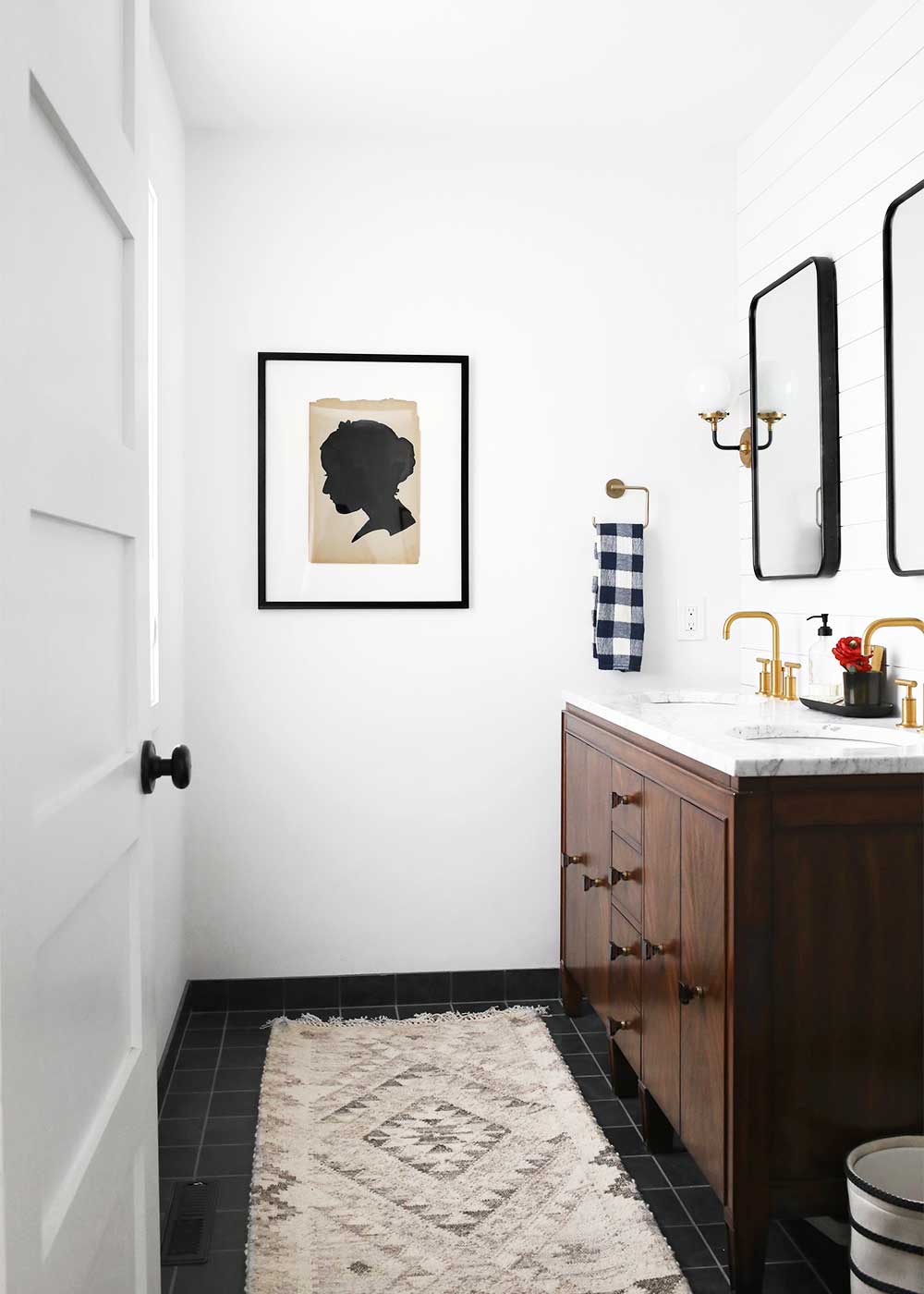 Bathroom sources
VANITY
Shower
Toilet
*products generously provided
This blog is made possible by your support (thank you), select brand partnerships, advertisements, and affiliate links to items I love and use. READ MORE >