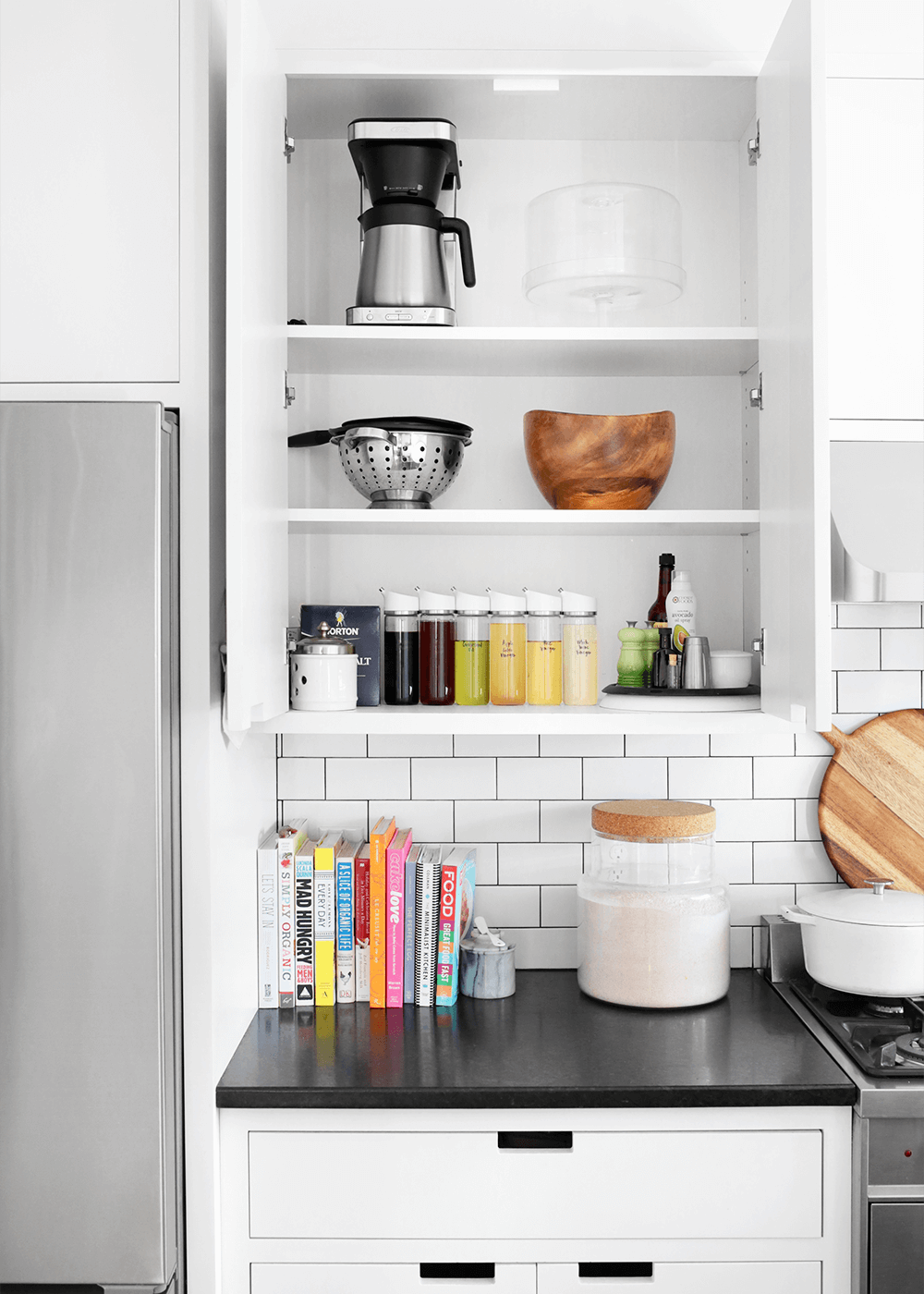 It's January, and in January I always seem to tackle another problem area in my kitchen. The kitchen naturally comes with a complex set of issues. But the good news is, there are simple solutions to make the kitchen a friendlier space to cook in. I wrote a whole book about it (The Minimalist Kitchen). Today, I'm tackling the cabinets and drawers.

This post was created in an ongoing partnership with OXO, the brand I lean on in the kitchen. Their products just work. They're smart, functional, and affordable.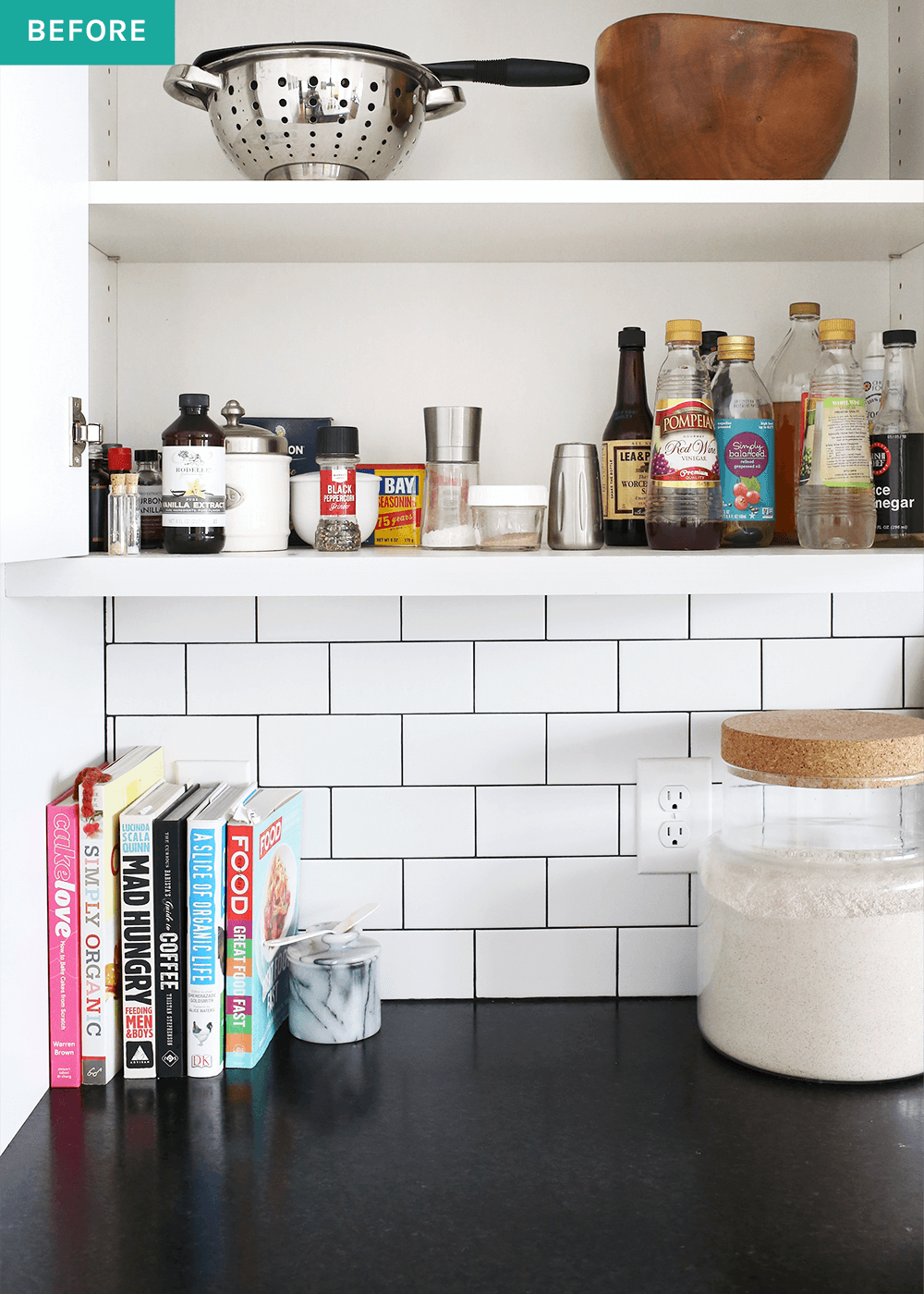 I've pared down a lot over the years. But even a pared down kitchen can feel disorganized and inefficient. For evidence, see the before shot depicting a chaotic shelf of vinegars, oils, salt, pepper, extracts, etc. It's fine, but not friendly or organized.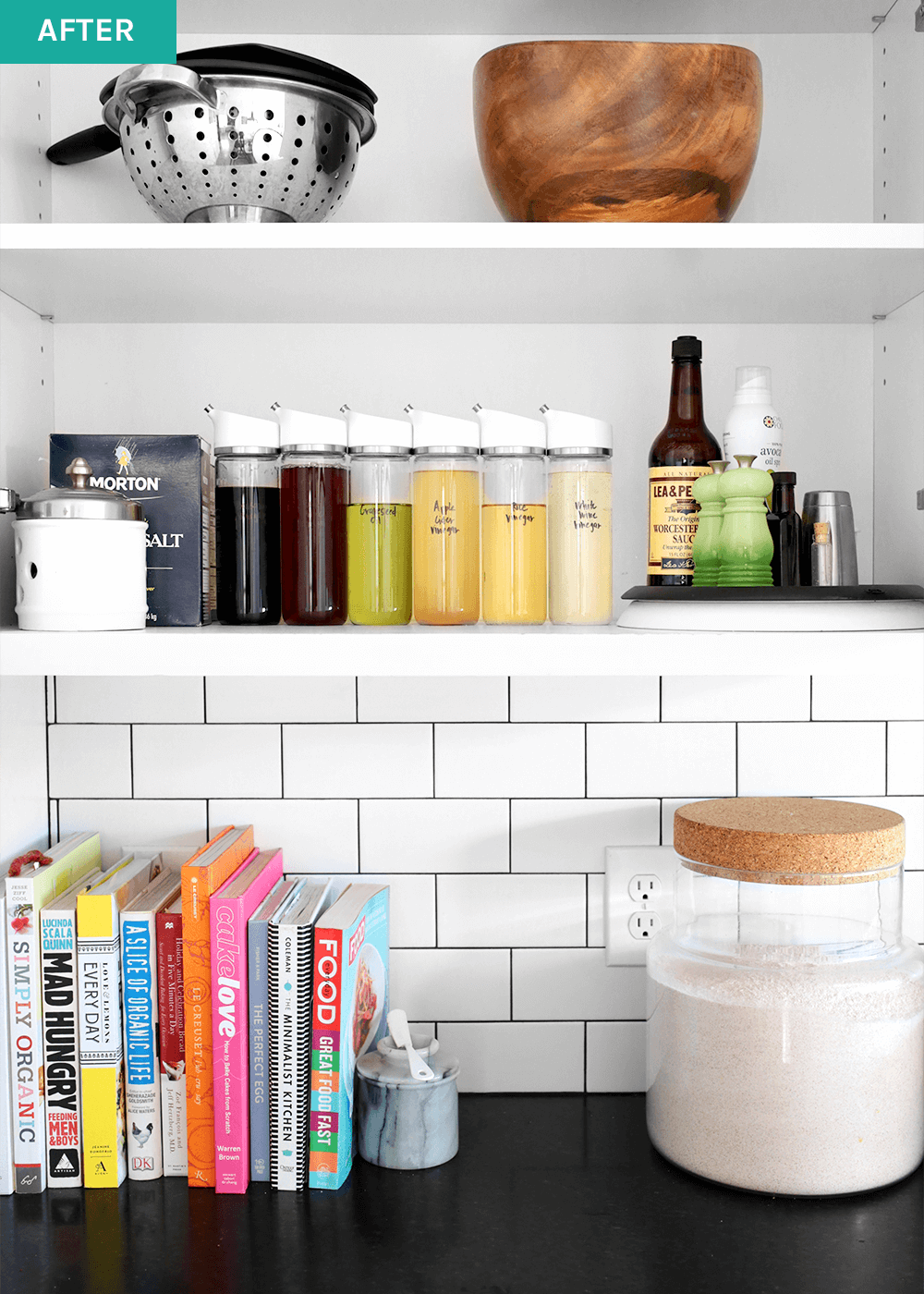 Enter the turntable. It's not just for your grandma's kitchen. If I was Oprah, I'd put one in every kitchen. You get a turntable! You get a turntable! Here's why I love this gadget. For obvious reasons—it turns, making it easy to retrieve a specific item. But I also love that it acts as a divider. Dividers are a key ingredient to an organized kitchen. This one in particular from OXO has a lip to keep items contained.
Originally, I planned on using the turntable to house the vinegars and oil. But after repackaging them into glass bottles, they became an art piece when color coordinated. Visual happiness! The remaining everyday items were moved to the turntable, and now I can see everything at a quick glance and retrieve it without digging.
Tip: Co-ops and Whole Foods often sell oils and vinegars in the bulk section. You can refill your bottles and save on packaging. Read more here about how to shop in bulk.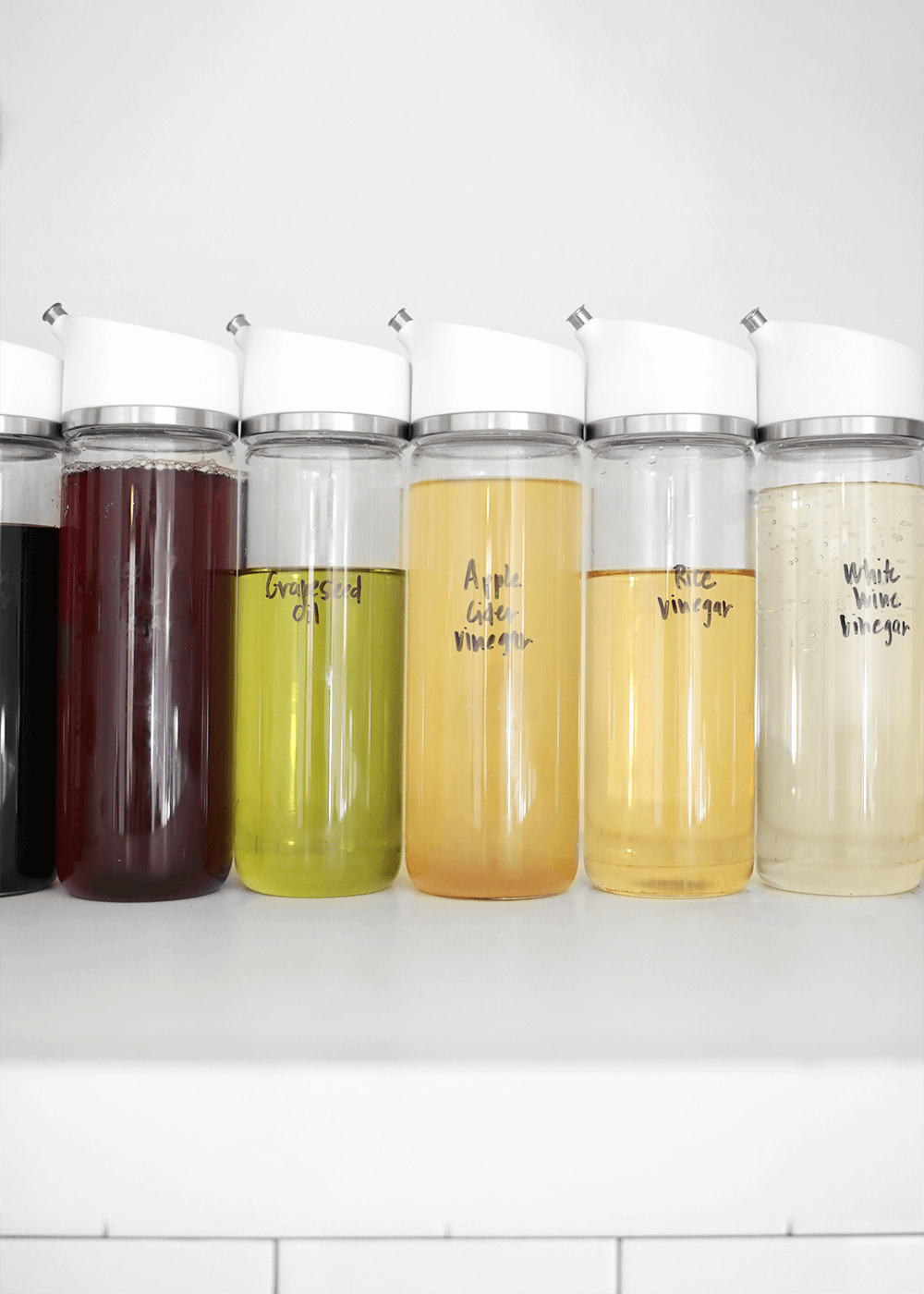 Drawers are another big problem area in kitchens. Without dividers, they are often chaotic, producing expletives upon retrieval of an item. Apply the cooking concept of mise en place to the kitchen cabinets and drawers—everything in its place. Designate a space for every item and give it a home, bound by dividers. You'll never be able to blame your husband for the missing spatula again. Ha!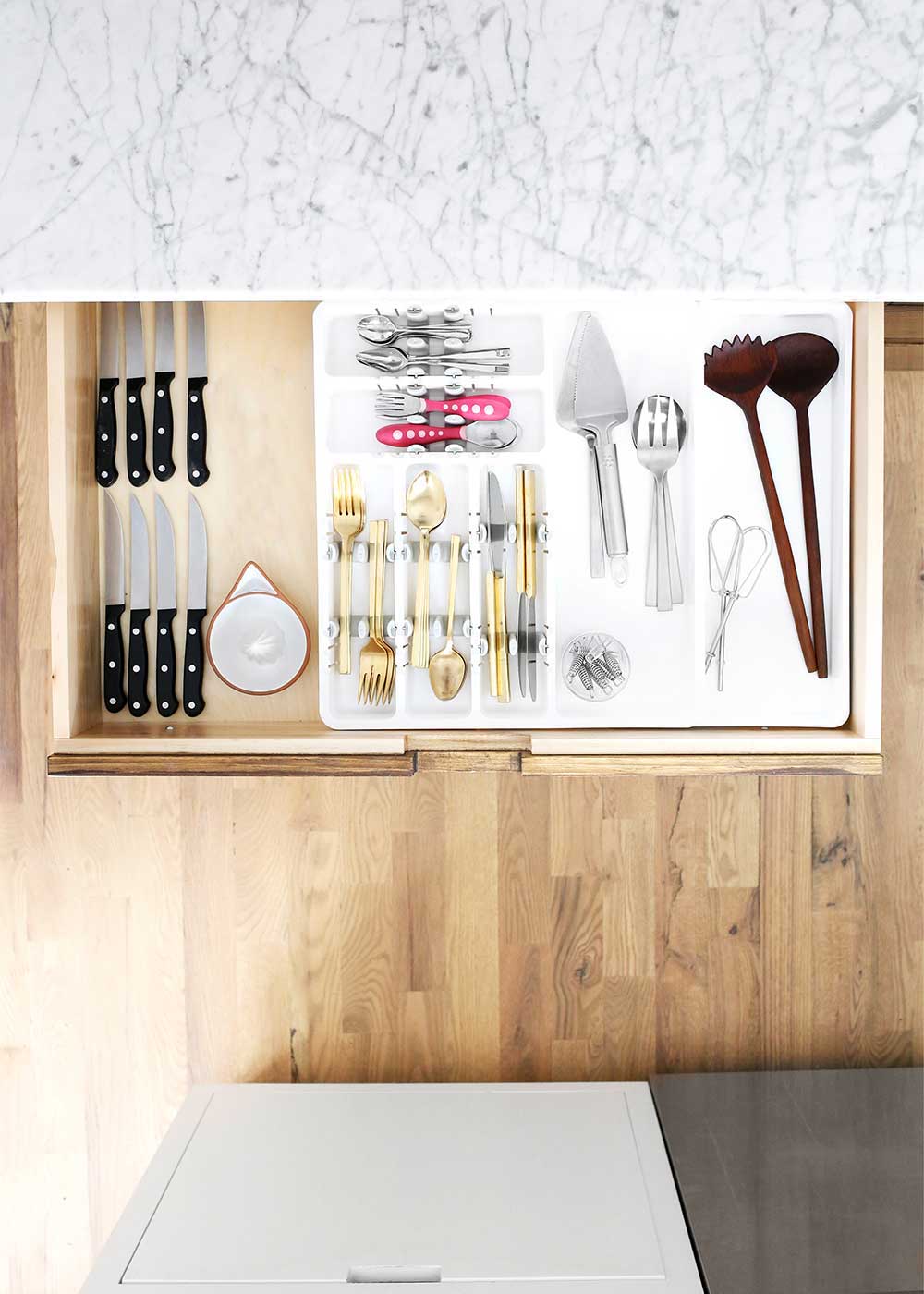 This expandable utensil organizer from OXO is great for the utensil drawer. It has adjustable utensil dividers that can be moved to fit the size of your utensils. Notice the notches for the toddler spoons versus the adult spoons. So user-friendly! We also use inexpensive bamboo dividers in our drawers. Divide and conquer … those kitchen cabinets and drawers!
For more kitchen organizing posts, check out The Minimalist Pantry Part 1 and 2. For a comprehensive guide to creating and cooking from a minimalist kitchen, buy The Minimalist Kitchen and take The Minimalist Kitchen Course.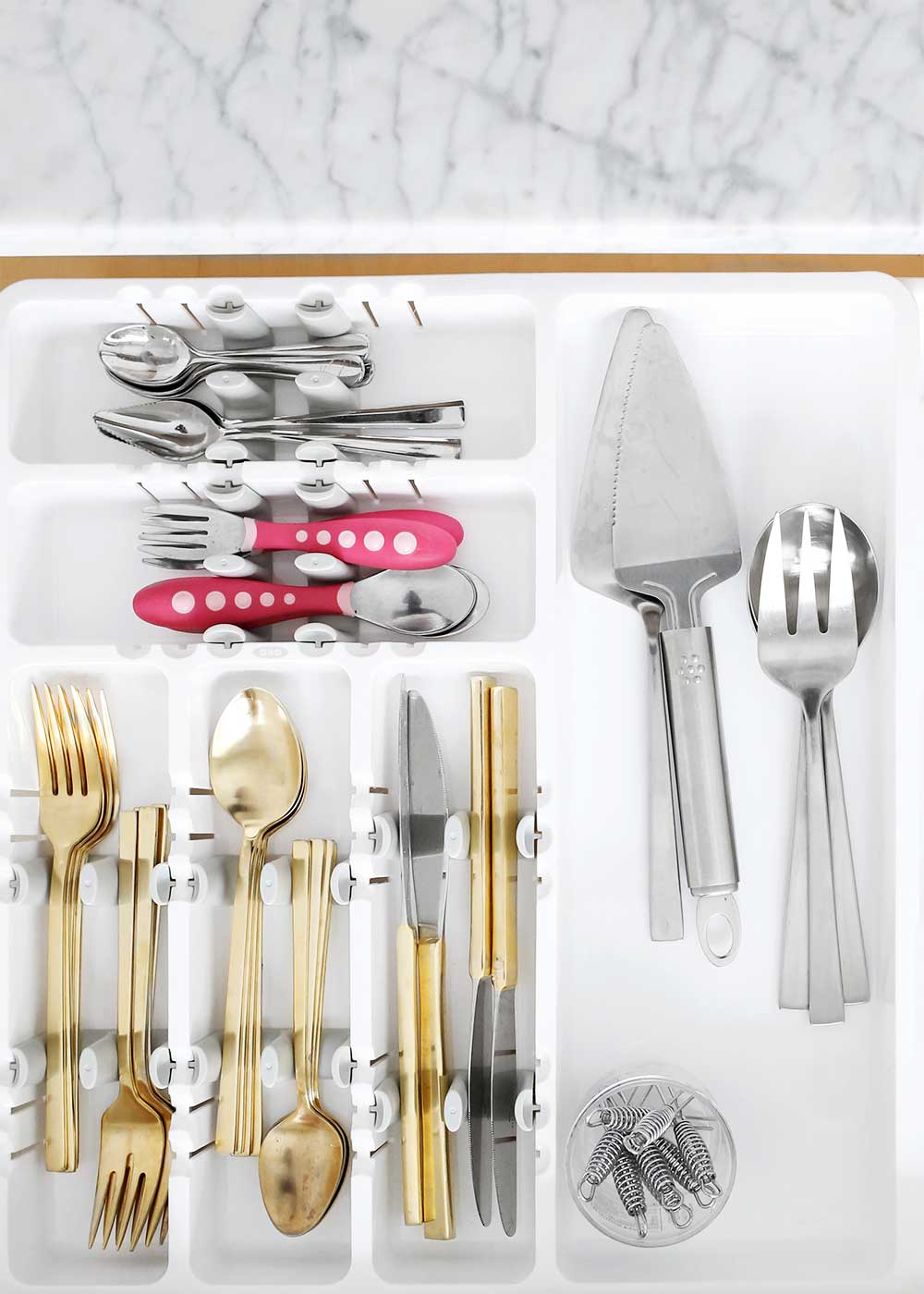 Kitchen Sources
Cabinet
Drawer
This blog is made possible by your support (thank you), select brand partnerships, advertisements, and affiliate links to items I love and use. READ MORE >