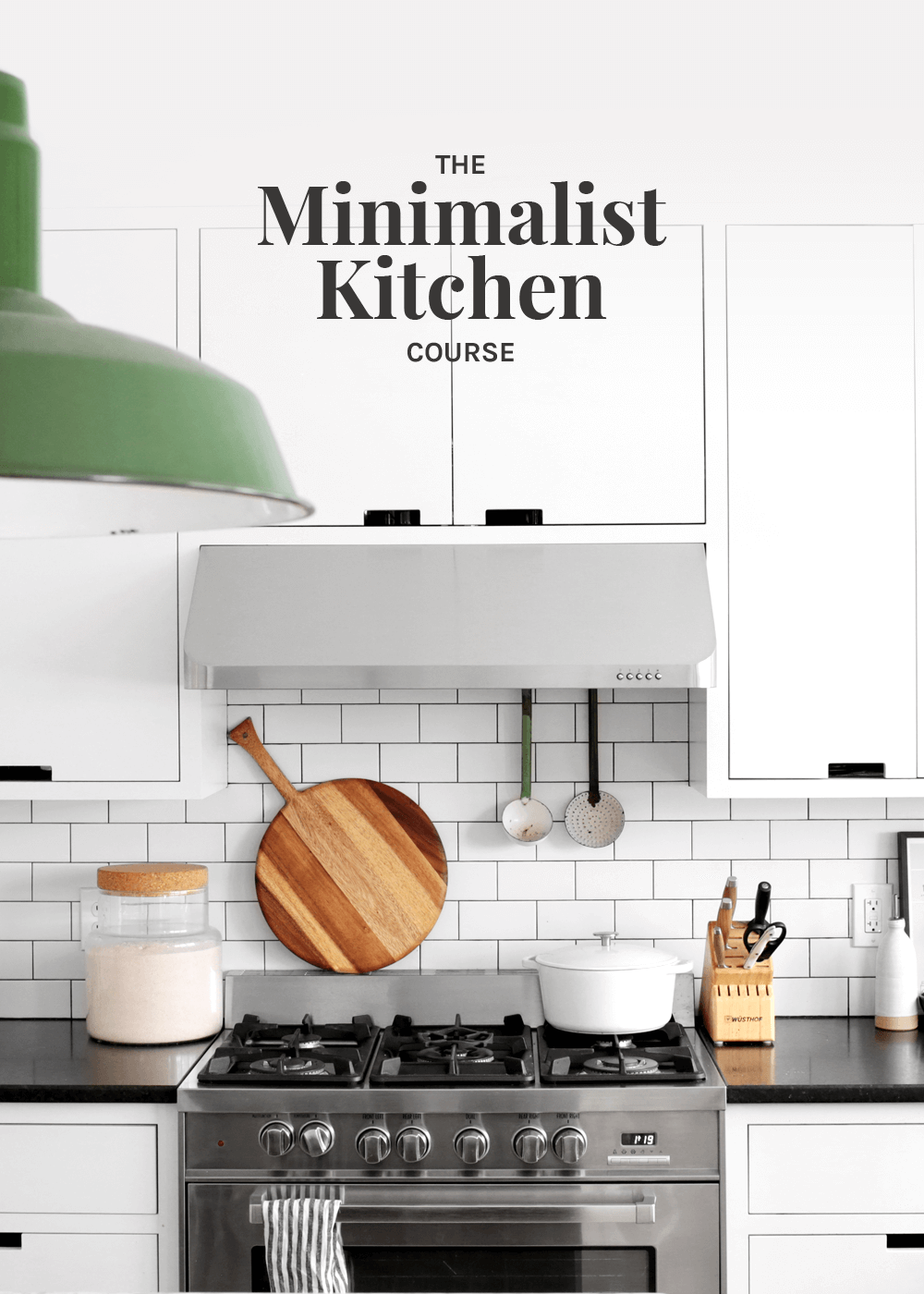 Hi! Happy New Year. We made it to 2021, which felt a little like making it past Y2K. I made myself a Cosmo, drank half, fell asleep, and woke up with a headache. I officially can't hang anymore. Sparkling water for life. In other news, Kev gets the first round of his COVID vaccine today. I'm grateful for that. I'm also grateful for this—with The Minimalist Kitchen back on the shelves, the Course is back and now open for registration.
What is this course, you ask? It's an addendum to my cookbook, The Minimalist Kitchen. A prequel to the sequel. A tighter handhold. Not like a squeeze-your-hand hold, more like a hold-your-hand hold as you create your pared-down kitchen, not mine. Some were able to take my book and apply it to their kitchen. And others were like, break it down and take me step-by-step, which is how I feel anytime someone talks about business or tax stuff. For that reason, I created this course.
I know I'm not alone when I say the kitchen is a universally frustrating room. I even knew this as a child watching my mom's weekly tussle with the Tupperware drawer. And I learned this again and again as an adult, growling at the spices, sighing at the spilled pasta bags, and groaning at the stale chips and the empty box of rice left on the shelf. No matter what I did, the problems came back like a boomerang and dinner barely made it on the table.
So many of us are looking for simplicity. And more often than not, we're asking our recipes to provide this for us when we should be looking to the kitchen first. So that's where we'll begin. Whether you have a teeny tiny kitchen or one that sprawls, whether you prefer cast iron pans or nonstick, whether you share your kitchen with five or none, whether you like to make long-winded meals or dinner in 30, this course is for you.
The Minimalist Kitchen Course Details
WHEN
January 21 – February 8, 2021 (with flexible pacing)
WHAT
A 5-part course to help to simplify and organize the most complicated room in the house—the kitchen—in order to make dinner time, cooking, more doable.
TEXTBOOK
The Minimalist Kitchen, Purchase a hard copy (new or used), check out from the library, or go paperless with an eBook.
Course Outline
We'll start by understanding the ecosystem of the kitchen, which is a glorified shared closet. (Cue the horror music.) The good news—this closet can be tamed and tamed for good. By the end of the course, you'll be on your way to having a pared-down kitchen, recipes that work within the confines of your pantry and kitchen tools, and long-term tools for maintaining your kitchen.
PART 1 Audit the Space
PART 2 Take Inventory
PART 3 A Gentle Paring Down
PART 4 Putting it Back Together Again
PART 5 Maintenance Mode
To join, click the sign up button below. I'd love to have you! I'd also be grateful if you'd share it with a friend that might be interested.
This blog is made possible by your support (thank you), select brand partnerships, advertisements, and affiliate links to items I love and use. READ MORE >