I'm slowly getting back into work mode after an inspiring couple days in NYC. Filled with a lovely gathering hosted by Blog Brunch. A full day of Alt Summit conferencing. And a last minute breakfast with two of my favorite food bloggers—Apt. 2B Baking Co. and La Buena Vida. In case you're wondering, I ended up ditching the dress for cropped pants and a ruffly top. Chunky necklace and pointy toed shoes made the cut. But at the end of the day, I forgot about appearances (as noted in the mirror much later that night) and let the time take its course. I learned a couple lessons along the way too.
1. "Find likeminded people. Make sure they're respectful and a good bunch." —SwissMiss
There I was. Sitting in a room with likeminded, crazy people bloggers. Following their dream, whatever that even means. Listening to the brilliant and very inspiring Tina of SwissMiss bestowing her rules to live by. My favorite rule—Don't be a complainer. Instead make things better.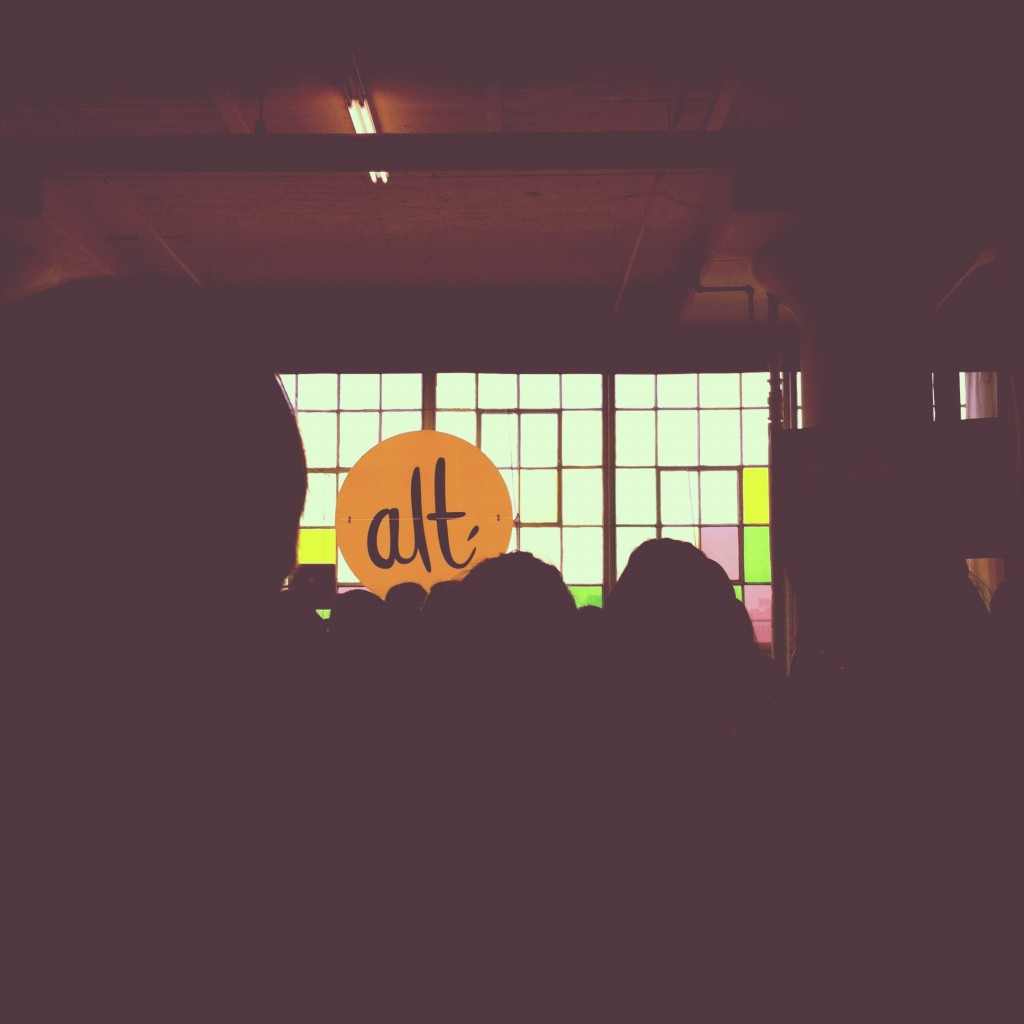 2. Business cards are not necessarily 3.5″x2″ anymore.
But they are every bit as beautiful and globs more creative. I'm slightly in love with One Charming Party's card cookie cutter. And Haeley's from Design Improvised, who was also my roomie.
3. Designing your business card as a designer is hard work.
Not to mention making sure it's dual branded. And having a blog named after Martha Stewart while walking around her headquarters is also hard work [buries head in sand].
4. Sometimes the realMartha shows up.
And everyone pulls out their iphones as fast as humanly possible. Who knows what she said. We all got a picture.
5. It's necessary to take pictures of food when you're one of the handful of food bloggers there.
So that people wont confuse you with a fashion blogger. Oh wait. We know that wont be an issue.
6. Tweeting during a talk is rewarded these days. #thanksbing
But for real, thanks Bing! I'm loving my new Wacom Tablet.
7. Wearing your hair in a bun is perfect for a rooftop party.
That's on the water. Hides humidity almost perfectly. And painted Chinet plates make pretty bunting. Not sure if the credit belongs to Martha or Alt. Either way, it was perfect.
8. It's only a matter of thyme before cocktail hour begins.
Of course Martha serves Vodka Thyme Lemonade. At least that's what the model-by-day-bartender told me it was called.
9. "Find what you love. Don't stop until you find it. You'll know when you do." —SwissMiss
I'll end with another quote from Tina—Find what you love. I've been spending the last 4 years trying to figure that out. During that time, I started a blog. And got lost in the blogosphere, in the best possible way. I could never find a reason to leave, so I'm staying. Redesigning my blog (surprise!) and launching something new and exciting. Because I think I've found it. They say you'll know when you do.
(Visited 364 times, 1 visits today)
This blog is made possible by your support (thank you), select brand partnerships, advertisements, and affiliate links to items I love and use. READ MORE >