Remember that time I was going to start posting to Fauxmama? Well, I got cold feet about posting anything besides recipes. I'm a food blog. But I'm now also a mom. And mom's love to share what works and what doesn't since there's no manual out there on operating these little pieces of machinery. But I felt far too faux to post anything to this mom space. While I love my little bean more than anything (and stay up late gawking at videos and pictures from the earlier months while she sleeps), the transition into motherhood has been rough. Most days I don't have a clue what I'm doing. But I guess I started this blog when I didn't have a real clue about baking. In case you ever wondered where the name came from—there you go. I'm so, so faux.
Eight months post birth, here's a room tour. (Remember the inspiration board?) Because that's what mom's do, right. Right? I think you're supposed to share your birth story too. I don't know if I'm ready to go there yet.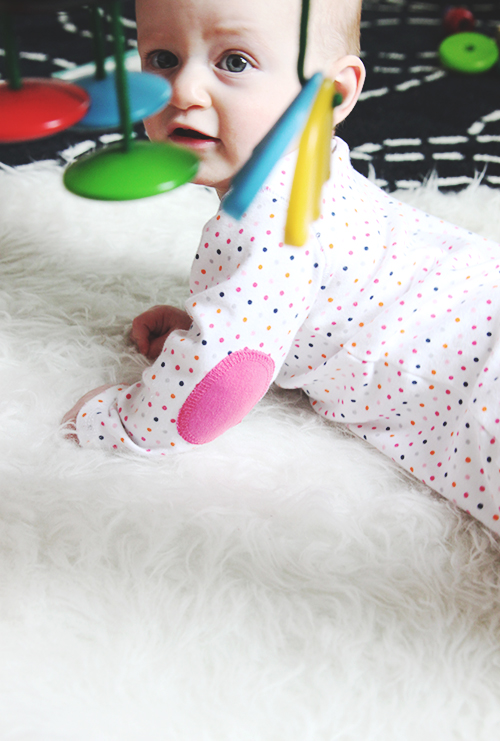 I had to finish one last DIY before taking these pictures.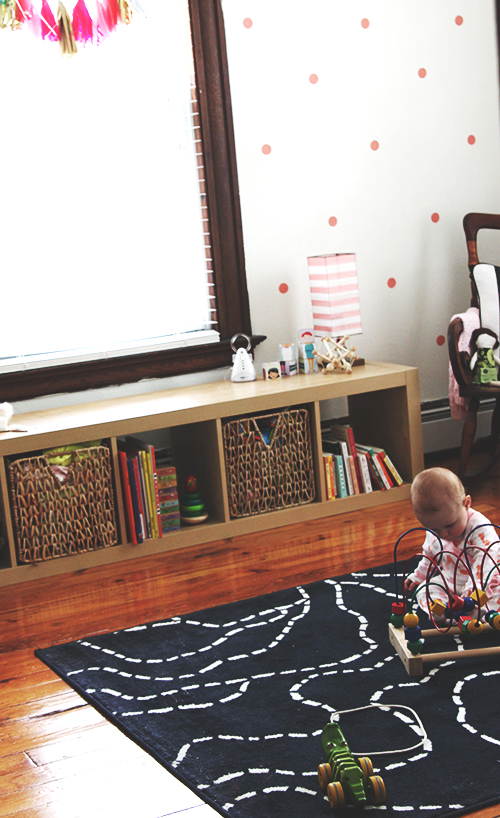 A painted changing pad cover. I couldn't find the perfect one, so I painted it myself. Fish gills or roof shingles. What do you think?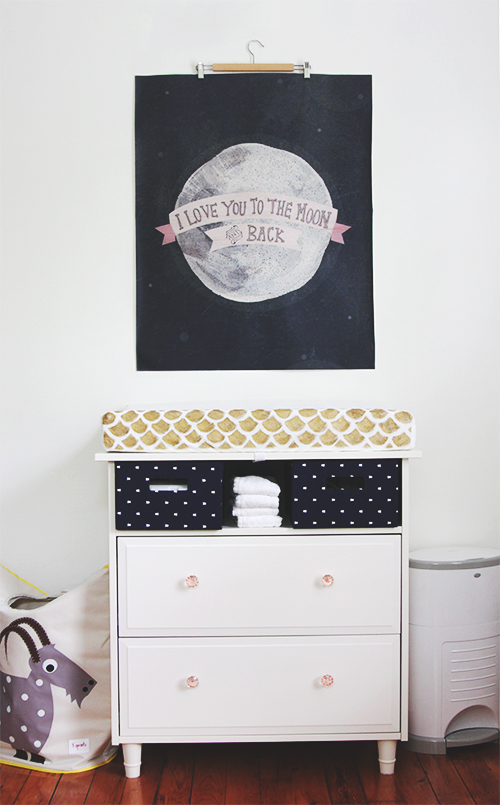 We're lowering her crib this weekend (big juicy tear). Another reason to take pictures as her crib skirt is about to lose a bit of real-estate. I want to remember it in all its glory.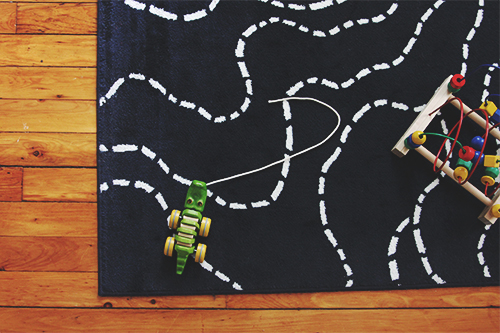 This room was a labor of love. I DIYed half of it after the "nesting" syndrome set in, which is totally a real thing. I thought all pregnant ladies were crazy until I became one myself. Unexplainable out-of-body (and in-body) things happen to you when you're pregnant.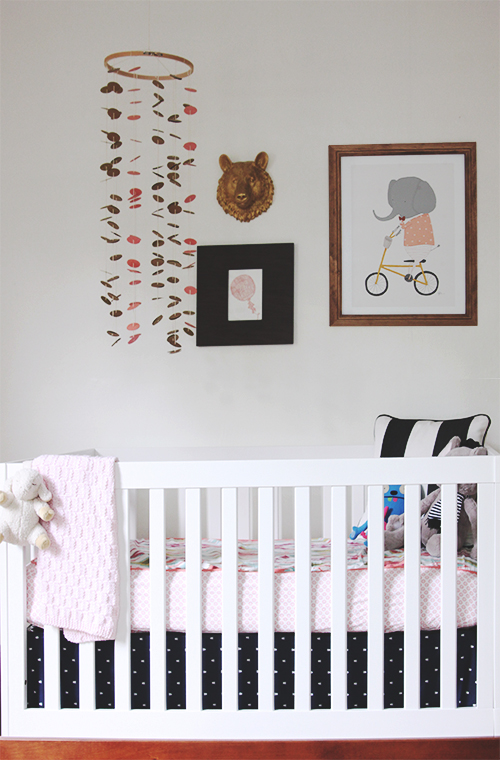 Like watching countless episodes of Dinosaurs on Netflix while punching out and twisting paper for her wall, mobile, and window hangings.
Did I mention, we live in a rental? We weren't allowed to put anything larger than a "tiny nail hole" in the wall, so I had to get creative. The polka dots, held up by sticky tack, and window hangings livened the room up a bit. We went on a wild goose chase to find the perfect tissue paper colors in the dead heat of summer. The Dollar Store was a gold mine. Literally, that's we're we found the two tones of gold tissue paper.
I'm not making this up—Hallie loves her room, though she doesn't really know any better. Even as an itty bitty baby, she loved looking around at everything, especially the mobile that takes a manual wind up (aka spin it one way and let it unspin the other). We should have invested in or created a motor for that thing.
Now, be honest with me. I'm testing the waters with this post. I'd really love your feedback. Do you want more fauxmama post? Would you like the DIY instructions to some of these projects? Or should I quit pulling my phone out and showing you pictures of my kid? The post-pregnancy hormones have worn off. I can take it.
Even if you hate it, I'm still going to post my registry loves and favorite toys, because searching for good baby products takes so, so much time. And when you're spending a mini fortune, they better be good products that last and grow with the kid.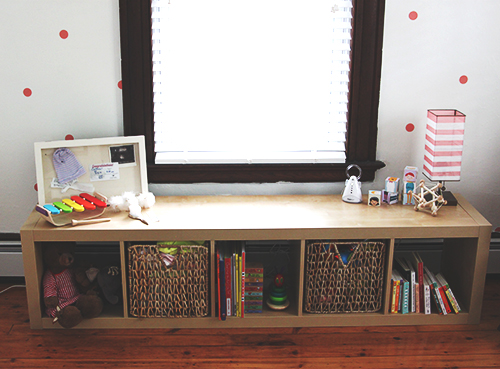 Thanks for humoring me and letting me show you 10,000 pics of my babe and her room. Want to know where we spent part of that mini fortune? Look no further—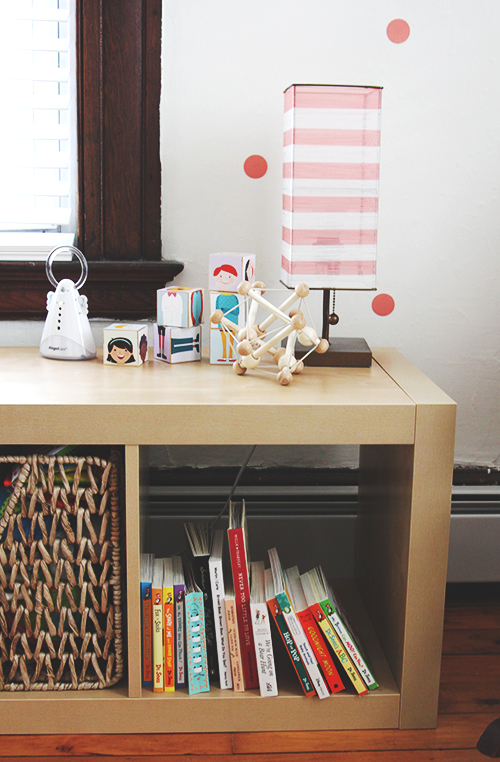 The goods
Crib  |  Sheets  |  |  Crib Skirt*  |  Mobile*  |  Elephant Art  |  Quote Art  |  Bear Head  |  Dresser/Changing Table (Hemnes, discontinued)  | Changing Pad Cover *  |  Dresser Storage Box*  |  Dresser Knobs  |  Dresser Artwork  |  Shelf  |  Storage Basket  |  Lamp*  |  Rocking Chair (hand-me-down from my grandma: the one she rocked my dad in!)  |  Rug (total lint trap)  |  Window Hangings*
*DIYed. You want details? Leave a comment. Otherwise, I wont bore you.
This blog is made possible by your support (thank you), select brand partnerships, advertisements, and affiliate links to items I love and use. READ MORE >