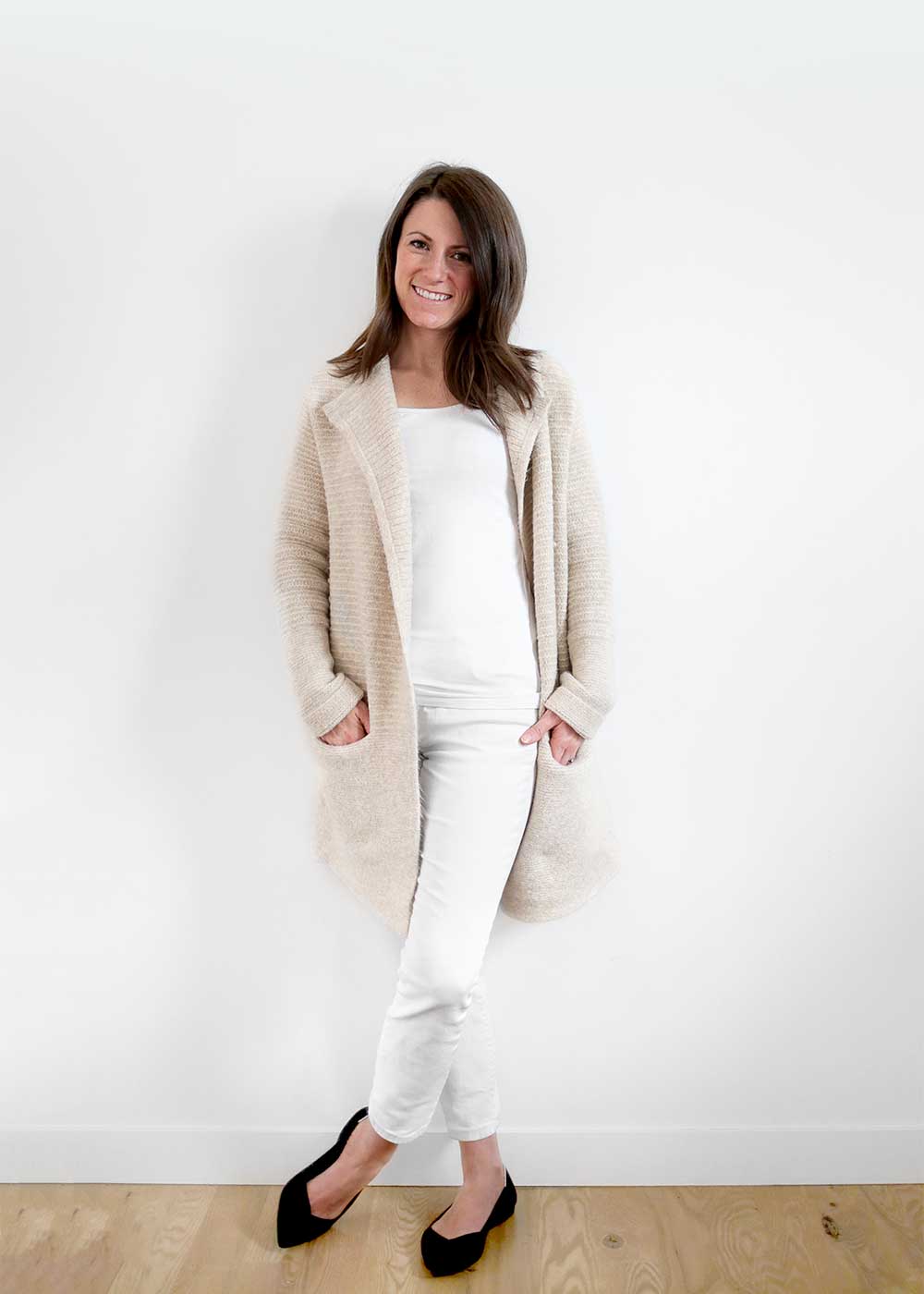 Like my kitchen, I've been slowly paring down my wardrobe since the beginning of adulthood to make the everyday more doable. In the early days, my drawers could barely close and created daily frustration. I kept a lot around because, variety is the spice of life. At least that's what they say. And yet, I always grabbed for the same pair of jeans, the ones that fit like a glove, and the same t-shirt that washed and wore well. I was wearing a uniform, though it took me awhile to realize it. But once I did, I slowly started getting rid of the excess. From there, I started buying my clothes like I buy pantry staples, in bulk—2 of the same favorite camisole, 2 of the same pair of jeans, 2 of the same favorite t-shirt, and 10 of the same pair (and color) of underwear.
But why, Melissa? You're stripping the joy out of it. Actually, I feel like I'm injecting my life with more joy. Life is plenty complicated on its own. If I can simplify the things within my control, like my wardrobe or kitchen, then I have more mental bandwidth to handle the out-of-my-control daily chaos. I should mention, shopping is one of my least favorite activities. I suffer from decision paralysis, buyers remorse, and a hard-to-clothe body. If you too fall in that camp, I'll break down my loose formula for creating a minimalist wardrobe below.
A couple things worth noting first. As with all things minimalism, there is no one-size-fits-all approach. Use my approach as one of many examples, as a rough template. If you choose to do this with your wardrobe, treat it as a lifestyle change rather than a fad. To do so, give yourself time to create it. Years, even. My wardrobe is a very slow collection of the good stuff. I'll link to similar things I own and love below. Be warned, people might notice that you wear similar outfits. Use it as a conversation starter. It's nothing to be embarrassed about. And finally, only buy in multiples after you know the purchase is a good one, after you've worn and washed and been real honest about the item.
How to Create a Winter Minimalist Wardrobe
• List the occasions you need clothes for: everyday, work, working out, special occasions, lounging?
• Consider how often you do laundry: once a week, twice a week, every other week?
• Consider the weather: sub-zero vs. chilly temps?
• Pay attention to the style of clothes you prefer, the color palette, and what looks best on your body.
• With this information, create a rough template for your wardrobe needs. Every template will look different.
• Then place a giveaway box or bag in your closet for 3 months. This will allow you to slowly pare down and rescue an item if needed. Slow, thoughtful decision-making tends to be more trustworthy than rash decision-making in my closet.
• When you shop, shop with a purpose, for a very specific item. In other words, shop your list, not the store. If uncertain, leave the tags on for a couple days or a week after bringing it home to make sure the item is a keeper. A good decision now will still be a good decision a week later.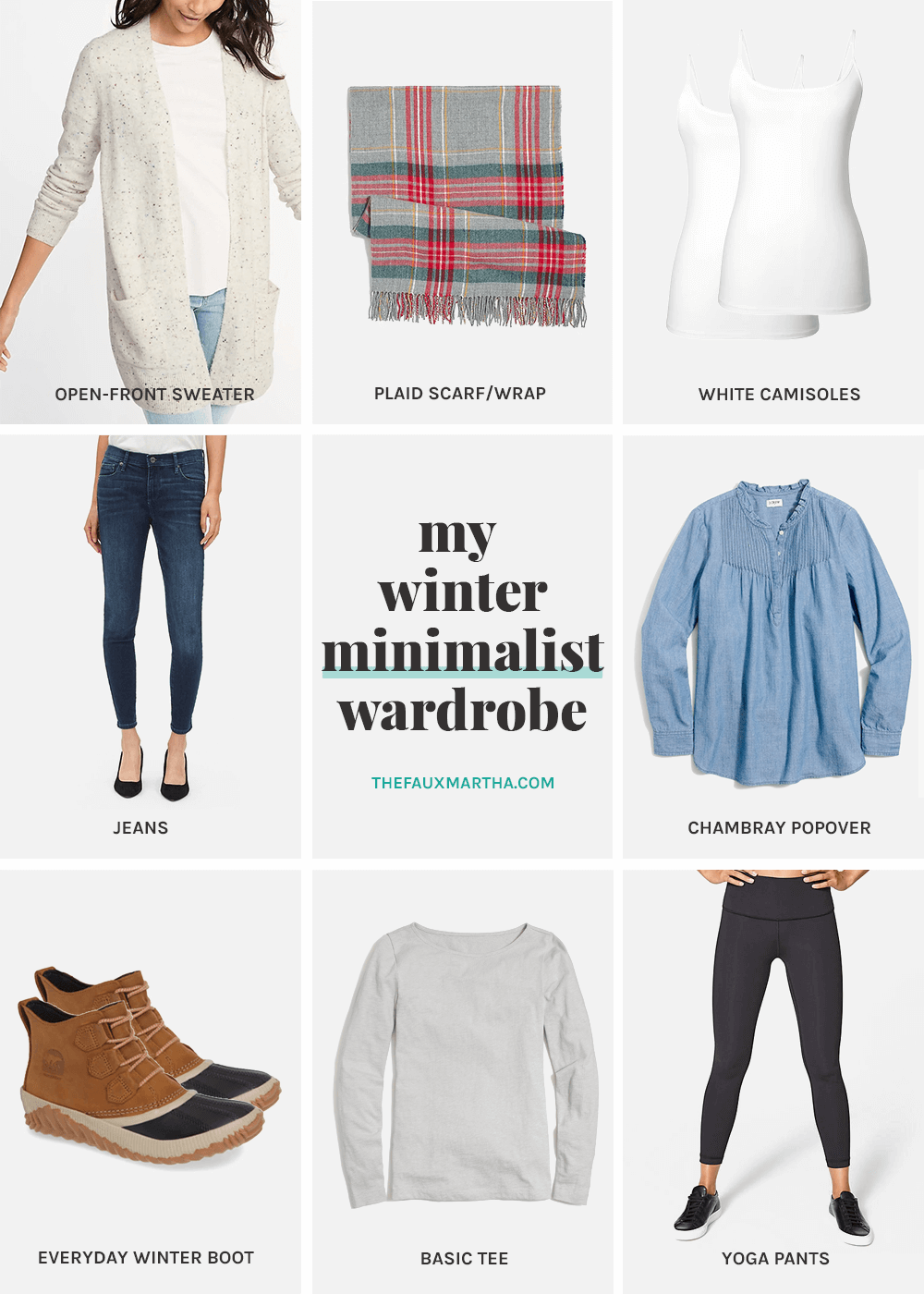 My Winter Minimalist Wardrobe Template
Color palette: black, white, chambray, and grey + a pop of plaid
Everyday
2 pairs of blue jeans (low-rise)
1 other pair of jeans (white jeans)
2 long-sleeved tees, same color (like so)
2 white camisoles, 1 black (love these long camis for maternity or not)
2-3 different cozy open-front sweaters (cozy neutral or pop of pattern)
1 vest (like so)
2 chambray button-downs or popovers (like so)
1 patterned popover (like this one)
1 scarf/wrap (pop of plaid)
1 sweatshirt
10 pairs of underwear, same color 
Special occasion
1 black winter dress
Work out
2 workout shirts
2 pairs of yoga pants (so pricey but love the size varieties)
Shoes
Everyday low winter boots (favorite boot)
Tall, extra warm winter boots (favorite boot)
Flats (my favorite durable flat)
Closed-toed shoes (this is my task for the winter)
This blog is made possible by your support (thank you), select brand partnerships, advertisements, and affiliate links to items I love and use. READ MORE >