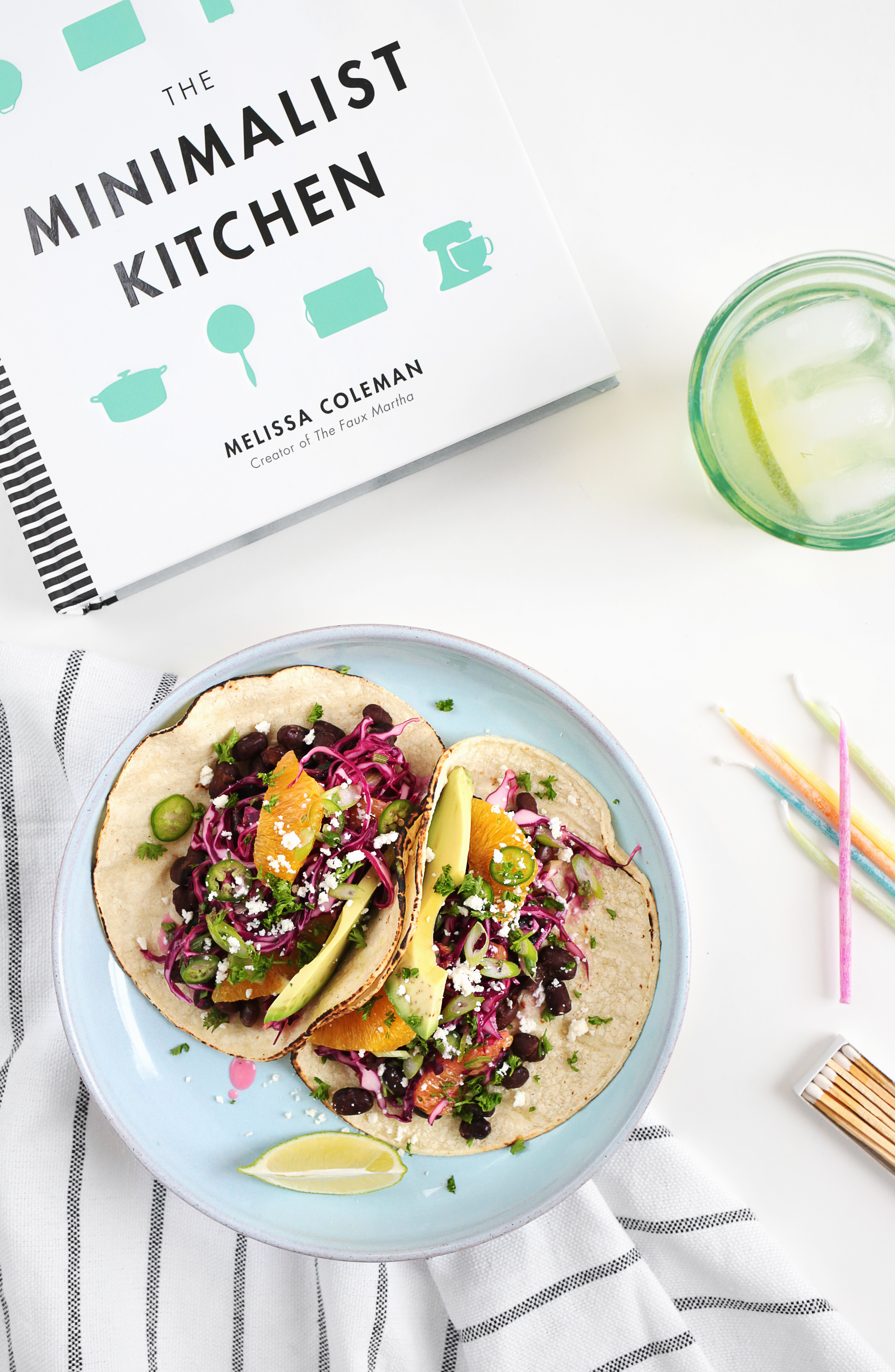 The Minimalist Kitchen is out! This day. It's like graduation or your wedding day. It never arrives until it does. And now, here we are! I'm so excited for this book to be in your hands and in your home. I'm celebrating with tacos (BBQ Black Bean Tacos with a Quick Slaw) and a margarita, of course. You'll find both of these recipes in the book. I've said thank you so many times over the last couple of weeks that it feels cheap. I'm not sure there's a better word to express my gratitude to you. So thank you will have to do. Your support means more words than the English language has to express. I hear you're already depleting Amazon's stockpile of the book. Wow. Thank you! If you're in the Twin Cities, please come celebrate with me tonight at The Lynhall with sips and small bites, a panel discussion, and book signing!
There's this weird space when writing a book. It's the space between the time it goes off to print and lands on store shelves. For me, that space was filled with a lot of anxiety. Uncertainty of how you guys would feel with this book in your hands. This book, The Minimalist Kitchen, is the story of how my kitchen broke and came back together again. A Humpty Dumpty story of sorts. My sister came to visit a couple days after the early copies arrived in February. She's was one of the first to get a copy. She's my sister, so there's extreme bias. But she's also a Surgical Physician Assistant. She's brilliant, logical, witty, and a really good cook. I was most nervous to hear her thoughts on the book. I'll let her tell you. (PS—If you click on #theminimalistkitchen hashtag you'll see so many recipes from her kitchen. She's cooking her way through the book.)

By: Ashleigh Theimer, MSPAS, PA-C, sister of Melissa
I should preface this by letting you know that The Faux Martha is my sister, so I'm slightly biased. The moment I saw her new book, I shed several tears of happiness and an immense sense of pride. It's amazing to see the culmination of her hard work all in one beautiful package and to be able to hold a book, in which she shares her life philosophy as well as the food she feeds her closest friends and family.
Every time I visit the fauxhouse, I always leave thinking about the delicious meals we shared and how Melissa seemed to put them together with such ease. I would lust over her organized, high-functioning pantry and envy the way she was able to use her kitchen. I have loved cooking for a long time, but that love has always been weighed down by my disdain for grocery shopping and meal planning. It seemed like my trips to the store always ended with me spending more money than planned and despite that, getting home without the things I needed; resulting in several trips to the store per week. My pantry was always a hot-mess, filled with junk that I never used, and never seeming to have what I actually needed.
So, when I returned from my recent trip to Minneapolis, with my copy of The Minimalist Kitchen in hand, I decided to not only read the book, but to also USE it!  I spent a weekend cleaning out my pantry (I found three bags of Potato starch), restocking it according to the book, and sorting everything into clear, labeled containers(I use HEB brand containers which are very affordable). I have now spent the last 3 weeks using my pantry and cooking meals from the book. I can honestly say, it has changed the way I use my kitchen. The loathing I felt with meal planning is gone, I have only had to go grocery shopping 2 times in 3 weeks, and, of course, all of the food has been so so good. Not to mention, my fast-food intake (mostly Taco Bell) has seriously declined, which is definitely a good thing.
Melissa has truly found the secret to infusing joy back into mealtime, I have experienced this first hand. I hope, in the coming weeks, that people not only buy the book, but buy-into the book; read it, use it, allow The Minimalist Kitchen to become your kitchen. I promise you won't regret it! Melissa says it best: "this book will help you make over the most complicated room in the house—the kitchen—so that dinner time feels doable again".

I'm excited to see what you choose to implement and what you don't from The Minimalist Kitchen. I'm excited to see how you change the recipes to make them yours. Minimalism is about keeping the good things and getting rid of the things that don't work. I hope you approach this book the same way. Keep the things that work for you and discard the rest. If I had a hope for this book, it would be this—I hope you fall in love with the ordinary magic of gathering around the table with good food and even better people.
My publisher, Time Inc. Books/Oxmoor House, made you 2 videos! OXO, a brand I've loved and used in my kitchen for 10 years (as long as I've had my own kitchen), caught wind of the book and joined in on the party too! Cheers to celebrating the simple things!
Video production by the amazing team at Tucker Fox.
This blog is made possible by your support (thank you), select brand partnerships, advertisements, and affiliate links to items I love and use. READ MORE >