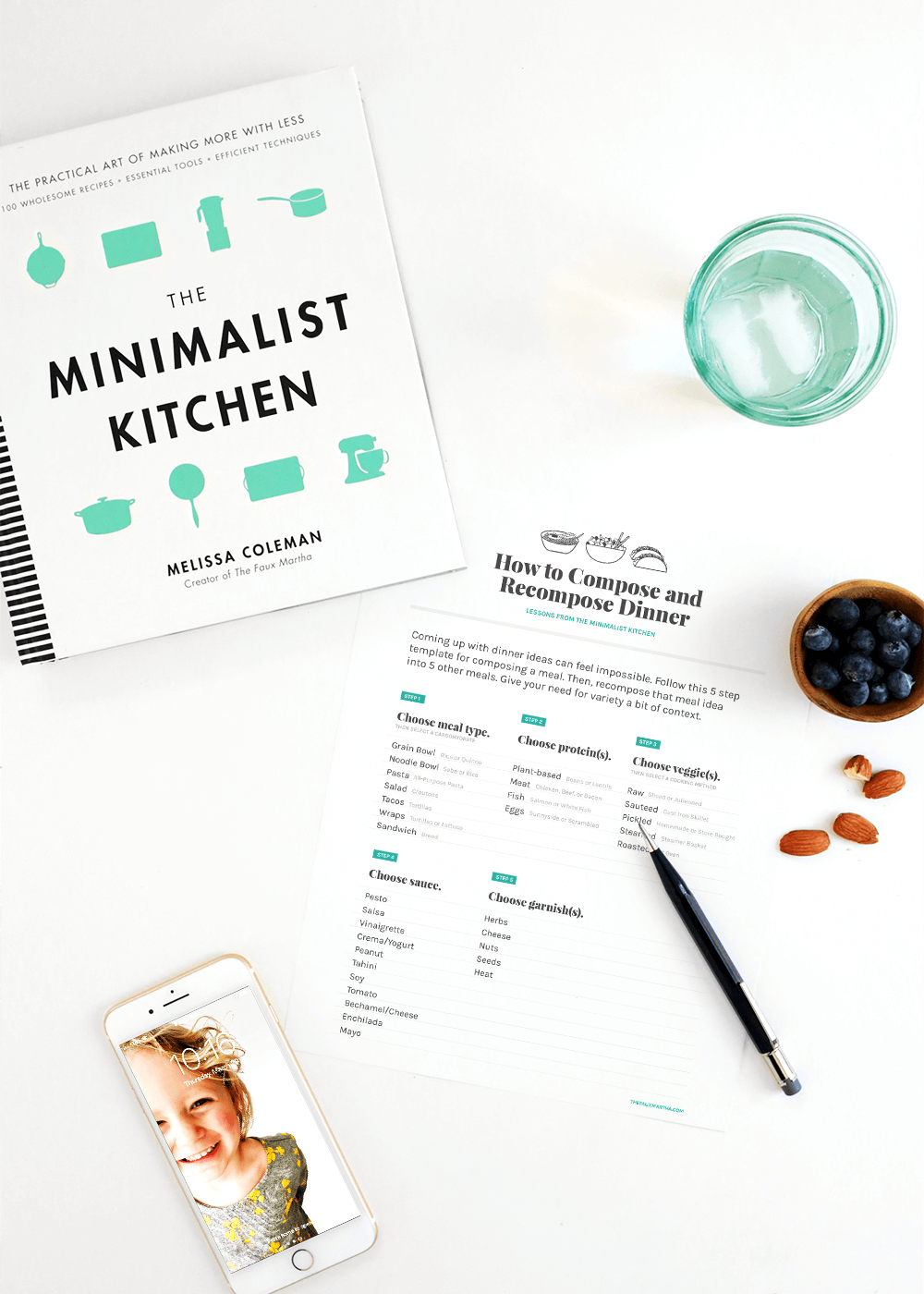 The countdown is on. There are 12 days left until my book, The Minimalist Kitchen is out. If you've pre-ordered it from Amazon, I hear it will deliver on publication date, April 10! I'm scared and excited for this book to be in your hands. As Elizabeth Gilbert says in Big Magic, "Scared and excited are conjoined twins, baby." I'm so glad she's normalized these bipolar feelings of mine. I'm nervous for all the things I don't know—how you'll feel about the book. But I'm more so excited because this practice, that started 4 years ago in my kitchen, has changed my cooking life. I think it will change yours too. For the better. 
Though this is a book full of 100+ recipes, it's also a book full of kitchen wisdoms—demystifying the many mysteries in the home kitchen. Like why your pantry turns into a monster so fast. Why meal planning can be so difficult. Or why steaming certain vegetables before roasting makes a huge difference. The most impactful college professors taught me how to think well instead of how to regurgitate information. I've followed their lead to write this book. I want you to feel like an empowered home cook who knows how to think on the fly. Because it's no mystery—the kitchen is full of so many variables.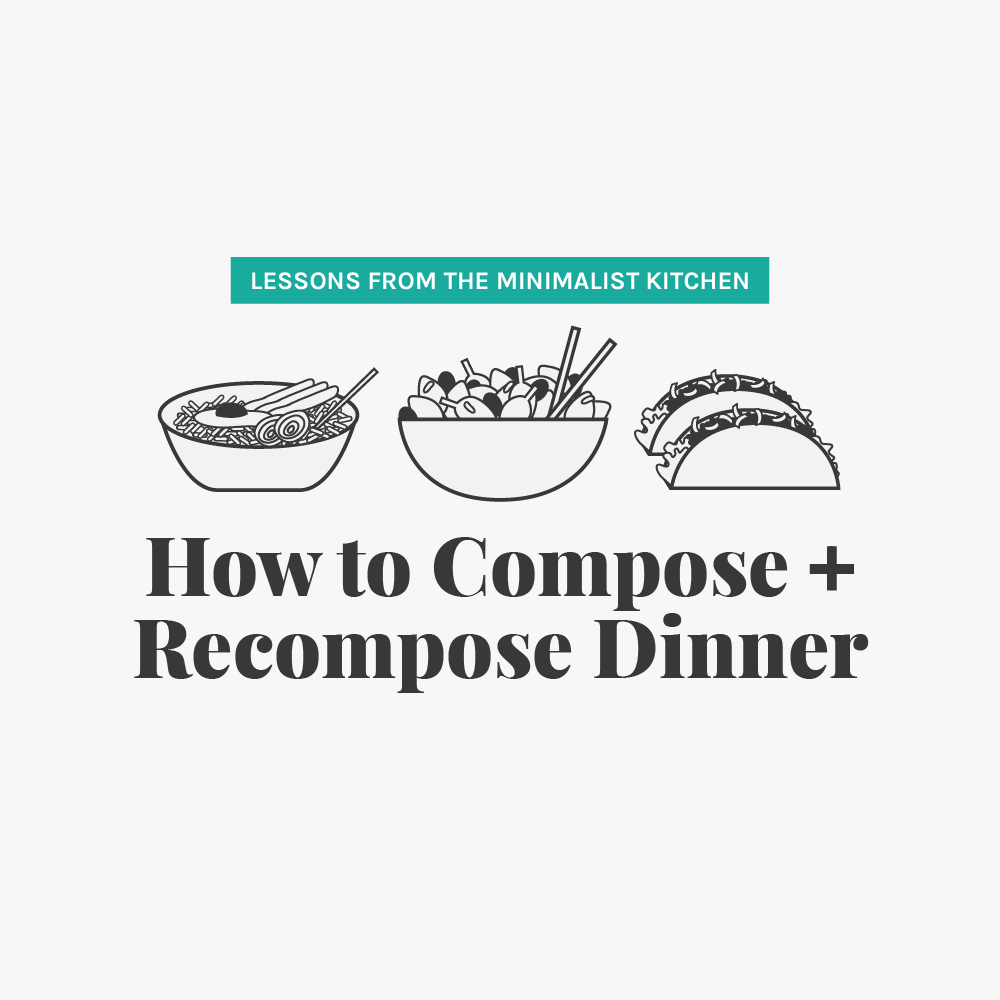 Today, I'm breaking down my loose formula for dinnertime. We'll call this lesson: Dinner Composition. I only like to keep a handful of good recipes around. But of course, everyone at my house likes a little variety. Instead of reinventing the dinnertime wheel, I've become a master at recomposing the same recipe 5 different ways. Here's how to tackle dinner composition like a minimalist.
First, download the 1-page Dinner Composition Worksheet for context. I'll break down the formula in detail below.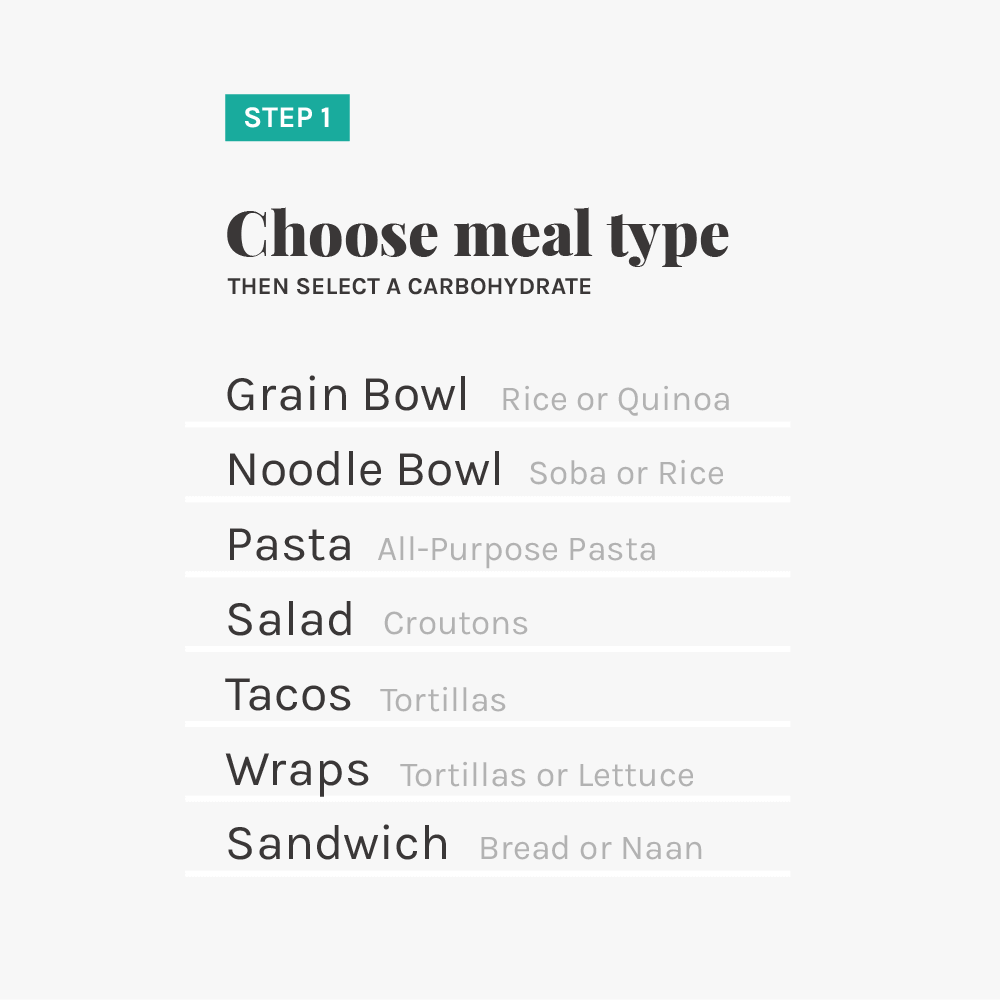 Step 1: Choose a meal type
These are the 7 varieties of meal types I typically stick to when composing dinner. I've designed this to our food preferences, so feel free to add your personal preferences to make these steps work for you. Our meal types vary from grain bowls, noodle bowls, pastas, salads, tacos/fajitas, wraps, and sandwiches. You'll see this in the recipe selection for The Minimalist Kitchen.
Step 2: Choose protein(s)
We're not vegetarians, but we look like it about 70% of the week. And when we do eat meat, we consume it in smaller portions. This diet shift, compared to the compartmentalized plate composition I grew up with (a meat, a vegetable, and a carbohydrate or two), has heavily influenced the way I cook and compose a meal now. When I first transitioned to this way of cooking, there was a huge learning curve. But these types of meals were always my favorite to eat, so I stuck with it. Most of the dinners we make are eaten from one bowl or under the supervision of a wedge of naan. All the food touches! Though it's worth noting, depending on the meal, I usually break apart the components for Hal (4 years old and in a severe picky stage).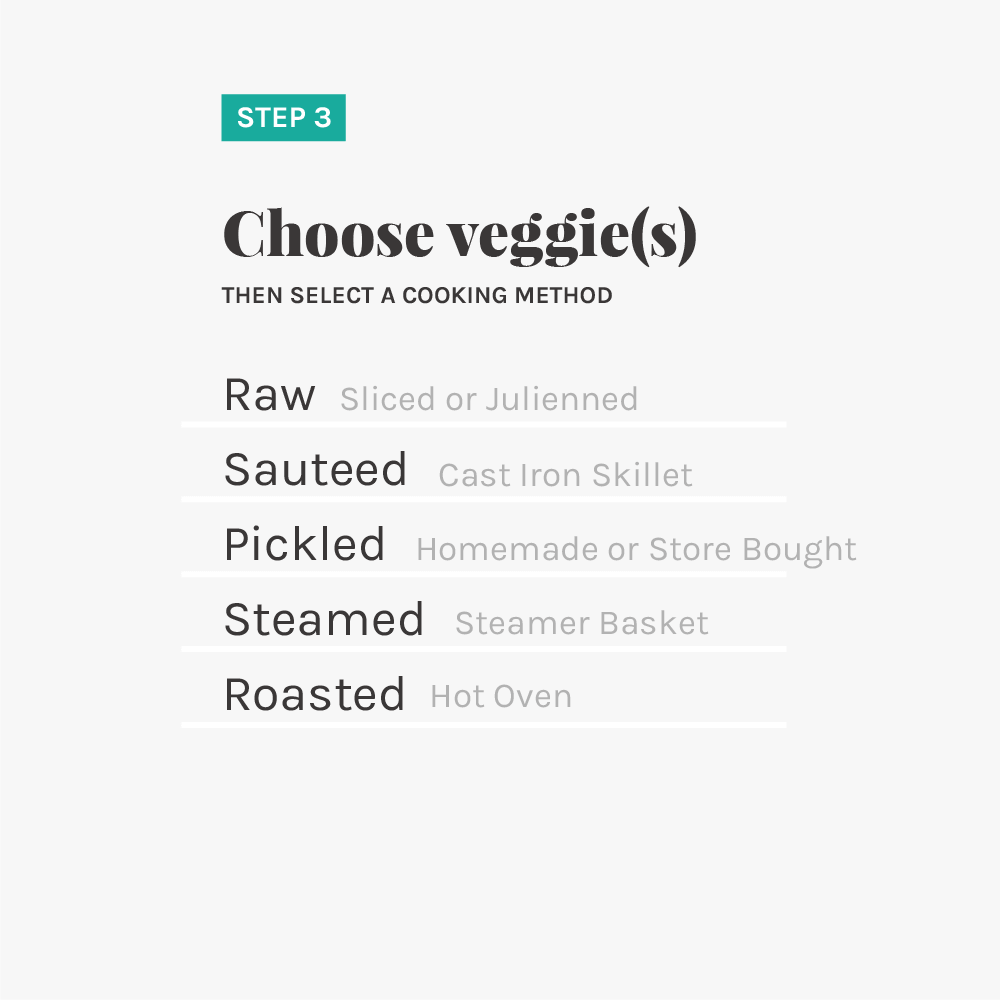 Step 3: Choose veggie(s)
I should have just kept this word plural. I like to load dinner with vegetables of all varieties, prepared in multiple ways: raw, sautéed, pickled, steamed, and roasted. Pickled vegetables last a good while in the fridge and offer a nice vinegary kick. I often make a large batch in advance so that I can have them on hand for any meal. Kids tend to love pickles too—pickled radishes or cucumbers!
Step 4: Choose a sauce
The idea of having to make a sauce might sound scary. But so many recipes are naturally equipped with a sauce, like pasta or enchiladas. I think sauces are why I love this method of dinner composition so much more. It adds an extra layer of flavor and pulls everything together. So many refrigerators are overloaded with single-use sauces. I'll show you how to make simple, delicious sauces from pantry staples, which makes for a less overwhelming fridge and delicious dinners.
Step 5: Choose garnish(es)
Often forgotten, garnishes can really round out a meal, visually, flavor-, and texture-wise. They're also a place where you can customize to personal preferences. For example, Kev can't handle the heat, and I'm like, "Gimme all the heat!" I can't handle a ton of cheese, and he and Hal are like, "Gimme all the cheese!" Everyone is happy this way, and dinner is beautiful. After all, We eat with our eyes first.
In general when I'm composing meals, I like to have something spicy (think jalapeños or Sriracha), something sweet (think carrots or fruit), something sour (think vinegar or citrus), and something salty (this part is easy).
Recomposing Dinner
Finding a good recipe is like finding a good friend. Do whatever you have to do to keep it! To infuse variety into your dinnertime menu, go back to step one and recompose the components of that recipe into an entirely new meal for next week. For example, I'll turn my fajita/taco recipe into a salad, a grain bowl, and a wrap. This also works for using up leftover components at lunch or dinnertime.
Homework: turn a favorite recipe into an entirely new one.
This blog is made possible by your support (thank you), select brand partnerships, advertisements, and affiliate links to items I love and use. READ MORE >