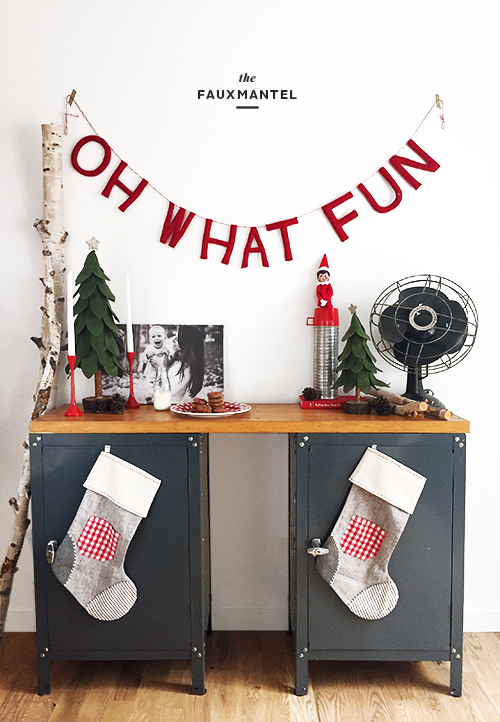 I haven't shared a whole lot about our house yet. Everything is almost done but not done, done. I'm also still getting used to the idea that this is our home. It felt like a project for so long. At the very last minute during the build, we nixed the fireplace for another year or so to stay on budget. We forgot all about that until now, when looking for a place to hang our stockings. By next month I'm sure we'll wish it for other reasons. To right this wrong, I've teamed up with Pottery Barn Kids to create a faux mantel, #thefauxmantel. Would you expect anything different?

This post is sponsored by


My mom decked the halls of our house growing up. Our tree took up 3/4s of the living room. Window candles graced every window from the inside, and a large wreath with a red bow from the outside. The staircase was covered in brightly lit garland. No room was left untouched. We also had the best Santa. My mom did (and still does) Christmas well. It'd be a disservice to her, though she'd say a disservice to Hallie, if we didn't deck our halls just the same. Until we save up for a fireplace that inevitably creates that coveted hanging ledge, the faux mantel will have to do. In our dining room.
Nothing around here happens without a mood board first.  I walk a crooked line between modern and vintage aesthetic. To keep things playful and happy for Christmas, I decided to lean a little more vintage. The most trusted design element, especially for someone who mixes styles, is repetition. Tiny pops of red repeated throughout helped to visually tie things together. I used birchwood to add the illusion of warmth from a hearth. Originally, I wanted to pile birch logs between the two storages spaces, but Christmas would be long over by the time I collected enough. Of course, no Christmas mantel would be complete without an Elf. Rosie made her first annual appearance atop a thermos. (PS—send Elf on the Shelf ideas fit for a toddler. We're new at this.) I love that this functions as a faux mantel for the month of December and a sideboard/lego storage locker the other 11 months of the year. (Side note: I went back and forth on the muted blue bookcase from the mood board. I love the clean lines, storage space, and name plates. But the daily toddler disassembly routine would (and does) get the best of me. At this stage in our lives, hidden storage is a necessity in shared spaces.)
Sources for #thefauxmantel: 1. Gingham Plate   2. Felt Trees   3. Linen Stockings  4. Elf on the Shelf  5. Felt Sign (out of stock). Most other pieces were thrifted from SouthSide Vintage in Minneapolis. Canvas photograph taken by Sarah Kieffer last year.
If you create #thefauxmantel too, would you share it? I'd love to see yours. For more modern, happy christmas decor ideas, check out my Pinterest board.
(Visited 2,691 times, 1 visits today)
This blog is made possible by your support (thank you), select brand partnerships, advertisements, and affiliate links to items I love and use. READ MORE >