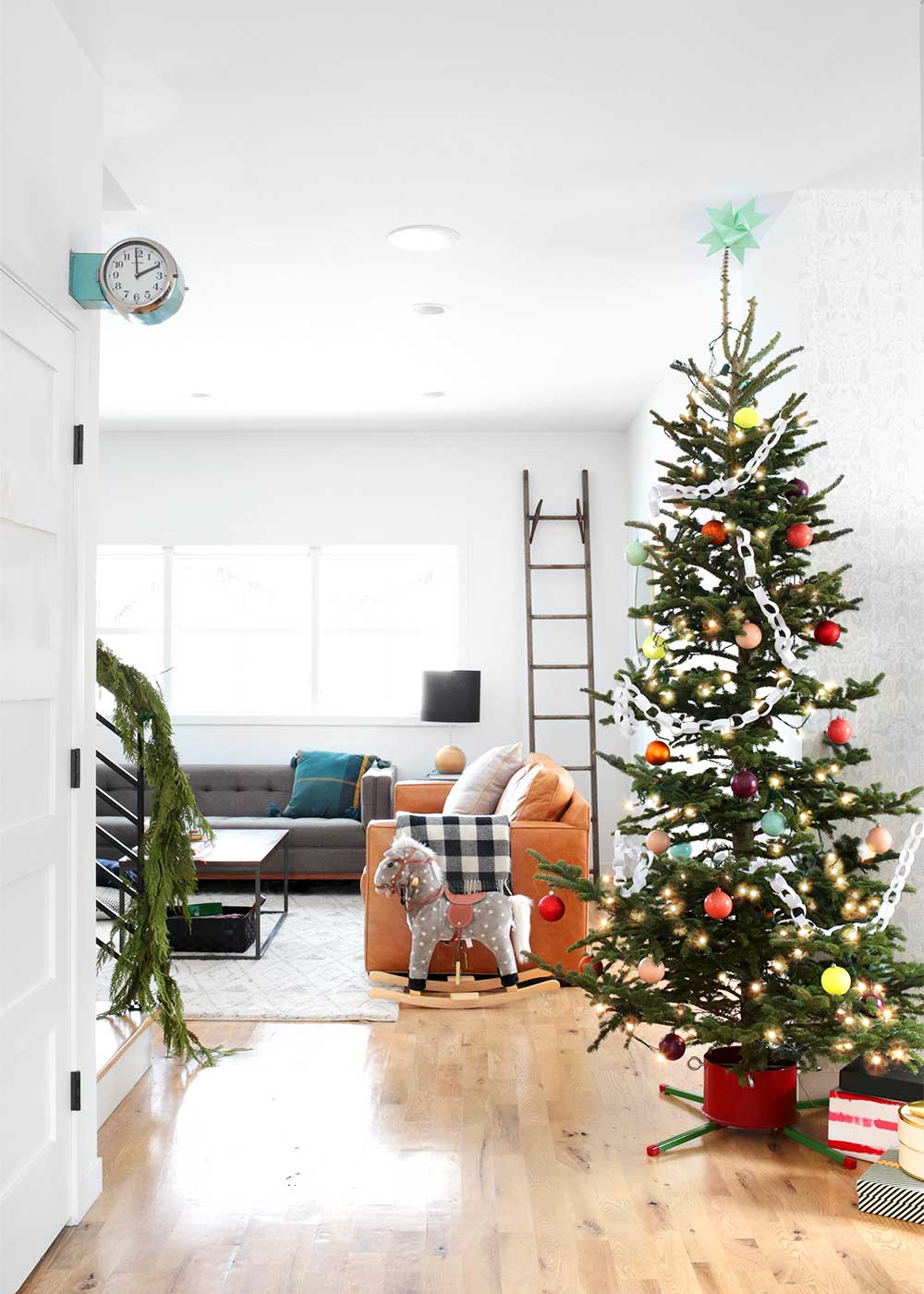 They don't make things like they used to. But if you look hard enough, you'll find a handful of artisans that do—that make things the old fashioned way. They just might not be on the internet. Ha! Our tree stand is one of those things. We bought it 3 years ago from the tree farm where we cut down our tree. And every year you ask, "Where did you get your tree stand?" And every year I go on a hunt that turns up empty answers. Not this year though! I dug a little deeper to find you similar options to our forever, heirloom, high-quality tree stand. Note: quality costs more, so you'll see prices below to reflect that. Behold.
The Best Christmas Tree Stands
When buying a stand, consider the wingspan of the base, the maximum height tree it can hold (please no indoor timbers!), and whether or not the design is timeless. Buy this guy once. I've linked to stands that hold between 6′-12′ trees.
Vintage Enamel Tree Stand
You can find plenty of timeless, one-of-a-kind vintage tree stands out there. Of course, they go fast. I'll link to a couple that will surely be gone by next week. Check out places like eBay, Etsy, and local vintage stores.
Etsy | eBay
Red Pipe Stand
This stand is made by the same manufacturer as ours, though I can't find the red basin and green legs anywhere online. You could always hire someone or buy spray paint to coat the legs in an enamel green paint. (If you're in the Twin Cities, go to Krueger's Christmas Tree Farm to see if they still have some of these pipe stands. Don't quote me, but I think their legs are green!)
$57.95 from Evans Christmas (max. 12′ tree)
Retro Red Pipe Stand
This stand lacks removable legs, making it a large item to store. However, it's not lacking in classic beauty. That red is perfect.
$118 from Amazon (max. 6′-7′ tree)
$144 from Amazon (max. 8′-9′ tree)
Cast Iron Stand
With a minimal wingspan, this stand is great for tight spaces. Made from durable cast iron, it'll last a lifetime.
$99 from Northline Express (max. 8′ tree)
Green Pipe Stand
This one, too, is a lot like ours. While I love the contrast of a red base to a green tree, this base is still a great option and boasts a friendlier price tag.
$55.99 from Wayfair (max. 10′-11.9′ tree)
Black Pipe Stand
This one, too, is a lot like ours only in black. It comes in two sizes, small and large depending on your tree size.
$68 from Terrain (max. 12′ tree)
Modern Pipe Stand
Minimal and modern. I love the small footprint of this stand.
$59.49 from Home Depot (max. 10′ tree)
Wooden Artificial Stand
I grew up in Texas where real trees were just too much of a fire hazard. They didn't survive the long drive down from the north. If an artificial tree is your mascot, look at this beautiful wooden stand. I'm drooling.
$36.99 from Wayfair (for artificial trees only)
To see how we decorate for Christmas, head this way.
This blog is made possible by your support (thank you), select brand partnerships, advertisements, and affiliate links to items I love and use. READ MORE >