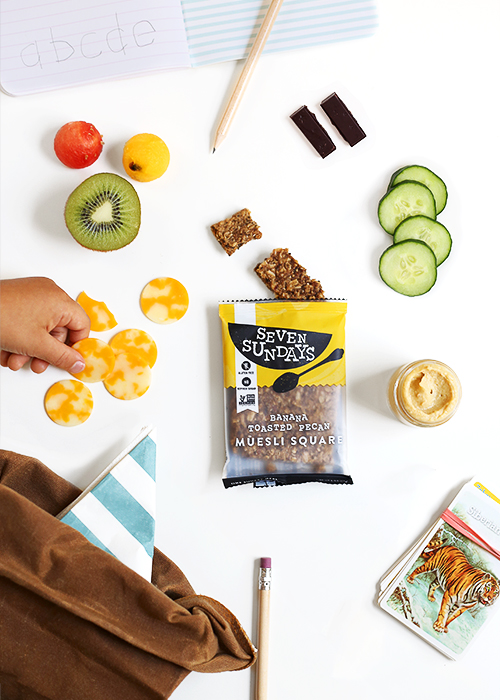 Early alarm clocks. Bedhead. Breakfast at the kitchen counter. Spilled milk. Last-minute lunch box packing. Excited giggles. Anxious bellies. Shoes on the wrong feet. Scurrying out the door. First day tears. Back to school cheers. It's that time again. Let's keep packed lunches simple, and sleep-in a snooze longer.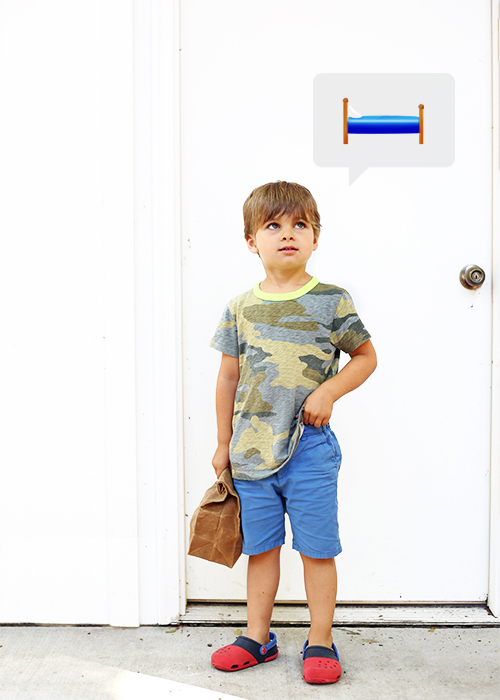 This time of year always comes down with a case of New Years syndrome for me. So many un-realistic expectations and promises. "I'll wake up earlier." "I'll make the most instagrammable lunches." "There will be no tears or grumpy groans or snoozed alarm clocks." It goes as planned for about a week. And then real life begins to sprout up like the weeds I was never able to eliminate from our yard this summer. Life just happens.
So to the problem areas I ask myself—what can I change or delete to create a realistic, long-term solution? And to the things I can't change—how can I adjust my attitude? I'm much better at solving the former.
The presenting problem: How can I pack Hal a healthy lunch without waking up early while also making it to school on time? I love sleep.
The solution: Sleep-in school lunches.
How to Build Sleep-In School Lunches
• Pick foods from each of the following categories that can easily be prepped in advance (if needed at all): grains, vegetables, fruit, protein, and dairy. I also like to pack some sort of dip for the vegetables and a tiny dessert. We use the Yumbox Bento Lunchbox for Hal which has little compartments for each of these categories. It does the thinking for you.
• Prep the vegetables and fruit in advance. I'm not a big fan of buying pre-chopped produce from the store, especially those baby carrots. They're just never as good. And they always seem to go bad faster than when I do it at home. To the vegetables, I cut them into disks or matchsticks and then place them into a container or plastic bag with a little water to keep them from drying out during the week. The preparation of fruit varies greatly. Large fruit can be cut and stored in a container (no additional water necessary). Fragile berries are best rinsed just before adding to the lunch box. To medium sized fruit—like apples, bananas, and kiwis—I cut in half or quarter just before adding to the lunch box, leaving the skin on for protection. Hannah, founder of Seven Sundays, lets her little one (Louis, pictured above) shop the bulk bins at the co-op. Dried pineapple is his favorite, which is perfect during the winter months when fresh fruit can be a little sparse. We also make a batch of hard boiled eggs at the start of the week. I treat the eggs like I do the veggies—peel and add a little water to a container. For easy peeling, try the steaming method.
• Store lunch food together. Keep all the prepped refrigerator food in a drawer or container. Keep all pantry stable lunch food together just the same. Playing hide-and-go-seek is half the battle. Let's just eliminate that step.
• Grab a Seven Sundays Muesli Bar from the pantry. They're nutrient dense, wholegrain belly-fillers, made with real ingredients. And you don't have to do a thing to prep them. 'Uncompromised convenience' as they call it. I love that Hal can grab one from the pantry shelf to help pack her lunch. Like Hannah, I think it's good practice to include kids in the process. When you give them ownership, they come home with empty(er) lunch boxes.
• Make it special when you can. Sometimes special requires very little extra work, just a couple extra tools. Use biscuit cutters, tiny cookie cutters letters, or melon ballers to cut cheese slices, fruit, or veggies. Adding a dip always makes lunch a little more special too. Hal loves hummus and will almost always eat her veggies in the presence of the stuff. Salad dressing does the trick too. And for better or worse, we almost always include an end-of-the-meal-treat like dark chocolate. (She's our test group of one, but we've found that offering her moderate amounts of dessert keeps her from gorging on the stuff.) Then package everything up in a super cute, reusable lunch sack like these from WAAM Industries (pictured). As I always say, we eat with our eyes first. And when you're feeling uninspired, check out the Weelicious Instagram feed. Catherine is full of ideas.
You can't plan for the unknown (there's wine for that), but at least you can plan for school lunches. To start the school year off well, Seven Sundays is offering a 40% off back-to-school code on the muesli bars. From August 23-28, 2016 use the code "BTS" at checkout. If you're new to Seven Sundays, here are our family favorites: Vanilla Cherry Pecan Muesli, Cocoa and Coconut Muesli, Banana Toasted Pecan Muesli Squares, and Cocoa Pumpkin Seed Muesli Squares. Happy lunch packing, and may the snooze button be with you!
This blog is made possible by your support (thank you), select brand partnerships, advertisements, and affiliate links to items I love and use. READ MORE >