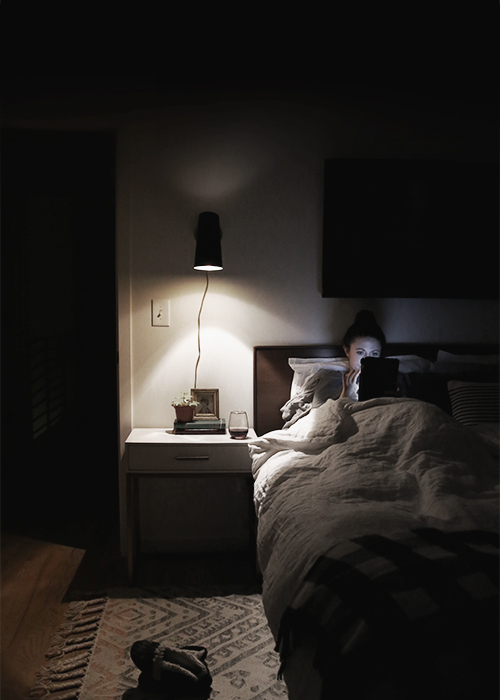 Well this looks different, huh? Night lights. Chiaroscuro. A rare photo of me and Kev. I'm excited to be a part of 'A Night In', hosted by two of my favorites, Yellow Brick Home and Chris Loves Julia, and sponsored by Rejuvenation. (Thanks for having me!) They've invited a flurry of bloggers to share their nighttime ritual—like what happens after that beloved natural light disappears. Mine comes with a story and a solicitation. Help.
We've always been really good at working. While working on his doctorate, sitting in long classes, writing even longer papers, and collecting practicum hours by daylight, Kev taught online classes by night. Two years into his full time job, and he's still teaching those same classes after dusk. And until January of this year, I've held the tagline "designer by day, baker/blogger by night". It was a literal tagline. We've always been good at working—all day and into the night.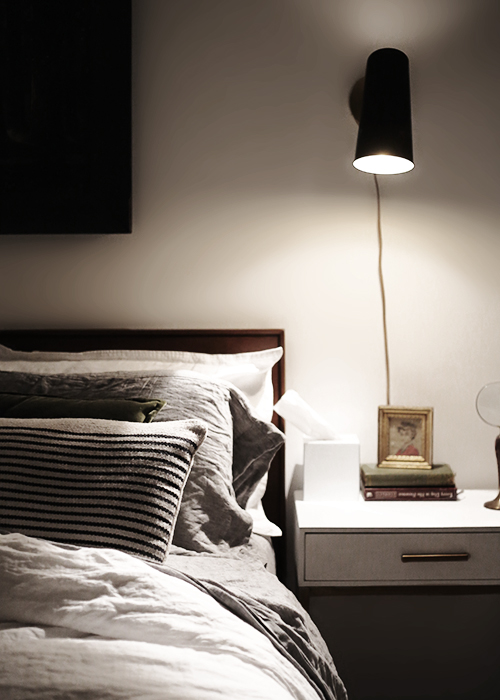 Eight months after dropping half of my tagline, I've decided being good at working a lot isn't all that life-giving, especially with a two-year-old. So I write in the mornings when I'm at my best. I shoot in the late morning/early afternoon when the light is at its best. And I sign-off for the day after Hal wakes up from her afternoon nap. But after we put her to bed at night, I'm just not sure what to do with myself.
I should clean the kitchen, but the morning sounds better. I should finish up work since it's just a room over, but I told myself to sign-off. I should workout, but I've already consumed a glass of wine. Maybe I'll pour a little more. I should read a book, but I'll probably fall asleep within two minutes. I should, but…
We're slowly hacking away at the master bedroom, a room I told our builder we'd only just sleep in. "So don't give the room too much thought," I said. But that's where I keep finding myself come nightfall. I turn on the wall sconce. It feels like a hotel room where there's nothing else to do except turn on the wall sconce and slip in bed. So I tuck the linen pillow sham behind my sleeping pillow to prop myself up and slip in. In my hand is a glass of wine and a recharged iPad. There's the Hulu app and 21 unwatched episodes of 'The Good Wife' that will last me months. Maybe I do know what to do with myself.
But there's something in my gut saying do something else. Maybe that's the old me talking—the one who defined productivity by never stopping. Or maybe there's some validity to the tug? So, I need your help. Do you have a nighttime ritual? Is it productive or meaningful or absent minded? Do you play games or read or sit out on the porch? Help.
About the Master bedroom
We're almost done designing our room. I'll share it in the daylight soon. Of course, I'm stuck on what to hang on the wall. That part always feels too permanent to me. This is also the first room I've wanted to hang curtains in. The rest of the house is curtain-less, so I'm not sure how to proceed there. Either way, it's become one of my favorite rooms in the house. Sources: Duvet + Shams  |  Sheets  |  Striped Pillow  |  Wall Sconce  |  Bed Frame | Side table (similar)  |  Rug  |  Chair  |  Floor Lamp  |  Mattress
'A Night In' Bloggers

This blog is made possible by your support (thank you), select brand partnerships, advertisements, and affiliate links to items I love and use. READ MORE >