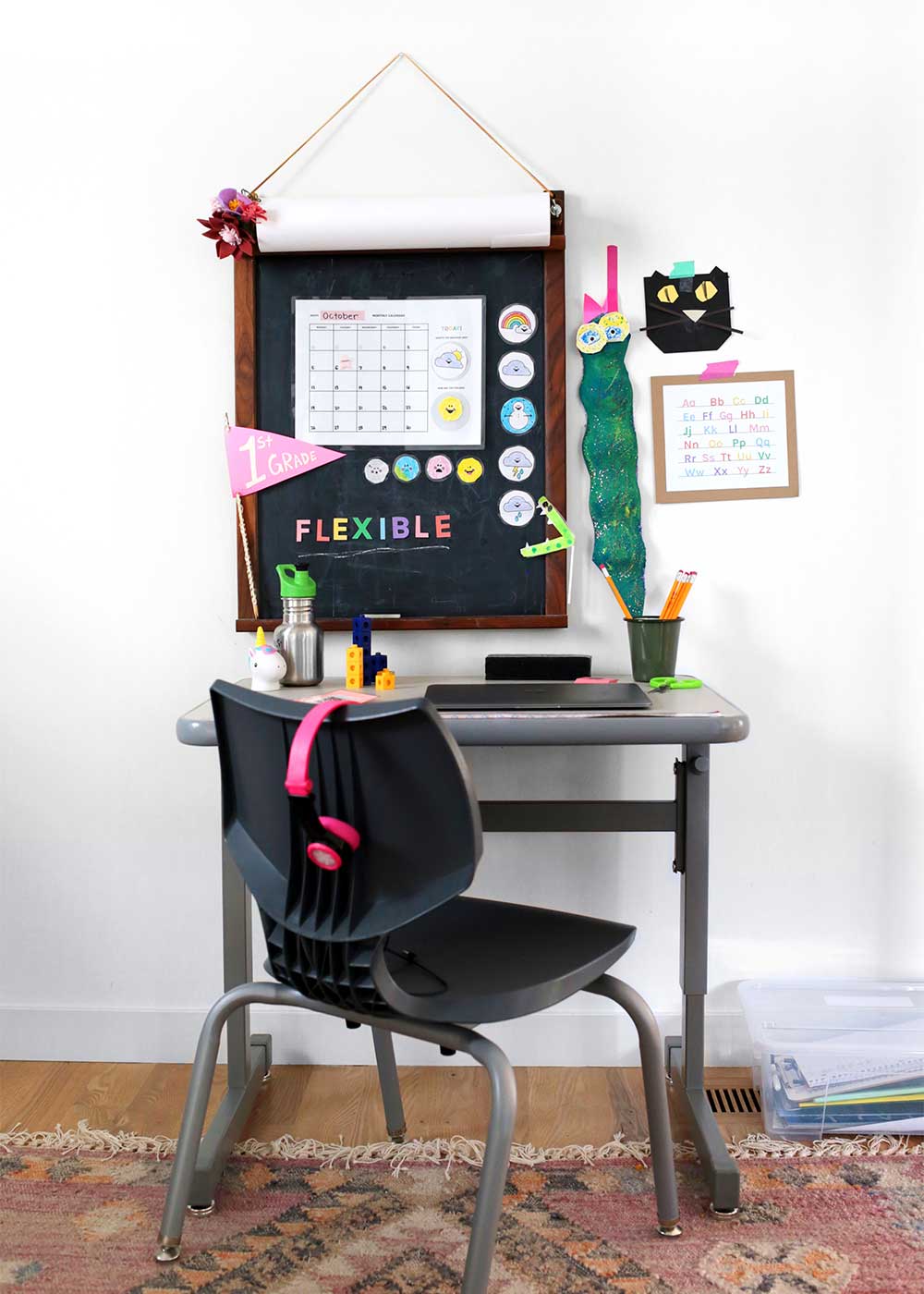 This is news to no one. School at home is extra hard—for the students and the teachers (and the parents, too). We're feeling it over here, oscillating from "this really isn't so bad" to "this might be the absolute worst," even with an amazing teacher. One thing that's helped to make online school a little brighter for Hal is creating a designated space to do school, with an adjustable desk just her size, and a fun calendar we made like the one her teacher has stuck to her chalkboard. Because we could all use a little pick-me-up right now, I'm excited to team up with Smith System, a K-12 furniture manufacturer, to giveaway 50 sturdy school desks and fun chairs to create a familiar setup like school at home. Oh, and Hal and I made you a fun printable too.
Hal does school in the office, right off the kitchen and the dining room. She's tucked just enough away to focus and close enough to ask for help (and snacks, so many snacks) when needed. Unlike the end of last school year when she sat at a toddler-sized table against a blank wall, we've been working hard to make her space feel more inspiring by hanging old artwork and making some new stuff, like a cool calendar (see below to download), a colorful word-of-the-month (say it with me now: FLEXIBLE), a paper pennant, and an ABCs poster.
(Side note: one thing that's helping us stay semi-tidy is that school in a box to the right of her desk, given to her by her teacher. At the end of the school day, everything goes back in the box. Her teacher said so.)
The same day I started designing a school calendar for Hallie, she was drawing one up for herself during lunchtime. (The apple falls so close to the tree.) We ended up collaborating on the final version, making a space to chart the weather and how you're feeling, too. You know, very important 1st grader things.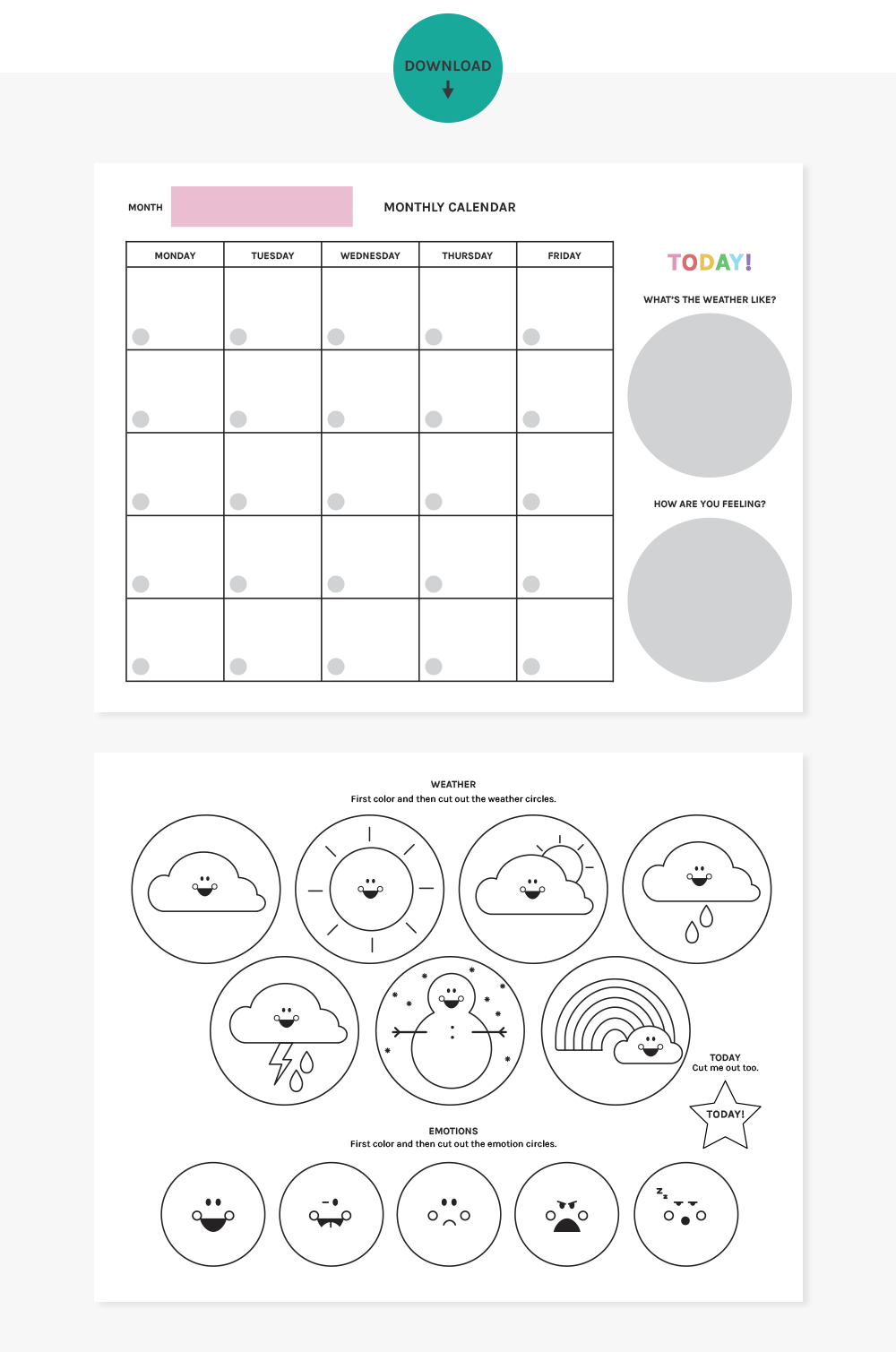 We made it downloadable for you too, to print and color. And, if you're extra fancy, laminate for repeated use. (We're extra fancy.) After cutting out the weather and emotions, place a little sticky tack on the back of each circle for easy day-to-day changing (or hour-by-hour if your kids are like Hal).
Before we get to the giveaway, I wanted to show you this cool chair called an Oodle that lets kids get their wiggles out while learning. That, and I also wanted to send a huge hug your way. I'll take one right back. This is hard. I hope this desk or that calendar or this wiggly chair make it a tiny ounce brighter.
Giveaway
Smith System is giving away 50 desks and chairs (either their Flavor chair or Oodle) to make virtual school a little less hard. (Thank you!) The first 20 will be donated to The Family Partnership, a nonprofit here in Minneapolis focused on reducing and preventing poverty. Because if online school is hard when you're well-resourced, imagine how impossible it is without enough.
TO ENTER: Leave a comment below: 0-10, how is virtual school going?
DETAILS: Giveaway is open to US residents. Ends Monday, October 26, 2020 at 10am CST. Winners will be selected at random and notified by email.
To see more of the office, head this way >
This blog is made possible by your support (thank you), select brand partnerships, advertisements, and affiliate links to items I love and use. READ MORE >