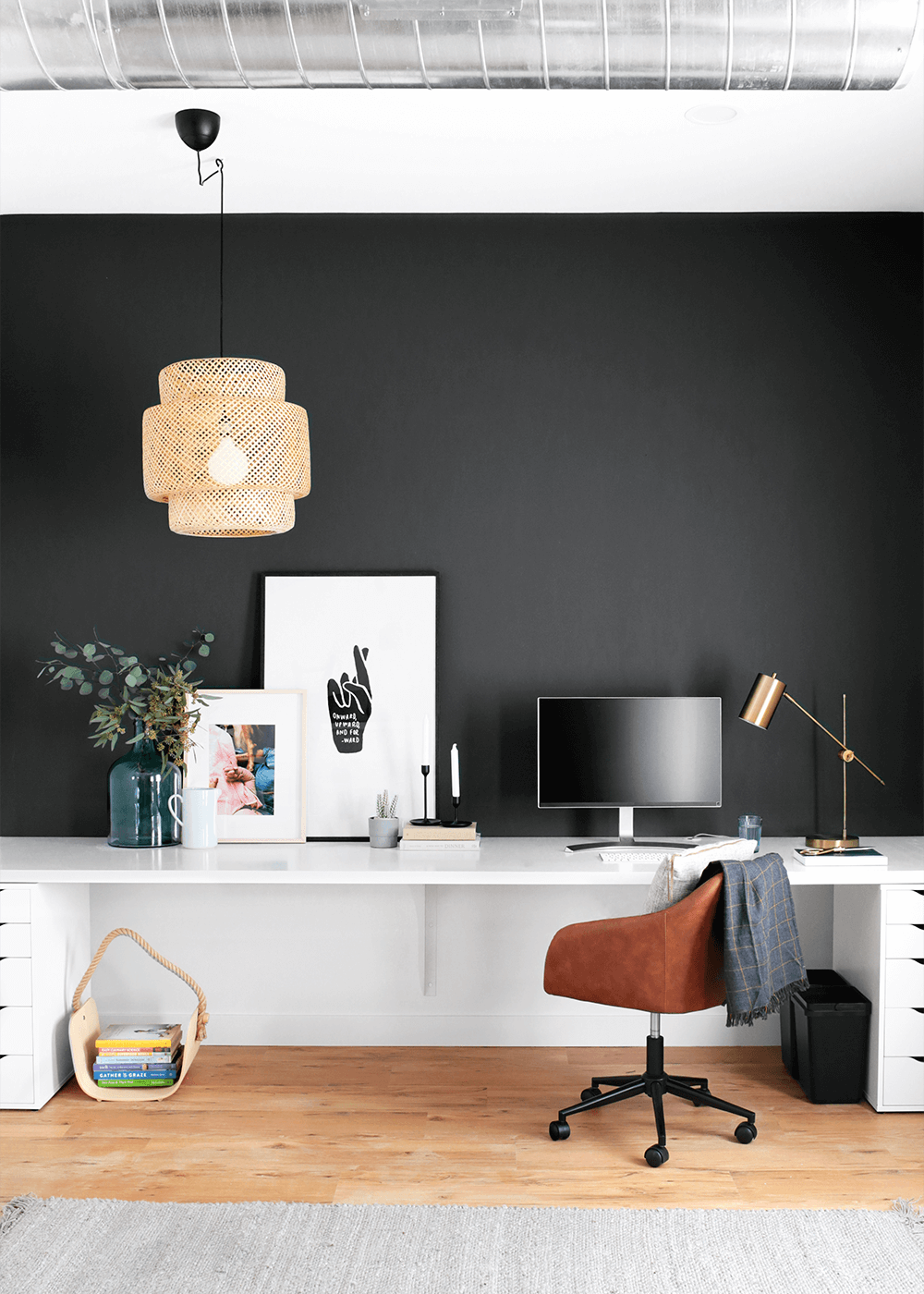 Sometimes, my yes is fast. Maybe too fast? A couple weeks before they asked the question, Kev and I were sitting on the kitchen counter talking about what's next. I had finished designing our home and was itching to keep designing. Not a week later did our friends ask if I'd be interested in helping design their new studio space. "Yes!" I said without hesitation.
I thanked my lucky stars that Kimberly, who works with me, was along for a new ride without a paved road. Somehow, we did it. (I couldn't have pulled this off without her.) Or without IKEA, who partnered with us to furnish the space. Or without Bjork and Lindsay, who believed in me enough to ask. And without further adieu, I'd love to share my fast yes and slow execution with you; the Pinch of Yum Office reveal is below. Thank you, too, for being along for my many rides—from dinnertime to the dinner table to the Pinch of Yum Studio.
Let me catch you up in case you're reading about this project for the first time. Start here, with the maroon and beige walls, construction dust, and mood boards. If you want to see more maroon walls, click through the "Pinch of Faux" highlights on Instagram. Then head this way, to the office design plans, renderings, and explanation of the design. Ok, now you're all caught up. In the voice of Enya, scroll away, scroll away, scroll away.
Office 1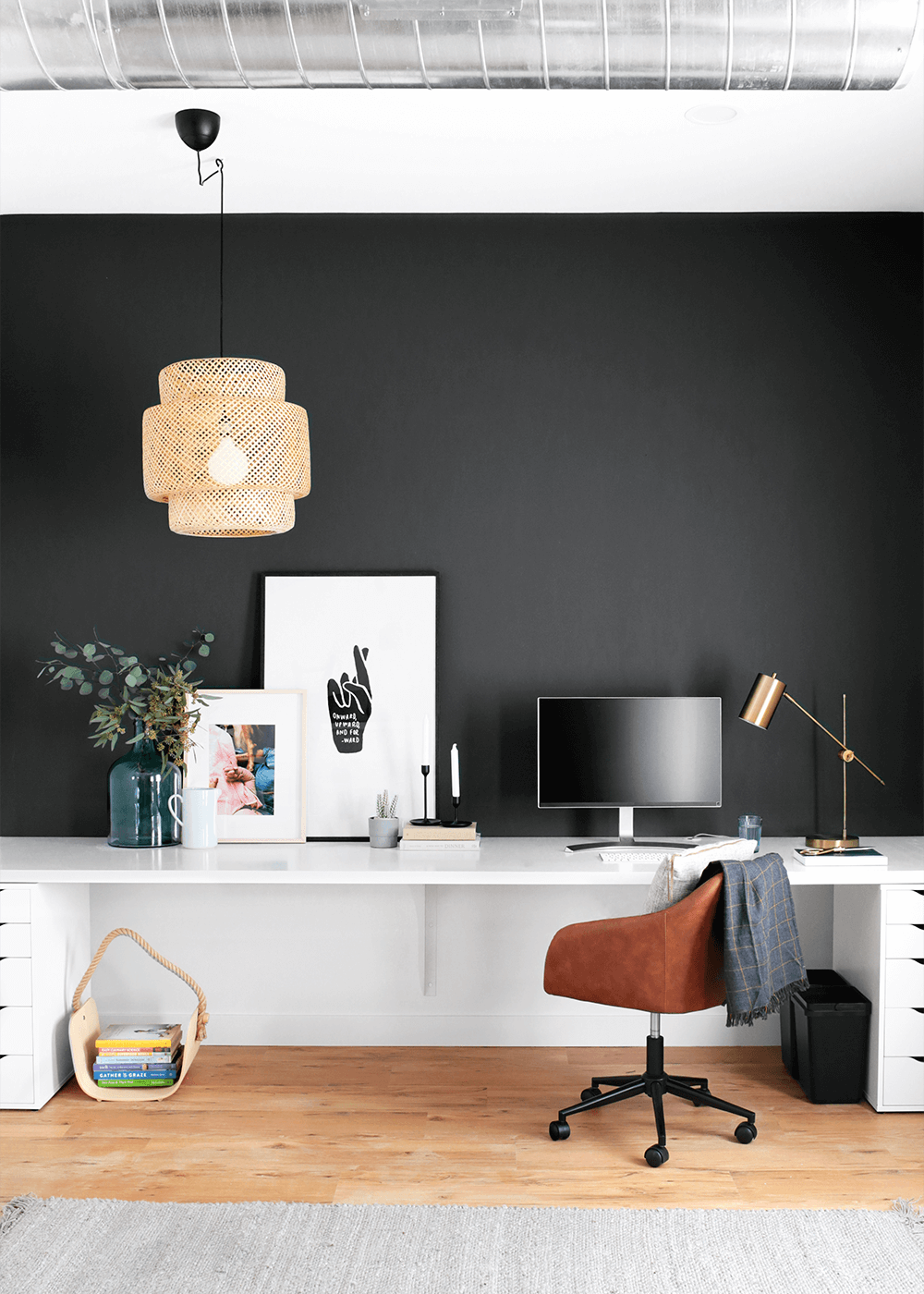 Here we are in Office 1, Lindsay's office, the founder of Pinch of Yum. Her desk is a bit of an IKEA hack, but not as hacky as the one you'll find in Office 4. We used IKEA desk bases and had a custom, very long desktop made. With this configuration, she has both an online and offline working space. My favorite part might be the picture of all three of her kids—Sage, the softest puppy, Afton, her son who is no longer earth-side etched onto her arm, and sweet Solvi, her daughter, in her other arm. The work we do (you, me, her) is called business. But we couldn't do the work we do without our humanness. It's never just business. For that reason, I'm a believer of integrating that humanness into the design of a space, even a professional space, from a family picture to something quirky to something slightly askew.
Visual Aesthetic: Naturally Neutral—bright whites accented with blacks, greys, natural creamy creams, and warm wood tones.
Paint Colors: Rock Bottom in flat and Extra White in flat from Sherwin Williams.
Laminate Flooring: Cambridge from Karndeen
SOURCES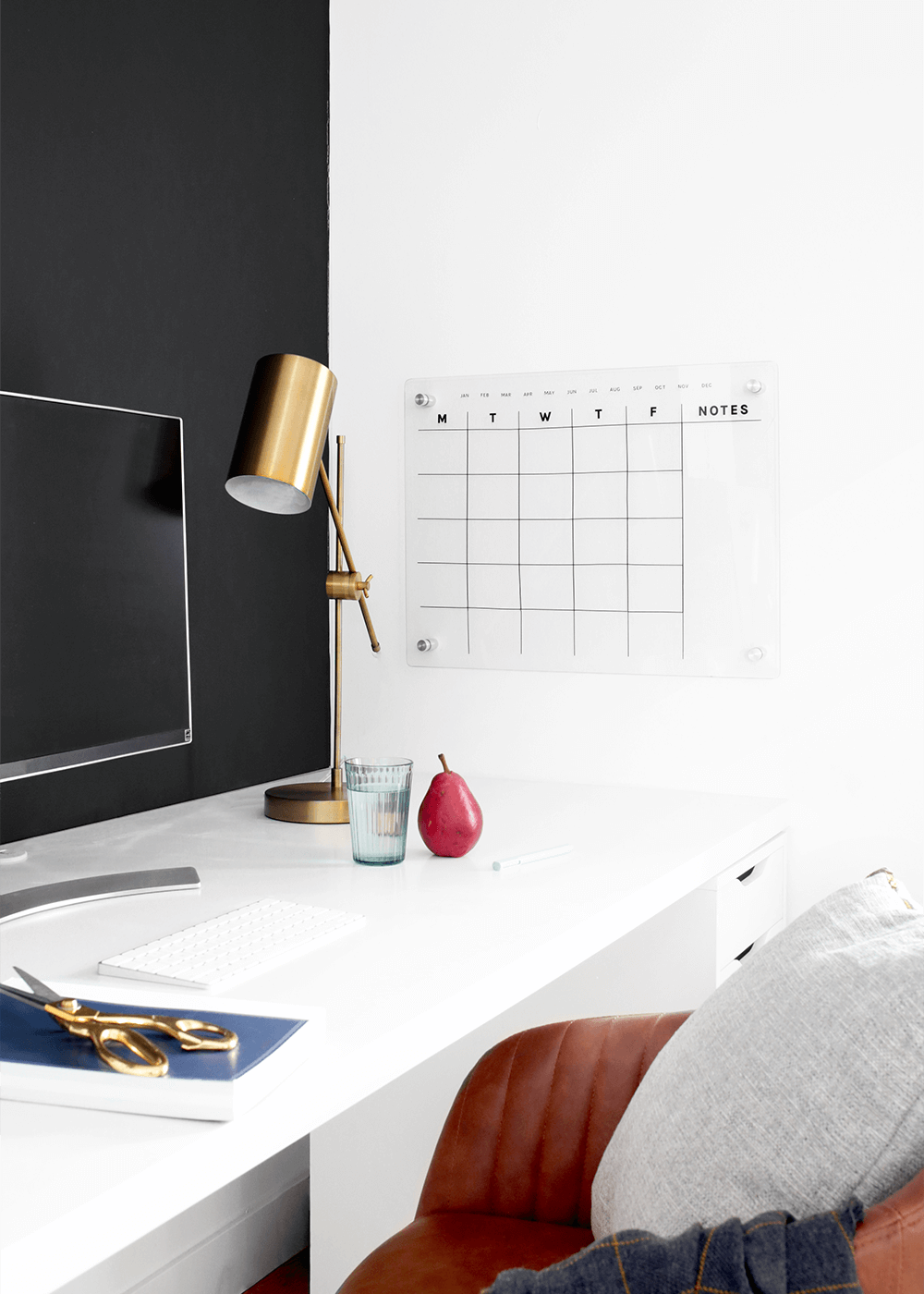 When we started this project, I pestered them on how they imagined using this space for the everyday, down to the little minute things you'd typically omit from mentioning. Those are the things I like to design around. Lindsay mentioned wanting a visible calendar, so we came up with this glass board idea. I designed a calendar decal to affix to the backside of this board, making it completely wipeable month after month without destroying the decal. (I use a similar laminated paper calendar system for myself.) I had hoped to make this decal downloadable for you to create at home, but holy cow, applying a decal with very thin lines is so hard. It might be wise for you to buy something off the shelf.
SOURCES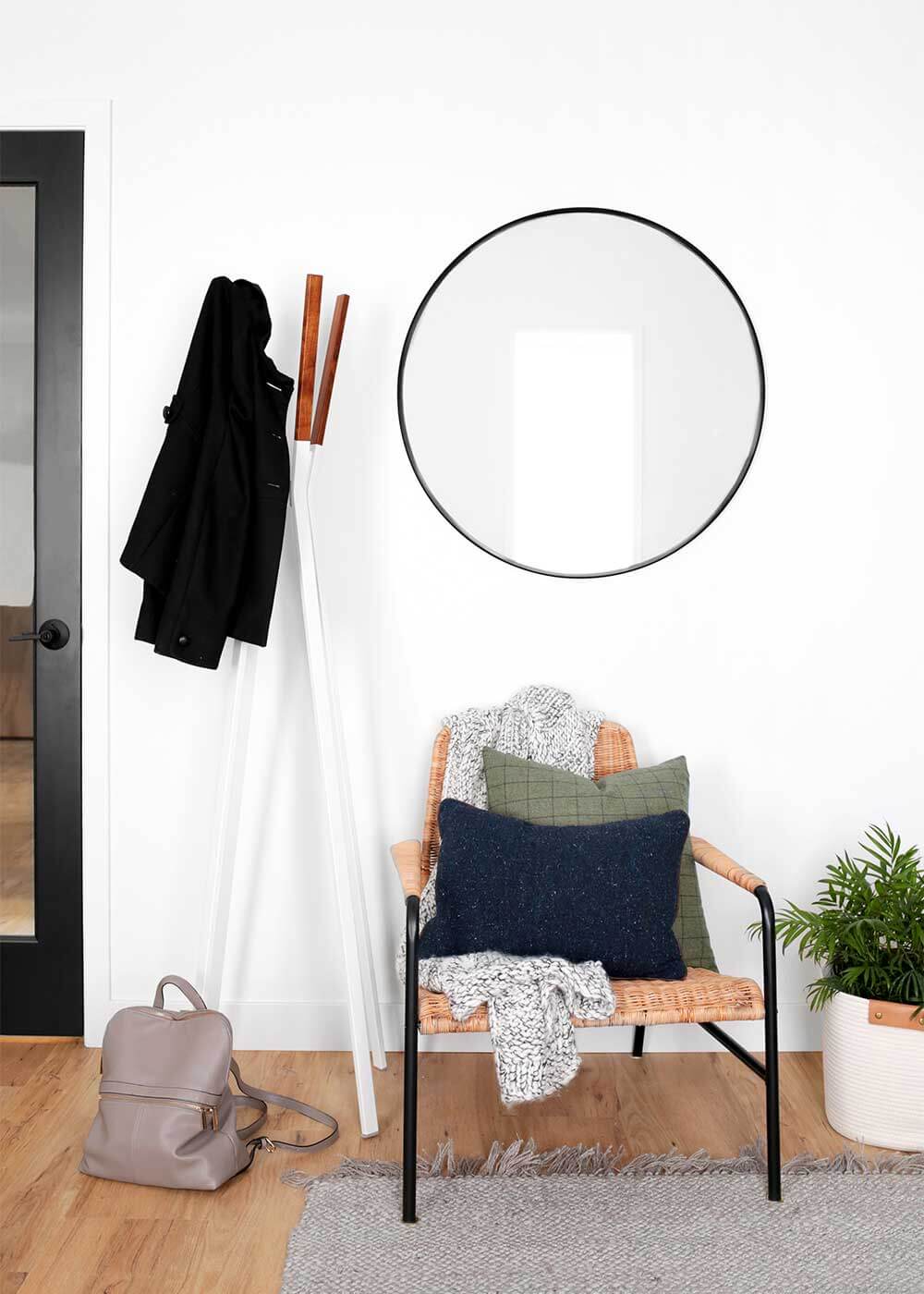 When you walk into her office, there's a little entry area, a hospitable little space for a guest or a bag or a coat. This is one of those areas that may or may not get a lot of daily usage, but it says welcome, which is a very good thing.
SOURCES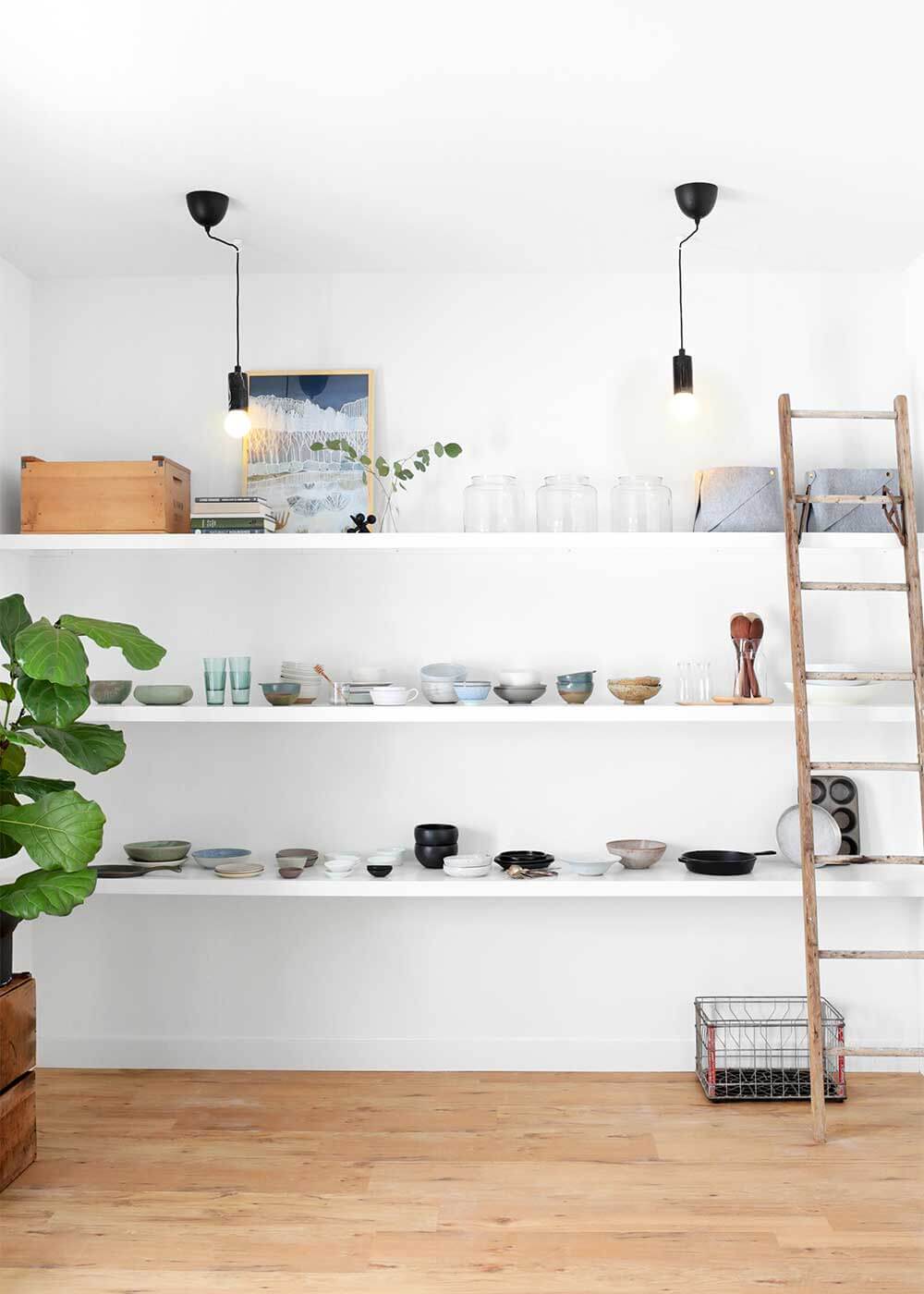 Lindsay's office moonlights (or is it daylights?) as a photography studio. We had custom floating shelves installed to beautifully display her props while also keeping usability high and within arms reach. The top shelf stores the special occasion, if and when needed.
SOURCES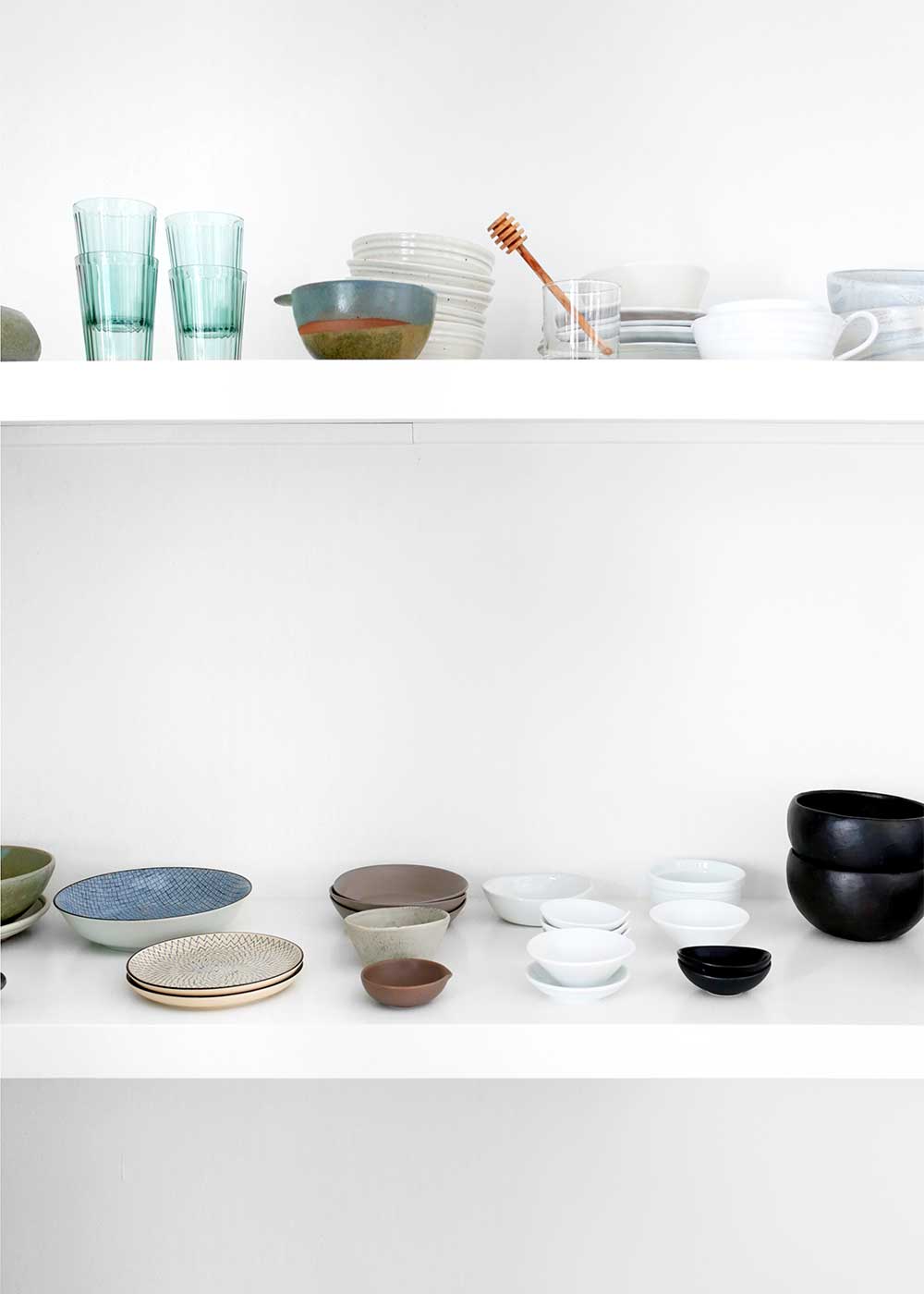 Tip: When designing a space, personal or professional, try starting with what you have as a source for inspiration. It helps to build a rich, human vignette, something you can't find at the store.
Office 2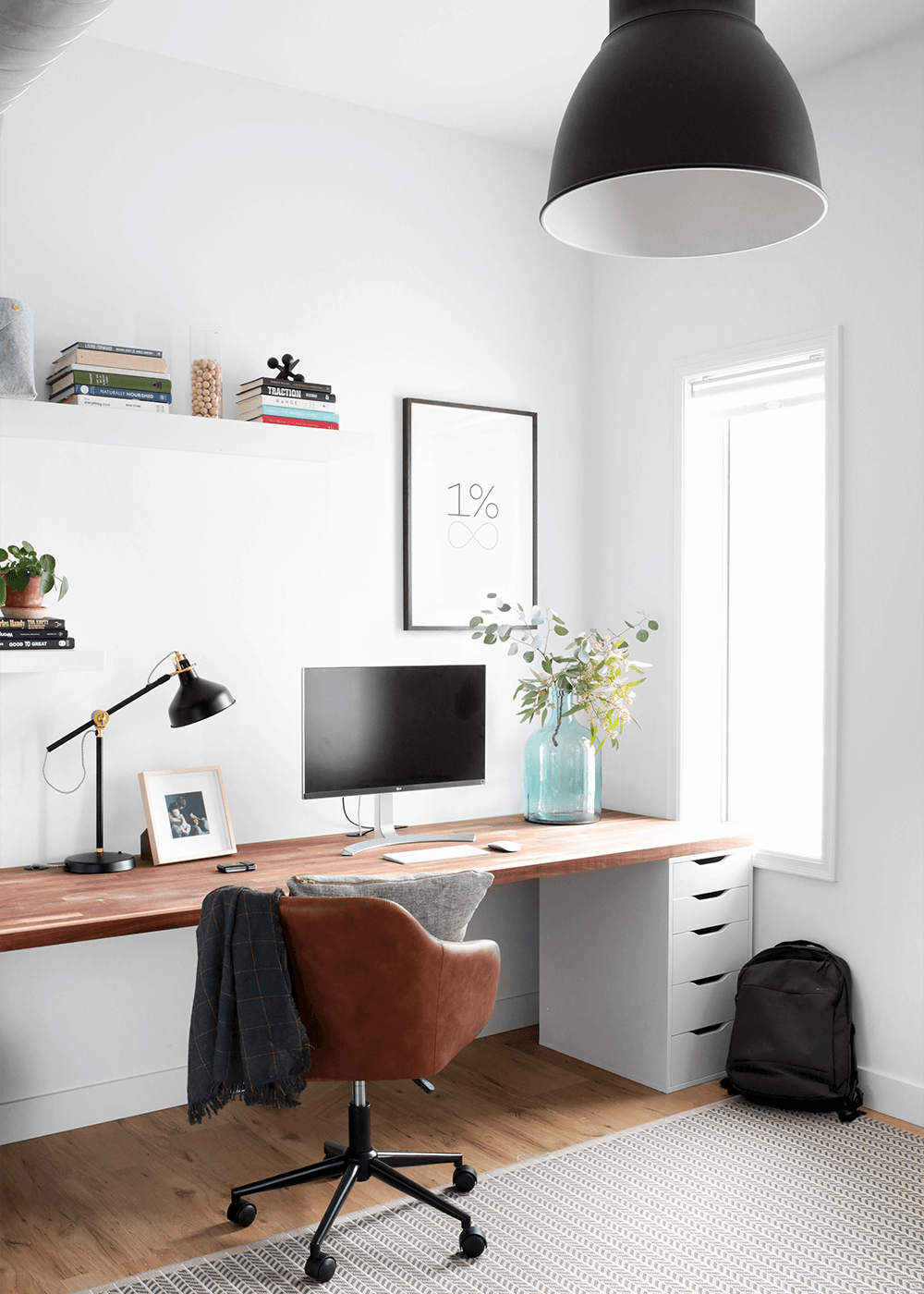 Here we are in Bjork's office. Like Lindsay's office, we used the same IKEA desk bases here, also used in their previous studio space. Since we kept the walls white, we added in a warm walnut butcher block desktop, which is actually a countertop. The butcher block is valuable long term, in that, should they ever move offices or redesign the space, it can be repurposed or sold. On the large open wall, we created a tiny library that doubles as decor. Reading and spending time offline, is a big part of this online company.
SOURCES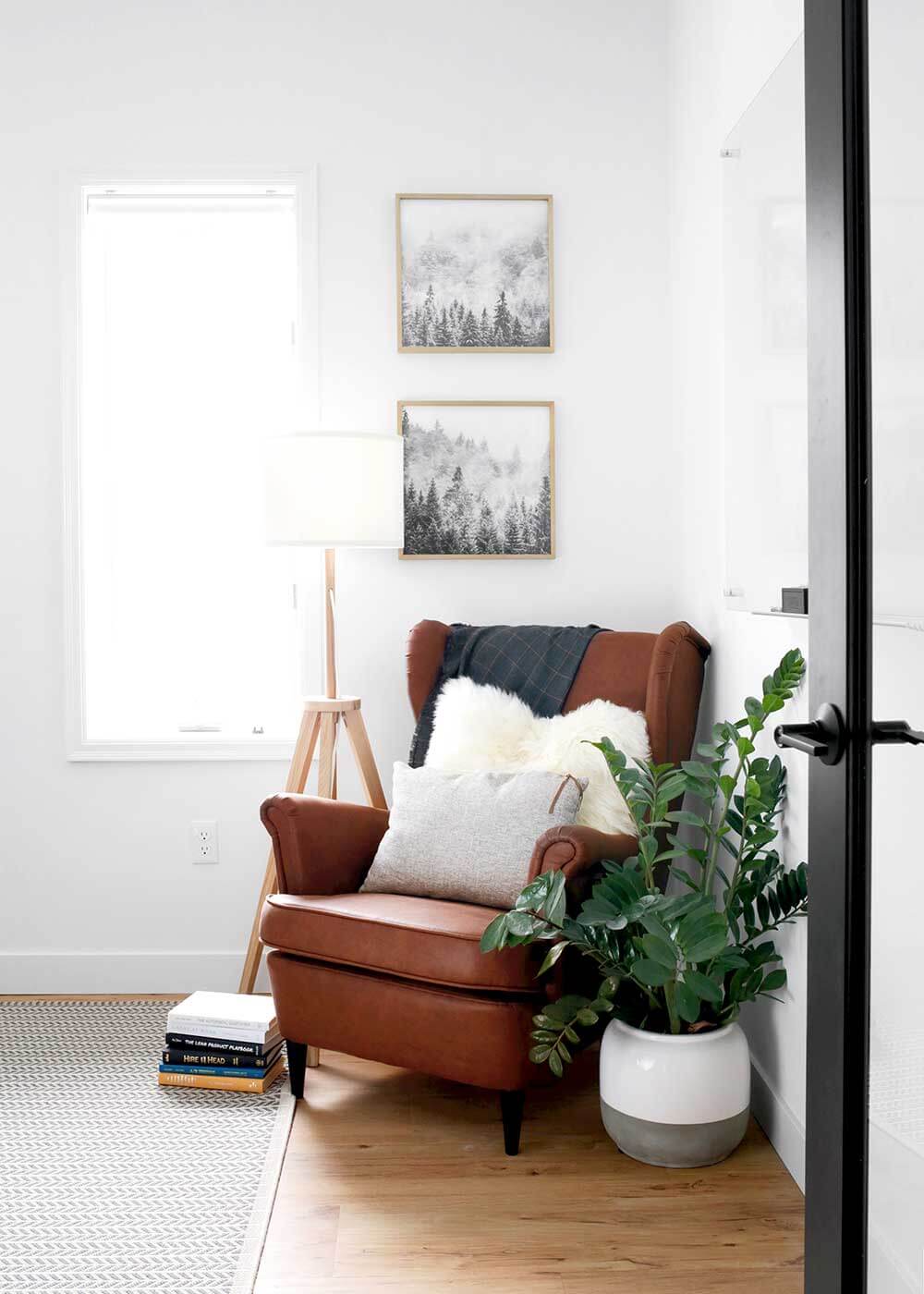 With books to read, you need a space to read, so we created a cozy reading nook. This nook also shares a wall with a large floating glass board, a board intended to capture thoughts while thinking out loud. It can also easily wipe clean again and again.
SOURCES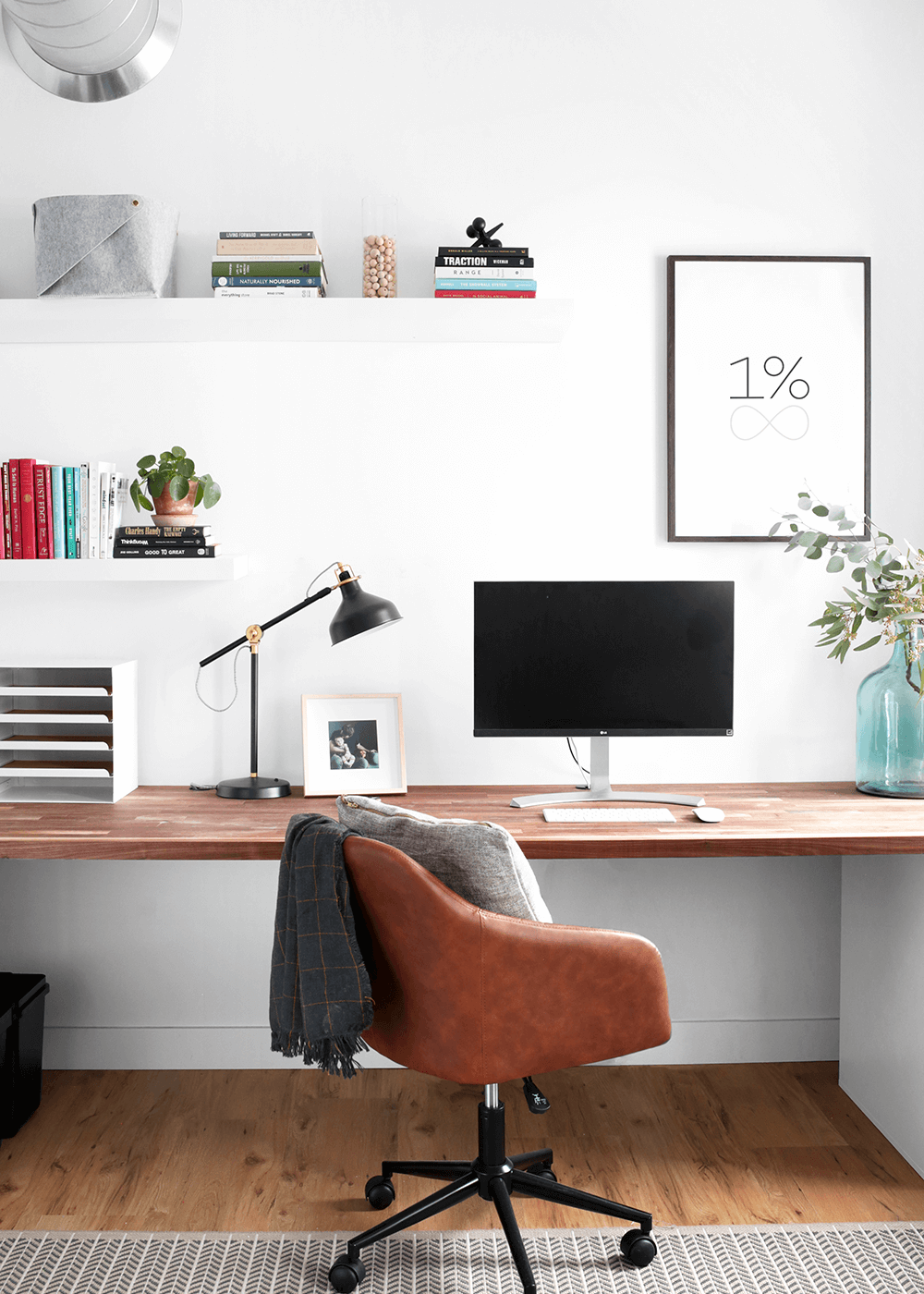 We've had a lot of dinners with Bjork, and he has a lot of sayings, many I've bookmarked in my head. In his office, I wanted to add personal artwork, maybe one of those sayings. He sent over the 1%∞ mantra. You can read more about this idea here. I created a simple poster for him, and somehow, in the last couple of weeks, his office just came together. It was the most unfinished space in the design renderings.
SOURCES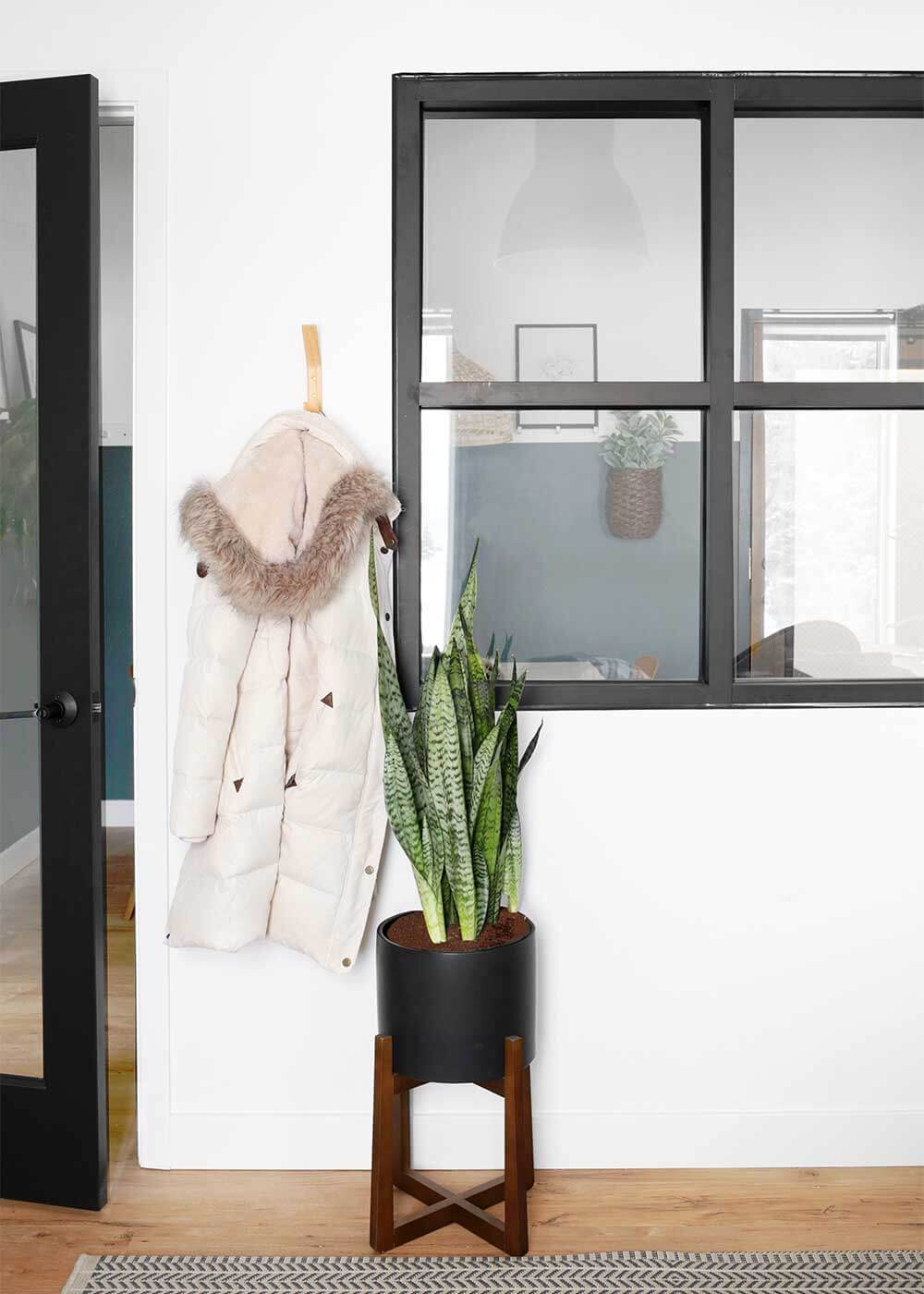 Because we're in Minnesota, coat hooks in every office were a must. These single hook, two-prong beauties are so lovely I might get some for our house. And look, there's a sneak peek into the dining room and the top of my back. (It's hard to get out of the shot when you're 6 months pregnant.)
SOURCES
Office 3
Office 3, Jenna's office, is a reflection of Bjork's office, with more feminine touches and less shelving. It's open and refreshing with a couple of pops of color.
SOURCES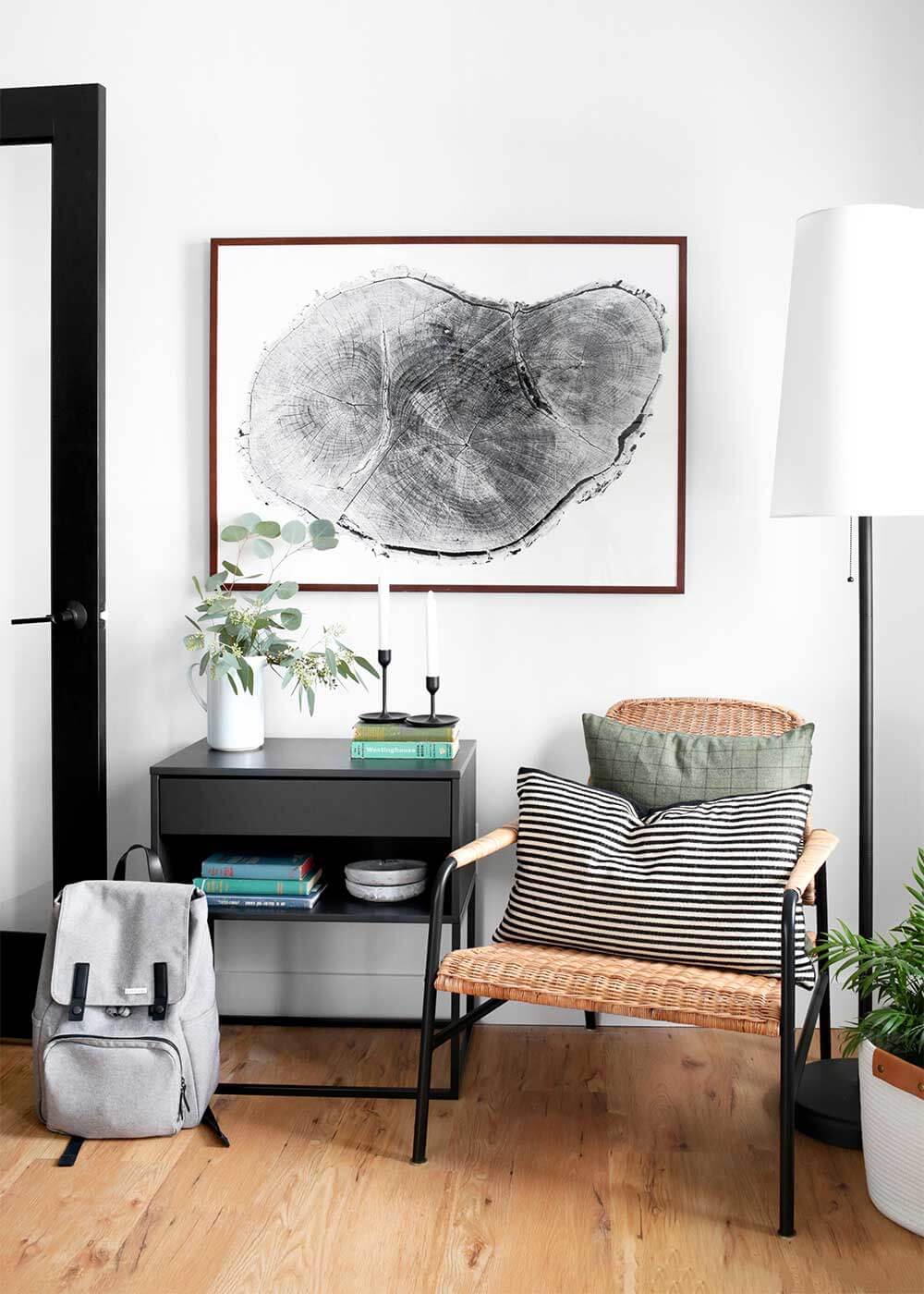 I ended up adding a table to this vignette for additional storage, visual weight, and a place to work, after watching many a meeting gather in this little area while designing. Now there's an extra spot to set things, like a coffee cup or a laptop.
SOURCES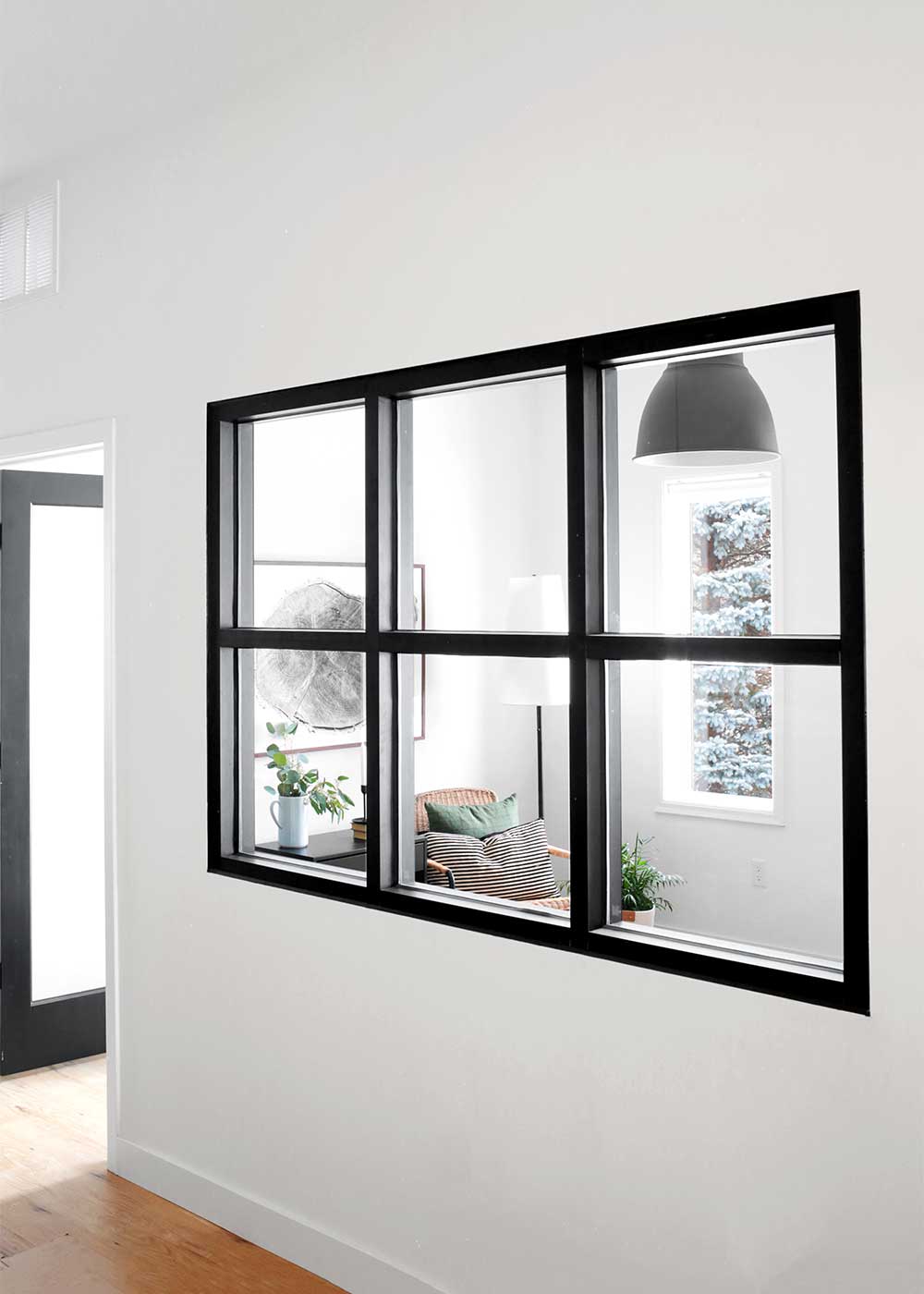 I wish I could have caught the snow lazily falling during this shoot. Though, I did catch the blue spruce in all its glory, making the insides even more pretty.
Office 4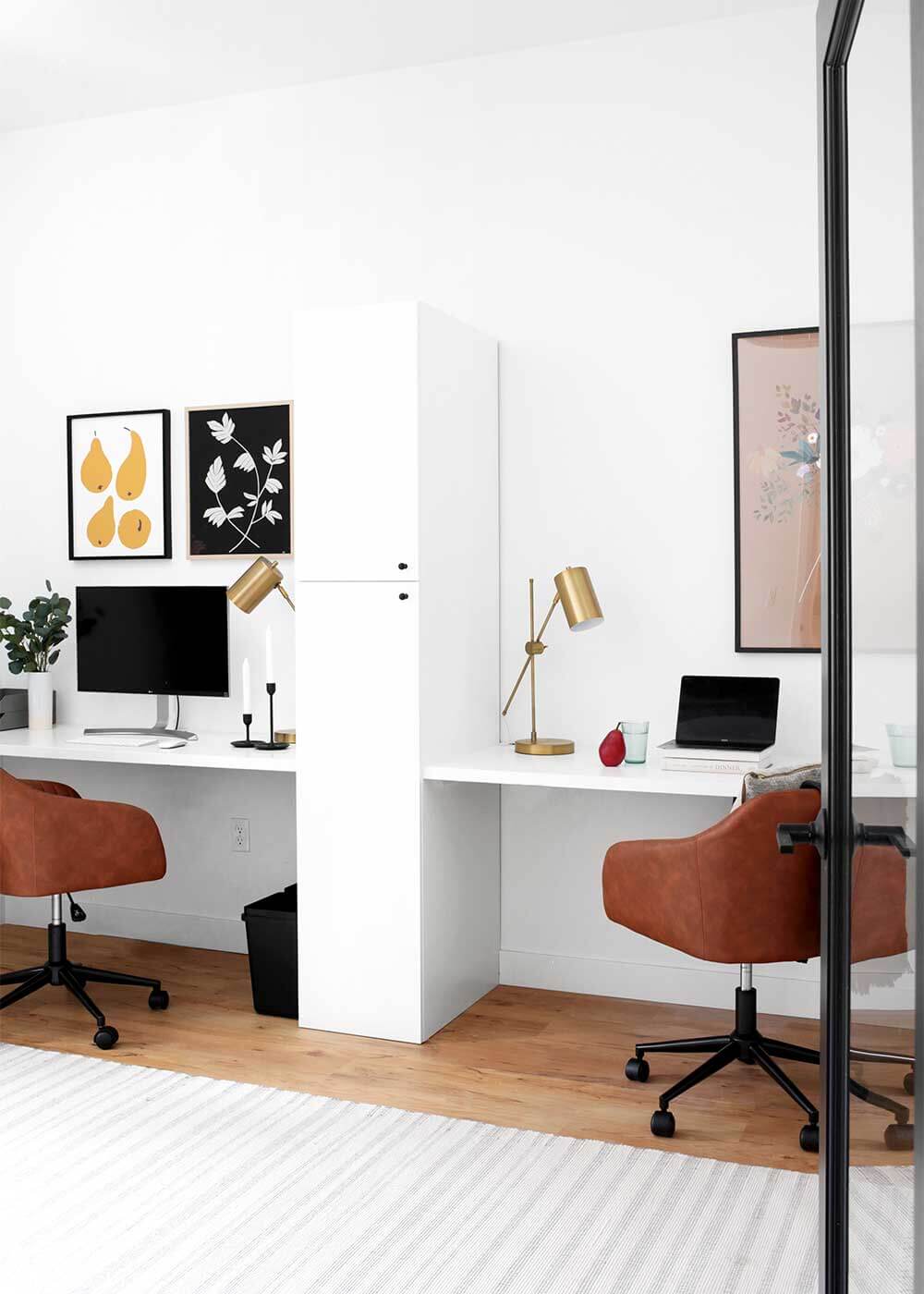 We really got to IKEA-hacking away in Eman's office, the office that needed to fit an extra person from time to time. Having had a previous studio space, the Pinch of Yum team already had a lot of furniture, many pieces that were from IKEA, like these long white desktops. I wanted to utilize as much of those items as possible, so I found a tall cabinet, nearly the same width as the desktops to puzzle-piece this idea together. Here's how we did it. We added the IKEA cabinet to the middle of the wall, notching out the floor baseboard so it would fit flush against the wall. Then, we used two white IKEA desktops and had the length cut-to-size and mounted to the wall and cabinet, creating two semi-private workspaces. And by we, I mean, I came up with the idea, and we hired out the execution so those floating desks would actually float. This arrangement anchors and flanks the long wall nicely while offering a bit of personal space in a shared space, plus some welcomed storage.
SOURCES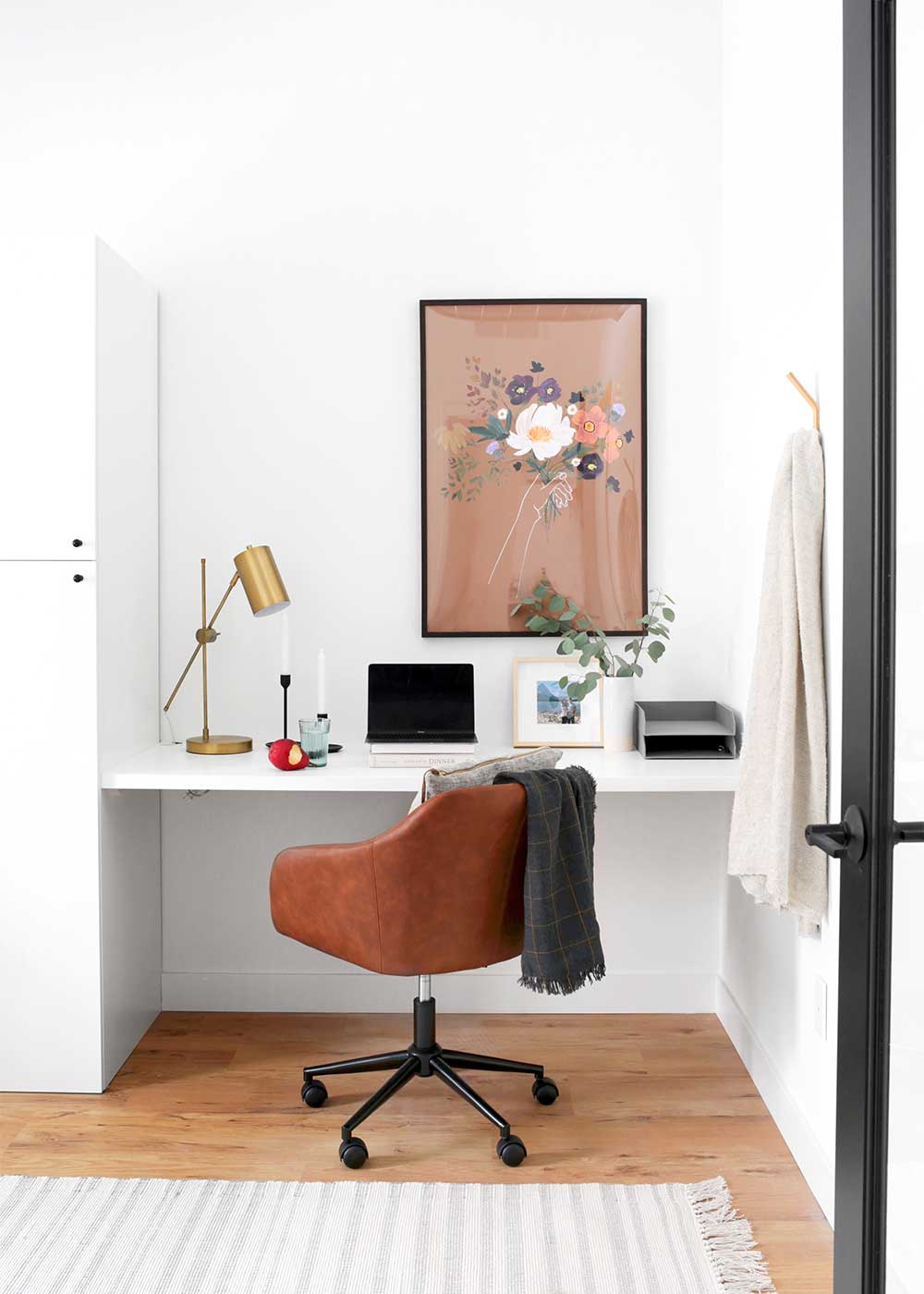 In the last phase of design, I created an artwork selection guide. This guide was intended to help the team choose their own art from a curated selection that fits the aesthetic of the studio while also making these spaces feel like their spaces. You can see a slight shift in tastes throughout the offices without completely departing from the overall look.
Tip
With a neutral palette, try adding in a couple of unexpected pops of color to help the space to feel human and not overly designed or sterile. Also, consider pairing two unlikely pieces. For example, something sharp and graphic with something soft and natural, making sure there is some continuity of color/tones throughout the selections.
SOURCES
I'll be back after the new year sharing the kitchen and dining room. Thanks for riding along with me! I hope you found a little inspiration in these spaces too.
This blog is made possible by your support (thank you), select brand partnerships, advertisements, and affiliate links to items I love and use. READ MORE >