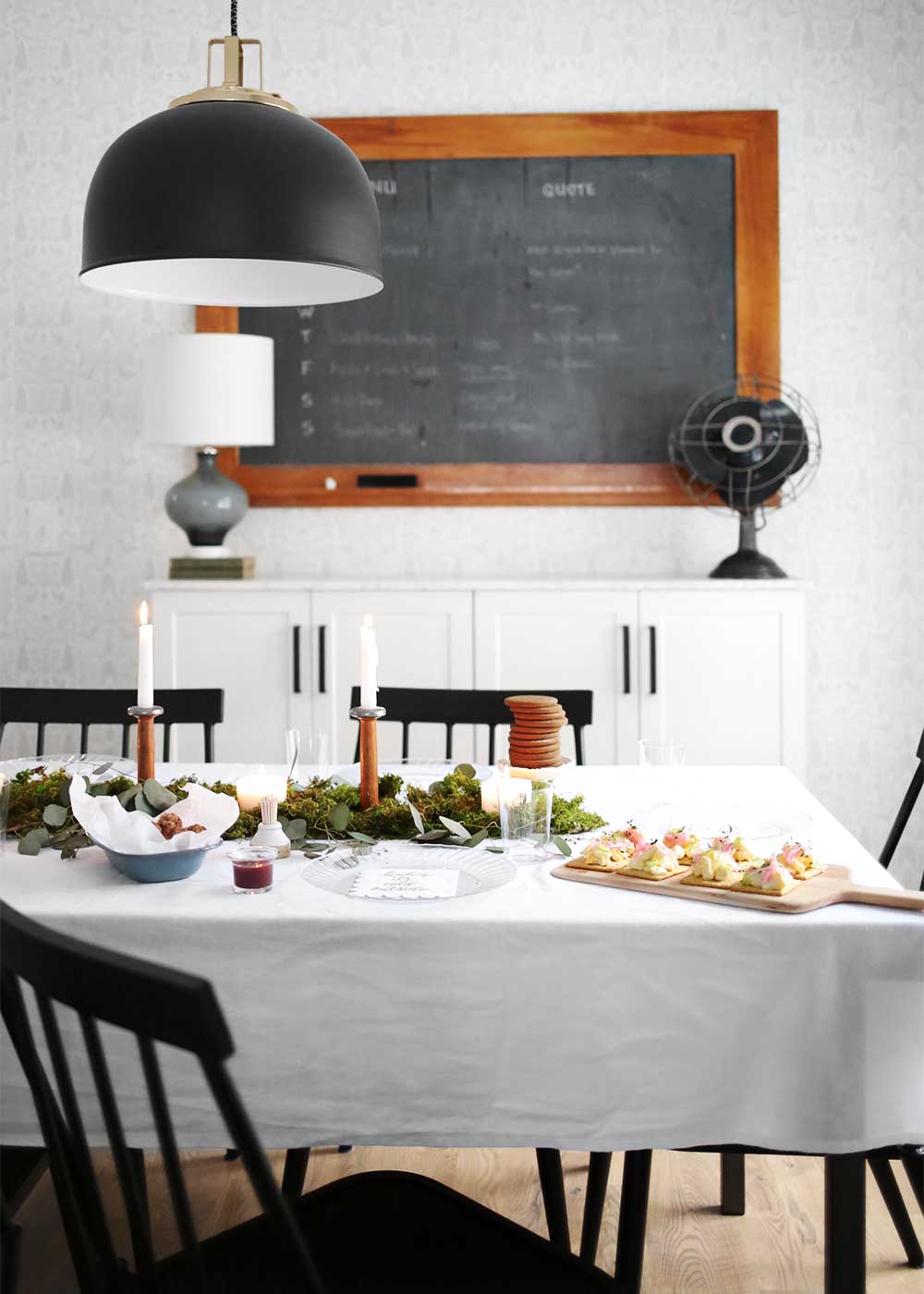 The more time I spend in my adult years, the more I wonder why we squeeze all the fun festivities into the first third of winter (December) and wish the remaining 2/3s away (January and February). It's no wonder winter feels as bleak as the temperatures. We've left ourselves with no parties to look forward to. That is, unless you throw a Nordic Winter Party.
I threw the first annual Nordic Winter Party in the middle of December. It was so fun, but it was the middle of December, that always overbooked month. I've moved it where it belongs, where we need it, after the new year. Now I know, I'm one of those rare birds who loves winter—the snow, the slowness of it all, a fire, a wool blanket, and lit candles. It's just hard to feel the depth of cozy in a season other than in winter. This party is a celebration of that. Maybe, just maybe, this party will make a convert out of you too. At least for an afternoon.
Set the table
I always like to keep hosting simple, but this party in particular begs for simplicity. Note: Since this is a party I intend to throw yearly, I've used some reusable decor. Let's dress the table. First things first, cloak the table in a white table cloth. Next, add moss down the center of the table. (This is reusable year after year.) Tuck fresh silver dollar or seeded eucalyptus branches into the moss. (These are super affordable at Trader Joe's.) Finally add candles. I like the vary the height of candles—some tall, some low, and some really low (tea candles). A candle-lit party is so cozy, whether by daylight or nightlight.
For cups and plates, I chose to go disposable to keep clean-up simple for a party of 15. For a smaller party, I'd probably use my everyday dishes. Either way, I'd recommend disposable plates so people can bring their decorated cookies home. Or, BYOP (Bring Your Own Plate). For pretty party disposables, check out Hip Hip, Sugar and Cloth for Amazon, and Oh Happy Day.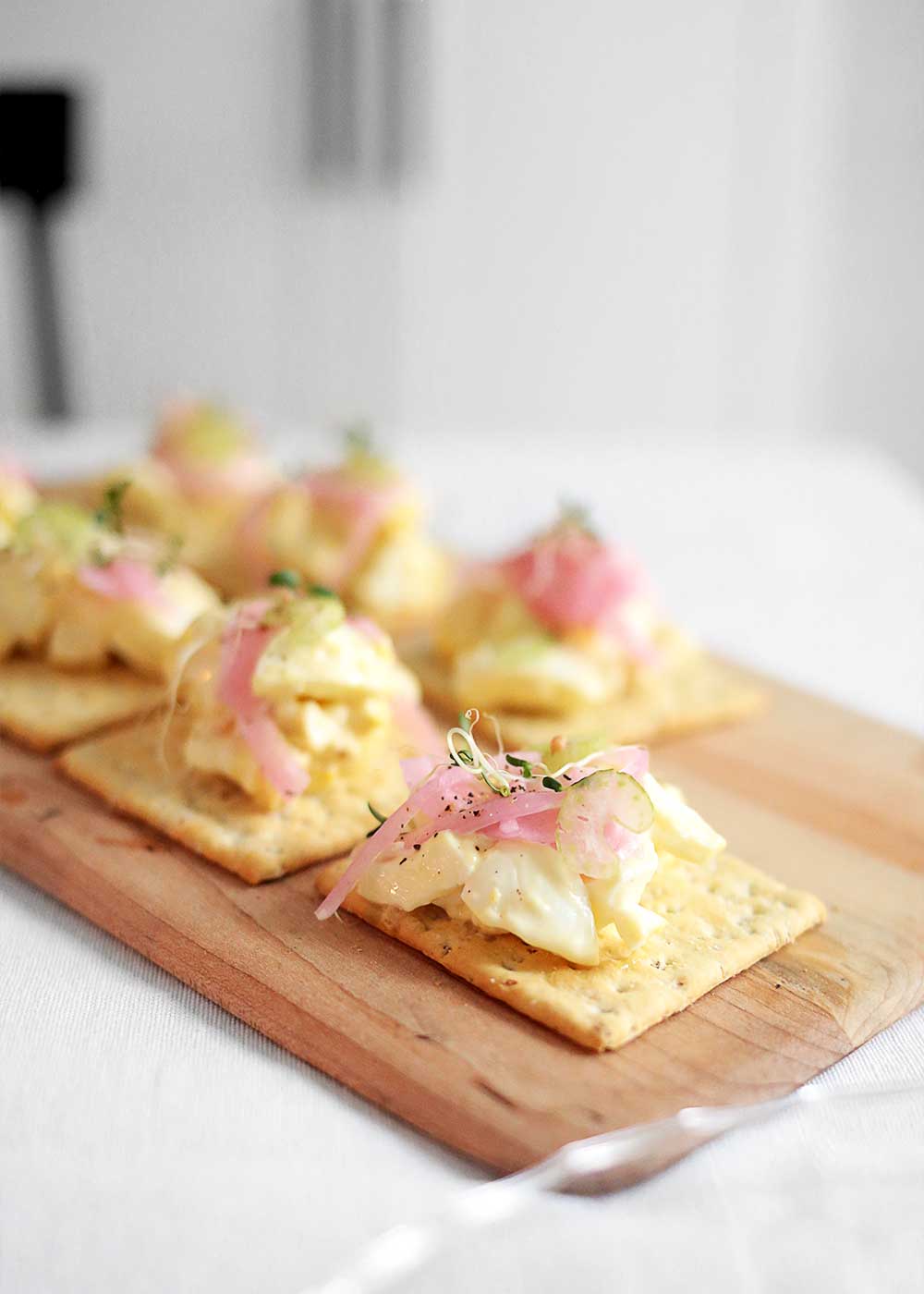 Prep the food in advance
I do best when I have food prepped in advance. Otherwise, I'm a bit frenetic as a host. For this party, make Nordic-inspired finger foods—something meatballed, something pickled, and something open-faced. I served Vegetarian Swedish Meatballs with a quick lingonberry sauce, open-faced egg salad on crackers garnished with pickled onions and sprouts, and gingerbread cookies. The gingerbread icing can also be prepped in advance and portioned out into sealed ziplock bags that double as pastry bags. Just before the party starts, assemble the open-faced crackers and fry the meatballs. Dress the rest of the table with the finger foods.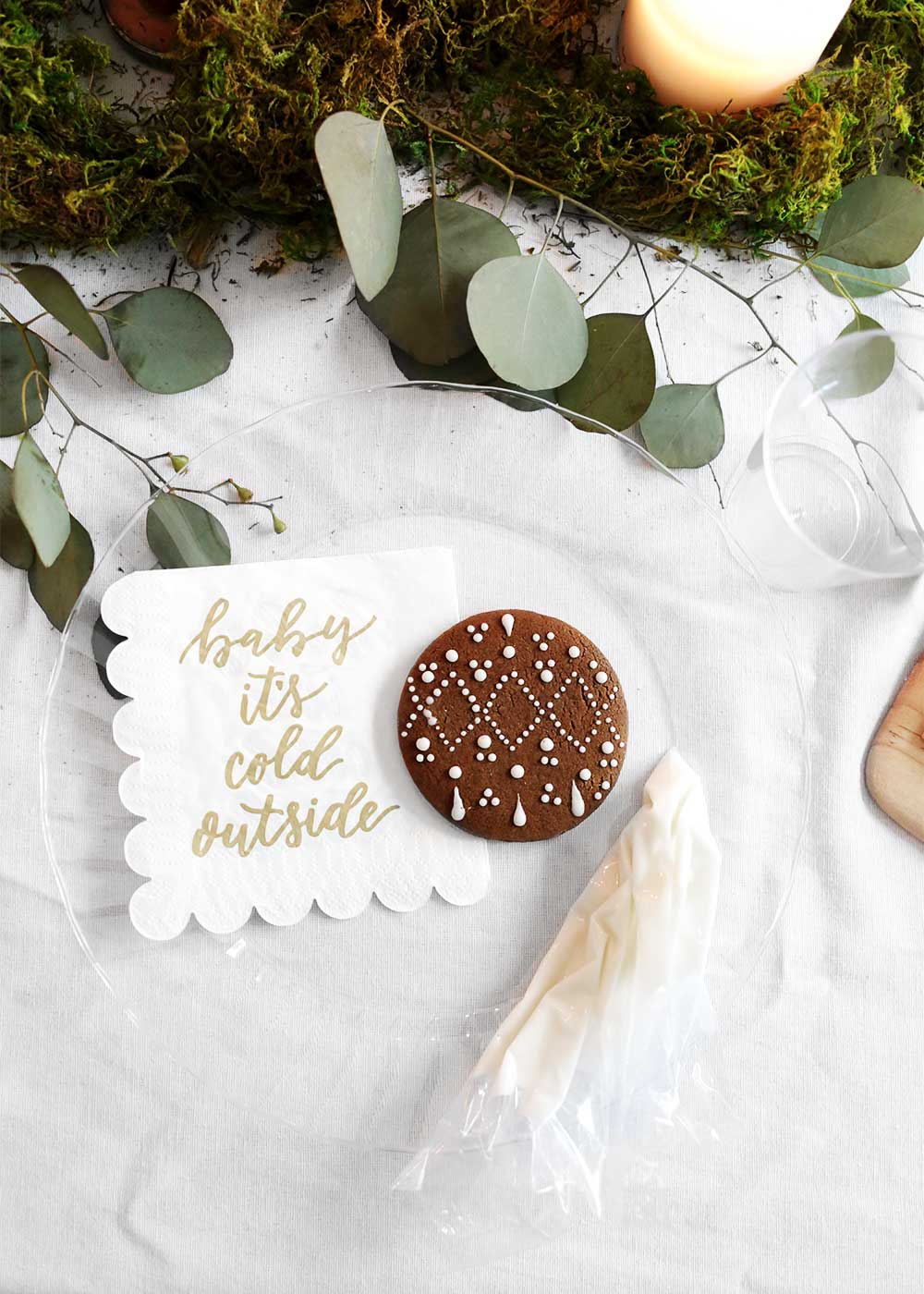 Adult Crafting is Fun
Decorating gingerbread cookies like Nordic Sweaters is my craft of choice for this gathering. You could go a more simple route, and decorate royal iced cookies with stamps (also make-ahead friendly). Either way, when dessert is also a craft, you become the most efficient host ever. For non-edible crafting ideas, check out Paper and Stitch, Be Crafty Workshop, Almost Makes Perfect, Sugar and Cloth, Lovely Indeed, Studio DIY, and The Proper Blog.
A Wintery Drink
If I'm going to serve a cocktail, I like to serve one that really fits the theme of the party. I recommend serving a wintery drink at this gathering—something that looks and tastes of winter. Try the Alpine Cocktail, Honey Lemon Thyme Cocktail, Winter Thyme and Key Lime Cocktail, or Grapefruit Thyme Cocktail.
Punxsutawney Phil, the ground hog, says you have 5 more weeks to host this party. I hope you do! Keep it simple, wintery, candle lit, and bubbly. But most importantly, make everything in advance so you don't feel spazzy the day of. And tag it #nordicwinterparty. For more Nordic Winter Part party ideas, see my pins here. May your winter be merry.
This blog is made possible by your support (thank you), select brand partnerships, advertisements, and affiliate links to items I love and use. READ MORE >