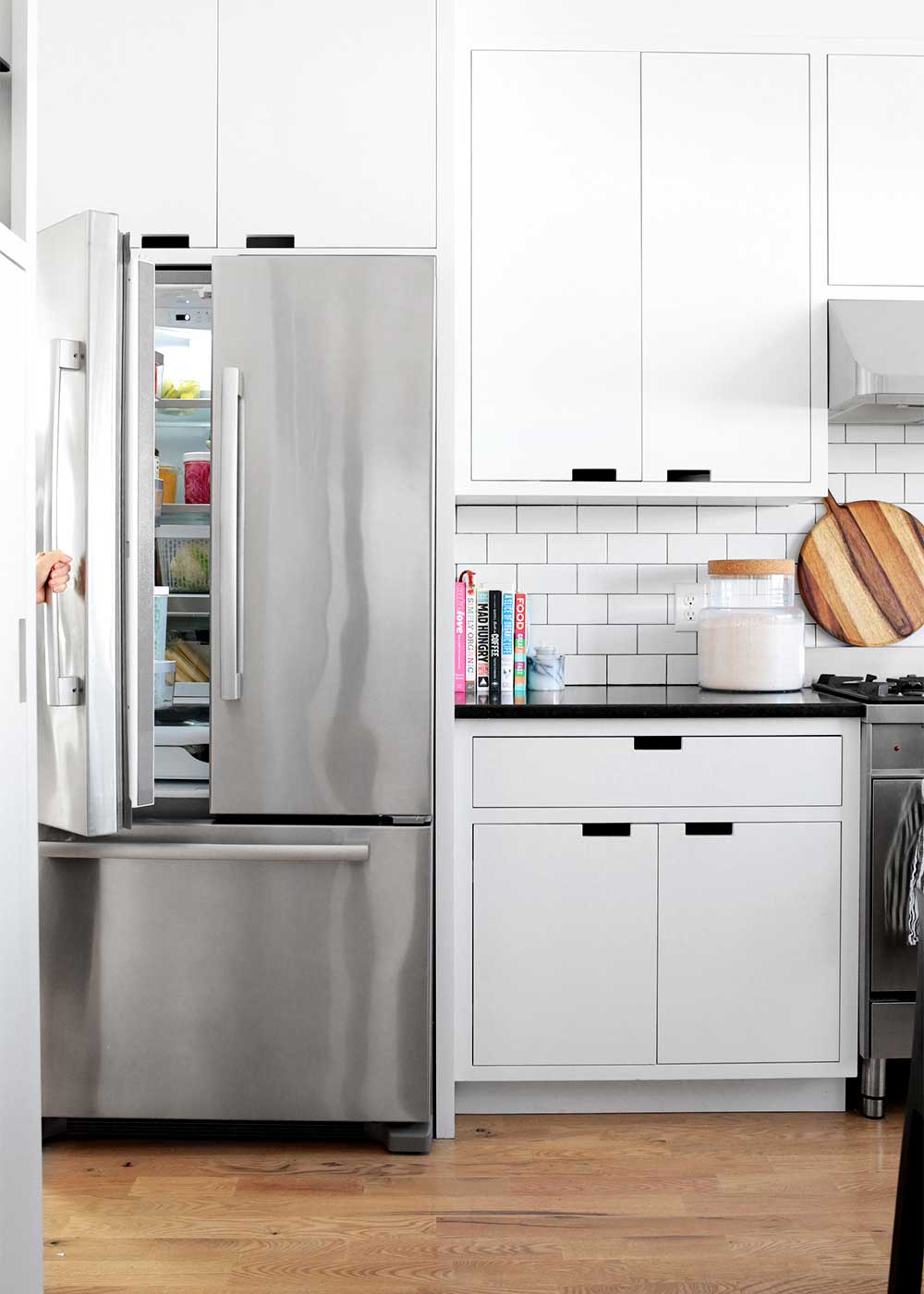 Once we started practicing The Minimalist Kitchen framework for the pantry, it just naturally overflowed to the fridge. We did a better job of buying what we could consume before expiration, which ultimately led to less waste. But, no matter what we did, we couldn't get that box of lettuce or that clamshell of berries to last the whole week. Nor could we figure out how to control the chaos of the fridge drawers.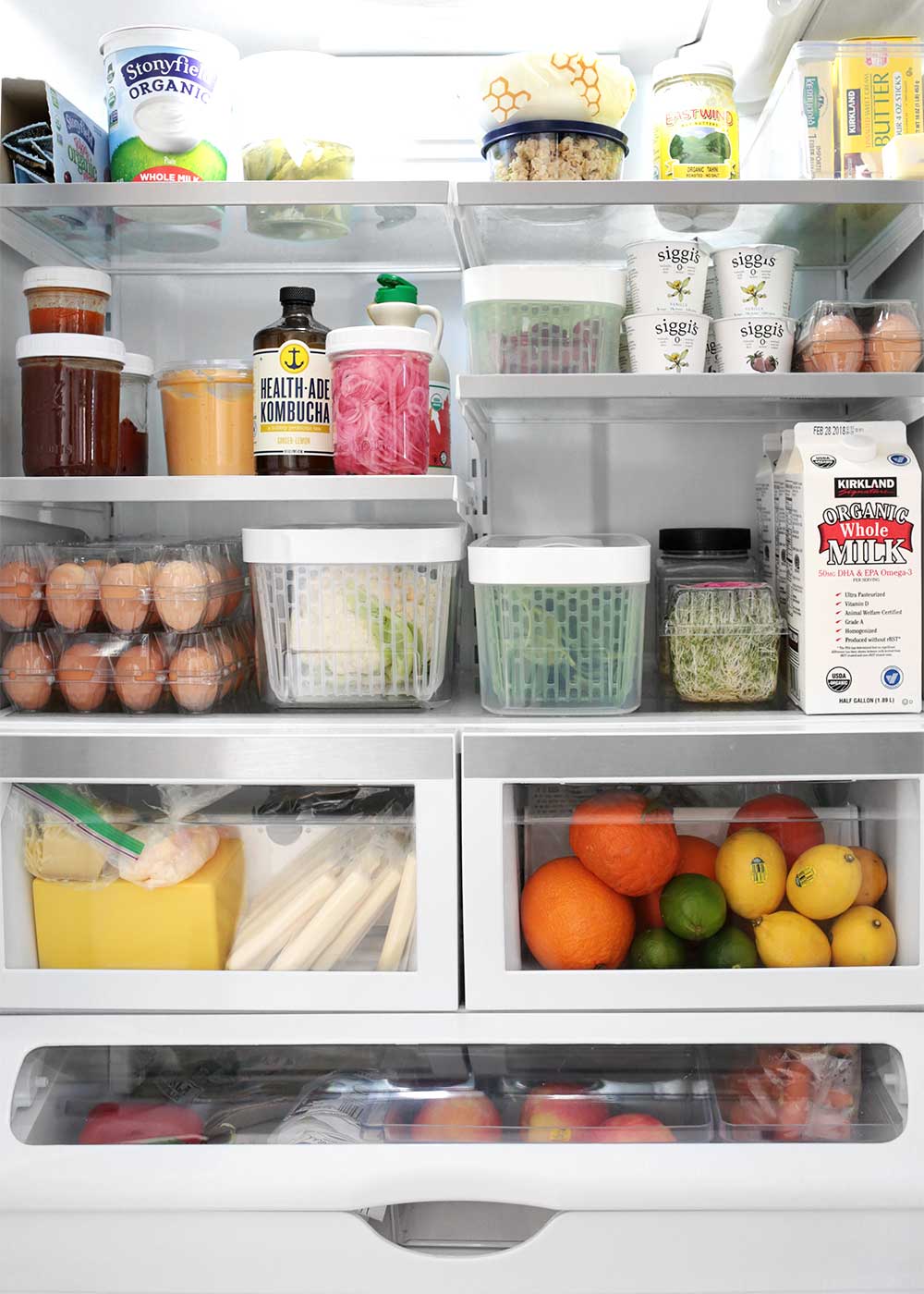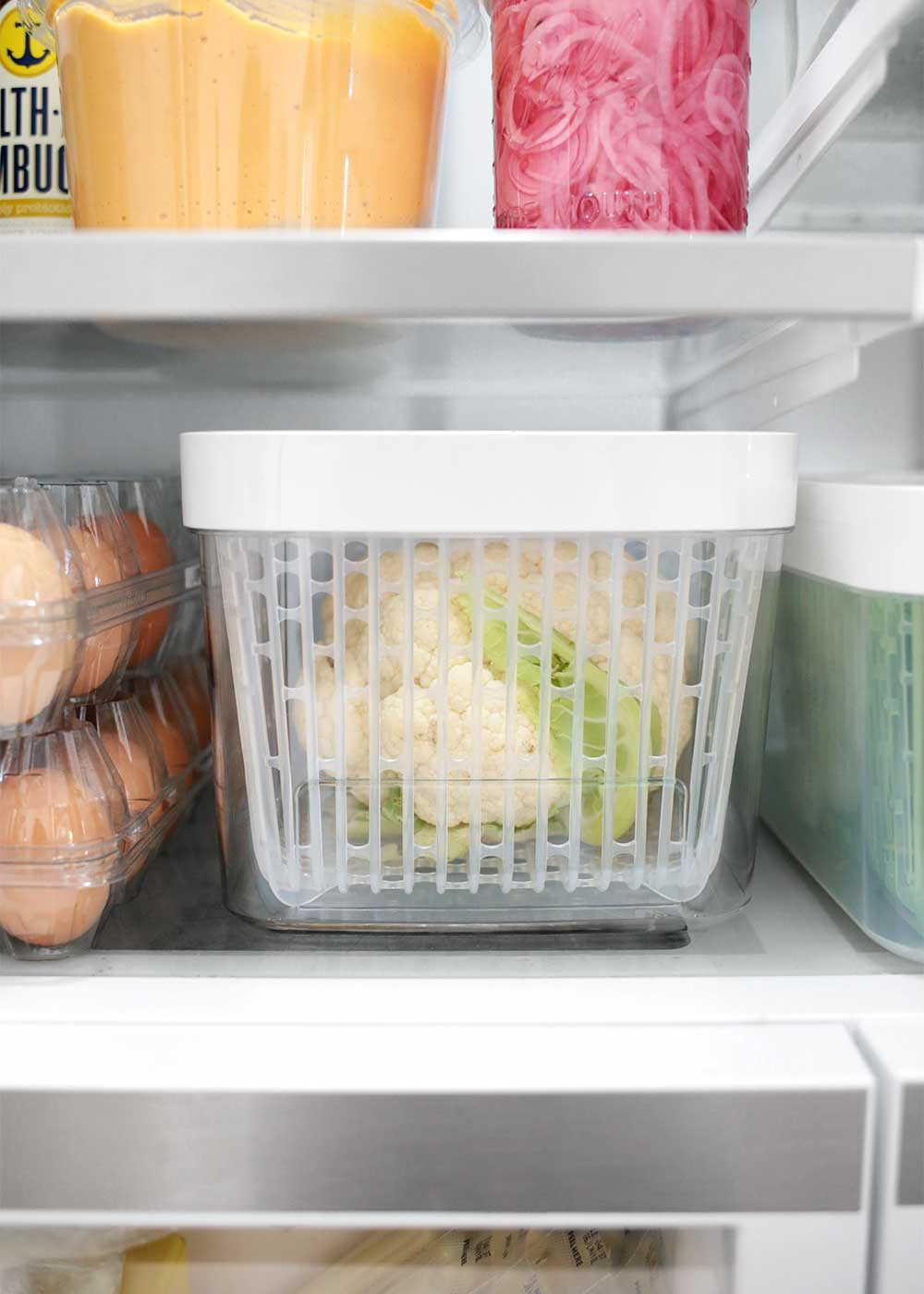 There are so many ecosystems in the fridge
It's true. The apples should be stored away from the leafy greens and the lemons away from the carrots. But it's really hard to keep everything straight and separate. Enter the Green Saver Produce Keepers. They create individual ecosystems that allow you to control the humidity within the container.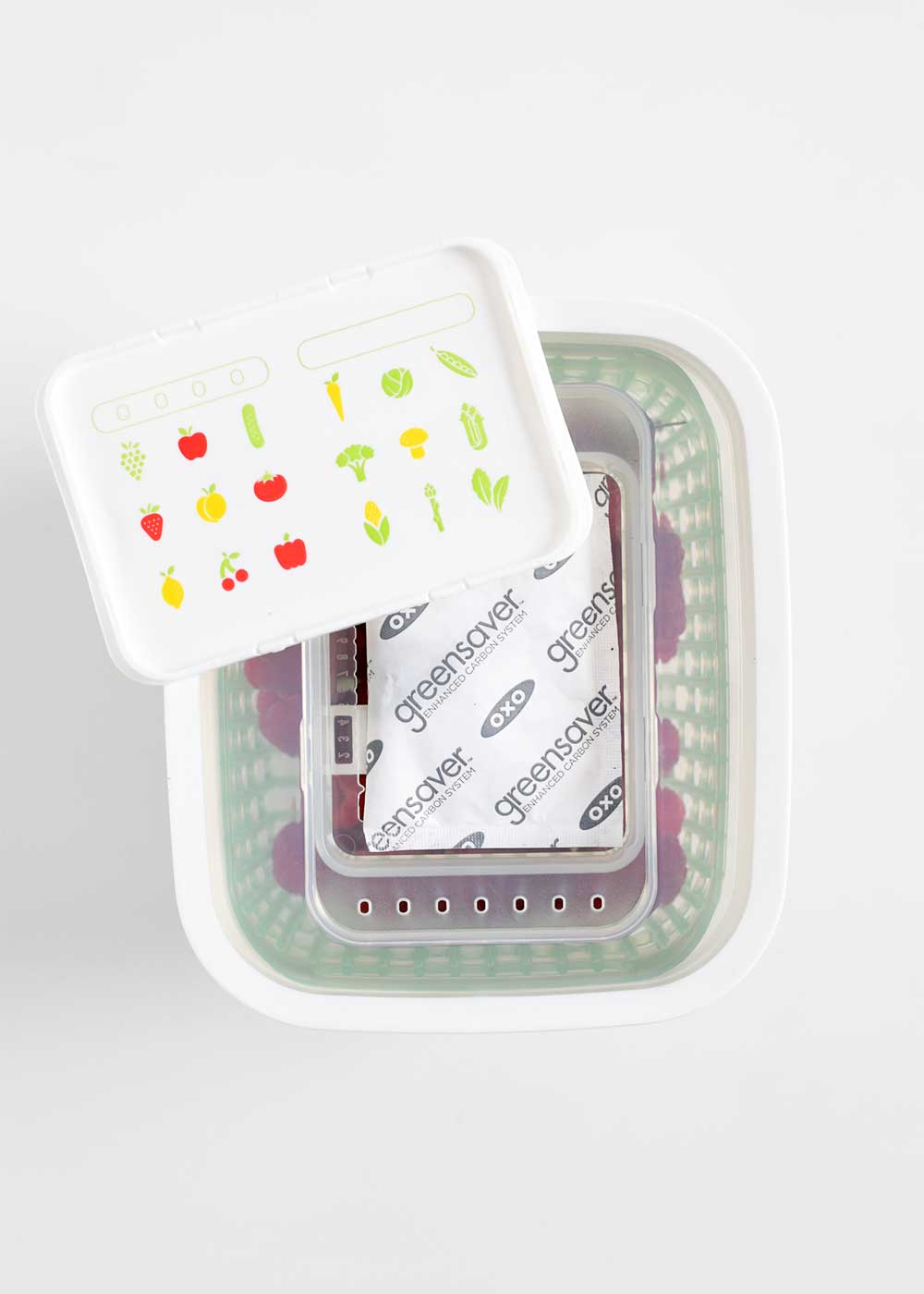 For example—open for berries, closed for spinach. If you can't remember whether to keep it open or closed (which is me every time), pull off the white filter cover, and you'll find a cheat sheet. Each container is also equipped with a carbon filter (read more below on how this works).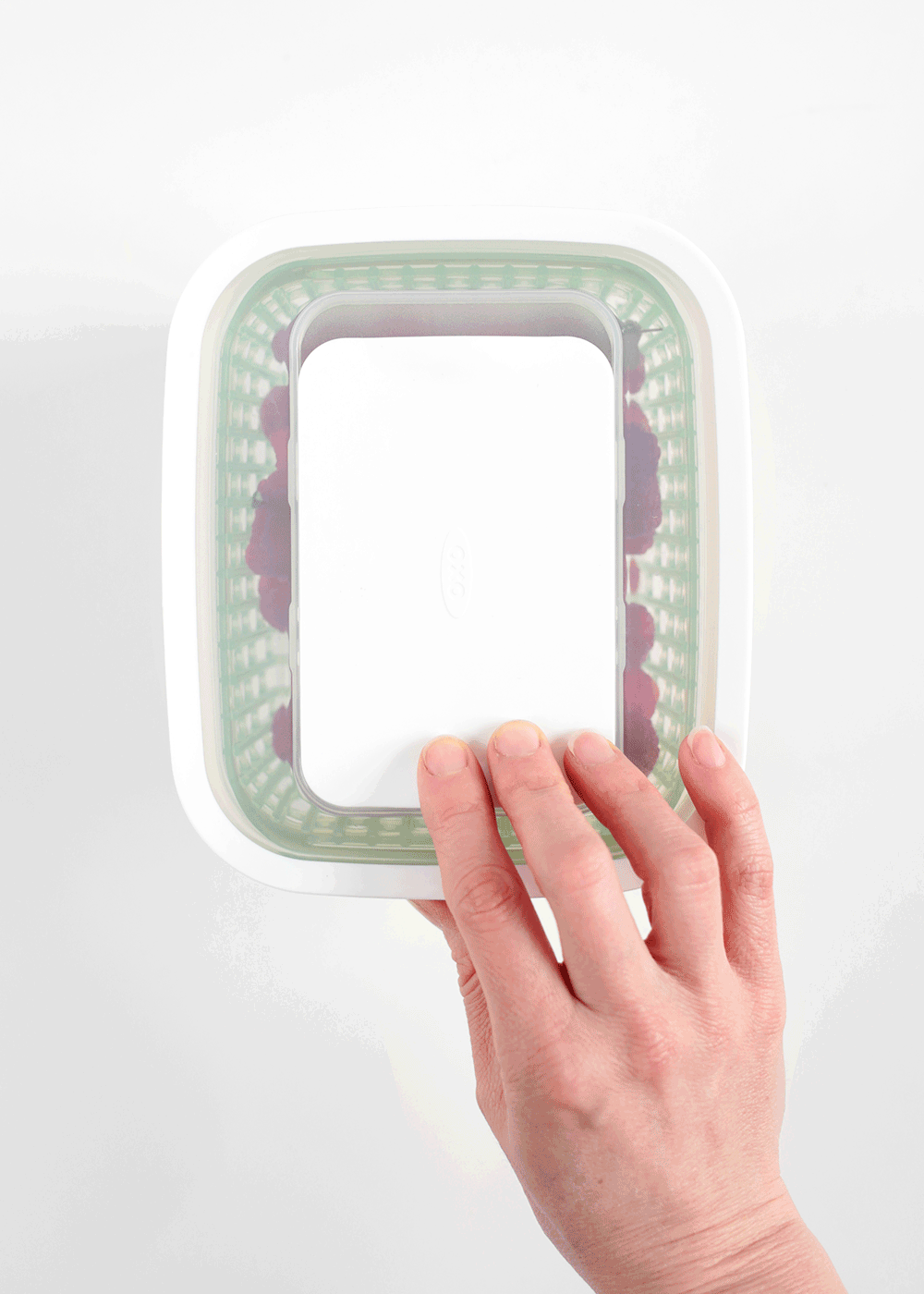 I was leery that these containers would keep their promise, but so far we have yet to throw out any raspberries or spinach, two things that died well before their time in our fridge. Look at that week-old, crisp spinach! Here's how it works. The produce sits in a basket within the container, which is great for two things—airflow and keeping moisture away from the produce, two causes for premature rot. If you don't believe me, read the Amazon reviews.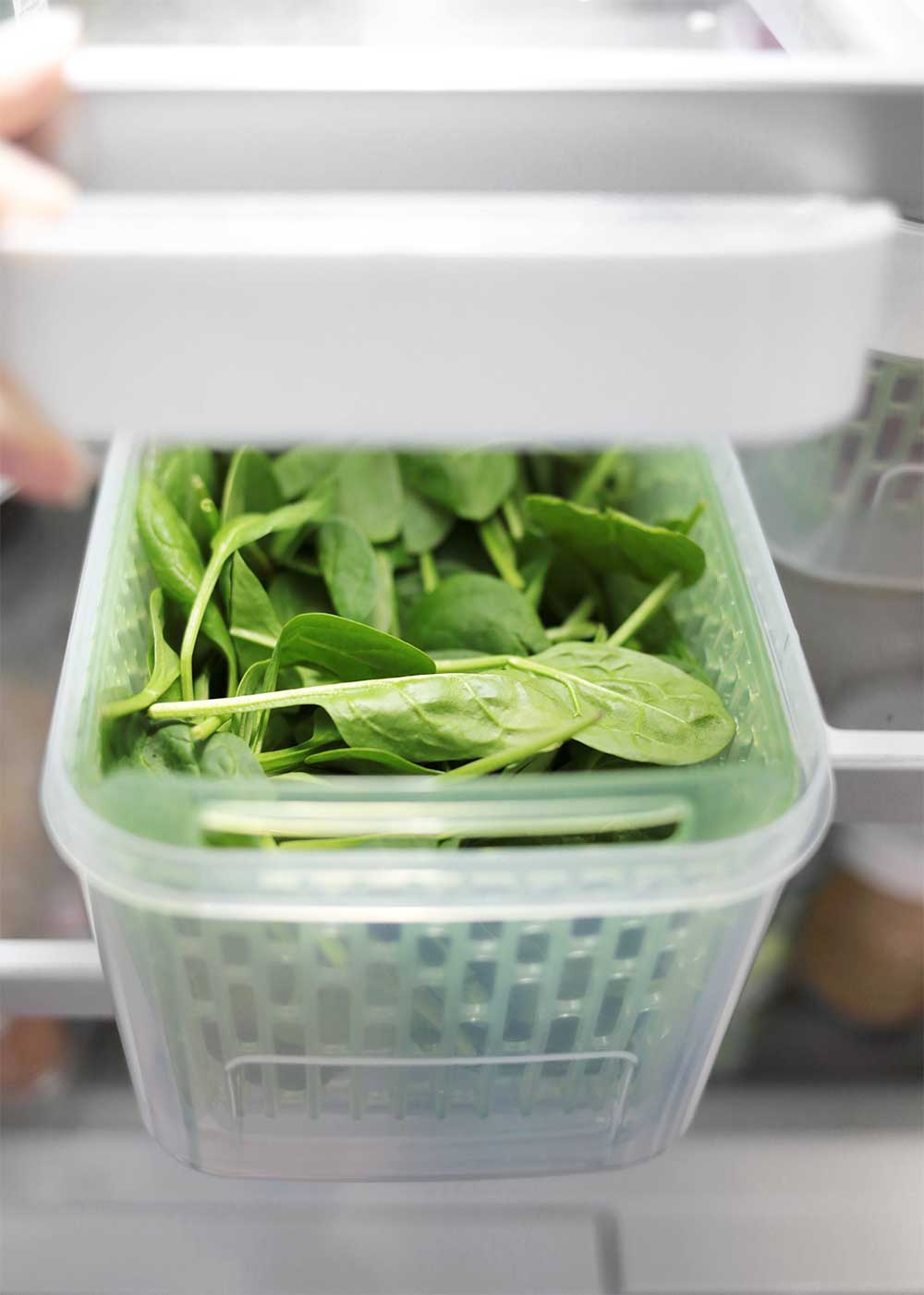 If you're just starting out, I'd recommend buying either a medium (4.3 qt) or large (5 qt) GreenSaver for for leafy greens and a small container (1.6 qt) for berries. After you fall in love, you can add more depending on the space in your fridge.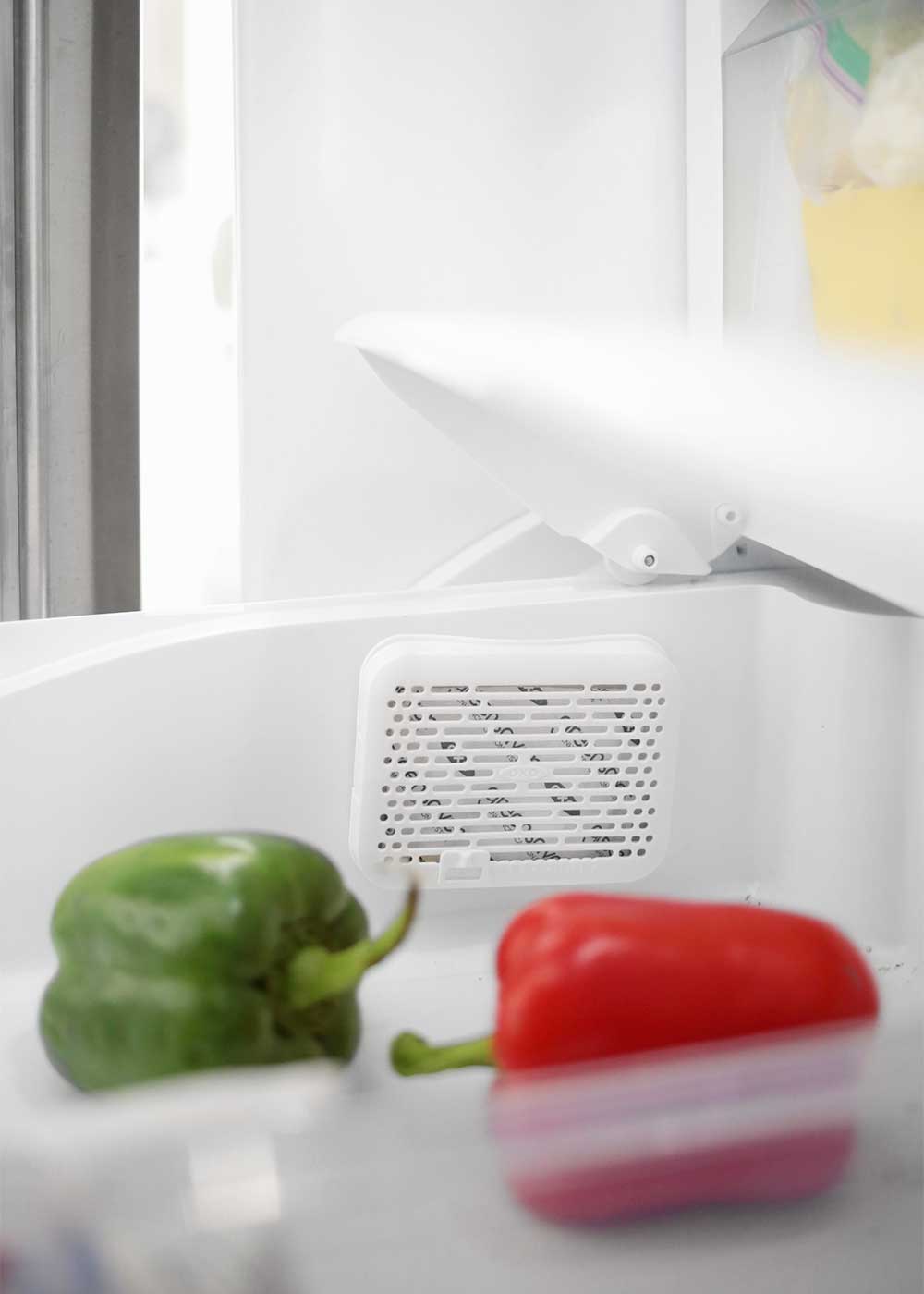 The Carbon Filter
Fridge technology is improving overnight. Even though better preservation technology exists, we can't all run out to get the newest fridge. Enter the $5.99 OXO Crisper Insert. The carbon filter helps to absorb the ethylene levels that your produce is naturally giving off. This helps to slow the ripening process and give that produce a couple extra days of life.
Note: Filters need replacing every 3 months. The insert has a slider so you can denote the month it needs replacing. So smart.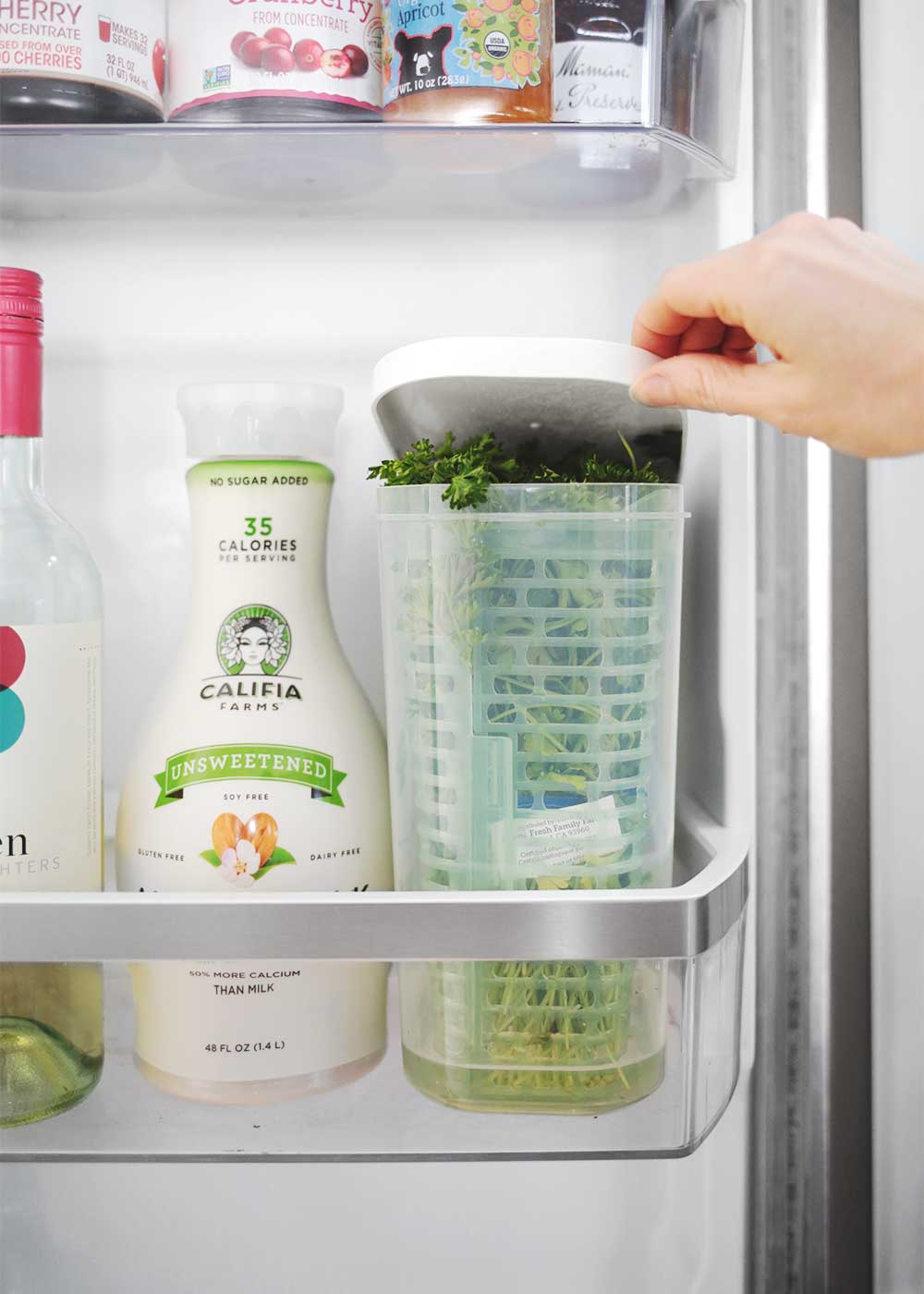 Fresh Herbs Aren't an Oxymoron
Is it possible to keep living herbs fresh longer than a day? Yes, and it's called the Herb Keeper. It's a similar container to the OXO produce containers, with an added fill line for water. Fresh herbs are thirsty and need a bit of water to stay alive. I used to keep my fresh herbs in a glass jar filled with water and covered with a plastic produce bag. It worked OK, but was unsightly and often tipped over in the fridge. The cilantro and curly parsley I keep on the regular have held up so well in the Herb Keeper.
Note: Replace the water every couple of days and remove rotten herbs to prevent widespread decay. If your herbs are too tall for the container, chop the ends. In fact, do that either way. Most drink water in the same way that flowers do.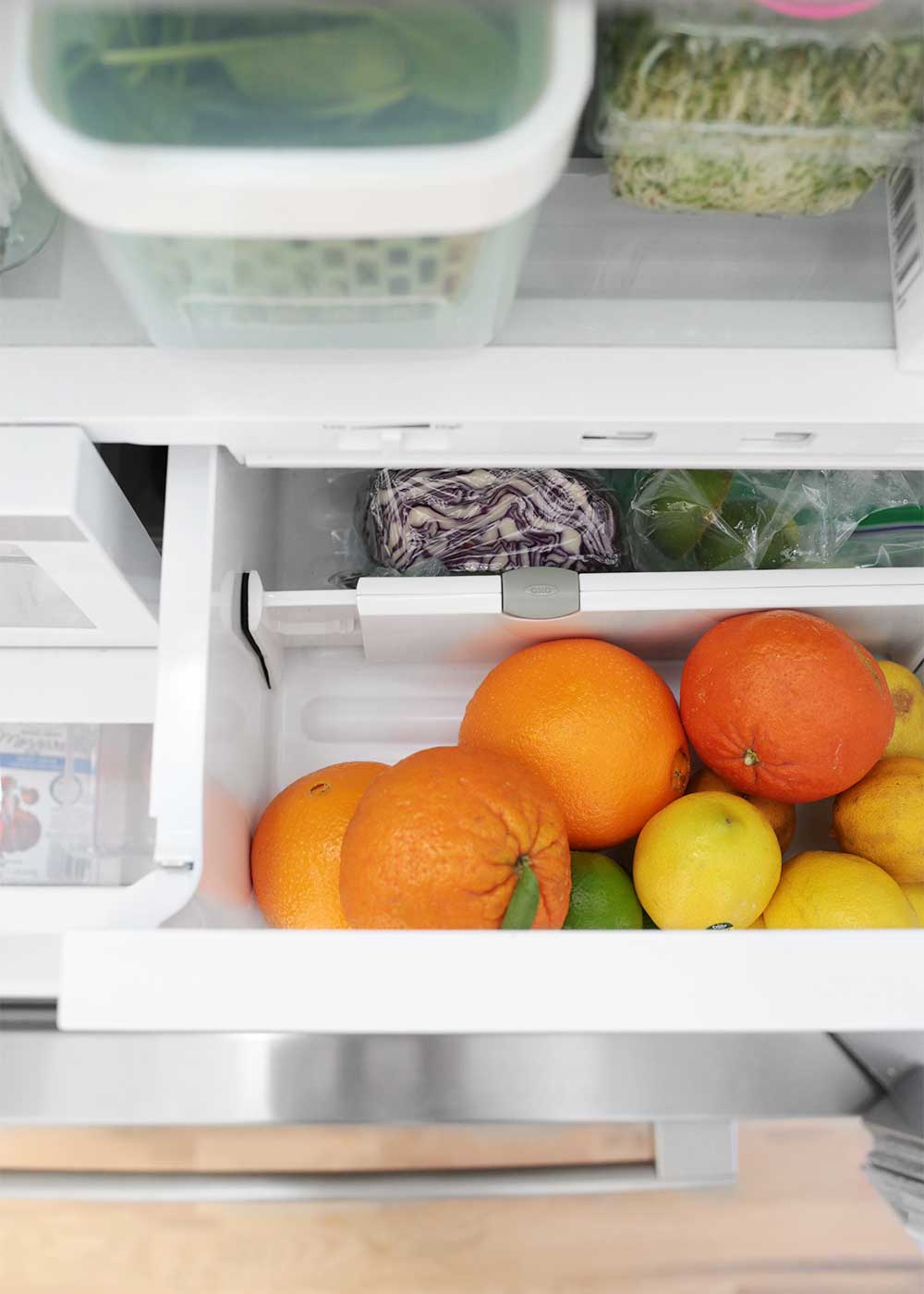 Controlling Drawer Chaos
Kitchen drawers, even the fridge variety, don't work all that well without dividers. A little division helps to bring order to the natural chaos. I had planned on using OXO expandable dividers elsewhere in our house, but added one to a crisper drawer on a whim and it worked! Designate a purpose for either side of the divider. For example, I've place whole, unused produce up front and cut produce (like the other half of the onion or the remnants of ginger) on the other side. I've added a divider to the cheese drawer as well.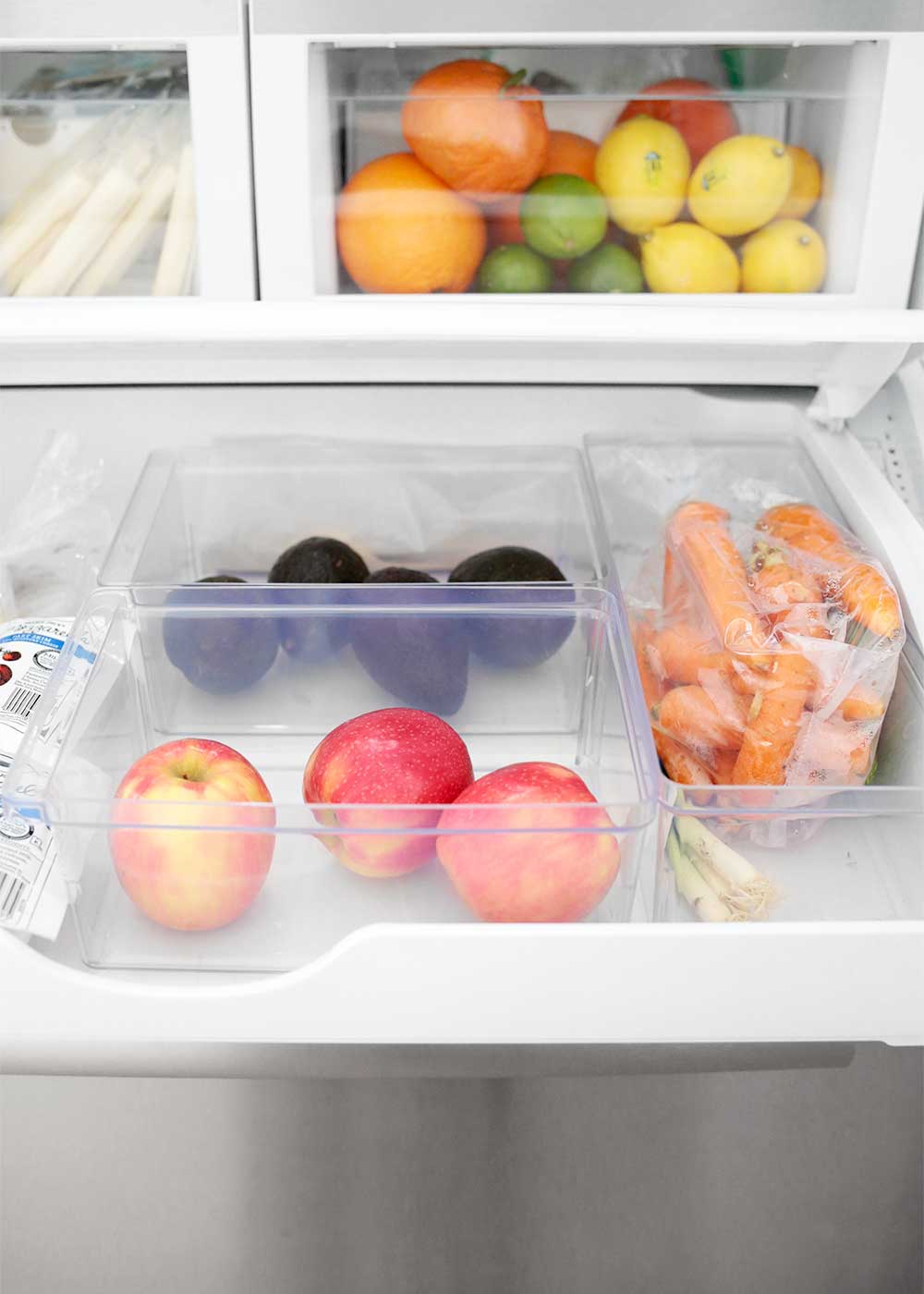 We also have one really large drawer in our fridge that takes a thorough digging to find what you're looking for. So I've added clear bins to give the drawer (and myself) some guidance. I've also used the bins throughout the fridge to wrangle similar things, like butter boxes. Compartmentalize where it makes sense.
Fridge Sources
OXO Green Savers: Small (1.6 qt) Medium (4.3 qt), Large (5 qt) | OXO Crisper Insert| OXO Herb Keeper | OXO expandable dividers | Fridge Containers: Long (5.43″ x 14.5″), Square (6.94″ x 10.5″)

For more kitchen organizing posts, check out The Minimalist Pantry Part 1 and 2 and Minimal Cabinets and Drawers. For a comprehensive guide to creating and cooking from a minimalist kitchen, pre-order my book The Minimalist Kitchen (out April 10, 2018).
This blog is made possible by your support (thank you), select brand partnerships, advertisements, and affiliate links to items I love and use. READ MORE >