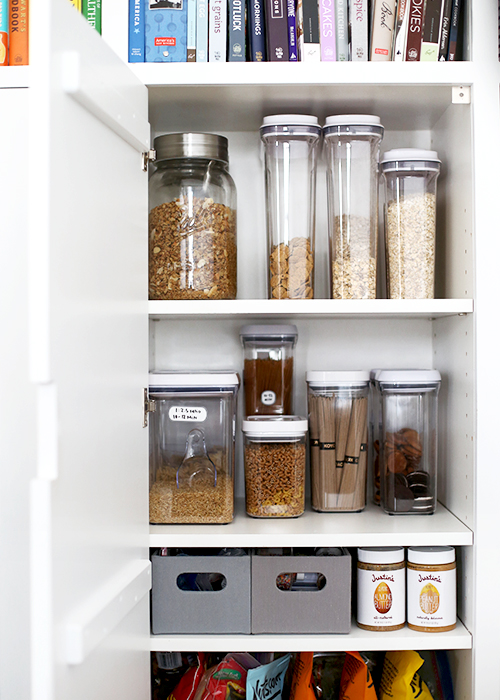 Last year I did a major pantry overhaul. It was a disaster prior. I shared the before (close your eyes) and after, along with 7 tips to building a minimalist pantry. It's been a whole year, and we've stuck to it. We've made some improvements too. But before I get into those, check out the original post. For a comprehensive guide to creating and cooking in a minimalist kitchen, check out my cookbook, The Minimalist Kitchen, and take the in-depth course here.]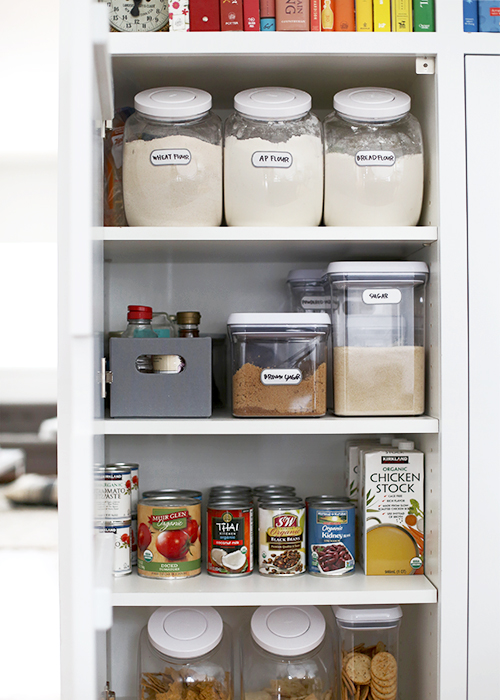 This post is an ongoing series on practical minimalism. Minimalism is typically marked by living with less. I also like to think of it as living intentionally and efficiently. Minimalist living is on a spectrum. We're a family of 3 (two adults and one 3 year old). This is how we're trying to live a leaner life.

When I look back at the after pictures from last year, a couple of the shelves make me cringe a little. But I'm a believer in doing, even if the first go isn't perfect. Because if I've learned anything about living with less, it's this—it's an ongoing process. It's like changing your diet. It doesn't happen overnight. You naturally and slowly acquire new tastes throughout the process. Cupcakes begin to taste too sweet. You get the idea. This process is no different. Throughout last year we made a couple simple edits to the pantry worth sharing.

Give yourself a little leeway.
When you slim down your pantry, it gives you room (literally) to break the rules here and there. Maybe you buy a box of Peppermint Oreos at Christmastime or maybe you decide to start buying cashews. A tidy pantry will give you space to explore a little. Notice your habits. Is this a one-time purchase? Cool, let it be. Is this an ongoing purchase? Then give it a permanent space in the pantry buy adding a new jar. We added several new containers and jars last year to accommodate new ingredients.

Swap out lids.
Ball Jars are some of my favorite storage containers, especially the wide-mouth jars. But the two-piece metal lids drive me batty. They're great for canning but not so great as a high-use storage containers. I swapped out the metal lids for plastic lids. It's a cheap upgrade that's well worth it.

Add snack bins.
A problem arose in our system last year. We had puddles of random small things—like Hal's snacks, liquid sweeteners, sprinkles, and baking powder. They all had a home, but they made the shelves look cluttered. Clutter welcomes clutter, so you can guess what happened. I finally added long bins to collect those items. My color rule for containers is typically clear (so you can easily see when a refill is needed), but in this case I wanted to hide the clutter. These cloth bins are $5 at Target. We have one for Hal's snacks (located on a shelf she can reach), one for the leaveners and liquid sweeteners (like honey), one for the baking chocolates, and one for the sprinkles.
Download Wunderlist app.
We used the Reminders app on our phones last year to keep an ongoing grocery list. But Kev couldn't link his list to mine. It was a faulty system. Shelley recommended Wunderlist app. It's amazing! We've been using it for about a year now. We have a grocery list for each store we shop at (Co-op, Target, Costco, and Trader Joe's). Kev and I share lists, so it doesn't matter who's doing the shopping. It also allows you to add an image, which is helpful in buying the right contact solution. Recently, I've started arranging our shopping list to the flow of the store.
Shop your list, not the store.
I don't need to tell you what happens every time you walk into Target. It has that effect on me too. But typically my rule for myself is—shop the list. A list is no good unless you use it, right? It's important to note, minimal pantries don't start at home. They start at the grocery store. Be mindful of what you're buying.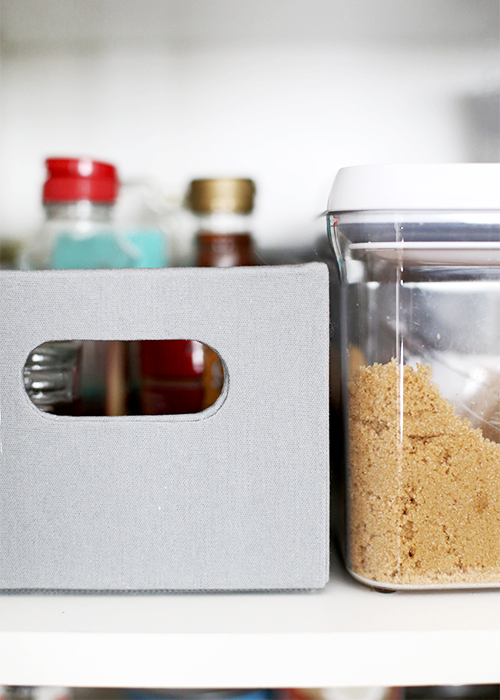 Finally, edit always.
I ended with this tip in the initial post too. Pantries require ongoing editing—partly because they get so much daily use and partly because things are always coming in. If you're not good at attending to the pantry, set monthly reminders on your phone. Also, don't be afraid to throw away things that haven't been used in awhile. Throwing food away is the absolute worst. But this process will help you to be more mindful of the things you bring in to the pantry.
This blog is made possible by your support (thank you), select brand partnerships, advertisements, and affiliate links to items I love and use. READ MORE >