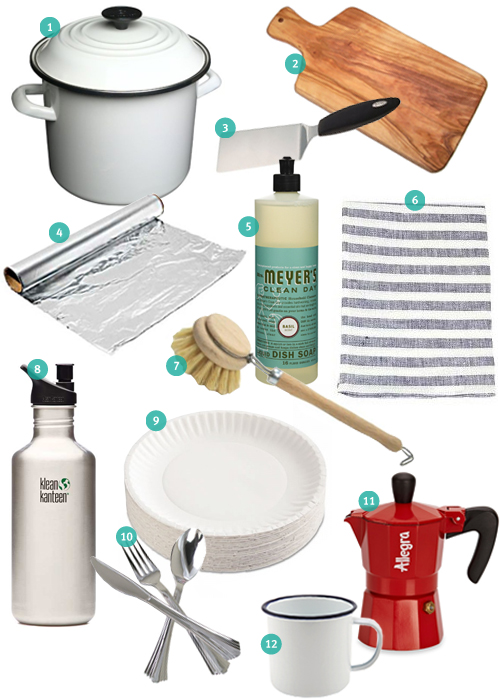 It's a given. Moves never go as planned. You can count on it. Many moves later, and I still haven't learned my lesson. Here we are, sitting in our new-to-us empty apartment two weeks post move, and I feel compelled to write this post on my slower than molasses, 7 year old, barely breathing laptop. If not for you, for me. Though, I'm never doing another major move again. Our belongings were scheduled to arrive Saturday at the very latest. It's Monday, and now they're telling us the truck will, knock on wood, arrive Thursday. Thankfully, the Twin Cities house the nicest people, and a few new friends lent us some goods to get by. Sure, we could go out and buy a couple things in the interim, but since we just purged, acquiring more stuff makes my insides ill. If we could turn back time, we would have mailed ourselves a kitchen care package as we had planned (per the recommendation of a friend). And here's what we would have packed.
Moving Care Package Essentials
Change is hard, there's no way around it. Pack and mail yourself a care package with your favorite kitchen essentials to help ease the transition pains and make a few home-cooked meals until the rest of your stuff arrives. This is one thing you wont regret.
1. A medium-sized pot with a lid. One without a handle for easy packing. Tall enough to boil water and wide enough to saute veggies or cook meat. For packing purposes, fill it full with items below and store lid upside down to save space.
2. Small cutting board. I'm on the fence with how essential this is, but I keep finding myself using extra paper plates to cut fruits and veggies. I think I'd pack it. But I'd skip the fancy knife (see #10).
3. Metal spatula. I like this one from OXO for it's small, versatile, and easy to pack form.
4. Foil. You can easily buy this when you land but I bet you have a half used roll in your pantry. I use this as a baking sheet and also to cover food.
5. Soap. Target has Mrs. Meyers travel-sized dish soap in the $1 section right now. Get it while you can!
6. Dish towel. It'll feel like home when you pull out one of your own, most likely stained, dish towels.
7. Scrub Brush. You have a favorite brush or sponge, I know it. Toss it in.
8. Water bottle. Moving is stressful. Keep yourself hydrated. I swear water tastes better out of a Klean Kanteen.
9. Paper plates. Toss in your leftover stash of paper goods from cookouts and holidays past.
10. Plasticware. Would you believe the serrated knife is surprisingly durable and sharp? It cuts through most fruits and veggies.
11. Small coffee maker. I hate buying duplicates, but you can never have enough coffee makers around. I'm typically a pour over coffee maker, but packing a kettle and pour over device seems like overkill. We picked up this little Moka Express Coffee Maker and it works like a gem!
12. Mug. Pack an enamel mug if you can. There's no chance of breaking. I love these from West Elm.
PS—going camping or glamping? This list is for you too.
PPS—Based on this Instagram convo, Dessert for Two and I may start a new recipe series called A plastic knife and a pot for all those times you're without your home kitchen. But maybe I'll never want to see a plastic knife again after our stuff arrives…if it ever arrives. Ok, I'm being dramatic.
This blog is made possible by your support (thank you), select brand partnerships, advertisements, and affiliate links to items I love and use. READ MORE >