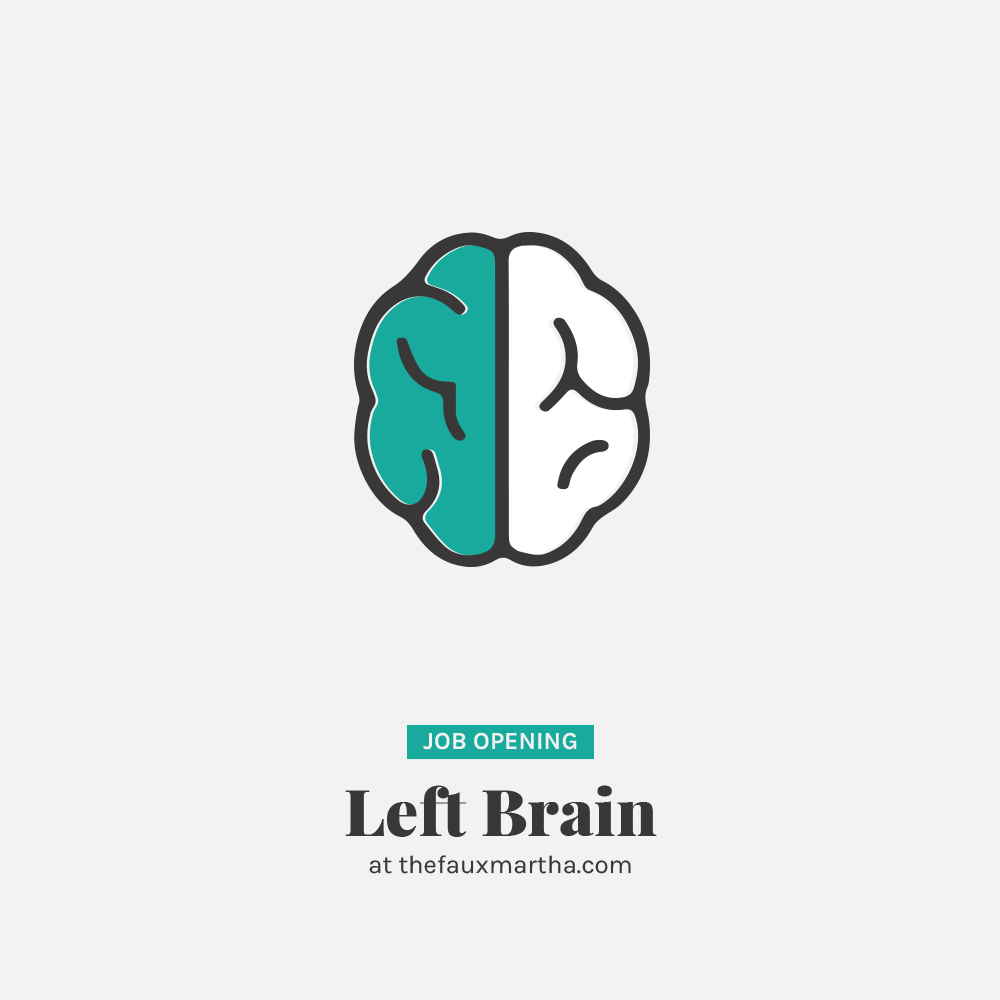 Thank you for the warm responses on yesterday's post, The Horse Named Hustle. I love the conversation going on over there and imagine more conversations will bloom from it, like the idea of trying to have it all. I've said it before, and I'll say it again, thank you for being here. Thank you for contributing some of your life to mine. It's life giving and shaping to me. As promised, here we go. This is like trying to clumsily say fiancé out loud for the first time or buying your first house. Am I adult enough for all of this? Of course not. In that same vein, I can't believe I'm saying this. I'm hiring. A left brain to be exact. If you know of someone that would be a great fit, would you pass this along? Or, if this position sounds like a good fit for you, consider applying. Details below.
Title
The Left Brain at thefauxmartha.com  
Description
Twin Cities resident*, organizational freak, inbox zero, type A, strategic minded, detail oriented, web extraordinaire (WordPress, Mailchimp, Google Analytics, Social Media)*, written and spoken communication fool, self motivated, (very) small business lover, healthy boundary builder, who likes to take long walks on the weekend and sign off from work, kind of person.
*preferred but not required
Details
Less than part-time (10-15 hr/week, 4-5 days per week) long-term contract position with work-from-home flexibility. Weekly meetings. Compensation based on experience.
Responsibilities
Email management

Project management (calendar and editorial management)

Website management (blog and online shop)

Efficiency strategist (process development)

Brand management

Contract reviewer

Analytics reporter

Minor accounting

Hospitality
To Apply
Applications closed.
This blog is made possible by your support (thank you), select brand partnerships, advertisements, and affiliate links to items I love and use. READ MORE >