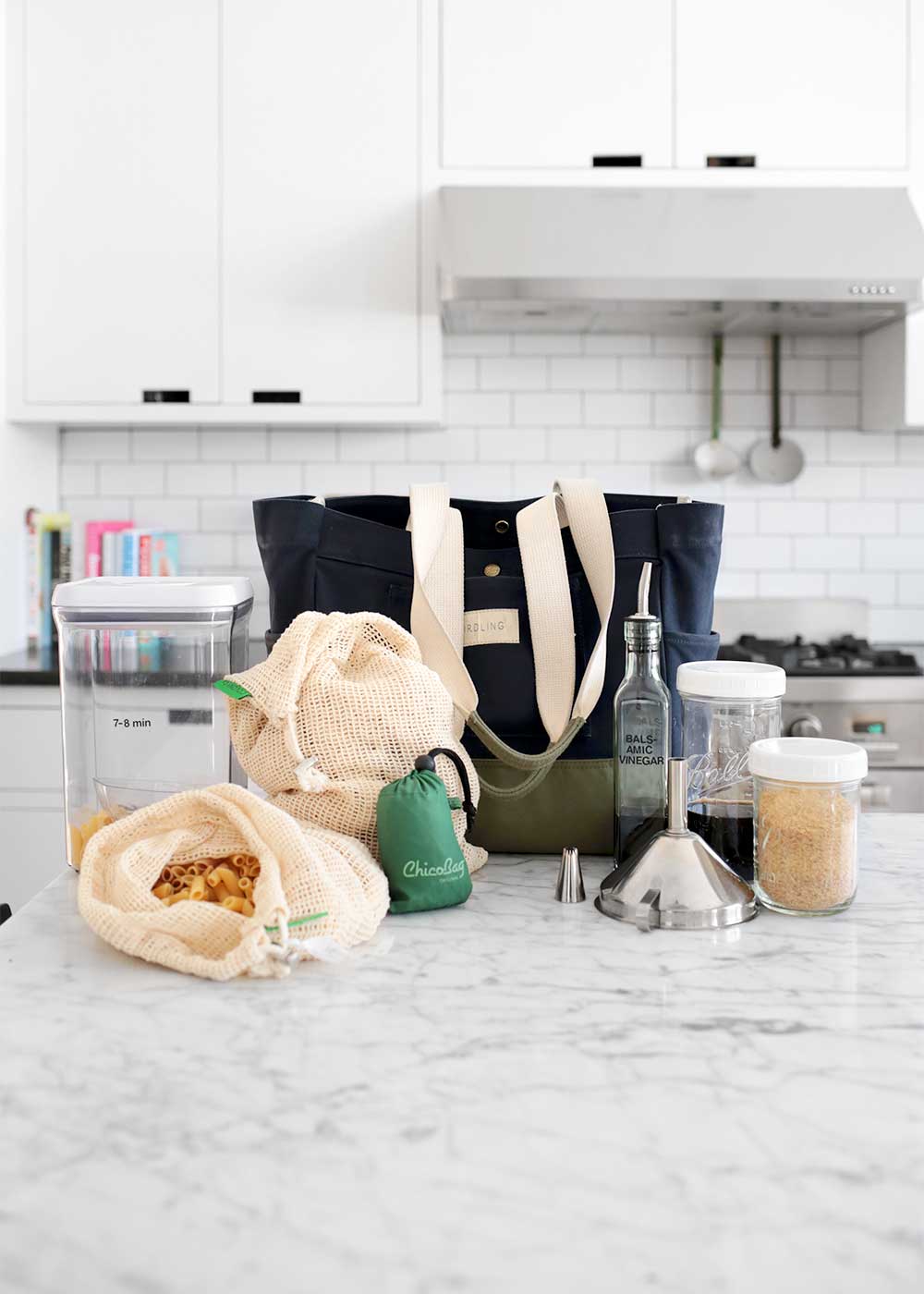 Last week, we took a deep dive into how to shop in bulk. This week, I'm adding in the personal layer of how I shop in bulk, sharing my bulk shopping kit and rhythms. It's really easy to get excited and start something new, like shopping in bulk. But it's hard to keep that new thing up without creating long-term rhythms and finding trustworthy tools. User experience is just as important in the bulk aisle as it is when designing a website. And, if your experience is poor, you'll slowly stop shopping that way. It's to be expected. Here's how I've made shopping in bulk work. Don't miss the printable cheat sheet to boost your (my) confidence down the bulk aisle.
Bulk Shopping Kit
I didn't go out and compile a bulk shopping kit when I started shopping this way. In fact, I didn't realize I more or less had a kit until meeting with The Wedge Co-op a couple weeks ago, where they recommended compiling a kit to make bulk shopping more doable. I looked down at my sturdy purse that doubles as my shopping bag, filled with reusable produce bags, extra shopping bags wadded up, and a couple Ball jars. I had a kit on my hands, more like, on my shoulder. Here's what I use.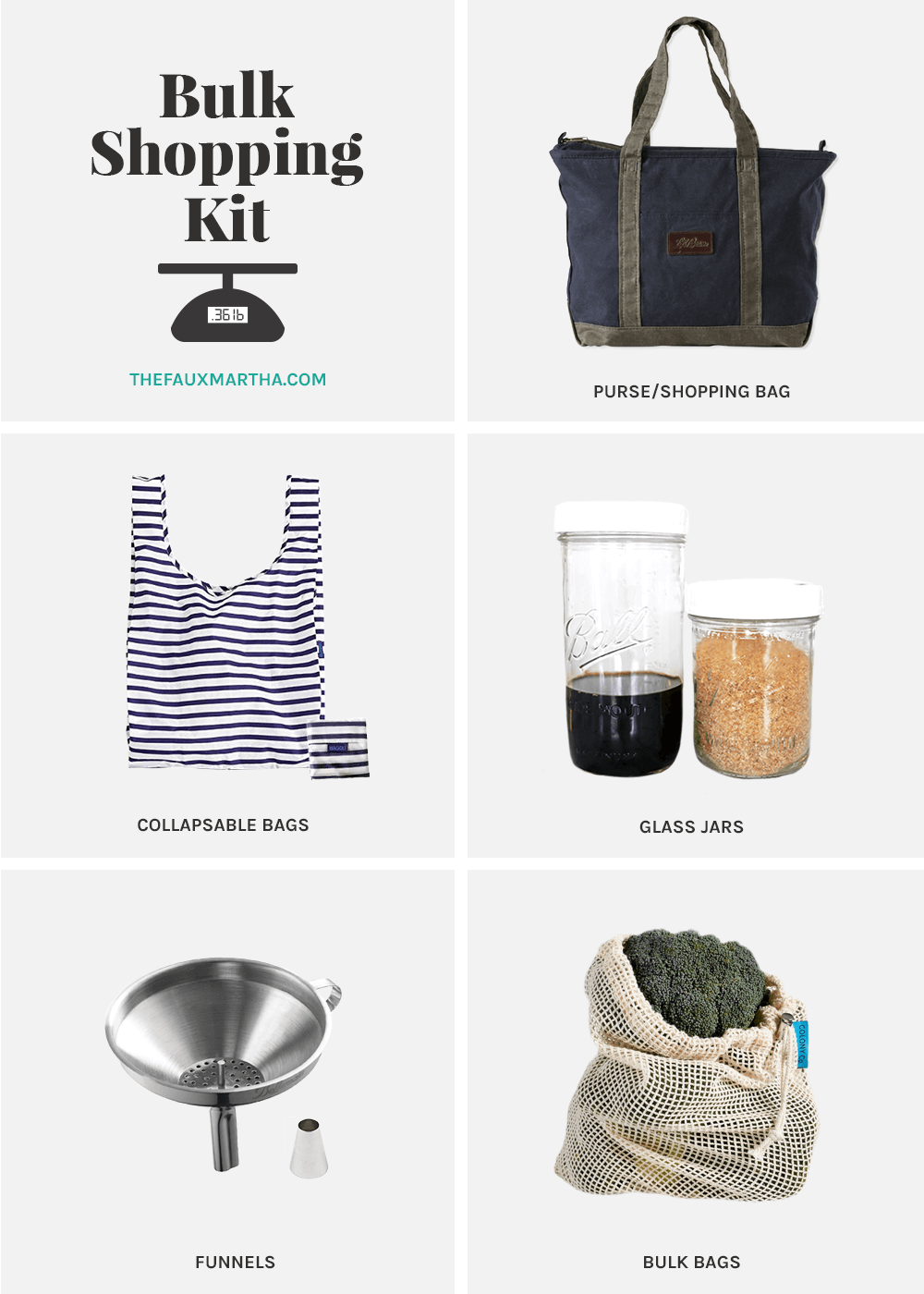 Purse/Shopping Bag
Grocery shopping is so much a part of my weekly life, I've started using a purse that doubles as a sturdy grocery bag. I'll never go back. My bag is made by Birdling Bags, but they no longer make this specific bag. However, I went in search of something similar and found this nearly identical bag from L.L.Bean. The medium is the same size as mine. It has a pocket inside for everyday purse storage; it's made from a water-resistant waxed canvas; and it boasts a reinforced, sturdy, wide base for heavy loads (like grocery shopping). If you want to keep your purse sacred, then find a good tote (one with a sturdy base), and store all your bulk shopping tools inside, so it's at the ready.
I use my purse specifically to house heavy items, like yogurt, glass jars, or other things I want to keep upright when shopping.
Collapsable Shopping Bags
I have 2 Chico Bags that work amazingly well, though I'm smitten with the patterns of Baggu Bags. Both bags collapse into tiny compartments for minimal storage. I keep these in my purse at all times. I typically don't buy more than a purse and two bags full worth of groceries at a time. Of course, keep as many collapsable shopping bags needed to fulfill your grocery load.
Bulk Bags
I use these reusable bulk bags for both dry goods and produce and keep them in my purse at all times. With the tiny holes though, you're limited to containing certain ingredients, like nuts and pasta and not flour. I recommend purchasing the same size/weight of bags with the tare weight clearly listed on a tag for shopping and checkout ease. (Keeping multiple bag sizes means you have to dig through your bags to match your ingredient size. It's entirely inefficient. I made this mistake a couple years ago with a different style of bag, and stopped using the bags altogether due to poor user experience. Side note: I made good use of those bags to corral Hallie's toys. They didn't go to waste.)
Many recommend cotton bags for shopping granule ingredients in bulk, like sugars and flour. I haven't given myself over to these bags yet for a couple reasons. I imagine they'll require washing after each use. I imagine tiny spills are inevitable out of the top hole. And, I don't want to carry any more bags in my purse. Even as I'm typing this out, I think I should give one a try before assuming so much. In place of the cotton bags, I prefer jars for now.
Jars
I use widemouth Ball Jars from around the house to purchase granule ingredients (like seeds and spices) and liquids (like vinegar). I can trust them to stand upright in my purse and keep spills and leaks at bay, two very important things to consider when choosing bulk containers. They also have measurements on the side of the jar, making it more intuitive to choose the quantity in bulk. This is great when I'm refilling a spice jar, for example. I know my spice jars hold 3.5 oz, so I can buy the correct amount without overflow. The same is true of my vinegar dispensers.
Tip: Keep one jar specific for bulk shopping and add tick marks with a Vis-A-Vis marker to list common amounts needed to match your containers at home.
Funnel
When shopping in bulk, you inevitably have to transfer purchased ingredients to a permanent container. Keep a trusty funnel on hand, though it's not necessary to bring to the store as long as you're using widemouth jars or bags with large openings. I use this one, which is a great multi-purpose funnel. For extra tiny jars, you can use a pastry tip flipped upside down as a tiny funnel. I learned this tip from the pastry queen herself, Zoë Bakes.
Note: If you're in the Twin Cities, you can find great bulk shopping and reusable containers at brick and mortar stores like The Wedge Co-op, Tare Market (online store too), and The Foundry Home Goods (online store too).
Bulk Shopping Rhythms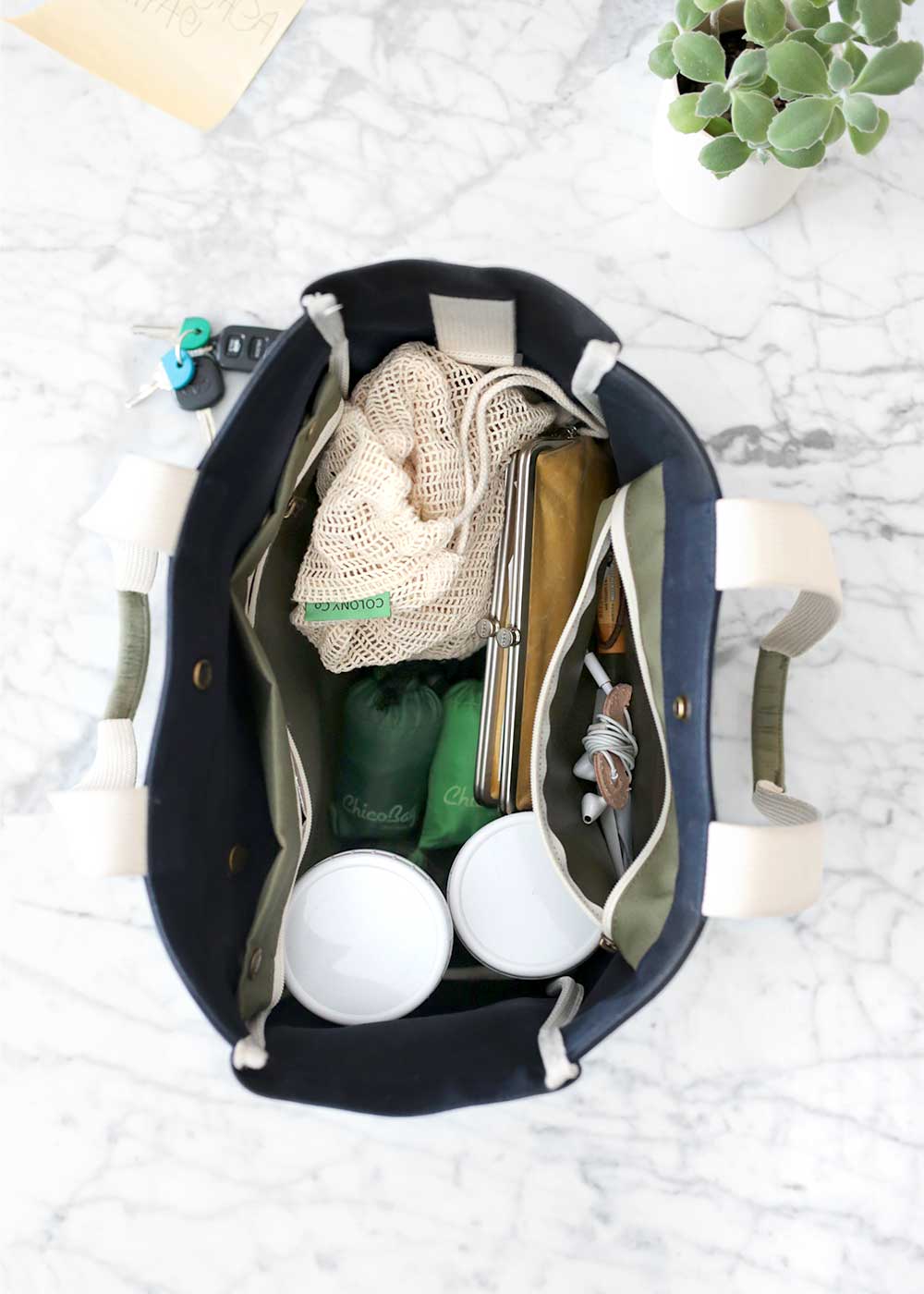 Two years ago, I started using my own reusable produce bags. Those bags were my gateway drug into shopping in bulk. However, I didn't convert to this way of shopping overnight. I started doing little bits at a time as I felt comfortable. In fact, I'm still in the process of converting. I've come a long way in reducing our food waste and packaging waste, but I've still got a ways to go. Below is a bulleted list of my current rhythm for shopping this way, as well as what I buy.
I keep my collapsable shopping bags and bulk bags in my purse at all times for everyday shopping. My purse also doubles as a sturdy shopping bag for items that need to stay upright or are particularly heavy.
When needing special jars to fulfill my grocery list, I plan ahead. With that said, I typically limit my bulk aisle shopping to specific shopping trips so I can gear up literally and mentally. In general, I compartmentalize my shopping trips to help myself out and break up this large task. I typically do longer bulk shopping trips 1-2 times per month and do quick trips to shop for fresh ingredients 1-2 times per week.
I stock a specific set of ingredients in my kitchen. For example, I buy 1 kind of rice, 2 types of pasta noodles, 20 spices, the same nuts and seeds, etc. I have a clear, permanent container for each ingredient. Bulk shopping works really well for this type of kitchen organization, as I'm able to refill my containers without any additional packaging. If you want to give yourself over to this method, check out my book, The Minimalist Kitchen (currently very low stock) and take The Minimalist Kitchen Course.
I shop at Costco for extra large quantities of dry goods in bulk like oats, Seven Sunday's muesli, sugar, milk, butter, chips, eggs, avocados, tequila, and bourbon. Some of their packaging is excessive and some is great. Tip: When shopping in bulk of this quantity, only buy what you can consume before expiration. Otherwise, the price break isn't worth the food waste.
I still buy flour in sealed paper bags for easy transportation and low-mess. The paper can be recycled.
I still buy a specific brand of coconut in a bag that I prefer over the bulk bins.
I've converted to buying these items in bulk: all my spices, pasta, lentils, cornmeal, flaxseeds, half of our nuts and seeds, most of our dried fruit, all of our vinegars, and honey.
This year I hope to start buying dried black beans and chickpeas in bulk instead of canned, which means I have to give myself over to the rhythm of soaking and cooking beans. I've been putting this off for years. Do you have a favorite cooking method for dried beans?
Bulk Shopping Cheat Sheet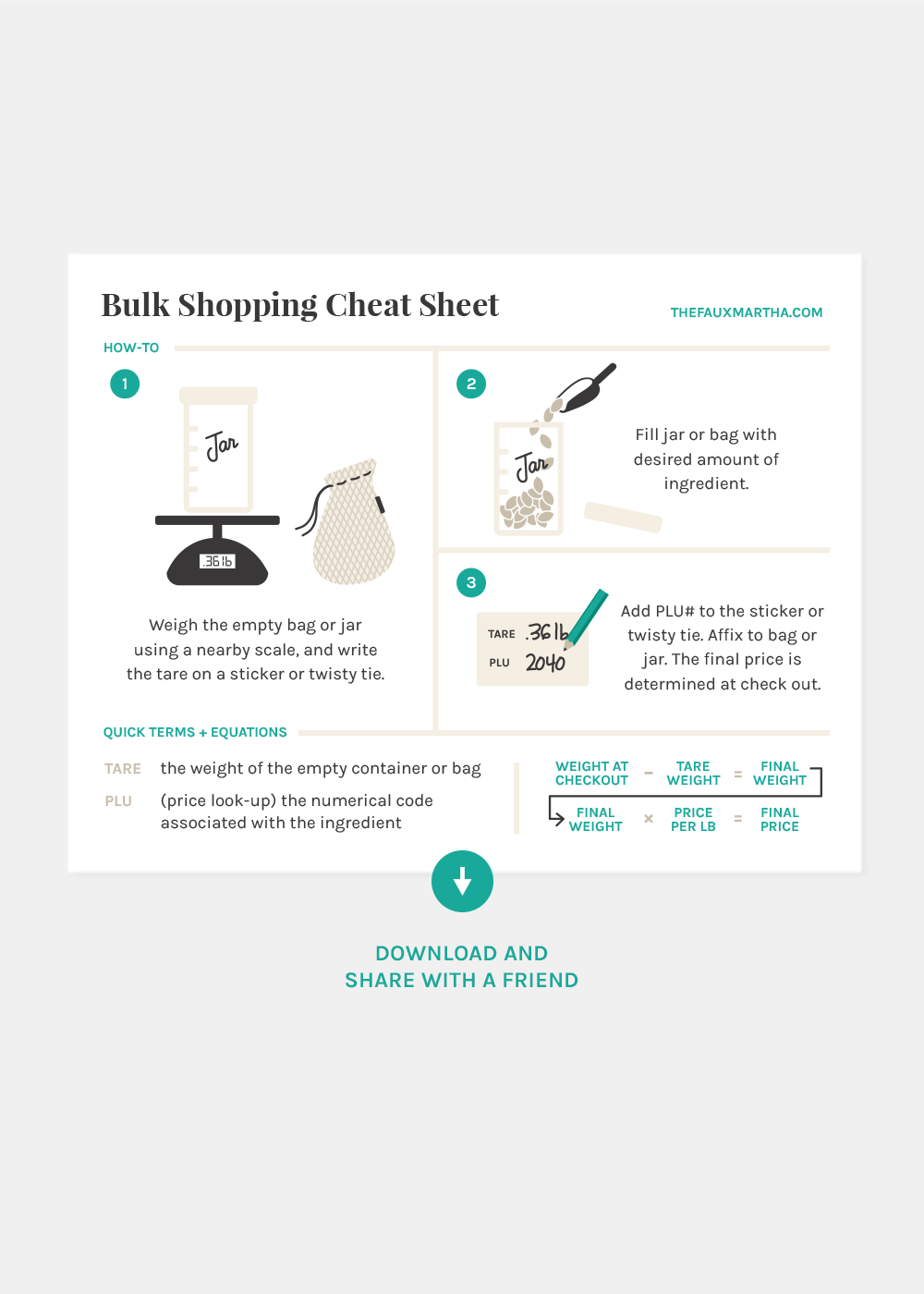 I made a little cheat sheet printable for you (and for me) to bring to the store, to feel a little more confident. There are 4 on a page, so cut them out, add one to your bag, and give it to 3 friends.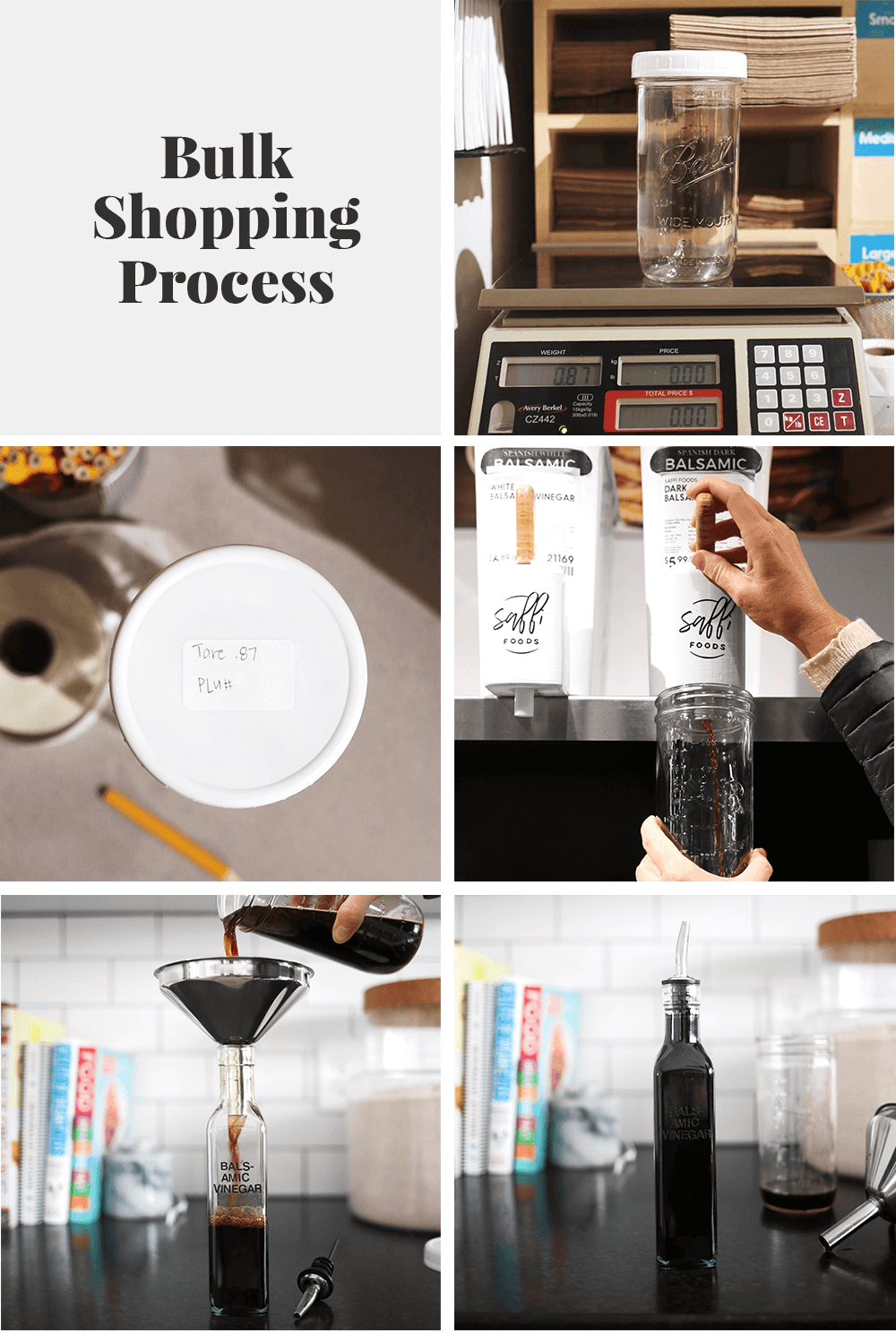 Here's a quick visual recap of shopping in bulk, from the store to home. To read more in detail about how to shop in bulk, read this post.
If you like the Bulk Shopping Kit post, you might also like:
This blog is made possible by your support (thank you), select brand partnerships, advertisements, and affiliate links to items I love and use. READ MORE >