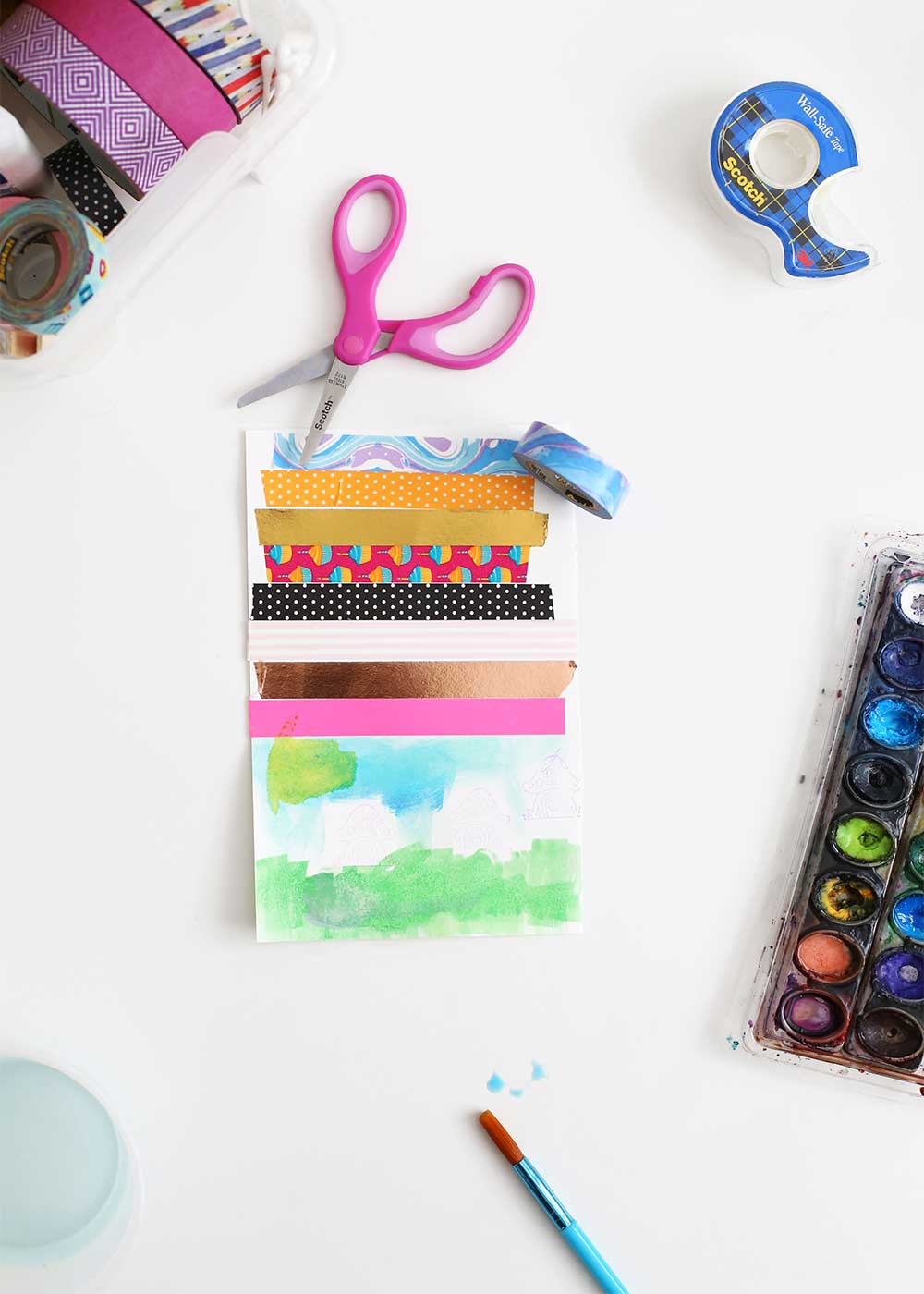 I put my head down in January when there was still snow on the ground to write a book. I turned in my manuscript on June 30th at 5:47pm (!!!). And here we are talking about back to school ideas. Where did half a year go?! I lived most of my grade school life in Texas. As soon as the calendar struck August, we went back to school. Even though school starts in September in Minneapolis, the Target shelves say otherwise. In the back-to-school spirit, I've partnered with Scotch™ to share a couple simple things we do throughout the preschool year to keep things running smooth(er). These ideas are fit for the 5 and under crowd.


This post was created in partnership with Scotch™. For more back to school ideas, head over to their website.


Create a gallery wall.
Hal loves to create. When I pick her up from preschool, she's the one with the largest pile of crafts. Like so many kids, she takes great pride in her work. So to manage the overflowing pile of artwork, we created a gallery wall that she "curates". She gets to choose a handful of pieces to hang. About once a month or so, we take down the gallery and hang a new one. Side note: for each year of life, I keep a freezer-sized ziplock bag. I keep our very favorite pieces in there and discard the rest.
Tools

Create a craft box.
I plan on doing an exhaustive post on how we handle kids toys in the coming months. But here's a sneak peek. We keep a craft box with all her mom-approved tools (things that won't do too much damage while my back is turned). Since she can't read the label yet, I use clear storage boxes so she can see the interior contents. This box can move with her around the house, clean up easily, and store out of site.
Tools

Create a family calendar.
Our schedule is dysfunctional at best without a family calendar, so I created a monthly printable calendar to keep us on track. To make the calendar, download for at-home printing. At the start of each month, print the calendar and laminate for extra durability. Add a couple fun bucket list items for the month, and schedule them into the calendar. They don't need to be fancy or expensive. Add washi tape or drawings (hieroglyphics) so that preschoolers can also read the calendar. Tape in a well-trafficked area, like the mudroom or the inside door of the pantry, so that it can be seen on a regular basis.
Tools

Label everything.
At the start of the year, pick up a unique colored washi masking tape to label everything. Hal's big into pink right now, so pink it is. I use the same color tape on everything to help Hal identify her belongings (and her teachers too). To make the loop label on her backpack, tear a long piece of tape and fold over, leaving about a 1-inch sticky area for taping. Write on the label before attaching. I love that the washi tape is both durable and also removable when needed.
Tools

Now, go enjoy the rest of summer and bookmark this post for later if school starts in September for you. For more back to school ideas, head over to the Scotch homepage.
This blog is made possible by your support (thank you), select brand partnerships, advertisements, and affiliate links to items I love and use. READ MORE >